I hope you all had a nice Easter. It was a really easy going one in our house, totally calm and relaxed. And that was great!
Here is the last recipe in my Romanian Easter recipes series, I chose this to be the last because I thought many will like to find a way of eating all those cooked eggs leftover from Easter (I still have about 15 of them, the children were diligent when coloring eggs this year). So here are my deviled eggs filled with homemade liver pate. So delicious, that even people who would not eat liver in any other way, totally love these eggs. It is a typical Romanian way of filling eggs, the one I've eaten most of the times as a child. Actually my grandma only ever made two versions of the deviled egg: this one with liver pate one and the mayonnaise – egg yolk one. Both good, but this was always my favorite.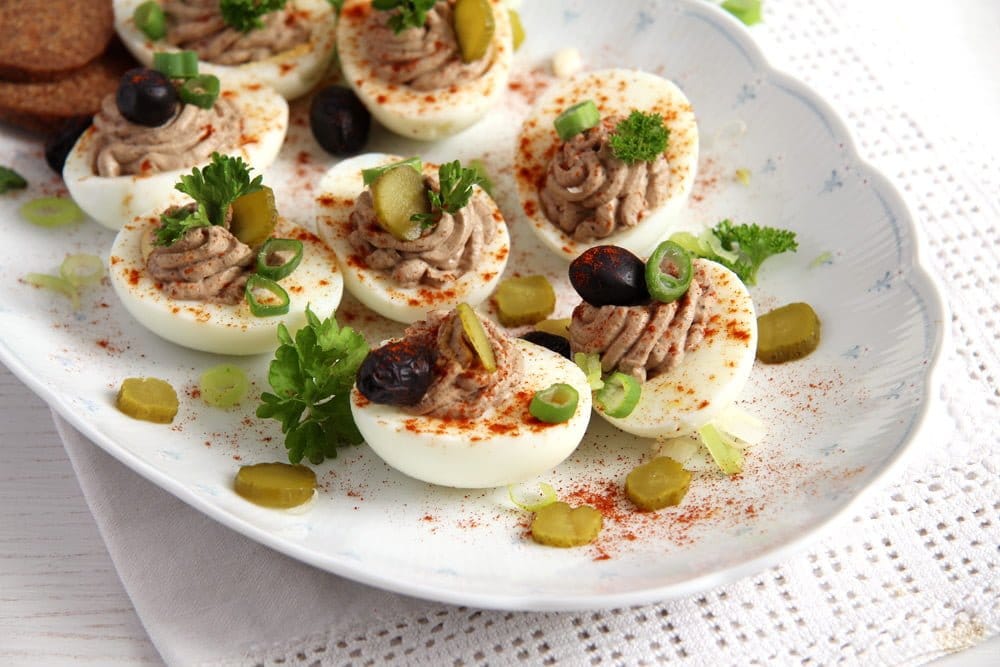 We did eat lots of liver (chicken mostly) in Romania in those times, so I had only heard it on TV (American movies and series) that many people actually don't like liver. That was really surprising, fried chicken livers was for us kids really like a favorite meal and we were always happy when my grandmother cooked it (with mashed potatoes and onions – yum!). But then I met my husband and if there is one food he would not even consider eating is liver! But despite that, he loves this homemade liver pate. And my kids also, you would not believe how quickly these eggs were gone!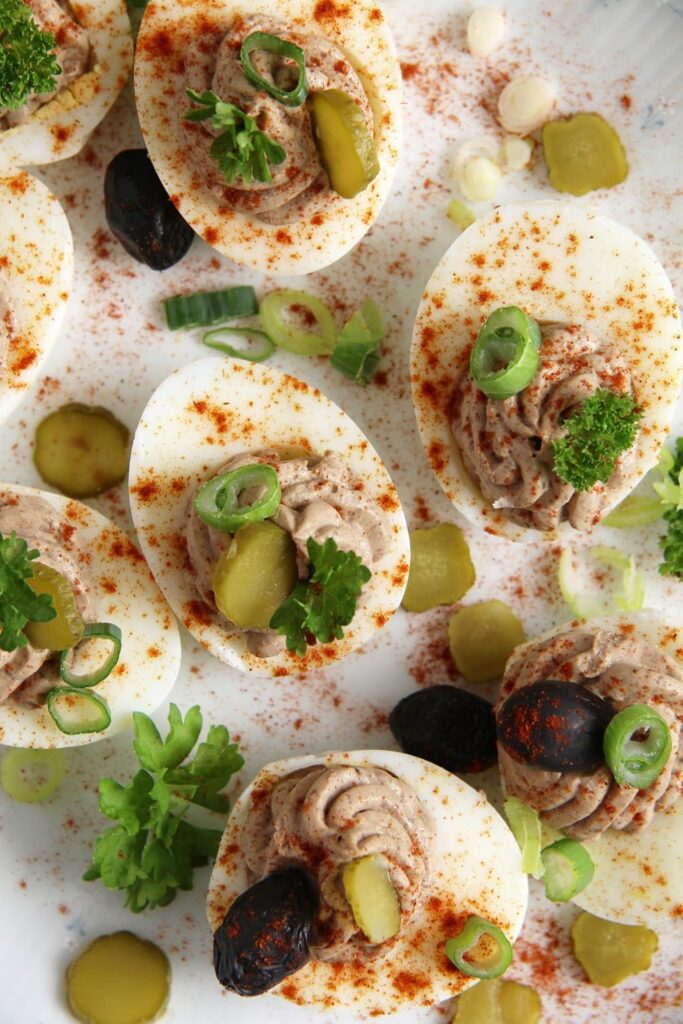 You could make this pate for filling eggs, but not only. It is delicious eaten on bread instead of the bought liver pate, it is a world of difference in taste and texture. I normally like liver pate or liver sausage and buy it from time to time from a good butcher, but I've never liked any bought sort as much as I like this homemade version. It is soft and silky and it tastes out of this world. Even if it's your first time with liver, give it a try, I think you will like it.
These deviled eggs are not only a good way of using leftover Easter eggs, they also make a great appetizer or nibbles for a party.
To finish, I hope you enjoyed learning a little bit about traditional Romanian cooking and stay tuned for a new batch of recipes starting on Saturday: Schnitzel in six different ways!
Others you might like: