Delicate spinach roll filled with cottage cheese, Gouda and herbs, a nice, fresh recipe for the Easter brunch.
We love this kind of rolls in Romania. The expert in our family is my aunt Geta, she has so many rolls in her repertoire… rolls with cheese, with chicken, with ham, many different recipes that she makes every year both for Easter or Christmas.
Whenever I ask her for ideas for the holidays or for a party, she suggests a roll, I think. Well, no wonder, they are easy to make, you can always make them well in advance, so you are not stressed with them shortly before the guests come, they always taste good and they look impressive. They always look like a lot of work, but that is only an illusion, they are sooo easy to make.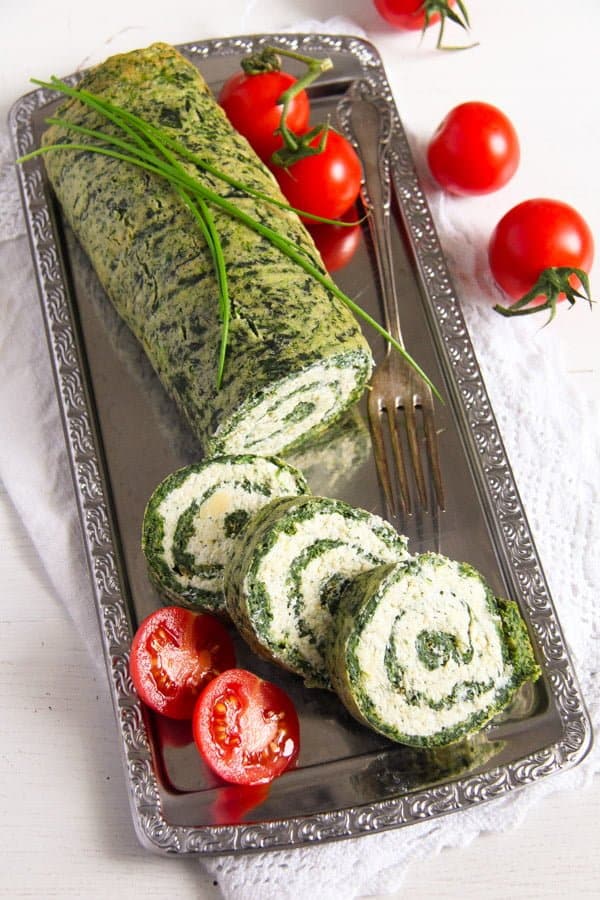 Notes on the Spinach Roll with Cottage Cheese, Gouda and Herbs
I used frozen spinach, a packet containing 450 g/ 1 lbs chopped spinach. You can also use fresh spinach, if you like, I guess about 700 g/1 ½ lbs fresh spinach should be about the same. But I prefer to use frozen spinach in this case, it tastes just as good and it is more convenient.
It is already chopped and I don't have to spend time washing, removing the stems and wilting huge amounts of fresh spinach. Plus the amount of fresh spinach needed in this recipe costs about 4-5 times as much as the frozen spinach and that is quite a lot.
I usually make this roll with Gouda cheese, but you can also try other sorts of cheese you like, something like Cheddar, for instance. I used a Turkish sort of dry fresh cheese for this Spinach Roll with Cottage Cheese, Gouda and Herbs. If you cannot find that, use regular cottage cheese, which you can drain in advance and pat a bit dry with kitchen paper before using it.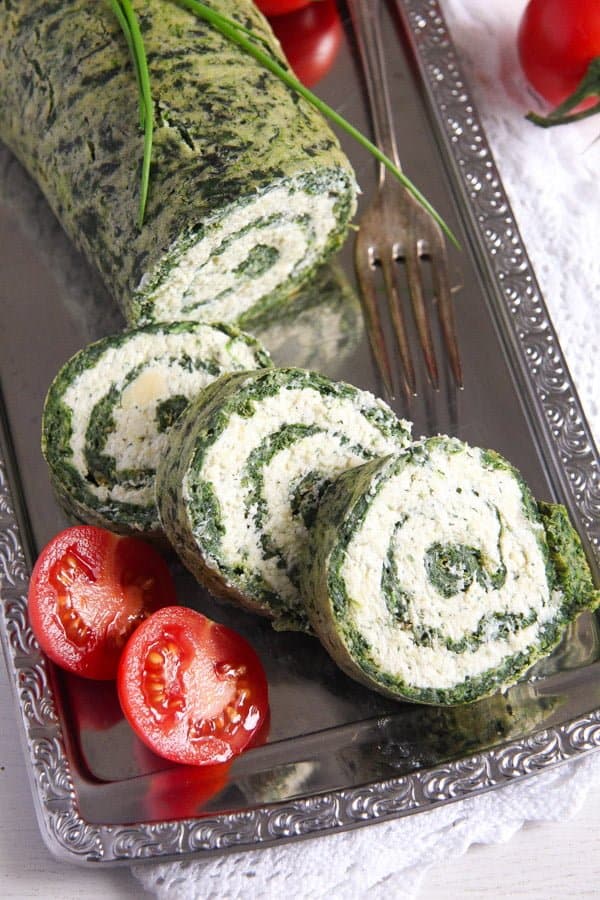 However, if the mixture is not as stiff as mine was when using the Turkish dry cheese, it will still be delicious, so do not worry too much about it, use whatever you have. You can even mix some cottage cheese with cream cheese, this way the mixture will be somewhat stiffer.
To make the spinach roll I used the typical Romanian/ East European smetana. If you cannot find it, you can substitute that with crème fraiche. Fresh (or frozen) herbs are a must, don't use dried herbs for this Spinach Roll with Cottage Cheese, Gouda and Herbs, they are not the same, you need that nice and lively aroma of fresh herbs.
Serve the Spinach Roll with Cottage Cheese, Gouda and Herbs for brunch, at Easter for instance, or as an appetizer for a dinner party. It also makes a nice lunch or dinner with a green salad on the side.
This Spinach Roll with Cottage Cheese, Gouda and Herbs opens a new series on Where Is My Spoon, a series which will try to provide you with some Easter dishes ideas.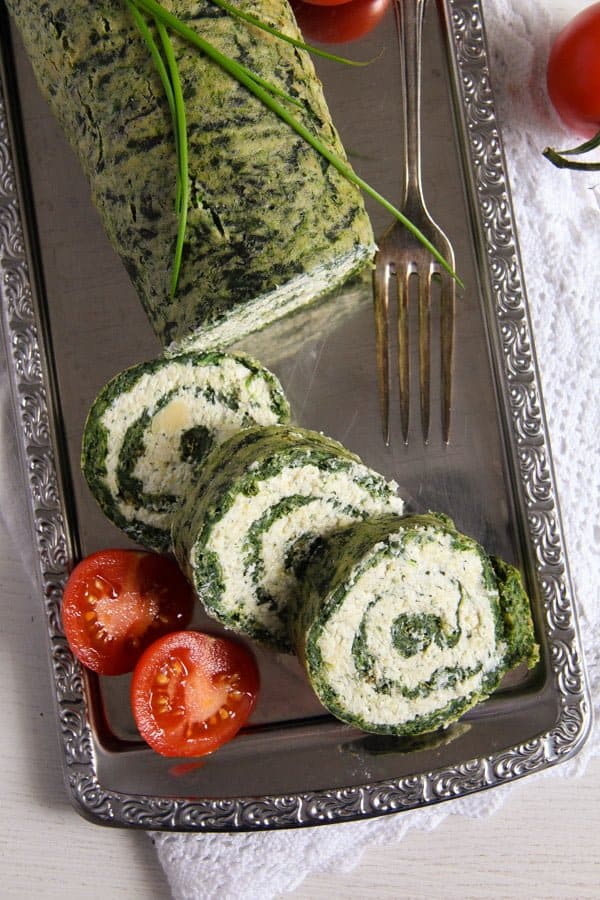 Other Easter Brunch ideas: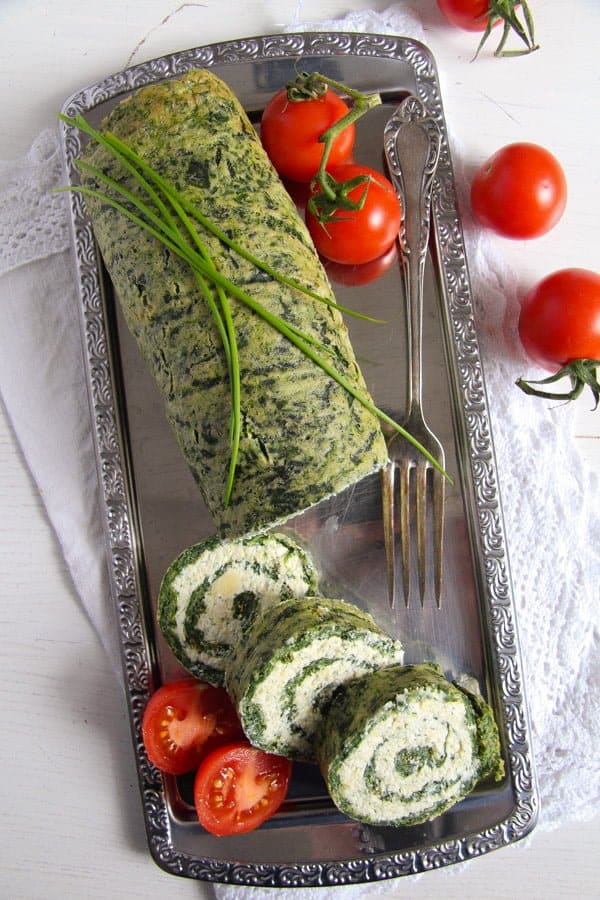 Ingredients
For the roll

450 g/ 1 lbs packet frozen spinach (See note 1)

100 g/ 3.5 oz/ 0.4 cup smetana/ crème fraiche

3 medium eggs

zest of ½ organic lemon

1 tablespoon fresh lemon juice

75 g/ 2.6 oz/ ½ cup + 2 tablespoons all-purpose flour

1 teaspoon baking soda

For the filling:

170 g/ 6 oz/ 1 ½ cups freshly grated cheese (Gouda)

200 g/ 7 oz/ scant 1 cup cottage cheese (See note)

60 g/ 2.1 oz/ ¼ cup butter, soft

2 tablespoons chopped dill

2 tablespoons chopped chives

salt and pepper
Instructions
Let the frozen spinach thaw in a fine mesh sieve.
Preheat the oven to 180 degrees Celsius/ 360 degrees Fahrenheit. Line a baking tray of about 25x35 cm/ 10x13 inches with baking paper.
When the spinach is completely thawed, take handfuls of it and squeeze them well to remove the excess water. Chop, if not already chopped. Give to a bowl.
Add the smetana or crème fraiche, the lightly beaten eggs, the grated zest of half organic lemon and 1 tablespoon lemon juice. Mix well with a fork.
Mix the flour and the baking soda together and add them to the mixture. Mix well. Pour the mixture into the prepared tray and spread evenly. Bake for 15 minutes.
Immediately remove the baked batter from the tray together with its baking paper. Roll tightly together with the baking paper. Let cool completely.
In the meantime, if using regular cottage cheese, let the cottage cheese drain in a fine mesh sieve. Pat a bit dry with kitchen paper and mash it with a fork before giving it to the filling. If using dry Turkish fresh cheese, it will be enough to mash it with a fork.
To make the filling mix together the grated cheese, cottage cheese, soft butter, herbs, salt and pepper to taste.
When the roll is completely cold, unroll it. Spread the filling evenly on top and roll it again, this time without the baking paper. Refrigerate for a few hours until set and slice before serving.
Notes
1. If using fresh spinach you will need about 700 g/ 1 ½ lbs fresh spinach which you will have to clean, remove the stems and let wilt in a pot. Chop it finely before giving it to the batter.2. I used Turkish fresh cheese, which is drier than the regular cottage cheese. If using regular cottage cheese, let it drain well and pat a bit dry with kitchen paper before using it.
This post contains affiliate links. The price you pay as a consumer does not change, but if you make a purchase we will receive a commission which helps support the blog.