Spicy deviled eggs filled with a tuna capers chili mixture, a creamy delight for your Easter brunch.
Deviled eggs or oua umplute in Romanian or gefüllte Eier in German, these little bits of pleasure are a staple in almost every kitchen in the world, you can have them American style with bacon or Romanian style with liver pate or German style with lots of mustard. Then there are those Asian style ones with miso and shrimps, Mexican style with jalapenos or Russian with caviar. Actually you cannot say what kind of deviled egg is from what particular country, everybody in the world seems to love them and the way of filling the eggs knows no borders anymore.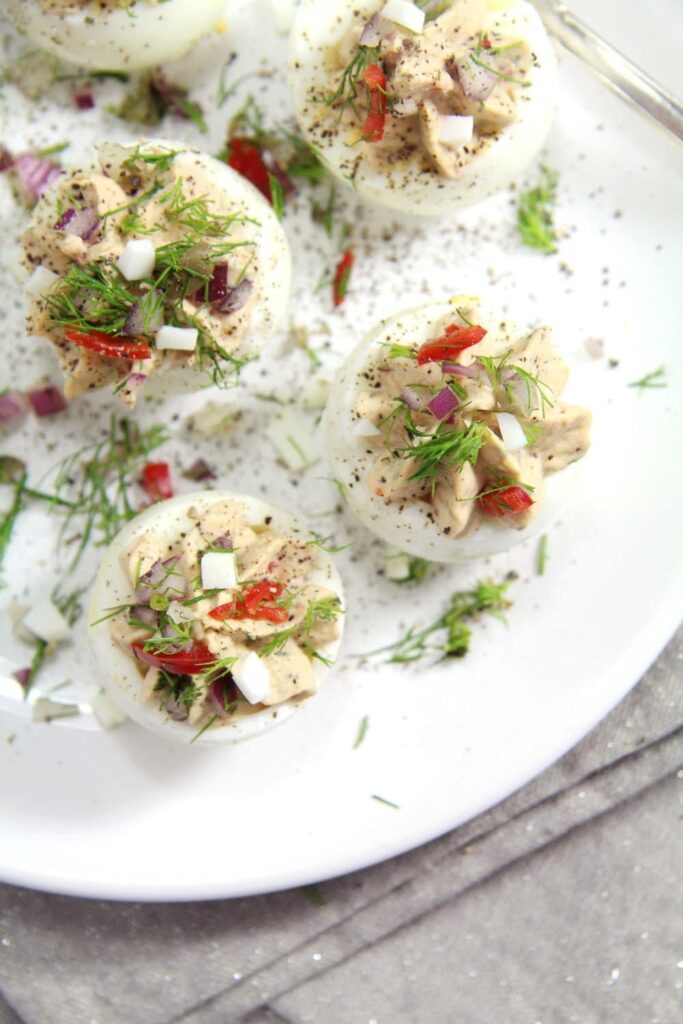 And what's not to love? I still have to meet a person (except a vegan person), who doesn't love eggs and filling them with a bunch of other delicious ingredients makes them only better. Deviled eggs are so versatile, you really do not have to follow a recipe or buy some special ingredients to make them, have a look in your fridge and your cupboard and I am a 100% sure you will find something suitable for filling your eggs. All you have to buy are your eggs.
This is how I came up with these eggs. I had to bake several cakes last week and needed lots of eggs. Somehow I had forgotten that I've already gotten two packs of eggs from our neighbor, so I bought another three packs. Two that I needed and one in case something goes wrong and I had to start again. Nothing went wrong, so in the end I had three extra packs of eggs in the fridge. So we did eat lots of eggs lately… No complaining there, everybody was happy, my kids would definitely rather eat omelet or scrambled eggs than broccoli casserole or cabbage soup, but you can only have so much scrambled eggs before you get tired of it.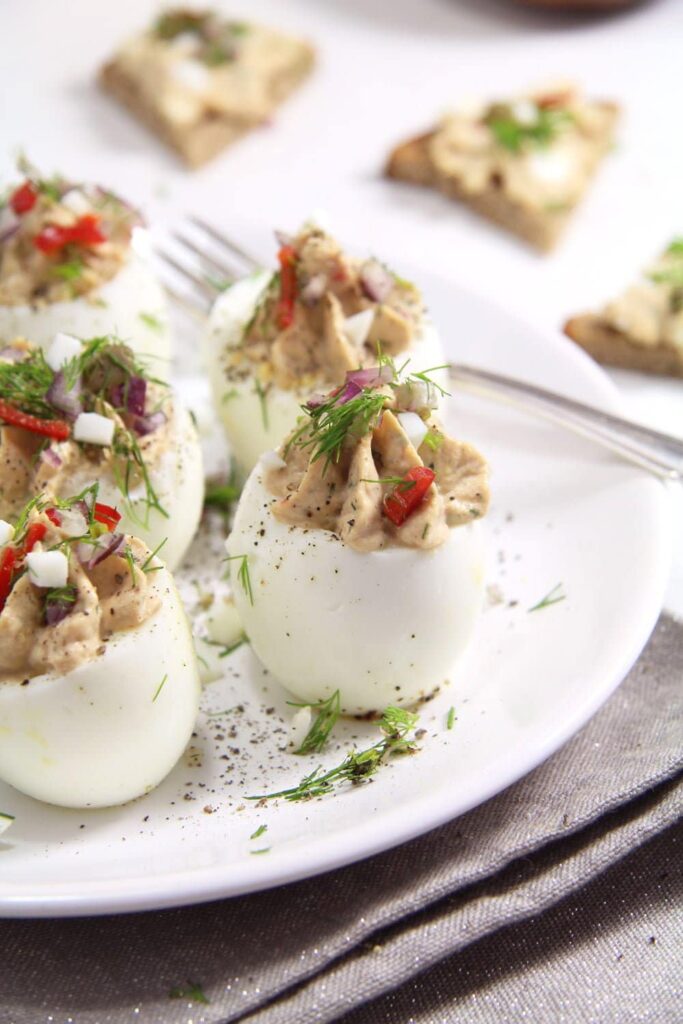 So I thought what about deviled eggs? The last time we had them was about this time last year, those delicious Romanian Deviled Eggs with Homemade Liver Pate. So I had a look in the fridge and found some capers, dill, very little mayonnaise and some anchovies. It would have been enough actually, but I knew my kids would protest if I put something containing anchovies in front of them, so I thought that tuna would be a much better idea, they are always annoying when it comes to fish, but canned tuna they eat. And as I don't think there was ever a time in my married life when I did not have at least one can of tuna in my pantry, I looked for it and whipped this deviled eggs in no time.
The mixture makes more than you need to fill your eggs, but don't worry about that, the tuna filling makes a wonderful bread spread as well. I filled the eggs in an unusual way, cutting away the top, removing the yolk and piping in the filling. You can do it like that or you can go the traditional and much easier way, that is: halve your eggs lengthwise, remove the yolk and fill the halves with the tuna mixture.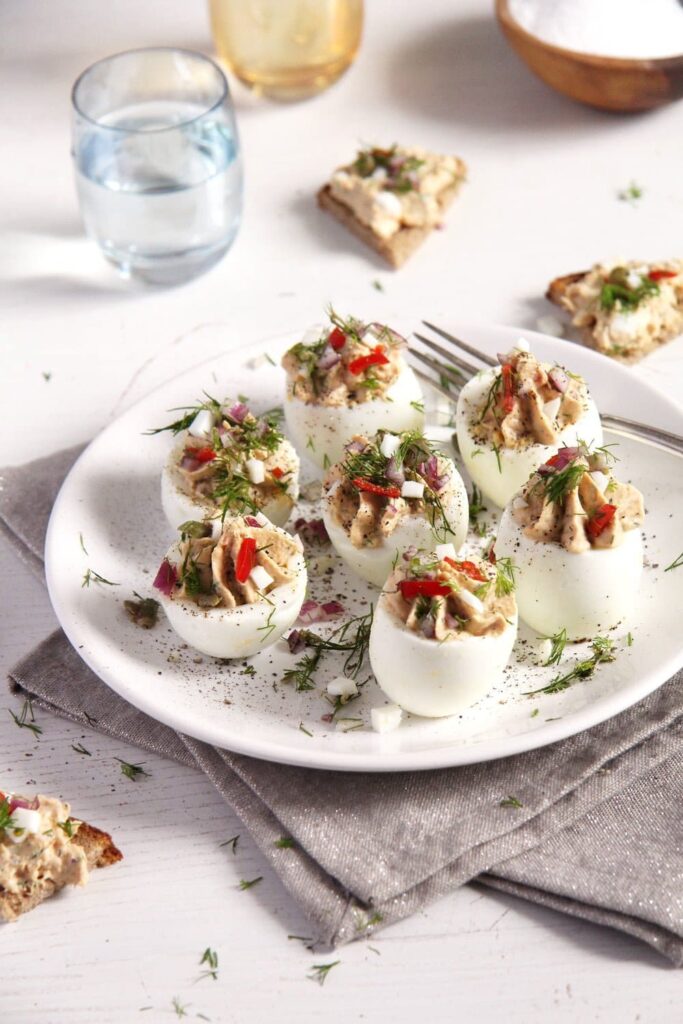 If you don't want to use mayonnaise, then don't, replace it with a little more cream cheese and a few drops of milk if necessary to make the mixture more spreadable.
Regarding the hard boiled eggs: older eggs are easier to peel than very fresh ones, I noticed that again when making the eggs, about half of them were from an older batch and half of them fresh. I did not make a sign on them to see how each batch peels, but I really noticed that half of them peeled easily while the other half not so. You can cook your eggs in advance as well, that will make them easier to peel too. Or you can use leftover Easter eggs to make deviled eggs, making deviled eggs is one of my favorite ways of using the leftover eggs ever year.
So, here they are: Deviled Eggs with Tuna and Mayonnaise – something that definitely belongs on any Easter brunch table.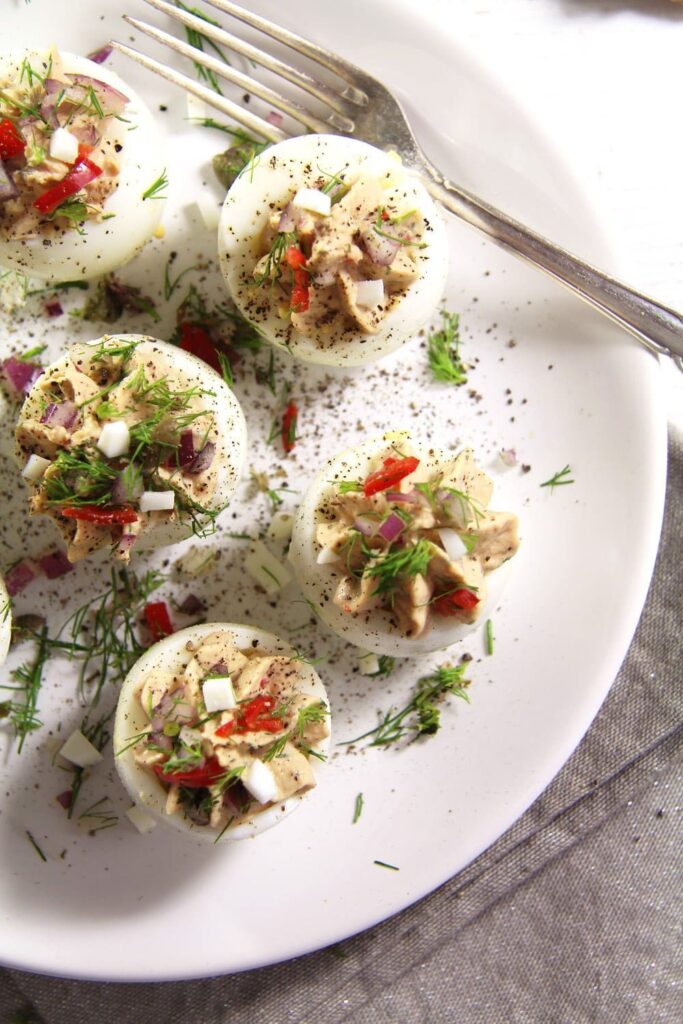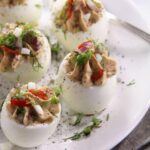 Ingredients
8 large eggs

1 can tuna

1 fresh red chili

½ red onion or a very small one

a few sprigs of fresh dill (or other fresh herbs)

1 ½ teaspoons capers

2-3 teaspoons good quality mayonnaise

1 teaspoon medium hot mustard

1 heaped tablespoon cream cheese

salt

freshly ground smoked pepper, or regular
Instructions
Place the eggs in a pan, cover with water, add a large pinch of salt and bring to a boil. Cover tightly and remove from the heat. Let sit for 12 minutes, then drain and rinse well in cold water. Place them in a bowl with very cold water to stop them from cooking further. When cold, refrigerate until needed. You can cook the eggs well in advance, that will make them easier to peel as well.
Peel the eggs. If you want them to stand remove one third of the top of the egg and a very thin slice of the bottom part of the egg, so it can stand easily without falling down. If you want to make your deviled eggs traditionally, slice them in half lengthwise.
Remove the yolks and place them in a bowl. Drain the can of tuna. Chop the deseeded chili, red onion and dill. From each chopped ingredient save a little bit for the garnish. Give the drained tuna, the chopped ingredients, capers, mayonnaise, mustard and cream cheese to the bowl as well. Process with the hand-held blender until you have a smooth paste. Adjust the taste with salt and freshly ground pepper.
Transfer the mixture to a piping bag fitted with a large (star) nozzle. Carefully pipe the filling into the prepared eggs. Sprinkle the eggs with the chopped ingredients that you put aside for the garnish and with some more freshly ground black (smoked) pepper.
If you make the eggs standing up you will have some leftover egg whites from the top of you eggs. Chop them finely and stir them into the leftover mixture. You will now have a delicious bread spread as well.
This post contains affiliate links. The price you pay as a consumer does not change, but if you make a purchase we will receive a commission which helps support the blog.
Others you might like: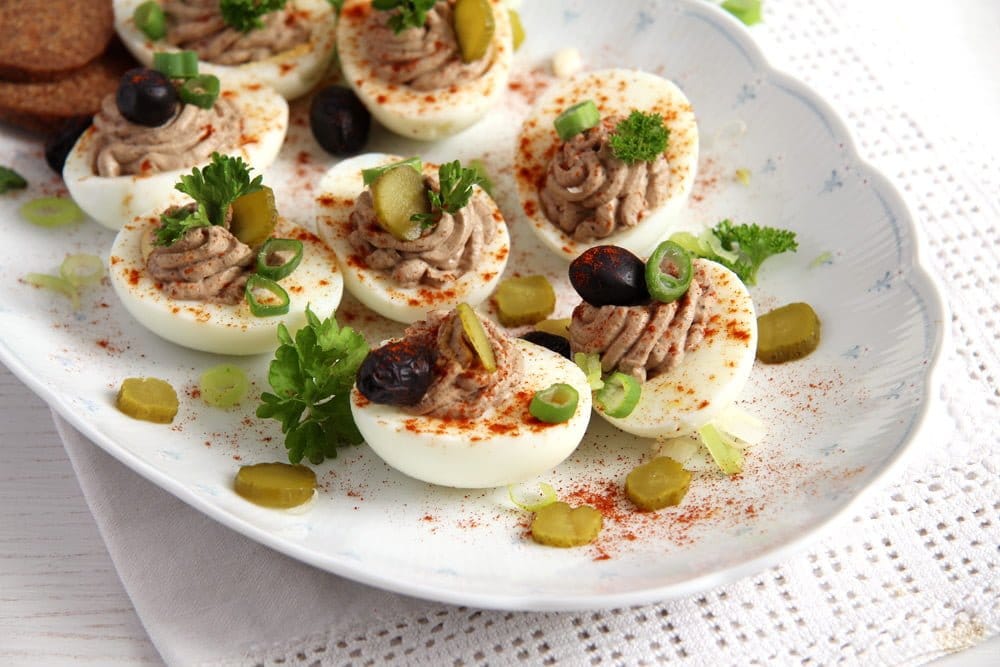 Deviled Eggs with Homemade Liver Pate
Eggs in Mustard Sauce
Eggs in Spaghetti Nests