Last Updated on 17/03/2020 by Adina
Tomatoes, peppers and cucumber slices stuffed with three delicious and easy to make cream cheese fillings.
Romanian people do love their appetizers. Lots of salami, ham and cheese rolls, stuffed vegetables, spreads and different kind of nibbles, everything so tasty and laborious sometimes, one could spend hours and whole days in the kitchen preparing appetizers for a party.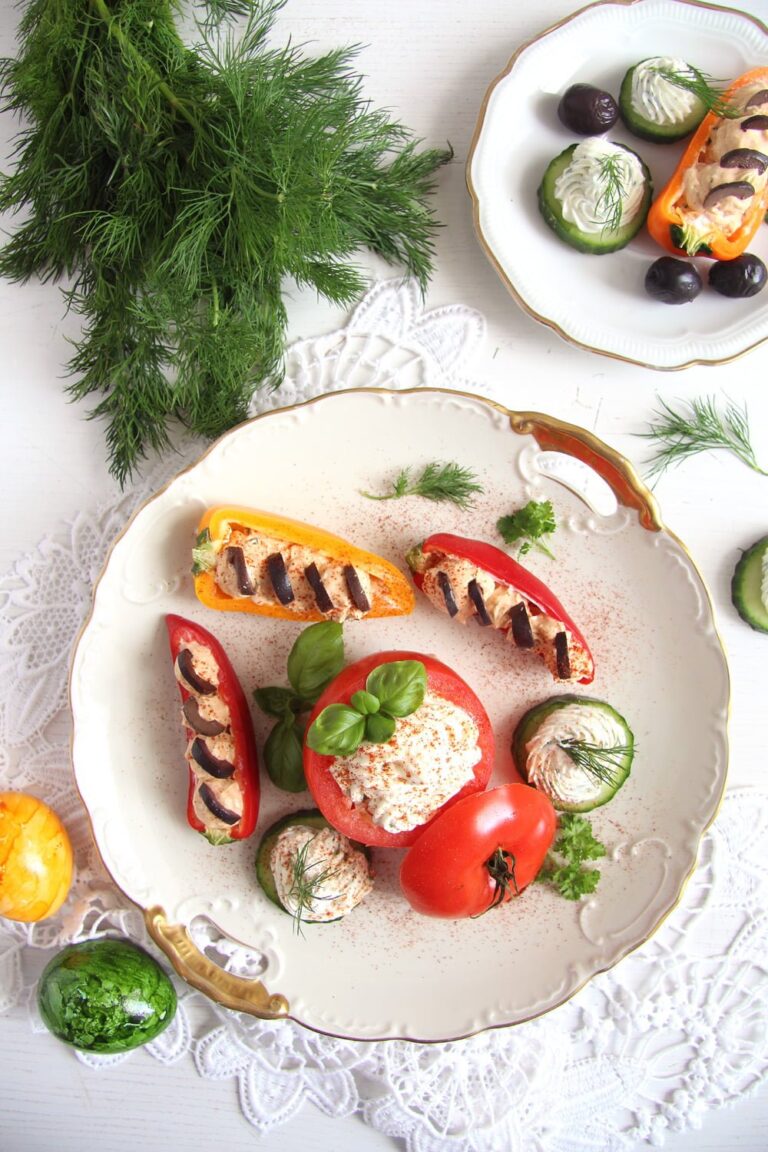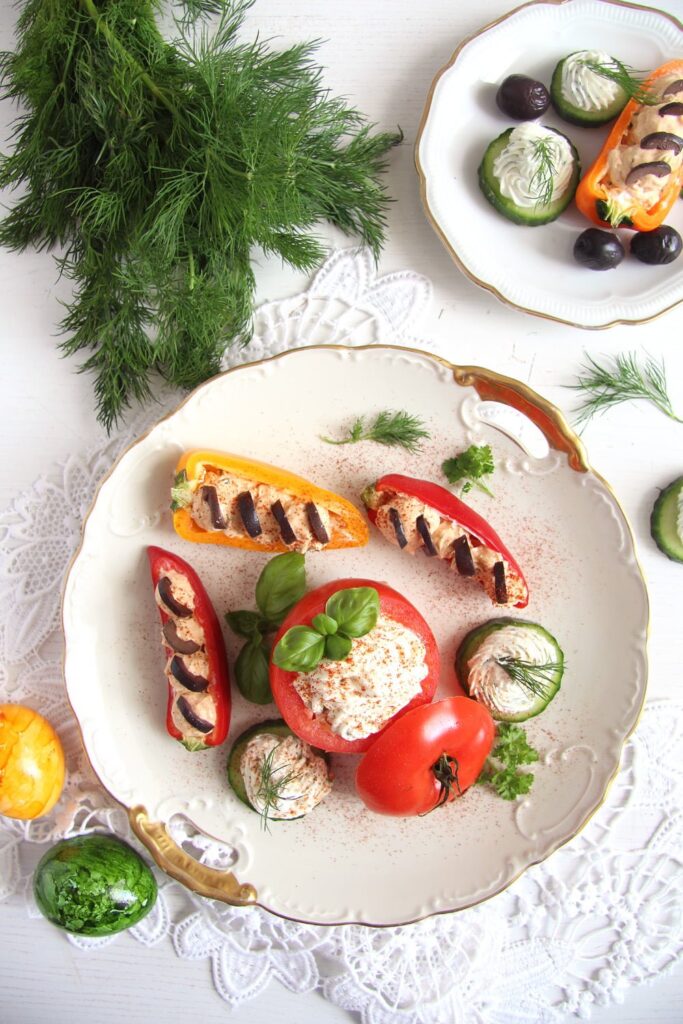 And the best opportunity to have lots and lots of different and delicious appetizers are the weddings. There are uncountable different courses to be eaten at a Romanian wedding, but if you ask me the appetizers are the best. There are several reasons for that: first of all they are really delicious. Then they are the first course to be served, so after hours spent in the church on your feet and never ending photo sessions you are actually pretty hungry when you get them. Then they are something special, not something you would make at home very often, like in the case of the following courses: soups, roasts, cabbage rolls, fish and so on. And anyway after eating the appetizers and a nice soup, you really don't care much about the food that comes next, at least I never really did and regarding the cakes I don't think I have ever tasted any cake at a Romanian wedding. One is so full by the time the cakes come…
I remember some of the weddings I went to as a child and teenager, the thing I was most happy about when it came to food were the salami cream cheese rolls. So delicious, I can still remember that taste! And I wonder why I've never made them myself? And the olives! I could not care less about the meat and the rest, but I ate all the olives and salami and cheese rolls from my plate and my grandmother's plate as well.
I have no salami rolls for you today but some other lovely appetizers – Cream Cheese and Herbs Stuffed Vegetables, easier to make than the rolls but equally delicious. They are a great addition to the Easter brunch alongside the Deviled Eggs with Tuna and Mayonnaise from yesterday. Some crisp bread and maybe a nice soup and you don't need anything more, if you ask me. Well, something sweet maybe.
Please don't judge the kitschiness of my pictures. Romanian appetizers are supposed to look as kitschy (and quite ridiculous sometimes) as possible. It is just their nature. Romanian people do have a predilection for kitsch when decorating food (have a look at my Boeuf Salad from last spring) and I cannot ignore that when making Romanian appetizers myself, kitsch is a must, otherwise they are just not genuine enough. 🙂 You should have seen my grandmother's Boeuf Salad, she normally could not care less about decorating food, but when she made that salad for Easter or Christmas she would get into a decorating frenzy. Perfectly smooth and yellow mayonnaise, flowers made of olives and pickled paprika slices, trimmed parsley leaves, perfectly cut egg slices, I am telling sheer decorating madness!
Making these Cream Cheese and Herbs Stuffed Vegetables is super easy. Clean and prepare your veggies and mix the entire batch of cream cheese and feta mixture. Then all you have to do is to divide the mixture into three parts and spice each portion differently. And there you are: three different fillings for three different vegetables.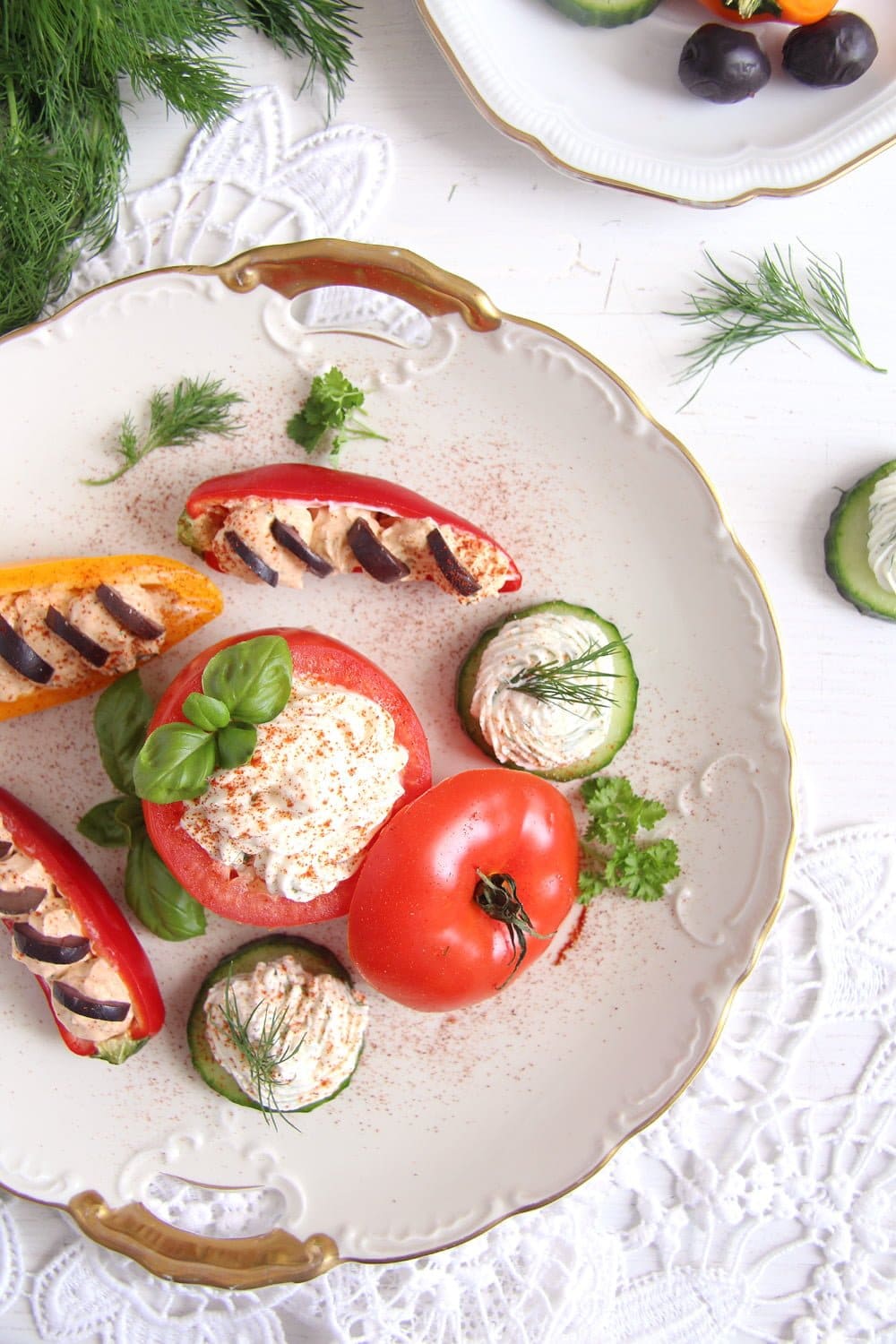 Ingredients
2 medium ripe tomatoes or 4 smaller ones

1 medium cucumber

4 mini peppers

450 g/ 15.8 oz cream cheese (Philadelphia or similar)

100 g/ 3.5 oz feta cheese

salt and pepper

For the tomatoes:

2 teaspoon mayonnaise

5 large basil leaves

2 anchovy filets

For the cucumber:

1 garlic clove

1 teaspoon olive oil

a few sprigs dill

For the mini peppers:

½ teaspoon sweet paprika

1 teaspoon mayonnaise

a few sprigs parsley

olives, more herbs and sweet/hot paprika for the garnish
Instructions
Cut the upper side of the tomatoes, carefully scoop out the seeds and the flesh of the tomatoes. Place upside down on kitchen paper and let drain while you prepare the rest.
Slice the cucumber into slices, about 1 cm/ 0.4 inch thick.
Half the mini peppers lengthwise leaving the green stalks attached. Remove the seeds.
Give the cream cheese and the feta cheese to a bowl and process with a hand-held blender until smooth. Add salt and pepper to taste. Divide this mixture into three parts and place each batch in a separate small bowl.
For the tomatoes: add the mayonnaise, torn basil and anchovies to the first cheese batch. Blend again until smooth. Fill the tomatoes with this mixture.
For the cucumbers: add the grated garlic clove, olive oil and chopped dill to the second cheese batch. Mix or blend again and pipe the mixture on each cucumber slice.
For the mini peppers: add the sweet paprika, chopped parsley and mayonnaise to the third cheese batch. Mix well and fill the peppers with this mixture.
You can fill or top the veggies with a teaspoon or you can pipe the filling. If you don't have a piping bag, fill the cheese mixture in a freezing bag, cut a small hole in one corner of the bag and use that for piping.
Decorate with sliced olives and more herbs. Sprinkle with some sweet or hot paprika.
Chill until ready to serve. You can serve the appetizers with crackers, grissini, crisp bread etc.
This post contains affiliate links. The price you pay as a consumer does not change, but if you make a purchase we will receive a commission which helps support the blog.
Others you might like: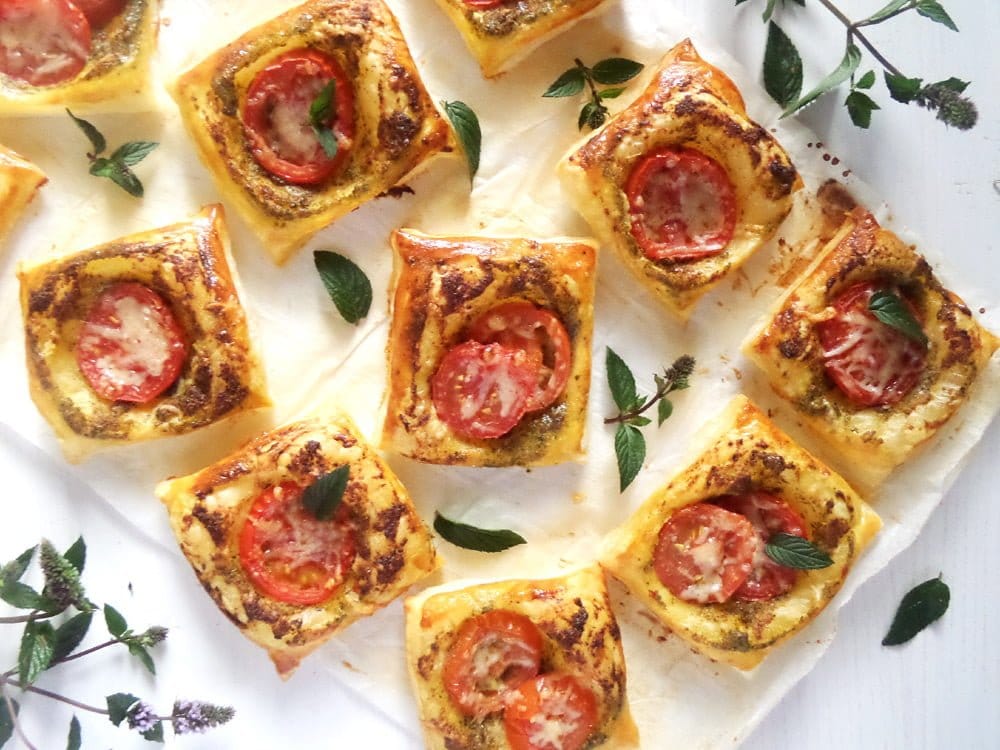 Puff Pastry And Mint Pesto Nibbles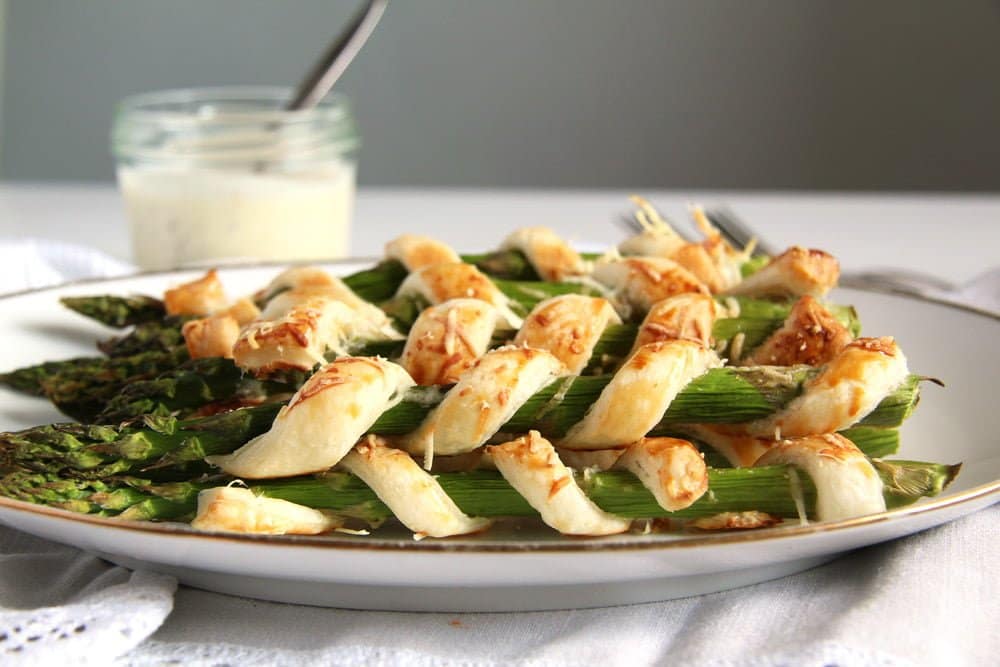 Crispy Asparagus with Lemon Mayonnaise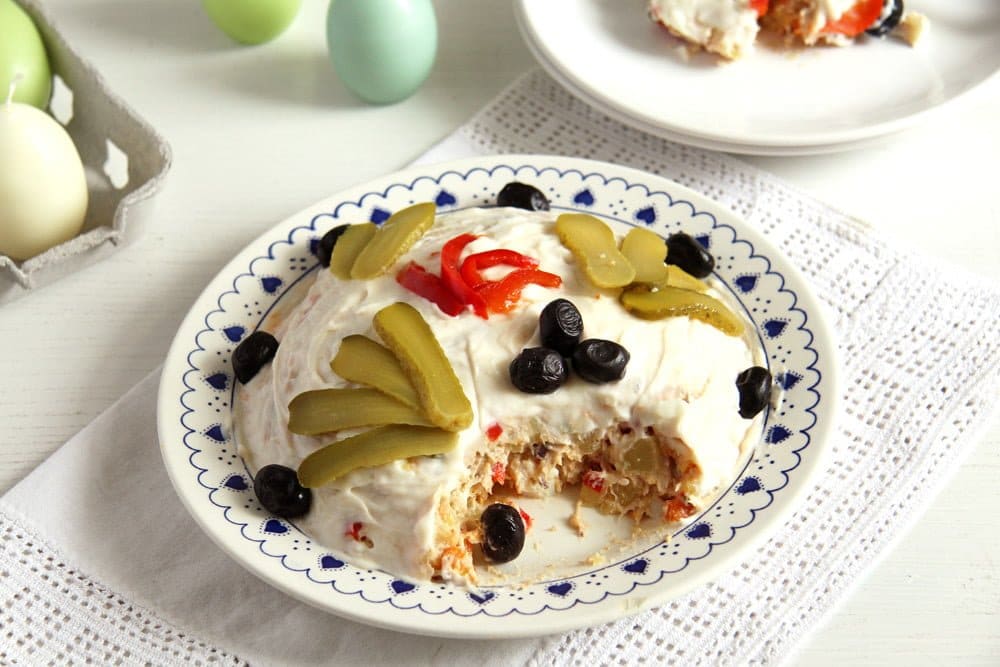 Romanian Boeuf Salad