Last Updated on
My favorite Christmas treats: cheesy pretzels or sticks with caraway, sesame or nigella seeds.
These are really my favorite treats, the ones I was anticipating most as a child. My grandmother used to make them every year for Christmas and Easter when I was still little and I remember helping her cut the dough and placing the pretzels on the baking sheet, brushing them with egg and sprinkling them with the caraway seeds. She stopped as she got older and for a while we used to get some from her sister, but that stopped as well at one point. Luckily we were able to buy them at the baker's as well . They were never as good as the homemade ones, but still delicious.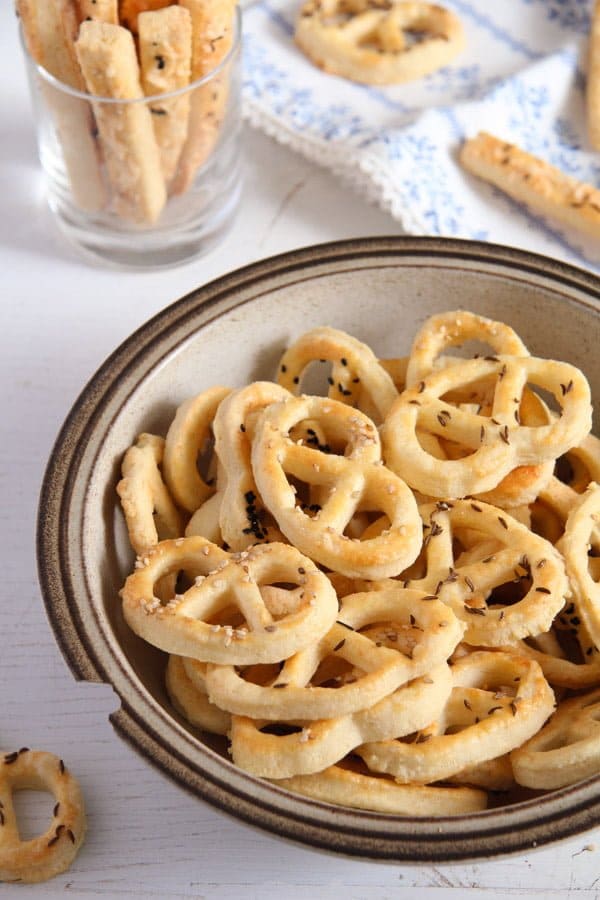 Romanian Covrigei or Saratele – Pretzels or Salty Sticks, they are more or less the same thing, only the form is different. The pretzels are the original, I suppose, only that you will need a special form to cut them Patisse Stainless Steel Pieces Pretzel Design Cookie Cutter (Set of 3) , Metal
. But don't worry, make the sticks even if you don't have the form, they are just as delicious as the pretzels, they only look different. And they are easier to make, just roll the dough and cut it into straight, regular stripes.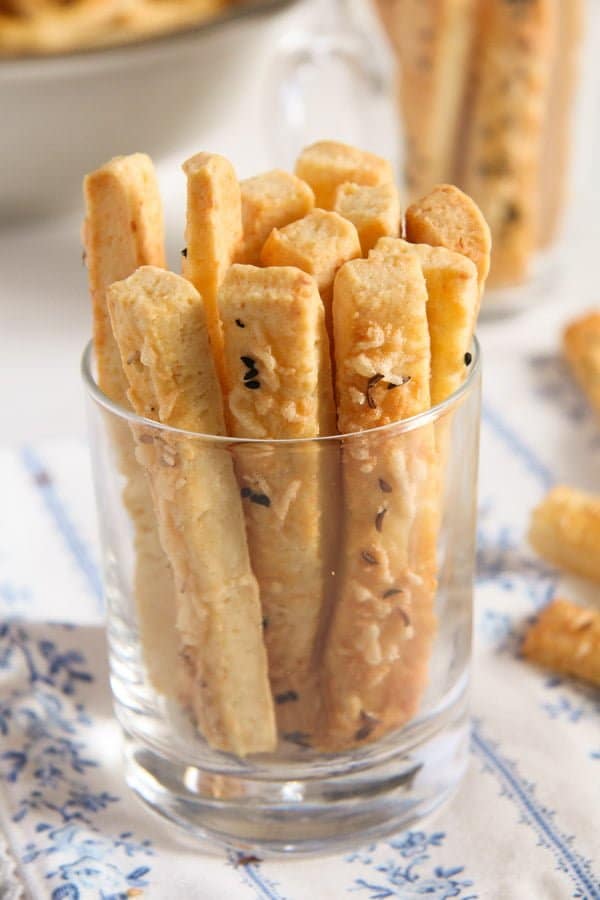 I have already posted a recipe for Cheese Caraway Crackers – Romanian Saratele a couple of years ago, a beautiful recipe that I have been making repeatedly for many years now. That recipe uses Gouda or Cheddar cheese, but recently I found another recipe using feta cheese or the Romanian salty telemea cheese. I wanted to try that as well and I liked it so much, I decided to make a new post out of it and use the covrigei cutter as well this time.
Traditionally, the covrigei or saratele are sprinkled with caraway seeds. I love them like that, but my children don't, so I started using other seeds as well, seeds like sesame or nigella seeds. My daughter is crazy about the sesame seed version, my son doesn't care so much as long as they're not caraway seeds and I like all versions. 🙂
For an even cheesier version, you could sprinkle the cut pretzels or sticks with some Parmesan as well.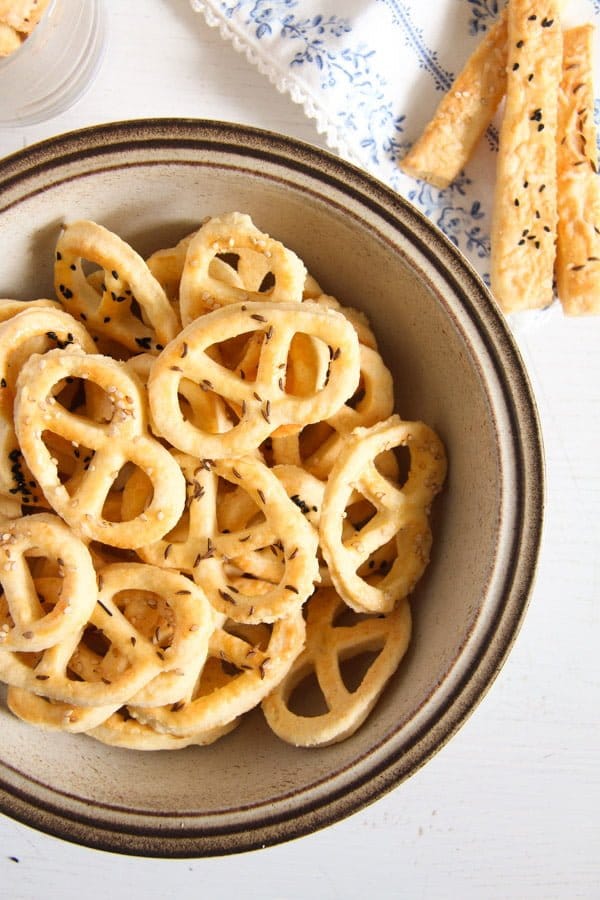 Some more ideas for Christmas treats: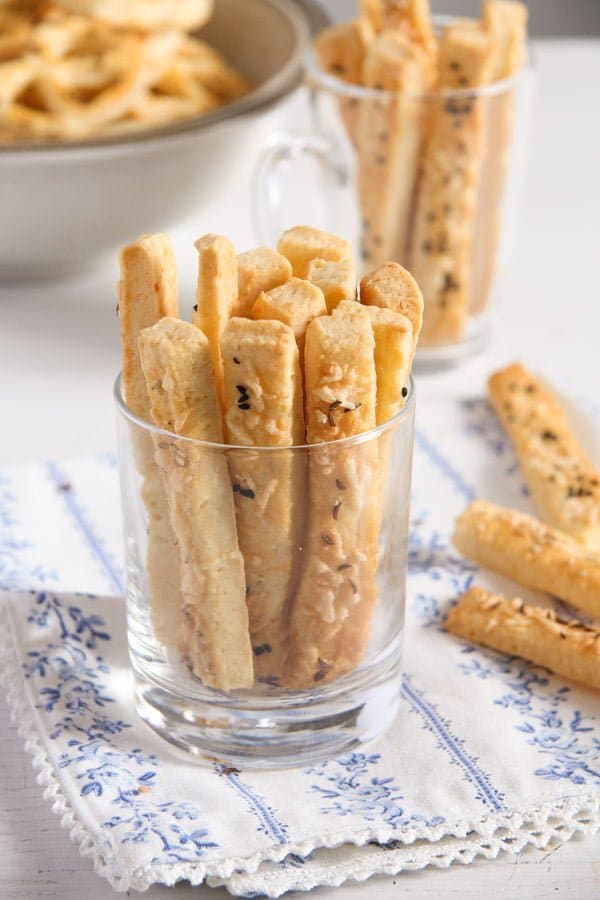 Ingredients
450 g/ 15.9 oz/ 3 ¾ cups all-purpose flour

1 teaspoon Dr. Oetker baking powder

½ teaspoon salt

250 g/ 8.8 oz/ 1 cup cold butter

3 egg yolks

1 tablespoon sour cream/smetana

200 g/ 7 oz feta cheese

1 egg for brushing

caraway seeds

sesame seeds

nigella seeds

Parmesan, optional
Instructions
Give the flour, baking powder and salt to the food processor. Pulse to mix.
Cut the butter into small cubes and give them to the flour. Mix until the mixture resembles streusel. Add the egg yolks, sour cream and crumbled feta and mix to incorporate well.
Preheat the oven to 180 degrees Celsius/ 360 degrees Fahrenheit.
Divide the dough into 2 or 3 parts and keep the rest of the dough wrapped in cling film in the fridge, while you cut the first batch of pretzels or sticks.
Roll the dough about 3 or 4 mm/ 0.12 – 0.15 inches thick on a lightly floured surface. Cut with the pretzel cutter if you have one. If not, cut the dough into stripes, about as long and thick as a finger.
Place the pretzels or the sticks onto baking trays lined with baking paper. Brush them with the lightly beaten egg and sprinkle them with the seeds of your choice. For an even cheesier version you could sprinkle some of them with some Parmesan as well. Parmesan works better when sprinkled on the sticks and not on the pretzels.
[gallery ids="7883,7884,7885,7886"]
Bake for 12-15 minutes or until nicely golden. Check the first batch repeatedly to make sure you get the baking time right, ovens are different and you don't want to over bake the pretzels. While one batch is in the oven, cut the second batch and so on. You should have at least 2 baking trays/ cookie sheets, it makes the baking process quicker and easier.
Leave the pretzels or sticks to cool slightly before you transfer them to wire racks to cool completely. If you try to move them immediately after baking, they might break, so better leave them on the tray for about 5 to 10 minutes or so.
They will keep for at least one week in an airtight container.
This post contains affiliate links. The price you pay as a consumer does not change, but if you make a purchase we will receive a commission which helps support the blog.