Spicy beef empanadas filled with ground beef, jalapeňos, cumin, paprika, coriander, and lots of herbs, an easy Argentinian recipe.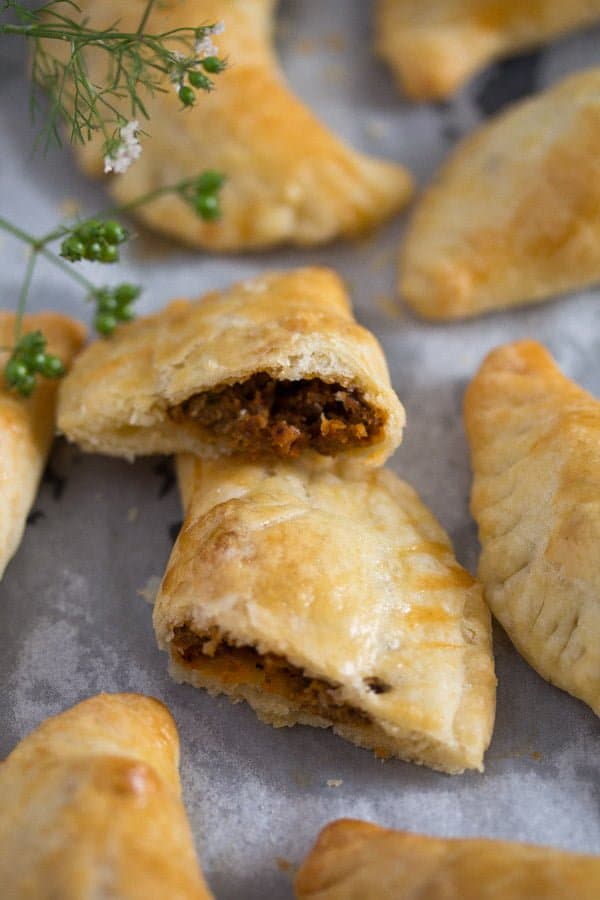 I forgot to count these spicy beef empanadas when I made them; I would say they were about 40, two whole baking trays. But let me tell you; they were gone in no time.
OK, we did not polish them all on our own, so many would definitely be too many for just two adults and two children. We had some help, but still... when I saw how many the recipe would make, I never would have thought they would be gone so fast.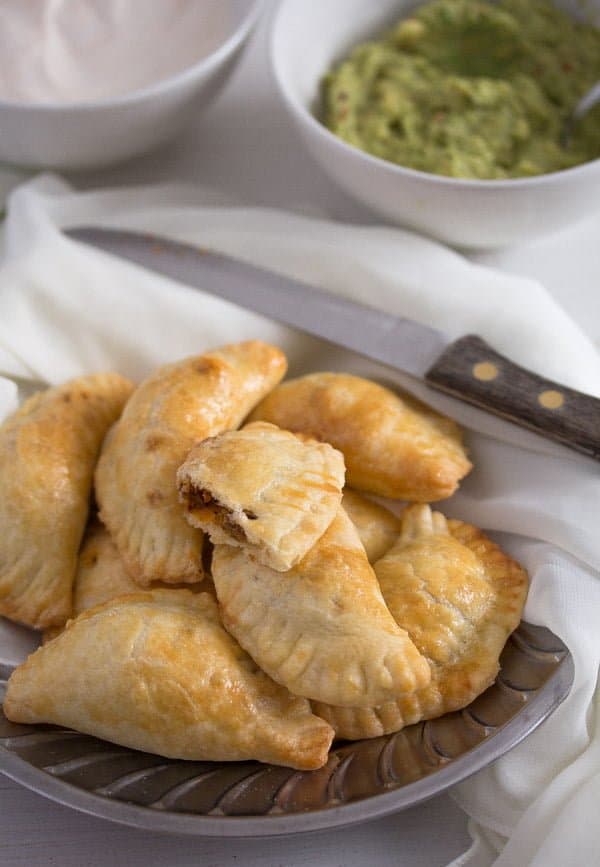 History of empanadas
Empanadas are pastry pockets filled with various fillings. They can be either baked or fried. They are very popular not only all over Latin America but also in the South of Europe.
Their origins can be traced to Spain (Galicia) and Portugal; apparently, they became known in this region during the Middle Ages in the time of the Moorish invasions. They are even mentioned in the first Catalan cookbook from 1520 – Llibre del Coch.
However, the empanadas, or better said, similar kinds of pastries filled with something, are much older than that; some sources mention Persia, sometime before Christ. There are versions of empanadas to be found in many countries of this world; just think of the Cornish pasties or the Indian samosas.
When the Spanish arrived in the New World during the 16th century, they brought the recipe for empanadas with them.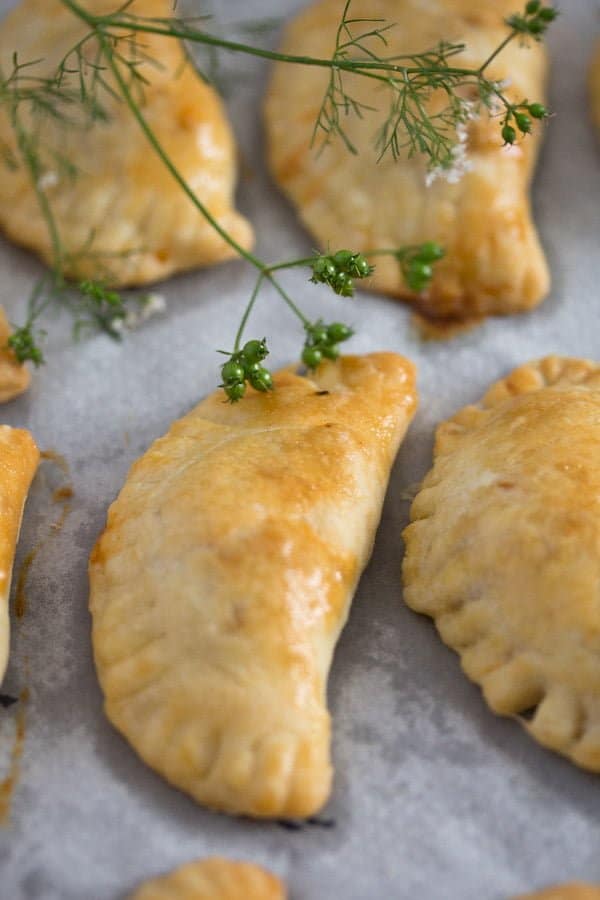 How to make empanadas with ground beef?
Basically, just do what the name of the food says. The name empanada comes from the verb empanar, which means to wrap something; in this case, wrap the filling in a disc of dough.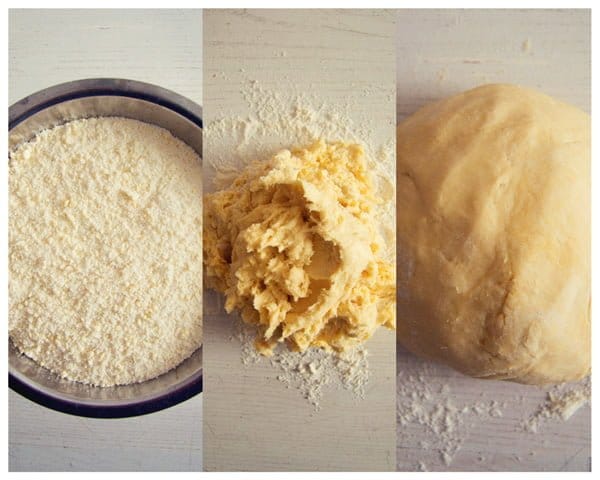 How to make empanada ough?
The dough is usually made with wheat flour and butter or lard.
It has to be thinly rolled, cut into circles, filled, and wrapped into a semicircle.
The next step is to close and crimp the edges to seal the empanadas thoroughly.
I found that the easiest way to stick the edges together is to slightly lift both parts of the circle from the table (while the heavier part of the empanada containing the filling still rests on the table) and press the edges together. Once I have done that, I place the empanada on the table again and crimp the edges by pressing them with a fork.
There are more beautiful ways of folding and crimping the edges of an empanada, but that requires practice and time.
For our purposes, which are just eating those spicy beef empanadas and not spending ages making them, crimping the edges with the fork is quick, easy, and quite sufficient.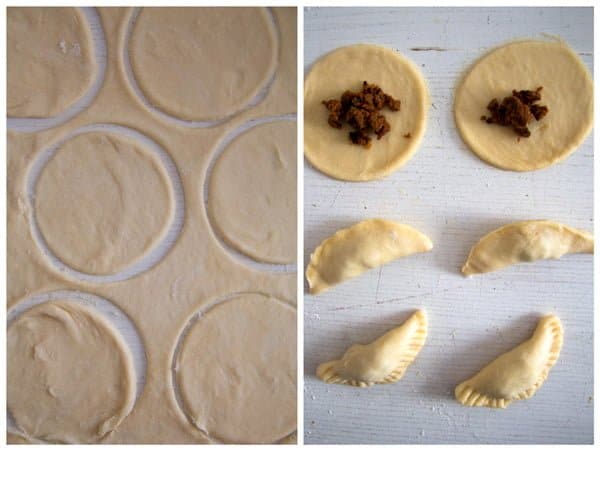 How to make the beef filling?
Making the beef filling for empanadas is super easy.
Mix most of the ingredients together, fry them a little, add some more ingredients, and cook the meat through.
Let cool while you make the dough and while the dough is resting.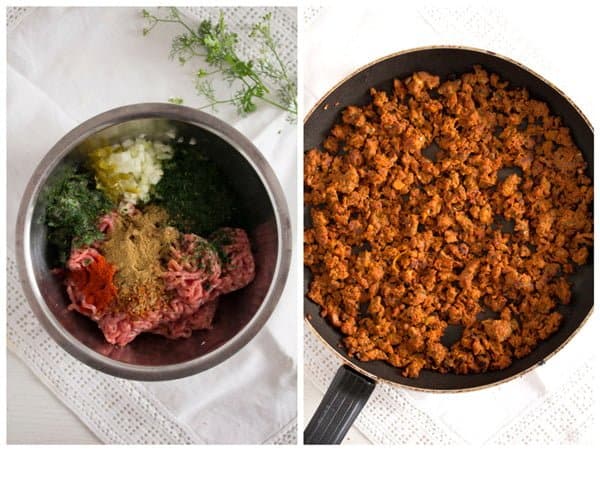 Alternative fillings:
There are endless ways of filling empanadas.
They can be made with beef or chicken, they can be vegetarian, and they can even be sweet, like the pumpkin pasties, for instance. Theoretically, more Cornish pasties, but in reality very much like empanadas.
I have made chicken empanadas before, and I have made vegetarian samosas quite a few times; I should post that recipe sometime; it is delicious.
How to serve empanadas?
You can serve them hot, warm, or at room temperature.
You can serve them with guacamole and sour cream and a nice green salad.
They can be easily transported and thus perfect for a picnic.
How to store?
These spicy empanadas keep well in the fridge for up to 2 days.
They can be reheated in the oven at about 180 degrees Celsius/ 360 degrees Fahrenheit for about 10 minutes or until hot.
You can also freeze unbaked empanadas. Place them on a baking tray or another tray that fits in your freezer. Let them freeze well, then transfer the empanadas to freezer bags or freezer containers.
By freezing them on the baking tray, you can ensure the empanadas won't stick together and freeze in a clump.
Frozen empanadas keep for about 3 months in the freezer and can be baked directly from frozen as indicated in the recipe, but adding an extra minute or two to the baking time.
Cooked empanadas can also be frozen and reheated in the oven, although the pastry might lose some of its flakiness. However, if you have made more than you can eat, freezing them is still a very good idea.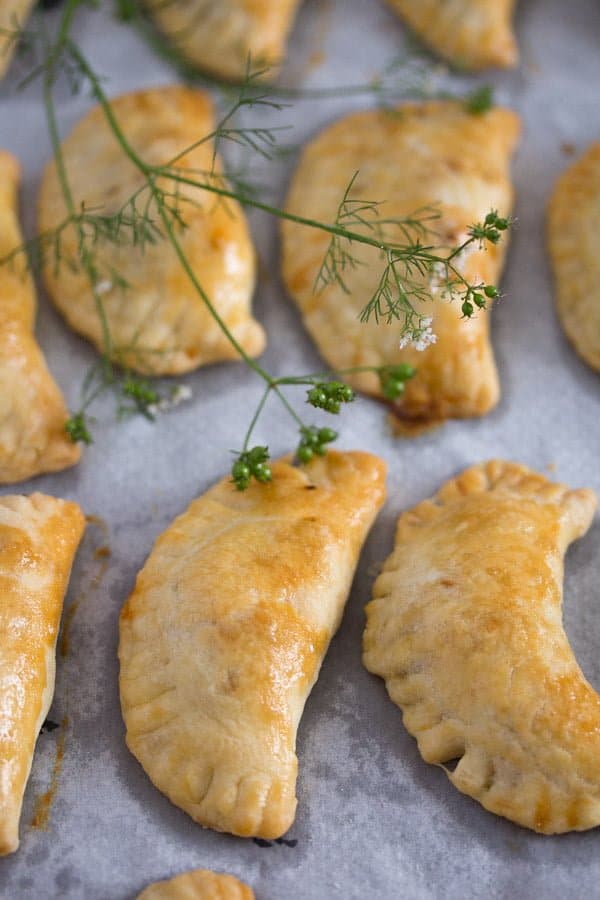 More South and Central American recipes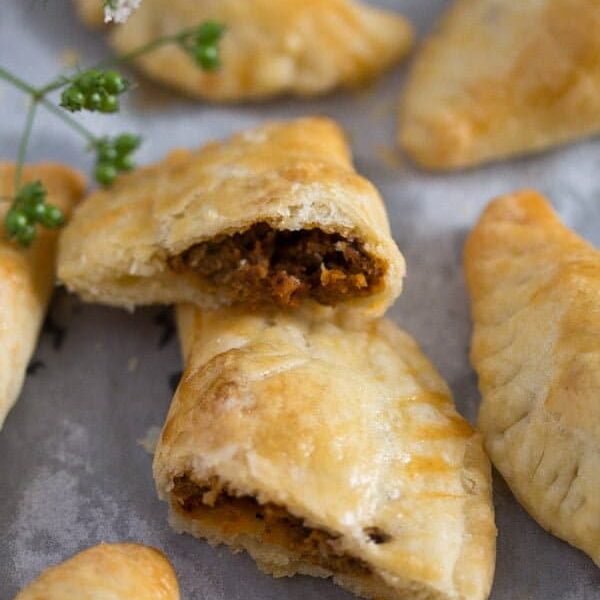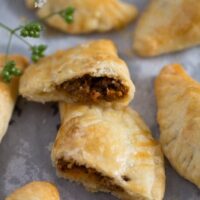 Spicy Beef Empanadas - Argentinian Recipe
Spicy beef empanadas filled with ground beef, jalapeňos, cumin, paprika, coriander, and lots of herbs, an easy Argentinian recipe.
Print
Pin
Share
Grow
Saved!
Rate
Ingredients
Beef filling:
400

g

ground beef

14 oz

1

onion

about 75 g/ 2.6 oz

3

tablespoons

chopped parsley

1

tablespoon

chopped coriander

½

teaspoon

smoked paprika

1

teaspoon

sweet paprika

1

small jalapeňo

more or less to taste

2

teaspoons

ground cumin

1

teaspoon

ground coriander

1

teaspoon

chili flakes

optional and to taste

½

teaspoon

salt

½

tablespoon

olive oil

2

tablespoons

tomato paste

1

egg for brushing the empanadas
Empanada dough (Note 2):
375

g

all-purpose flour

13.2 oz/ 3 cups + 2 tablespoons

1

teaspoon

fine sea salt

220

g

g/ very cold unsalted butter

7.7 oz/ scant 1 cup

2

eggs

100

ml

water

very cold, 3.5 fl.oz/ ⅓ cup + 2 tablespoons
Instructions
Beef filling:
Mix the ground beef, very finely chopped onion, chopped parsley, coriander, smoked and sweet paprika, very finely chopped jalapeňo, ground cumin, coriander, chili flakes, and salt.

Cook the filling: Heat the oil in a non-stick pan and fry the mixture for about 2 minutes, breaking the lumps of meat with a wooden spoon. Add the tomato paste, stir well, and continue cooking the filling until the meat is cooked through (about 5 minutes). Let cool while you make the dough.
Empanada dough:
Cut butter into flour: Place the flour and the salt in a bowl. Mix well. Cut the very cold butter into small cubes and rub it into the flour with your fingertips until the mixture resembles fine crumbs.

Only use your fingertips and not your whole hands; otherwise, the mixture will become too warm and soft. You can also do this in the food processor; it's easier and quicker.

Beat the eggs lightly and add them to the mixture. Add about ¾ of the very cold water and mix or process very shortly until the dough comes together.

Knead dough: Turn the dough onto the lightly floured working surface and knead very briefly to obtain a smooth and soft dough. Only add the remaining water if necessary.

Wrap the dough into cling film and refrigerate for 20 - 30 minutes.
Form and bake:
Preheat the oven to 180°C/ 350°F. Line two baking trays with baking paper.

Divide the dough into 4 portions.

Roll the first portion into a thin sheet and cut the discs using a round cookie cutter of about 10 cm/ 4 inches. Place about 1 teaspoon of filling in the center of the discs.

Form empanadas: Slightly lift both parts of the circle from the table (while the heavier part of the empanada containing the filling still rests on the table) and press the edges together. You can slightly wet the edges with some water if you feel that they don't keep together well, but I didn't find it necessary, it was a hot day, and the dough was rather soft.

Crimp: Place the empanada on the table again and crimp the edges by pressing them with a fork. Place the empanada on the baking tray. Repeat with all the remaining dough and filling. I had about 40 empanadas.

Brush the empanadas with beaten egg.

Bake for about 20 minutes or until golden brown and cooked through. Serve as suggested above.
Notes
I recommend using a digital kitchen scale to weigh the butter, either in grams or ounces; measuring butter in cups (especially when cold and cube) is not reliable at all (Amazon affiliate link).
Nutrition
Serving:
1
empanada
|
Calories:
105
kcal
|
Carbohydrates:
8
g
|
Protein:
4
g
|
Fat:
6
g
|
Saturated Fat:
3
g
|
Polyunsaturated Fat:
2
g
|
Cholesterol:
32
mg
|
Sodium:
94
mg