Traditional flaky Cornish pasty recipe, delicious British beef pasties with rutabaga and potatoes.
You won't believe how good the recipe for these Cornish pasties is! That flaky pastry, slightly crispy and crumbly around the edges, the tender beef pieces, the touch of sweetness from the rutabaga, and those comforting potatoes.
A perfect meat pie that I could eat at any time of the day, preferably warm, but really I don't mind it if it's cold either... That good!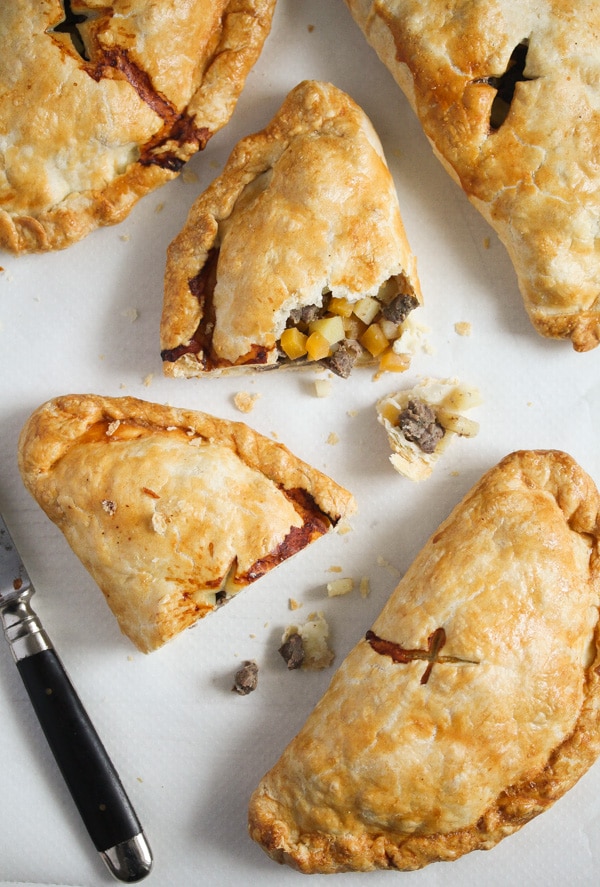 I can remember the first Cornish pasty I had in Bath, quite a long time ago, that hot pocket of pastry with vegetables and meat, I loved it! And because my husband and I wanted to try something different as well, we bought and split a second super spicy Indian style pasty with potatoes and vegetables and lots of curry. So good!!!
And if you would like to try some sweet pasties, have a look at these pumpkin pasties.
What are Cornish pasties?
The Cornish pasties have a long history. They originate in Cornwall – Great Britain and the story says that they used to be a kind of food enjoyed by miners. As they were unable to come to the surface for lunch, they would carry these filled pasties, which would allow them to have a hearty meal even under the ground.
Apparently, the thicker crimped edge of the shell was also there to protect the filling from getting touched by the miners' dirty hands and thus to prevent contamination and poisoning with arsenic. The miners would only touch the crimped edge of the pastry, which was discarded after eating the rest.
Beef was scarce during those days and although the original Cornish pasty includes beef, many times the pasties were filled only with vegetables: onions, rutabaga/swede, and potatoes. Some would include carrots, but generally, carrots were regarded as the mark of an inferior pasty.
What do you need for this pasty recipe?
Shortcrust pastry:
The original pastry made for the miners' Cornish pastry was apparently not particularly tasty or flaky. It was meant to be a tough shell, which would protect the filling during the transportation, and parts of it were discarded anyway.
Nowadays, the pastry is flaky and tasty and, at least for me, it is the best part of the Cornish pasty.
You will need:
Strong white flour, which holds its shape better than all-purpose flour.
A combination of unsalted butter and lard. Using only butter would make the pasties too soft while using only lard would make them a bit dry.
Using both makes the shortcrust pastry flaky, slightly crumbly and crispy at the edges and soooo delicious!
If you do not want to use lard (although I definitely recommend it), you could use shortening instead.
Beef:
I use rump steak, a thin slice of about 150 g/ 5.3 oz.
Cut the piece of beef into thin slices and cube the slices very finely.
An alternative to rump steak would be skirt steak, another flavorful cut of beef.
Potatoes:
All-purpose potatoes, which have a medium starch content, they are somewhere in between the starchy and waxy potatoes.
Vegetables:
Swede (Britain) or rutabaga (North America):
A root vegetable, member of the cabbage family, apparently a cross between a turnip and a cabbage.
It is not to be confused with a plain turnip, which is smaller and white inside.
Rutabaga is large and has a yellow-orange and slightly sweet interior.
Rutabaga only grows in colder climates, it actually originates in Sweden, that is why it is also called Swede or Swedish turnip.
I only bought rutabaga to make these Cornish pasties, but as rutabaga are always large, I used the rest to make flavorful and comforting Swede Soup with sausages, a typical German soup. And if you like this vegetable, try our Creamy Carrot and Swede Mash.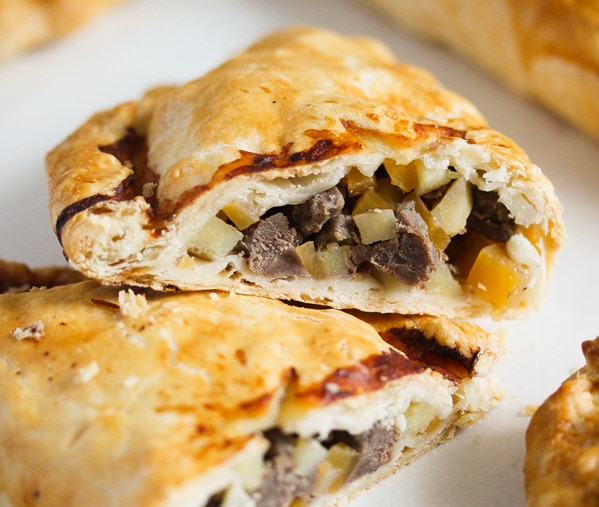 Tips for making flaky Cornish pasties
Use a kitchen scale to measure the ingredients, especially when making the pastry.
Always chill the pastry before rolling and filling it. The chilled pastry is easier and quicker to roll out and that ensures a flakier pastry that holds its shape better during baking.
I chill the pastry for about 1-2 hours, but you can leave it longer or overnight as well.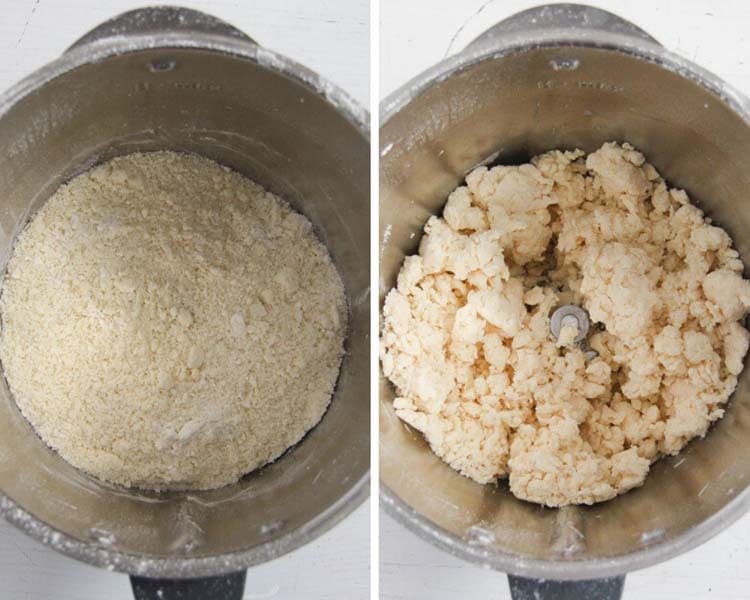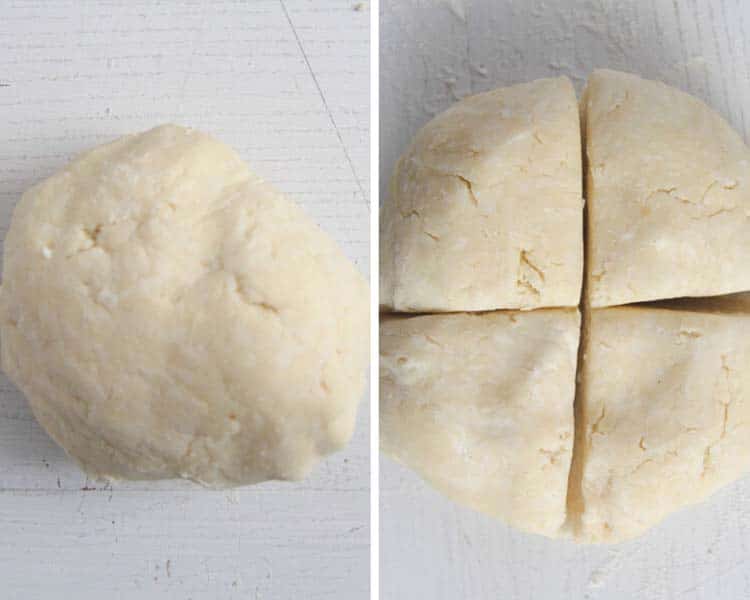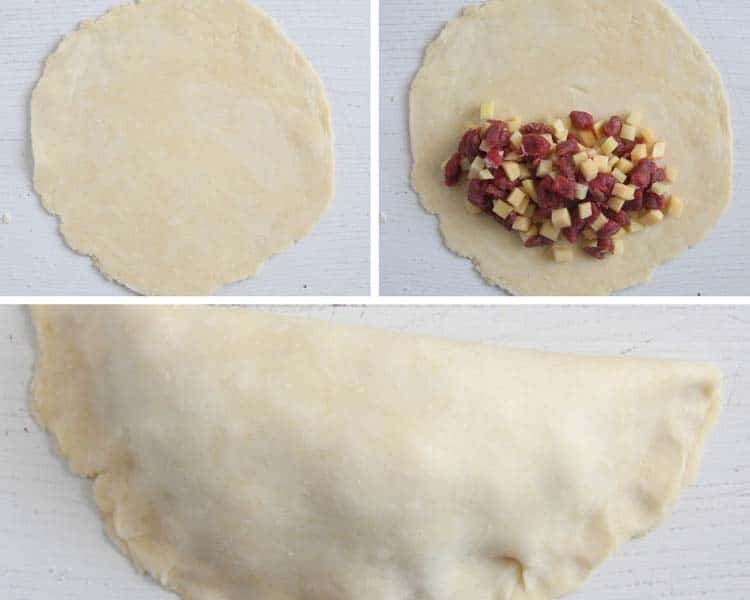 Cut the vegetables into tiny and very regular pieces. I measured (crazy, isn't it?), my potato and rutabaga pieces were about 5 mm/ 0.2 inches large.
Cutting the vegetables this way ensures that they are really cooked inside the pasty, larger pieces would not get really soft during the baking time.
Cut the beef into regular tiny cubes as well.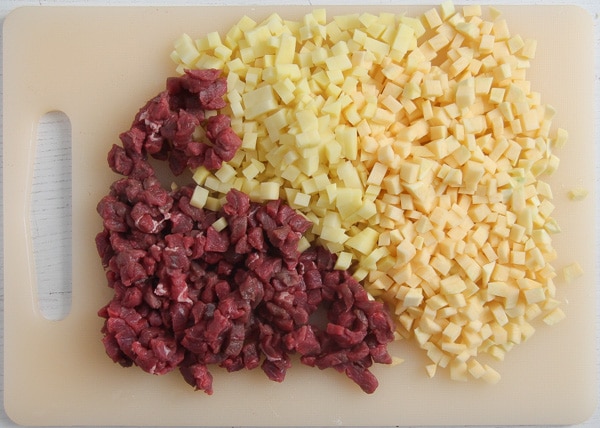 There is no need to precook the vegetables or the beef before filling the pasties, if they are cut properly they will have enough time to cook inside the pasty.
Brush the pasties with beaten egg before baking, that will make them shiny and golden.
Leave the Cornish pasties cool slightly on a wire rack before serving or you run the risk of burning your fingers and tongue with the hot filling.
More pie and pasty recipes:
Spicy Beef Empanadas - homemade baked beef empanadas filled with spicy ground beef, jalapeňos, cumin, paprika, coriander, and lots of herbs.
Chicken and Ham Pie - traditional English cooking: chicken and ham pie with peas, a luscious white sauce, and puff pastry.
Sweet Potato Pie - delicious puff pastry pie with roasted sweet potatoes, caramelized balsamic onions, and cheese.
Chicken and Leek Pie - flaky crust, tender chicken pieces, leeks… some of my favorite things.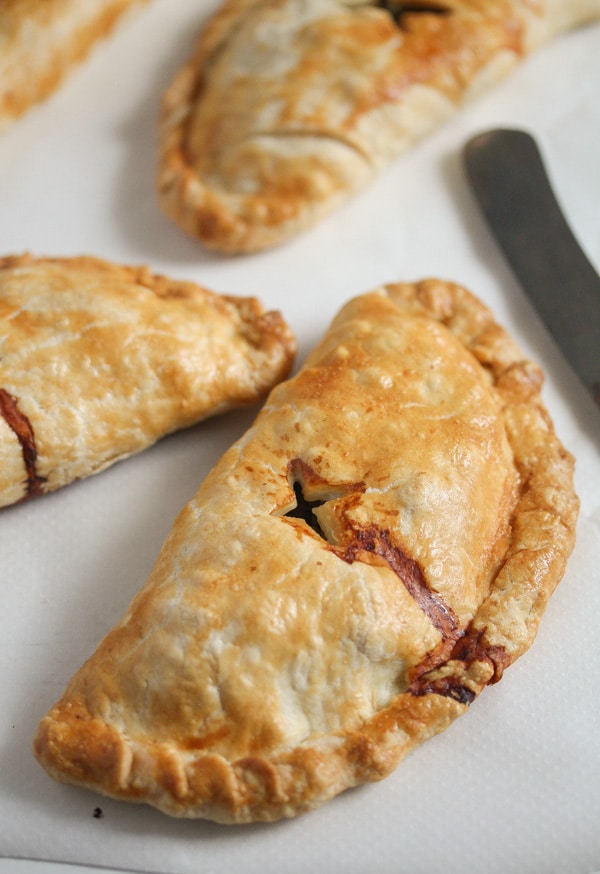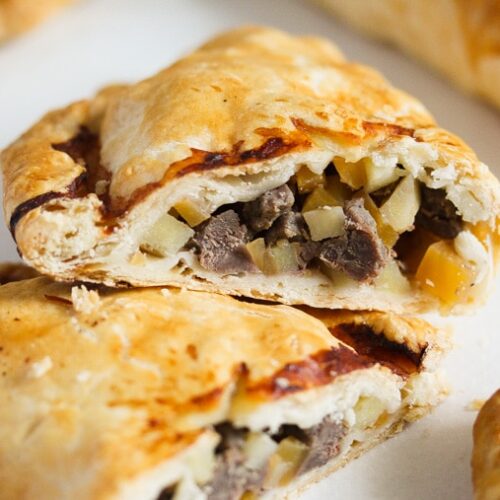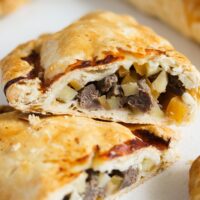 Cornish Pasty Recipe
Traditional Cornish pasty recipe, delicious British beef pasties with rutabaga and potatoes.
Print
Pin
Share
Grow
Saved!
Rate
Ingredients
225

g/ 8 oz/ 1 ¾ cups + 2 tablespoons strong white flour

½

teaspoon

fine sea salt

50

g/ 1.7 oz/ scant ¼ cup cold unsalted butter

50

g/ 1.7 oz/ scant ¼ cup cold lard

75

ml/ 2.5 fl.oz/ ⅓ cup very cold water

1

onion

about 80 g/ 2.8 oz

100

g/ 3.5 oz potatoes

100

g/ 3.5 oz swede

150

g/ 5.3 oz rump steak

1

egg

fine sea salt and ground black pepper
Instructions
Place the flour and salt to a food processor. Pulse to mix. Add the cold cubed butter and lard. Process until the mixture resembles breadcrumbs.

Slowly, add the water through the funnel until the dough comes together in a ball but it is not sticky. Add only enough water to let the dough come together and stop before it gets too wet and sticky.

Form a disc of dough very quickly and without kneading the dough, wrap in cling film and refrigerate for at least 1 hour.

While the dough rests in the fridge, chop the onion very finely and dice the potatoes and the swede. The potato and swede cubes should have a size of about 5 mm/ 0.2 inches. Cut the rump steak into very small cubes as well. Mix everything in a bowl and season generously with salt and pepper.

Preheat the oven to 200 degrees Celsius/ 400 degrees Fahrenheit. Line a baking tray with parchment paper.

Divide the dough into 4 equal parts. On a floured surface and using a floured rolling pin, roll each piece of dough into rounds of about 18-20 cm/ 7-8 inches.

Divide the vegetable meat mixture between the four rounds, placing it to one side of the dough circle.

Brush the edges of the circle with the lightly beaten egg. Fold the dough over the filling and press lightly. Crimp the edges of the dough circle to seal the pasty.

Repeat with the remaining dough and place on the prepared tray. Brush all over with the beaten egg.

Bake for about 45 minutes until golden brown.
Nutrition
Serving:
1
Cornish pasty
|
Calories:
541
kcal
|
Carbohydrates:
53
g
|
Protein:
18
g
|
Fat:
28
g
|
Saturated Fat:
13
g
|
Polyunsaturated Fat:
13
g
|
Cholesterol:
94
mg
|
Sodium:
559
mg
|
Fiber:
3
g
|
Sugar:
3
g