Typical English cooking: chicken and ham pie with peas, a luscious white sauce and puff pastry, something often served in Hogwarts for dinner.
A bonus of cooking or mostly baking some of the dishes and cakes mentioned in the Harry Potter series is that I get to learn a little bit more about English cooking. We lived in England for one year, but to tell you the truth, the kind of cooking I really got to know there was not English cooking but rather Indian cooking. I fell in love with Indian food shortly after arriving in London and there was not so much place left for something else, 80% of the time we went out eating, we chose Indian…
Of course, we did went to a pub or something similar from time to time, but the quality/taste of the food was always so below the Indian standard, that we kind of gave up. Don't get me started on fish and chips, it must be one the worst meals I have ever had and I really tried, 3 times I've had that (in London, Bath and somewhere in Wales) and I've never liked it much, the last time in Wales, this summer, it was so bad I swore I would never eat that again in my life. A breaded piece of fish oozing in rancid oil and tasting of nothing else except old fat, accompanied by some huge, saltless chips and some disgustingly mushy peas with no taste at all either.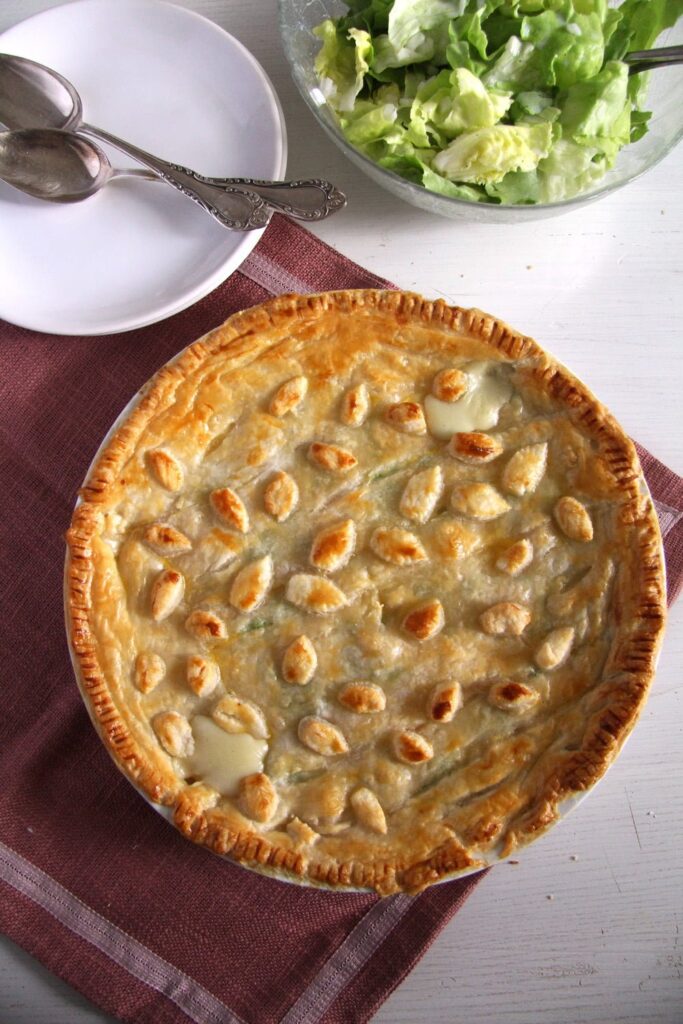 And it was a bit like this with the chicken and ham pie as well. I have never had that in a restaurant, but it was one of the first things I cooked when living in London. I had found the recipe for it somewhere in a magazine and thought it would be a great idea to cook it. I love chicken and this was such an unusual way of cooking it for me. It was a really elaborate and rather costly recipe, involving a whole chicken, homemade shortcrust pastry and lots of other ingredients. So I spent hours in the kitchen, had countless pots and dishes to do afterward and the result was sooooooo disappointing! We did eat it, but not very joyously. And now after about 9 years, I thought I would give this pie another try. I chose another recipe found somewhere online, which I changed beyond recognition in order to make it simpler, faster and a bit less calorie loaded. It is still not a meal suitable when on a diet, but compared to the original it is pretty skinny.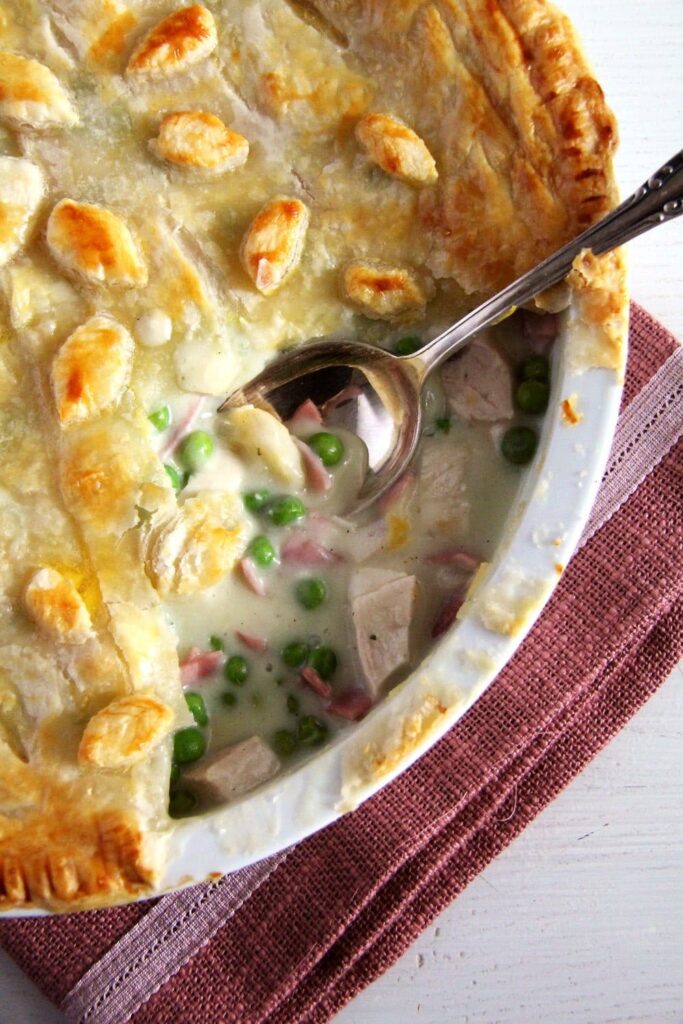 And most importantly this particular chicken and ham pie does taste wonderful. I liked it a lot but nothing compared to my kids who really gobbled up everything I put on their plate and asked for more. They even ate the leftovers the next day, although the pastry on top was kind of soggy after one day spent in the fridge. But they didn't mind that at all!
And in case you are wondering, the chicken and ham pie is mentioned in Harry Potter and the Order of the Phoenix, in chapter Seen and Unforeseen. Seamus Finnigan, who at the moment is not talking to Harry, listens to Harry and Dean discussing the interview Harry gave Rita Skeeter about Voldemort's being back: "Seamus was shovelling down large amounts of chicken and ham pie on Dean's other side, but Harry knew he was listening". Shortly afterward, Seamus decides that Harry is not just talking nonsense about Voldemort's return and after apologizing, comes to his first forbidden DA meeting only to be caught in the act by Dolores Umbridge on his very first evening.
And if you would like to have a look at other Harry Potter inspired recipes, here they are:
Hagrid's Rockcakes with Mixed Dried Fruits 
Fruit Mince Pies with Homemade Mince Pie Filling
Moist Chocolate Gateau or Cake with Chocolate Cream Filling
Harry Potter's Pumpkin Pasties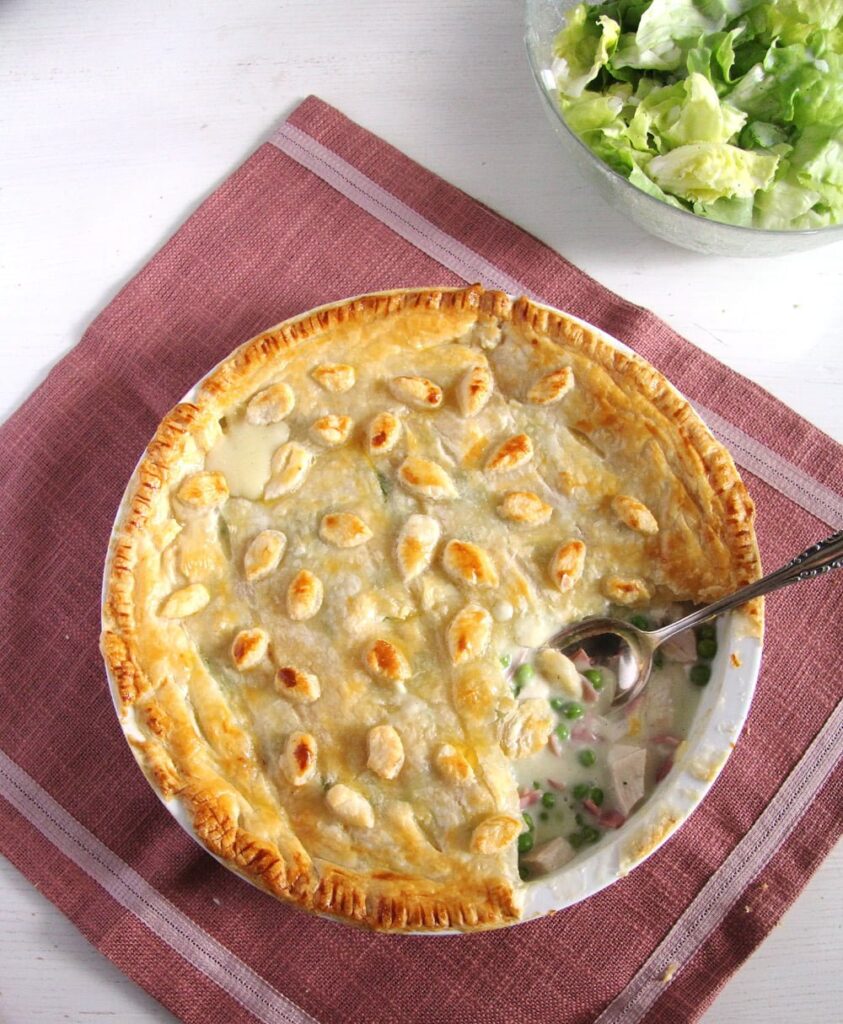 Others you might like: