Kirschmichel - a delicious German cherry dessert or pudding served with vanilla sauce.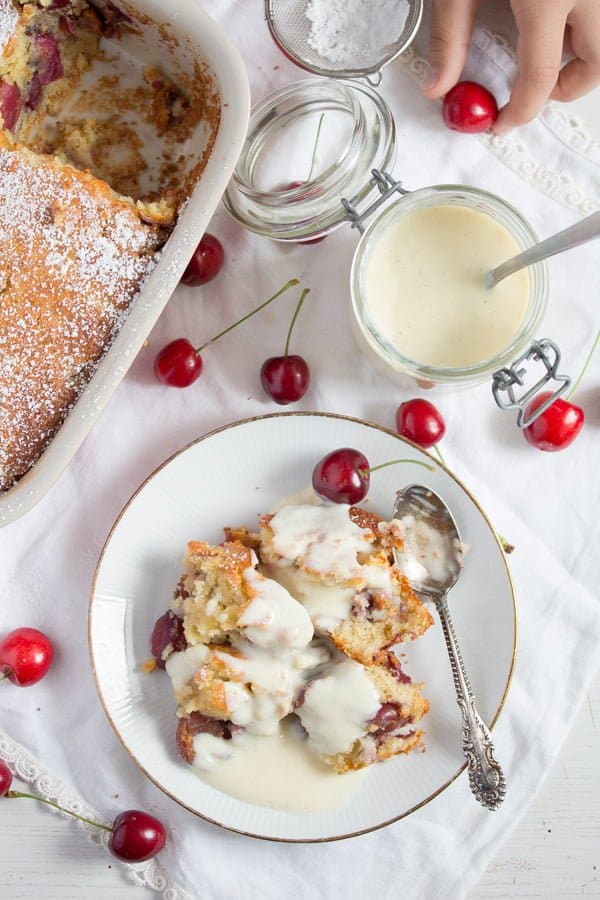 The Kirschmichel is a typical German cherry dessert using some of the gazillion cherries growing in my tree this year. Well, this is actually an updated post from 2015. We had tones of cherries in our tree that year and just as many now.
I've already managed to bake this delicious cherry pudding again, not to mention the 3 batches cherry butter, the cherry scones, cherry loaf cake, and so on.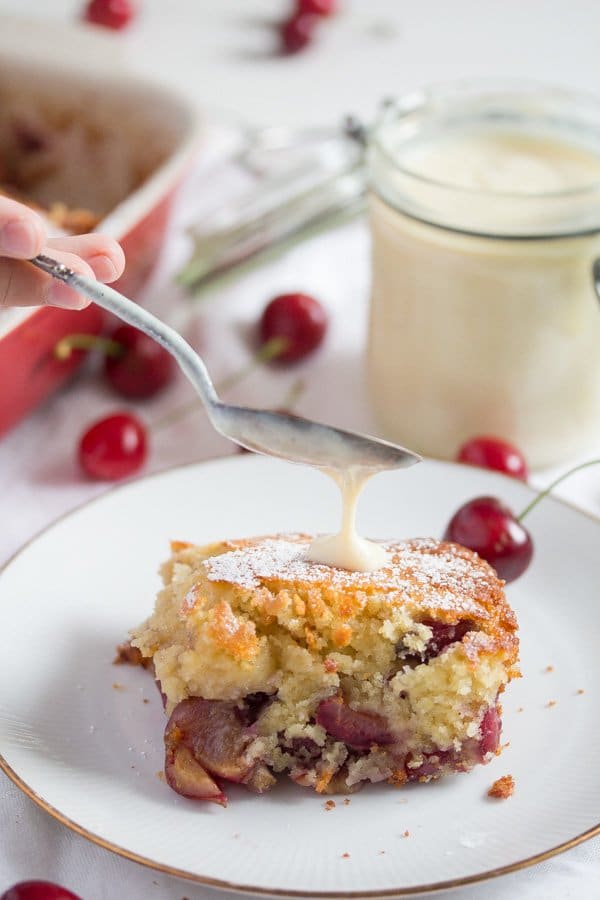 What is Kirschmichel?
The Kirschmichel is a typical, traditional German dessert or pudding, particularly popular in the Southern regions of Germany.
The dessert has many names, depending on where you find yourself in Germany. It can be called Kirschenplotzer, Kärscheblotzer, Körschmichl, Kerschemischel, Kirschenjockel, Kirschpfanne, Kirschenmännla, Chirsichlotz.
And if you are looking for a Kirschmichel recipe in German, you will notice that many call this cherry dessert Grandma's Kirschmichel or Kindergarten's dessert. Why?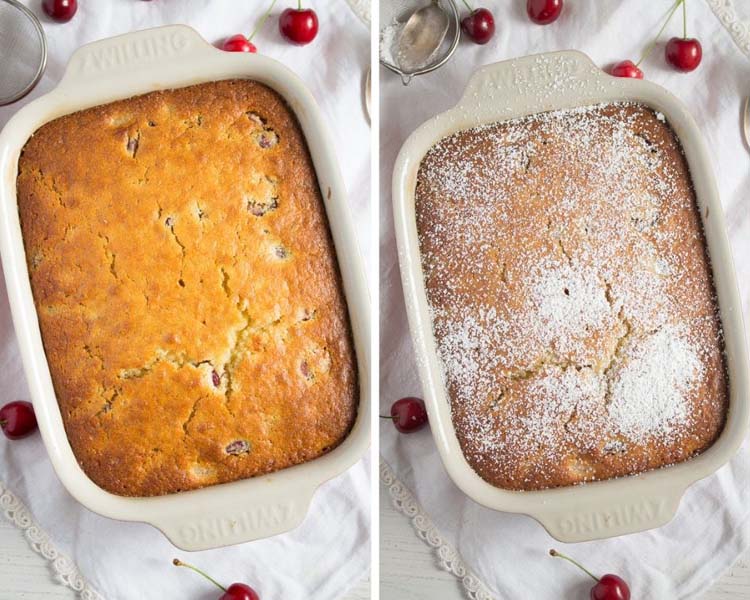 Well, this German dessert was originally more of a sweet meal replacing a regular meal, a sweet meal with the main purpose of using the leftover bread or bread rolls.
In grandmother's times people were less comfortable with throwing away still good bread just because it was not as soft and fluffy as the day it was baked. So people got creative and found ways of using the good bread even when it was past its prime.
And it is not only the Germans that came up with such ideas, bread puddings are a component of many other traditional cuisines. There is the Italian bread pudding using stale white bread or leftover panettone, English bread pudding, with origins traced back to the early 11th and 12th centuries, there are versions of it to be found in Eastern Europe, Asia, North and South America and so on.
And why kindergarten dessert in German? Because, apparently this was a very popular meal served in German kindergartens 30-40 years ago. Not anymore, sadly, none of my children ever got to eat Kirschmichel in kindergarten. But plenty of it at home...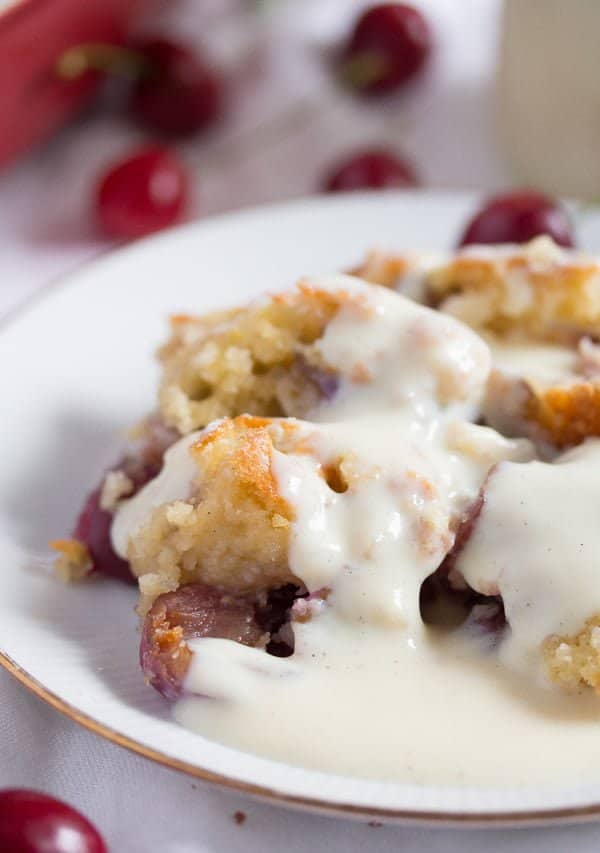 Types of Kirschmichel
There are two kinds of kirschmichel. The one I have just mentioned, made with stale bread and the modern version, the one you can make even when you don't have any old bread lying around.
This second version made with flour and semolina is the one I am presenting you with today. It is just as quick to make and just as delicious as the traditional stale bread version, which I will make a point in posting next cherry season at the latest.
Ingredients
Cherries:
This German dessert can be made with fresh or frozen cherries or with canned cherries.
Fresh cherries are fabulous when in season, but most of the time people would probably use canned cherries. Canned cherries are super popular in Germany, there are a million ways you can use them when making cakes and desserts.
If using canned cherries, all you have to do is drain them well and continue with the recipe. Here is my trusted, easy and low-sugar way of preserving cherries.
Frozen cherries should be defrosted and patted dry with some kitchen paper.
Semolina and flour:
These two ingredients are replacing the stale bread. You will make an easy batter full of cherries.
Vanilla sugar:
Vanilla sugar is very popular in Germany and it is probably used in 80% of the baking recipes you will find. However, vanilla sugar is not as popular or easily available in other parts of the world.
If you cannot find it, you can easily replace it with some pure vanilla extract.
How to make vanilla sugar?
Or you could make your own vanilla sugar, it is sooo easy. All you need is some sugar and a vanilla pod. Or even better, only the empty vanilla pod. You could use the seeds for another nice vanilla recipe and recycle the empty pods by making vanilla sugar.
To make vanilla sugar place the pods into a good food processor and grind it well. Mix with granulated sugar, transfer to a jar and let infuse for a couple of weeks before using.
To make powdered vanilla sugar, place the vanilla pods and granulated sugar into the food processor and process until powdered. The powdered vanilla sugar tends to become hard after a while, but that doesn't affect the taste, just scrape out the needed amount with a spoon whenever necessary.
Keep vanilla sugar in airtight containers.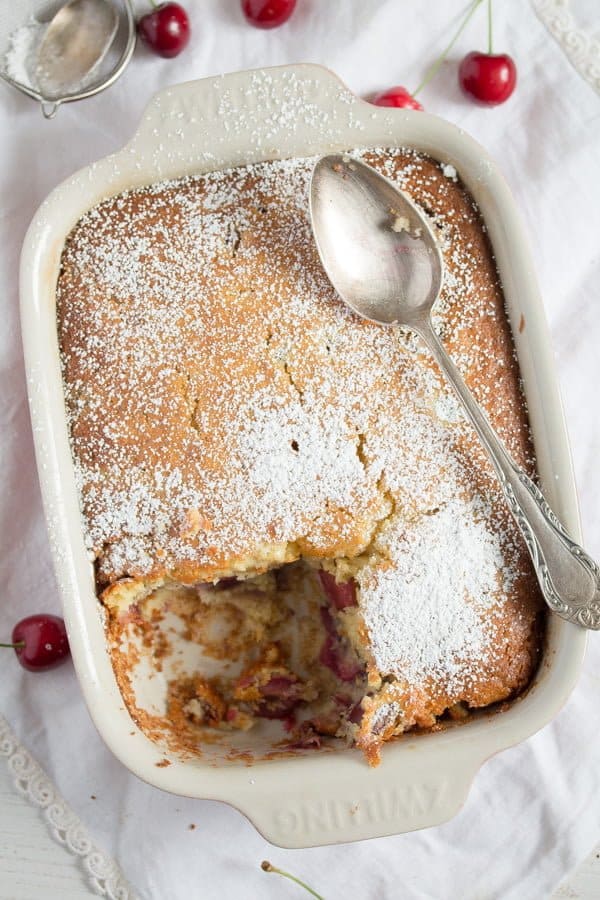 How to make?
Prepare the cherries. Pit them, if fresh; defrost, if frozen; let drain well, if canned.
Beat together the soft butter and the sugar. Add vanilla, either vanilla sugar or vanilla extract and the zest of ½ lemon.
Stir in the eggs and semolina as well.
Sieve the flour and the baking powder over this mixture and fold in carefully.
Add the milk, little by little, stirring carefully with a plastic spatula.
Fold in the prepared cherries.
Bake the cherry dessert in the preheated oven for about 40-45 minutes or until a skewer inserted in the middle of the kirschmichel comes out clean.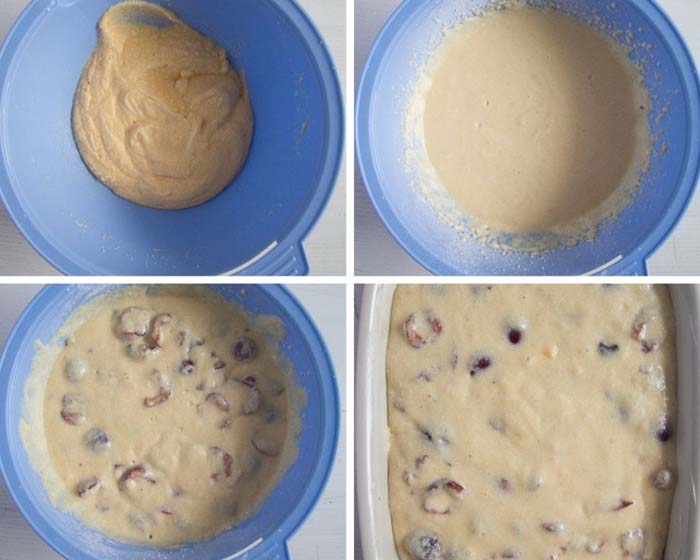 How to serve?
Well, there is a reason I've posted the vanilla sauce recipe yesterday. A simple German vanilla sauce is the best accompaniment for this German dessert.
You can serve the casserole warm or at room temperature and ALWAYS with vanilla sauce. Or with vanilla ice cream, for a change. Or with both of them...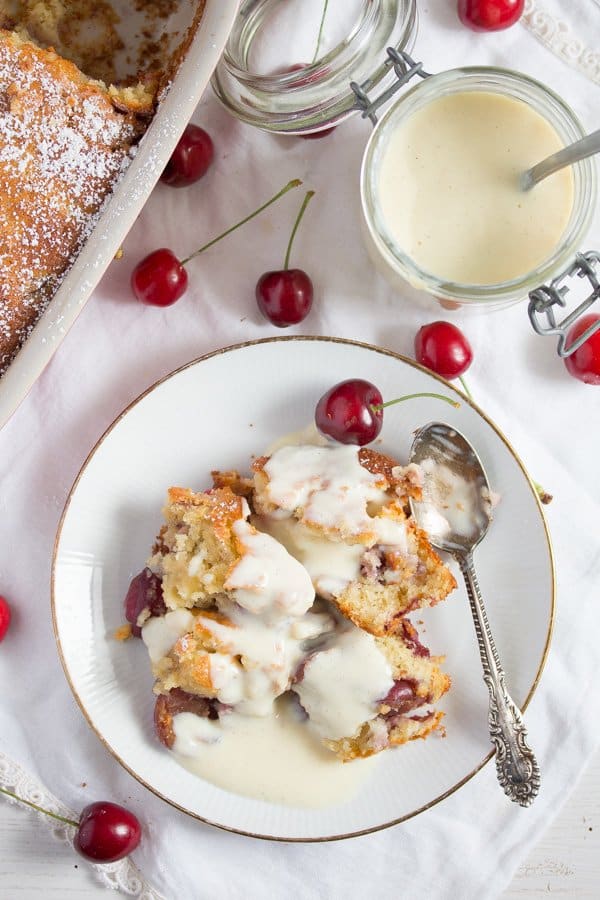 Cherry Dessert - German Kirschmichel
Kirschmichel - a delicious German cherry dessert or pudding served with vanilla sauce.
Print
Pin
Share
Grow
Saved!
Rate
Ingredients
500

g

cherries

pitted, 1.1 lbs (Notes 2 and 3)

60

g

unsalted butter

2 oz/ ¼ cup , room temperature + some butter flakes

125

g

granulated sugar

4.5 oz/ ½ cup + 2 tablespoons

1

tablespoon

vanilla sugar or 1 teaspoon vanilla extract

zest of ½ organic lemon

3

large eggs

125

g

semolina

4.5 oz/ ½ cup + 2 tablespoons

150

g

all-purpose flour

5.3 oz/ 1 ¼ cups

3

teaspoons

baking powder

240

ml

milk

8 fl.oz/ 1 cup
Instructions
Preheat the oven to 180 degrees Celsius/ 350 degrees Fahrenheit. Butter well a medium casserole dish of about 19x23 cm/ 7x8 inches.

Pit the cherries and weigh the 500 g/ 1.1 lbs after pitting. If using frozen cherries, defrost them and dry with kitchen paper. If using canned cherries, let them drain well.

Mix the soft butter and the sugar until foamy. Add the vanilla sugar or extract, the lemon zest, eggs and semolina and stir again to incorporate everything.

Mix the flour and the baking powder and sieve them over the rest of the ingredients. Incorporate carefully using a spatula and add the milk little by little, stirring carefully. Add the pitted cherries to the mixture.

Bake: Pour the batter into the prepared dish. Sprinkle with some butter flakes and bake for about 40-45 minutes or until a skewer inserted in the middle comes out clean but still very slightly wet.

Dust with some icing sugar if desired and serve hot, warm or cold with vanilla sauce.
Notes
A digital kitchen scale will give you the most precise measure ensuring the best bake possible.
You will need more or less 750 g/ 1.7 lbs unpitted cherries.
Instead, you can use 500 g/ 1.1 lbs frozen (and defrosted) or canned (and well-drained) cherries.
Nutrition
Serving:
1
/6 of the dish
|
Calories:
449
kcal
|
Carbohydrates:
71
g
|
Protein:
11
g
|
Fat:
14
g
|
Saturated Fat:
8
g
|
Polyunsaturated Fat:
5
g
|
Cholesterol:
123
mg
|
Sodium:
382
mg
|
Fiber:
3
g
|
Sugar:
32
g