A very easy cherry scones recipe made with fresh cherries. Frozen or preserved cherries can be used as well.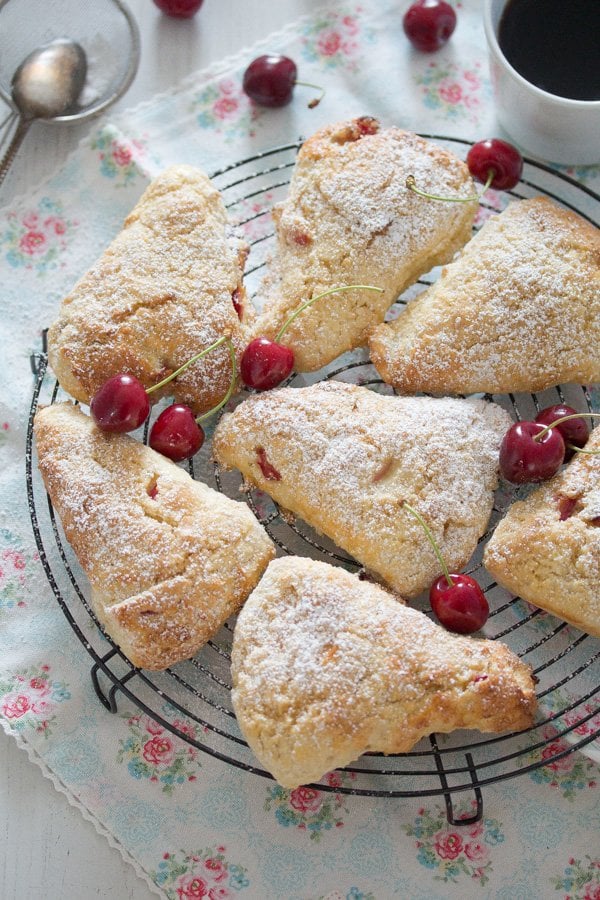 I did mention quite a few times that we have a huge cherry tree in our garden. Higher than the house (and our house is big), old and thick, with huge branches growing in all directions, but mostly over the house.
We eat lots of fresh cherries every day; I preserve buckets of cherries, simply, only with water and a tiny amount of sugar, I make lots of cherry butter, and I bake a lot during this time of the year. Sweet cherry pies, cherry cheesecakes, cherry chocolate brownies, cherry bundt cake, and so on.
And now these fresh cherry scones. Simple, easy, and quick to make, cheap, super delicious, and satisfying. Perfect to have for breakfast, at tea (if you're English), with coffee in the afternoon (if you're German), or as a snack. You could also try these Easy Cherry Turnovers.
Jump to recipe
What are scones?
A scone is a small baked good, either round or triangle shaped, made with flour, butter, and a leavening agent like baking powder. They are usually only lightly sweetened.
The origins of the scones are British, but they are popular in many countries like Australia, New Zealand, the US, and some South American countries like Argentina and Uruguay.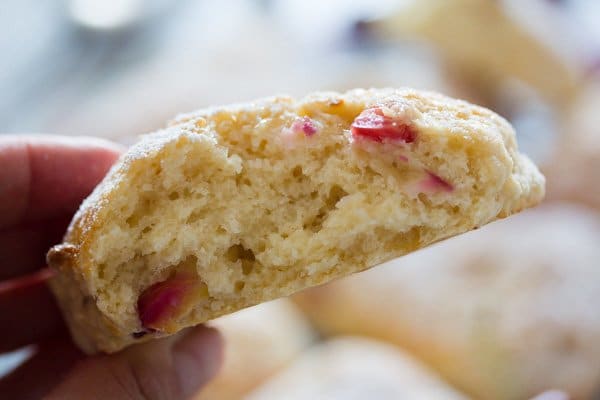 British scones vs American scones
There are differences between the British and the American scones.
British scones are very lightly sweetened and made with less butter; they have a flakier texture and are mostly plain. If there are any additions, they would likely be something like raisins or sultanas.
The reason they are lower in sugar and butter is not that the British are more conscious about nutrition but because, in Britain, fresh scones are liberally slathered with butter and/or eaten with a sweet jam.
American scones are sweeter and more cake-like and often made with fresh or dried fruit, chocolate chips, and so on. The American scones are usually served as they are without any additions.
If I was to decide what my cherry scones are, I would go for American: although not particularly sweet, they are cakey and loaded with fresh cherries. But I have to admit that my husband and my son ate them slathered with cherry butter, especially one day after baking them.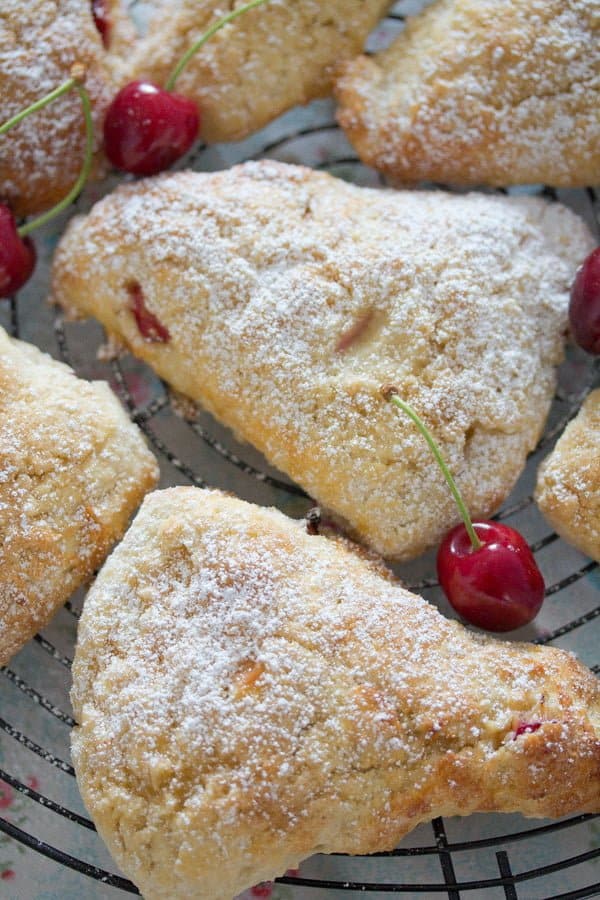 How to make cherry scones?
Making this cherry scone recipe is easy. You will not even need a mixer; just quickly mix the ingredients with a spoon, shape, cut the dough, and bake. That's it!
Remove the pit from the cherries. This cherry pitter is great for the purpose.
Sift the flour, salt, and baking powder into a large bowl. Add the sugar and mix in lightly.
Cube the butter and rub it into the flour mixture with your fingertips or a dough blender until the mixture resembles breadcrumbs.
Add the chopped fresh cherries and toss to mix.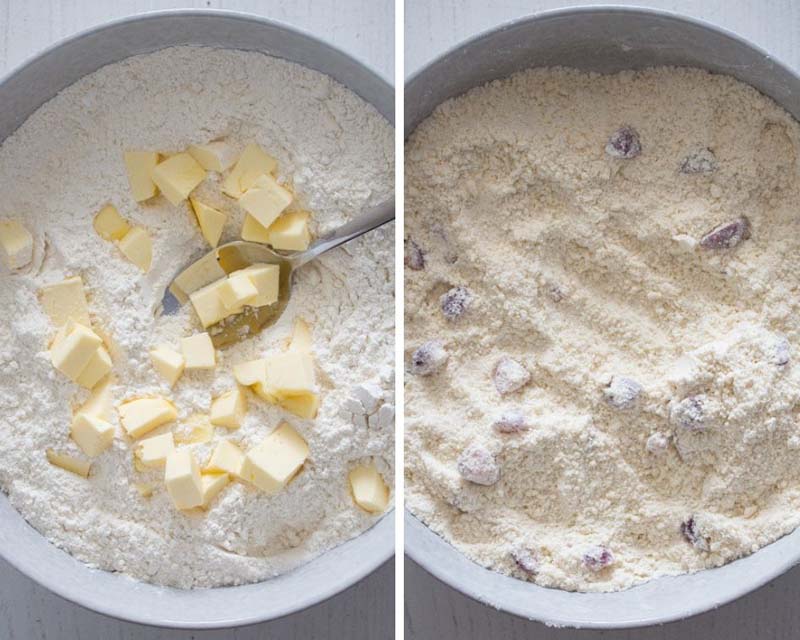 You will need about 1 ½ eggs for the dough and about ½ an egg for brushing the scones before baking. Break one egg into a cup. Whisk it lightly and pour about ½ of the beaten egg into a bowl.
Add the second egg to that bowl, adding the milk as well. Whisk them together.
Pour the egg-milk mixture into the bowl containing the dry ingredients.
Mix with a spoon.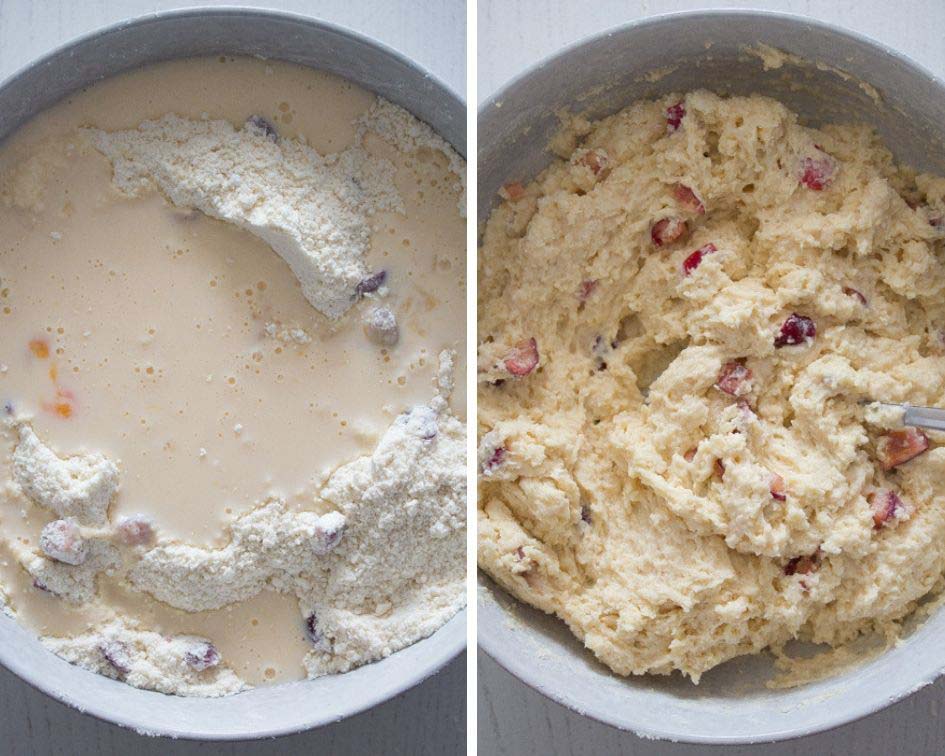 Give the dough onto a floured surface and shape it to make a circle, about 2.5 cm/ 1 inch thick and 22 cm/ 8.7 inches in diameter. Don't knead the dough!
Cut the dough into 8 triangles, and flour the knife if needed; the dough is rather soft.
Carefully transfer the scones onto a baking tray lined with baking paper.
Brush the cherry scones with the reserved egg and sprinkle them with 1-2 tablespoons of brown sugar.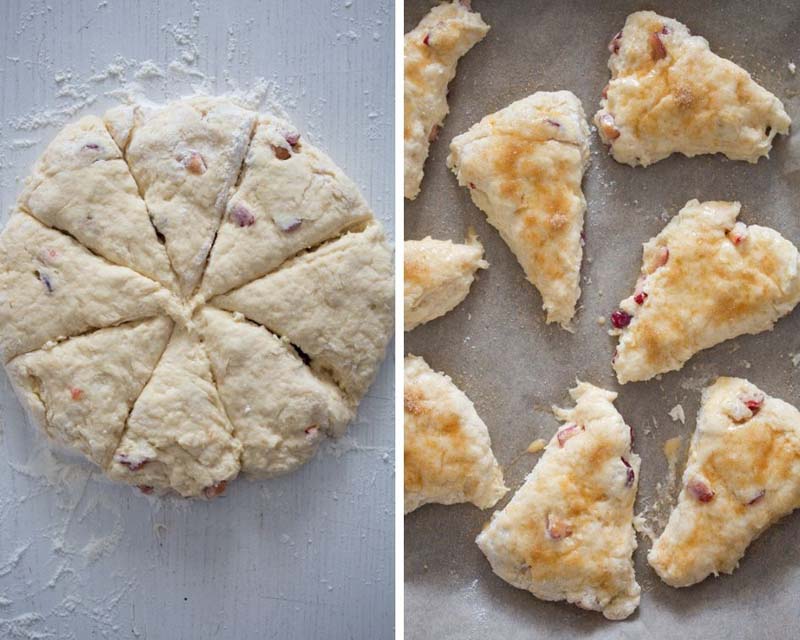 Bake in the preheated oven for about 10-12 minutes until golden brown.
Let cool on a wire rack.
Can you freeze scones?
Freeze before baking
Wrap each scone in plastic wrap, and freeze until solid on an even surface in the freezer. This way, they will keep their shape better than they would if you just throw them in the freezer bags in their still-soft stadium.
Once solid, give the scones (still wrapped) in freezer bags and place them back in the freezer.
Once you are ready to bake them, remove them from the freezer and let them on the counter while you heat the oven. Unwrap them, place them on the lined baking tray, and bake as the recipe requires or until golden brown.
Freeze after baking
Let them cool completely and place them in good freezer bags adding a piece of parchment paper between the layers to prevent them from sticking together.
Leave to defrost for 2-3 hours before serving and reheat in the preheated oven at 150 degrees Celsius/ 300 degrees Fahrenheit for 5 to 10 minutes.
Or you can place the frozen scones directly in the hot oven and leave for 20 minutes or until properly heated through.
Recipe FAQ
What if I don't have fresh cherries?
You can make the scones with frozen or preserved cherries. If frozen, let defrost and pat dry with kitchen paper. Chop and use as instructed.
If using preserved cherries, drain well and pat dry with kitchen paper. Use as instructed in the recipe.
How to serve scones?
As mentioned above, British scones are often served with something on the side: clotted cream, whipped cream, jam, and even lemon curd.
As these particular cherry scones are less British and more American, you can serve them as they are with just a cup of tea or coffee. However, they taste great served with whipped cream as well or smeared with a little jam.
The scones are best served fresh, and it is particularly the leftovers that benefit from being served with a little jam on top.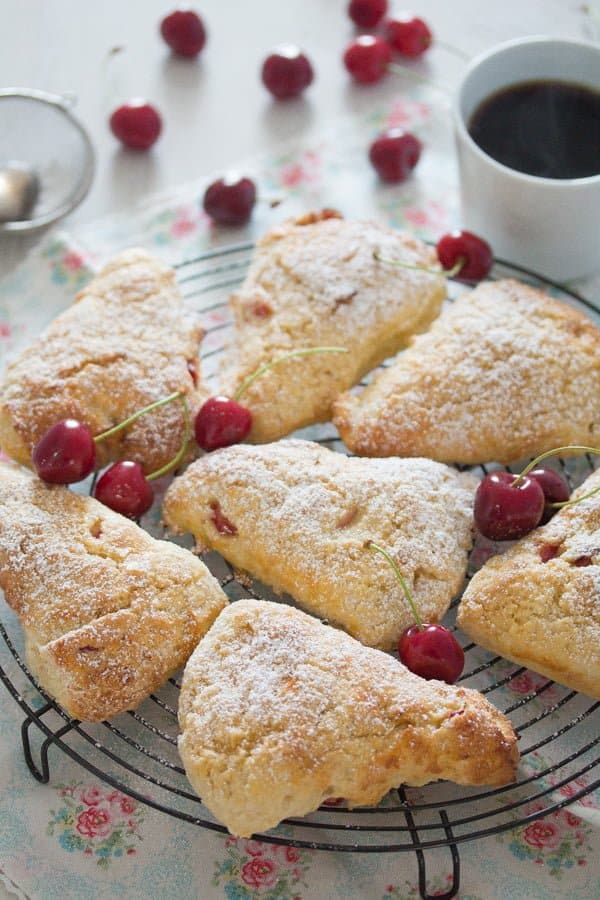 More cherry bakes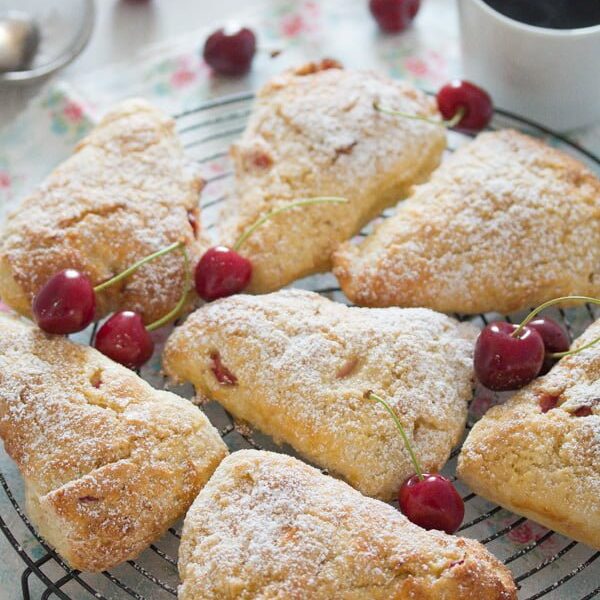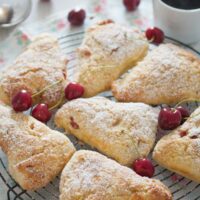 Cherry Scones Recipe
A very easy cherry scones recipe made with fresh cherries. Frozen or preserved cherries can be used as well.
Print
Pin
Share
Grow
Saved!
Rate
Ingredients
15-20

fresh cherries

depending on size

450

g

all-purpose flour

1 lb/ 3 ¾ cups

2

teaspoons

baking powder

pinch

of salt

60

g

granulated sugar

2 oz/ ⅓ cup

80

g

unsalted butter

2.8 oz/ ⅓ cup

2

medium eggs

200

ml

milk

6.7 fl.oz/ ¾ cup + 2 tablespoons

1-2

tablespoons

brown sugar

as needed
Instructions
Preheat the oven to 240 degrees Celsius/ 460 degrees Fahrenheit. Line a baking tray with baking paper.

Stone and chop the cherries. Set aside.

Sift the flour, baking powder, and salt in a wide bowl. Lightly stir in the sugar.

Cut the butter into cubes and rub them into the flour mixture with your fingertips until the mixture resembles crumbs. Stir in the chopped cherries.

You will need about 1 ½ egg for the dough and ½ egg for the egg wash. Break one egg in a cup. Whisk lightly. Pour ½ of the egg into another bowl. Set the cup with the remaining egg aside.

Add the second egg to the half egg in the bowl. Add the milk and whisk together.

Combine: Pour the egg-milk mixture into the flour mixture. Stir to mix with a spoon. The dough will be rather soft.

Cut scones: Turn the dough onto a floured surface and shape with your hands into a round shape, about 22 cm/ 8.7 inches diameter and 2,5 cm/ 1 inch thick. Cut into 8 triangles, flouring the knife, if necessary.

Brush: Transfer the scones to the prepared baking tray and brush them with the remaining egg in the bowl. Sprinkle with brown sugar.

Bake for about 12 minutes or until golden brown. Transfer to a wire rack and let cool.
Notes
A digital kitchen scale will give you the most precise measure ensuring the best bake possible.
Serve warm or cooled with clotted cream, whipped cream, jam, or lemon curd.
Nutrition
Serving:
1
g
|
Calories:
358
kcal
|
Carbohydrates:
58
g
|
Protein:
8
g
|
Fat:
10
g
|
Saturated Fat:
6
g
|
Polyunsaturated Fat:
4
g
|
Cholesterol:
64
mg
|
Sodium:
171
mg
|
Fiber:
2
g
|
Sugar:
13
g