This easy carrot and swede mash recipe makes a great side dish that goes well with anything you would otherwise serve with mashed potatoes. Pair this creamy rutabaga carrot mash with a warming casserole, roast, or sausages.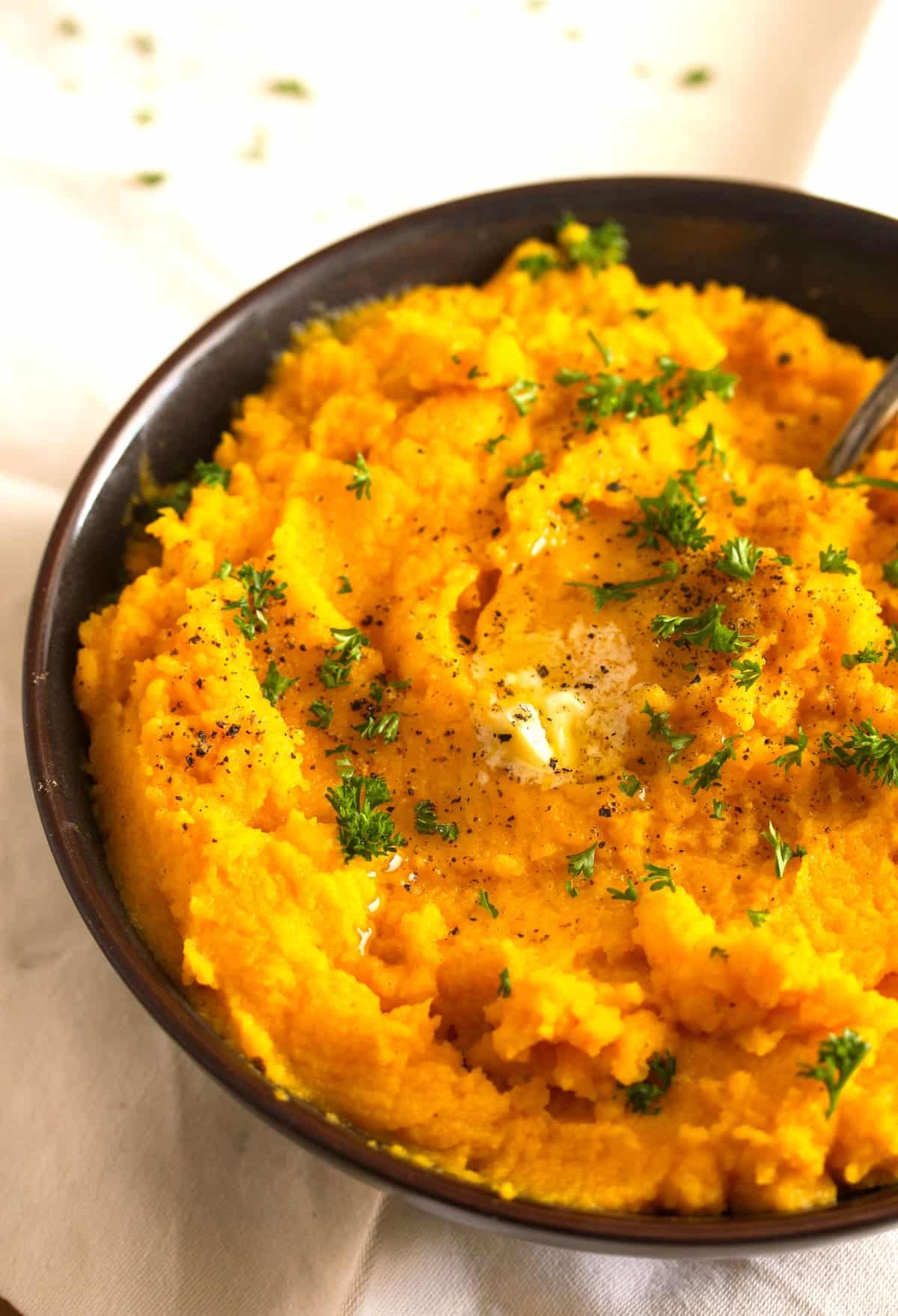 You can call it carrot or swede mash or carrot and rutabaga mash; both swede and rutabaga are the names of the same vegetable. The British call it swede (some also call it neeps or turnip), while in North America, it is called rutabaga.
But whatever you call it, be sure that this mash is absolutely delicious; carrots and swede are a match made in heaven. The puree is creamy, comforting, slightly sweet, the perfect side dish for many main dishes. You can cook it as part of a roast dinner, as a delicious alternative to mashed potatoes.
And check out this hearty Swede Soup; you will love it!
Why will you love this recipe?
Healthy: It's lower-carb than mashed potatoes and a great way of getting more root vegetables into your diet.
Easy: Peel, chop, cook, blend.
Cheap: Only two budget-friendly, simple ingredients, a little butter, and dried herbs.
Make ahead: Keep the creamy carrot swede mash in the fridge until needed and reheat it before serving.
Recipe ingredients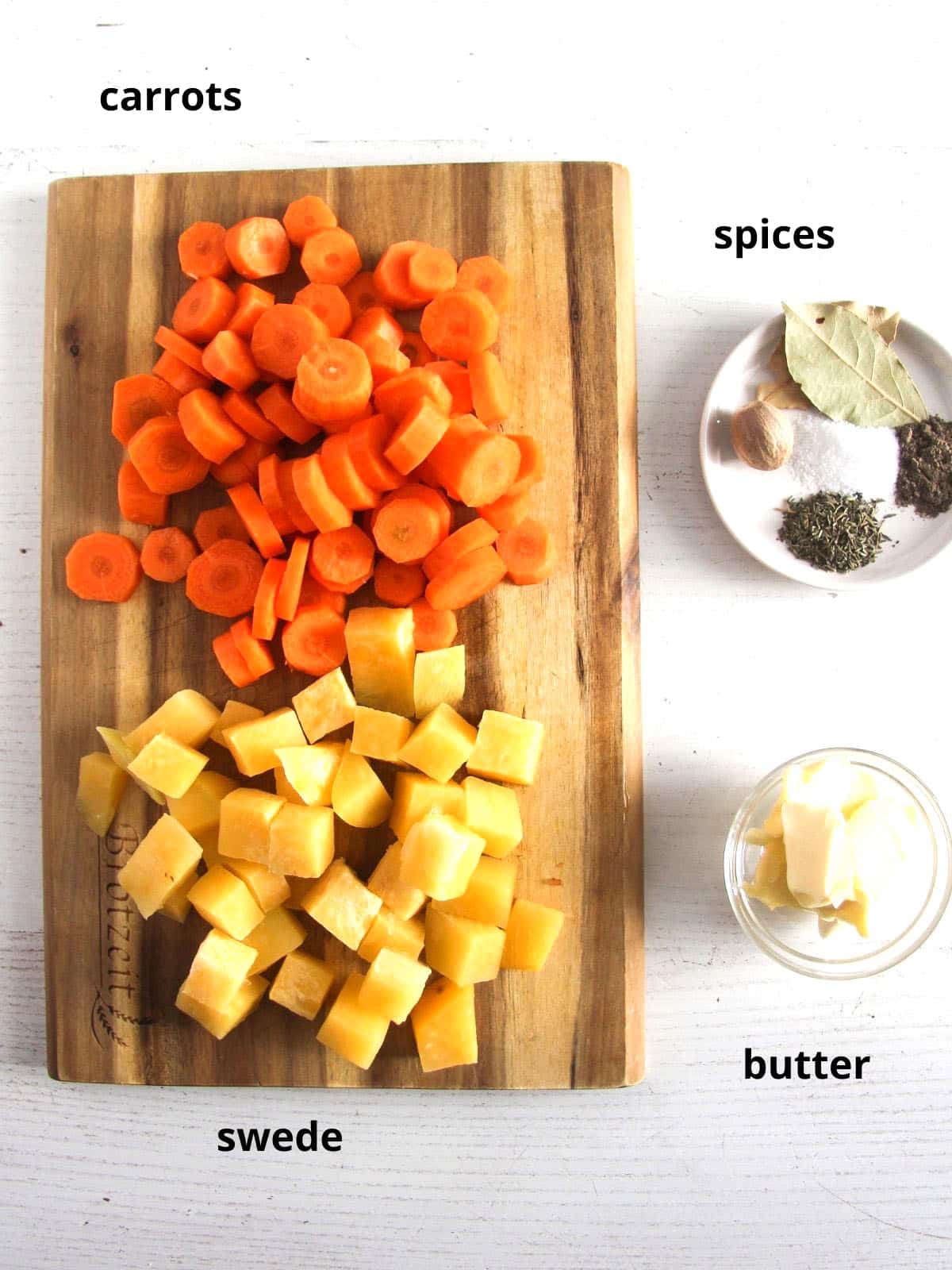 Swede or rutabaga:
A round-shaped, purple-skinned root vegetable with a yellow-orange, crunchy flesh. It is a member of the cabbage family, originating in Scandinavia or Russia.
It is usually large. If you can't use a whole swede at once, keep the rest in a perforated or brown paper bag in the fridge; it will be fine for about one week. Or use the leftovers to make this delicious Cornish Pasty Recipe.
Carrots:
Ratio 2:1, so for 1 kg/ ca 2 lbs you will need 500 g/ ca 1 lb carrots.
Other ingredients: butter, bay leaves, dried thyme, salt, black pepper, and a little nutmeg. Alternatively, you can use cream or olive oil instead of butter, but I prefer the buttery flavour.
Recipe Steps
Peel the vegetables with a vegetable peeler and chop them evenly.
Cook: Cover with cold water, add a little salt, bay leaf, dry thyme, and cook on low heat until soft. Drain and let steam (1).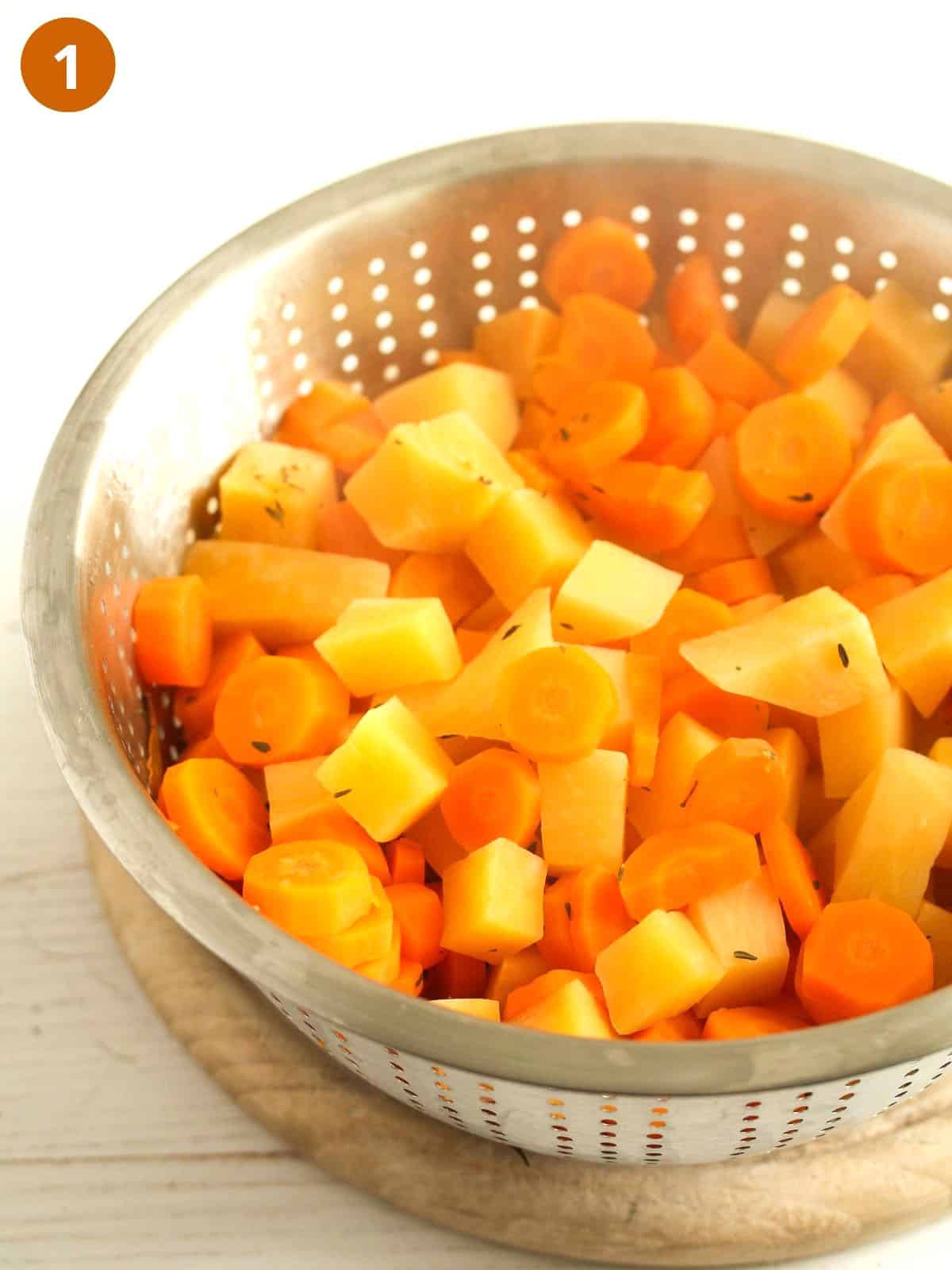 Add butter, nutmeg, a little salt, and pepper.
Mash to desired consistency or blend to a smooth puree (2,3).
Adjust the taste as necessary. Sprinkle with fresh parsley before serving.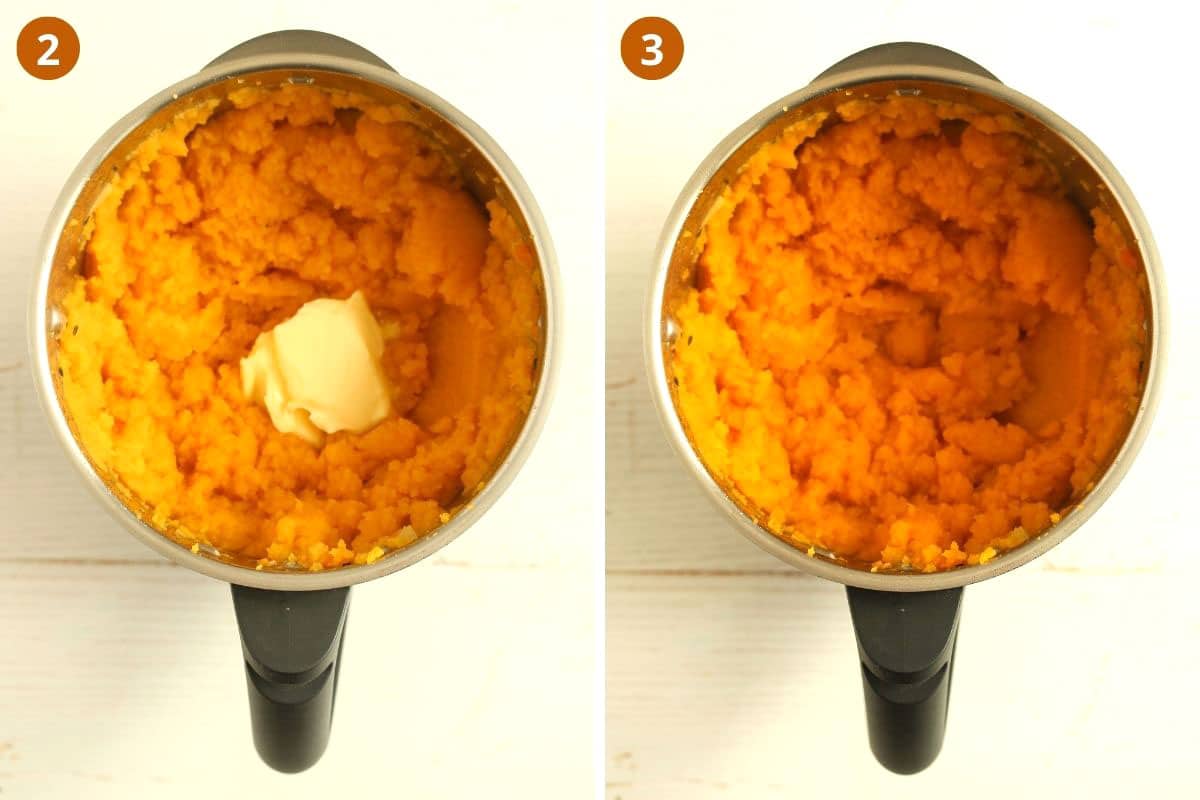 Expert Tips and FAQ
Don't overcook the carrots and swede, or the mash might be watery. The vegetables should be fork-tender. Don't skip the dry steaming step either.
Recipe FAQ
Is swede mash low carb?
Well, it is low carb compared to mashed potatoes, but not as low carb as cauliflower mash, for instance. 100 g/ 3.5 oz potatoes have 17 g carbs, while 100 g/ 3.5 oz swede has 9 g.
What's the best way to blend the vegetables?
You can do it with a simple potato masher, a stick blender, or a stand blender/ food processor. It works either way, but you will have a creamier mash when using a stand blender.
Why is the mash watery?
It shouldn't be watery; if it is, then you've probably cooked the root vegetables for too long or didn't allow them to steam dry long enough. Letting them stand for about 5 minutes in a colander will help reduce the excess water.
How to store?
Refrigerator: Store in an airtight container for up to 5 days.
Freezer: Store in an airtight container or a freezer bag for up to 3 months. Defrost it in the fridge or on the counter and reheat it before serving.
How to reheat it?
Microwave: Covered, for about 2 minutes, stirring halfway.
Stove: Place the mashed swede and carrots in a small pan, add a tiny splash of cream or milk if it seems dry, cover, and reheat gently, stirring occasionally.
What to serve with it?
The swede carrot mash is a great accompaniment for lots of dishes. We love it with Balsamic Beef, Christmas Roast Chicken, Cast-Iron Chicken Breast, Brats in the Oven, or any other kind of sausages, with Lamb Casserole in the Slow-Cooker, or with Red Wine Beef Stew.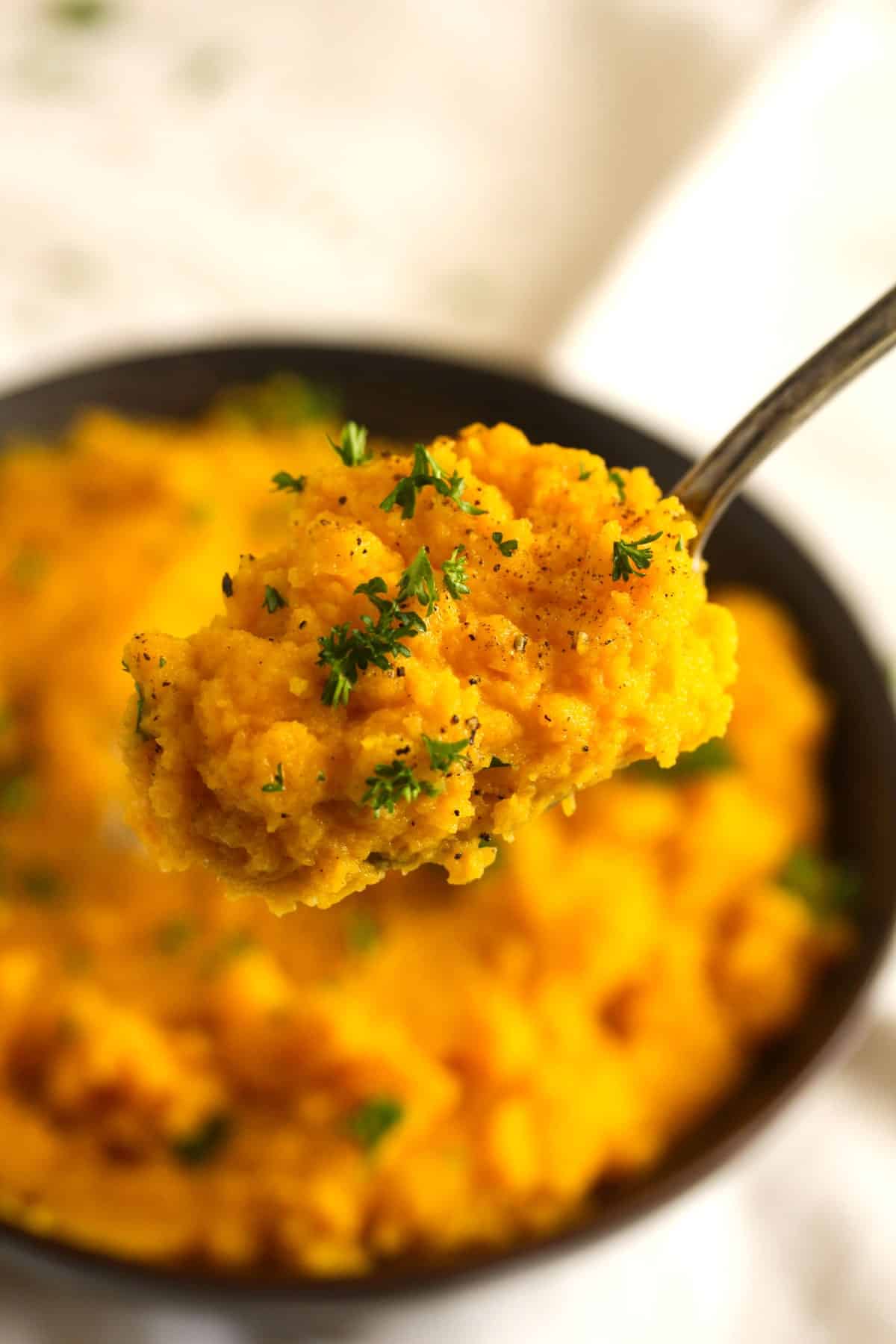 More delicious mash recipes: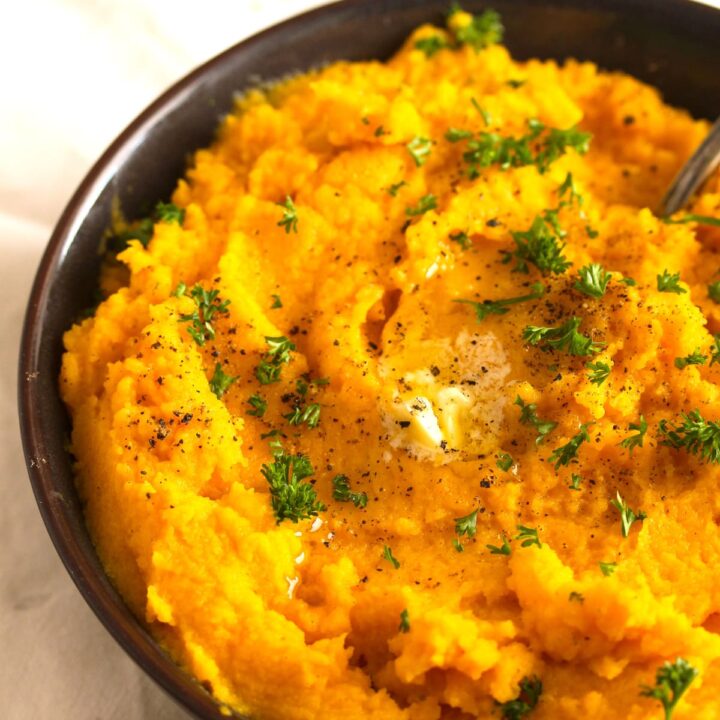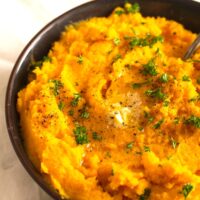 Creamy Carrot and Swede Mash
Thiseasy carrot and swede mash recipe makes a great side dish that goes well withanything you would otherwise serve with mashed potatoes.
Print
Pin
Share
Grow
Saved!
Rate
Ingredients
1

kg

swede/ rutabaga

2.2 lb

500

g

carrots

1.1 lb

2

bay leaves

½

teaspoon

dry thyme

3 ½

tablespoon

butter

Note 1

a few gratings of nutmeg

¼ - ½

teaspoon

fine sea salt or Kosher

more to taste

⅛

teaspoon

black pepper more to taste

a few sprigs of parsley

optional
Instructions
Peel and chop the vegetables into similar-sized cubes.

Cook: Place in a saucepan, add bay leaves, thyme, and some salt, bring to a boil. Lower the heat and cook, covered, for 20 to 30 minutes (depending on the size of the cubes), until fork-tender but not mushy (Note 2).

Drain well and steam dry for about 5 minutes.

Return to the pot, add butter, nutmeg, salt, pepper, and mash or blend to the desired consistency.

Adjust the taste as necessary. Sprinkle with fresh parsley before serving.
Notes
You can use salted or unsalted but add salt to the mash accordingly.
Don't overcook; this could make the mash watery.
Nutrition
Calories:
233
kcal
|
Carbohydrates:
34
g
|
Protein:
4
g
|
Fat:
11
g
|
Saturated Fat:
6
g
|
Polyunsaturated Fat:
1
g
|
Monounsaturated Fat:
3
g
|
Trans Fat:
1
g
|
Cholesterol:
27
mg
|
Sodium:
352
mg
|
Potassium:
1166
mg
|
Fiber:
9
g
|
Sugar:
17
g
|
Vitamin A:
21201
IU
|
Vitamin C:
70
mg
|
Calcium:
152
mg
|
Iron:
2
mg