Daube à la boeuf – a classic French red wine beef stew with meltingly tender meat pieces, a rich sauce, and olives.
FRENCH BEEF STEW
One of the best beef stews ever, this French red wine stew with olives is pure comfort food, perfect for the cold autumn and winter days.
There are quite a few French recipes that I cook regularly: quiche Lorraine for instance. Although I've never posted a recipe for it myself, I've made a classic quiche Lorraine dozens of times. The same with crème caramel, one of my favorite desserts ever.
Coq au vin or coq au Riesling are also family favorites and boeuf bourguignon is something I often cook around Christmas time when guests are coming. Not to forget ratatouille, Remy's ratatouille to be exact, one of my daughter's favorite dishes.
And these are some of my favorite recipes, although, generally, I cannot say that I am much into French cooking. I know many will be shocked to hear this... :). It is not that I don't like it if I ever get to eat it, but somehow I am not often tempted by French recipes myself.
Might be the fear of the amounts of butter one associates with French cooking, I cannot say, but truth is, I don't even own a French cookbook, and I have about 400 cookbooks...
I really should buy Julia Child's books, it's crazy that I don't have them!
WHAT IS DAUBE A LA BOEUF?
Daube a la boeuf or daube provencal is a classic French dish originating in the Provence. There are many variations of daube, what I am making today is a daube provencal containing olives.
A daube is traditionally cooked in a special terracotta braising pan called daubiere, hence the name daube. Daube also refers to a cooking technique of stewing meat.
The daubiere resembles a pitcher and has a concave lid. It is a dish built in a way that prevents the evaporation of the cooking liquid.
What to use instead of a daubiere?
I don't have a daubiere and I am pretty sure that few people outside of France have even seen one. So how to cook a daube without a daubiere?
It is not that difficult, actually.
You will need a Dutch oven or another good heavy-bottomed dish. To create the effect of a daubiere, which is to prevent the condensation of the cooking liquid, place a piece of parchment paper, which is slightly larger than the pot itself, over the pot. Place the lid on top, making sure that it is tightly closed. This way even less water can evaporate.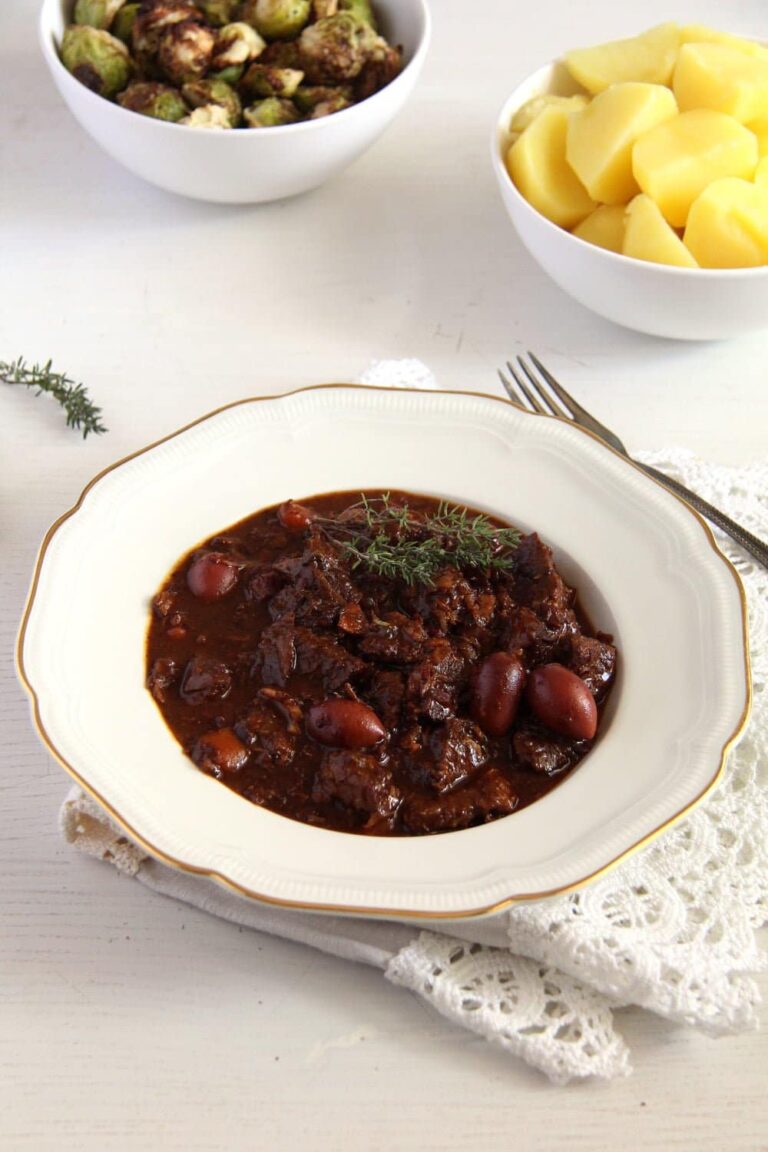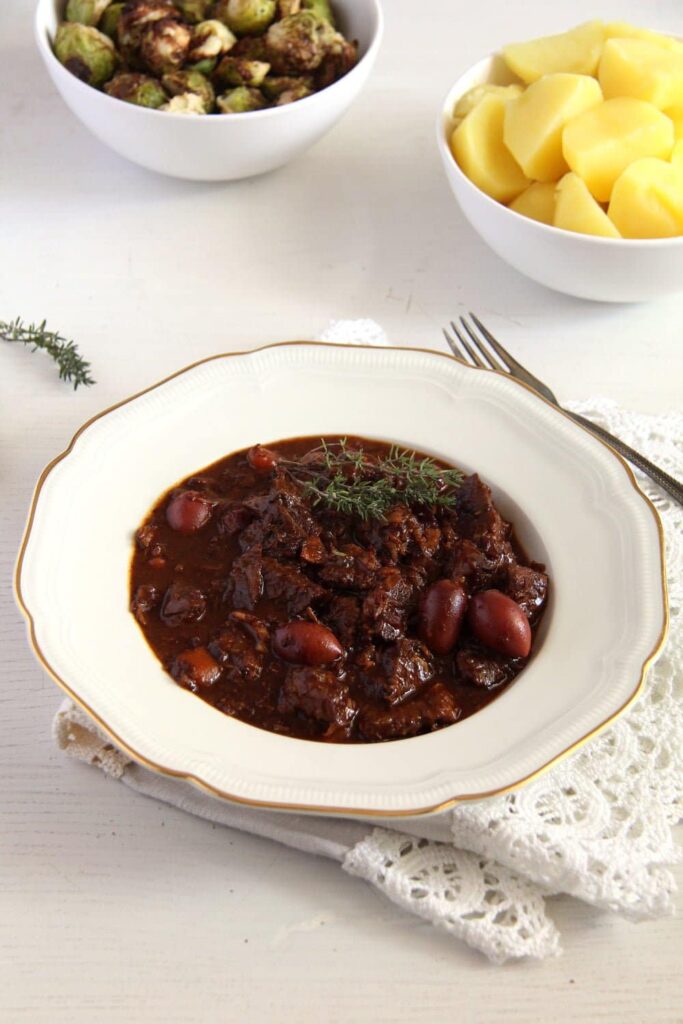 INGREDIENTS FOR RED WINE BEEF STEW
Beef:
Traditionally, daube is made with lesser cuts of meat, the daubiere helping to tenderize these cuts.

I used beef chuck roast, which is actually quite a nice piece of beef, perfect for stewing.
Bacon:
I use a whole piece of streaky bacon with the rind still on. I render the fat from the whole piece of bacon rind and use the fat to sear the beef. It adds flavor to the red wine stew.

Remove the rind of the bacon in one whole piece and only chop the bacon after that.

This is optional, but I would recommend it.

If using already chopped bacon without the rind, sear the beef in olive oil or lard.
Red wine:
I use a good wine that I enjoy drinking as it is as well. Not the cheapest one, but nothing too expensive either.
Beef stock:
Use a good quality beef stock. Homemade is always best, but otherwise use your favorite brand, something flavorful and not too salty.

I prefer to use beef bone broth or turkey bone broth (if that is what I have in the freezer) most of the time. It has more flavor than regular beef broth and brings the sauce to a whole new level.

If you're not using bone broth, you might want to add a cube stock to the beef stew to enhance the flavor.

But careful with the salt, adding broth cubes means adding extra salt as well, and you don't want the dish to be too salty.
Olives:
I always use black olives with pit. Pitless olives make no sense for me, they are watery and have no flavor.

When using olives that still have the pit inside, warn the people at the table about the pits. Most people don't expect them and you would not want anyone to break a tooth. 🙂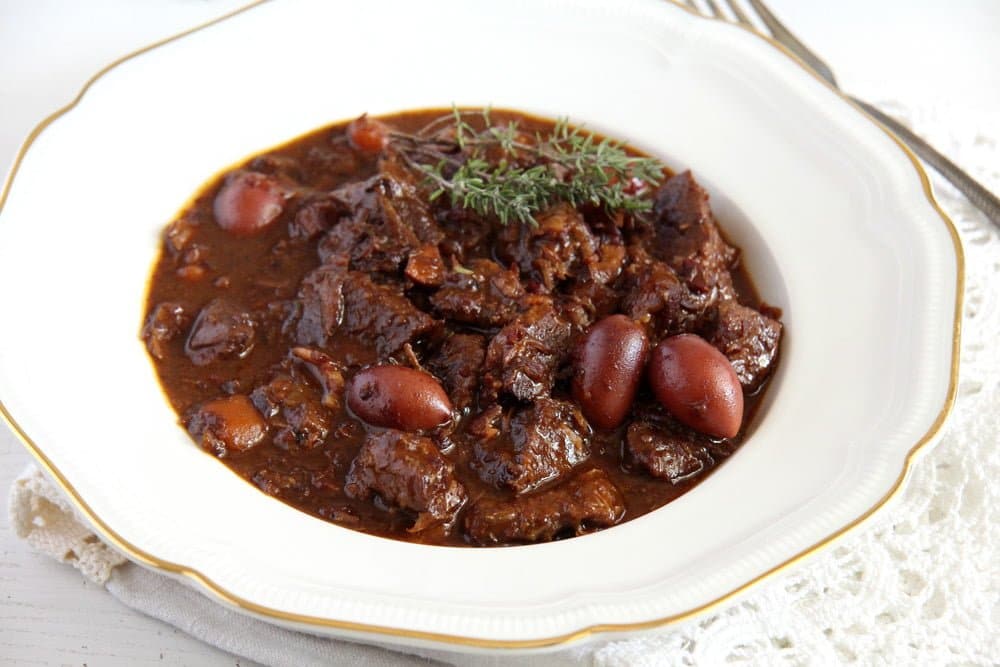 TIPS FOR MAKING RED WINE BEEF STEW
If the bacon piece has the rind on, remove the rind in one piece. Render the fat and sear the beef in that fat.

Always take the time to properly dry the meat cubes before frying them. If they are too wet, they will stew instead of being nicely seared.

For the same reason, do sear the beef pieces in several batches. If you overcrowd the pan, the meat will stew instead of being seared.

Don't add too much salt at the beginning. It is better to add less and adjust the taste at the end.
WHAT TO SERVE WITH DAUBE?
Most of the times I would serve crusty white bread with the red wine beef stew.

A softer polenta on the side is also delicious.

Otherwise, you can never go wrong with potatoes, either boiled or mashed.

Leftovers can be easily reheated.
MORE FRENCH RECIPES
CONFIT DE CANARD - Crispy skin, melt-in-your-mouth meat, this duck leg confit is just amazing!
COQ AU RIESLING – French; tender chicken legs smothered in a creamy white wine sauce with mushrooms and grapes.
BAKED CROQUE MONSIEUR RECIPE – A famous French recipe for Croque monsieur – baked ham and cheese sandwiches with Béchamel sauce and Gruyère cheese.
FRENCH STYLE GREEN BEANS – An easy to make green beans almondine recipe, French-style sauteed green beans with almonds.
FRENCH APPLE CAKE – This French apple cake is one of the easiest cakes to make.
PIN IT FOR LATER!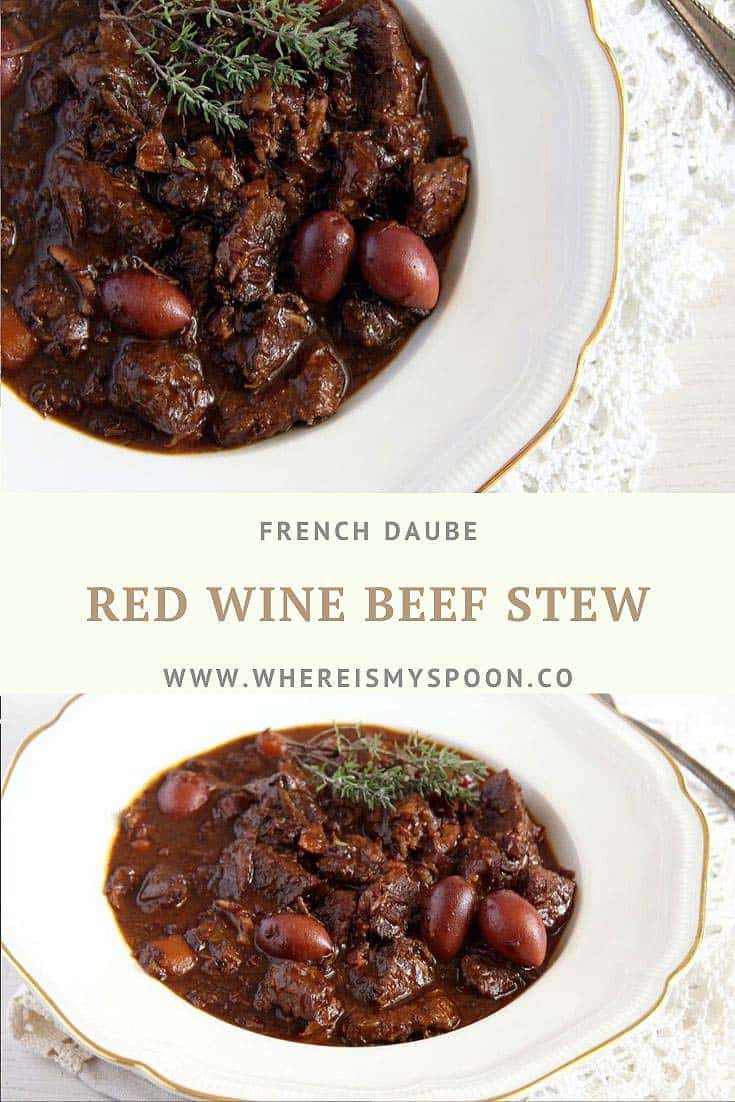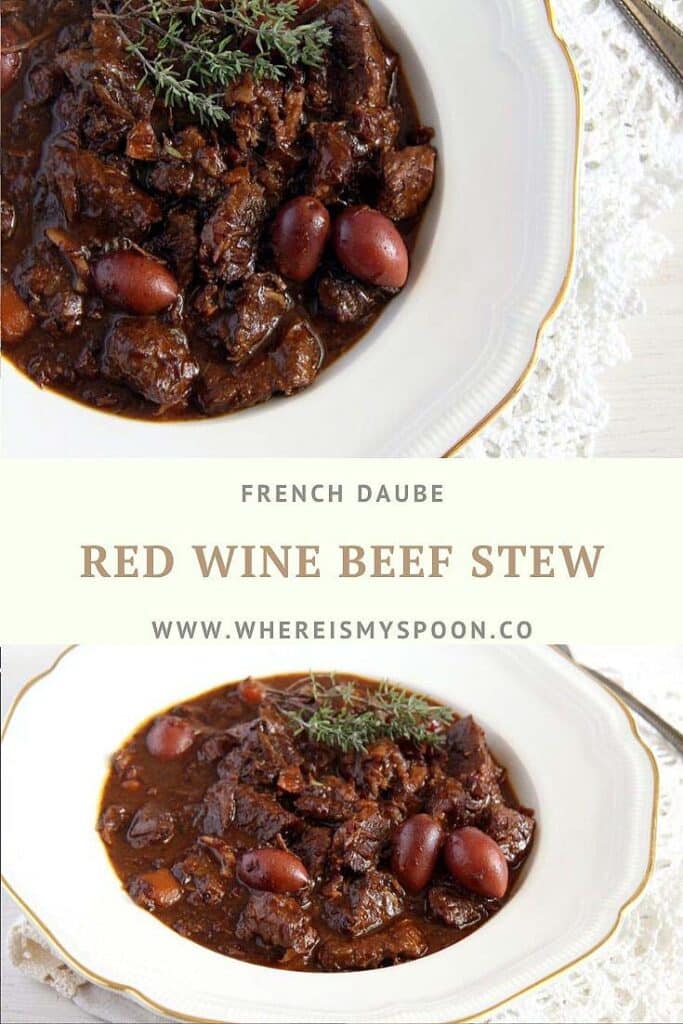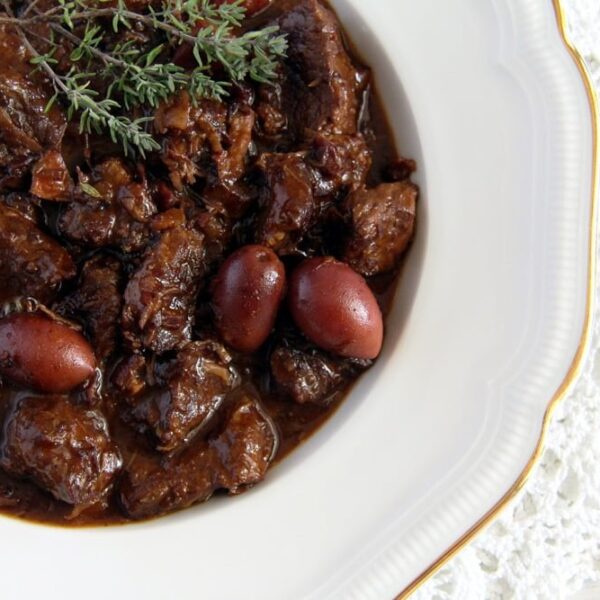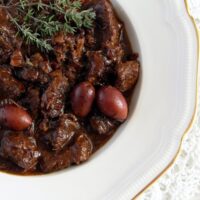 Red Wine Beef Stew
Daube à la boeuf – a classic French red wine beef stew with meltingly tender meat pieces, a rich sauce, and olives.
Print
Pin
Share
Grow
Saved!
Rate
Ingredients
7

oz

onions

200 g

4

garlic cloves

5.5

oz

carrots

150 g

2.2

lbs

beef chuck roast

1 kg

5.5

oz

streaky bacon

in one piece and with the rind on, if possible, 150 g

3

tablespoons

olive oil

1

tablespoon

tomato paste

2

tablespoons

all-purpose flour

3

cups

dry red wine

750 ml

2

cups

beef broth or beef bone broth

500 ml, (Note 1)

2

bay leaves

6

sprigs thyme

3.5

oz

black olives

100 g, (Note 2)

a pinch of sugar

fine sea salt and pepper
Instructions
Chop the onions and the garlic finely. Next, chop the carrot into smallish cubes. Set aside separately.

Chop the beef into 3 cm/ 1.2 inch cubes. Place the cubes on kitchen paper and pat dry with another piece of kitchen paper. Remove the rind from the bacon in one piece (if it has any) and cube the bacon into small cubes.

Fry beef cubes: Place the rind of the bacon in a large Dutch oven. Let it render shortly, add 1 tablespoon of the olive oil and fry the beef cubes, in several batches, until nicely browned. Add a little more of the oil as needed. Remove the meat from the pot.

Add the bacon and fry shortly. Next, add the onions and the garlic and cook until translucent. Next, add the chopped carrots and continue cooking for further 5 minutes. Finally, add the tomato paste and cook shortly.

Return the meat and bacon to the pot. Sprinkle the flour all over the meat, stir well for about 1 minute.

Pour the red wine into the pot and let bubble, stirring until approximately reduced by half. Add the beef broth (and extra stock cube, if using), bay leaves, and thyme.

Close pot tightly: Place a piece of parchment paper over the pot, it should be a bit larger than the pot itself. Place the lid on top and make sure it is tightly closed.

Simmer: Reduce the heat and simmer for about 2 ½ to 3 hours, stirring every now and then. Check after 2 ½ hours; the meat should be very tender; if it is not yet, continue cooking it.

Adjust taste: If you feel that the sauce becomes too thick, add more bone broth or water. When the meat is very tender, adjust the taste of the stew with salt, pepper and a pinch of sugar.

Add the olives and let the sauce simmer for another 5 minutes or so until the olives are heated through.
Notes
If using regular beef broth, add an extra beef stock cube for more flavor. If using bone broth that will not be necessary, bone broth is very deeply flavored.
Preferably olives with the pit inside. Warn the people at the table about the pit.
Nutrition
Serving:
1
g
|
Calories:
852
kcal
|
Carbohydrates:
14
g
|
Protein:
55
g
|
Fat:
53
g
|
Saturated Fat:
18
g
|
Polyunsaturated Fat:
30
g
|
Cholesterol:
170
mg
|
Sodium:
1182
mg
|
Fiber:
2
g
|
Sugar:
4
g