These French cookies or palmiers are the easiest cookies you will ever make! Only three ingredients and less than half an hour until they're ready to eat.
RECIPE FOR PALMIERS
After the red wine beef stew, French duck confit, and confit potatoes last week, I am giving you a super easy French cookie recipe today: the famous palmiers, also known as elephant-ear cookies, French heart cookies or palm leaves.
I cannot think of any other cookies that are easier or faster to make than these French cookies.
Cookies are super easy to make most of the time, but this palmier recipe breaks all the records. All you have to do is to unroll the store-bought puff pastry sheet, sprinkle it with sugar and cinnamon, roll it again and cut the palmiers.
Bake for about 10 minutes and that's it! You can serve the French cookies shortly after taking them out of the oven as well, they will not need a long time to cool down.
A perfect recipe to make on a whim or if friends just called and said they want to visit. If you happen to have that puff pastry sheet in the fridge or freezer (I do have some quite often), you will be able to serve some delicious cookies in no time.
FRENCH PALMIERS
Crispy sweet puff pastry palmiers with cinnamon, my children go crazy for these French cookies. Especially my daughter, I get to bake the palmiers on her request most of the times.
And most of the times, both kids help me make the cookies. Or they make them themselves almost all alone. They are so easy to make, even children can manage, there is practically nothing that can go wrong.
Homemade or bought palmiers?
Buying a ready-made pack of French palmiers is not a big deal either, they are available pretty much everywhere, they are cheap and they taste quite OK. I have nothing against buying a pack every now and then.
But making your own palmiers at home is so easy and so cheap! And no matter if you think you like the packed palmiers, do try to make these at home. They are about 1000 times better. Not to mention free from any preservatives or weird ingredients.
So airy and crisp and flaky! And they look so pretty as well, simple yet elegant, they look amazing on a nice serving platter. 🙂
The consistency is so much better than the one of the ready-made stuff. The bought palmiers tend to have a heavy, fatty structure, sometimes a bit too chewy, especially if the pack has been open for a few hours.
The homemade palmier cookies are airy, you will have the feeling that they will disintegrate in your mouth, they taste of cinnamon, they are sweet without being overwhelmingly so.
The only problem with them is that you will not be able to stop yourself eating them!
Actually, the quantities indicated in this recipe are quite ridiculous, come to think of it. You will have about 25 palmiers in the end and that is really something you will devour in less than 10 minutes. I recommend doubling the recipe.
PUFF PASTRY FOR FRENCH COOKIES OR PALMIERS
Use good quality puff pastry or better said all-butter puff pastry. There are only three ingredients in this palmier recipe and the puff pastry is the star. Puff pastry made with margarine or shortening, won't taste that good.
You can use homemade puff pastry if you wish, I am sure that the palmiers will be amazing with homemade puff pastry.
However, I never used anything else but store-bought puff pastry to make these French cookies. The quality of the puff pastry I can buy around here is excellent and using that just makes life easier, I suppose.
I use ready-rolled puff pastry most of the time. You can find these pastry sheets in the refrigerator section of your supermarket.
The size of the pastry sheet is totally unimportant. The German puff pastry sheets weigh 275 g/ 9.7 oz and are 40 cm/ 16 inches long. If your pastry sheet is smaller or larger is entirely irrelevant. You will roll, fill, cut and bake the pastry exactly the same way.
And once again: consider increasing the ingredient amounts for the palmier recipe. In this case use as much puff pastry, sugar and cinnamon as needed.
You can also use frozen puff pastry sheets. Defrost and use as indicated on the packet's instructions.
If the frozen puff pastry is already rolled in a sheet, leave it to defrost for about half an hour, it should be soft enough to allow you to unfold it easily, but not too soft, that will make it sticky and harder to work with.
If the puff pastry is in a block that needs to be rolled, weigh portions of about 275 g/ 9.7 oz and roll these portions to rectangles that are about 40 cm/ 16 inches long.
SUGAR AND CINNAMON
I used regular granulated sugar, but you can use brown sugar as well.
The cinnamon is regarded as optional by many, and French palmiers made with only sugar are great.
But I do recommend using cinnamon, it brings the palmiers to a whole new level.
TIPS FOR MAKING PALMIERS
Palmiers have an elephant-ear shape or a heart shape. To obtain that shape is actually very easy, all you have to do is to fold the puff pastry the right way.
Fold the left side of the pastry inward, towards the center, so that it goes halfway to the middle. Repeat with the right side of the puff pastry sheet.
Use a sharp knife to slice the puff pastry. The slices should be approximately 1,5 cm/ ¾ inches thick, I usually have 24 to 26 palmiers.
Place the French cookies on a baking sheet lined with baking paper and make sure to leave some room in between, they will spread quite a bit during baking.
Bake for about 10 minutes or until light golden brown.
Leave to rest on the tray for about 2-3 minutes, then transfer to wire racks to cool.
SAVORY PALMIERS
You can make savory puff pastry palmiers exactly the same way.
Spread the puff pastry sheet with any kind of pesto and roll as described above.
You can also add some extra grated cheese, like Parmesan or Cheddar or some very finely chopped Mozzarella.
Or you can spread some tapenade instead of pesto on the puff pastry. Top with some finely chopped sun-dried tomatoes in oil and you will have another delicious savory version.
Or spread some softened cream cheese on the pastry, add some grated cheese and dried herbs, thin salami or prosciutto slices, roll, cut and bake.
MORE EASY COOKIE RECIPES
ALMOND COOKIES WITHOUT EGGS - Easy to make, tender cookies without eggs, these eggless almond cookies are the perfect choice if you're on the lookout for no-egg recipes.
COCONUT COOKIE RECIPE - Tender coconut macaroons or coconut cookies made with only three ingredients.
ROCK CAKE RECIPE - A better version of Hagrid's rock cakes, soft and sweet, full of dried fruit and ready within 30 minutes.
CHOCOLATE CRACKLE COOKIES - Easy to make chocolate crackle cookies, sweet and chewy and with lots of chocolate, these are some of our family's favorite Christmas cookies.
SNICKERDOODLE RECIPE WITHOUT CREAM OF TARTAR - Melt-in-your-mouth snickerdoodle recipe without cream of tartar.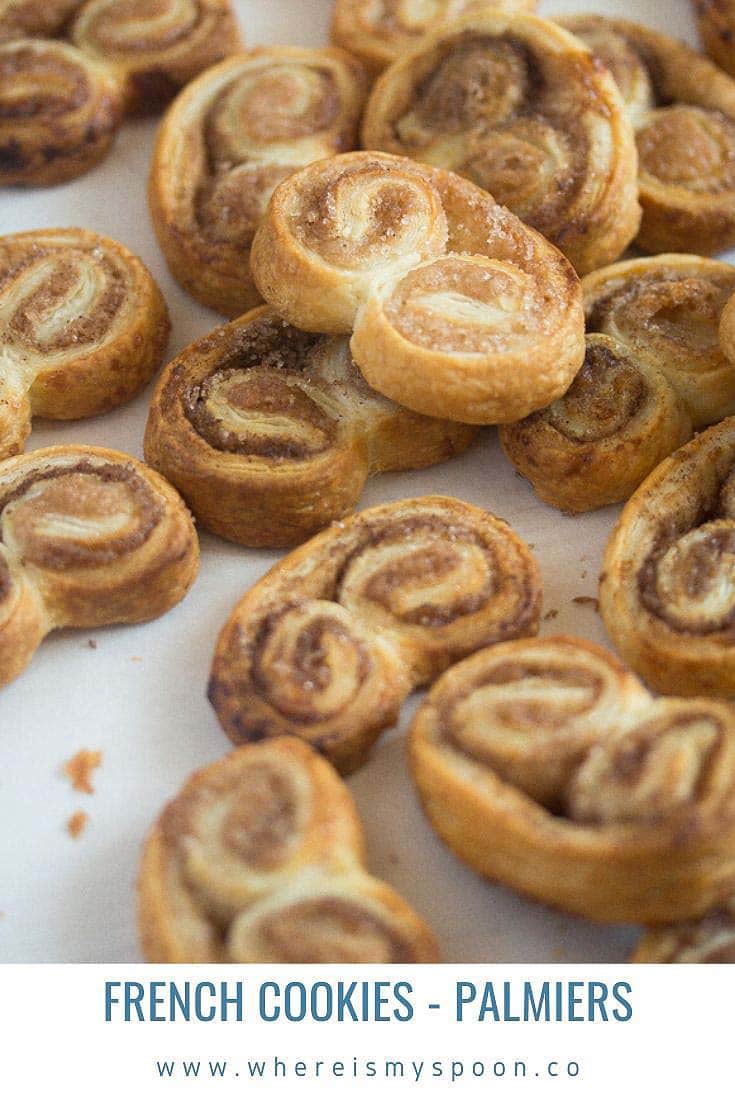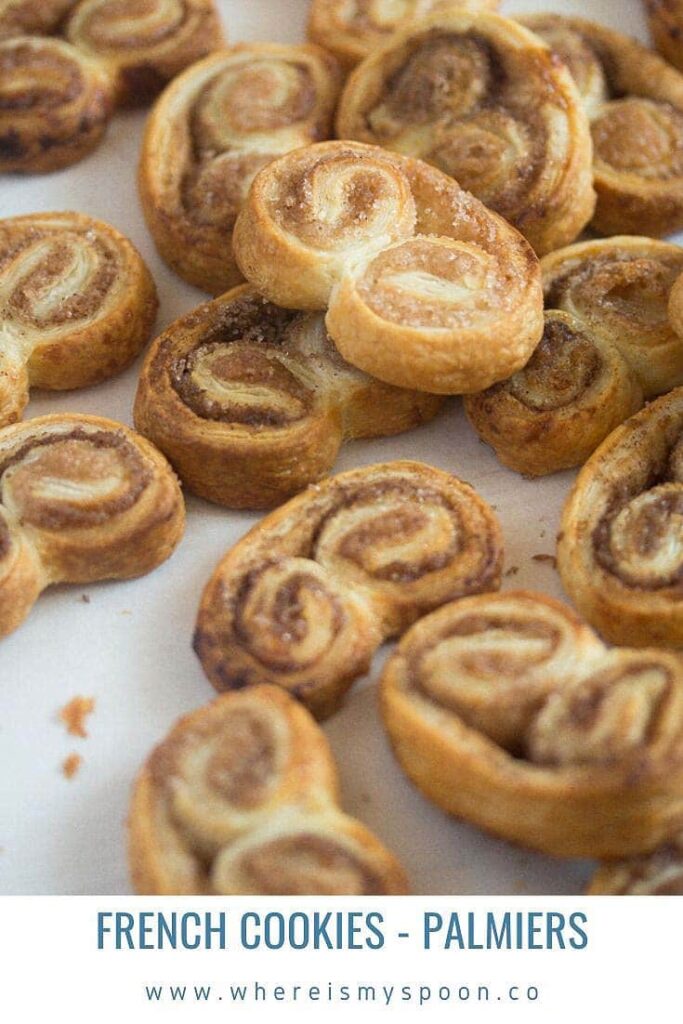 French Cookies – Palmiers
These French cookies or palmiers are the easiest cookies you will ever make! Only three ingredients and less than half an hour until they're ready to eat.
Print
Pin
Share
Grow
Saved!
Rate
Ingredients
1

sheet puff pastry

already rolled (275 g/ 9.7 oz, 40 cm/ 16 inches long) (See note)

75

g/ 2.6 oz/ ¾ cup granulated sugar

1

teaspoon

cinnamon
Instructions
Preheat the oven to 220 degrees Celsius/ 430 degrees Fahrenheit. Line a baking tray with parchment paper.

Unroll the puff pastry on the working surface. Sprinkle evenly with sugar and cinnamon.

Fold the left and the right sides of the dough inward so they meet in the center.

Cut into 1,5 cm/ ¾ inch thick slices, you will have about 24-26 palmiers.

Place on the prepared baking tray and bake for 10-11 minutes or until crispy and golden.

Leave to rest on the tray for 2 minutes, transfer to wire racks to cool.
Notes
Sheets of frozen puff pastry can be used instead. Defrost for about 30 minutes before filling and cutting or use according to the packet's instructions.
Nutrition
Serving:
1
g
|
Calories:
70
kcal
|
Carbohydrates:
8
g
|
Protein:
1
g
|
Fat:
4
g
|
Saturated Fat:
1
g
|
Polyunsaturated Fat:
3
g
|
Sodium:
27
mg
|
Sugar:
3
g