Easy to make, tender cookies without eggs, these eggless almond cookies are the perfect choice if you're on the lookout for no-egg recipes.
NO EGG SUGAR COOKIES
These almond sugar cookies are tender, sweet, slightly crumbly yet slightly chewy after a couple of days and soooo delicious! Anything you want your cookies to be!
And yet these are cookies without eggs. Made without me even meaning to bake without eggs... I saw the recipe somewhere, I thought I would love to have some almond sugar cookies, loved the super easy recipe and started baking.
Just after cleaning up I realized that there were no eggshells anywhere. I panicked slightly because I thought I had forgotten the eggs, I checked the recipe again and I was relieved. Indeed, no eggs needed for these cookies.
That was a few years ago, ever since I have baked these super easy almond cookies without eggs several times.
Not only during Christmas time. As these are such simple sugar cookies with a delicate flavor and beautiful texture, they make the perfect cookies to use when trying to pep up a dessert.
For instance, I often serve homemade ice cream for dessert when having guests. But although everybody loves ice cream, serving just two balls of ice cream at the end of dinner might seem a bit boring.
Adding one or two almond cookies and a berry or chocolate sauce makes things way more interesting!
INGREDIENTS FOR EGGLESS COOKIES
Well, the most important thing to say about the ingredient list is actually the lack of one ingredient: the eggs.
Otherwise, you will need flour, ground almonds, sugar, some vanilla extract, butter and a little icing sugar for dusting the cookies.
Advantages of having an egg-free cookie recipe:
You have forgotten to buy eggs, but still want to bake some cookies.
You want to bake with kids, but are worried about them eating the raw cookie dough.
You or a member of your family are allergic to eggs.
You just try to avoid eggs generally.
If you are a vegan, you can change this eggless cookie recipe to make it entirely vegan as well. Use margarine instead of butter.
TIPS FOR MAKING NO EGG COOKIES?
This is such an easy cookie recipe.
Just place all the ingredients in a food processor and mix shortly until the dough starts to come together.
Form dough sausages and refrigerate.
Form cookies and bake.
Refrigerate the cookie dough sausages for at least 2 hours, the dough should be nice and firm so that you can cut it easily.
If you refrigerated the dough for than 2 hours, cut the cookie slices, place them on the baking tray and wait 5 minutes before pressing the criss-cross pattern with the fork. This way the dough will be slightly softer so that the pressing will be easier, yet still firm enough as to not be too sticky.
The criss-cross pattern is not mandatory if you don't have the time or the patience to do it, just leave it.
Otherwise, use a fork to make the pattern. Gently press down with a fork on top of each cookie.
Clean the fork a couple of times in between (with kitchen paper), if you notice that it starts to stick to the cookie dough.
If using a fan oven, you can bake both trays with cookies simultaneously. In this case, preheat the fan oven to 160 degrees Celsius/ 320 degrees Fahrenheit.
If using a conventional oven, preheat it at 180 degrees Celsius/ 350 degrees Fahrenheit and bake the cookie trays one after another.
If you only have one tray, form only as many eggless cookies as they fit on the tray and leave the rest of the dough in the fridge until ready to bake again.
The cookies need to cool completely on the baking tray. They are super delicate when fresh from the oven and they will break if you try to move them to fast. Give them this time, it is worth it! Once cool, they will be just like any other cookie.
Don't overbake the cookies, they should become just slightly golden.
HOW TO KEEP THE EGGLESS SUGAR COOKIES?
Once perfectly cool, dust the eggless cookies with icing sugar.
Place them in airtight containers and keep at room temperature.
They keep well for at least one week, probably longer, but they have never lasted that long.
I have the feeling that their texture changes slightly after one or two days. They are crumblier at first but become just slightly chewier after a day or two. Delicious both ways.
MORE COOKIES?
HEIDESAND - Traditional German cookies, shortcrust pastry usually made with brown butter, rolled in sugar, sliced and then baked.
ROCK CAKE RECIPE - A better version of Hagrid's rock cakes, soft and sweet, full of dried fruit and ready within 30 minutes.
CHOCOLATE CRACKLE COOKIES - Easy to make chocolate crackle cookies, sweet and chewy and with lots of chocolate:
SNICKERDOODLE RECIPE WITHOUT CREAM OF TARTAR - An easy recipe for soft snickerdoodle cookies without cream of tartar.
SIMPLE PEANUT BUTTER COOKIES RECIPE - Homemade peanut butter cookies made from scratch – these are the best peanut butter cookies I have ever made.
PIN IT FOR LATER!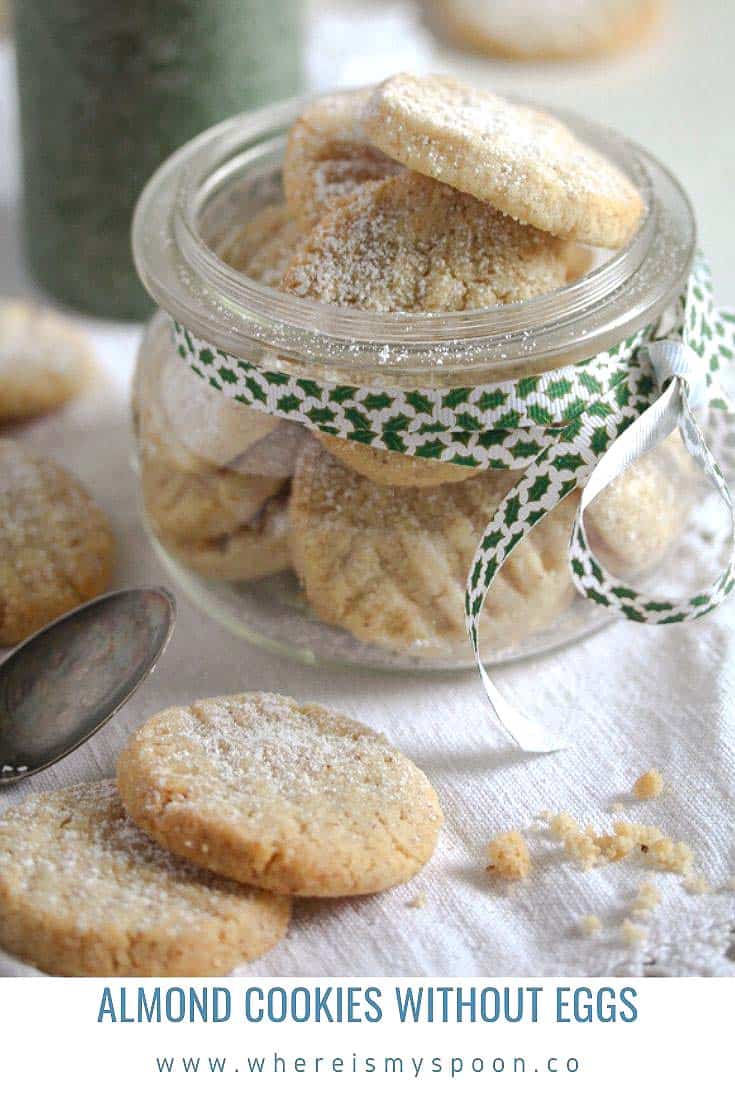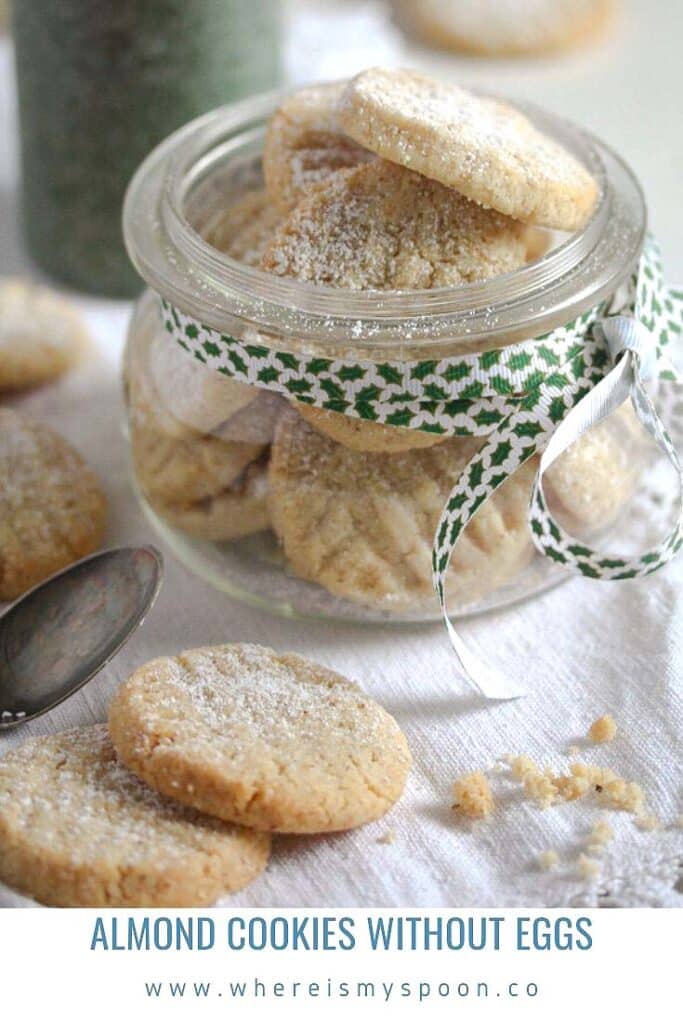 Almond Cookies without Eggs
Easy to make, tender cookies without eggs, these eggless almond cookies are the perfect choice if you're on the lookout for no-egg recipes.
Print
Pin
Share
Grow
Saved!
Rate
Ingredients
150

g

all-purpose flour

5.3 oz/ 1 ¼ cup

150

g

ground almonds

5.3 oz/ 1 ¼ cup

75

g

granulated sugar

2.7 oz/ ¾ cup

175

g

unsalted butter

6.2 oz/ ¾ cup, very cold

½

teaspoon

pure vanilla extract

1-2

tablespoons

icing sugar
Instructions
Dough: Place the flour, ground almonds, sugar, cubed butter and vanilla extract in a food processor or stand mixer. Mix shortly until the dough starts to come together.

Refrigerate: Turn the dough onto the working surface and press together into a disc. Don't knead; work quickly. Divide the dough into three parts, and form each piece into a thick roll, about 2.5 cm/ 1 inch thick.

Wrap each roll in cling film/plastic wrap and refrigerate for about 2 hours. The dough can be refrigerated for longer (overnight) as well.

Preheat the oven to 180 degrees Celsius/ 350 degrees Fahrenheit (fan oven 160 degrees Celsius/ 320 degrees Fahrenheit). Line two baking trays with parchment paper.

Cut the dough rolls into slices, about ¾ cm/ 0.3 inches thick. Place the pieces on the baking trays and gently press down with a fork on the top of each cookie to make a small criss-cross pattern.

Bake: If using a fan oven, you can bake both cookie trays simultaneously. If using a conventional oven, bake the cookies one tray after another. Bake the cookies for about 12-15 minutes or until slightly golden.

Leave to cool completely on the baking trays. Sprinkle with icing sugar before placing them into airtight containers.
Nutrition
Serving:
1
g
|
Calories:
85
kcal
|
Carbohydrates:
7
g
|
Protein:
1
g
|
Fat:
6
g
|
Saturated Fat:
3
g
|
Polyunsaturated Fat:
3
g
|
Cholesterol:
10
mg
|
Sodium:
21
mg
|
Fiber:
1
g
|
Sugar:
3
g