Chewy and sweet hazelnut macaroons, these are typical German Christmas cookies made with only 4 ingredients.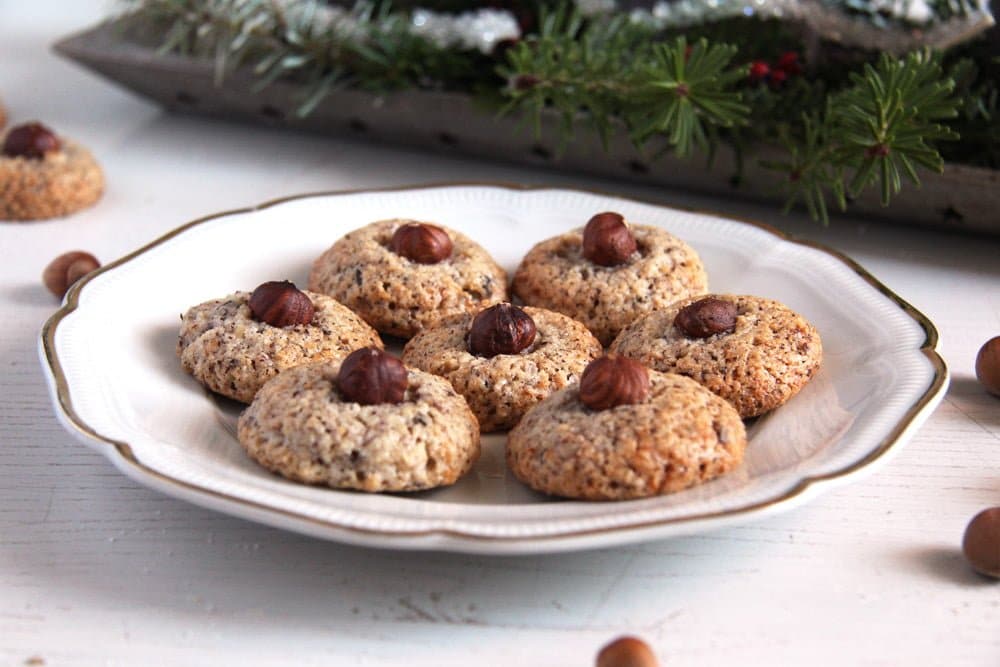 If you would like to make some cookies, but don't feel like spending a lot of time in the kitchen, these hazelnut macaroons are the solution. They taste incredible, sweet and chewy and "hazelnutty", are soft on the inside and crispy on the outside, they are made in no time and, at least for me, a happy way of using the egg whites that I keep gathering in the freezer.
I find that I need only egg yolks more often that I need egg whites, that is why you will find at least 3 or 4 plastic bags containing egg whites in my freezer at any given time. I am not a fan of egg white omelet (pfui!!!) and I really can't think of many ways of using those darn egg whites, so each December, all those frozen bags get thawed and I am making lots and lots of hazelnut or almond macaroons. Luckily, these cookies happen to be my husband's favorite cookies, he devours at least 4 times this recipe every winter (and he still doesn't have one gram of unnecessary fat on his body…).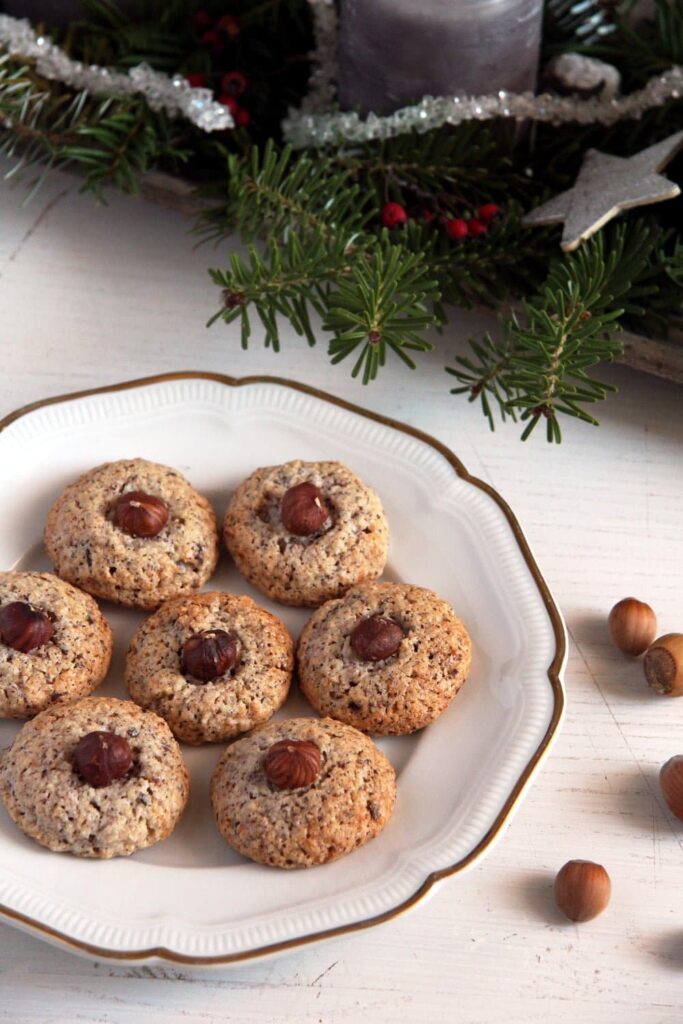 You will only need four ingredients for making these macaroons: egg whites (leftover frozen ones will be just as good as fresh ones), sugar, ground hazelnuts and some whole hazelnuts for garnishing the cookies. I normally make the cookies with hazelnuts, but from time to time, I take almonds and to tell you the truth, I like the almond version just as much as I like the original. I use a piping bag for making regular nice cookies, but if you don't have one or don't feel like cleaning it afterward just use two teaspoons to form small heaps on the baking tray.
Each time I make cookies I keep meaning to count them so that I can give you an amount when posting the recipe. But almost each time I either forget to count them at all or, if I do count them, I forget to write down the number, so by the time I post the recipe I have already forgotten what I have counted. This time is no exception 🙁 . If I remember correctly I had a bit less than two trays, so that would make about 24-26 macaroons.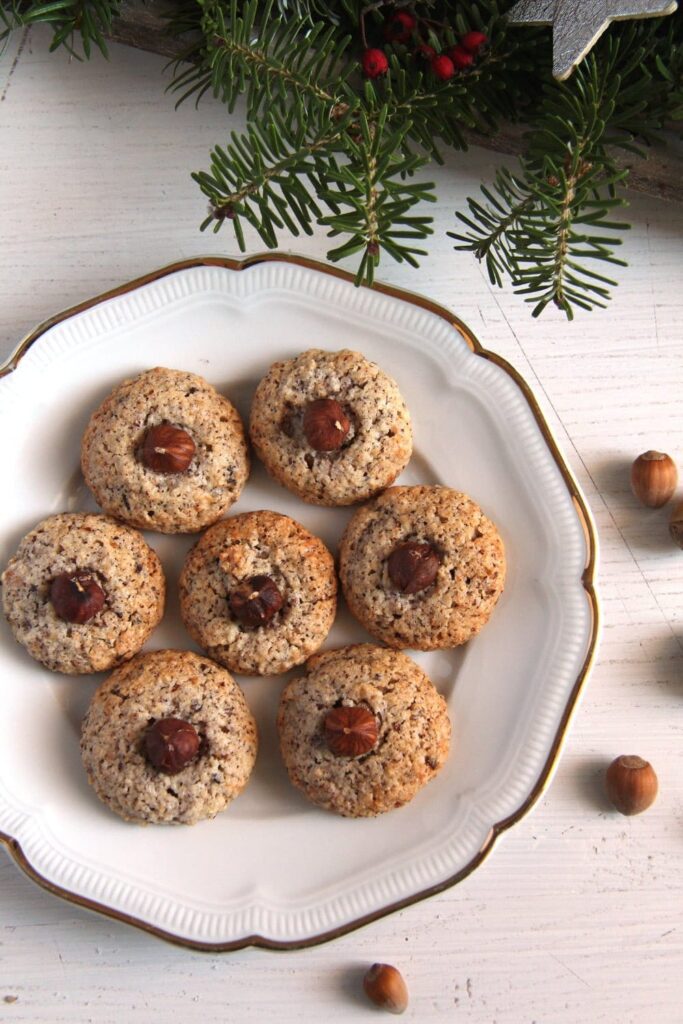 Ingredients
3 egg whites (medium Germany, large US)

200 g/ 7 oz/ 1 cup granulated sugar

200 g/ 7 oz/ 1 2/3 cups ground hazelnuts

one whole hazelnut for each macaroon
Instructions
Preheat the oven to 170 degrees Celsius/ 340 degrees Fahrenheit. Line two baking trays with baking paper.
Beat the egg whites until stiff peaks form. Slowly add the sugar and continue beating until the mixture is glossy and stiff again. Carefully fold in the ground hazelnuts.
Fill the mixture into a piping bag with a very large nozzle. If you don't have a very large nozzle, leave the nozzle and use only the piping bag without the nozzle. Pipe about 24-26 macaroons on the baking trays. Alternatively you can use two teaspoons to make small heaps on the baking tray. They will not be so regular but they will taste just as good.
Place a whole hazelnut in the center of each cookie and press it down gently.
Bake the cookies for about 15 to 20 minutes or until they start to get golden around the edges.
Leave to cool completely, then keep airtight in cookie jars or cookie tins.
This post contains affiliate links. The price you pay as a consumer does not change, but if you make a purchase we will receive a commission which helps support the blog.

Other German Christmas cookies you might like: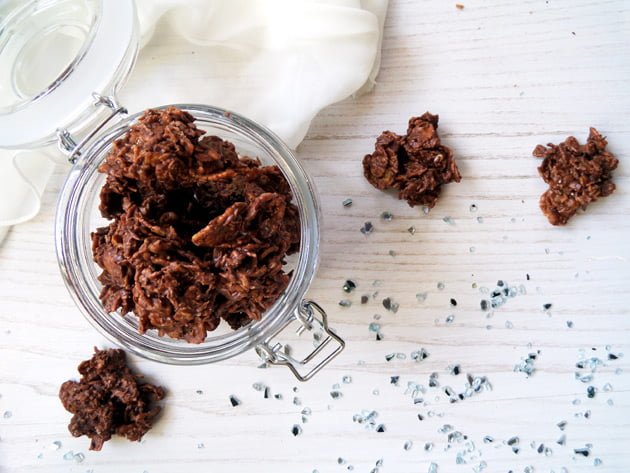 Vanilla Crescents – Vanillekipferl