The Spitzbuben are typical German cookies: a double layer of almond shortcrust pastry with jam in between.
GERMAN CHRISTMAS COOKIES
I give you my favorite cookies this year: the German Spitzbuben cookies with jam. I've made quite a few different sorts of cookies recently and everyone in the family has its favorite. These are mine.
Jam cookies are generally my favorite kind. Place a plate with 10 different sorts in front of me and I would probably go for the jam ones first, most of the time. I will get to the others as well, no worries, but the most enticing for me would be those made with jam. Other jam favorites are these Classic Thumbprints.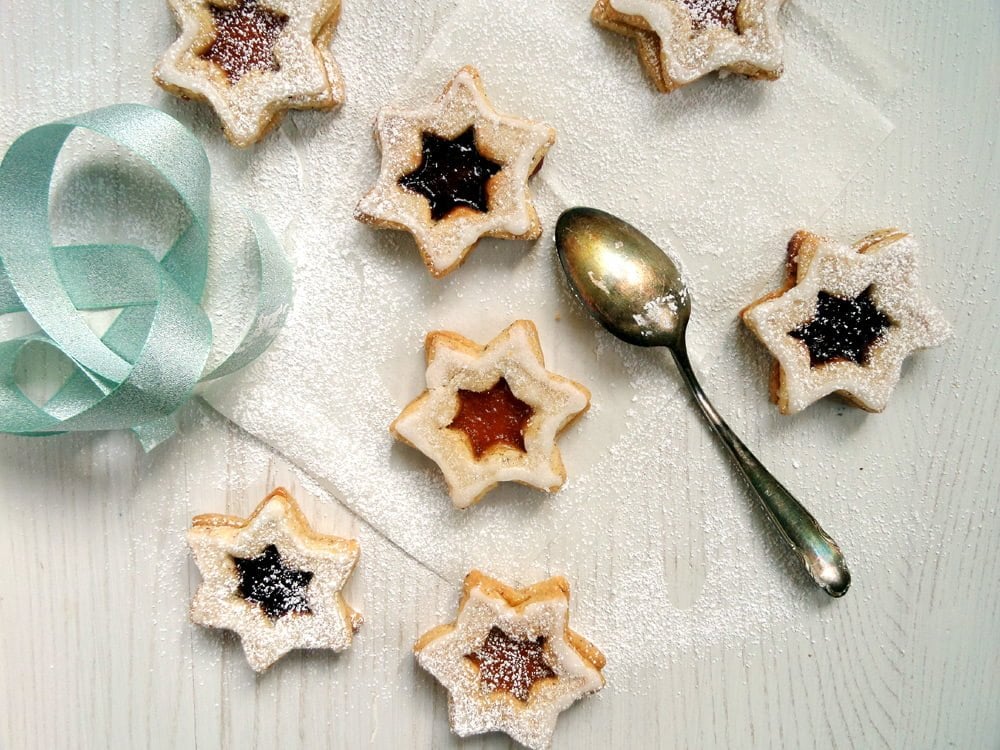 What are Spitzbuben?
Some of the best known German cookies. Also very popular in Switzerland and Austria. Also known as Linzer Auge – Linzer Eye or Johannes biscuits.
Apparently, this Johannes came up with them during the 30-year war and the subsequent famine (17th century). He would bake these cheap cookies, fill them with jam, and give them to the poor.
The name Spitzbuben is mostly used in Switzerland and the South of Germany and means "mischievous boy". That might have something to do with the fact that the little holes in the cookies would sometimes look like a small face. Many people still cut 3 small holes instead of a single larger one. And those holes look indeed like a little face.
But it doesn't matter if you cut one or three holes, if you fill them with redcurrant or apricot jam, if you call them Spitzbuben, Linzer, or even Hildabrötchen, the fact is that these German cookies are always amazing!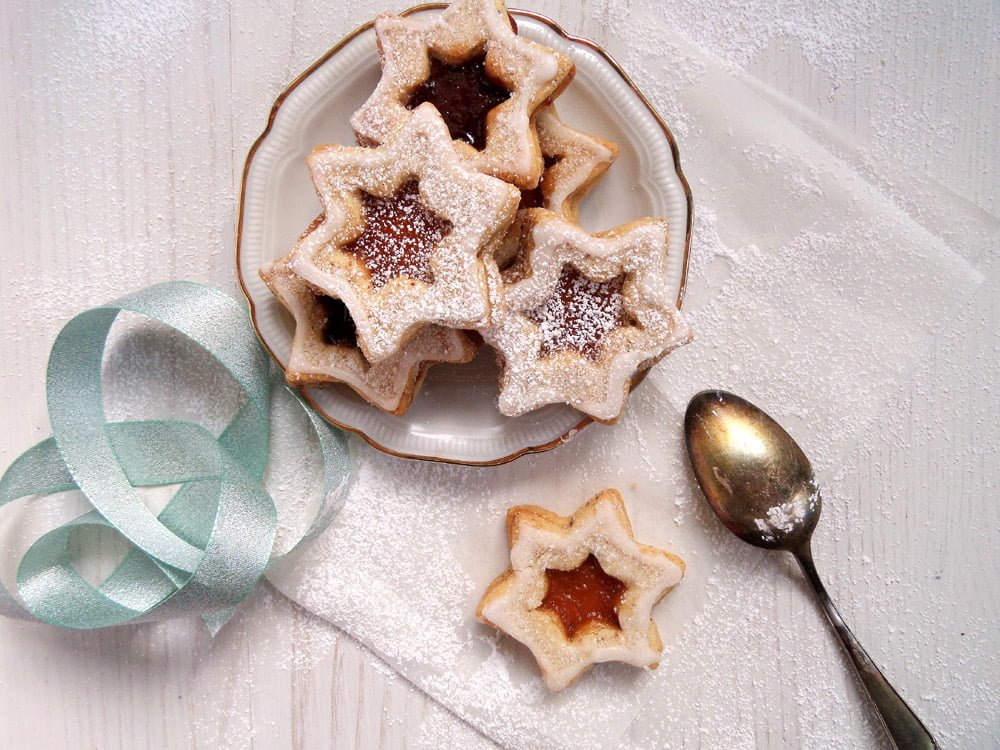 Ingredients
You will need flour, baking powder, sugar, vanilla sugar, unsalted butter, one egg white, ground almonds, icing sugar, and jam or jelly.
Vanilla sugar can be replaced with 1/2 teaspoon vanilla extract.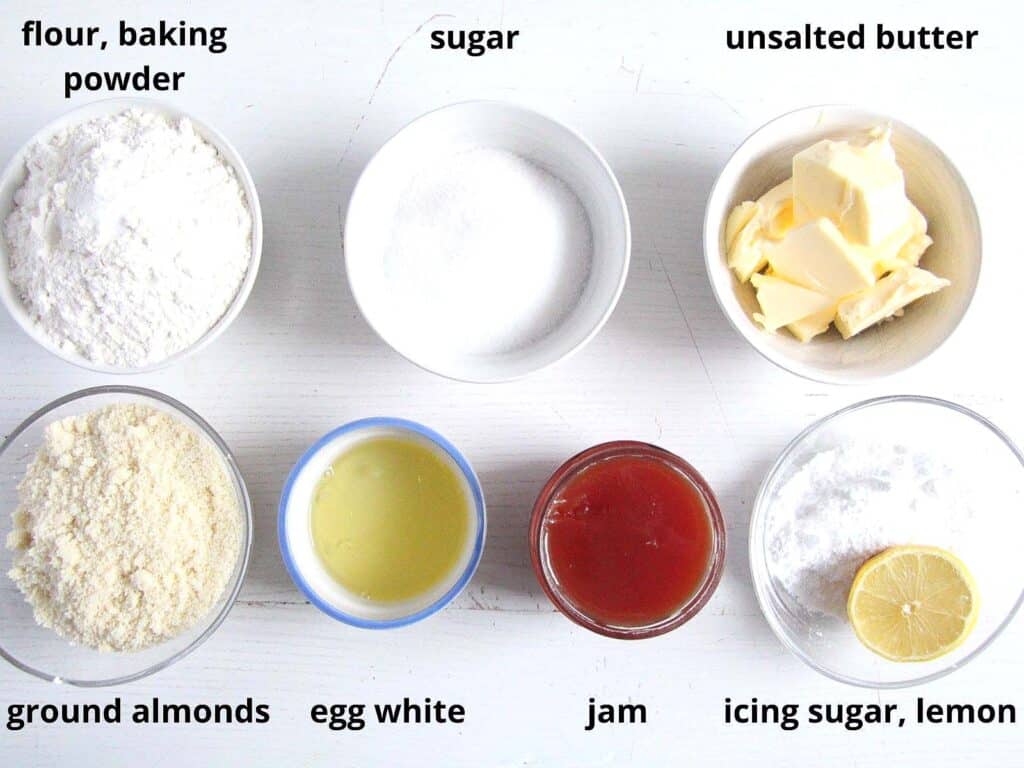 Jam:
You can use pretty much any jam or jelly you like. Jelly looks nicer because is smoother and glossier, but it is not mandatory.
I prefer redcurrant jelly, it is bright and red and quite tart.
I recommend using a tarter and very aromatic sort of jam or jelly, like red currants, sour cherry, plums, raspberries or blackberries.
If using a jam with seeds in it, pass the jam through a sieve to remove the seeds.
If using jam with chunks of fruit in it, blend the jam until smooth.
Other less traditional, but great jam options are apricot jam, lemon jelly, orange marmalade.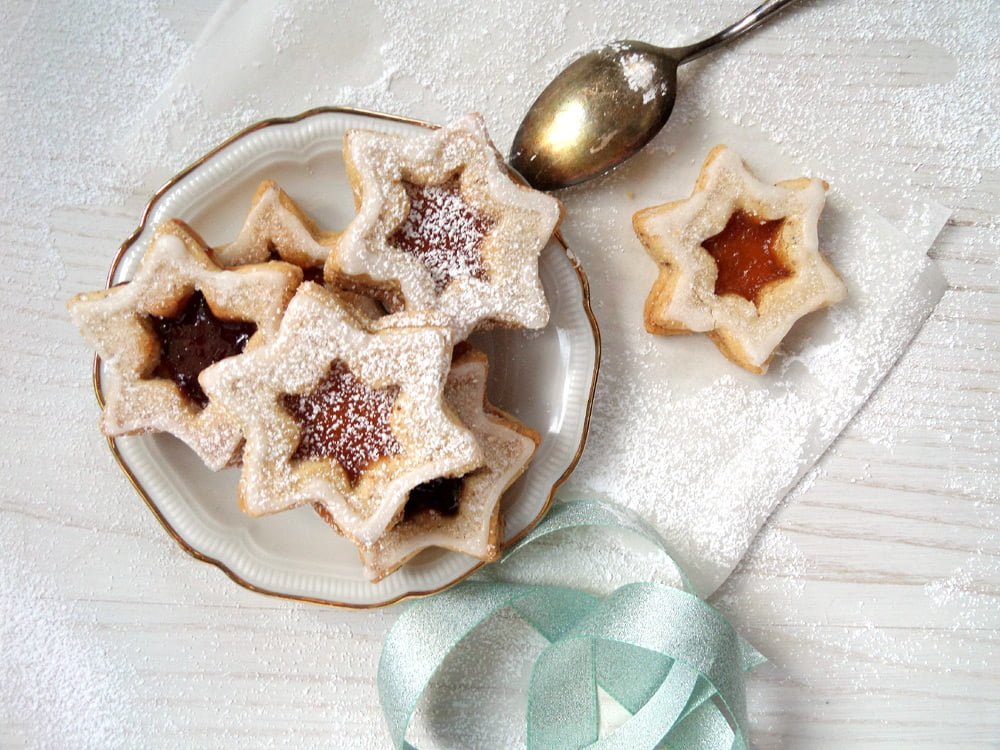 Tips for making Spitzbuben
Use a kitchen scale to measure the ingredients, cup measuring is very inaccurate. (Amazon affiliate link)
Make sure that the butter is unsalted and very cold.
Don't knead the dough. Once you have shortly mixed it in the food processor, turn it onto the working surface (not floured) and only press briefly to form a ball.
Refrigerate the dough for at least 30 minutes.
You can make the dough in advance and refrigerate it for longer, overnight, or for a couple of days.
Flour the working surface and the rolling pin lightly before rolling the dough.
Divide the dough in half and keep the piece you are not using refrigerated until ready to use.
Make sure you cut an equal amount of perforated and unperforated cookies so that you can form the Spitzbuben.
Once the cookies are baked, leave them on the baking tray for 5-10 minutes before transferring them to a wire rack. They need that time to set slightly, otherwise, they will break when you try to move them.
Let the Spitzbuben cool completely before icing and filling with jam.
What cookie cutter to use?
You will need two shape cutters in different sizes. For instance, one larger and one smaller star-shaped cookie cutter. (Amazon affiliate link)
You could use any kind of cutter you like. If you don't have a cutter use small round glasses to cut the dough.
If you don't have a small star-shaped cutter, make a round cut for instance. You could use a piping nozzle to cut the small hole in the middle of half of the cookies.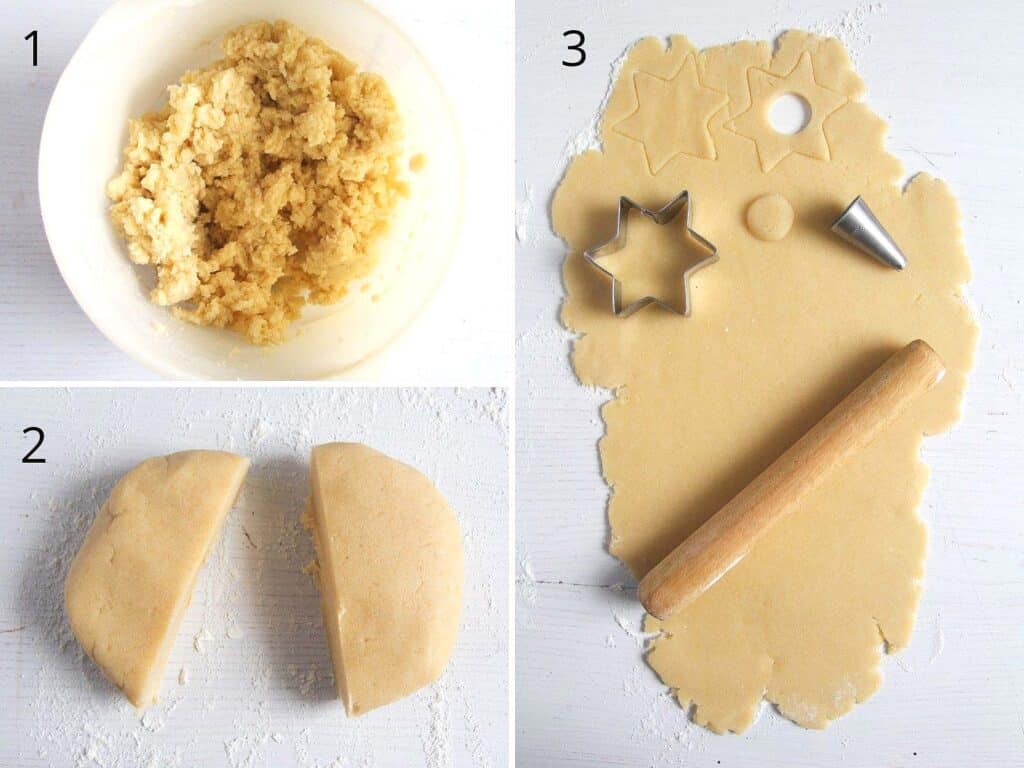 How to ice?
This step is nice but optional. You can leave it out and the taste will still be amazing.
In a small bowl, mix together the icing sugar with one or two tablespoons of lemon juice to obtain a thick paste.
Either spread this paste on the perforated cookies or place the paste into a small piping bag with a tiny nozzle and mark the edges of the cookies.
Or to make things simpler, ice the perforated ones completely.
Sprinkle with some granulated sugar and leave to dry out well.
How to assemble?
If using chunky jam, blend it until smooth.
Place the jam or jelly in a small saucepan and heat shortly, while stirring continuously, until smooth.
Brush the uncut biscuits with a very thin layer of jam all over, just enough so that the cut cookies can stick to them.
Place the perforated ones on top and press gently.
Fill the holes with more jam or jelly (use a teaspoon) and leave to set.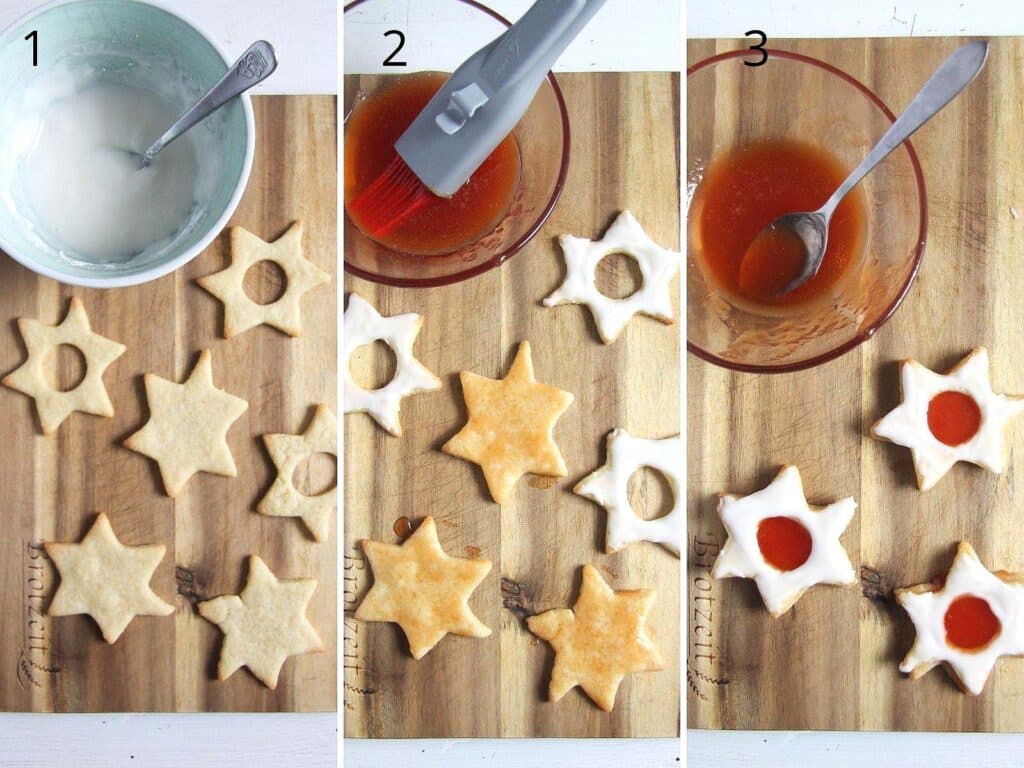 How to store?
Keep in airtight containers.
You could layer them between pieces of parchment paper so that they don't stick to each other at all. But I usually don't bother.
These German cookies will keep for about a week, probably a bit longer.
More German Cookies
CORNFLAKE CAKES – Super easy to make cornflake cakes or chocolate cornflakes, a no-bake cookie recipe for crunchy Christmas cookies.
HEIDESAND – Shortcrust pastry usually made with brown butter, rolled in sugar, sliced, and then baked. Really simple but really good.
GERMAN WALNUT MARZIPAN COOKIES – Shortcrust pastry rolls filled with walnuts and marzipan, a holiday treat you cannot miss.
GERMAN HAZELNUT MACAROONS – NUSSMAKRONEN – Chewy and sweet hazelnut macaroons or Nussmakronen, made with only 4 ingredients.
COCONUT MACAROONS – Made with only three ingredients.
PIN IT FOR LATER!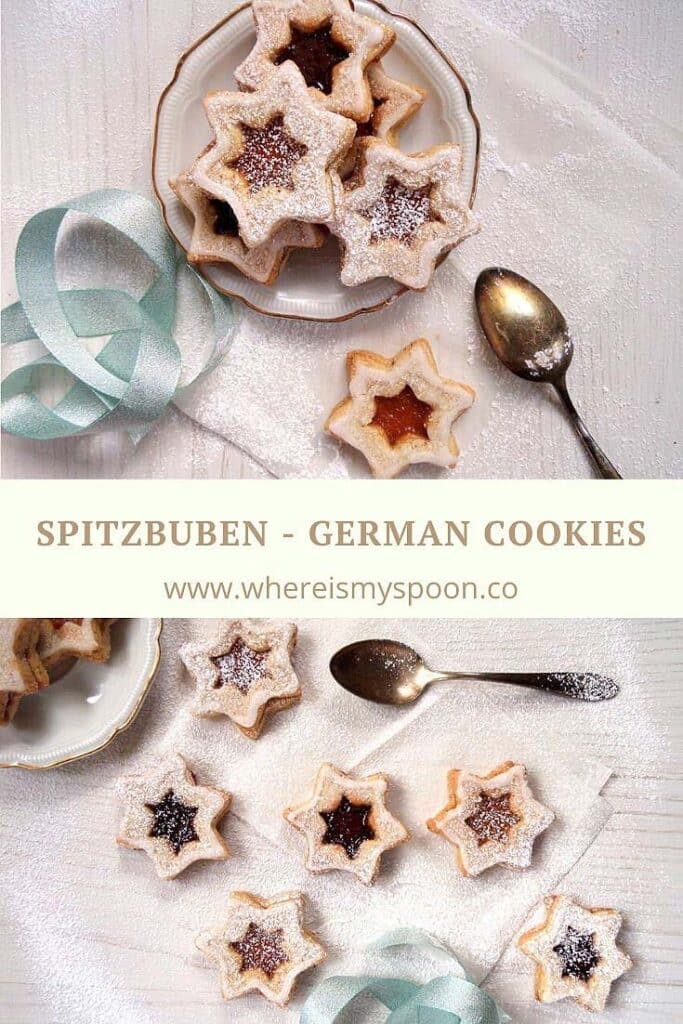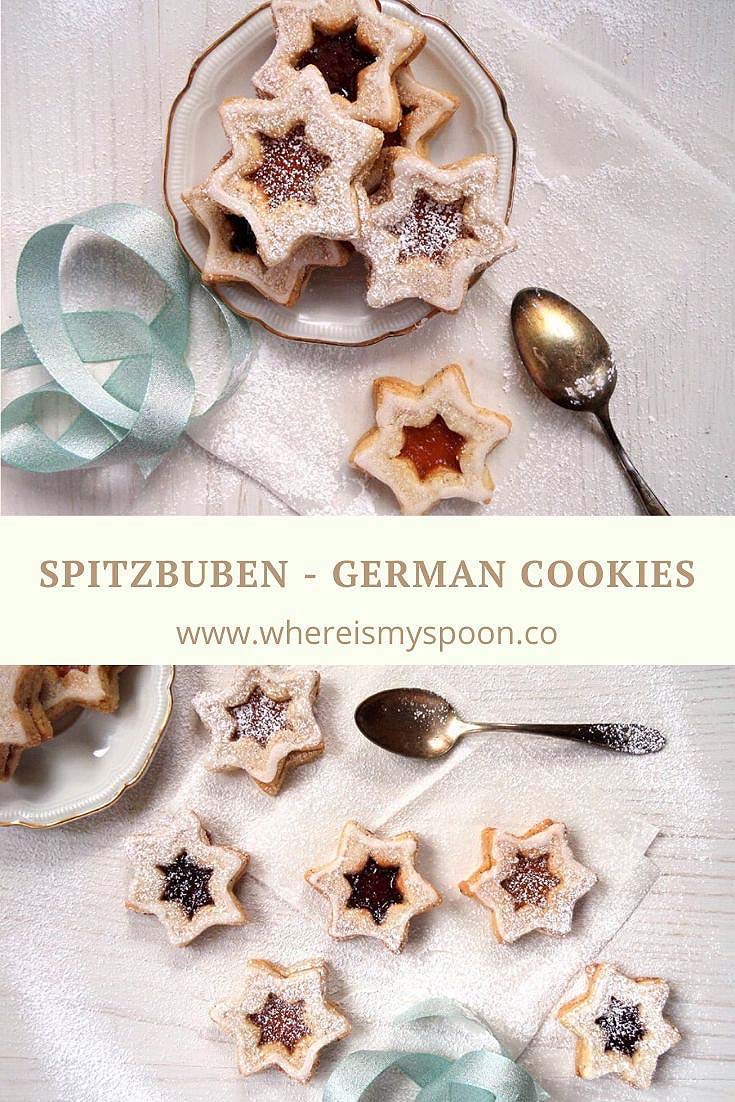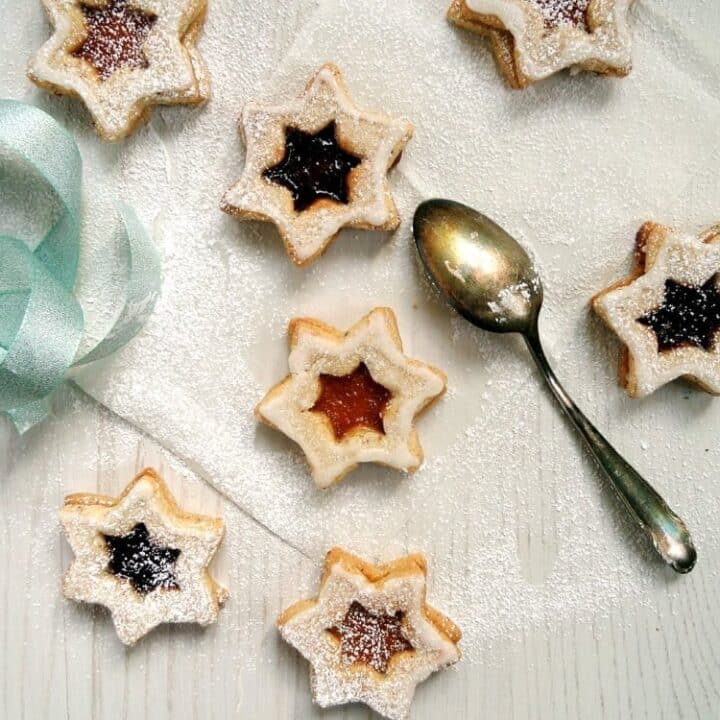 Spitzbuben Cookies
The Spitzbuben are typical German cookies: a double layer of almond shortcrust pastry with jam in between.
Ingredients
Pastry (See note):
375 g/ 13.2 oz/ 3 cups all-purpose flour
1 teaspoon baking powder
200 g/ 7 oz/ 1 cup granulated sugar
1 tablespoon vanilla sugar or 1 teaspoon vanilla extract
250 g/ 8.8 oz/ 1 cup unsalted butter, cold
1 egg white
125 g/ 4.4 oz/ 1 ¼ cups ground almonds
Icing:
100 g/ 3.5 oz/ 1 cup icing sugar
1-2 tablespoons lemon juice, as needed
some granulated sugar, to decorate
Filling
150 g/ 5.3 oz/ 2/3 cups jam/ jelly of choice (something slightly sour)
Instructions
Pastry:
Place the flour, baking powder, sugar and vanilla sugar/vanilla extract in the food processor or stand mixer. Pulse to mix.
Add the cold butter pieces, egg white and ground almonds, and pulse until you obtain a crumbly mixture.
Turn this onto the working surface, press very briefly to form a disc, wrap in plastic wrap/cling film and refrigerate for at least 30 minutes.
Preheat the oven to 180 degrees Celsius/ 350 degrees Fahrenheit. Line two baking trays with parchment paper.
Divide the dough in two. Sprinkle a little flour on the working surface and roll half of the dough about 4 mm/0.15 inch thick. Place the rest of the pastry in the fridge. Cut out stars using a star cutter with a diameter of about 6 cm/ 2.5 inches. Place half of these stars on the baking sheet.
Use another smaller star cutter (or a piping nozzle) to cut another little star in the middle of the remaining stars.
Bake for about 10-12 minutes or until slightly golden. Take out of the oven, let sit on the tray for about 5-10 minutes to set slightly. Transfer to wire racks and leave to cool completely.
In the meantime roll and cut the rest of the pastry. Repeat the process until all the pastry is used.


Icing:
When all the cookies are completely cool, mix the icing sugar with one or two tablespoons lemon juice to obtain a thick paste.
Either spread this paste on the perforated cookies or place the paste into a small piping bag and mark the edges of the cookies.
Sprinkle with some granulated sugar and leave to dry out well.


Filling:
If using chunky jam, blend until smooth.
When the cookies are dry, place the jam or jelly in a small pan and heat up a little bit.
Brush the whole stars with a thin layer of jam, place a perforated star on top and press very gently.
Fill the hole of the star with some more jam and leave to set.
Notes
Please use a kitchen scale, cup measuring is too inaccurate.
Nutrition Information:
Yield:

30
Serving Size:

1
Amount Per Serving:
Calories:

184
Total Fat:

9g
Saturated Fat:

4g
Trans Fat:

0g
Unsaturated Fat:

4g
Cholesterol:

18mg
Sodium:

42mg
Carbohydrates:

24g
Fiber:

1g
Sugar:

13g
Protein:

2g
Nutrition information isn't always accurate.