The easiest and best recipe I know for Thumbprint Cookies with Jam.
Only five ingredients and less than half an hour actual work and you will be rewarded with some of the best cookies I know: Thumbprint Cookies with Jam or Engelsaugen (Angel's Eyes) in German or Ochi de pisica (Cat's Eyes) in Romanian. Different names in different languages, but basically the same recipe for the same cookies, these thumbprint cookies seem to be traditional in many countries of this world.
These are indeed cookies I used to eat from time to time as a child as well. My grandmother never made them, she never baked anything sweet except her famous Cozonac – Romanian Sweet Bread with Walnuts (which I didn't like at all in my childhood… figure that!), but I actually did eat these thumbprint cookies or cat's eyes quite a few times. I don't exactly remember where, it must have been either in my aunt's house or in my step-grandmother's house, she used to love baking and she baked lots, so if I ever got to eat any cake in my childhood it was probably in her house.
It was in my step-grandmother's house that I had whipped cream for the first time in my life (I must have been about 12 already!) or any cake at all, I didn't eat much of those, but at least I got a chance to try them and some of them I actually liked, especially those made with whipped cream or jam. The jam is also the main reason I enjoyed these "cat's eyes" cookies as well, the jam was tangy and that made the whole experience less sweet, I really did not enjoy sweets much as a child.
And I also remember the huge and colorfully decorated gingerbread with our names on them, which she used to make for my sister and I and our two step-cousins (her real granddaughters) for Christmas (and I think Easter too) every year when we were little. She was a very kind and giving woman. I've never really eaten the gingerbread though (so sorry now), I would nibble a bit on them, but basically I would just keep them for months and showed them to anybody who cared to look at them, until they would get rock-hard and my other grandmother would throw them away eventually… They were just too pretty and fancy decorated to eat…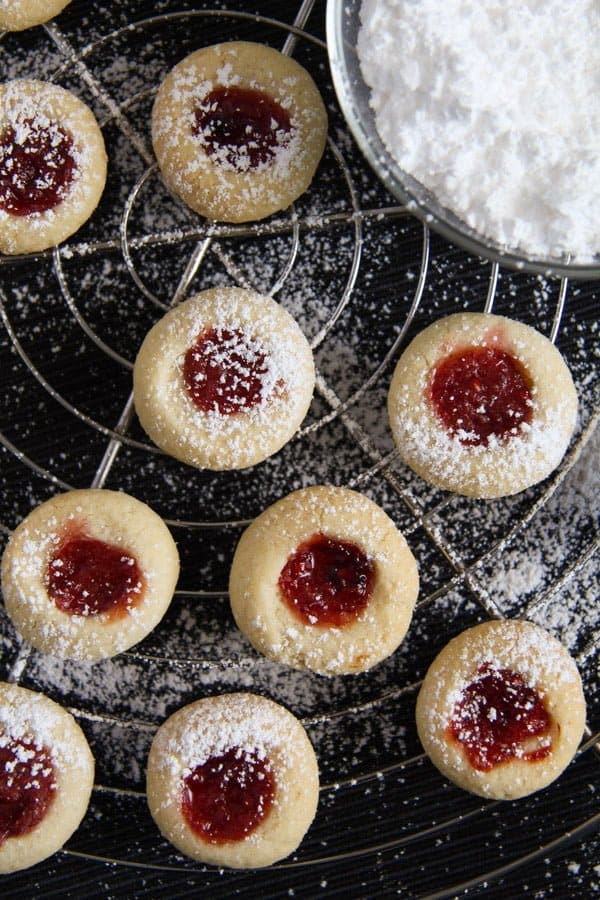 Notes on the Easy Five Ingredient Thumbprint Cookies with Jam:
Well, you will have a hard time finding an easier cookie recipe. Cookies are generally very easy to make, but these thumbprint cookies are even easier than most cookies: no fancy ingredients, just basic, cheap ones, no need to place the dough in the fridge for a while before baking, no cutters necessary, you basically cannot go wrong with these cookies.
Use whatever jam you have and like, I use redcurrant jam most of the times, because I always make it in the summer and I make it in the summer mostly for baking cookies with it. Redcurrant jam is one of the sourest jams I know and I use mostly sour kinds of jams when baking cookies or cakes with jam. However, I have made these cookies with plum or cheery butter and with blackberry or raspberry jelly as well.
Ideally, you will use jellies, they look a bit better in the end, but as far as taste is concerned it really doesn't matter if you use jam or jelly. I didn't make any redcurrant jelly this summer, so jam is all I had. To make the jam a bit smoother I whizzed it in the kitchen machine for a few seconds, but that is not really necessary.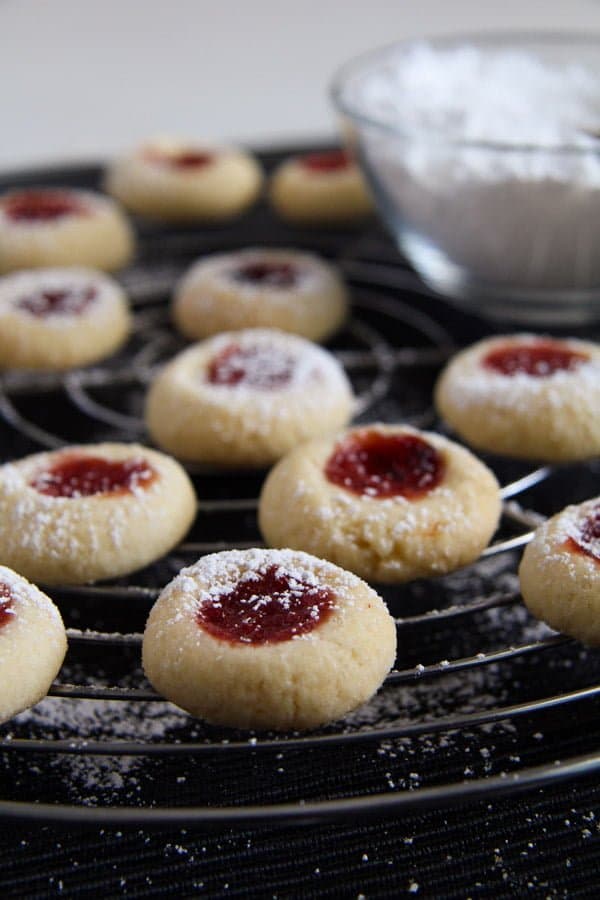 Preheat the oven before you start making the cookies. Fill one baking tray with the formed cookies and place it in the oven. While this first batch bakes, you can already make the second batch and place the cookies on the second tray. Having at least two baking trays or cookies sheets when making cookies is important, if you ask me, unless you only bake a very small batch every time. I have three baking trays and three cooling racks and sometimes I wish I would have one more of each to make the cookie baking process faster and easier.
I use butter when making the Easy Five Ingredient Thumbprint Cookies with Jam, but you could use margarine instead, that is what they would normally have used in Romania during my childhood, when butter was a very expensive luxury.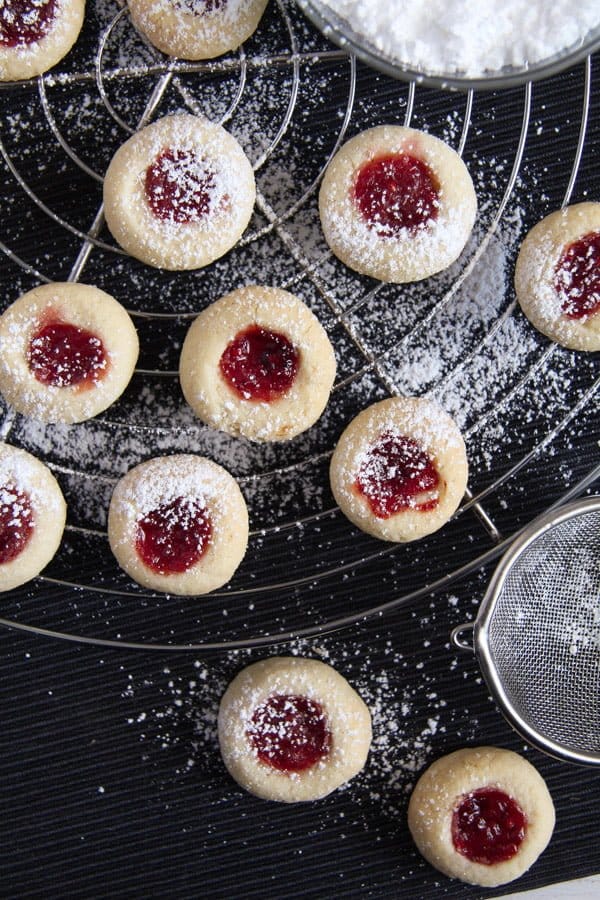 Other Christmas cookies recipes: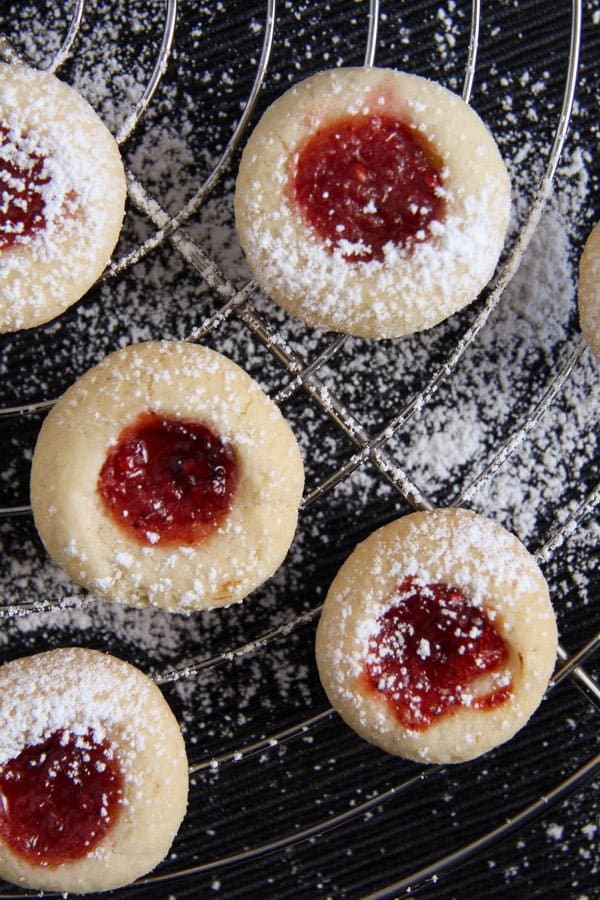 Ingredients
300 g/ 10.5 oz/ 2 ½ cups all-purpose flour

200 g/ 7/8 cups butter or margarine

100 g/ 3.5 oz/ ½ cup sugar

1 egg

jelly or jam of choice, preferably a sourer variety (I used redcurrant jam)

icing sugar, optional
Instructions
Preheat the oven to 175 degrees Celsius/ 350 degrees Fahrenheit. Line two baking trays with baking paper.
Give the flour, butter/margarine, sugar and egg to the kitchen machine and process shortly until the mixture resembles streusel. Give the dough onto the working surface and knead very shortly to bring the dough together and form a ball.
Break small pieces of dough and form little balls, about as large as a cherry. Press with the thumb in the middle of each ball to form a well. Give a small amount of jelly or jam into each well using a teaspoon.
Place the first batch of thumbprint cookies in the preheated oven and bake for about 10 to 15 minutes until very slightly golden. Check the first batch repeatedly after the first 10 minutes, the cookies should not get too dark, they should remain pretty pale.
While the first batch of cookies is in the oven, prepare the second batch.
Leave the baked cookies rest on the baking tray for about 10 minutes, then transfer them to a wire rack to cool completely.
When cold dust with icing sugar, if you wish.
They will keep for at least one week in an airtight container, but I have eaten some after 2 weeks as well and they were fine.
This post contains affiliate links. The price you pay as a consumer does not change, but if you make a purchase we will receive a commission which helps support the blog.