These Austrian Vanillekipferl are a must in our house every December. Tender and crumbly vanilla crescents, full of hazelnuts and rolled in vanilla sugar.
AUSTRIAN COOKIES - VANILLEKIPFERL
Melt-in-your-mouth Austrian cookies, these vanilla crescents or Vanillekipferl are probably the best cookies in the world. Also called "The queen/king of Christmas cookies".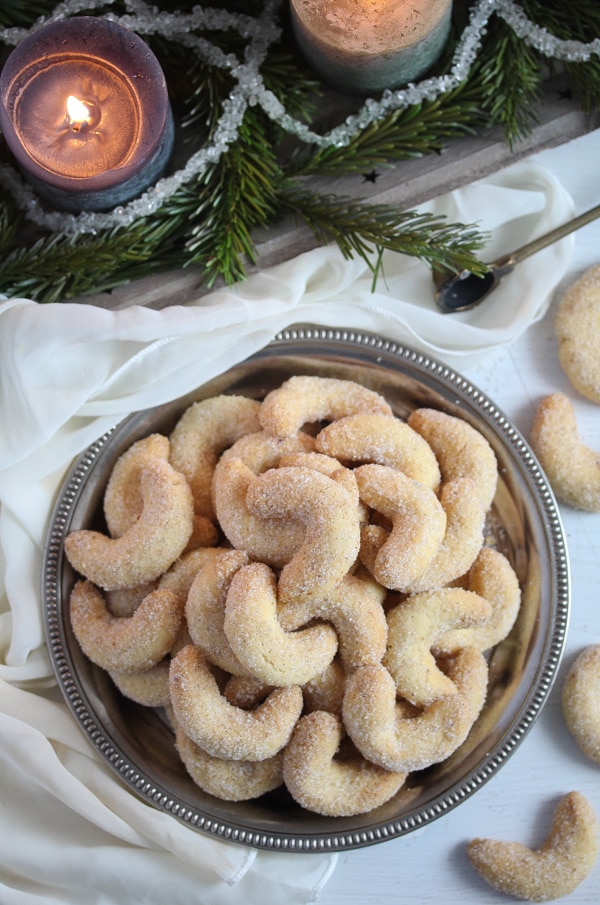 WHAT ARE VANILLEKIPFERL?
Famous Austrian Christmas cookies, just as popular in Germany as they are in Austria. Also typical for Poland, Czechia, Slovakia, Hungary and parts of Romania.
The shape of the Vanillekipferl is that of a crescent or half-moon.
The vanilla crescents seem to originate in Vienna and there are many stories around this subject, some even mentioning the French queen Marie Antoinette.
However, the most popular story says that the Vanillekipferl was invented to celebrate the victory over the Ottomans, who were trying to get into Vienna using tunnels under the city.
The bakers, who were always awake very early in the morning, heard the underground sounds and were able to raise the alarm in time. As a sign of celebration, they created the half-moon cookies, a reminder of the Turkish crescent.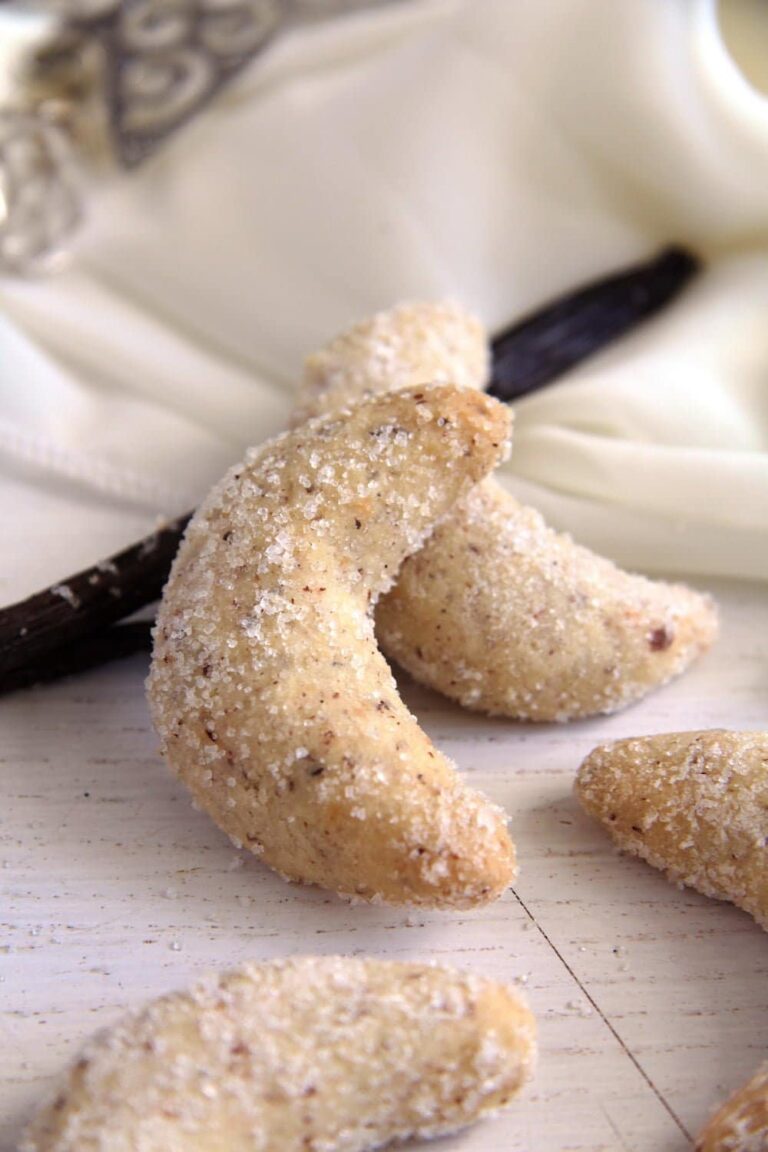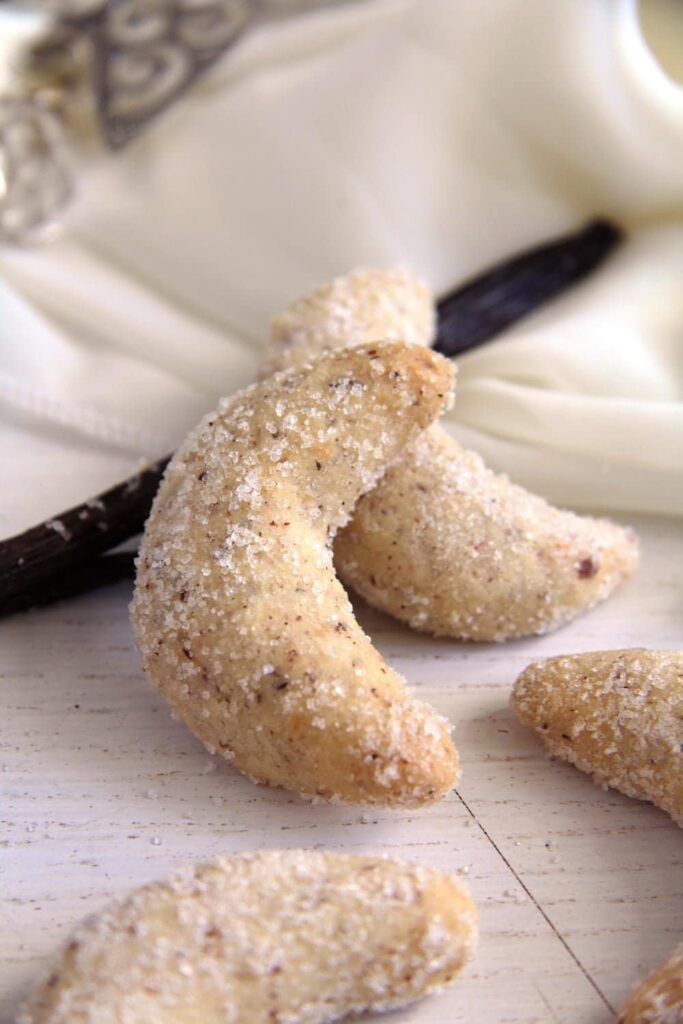 INGREDIENTS FOR VANILLA CRESCENTS
Nuts:
The Vanillekipferl are originally made with walnuts, but more popular versions nowadays are made with hazelnuts or almonds.
I tried all versions, I love them all.
Today's recipe is made with hazelnuts. Feel free to replace them with ground almonds or ground walnuts.
Vanilla sugar:
Vanilla sugar is sold in small packages in Germany and you can buy it anywhere.
It is cheap and it comes in two versions: the very cheap version made with vanillin and the slightly more expensive and better version made with real vanilla.
However, I know that vanilla sugar is not available everywhere around the world.
No worries, vanilla sugar is super easy to make.
HOW TO MAKE VANILLA SUGAR?
If you are using vanilla pods for another recipe, don't discard the pods after scraping out the seeds.
There are three ways of making vanilla sugar and they all need an empty vanilla pod or two.
Of course, you can use a vanilla bean that still has the seeds inside, but as vanilla is super expensive, I prefer to use only the empty pods for making vanilla sugar.
Granulated vanilla sugar:
The kind you will need for the Vanillekipferl.
Roughly chop the pods, place them in a good food processor and grind them well.
Mix with granulated sugar to make vanilla sugar.
Powdered vanilla sugar:
To make powdered vanilla sugar, place the vanilla pods and granulated sugar in a good food processor and process until powdered.
The powdered vanilla sugar tends to become hard after a while, but that doesn't affect the taste, just scrape out the needed amount with a spoon whenever necessary.
Jar vanilla sugar:
Fill a jar with sugar and stick the halved vanilla pod inside.
The resulting vanilla sugar will not be as powerful as the mixtures mentioned above, but it would be perfect for flavoring coffee or other drinks, for instance.
Keep all kinds of vanilla sugar in airtight containers, they actually keep forever.
TIPS FOR MAKING VANILLEKIPFERL
Use real vanilla sugar, not the vanillin flavored sugar. Real vanilla sugar tastes better and you need those tiny black specks of vanilla as well, they are part of the vanilla crescent cookies.
The vanilla crescent cookies are very delicate, especially when fresh out of the oven.
You will need to let them rest on the tray for about 5-6 minutes before being able to roll them in vanilla sugar.
Don't leave them longer than that or the vanilla sugar will not stick to them anymore.
Work carefully, they are really delicate at this stage. They will be less fragile once completely cooled.
You will definitely destroy the first few cookies you will try to roll in sugar. I do that every time, although I must have baked a thousand vanilla crescent cookies over the last 15 years or so.
Don't stress, eat the broken ones and persevere, you will get the hang of it after you have made a few.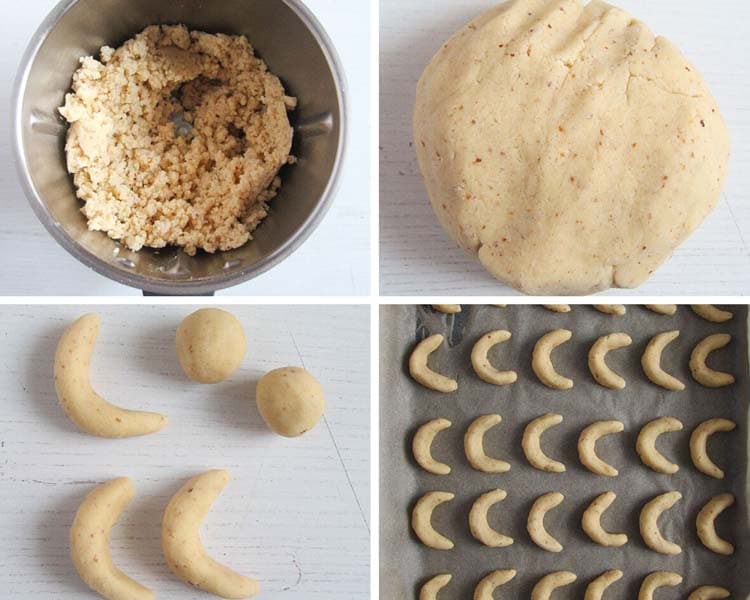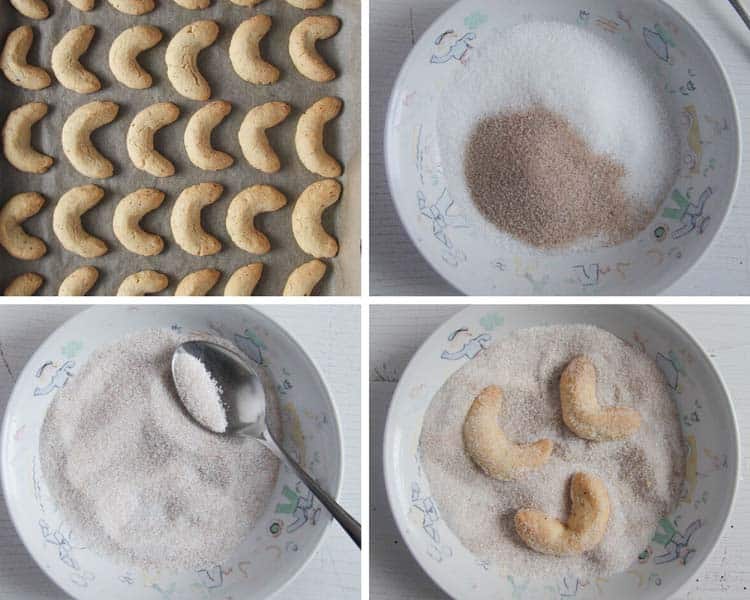 This is an updated post from December 2016.
These are Oma Lene's famous Vanillekipferl, that she would make every December as long as she still lived in this house. She stopped making years ago when she had to move to a house for old people, but I kept making them ever since.
I used to bring her some every year and she would be so happy about it. She didn't get to taste them again this year. This post is in her memory, she died last Saturday (2016), aged 96. We will all miss her.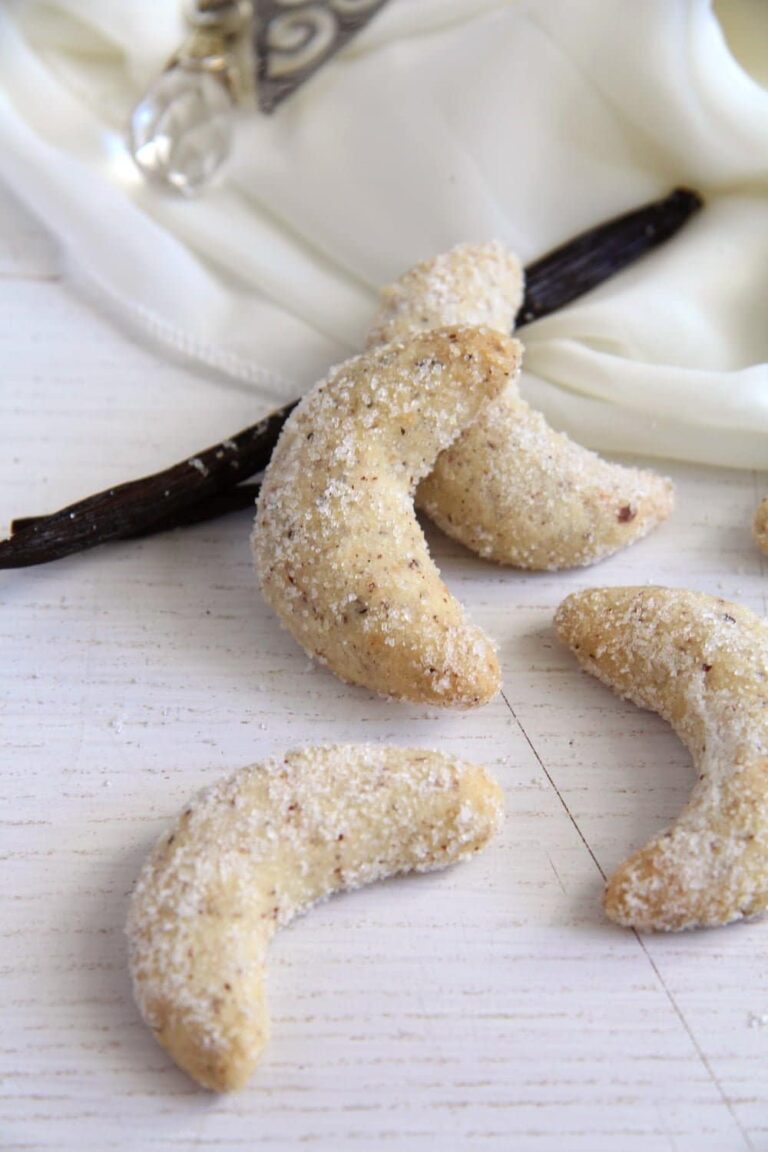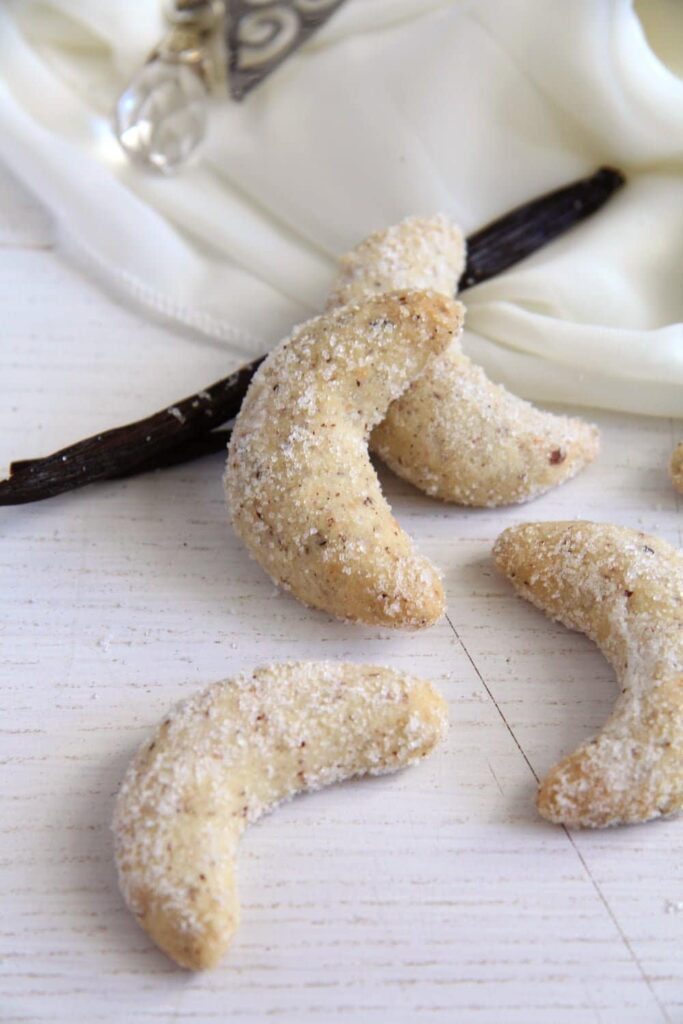 MORE CHRISTMAS COOKIES
GERMAN HAZELNUT MACAROONS – Chewy and sweet hazelnut macaroons or Nussmakronen, these are typical German cookies made with only 4 ingredients.
CLASSIC THUMBPRINT COOKIES – The easiest and best recipe I know for thumbprint cookies with jam. A classic thumbprint cookie recipe that everybody should make.
CORNFLAKE CAKES – Super easy to make cornflake cakes or chocolate cornflakes, a no-bake cookie recipe for crunchy Christmas cookies.
HEIDESAND COOKIES – Heidesand or heath sand are traditional German cookies.
SPITZBUBEN - German cookies - a double layer of almond shortcrust pastry with jam in between.
PIN IT FOR LATER!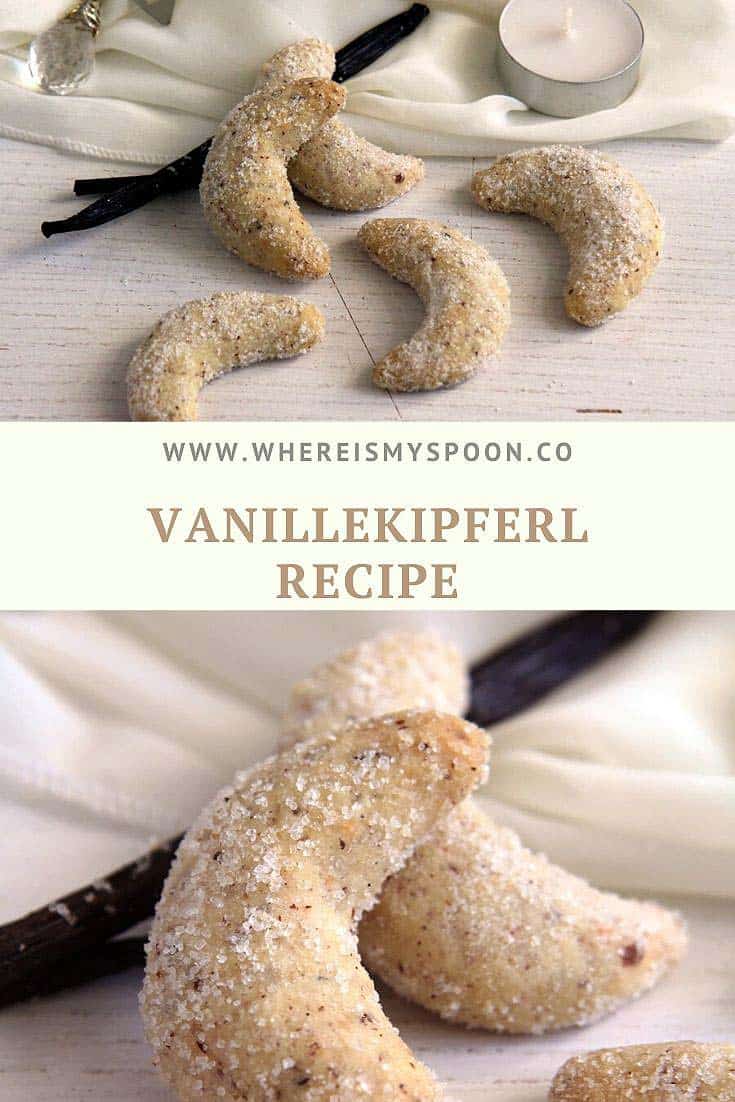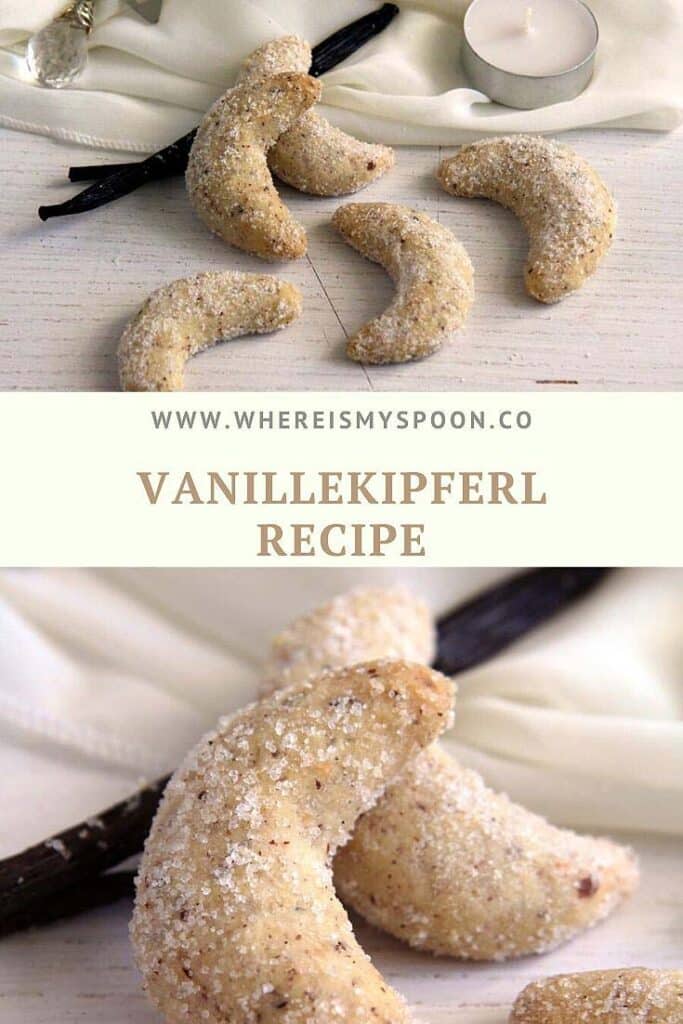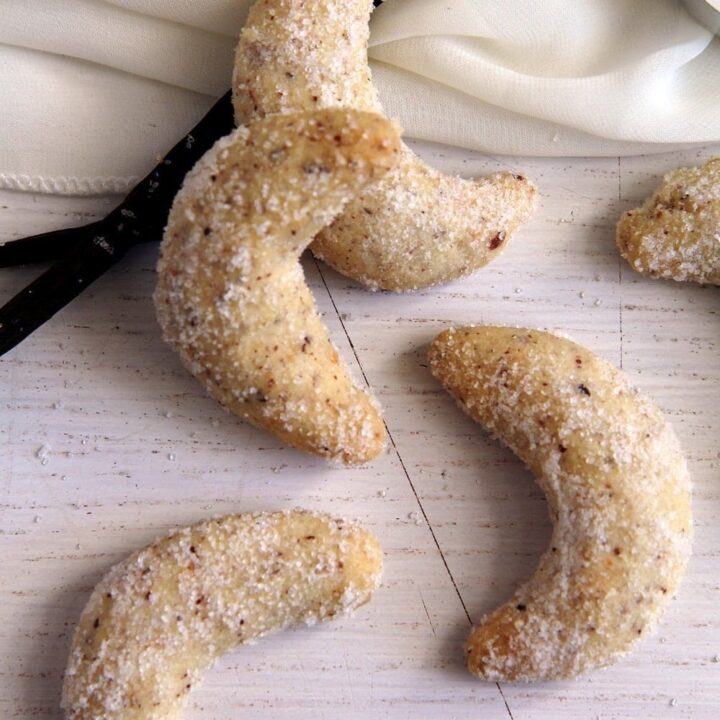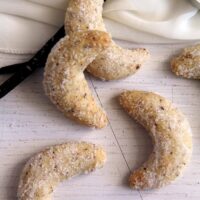 Vanilla Crescents – Vanillekipferl
Austrian Vanillekipferl or vanilla crescent cookies, these are some of the best cookies in the world. You just have to try them!!!
Print
Pin
Share
Grow
Saved!
Rate
Ingredients
280

g

all-purpose flour

9.8 oz/ 2 ⅓ cups, (Note 1)

80

g

granulated sugar

2.8 oz/ ⅓ cup + 1 tablespoon

200

g

unsalted butter

7 oz/ 1 ¾ sticks, very cold

100

g

ground hazelnuts

3.5 oz/ ¾ cup + 1 tablespoon, (Note 2)

50

g

granulated sugar

1.7 oz/ ¼ cup

3

tablespoons

vanilla sugar
Instructions
Dough: Place the flour, sugar, cubed butter, and hazelnuts in the food processor. Process shortly to form a crumbly dough. Transfer the dough to the working surface and knead briefly to bring it into shape. Form a disc, wrap it tightly in plastic foil.

Refrigerate for at least one hour.

Preheat the oven to 175 degrees Celsius/ 350 degrees Fahrenheit. Line one or two baking trays with baking paper; you will have to work in batches.

Shape: Form a long roll and cut it into small pieces. To check, form one ball, it should be roughly the size of a larger cherry. Next, form the dough pieces into crescents and place them on the baking tray. Don't make the ends too thin; you don't want them to get too brown in the oven.

Bake in batches: When a tray is full, bake the first batch, in the middle of the oven, for about 13-15 minutes or until very lightly browned around the edges. While the first crescents are baking, form the next batch.

Rest: Take the crescents out of the oven and rest on the tray for 3 or 4 minutes, but not longer. Mix the sugar and the vanilla sugar on a large plate.

Coat with sugar: Carefully roll the crescents into the sugar, then place them on a wire rack to cool completely. You will probably break the first 2 or 3 until you get the hang of it. Use a kitchen scale to measure the ingredients; cup measuring is too imprecise. Ground almonds can be used instead.

Repeat the process with the remaining dough. They keep airtight in cookie jars or cookie tins for 2 or 3 weeks.
Notes
Always use a

digital kitchen scale

in baking; it ensures the best results (Amazon affiliate link).

Ground almonds can be used instead.
Nutrition
Serving:
1
g
|
Calories:
62
kcal
|
Carbohydrates:
7
g
|
Protein:
1
g
|
Fat:
4
g
|
Saturated Fat:
2
g
|
Polyunsaturated Fat:
2
g
|
Cholesterol:
7
mg
|
Sugar:
3
g