A spicy, aromatic and warming tomato and ginger soup with poached eggs and fish sauce.
After a traditional German soup yesterday – the German Savoy Cabbage Soup with Ground Meat and Potatoes – I have an Asian inspired recipe for you today. This time a spicy and easy tomato soup, which apparently is a popular Vietnamese and Cambodian tomato soup recipe.
I found the recipe in a Wok and Stir-Fry Cookbook, which I bought long ago when we were living in London. I did not cook much out of it, mostly because I have hundreds of other cookbooks and recipe magazines, which makes it really difficult to actually cook a lot from only just one book, but the few recipes I got out of it were always really good, despite the fact that this is not a famous author cookbook, just a collection of wok recipes.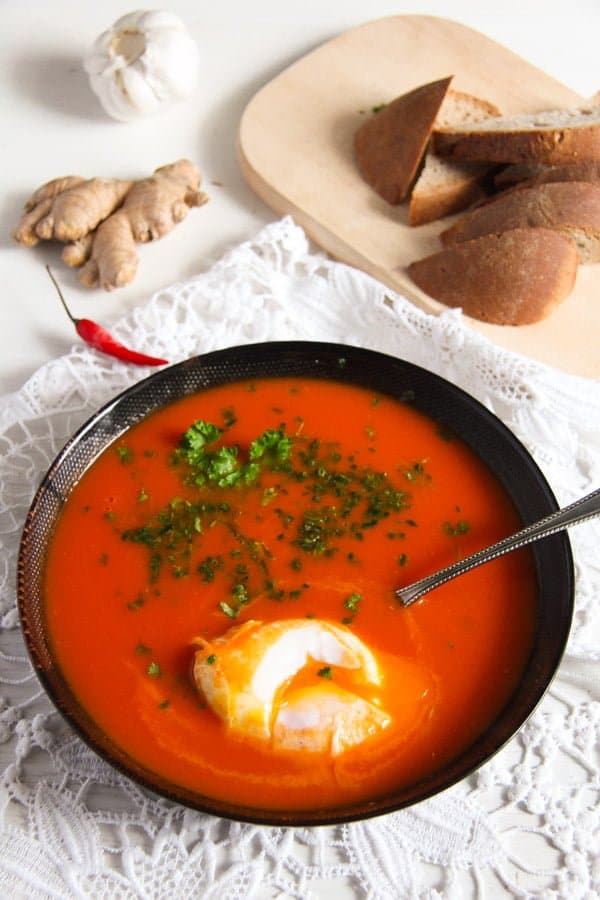 SPICY AND EASY TOMATO SOUP
INGREDIENTS FOR THE SPICY TOMATO SOUP
I have changed the recipe a little bit, mostly because some of the required ingredients are not available around here, things like nuoc mam
or tuk trey or galangal.
I did not even know what the first two ingredients were, but after making a search on Google I've found out that they are both fish sauces, the first one Vietnamese and the second one Cambodian. I've found this Houston Press article on nuoc mam very interesting.
Well, no chance I can ever get any of those around here, so I used the regular fish sauce I found in the supermarket. But, by all means, if nuoc mam or tuk trey are available to you, do use them.
Then, I did not have any galangal. I knew what that was, but as I have never even seen the stuff except in photographs, I could not use it. So, I used ginger instead.
Some sources claim ginger to be a good enough substitute for galangal, while other claim that ginger is a no-go. Apparently, galangal has a citrus flavor that ginger does not, so the taste of the dish will be different when substituting ginger for galangal.
However, since galangal was not an option for me, not even in a powdered form, I had to use ginger. And since I have no idea how the soup is supposed to taste like when cooked with galangal, I have to say that I have no complains whatsoever regarding this soup made with ginger.
It was perfectly delicious and I absolutely loved the spiciness and flavor given by the ginger. I am a ginger fan anyway, so anything made with lots of ginger is a winner for me.
The recipe requires two chilies, I've only used a really small one, but I forgot to deseed it. So the soup was really really hot, so hot that I had to remove a small amount of it before eating, and mix that with some cream and lots of milk, so that the kids would be able to eat it as well.
It was still spicy, but mild enough for the children. And although my husband and I loved the soup in its very hot version, after tasting the cream and milk version as well, I can only say that adding some dairy (or coconut milk) to the soup is also a wonderful option, so feel free to vary the soup like that if you wish, it is different, but totally delicious as well.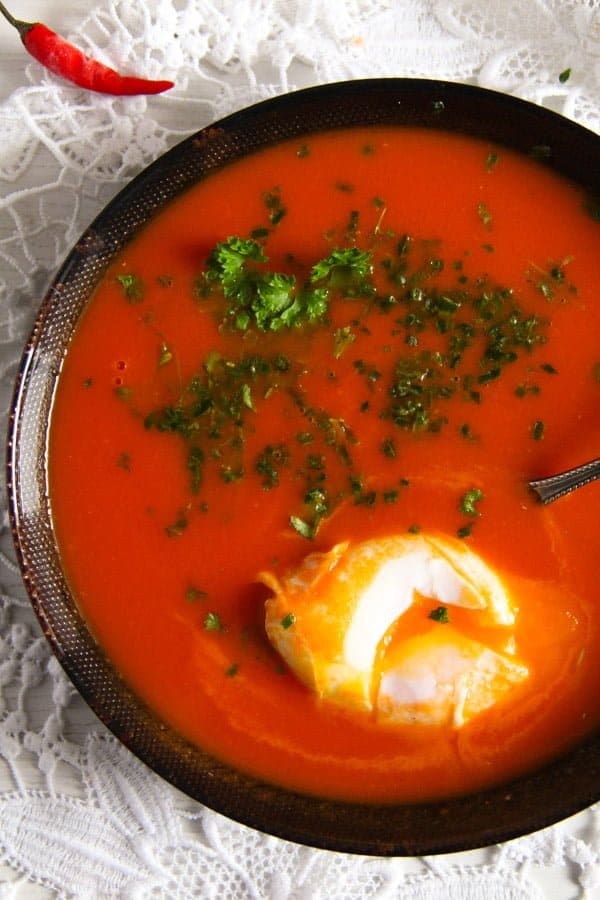 And now to the poached eggs: they were the main reason I chose to make this spicy tomato soup.
I love poached eggs and I have them quite often for breakfast or lunch. Have a look at these delicious recipes: Mushroom Garlic Sourdough Toast with Poached Eggs or this other combination of tomatoes and poached eggs: Roasted Tomatoes and Poached Eggs on Garlic Sourdough Toast.
Making poached eggs is really easy, despite of what many people think. I know a few of them, who only ate poached eggs in my house for instance, and claim they have never felt confident enough to make them themselves, because they just cannot imagine that the egg will not just disintegrate in the water.
Well, I can reassure you, that that will not happen. Do try and make some poached eggs, they are so delicious and so easy to make, once you've gotten over your initial fear, you will start making them again and again.
How to poach eggs:
One of the most important things when making poached eggs is to make sure that the water is not boiling when you give the eggs to it. It should only very lightly simmer, if it boils, turn the heat down and wait until the water stops boiling before adding the eggs.
Break each egg into an individual small cup or ramekin dish and when the water simmers, create a swirl in the water using a whisk and slowly add the eggs to the water. The swirl will help the egg whites fold around the egg yolks in a nicer manner. Don't make more than two poached eggs at a time, unless you have a very wide pot, they do need a bit of space.
Let the eggs simmer for about 4-5 minutes or until they are cooked to your liking. To check if they have the desired consistency, I carefully lift an egg using a slotted spoon and press lightly with the finger on the egg. You should actually be able to tell just by looking at the egg and touching it slightly if it has the consistency you are hoping for.
Otherwise, I wish you all a very nice weekend! And a warm bowl of soup!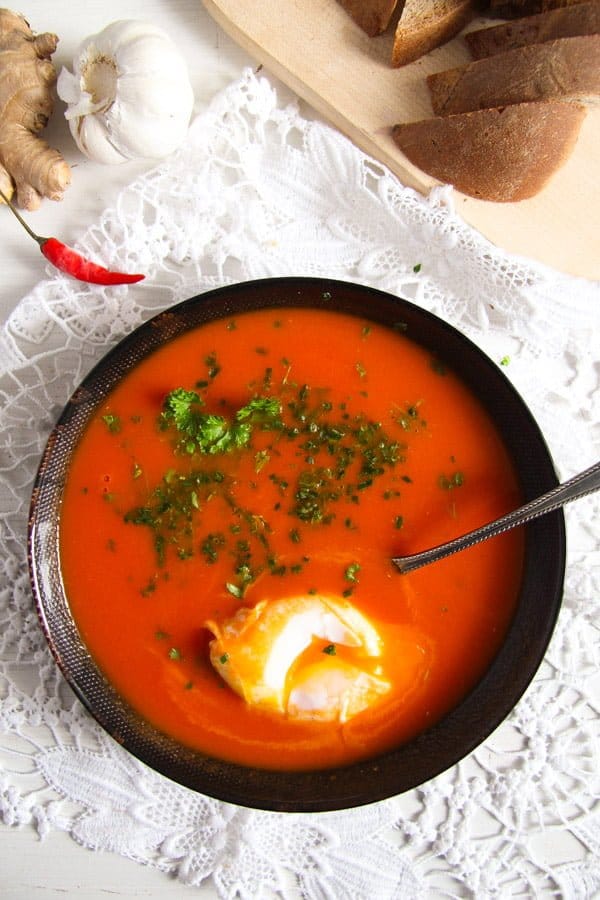 Other Egg Recipes you might enjoy: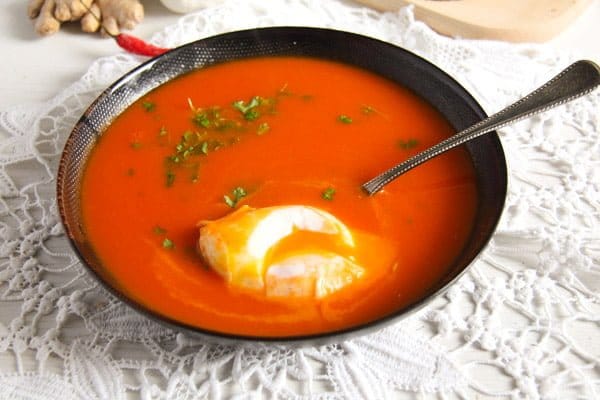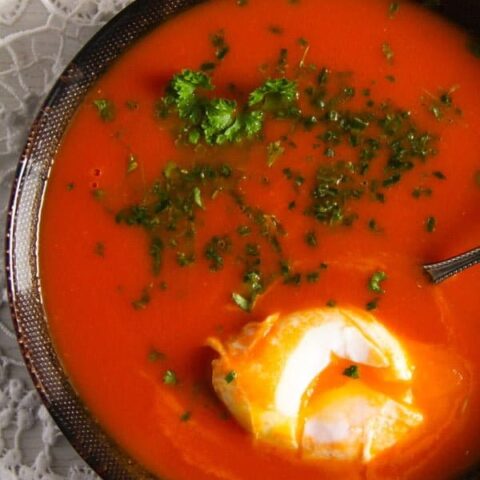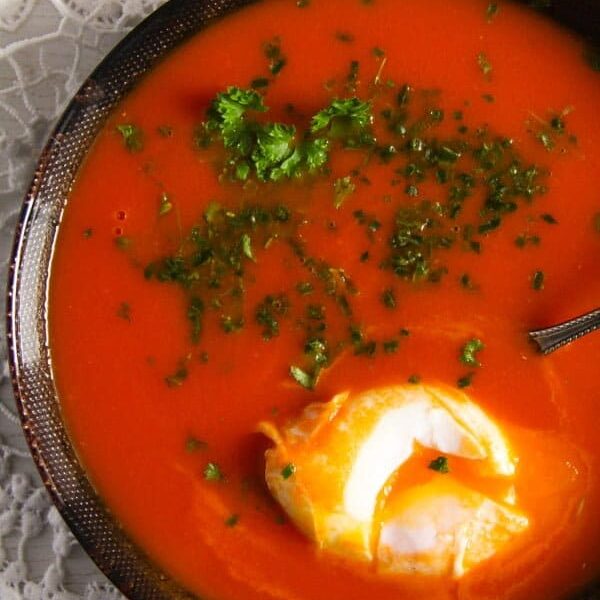 Spicy Easy Tomato Soup with Poached Eggs
A spicy and easy tomato soup, Vietnamese or Cambodian style, served with poached eggs.
Ingredients
3 shallots
2 garlic cloves
1 red chili
25 g/ 1 oz ginger
1 tablespoon peanut oil
2 cans chopped tomatoes (400 g/ 14 oz each)
1 tablespoon sugar
2 tablespoons fish sauce (See note)
4 lime leaves
900 ml/ 30.5 fl.oz/ 3 ¾ cups chicken stock
4 very fresh eggs
a splash of white wine vinegar
fine sea salt and pepper
fresh coriander or parsley
Instructions
Easy Tomato Soup:
Finely chop the shallots, garlic cloves, chili (deseeded or not, to taste) and ginger. Heat the oil in a wok or heavy bottom soup pot. Add the chopped ingredients and cook until golden and fragrant.
Add the canned tomatoes, sugar, fish sauce, lime leaves and chicken stock. Stir well, bring to a boil and simmer on low heat for about 30 minutes. Blend the soup and adjust the taste with salt and pepper.
Poached Eggs:
To make the poached eggs, bring a wide pan of water to a boil. Add a splash of white wine vinegar to the water. Turn the heat to very low and wait until the water stops boiling and only simmers.
In the meantime break each egg into an individual small cup or ramekin dish.
Create a swirl in the water using a whisk. Carefully give the eggs to the water. It is preferable to poach only two eggs at the time, so either poach the eggs in batches or use two pans.
Set the timer to 4 minutes. Check if the eggs are done to your liking by carefully lifting one egg with a slotted spoon. You should be able to tell if it is done to your liking just by looking at it or touching it gently with a finger. If it's not done yet, give the egg back to the water and continue simmering for another ½ to 1 minute.
Line a large plate with some kitchen paper. Carefully lift the eggs from the water with the slotted spoon and place them on the lined plate, the paper will absorb the excess water. Pat the top sides of the eggs dry with a piece of kitchen paper as well.
Fill four bowls with the soup, carefully place one egg into each bowl and sprinkle the soup with chopped coriander or parley. Sprinkle the eggs with some flaky salt and serve immediately with bread or rice.
Notes
Nuoc mam or tuk trey if available, if not, regular fish sauce would do.
Nutrition Information:
Yield:

4
Serving Size:

1/4 of the soup and 1 egg
Amount Per Serving:
Calories:

391
Total Fat:

20g
Saturated Fat:

6g
Trans Fat:

0g
Unsaturated Fat:

11g
Cholesterol:

218mg
Sodium:

1871mg
Carbohydrates:

30g
Fiber:

4g
Sugar:

13g
Protein:

23g
Nutritional information is not always accurate.