Sufleu de malai – a fluffy Romanian polenta souffle served with a delicious garlic yogurt sauce.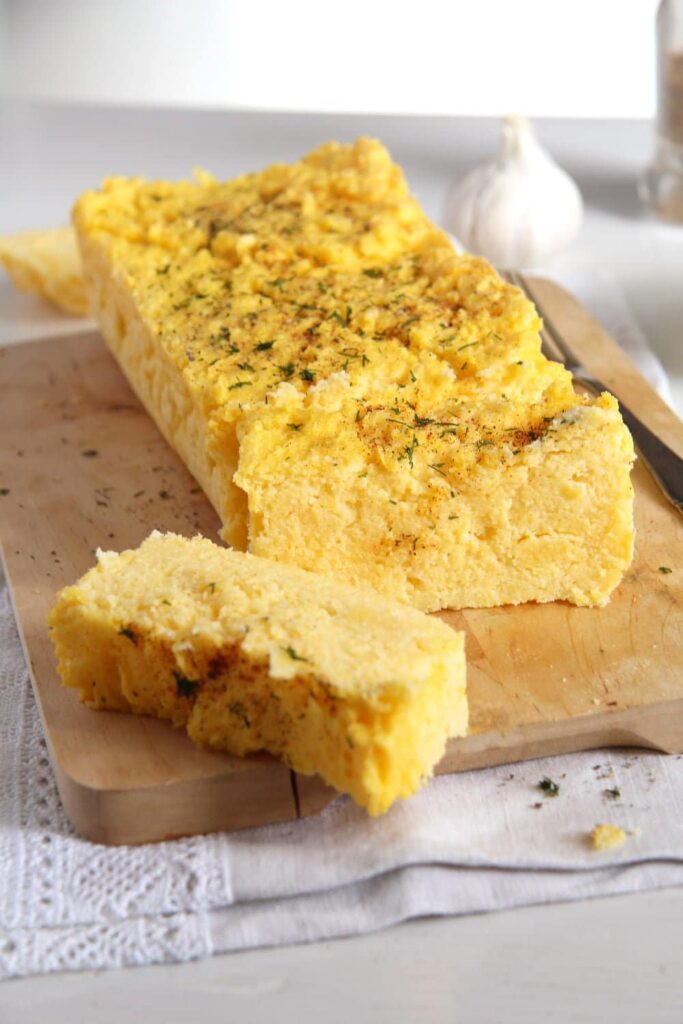 Last time we learned how to make a basic polenta, so today it is time to bring that polenta recipe one step further. You will start by making a basic polenta but instead of serving that as it is with just some cheese and yogurt or crème fraiche, you will add some cheese and eggs and bake the polenta into a delicate, fluffy and delicious souffle, fit not only for a regular family dinner, but nice looking and special enough to serve to guests, either as a vegetarian main dish with a yogurt/creme fraiche/ sour cream – garlic sauce or as a side dish for any kind of meat or vegetable dish. I particularly like to serve this with a hearty beef goulash, a vegetable goulash or fried sausages of any kind.
The yogurt – garlic sauce is not necessary if you are serving the Romanian Polenta Souffle as a side for a saucier dish, but it is great in case you eat this as it is or with sausages. It is my favorite sauce and I make it very often not only to accompany polenta, but also in summer to eat with grilled meats or sausages, sometimes when serving baked chicken legs and we often eat it as a dip for vegetables or as a spread for toasted bread. Try it, it will knock you out! My children, especially Bruno, are crazy about this garlic sauce and I always find it very funny when such small children have a garlic breath after gobbling down half a bowl in one go. 🙂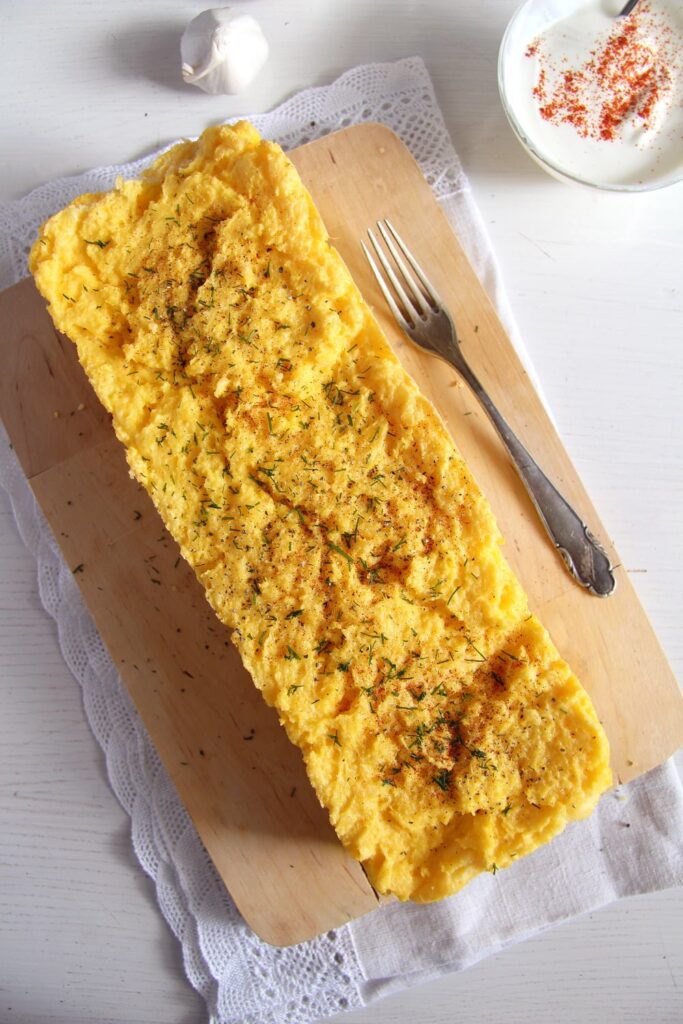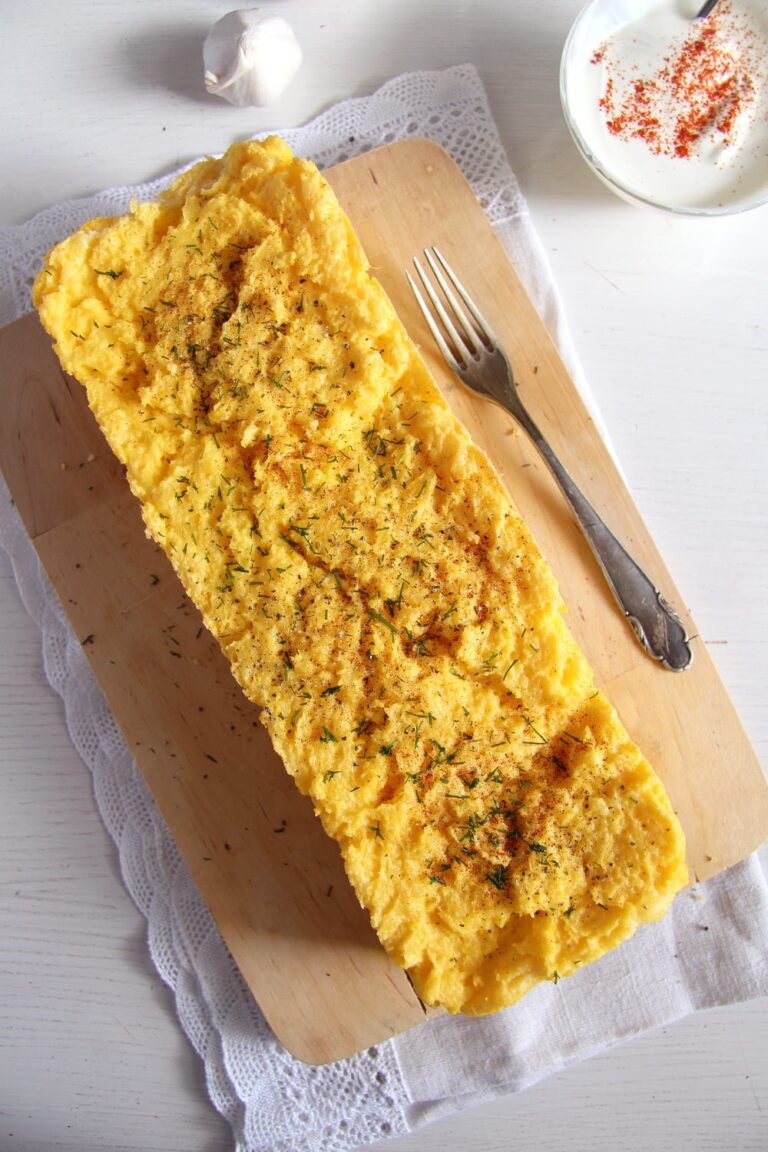 I found this recipe, funnily enough, on Facebook. I am not a big Facebook person and I don't spend too much time there, but there is something I have a look at every chance I get. It is an account posting old Romanian advertising articles photographed out of old newspapers dating as long ago as the 1920's. It is interesting and sometimes hilarious to see how the advertising was made at the beginning of the last century, to read some announcements made by the municipality or some crazy offers of employment, advertising for some chic boutique in the 1930's or the threat the municipality in Bucharest set in the paper in December 1938, regarding those people who wouldn't shovel away the snow in front of their houses: a large fine, 1 to 5 days of jail and the stopping of electricity for those concerned households.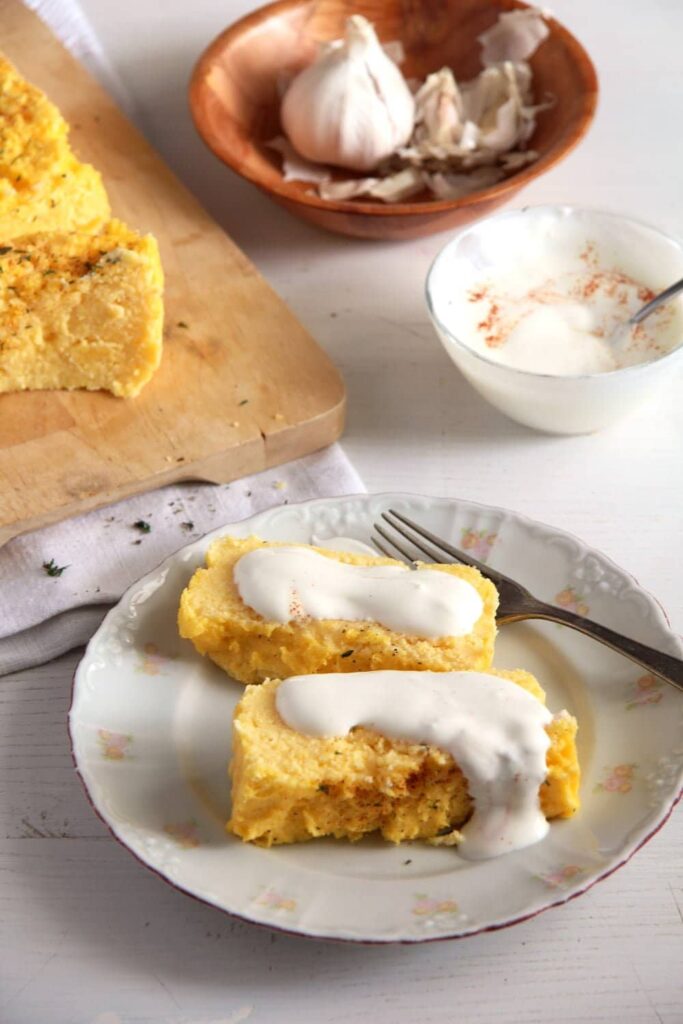 From time to time I can find the photograph of an old recipe published in the paper during the late 30′ and the early 40's, so actually during the World War II. This Romanian Polenta Souffle is one of those old recipes. The recipes are always short and not very accurate regarding the quantities needed, the instructions are the kind my grandmother would have given me, that is: take as much cornmeal and water as needed, cook the thing until ready and bake it until you think is done… 🙂 But as they are not particularly challenging recipes, the results are most of the times satisfactory. I didn't even have to struggle with this recipe to get it right, it worked the first time I've tried it.
So this is a recipe published on the 17th of January 1940 and it goes like this:

This post contains affiliate links. The price you pay as a consumer does not change, but if you make a purchase we will receive a commission which helps support the blog.
Others you might like: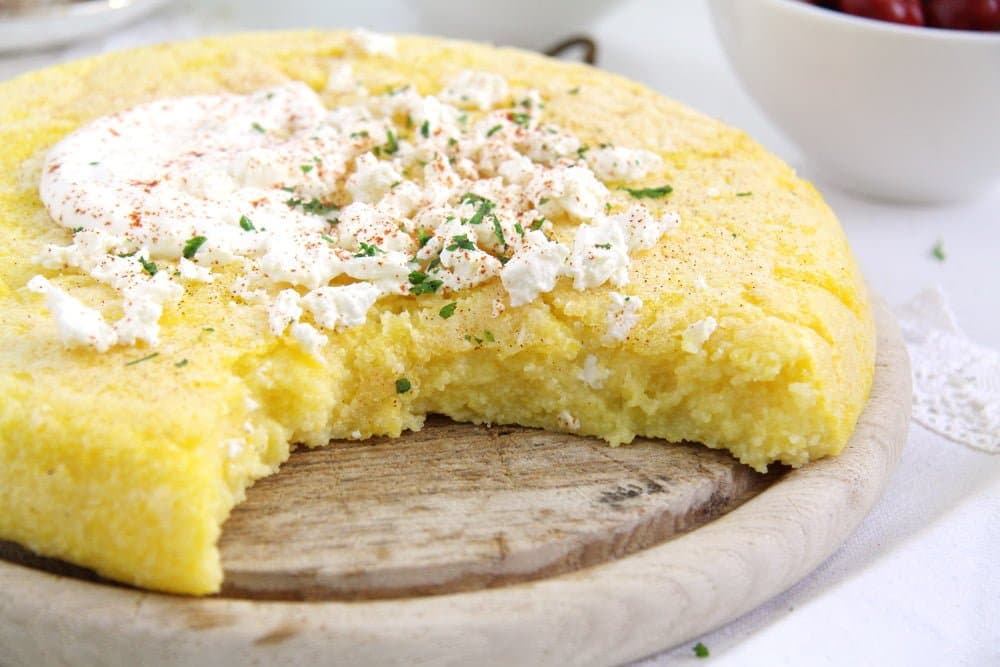 How to Cook Basic Polenta
Garlic Dip
Duck Legs with Ragu Sauce