Last Updated on
A very hearty polenta casserole topped with fried sage mushrooms and lots of sheep cheese and served with a garlic yogurt sauce.
This is one of my favorite polenta or mushroom recipes, I have lost count how many times I've made this casserole during the last 10 years despite the fact that my kids hate mushrooms so much. They do love polenta and cheese and yogurt sauce, so I either only top half the polenta with mushrooms or they just remove every tiny bit of mushroom they can spot before starting eating.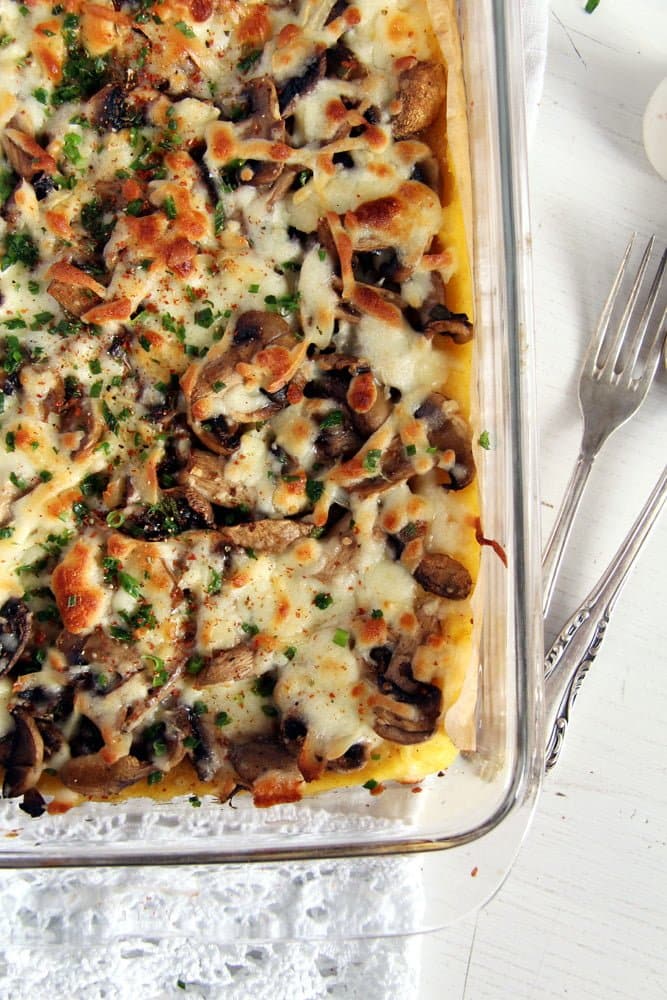 It is one of those comforting recipes for me, something that reminds me of my childhood when I used to eat lots and lots of polenta with cheese. Still, this polenta and cheese casserole brings something new through the mushrooms, they were almost never a part of our meals while I grew up and I had never had them combined with polenta until I have started cooking myself. Check this Mushroom Stew with Herbs if you want to see mushrooms and polenta combined in a totally different way as well.
It is not that my grandmother didn't like mushrooms, the way she didn't like soooo many other things. But she was afraid of mushrooms. She never once bought them fresh either at the farmer's market or later on in the 90's at the supermarket because she was afraid she would get poisonous mushrooms and die. And she was a stubborn woman, my grandmother. Once she got something stuck in her head, she would never reconsider, it doesn't matter if it was about food, clothes, family, friends or whatever else you could think of.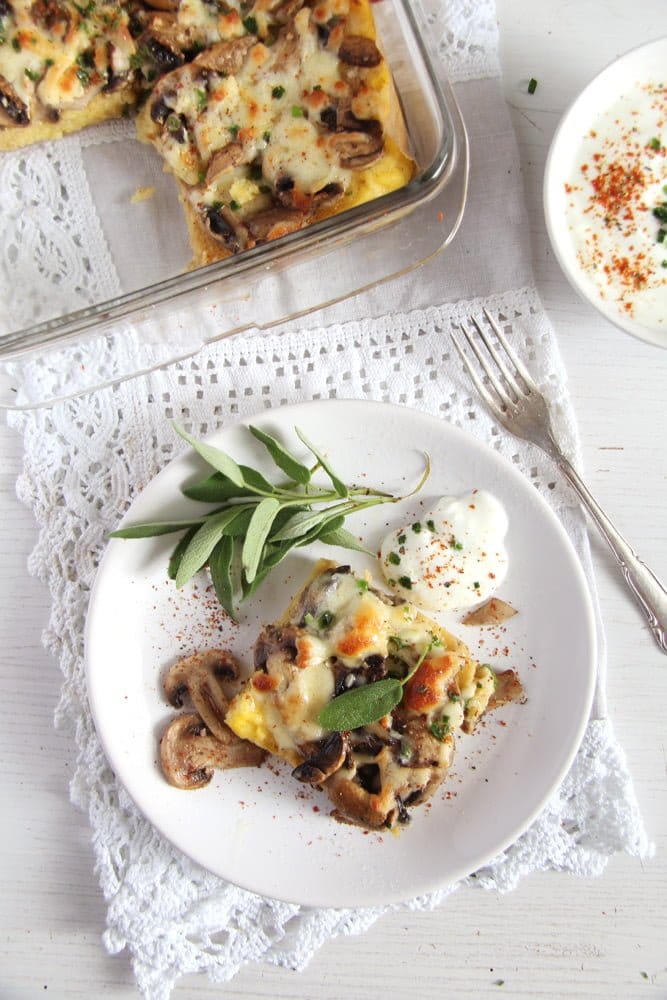 She always said that she actually would love to eat mushrooms again, but she never will, because the chances of getting poisoned are way too big. OK, the news during those days might have contributed to her mushroom paranoia, there was not a summer or autumn gone by without us hearing on the radio or reading in the newspaper that yet another family has poisoned itself to death with the wrong mushrooms, but still, she would not even trust the plain mushrooms that appeared in the supermarkets sometime in the 1990's.
Eventually, during that decade, she started buying cans of mushrooms in the supermarkets and that was the first time I ever got to eat mushrooms, I was a teenager already. And I've never known anything but canned mushrooms until I moved to Germany and started cooking myself… And my grandmother was happy, now she was able to eat some mushrooms again without the fear of dying, canned mushrooms she did trust.
Yet, there was only one way she would prepare the mushrooms, in form of a simple mushroom salad with lots of homemade mayonnaise and parsley. Delicious, despite the fact of only using canned mushrooms, I still make a small batch of it myself from time to time just to remember the old days. 🙂
But nowadays I do prefer fresh mushrooms and I use them a lot in my cooking. Have a look at this series' posts for more mushroom inspiration or here, this is where you can find all the mushroom recipes on Where Is My Spoon. And for more polenta recipes follow this link.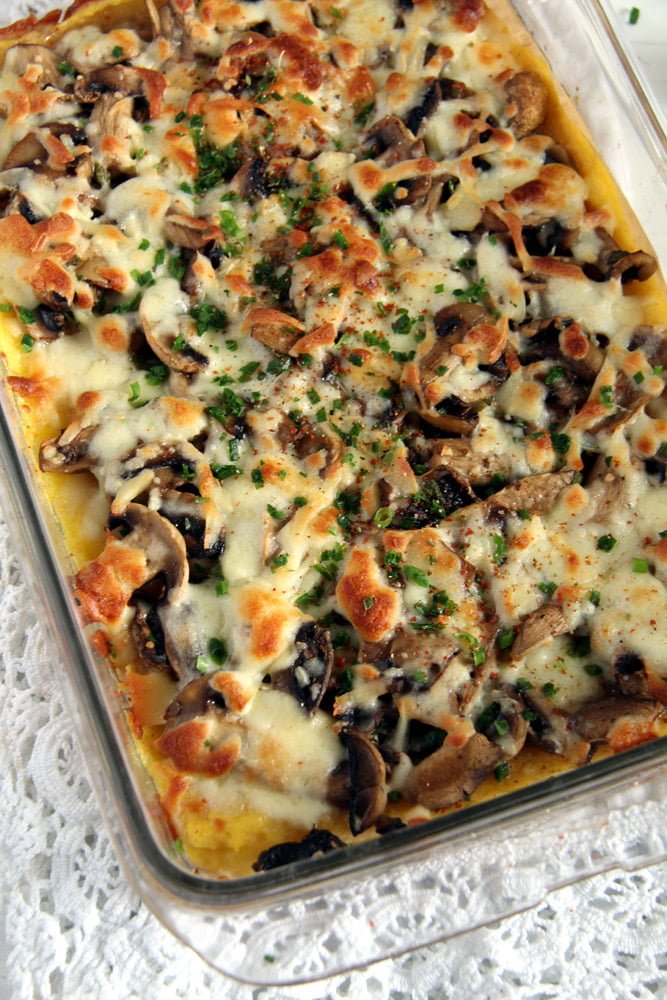 And what can I tell you about this Polenta and Mushroom Casserole with Cheese and Sage. First of all, it is very easy to make, the only thing you have to consider is to cook the polenta a couple of hours in advance and let it get cold and stiff in the casserole form. Otherwise it all goes quickly. Clean, slice and fry the mushrooms, tip them on top of the polenta and top everything with cheese. Bake until golden brown and quickly stir the yogurt garlic while the casserole is the oven. And you might want to make a green salad as well, it is a perfect fit.
I usually use sheep feta to make this casserole or, when I have it, the Romanian sheep cheese burduf. However, if you cannot find burduf cheese and I am sure that is not so easy to come by outside Romania (although I do manage to find it online in Germany and have it send to me from Bavaria), any kind of cheese you like would do. Like I've said sheep cheese is my favorite, but I have also made this with grated Gouda and cheddar (my kids prefer it with Gouda), with cow feta and even with Gorgonzola cheese a couple of time when I knew the children would not be there for lunch. I loved it every single time, no matter what kind of cheese I used.
The yogurt sauce is a must! You do not have to put as much garlic as I do into it (I put 5-6 garlic cloves into it!!!), but do make a garlic sauce, it definitely adds a lot to the eating experience. 🙂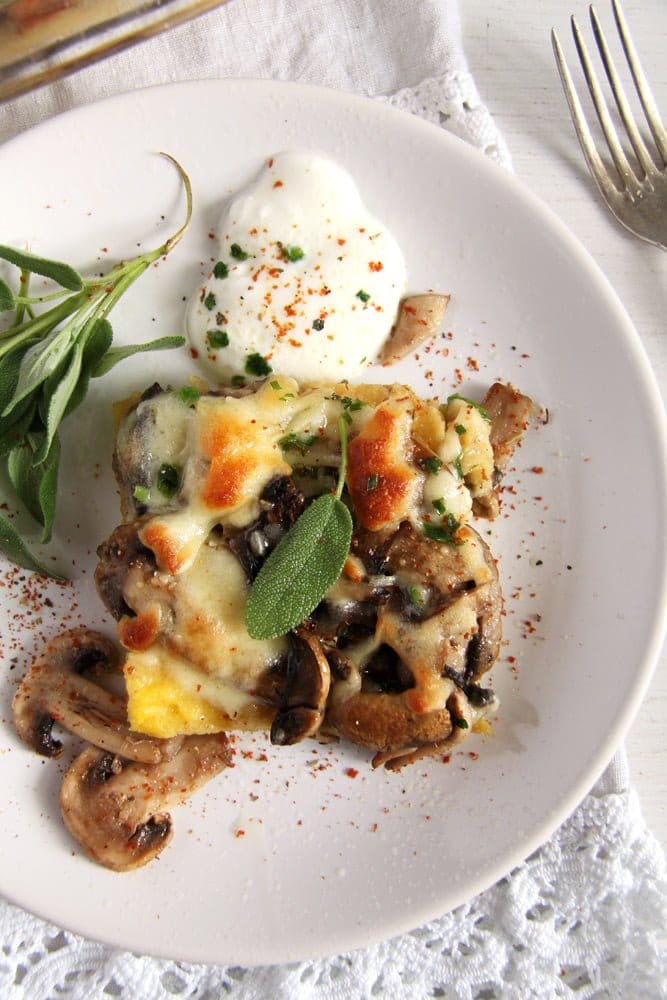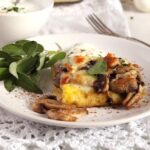 Ingredients
For the polenta mushroom casserole:

200 g/ 7 oz polenta

800 ml/ 3 1/3 cups water

1 teaspoon salt

1 tablespoon butter + 1 teaspoon extra

400 g/ 14 oz chestnut mushrooms

4 large fresh sage leaves or ½ teaspoon dry sage

150 g/ 5.3 oz sheep cheese (or feta, gouda, Cheddar, Gorgonzola)

For the garlic yogurt sauce:

3 garlic cloves or more to taste

½ teaspoon mustard

1 tablespoon oil

250 g/ 9 oz/ 1 cup Greek yogurt

salt and pepper
Instructions
Line a shallow rectangular casserole dish of approximately 21x32 cm/ 8x13 inch with baking paper.
Bring the water to a soft simmer, add the salt, stir well to dissolve it and then slowly add the polenta while stirring or whisking continuously. Cover and let cook on very low heat, stirring with a wooden spoon from time to time, according to the packet's instructions. My polenta usually needs about 20 to 30 minutes, but there are quick cooking sorts that only need 10 minutes and other sorts that need between 40 and 50 minutes. So make sure you follow the packet's instructions.
When the polenta is ready pour into the prepared dish. Level nicely and leave it to cool.
When the polenta is cool preheat the oven to 200 degrees Celsius/ 400 degrees Fahrenheit.
Clean and slice the mushrooms. Halve the sage leaves and cut them into thin stripes. Melt the butter in a large pan and fry the mushrooms and the sage for about 3-4 minutes, until golden. Season well with salt and pepper.
Pour the contents of the pan, juices included, over the cold polenta. Spread evenly and top with the grated cheese. Dot with the extra teaspoon butter and bake for about 20 minutes or until the cheese is melted and golden.
While the polenta casserole is in the oven make the yogurt sauce. Grate the garlic cloves into a small bowl, add the mustard and some salt and stir well. Slowly add the vegetable oil while stirring until the mixture emulsifies slightly. Add the Greek yogurt and stir well. Adjust the taste with salt and pepper.
Serve the polenta casserole immediately with the yogurt sauce and a green salad.