Our favorite mushroom polenta casserole topped with lots of cheese. Served with a garlic yogurt sauce.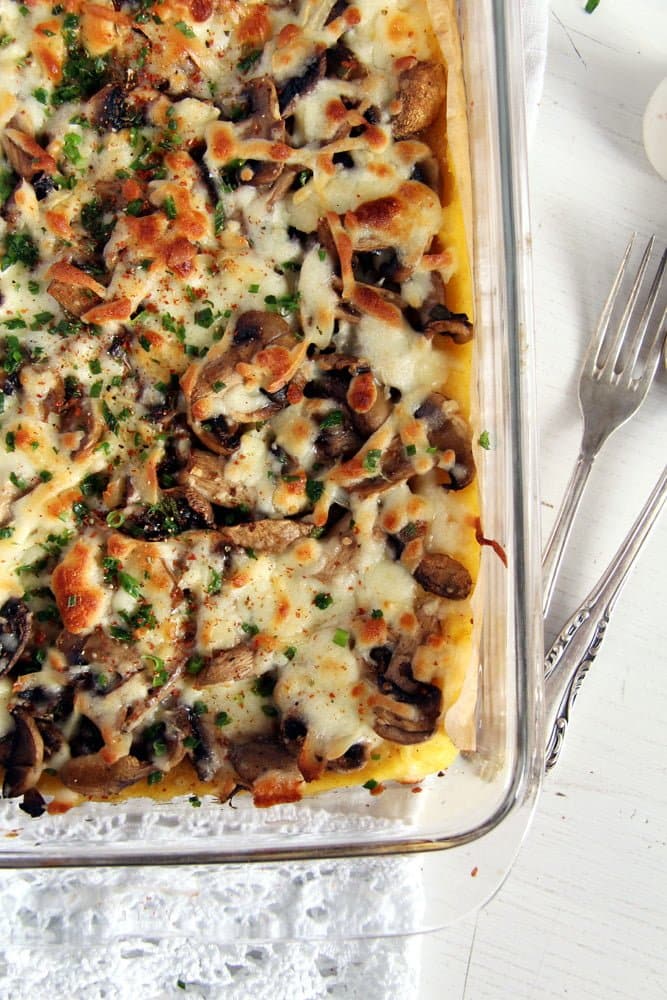 This is one of my favorite polenta recipes, I've lost count of how many times I've made this mushroom polenta casserole during the last 10 years.
It is one of those comforting recipes for me, something that reminds me of my childhood when I used to eat lots and lots of polenta with cheese. Still, the mushrooms give it a new touch. Check this Mushroom Stew with Herbs if you want to see mushrooms and polenta combined in a totally different way as well.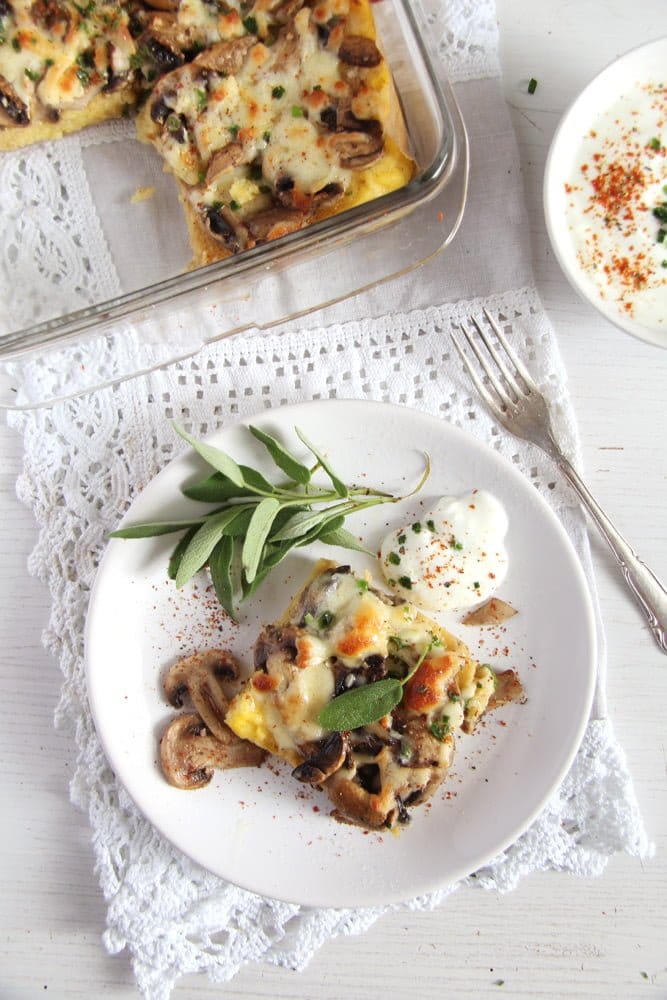 Ingredients
Polenta:
A staple in Romanian cooking. Also very popular in Italy, of course.
I usually a kind of polenta that needs about 20 minutes of cooking time.
However, there are brands that need about 40-50 minutes of cooking time and there is the quick-cook polenta, which requires about 10 more minutes and there is the instant polenta, which is even faster.
I would not use ready-made polenta for this or any other dish, I tried it, I don't like it, it has a weird lingering taste.
Cheese:
Ideally, the Romanian sheep cheese called burduf. However, that is not an option most of the time.
Sheep feta cheese is a good alternative. Cow's feta is very fine as well.
Over the years, I've also cooked this mushroom polenta casserole with grated Gouda or Cheddar or with Gorgonzola. All versions are delicious!
Herbs:
Sage is great in this dish, preferably fresh. If you can get it, do use it.
If not, dried sage is a good alternative.
Or replace it with any other herbs you like.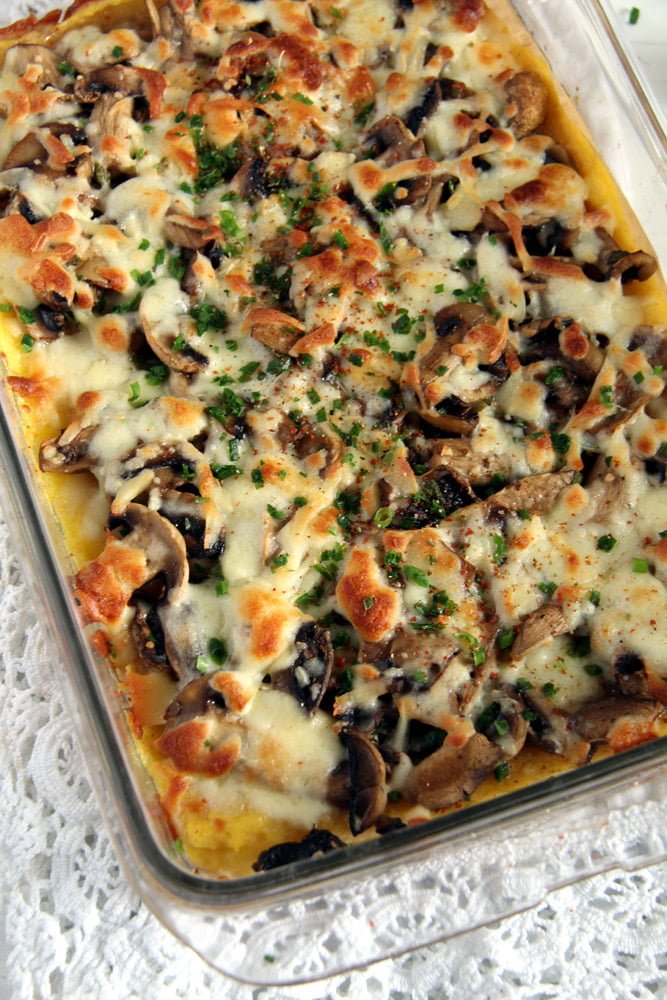 How to make the casserole?
The only thing you have to consider is to cook the polenta a couple of hours in advance and let it get cold and stiff in the casserole form. Otherwise it all goes quickly.
Clean, slice and fry the mushrooms with the herbs, tip them on top of the polenta and top everything with cheese.
Bake until golden brown.
How to serve?
The yogurt sauce is a must! You do not have to put as much garlic as I do into it (I put 5-6 garlic cloves into it!!!), but do make a garlic sauce, it definitely adds a lot to the eating experience. 🙂
A simple green salad on the side is the perfect side dish.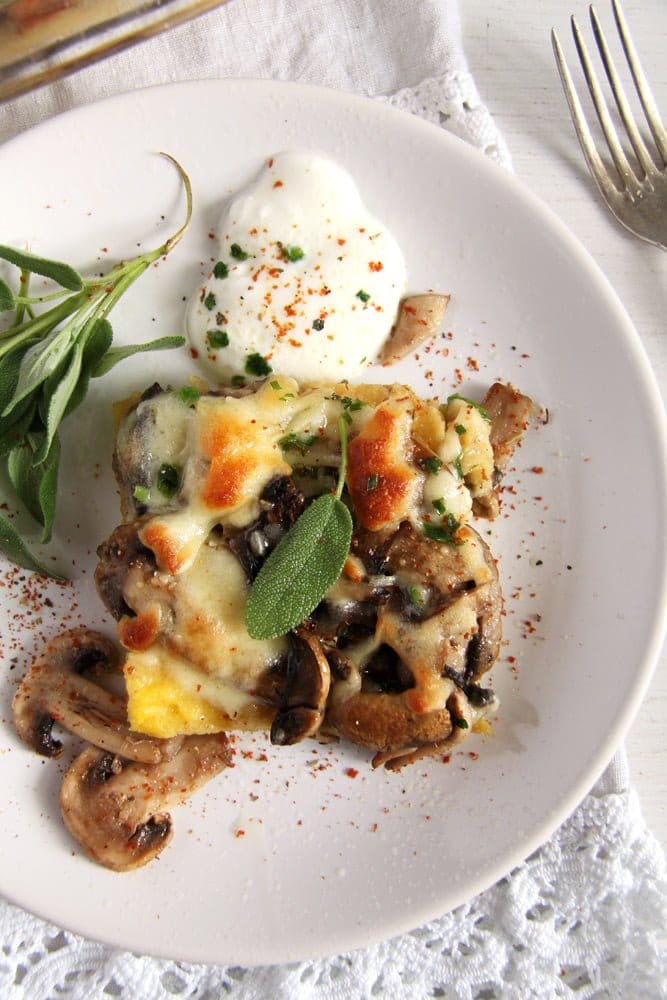 More polenta recipes: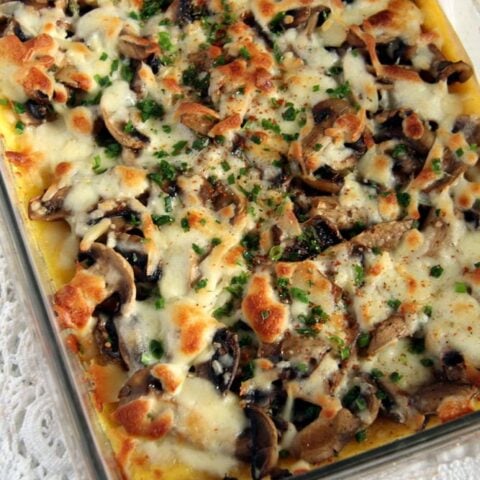 Mushroom Polenta Casserole
Our favorite mushroom polenta casserole topped with lots of cheese. Served with a garlic yogurt sauce.
Ingredients
Polenta mushroom casserole:
200 g/ 7 oz/ 1 1/3 cup polenta
800 ml/ 27 fl.oz/ 3 1/3 cups water
1 teaspoon fine sea salt
1 tablespoon butter + 1 teaspoon extra
400 g/ 14 oz mushrooms
4 large fresh sage leaves or ½ teaspoon dry sage
150 g/ 5.3 oz sheep cheese (or feta, gouda, Cheddar, Gorgonzola)
Garlic yogurt sauce:
3 garlic cloves or more to taste
½ teaspoon mustard
1 tablespoon oil
250 g/ 9 oz/ 1 cup Greek yogurt
fine sea salt and pepper
Instructions
Polenta:
Line a shallow rectangular casserole dish of approximately 21x32 cm/ 8x13 inch with baking paper.
Bring the water to a soft simmer, add the salt, stir well to dissolve it, and then slowly add the polenta while stirring or whisking continuously. Cover and let cook on very low heat, stirring with a wooden spoon from time to time, according to the packet's instructions.
My polenta usually needs about 20 to 30 minutes, but there are quick-cooking sorts that only need 10 minutes and other sorts that need between 40 and 50 minutes. So make sure you follow the packet's instructions.
When the polenta is ready pour into the prepared dish. Level nicely and leave it to cool.
When the polenta is cool preheat the oven to 200 degrees Celsius/ 400 degrees Fahrenheit.


Mushrooms:
Clean and slice the mushrooms. Halve the sage leaves and cut them into thin strips.
Melt the butter in a large pan and fry the mushrooms and the sage for about 3-4 minutes, until golden. Season well with salt and pepper.
Pour the contents of the pan, juices included, over the cold polenta. Spread evenly and top with the grated cheese. Dot with the extra teaspoon butter and bake for about 20 minutes or until the cheese is melted and golden.


Yogurt sauce:
Grate the garlic cloves into a small bowl, add the mustard and some salt and stir well.
Slowly add the vegetable oil while stirring until the mixture emulsifies slightly.
Add the Greek yogurt and stir well. Adjust the taste with salt and pepper.
Serve the polenta casserole immediately with the yogurt sauce and a green salad.
Nutrition Information:
Yield:

4
Serving Size:

1/4 of the dish
Amount Per Serving:
Calories:

326
Total Fat:

23g
Saturated Fat:

11g
Trans Fat:

1g
Unsaturated Fat:

9g
Cholesterol:

56mg
Sodium:

1063mg
Carbohydrates:

14g
Fiber:

3g
Sugar:

5g
Protein:

18g
Nutritional information is not always accurate.