An amazing way of using rhubarb this spring. Rhubarb and tomato soup – tangy, aromatic and topped with bacon omelet.
You will not believe this soup! I have had rhubarb in savory dishes many times before (have a look at this Chicken with Rhubarb Sauce or this Chicken Green Curry with Rhubarb for instance), but I have never made a rhubarb soup before.
I did not even know it was possible. I never saw a recipe for it, it never occurred to me to make rhubarb soup or to look for a recipe.
Rhubarb and Tomato Soup with Bacon Omelet
But then we had some people from Romania visiting us this spring. They saw me coming from my friend's garden with my arms full of huge rhubarb stalks and they both exclaimed simultaneously: "Oh! Are you making rhubarb soup?" And me: "Ha? No… Rhubarb soup, I have never heard of it! I am just making jam."
They told me it was a soup traditionally eaten in their region, every spring you would have this rhubarb and tomato soup at least once. They could not really give me a recipe, they just roughly explained to me, what I should put into it. They told me it was a pork soup with tomatoes and bacon.
I was immediately curious! I searched for a recipe online and I have only found one rhubarb soup recipe in Romanian.
I found a few more recipes in English, recipes for rhubarb and lentil soups, they all sounded amazing and I am definitely going to try them some day, but for the moment I wanted to make the Romanian version of a rhubarb soup.
Apparently, it is not a purely Romanian recipe, but more a recipe inspired by the German population living in Romania – the Saxons. They live mostly in Transylvania and it is only in this region that rhubarb is actually eaten in Romania. The Saxons introduced rhubarb to the Romanian population and you will have a hard time finding any rhubarb recipe in any other region of Romania.
And if you would like to see more delicious Saxon recipes, have a look at this Poached Chicken in White Sauce with Raisins and Rice or this Stewed Sauerkraut with Meat Dumplings. And in autumn, you should definitely give these Pumpkin Fritters a try, they are to die for.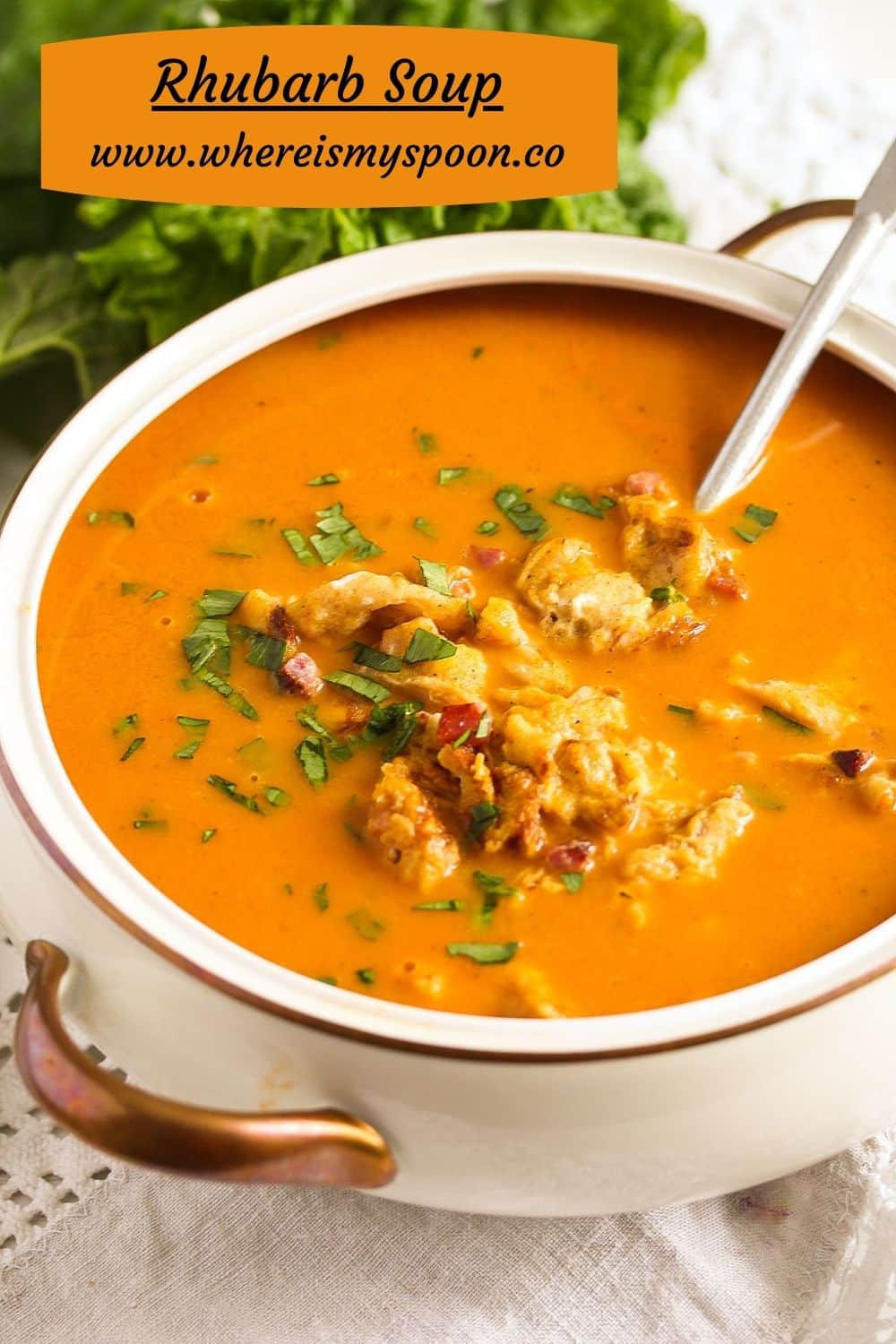 How to make the Rhubarb and Tomato Soup with Bacon Omelet
This is a very easy recipe, but there are two different things you have to cook: the soup itself and the bacon omelet.
To make the soup, you start by lightly sauteing the rhubarb pieces together with some onions and sweet paprika powder. The rhubarb might not be the main component of the soup, but it is certainly the most important one.
Most soups in Romania are sour soups, we like to add vinegar, lemon juice, pickled tarragon or fermented wheat to our soup to make them sour. In this case, we use rhubarb to sour the soup. But what makes this soup so special, is not only its sourness, but that amazing specific rhubarb sour flavor.
You will be surprised of how much you will like this soup, it was one of my best recipe discoveries this year and I know that I will make this soup every spring as long as I live.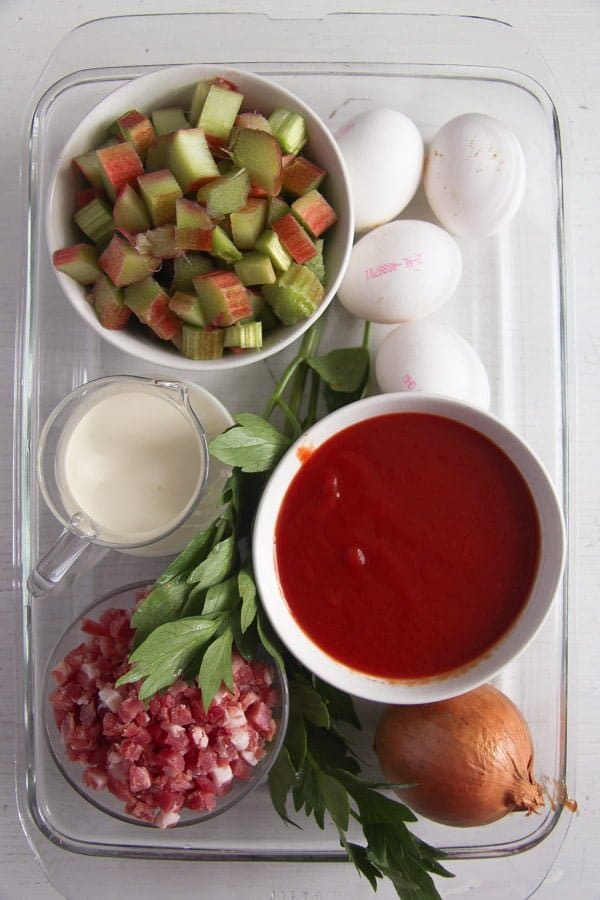 So, you actually have this tomato soup flavored with sour rhubarb, which is already wonderful as it is. But to make it even better, you make a quick omelet with some slightly smoked bacon pieces in it and you bring the soup to a whole new level.
I added one extra tablespoon vinegar at the end of the cooking process, like I've mentioned above Romanian people like their soups sour. However, that is not mandatory, taste the soup and decide for yourself if you need the extra vinegar.
You should try to find fresh lovage to sprinkle over the soup, it has a wonderful flavor. However, if you cannot find (it is seldom available to buy, I have a bush in my garden), you can substitute it with dried lovage, which you should add to the soup together with the stock.
What stock should you use for the rhubarb and tomato soup?
The original Transylvanian rhubarb soup is make with pork. You should actually cook some meaty pork bones and use the stock to make the soup. However, I do not often use pork to make stocks, it is not that I don't like it, but I do like chicken stock better.
We also eat way more chicken than pork, so I always have some leftover roasted chicken (or turkey) bones in my freezer. This way, it is easier for me to make and use chicken stock for soups. But if you happen to have some pork stock in your freezer (or even beef), that would do as well.
Or you could keep this rhubarb soup vegetarian by using vegetable stock and replacing the bacon with some finely chopped spring onions or fresh herbs in the omelet.
And all that in about 30 minutes, 40 minutes tops! A delicious and healthy meal, that you will probably end up telling everybody you know about, just because it was so special and so unexpectedly good.
Ingredients
Rhubarb and tomato soup:

2-3 rhubarb stalks depending on size, about 300 g/ 10.6 oz

2 medium onions

2 tablespoons vegetable oil

1 teaspoon sweet paprika powder

1 teaspoon sugar

2 liter/ 4.2 pints / 2.1 liquid quarts chicken stock (See note 1 and note 2 for vegetarian version)

500 ml/ 17 oz/ 2 cups tomato puree/sieved tomatoes/passata (See note 3)

175 ml/ 6 fl.oz/ ¾ cup heavy cream

1 tablespoon vinegar, optional

1 large sprig fresh lovage (See note 4)

Bacon omelet

125 g/ 4.4 oz smoked bacon (See note 2 for vegetarian version)

1 tablespoon vegetable oil

4 large eggs

3 tablespoons milk

½ teaspoon sweet paprika powder

salt and freshly ground black pepper
Instructions
Clean and chop the rhubarb stalks into small pieces. Chop the onions finely.
Heat the oil in a soup pot and cook the rhubarb and the onions until softer, about 3-4 minutes. Sprinkle the paprika powder on top and stir for another minute. Add the sugar, chicken stock and the pureed tomatoes. If you are using dried lovage, add it to the soup now. Fresh lovage should be added later.
Bring to a boil and simmer for about 15-20 minutes or until the rhubarb is completely soft. Puree the soup with an immersion blender. Add the heavy cream and adjust the taste with salt and pepper, some vinegar and more sugar, if necessary.
Chop the bacon finely and fry the cubes in 1 tablespoon oil in a non-stick pan. Beat the eggs and the milk in a small bowl, add the sweet paprika and some salt and pepper. Pour the eggs over the bacon in the pan, let the omelet get slightly set.
Start pushing the cooked portions from the edges of the pan towards the center, so that the uncooked egg can also touch the bottom of the pan. Tilt the pan and push the eggs around until they are all cooked. Break the omelet into rough pieces and give them to the soup.
Sprinkle the rhubarb soup with the chopped lovage.
Serve immediately with bread.
[nutrition-label id=9700]
Notes
1.You can use pork stock instead. 2. For a vegetarian version use vegetable stock. Replace the bacon in the omelet with finely chopped spring onions or fresh herbs. 3. Not tomato paste or tomato sauce. Tomato puree or passata are uncooked pureed tomatoes, if you cannot find it, you can blend one can of chunky tomatoes until smooth. 4. If fresh lovage is unavailable, it can be replaced with 1 teaspoon dried lovage which should be added to the pot together with the stock.