Roasted asparagus and tomatoes with feta cheese and balsamic vinegar. Only 15 minutes in the oven.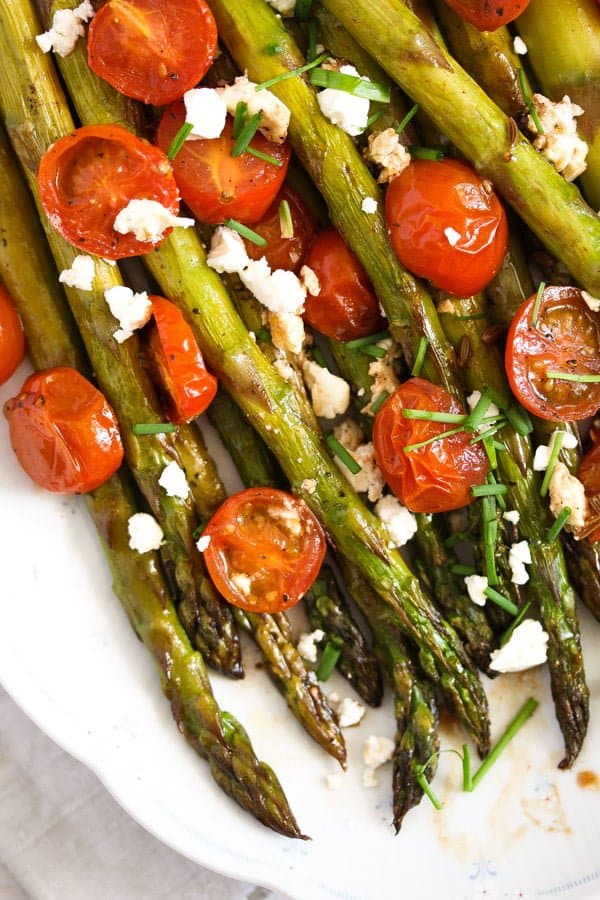 The roasted asparagus and tomatoes are topped with feta and dressed with olive oil and balsamic vinegar; it can hardly get any better when it comes to this beautiful spring vegetable. The asparagus dish can be served as an easy side dish for many main courses or as a light meal with bread or potatoes.
Although made with just a few ingredients and ready in no time, this crisp-tender asparagus with tomatoes and feta is so good that you will keep making it repeatedly.
Check out more delicious recipes for roasted vegetables: Potatoes and Brussels Sprouts, Baked Sweet Potato Slices, Roasted Leeks, and Pumpkin Wedges.
Other reasons to love this recipe
Quick: The roasted asparagus with cherry tomatoes makes an ideal dinner when you want something exquisite but don't feel like being long in the kitchen. You will need about 5 minutes to clean the vegetables and mix the ingredients and another 15 minutes to roast everything.
One dish: Mix all the ingredients in a roasting dish.
Healthy and low in calories: This balsamic asparagus, tomatoes, and feta recipe only has 120 calories pro portion when four people are eating.
Recipe ingredients
Green asparagus spears of a regular thickness.
Cherry tomatoes: Ripe and sweet tomatoes. Grape tomatoes are also great.
Feta cheese: Either sheep or cow feta from a block of cheese. Don't use pre-crumbled feta.
Fennel seeds are optional (not everybody has them in the spice cupboard), but they are excellent; I always include them. If you buy some, use them for this Spanish Meatballs Recipe or add them to homemade chicken stock.
Common olive oil, you will not need an extra virgin for this roasted asparagus recipe.
Other ingredients include good quality balsamic vinegar, fine sea or Kosher salt, and ground black pepper.
How to choose asparagus?
When buying fresh asparagus at the grocery store or the farmer's market, ensure that the plants are vividly green and that the tips are firm and compact; if they seem dry or, even worst, mushy, let them be.
The lower ends will be relatively dry and woody, so don't worry about that; you will remove those ends anyway.
However, don't discard the woody ends; use them to make asparagus stock for soups or asparagus risotto. If you don't have enough of them yet, collect them in the freezer until you have enough to make stock.
Recipe variations
Sprinkle the roasted tomatoes and asparagus with freshly grated Parmesan cheese, pecorino romano, or crumbled goat's cheese instead of feta.
Mix in some black olives (preferably some that still have their pit in – warn the people at the table about the pits).
Add some thinly sliced garlic cloves to the veggie mixture.
​Sprinkle the dish with fresh basil or parsley before serving.
How to make roasted asparagus and tomatoes?
Preheat the oven while you prepare the vegetables.
Prepare the vegetables: Wash the asparagus, dry it with a paper towel, and remove the woody lower third of the stalks using a chef's knife. Halve the cherry tomatoes.
Combine: Place the stalks and the tomatoes into the roasting tin in a single layer, and sprinkle them with the fennel seeds, oil, vinegar, salt, and pepper to taste. Mix well with your hands so that all the veggies are coated.
Roast the asparagus and tomatoes for 12-15 minutes, depending on the thickness of the stems.
Remove from the oven, transfer to a serving platter, crumble the feta cheese on top of the asparagus and tomatoes, and serve immediately.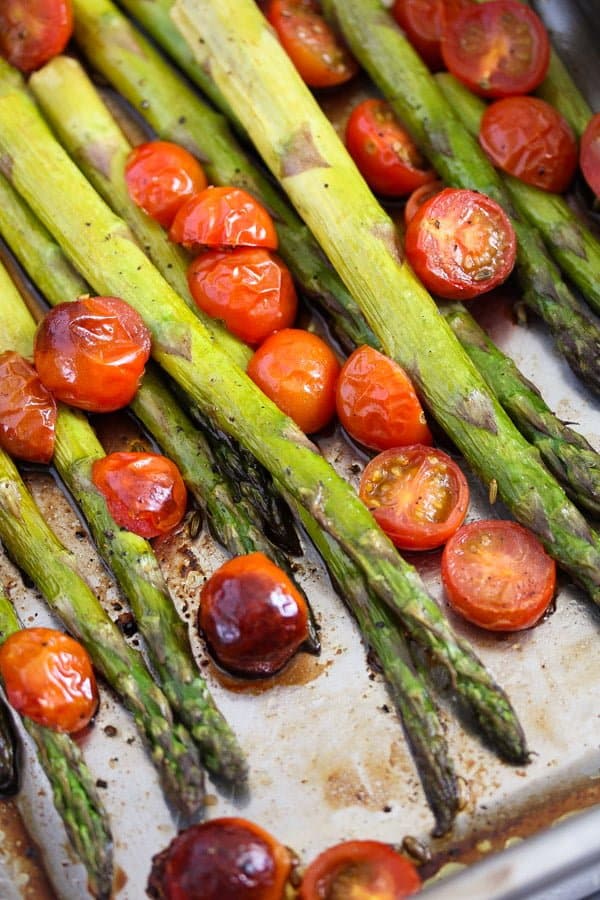 Expert Tips
Cheese: Make sure you use good-quality feta from a block of cheese. The cheese can be brined or vacuum-sealed. Never use pre-crumbled feta.
Don't overcrowd the pan, or the vegetables will steam in their own juices instead of roasting. If making a double batch, use a large sheet pan.
Roasting time: Ensure that the spears are regularly thick to all be done simultaneously.
How long should I roast the asparagus?
When done, the stalks should still be firm to the bite or al dente (you don't want it to get too mushy), and the tomatoes should be wrinkly and slightly caramelized. The cooking time depends on the oven and the thickness of the spears.
Keep a close eye on the vegetables during the last minutes of the cooking time; they should be crispy and tender but not overcooked.
Recipe FAQ
Is asparagus healthy?
Its botanical name - Asparagus officinalis - means remedy or medicine. The Romans recognized long ago the health benefits of asparagus.
The plant is a natural diuretic and thus recommended for people who tend to retain water in their body's tissues; it's full of antioxidants, which, according to new research, might help slow the aging process. And it seems that asparagus might also help fight some forms of cancer.
What's the difference between white and green asparagus?
They are quite the same, yet white asparagus is grown under the earth while green asparagus grows in the sun, thus developing the green color. Furthermore, the fact that it grows above the ground makes it not only green but also healthier than white asparagus.
Can I use white asparagus instead?
Sure. However, the white sort needs to be peeled and will probably need a bit longer in the oven; the stalks are generally a bit thicker. Make sure to check with a fork. 
How to store and reheat?
Oven-roasted asparagus with feta and tomatoes are best served immediately. 
However, you can refrigerate the leftovers in an airtight container for 2-3 days.
Reheat in the preheated oven (400°F/200°C) until slightly crispy again. 
When reheated in the microwave, the tomatoes and the asparagus will be somewhat limp, but they will still taste good. 
You can also serve the leftovers at room temperature. 
What to serve with the baked asparagus and tomato recipe?
This asparagus with tomato and feta dish makes an excellent main dish on its own, but in this case, it will only be enough for two people. Serve the roasted vegetables with crusty bread, French baguette, dinner rolls, or roasted potatoes.
Serve as a simple side dish with meats or seafood. It goes great with baked salmon or any other fish filets.
Try the dish with Dutch Oven Roasted Chicken, Cast-Iron Chicken Breast or Skillet Chicken Thighs, Air Fryer Chicken Breast, Spicy Pork Loin, Baked Pork Chops and Potatoes, or Apricot Glazed Pork Tenderloin.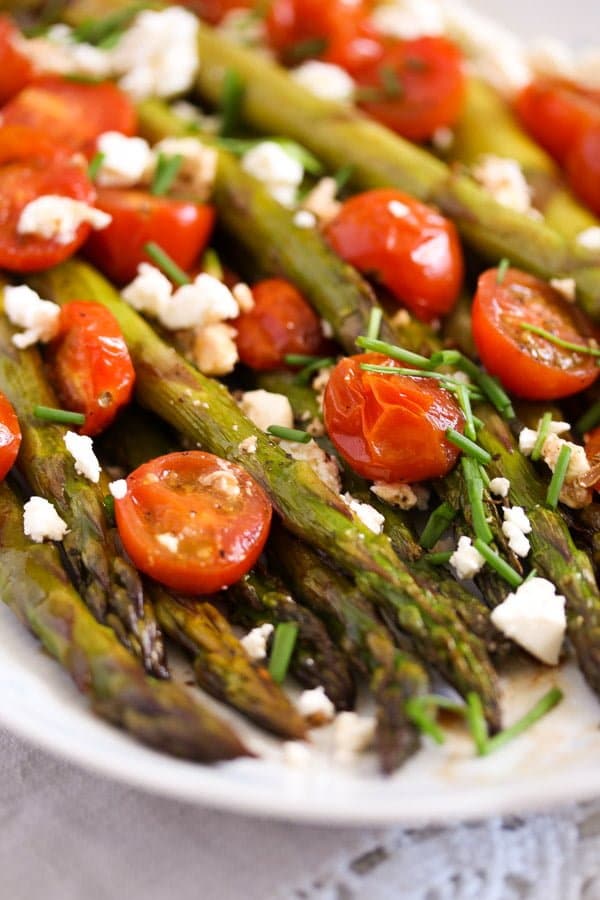 More asparagus recipes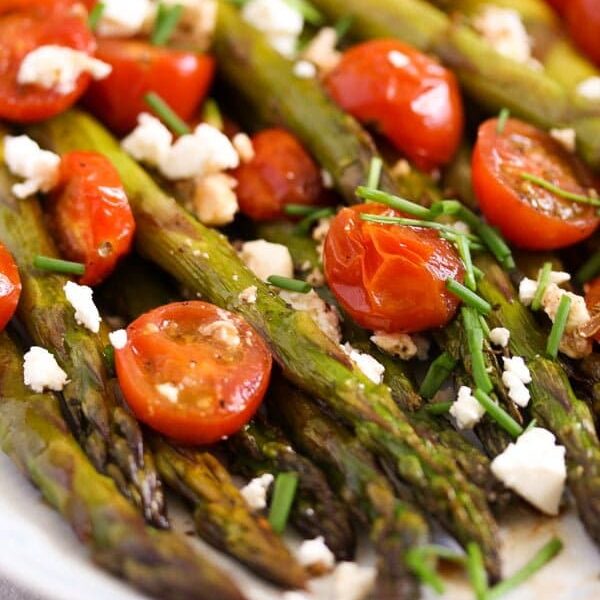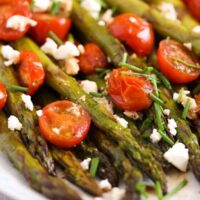 Roasted Asparagus and Tomatoes
Roasted asparagus and tomatoes with feta cheese and balsamic vinegar. Only 15 minutes in the oven.
Print
Pin
Share
Grow
Saved!
Rate
Ingredients
1

lb

asparagus

450 g Note 1

12

oz

cherry tomatoes

or grape tomatoes, 350 g

1

teaspoon

fennel seeds

optional but highly recommended

2

tablespoons

olive oil

1

tablespoon

balsamic vinegar

2

oz

feta

60 g/ ½ cup when crumbled, Note 2

fine sea salt

or kosher salt

freshly ground black pepper
Instructions
Preheat the oven to 400°F/ 200°C.

Prepare the vegetables: Wash and dry the asparagus spears. Remove their woody lower third (Note 3). Halve the cherry tomatoes.1 lb/ 450 g asparagus + 12 oz/ 350 cherry tomatoes

Combine ingredients: Place both vegetables into the roasting dish, and add the fennel seeds, oil, vinegar, salt, and pepper to taste. Toss well with your hands.1 teaspoon fennel seeds + 2 tablespoon olive oil + 1 tablespoon balsamic vinegar +salt and pepper to taste

Roast for about 12-15 minutes or until the asparagus is done to your liking. It should still be firm to the bite.

Crumble the feta over the vegetables and serve immediately.2 oz/ 60 g feta
Notes
Asparagus: White asparagus can be used instead. However, this sort should be peeled, and as the stalks tend to be thicker, they might need a bit longer in the oven. Make sure to check.
Feta: Sheep or cow feta (brined or vacuum-sealed) is excellent. Don't use pre-crumbled feta cheese.
Use the woody ends to make asparagus stock for soups or risotto. If you don't have enough at one time, collect the ends in a bag in the freezer until you have enough.
Nutrition
Serving:
1
portion from 2
|
Calories:
287
kcal
|
Carbohydrates:
19
g
|
Protein:
11
g
|
Fat:
21
g
|
Saturated Fat:
6
g
|
Polyunsaturated Fat:
2
g
|
Monounsaturated Fat:
12
g
|
Cholesterol:
25
mg
|
Sodium:
349
mg
|
Potassium:
873
mg
|
Fiber:
6
g
|
Sugar:
10
g
|
Vitamin A:
2667
IU
|
Vitamin C:
52
mg
|
Calcium:
227
mg
|
Iron:
7
mg