How to roast asparagus in the oven? An easy and quick recipe for oven roasted asparagus with tomatoes, balsamic vinegar and feta cheese. Only 15 minutes in the oven.
This is a repost from May 2016.
Oven baked asparagus and cherry tomatoes with fennel seeds, topped with feta and dressed with olive oil and balsamic vinegar, it can hardly get any better when it comes to asparagus.
Only a few ingredients and very little work, but the resulting dish is worth being served at a dinner party. Or any other time during the short asparagus season, I found this dish to be so good that I keep making it over and over again.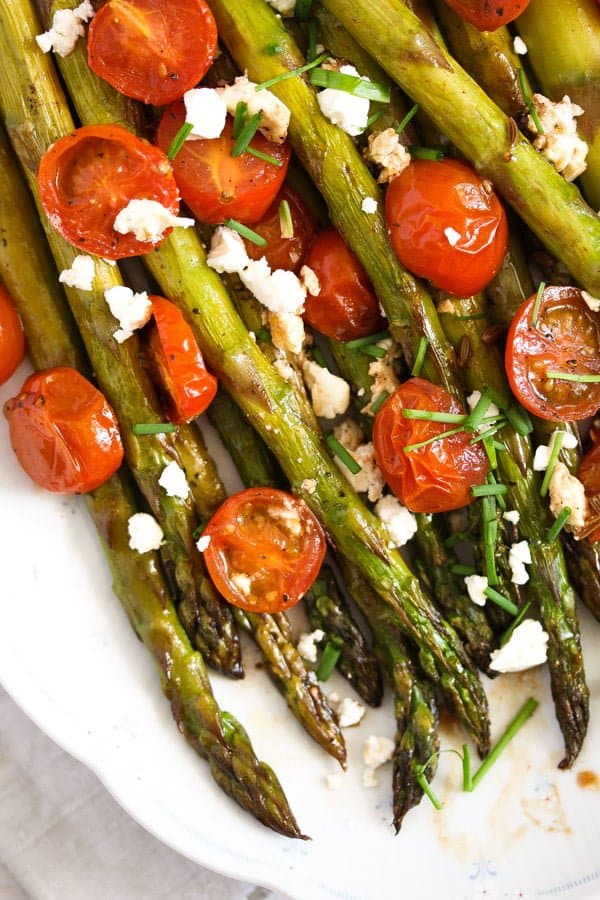 Roasted Asparagus Recipe with Tomatoes and Feta
This oven roasted asparagus with cherry tomatoes makes an ideal dinner when you want to have something really exquisite, but don't feel like being long in the kitchen. Of course, you will still have to make some sandwiches for the kids – I dare you to name me a kid who would eat asparagus, I've never heard of one until now – but otherwise just mix all the ingredients together on a baking tray and put the tray in the oven for about 15 minutes.
This recipe is supposed to serve 4 people, but my husband and I can deal with it on our own. It only has 108 calories pro portion when 4 people are eating, so 217 if you only share it with your husband, and that is still not a big deal. I found this recipe in an older issue of Good Food Magazine, that is why I can tell you about the calories… 🙂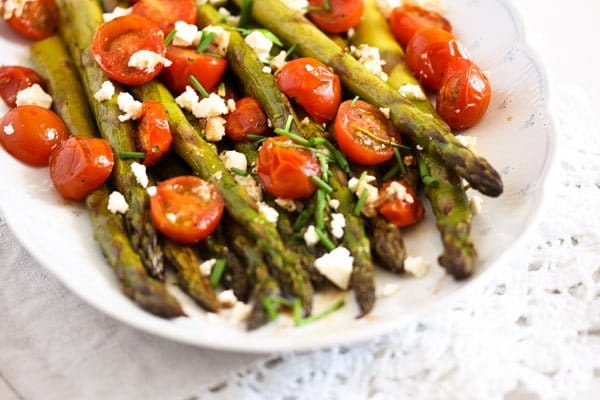 Differences between green and white asparagus:
In my last post White Asparagus with Sauce Hollandaise and Ham I mentioned some of the differences between the white and the green asparagus. So basically, they are quite the same, white asparagus being grown under the earth while green asparagus grows in the sun, thus developing the green color.
The fact that it grows above the ground makes it not only green, but also healthier than the white asparagus. I mean, they are both healthy, see this post for Asparagus Salad with Hard-Boiled Eggs and Ham for more on the health benefits of asparagus, but the green asparagus has more vitamins and minerals than the white sort.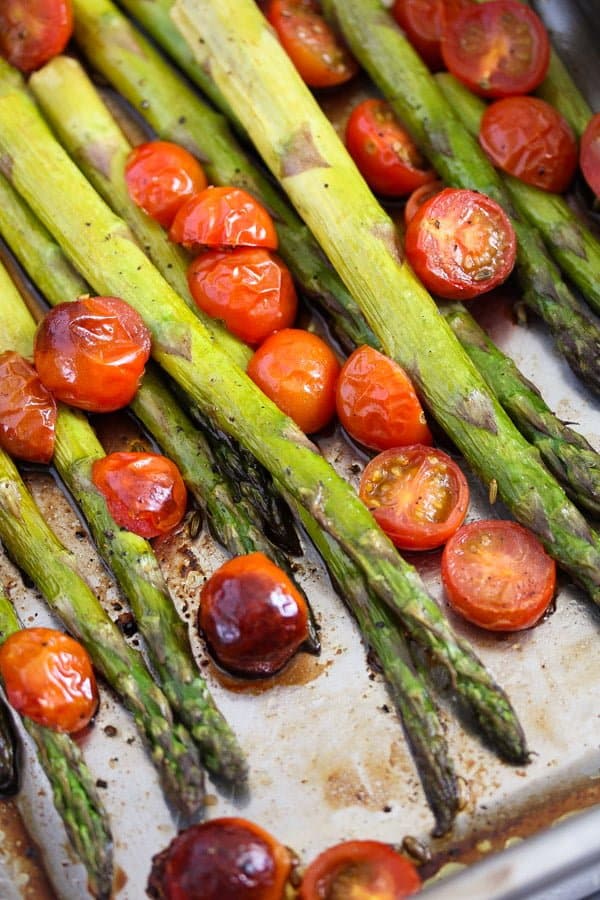 Health benefits of asparagus:
I found out that the botanical name of asparagus is Asparagus officinalis, which translated from Latin means nothing else than remedy or medicine. It seems that the Romans recognized long ago the health benefits of asparagus.
Asparagus is a natural diuretic and thus recommended for people who tend to retain water in their body's tissues – I used to eat a lot of it while I was pregnant, especially during the first pregnancy, my feet were the size of baby elephants. Actually that was actually the first time that I ate asparagus (I only knew it by name during my childhood), I was desperate about my swollen and aching feet and searched for advice online. I read about the benefits of asparagus, so during that pregnancy spring I ate tones of asparagus and rice, which also seems to help against water accumulation.
Also asparagus is full of anti-oxidants and this, according to new research, might help slow the aging process. And it seems that asparagus might also help fight some forms of cancer as well.
So keep eating asparagus, the season is short, the taste amazing and the benefits huge.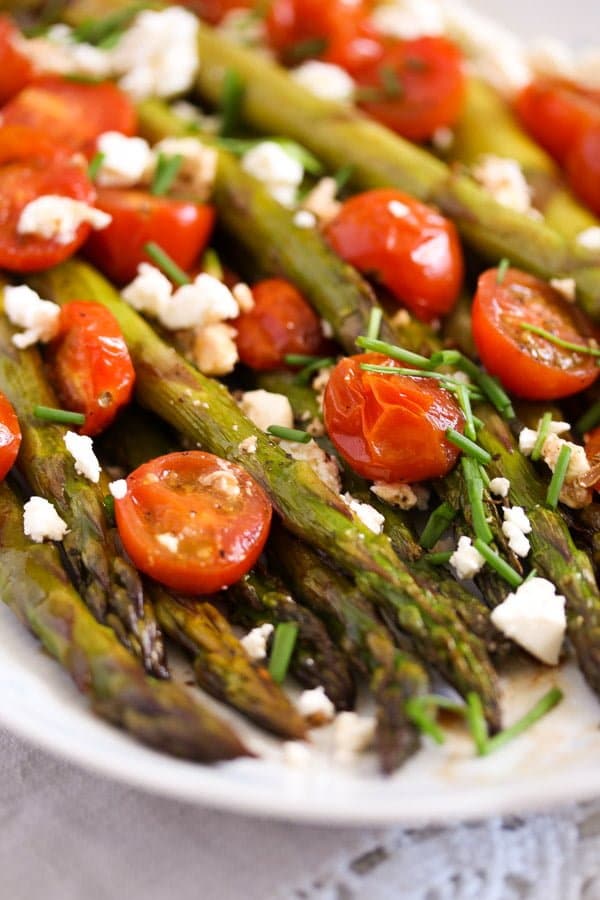 How to roast asparagus:
This couldn't be easier. If you decide to make this recipe for Roasted Asparagus Recipe with Tomatoes and Feta you will only need 5 minutes to prepare and dress the asparagus and the tomatoes and 15 minutes to roast the vegetables. Isn't that wonderful?
Make sure the oven has time to preheat while you prepare the veggies, give everything on a baking tray lined with baking paper. If you use baking paper you will not even have to wash the baking tray afterward, just discard the paper.
Roast the asparagus and the tomatoes in the oven for 12-15 minutes, depending on the thickness of the asparagus stems, when done the asparagus should still be firm to the bite or al dente (you don't want it to get too mushy) and the tomatoes should be wrinkly and slightly caramelized. Oh, how I love this dish, give it a try, I am sure you will love it too.
As I have mentioned before this is a repost from 2016. I have been making this recipe over the last two years repeatedly without changing one thing. However, this spring I decided to add a good pinch of fennel seeds to the dish. It was amazing! The fennel seeds brings the dish to a whole new level, giving it a slightly sweet flavor which fits the rest of the dish brilliantly. It is optional, of course, but if you like fennel, do give it a try!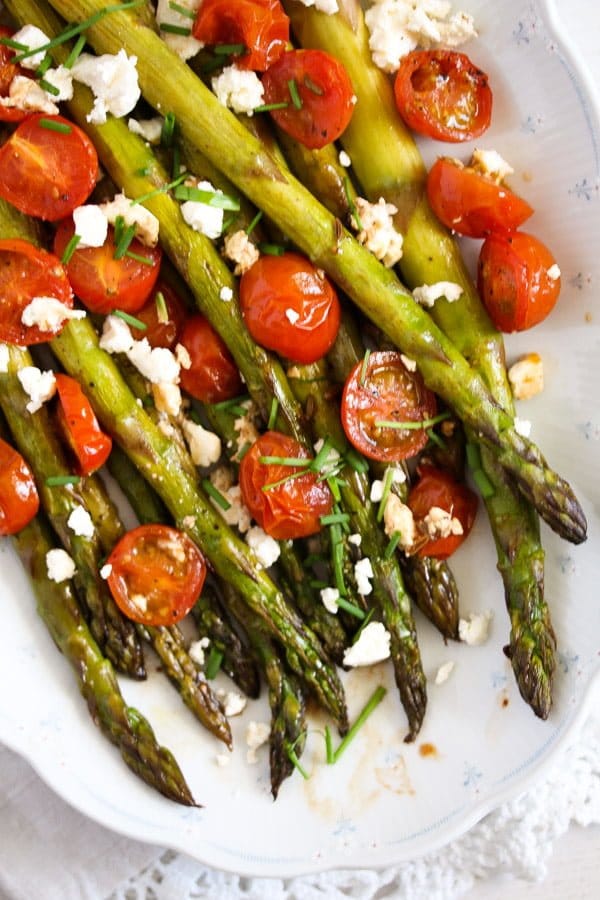 Ingredients
450 g/ 1 lb green asparagus

350 g/ 12.3 oz cherry tomatoes

1 teaspoon fennel seeds, optional but highly recommended

2 tablespoons olive oil

1 tablespoon balsamic vinegar

60 g/ 2.1 oz/ about ½ cup feta, crumbled

salt and freshly ground black pepper
Instructions
Preheat the oven to 200 degrees Celsius/ 400 degrees Fahrenheit. Line a baking tray or roasting tin with baking paper, if desired.
Remove the woody, lower third of the asparagus stalks. Halve the cherry tomatoes. Place both vegetables on the baking tray, add the fennel seeds, oil, vinegar, salt and pepper to taste. Mix well with your hands.
Place the tray in the oven and bake for about 12-15 minutes or until the asparagus is done to your liking. It should still be firm to the bite.
Crumble the feta over the vegetables in the tray and serve immediately.
[nutrition-label id=9330]
Others you might like:
Baked Vegetables with Almond Dressing
Asparagus Coconut Curry
This post might contain affiliate links. The price you pay as a consumer does not change, but if you make a purchase we will receive a commission which helps support the blog.