Crunchy asparagus fried in a pan or a skillet with garlic, ginger and soy sauce, a very easy and delicious asparagus recipe ready in 10 minutes.
This is one of my favorite asparagus recipes. Well, actually, it is quite difficult to say that, because I don't think that I have ever cooked anything with asparagus that I didn't like… A few examples of other favorite asparagus recipes are this White Asparagus with Sauce Hollandaise and Ham or this Delicious Asparagus Chicken Pasta Casserole with Parmesan.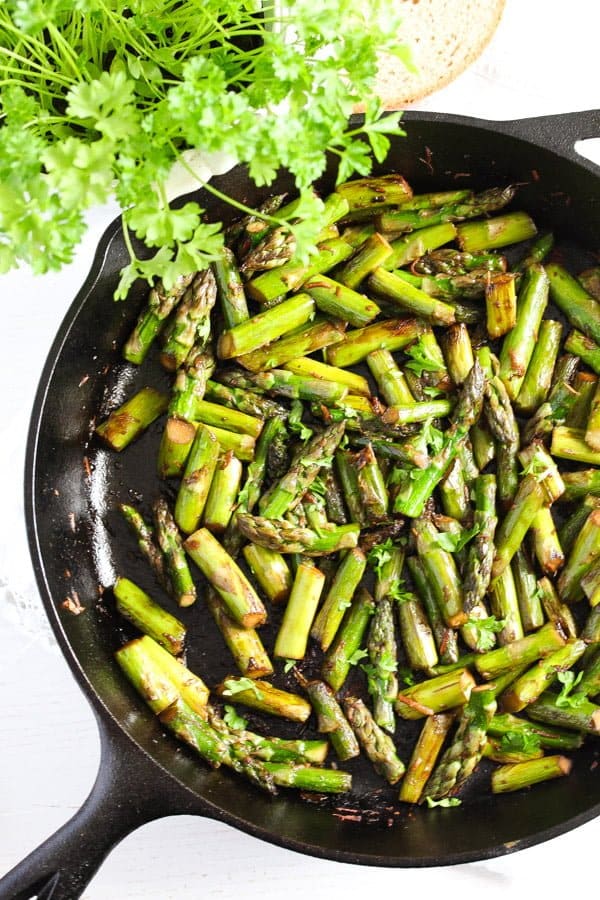 Sauteed Asparagus with Garlic – Easy Asparagus Recipe
But this particular asparagus dish is so special because it is one of the first asparagus recipes I have ever cooked. Ages ago, while I was pregnant with my first child and was having issues with retaining water in my feet and hands.
I was desperately searching for ways of reducing the swelling of the feet and the pain and I found an article describing the benefits of asparagus in such matters. For more information on the health benefits of asparagus, have a look at this post for Asparagus Salad with Hard-Boiled Eggs and Ham.
This recipe for Sauteed Asparagus with Garlic – Easy Asparagus Recipe was probably the first one I have ever tried and I chose it because it was so extremely easy to prepare. One pan or skillet, a few ingredients that I always have in the house and less than 10 minutes actual working time. And the result?
One of the most aromatic and delicious asparagus dishes you can imagine, I really cannot have enough of this. I have been making this sauteed asparagus since 2008 now, at least twice every spring and although this amount of asparagus is supposed to serve 2 as a side dish, I always make more, 500 g/ 1.1 lbs are just not enough for my husband and I…
No need to talk about the children when it comes to asparagus, they only try the obligatory piece and move on to other things…
The source for this recipe is chefkoch.de (in German).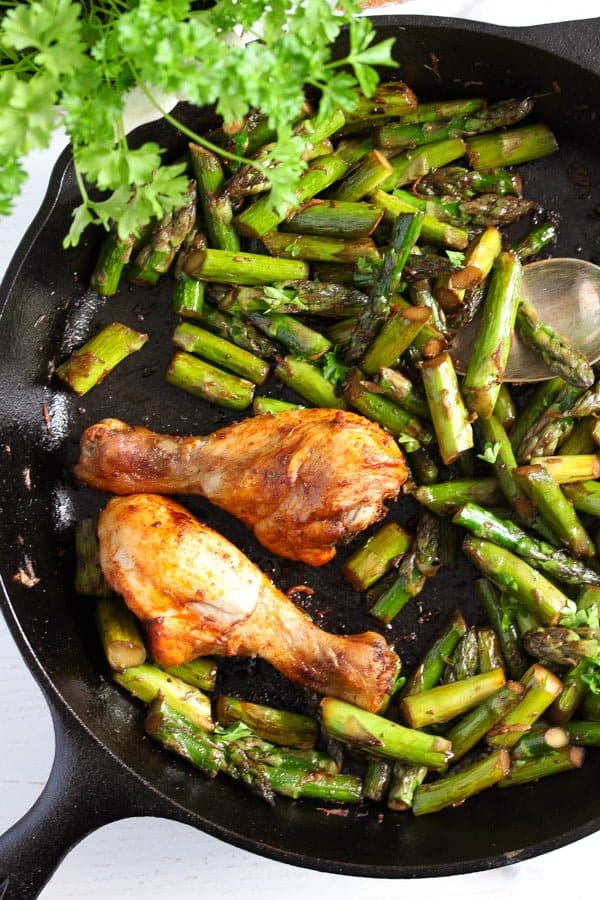 How to make sauteed asparagus:
This is a very simple, basic recipe. You can use this recipe for sauteing asparagus without adding the ingredients that I have used, thus making it even simpler. Just some garlic, salt and pepper would make this dish great as well. Or maybe some fennel seeds, if you happen to have some, I love them in combination with asparagus.
I used ingredients like garlic, ginger and soy sauce for this pan fried asparagus, spices which give it a rather Asian touch. However, although super delicious, these spices are not mandatory. I would consider this recipe as basic and spice it according to my taste, what I happen to have in my spice cabinet or in a way that suits the main dish, for instance.
Use the woody ends of asparagus to make asparagus stock, there are more instructions on that in the post for Asparagus Soup. The stock can be used to make other soups, risotto, vegetable stews and so on.
How to serve the Sauteed Asparagus with Garlic – Easy Asparagus Recipe
Actually this asparagus dish is a great fit for many other dishes. As you can see in the photographs, we had it as a side dish for baked chicken thighs and drumsticks on Saturday.
But this skillet asparagus makes a great side dish for many other dishes as well. Why not try it with Chicken Schnitzel with Potato Parmesan Crust or, for vegetarians, leave out the Worcestershire Sauce and serve this  with Crispy Baked Cornmeal Potatoes with Paprika?
Otherwise, I hope the weather is treating you well. We have had the most amazing May I've ever had since moving to Germany. May is normally a gray, rainy and rather cold month around here, but this year it has been amazing. A few cold days here and there, but otherwise better than the entire summer of 2017, for instance.
This post might contain affiliate links. The price you pay as a consumer does not change, but if you make a purchase we will receive a commission which helps support the blog.