A delicious pasta casserole with asparagus, chicken and olive oil is this month's choice for the Secret Recipe Club. I started with the SRC only a few months ago and I have to say that I totally enjoy it. I am always excitingly awaiting for the assignment email, I love searching for the fitting recipe and discovering lots and lots of other recipes to pin for later.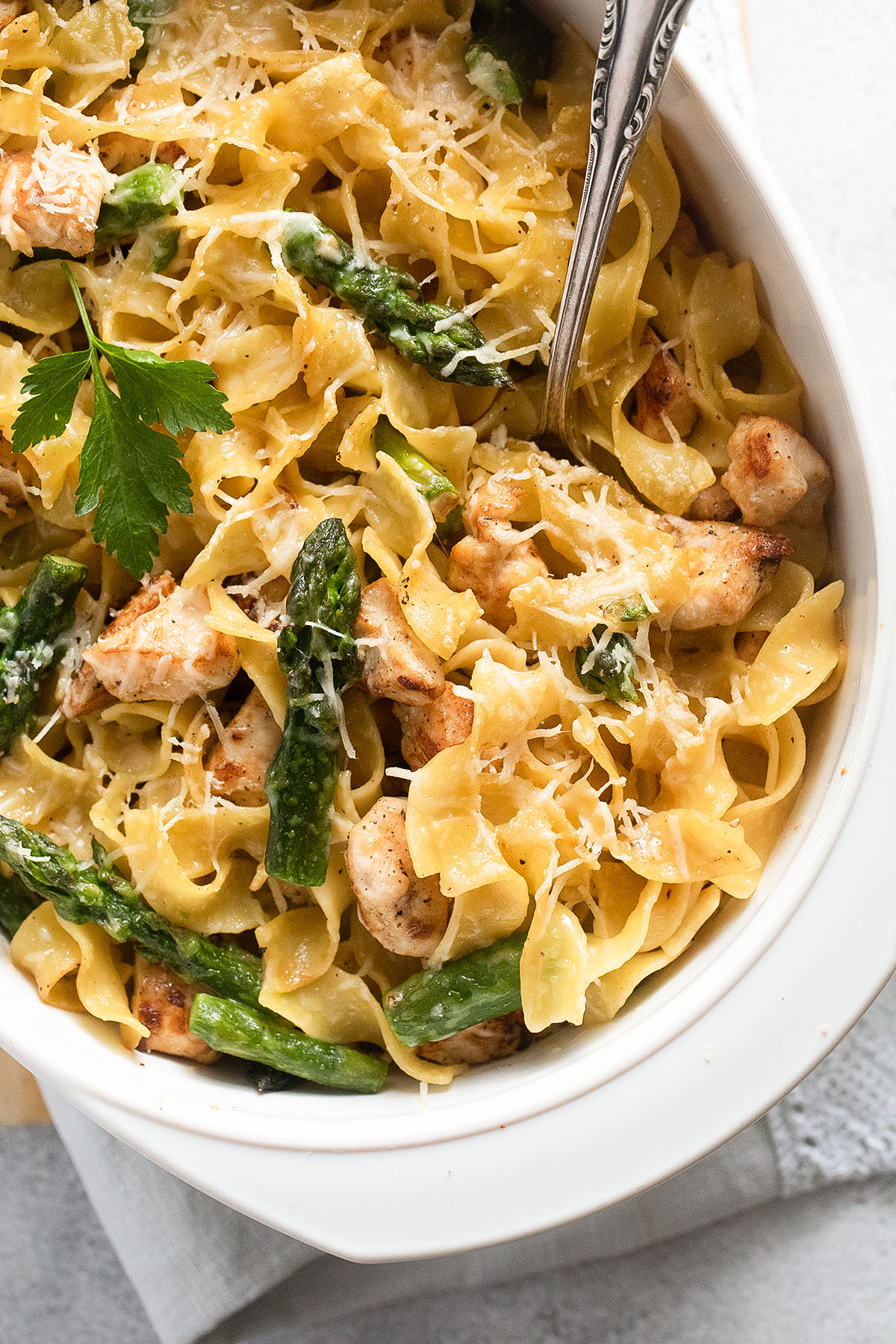 This month's blog is Fantastical Sharing of Recipes, a blog run by Sarah, who is currently the one assigning the blogs for the Group C. I am so glad, she assigned me her own blog, I didn't know it before, and there are so many really fantastical recipes I found there, it was really really hard for me to choose.
Sarah lives in Knoxville, TN, with her family. She is the proud mother of three sweethearts and describes herself as "a recipe hoarder". I've never heard that expression before, but the moment I read it, I knew that describes me as well, so I could say: "Hi! I am Adina and I am a recipe hoarder!" :). I really am, I've said it before, if I could live long enough to cook all the recipes I have hoarded during the last years, I would live for at least a thousand years. Now wouldn't that be nice?
I was primarily looking for a recipe featuring asparagus for this month and I have to say Sarah has quite a few on her blog. In the end it was a decision between this amazing Chicken and Asparagus Penne and the Steak and Asparagus Rotini. I chose the chicken version because that is what I do most of the time, if I really have to choose between different kinds of meat, I choose chicken 90 % of the time. I just like it so much!
And I have to tell you this was a perfect choice, this is the best casserole I've made in months, there is not one thing I could say against it. It is so simple, you can put it together in no time, it is healthy and it tastes amazing. My kids loved it (well, they picked out the asparagus but otherwise cleaned their plates) and I just couldn't stop eating. I cooked this in the morning, took pictures and intended to serve the dish in the evening. I only tasted it out of greed curiosity and ended up eating everything you see on the plate in the photographs….
Another thing I loved about Sarah's blog is that her recipes are very children friendly. It is so obvious she has three small children, she knows what children like. I particularly loved her pasta recipes, things like Easy Pizza Pasta Casserole (I know my son and my husband would adore this) and the Spinach and Bacon Macaroni and Cheese.
I absolutely have to try this Copycat Quesarito, this Cream Cheese Coffee Cake, the Chocolate Chip Cookie Dough Truffles and so so many others.
So enjoy this recipe and make sure you visit Sarah's blog and all the other blogs linked below.
Prep time:
Cook time:
Total time: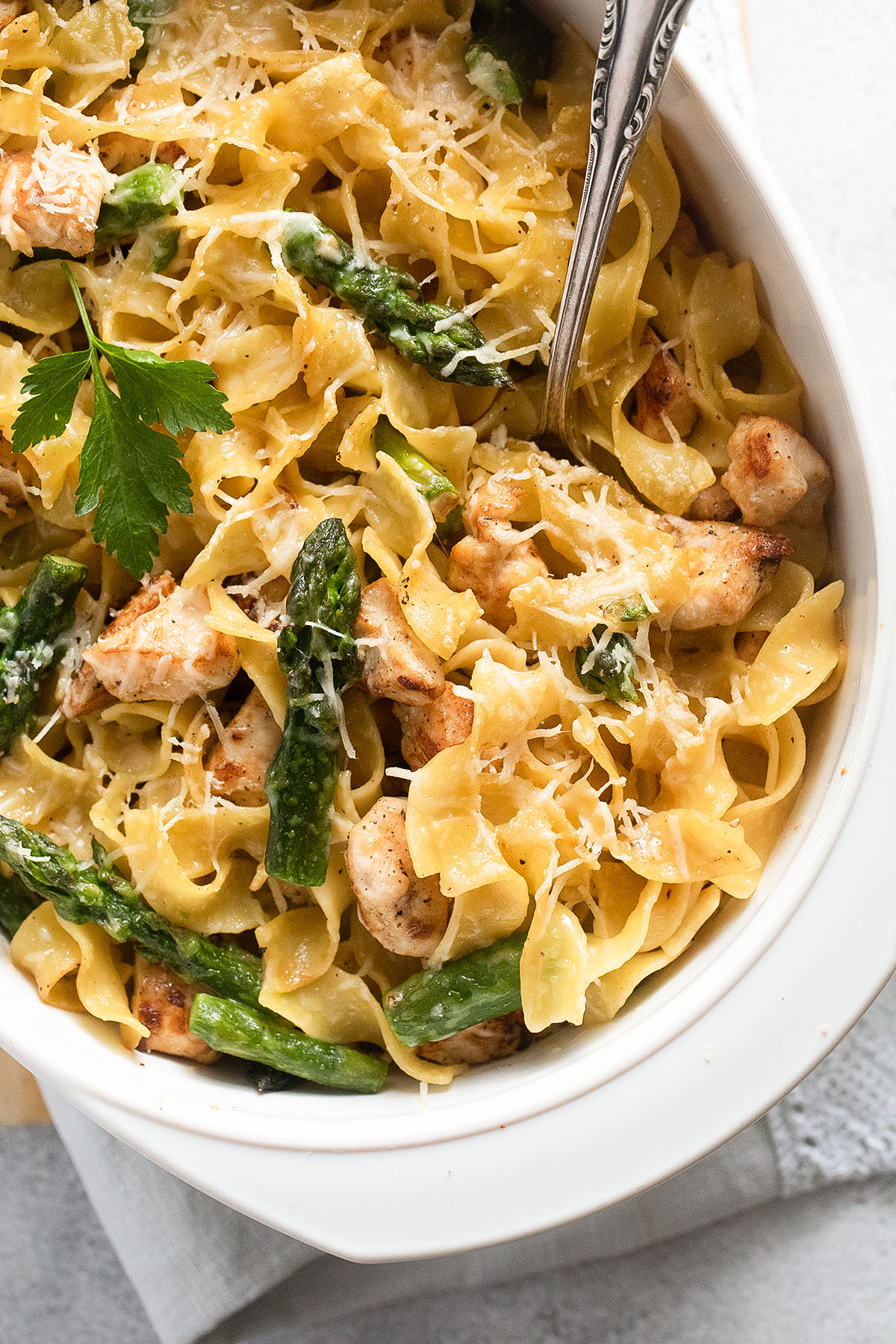 Ingredients
450 g/ 1 lb asparagus
450 g/ 1 lb chicken breast
360 g/ 12 oz pasta (penne or other short pasta)
garlic powder
4 tablespoons olive oil, divided.
50 g/ ½ cup Parmesan, freshly grated
salt and pepper
Instructions
Preheat the oven to 180 degrees Celsius/ 350 degrees Fahrenheit.
Clean the asparagus and remove its lower part. Cut each stalk in 3 pieces.
Chop the chicken breast into bite-sized pieces. Heat 1 tablespoon olive oil in a large pan and fry the chicken pieces until golden brown and cooked through. Add some garlic powder, salt and pepper to taste.
Cook the pasta according to the package instructions. Add the asparagus to the pasta pot during the last 4 cooking minutes. Drain everything well.
Place the pasta and asparagus into a casserole dish. Add the chicken cubes, 3 tablespoons olive oil and half of the Parmesan. Mix well, level and sprinkle with the remaining Parmesan.
Bake for about 10 minutes until golden brown.
[inlinkz_linkup id=620446 mode=1]