Creamy asparagus curry with coconut milk and sweet potatoes, probably the most aromatic meal you could make this spring.
Asparagus Curry
This asparagus curry is the perfect spring recipe, a very suitable recipe for colder spring days... It is incredibly aromatic and it will warm you up from inside, yet it uses seasonal vegetables like asparagus and peas.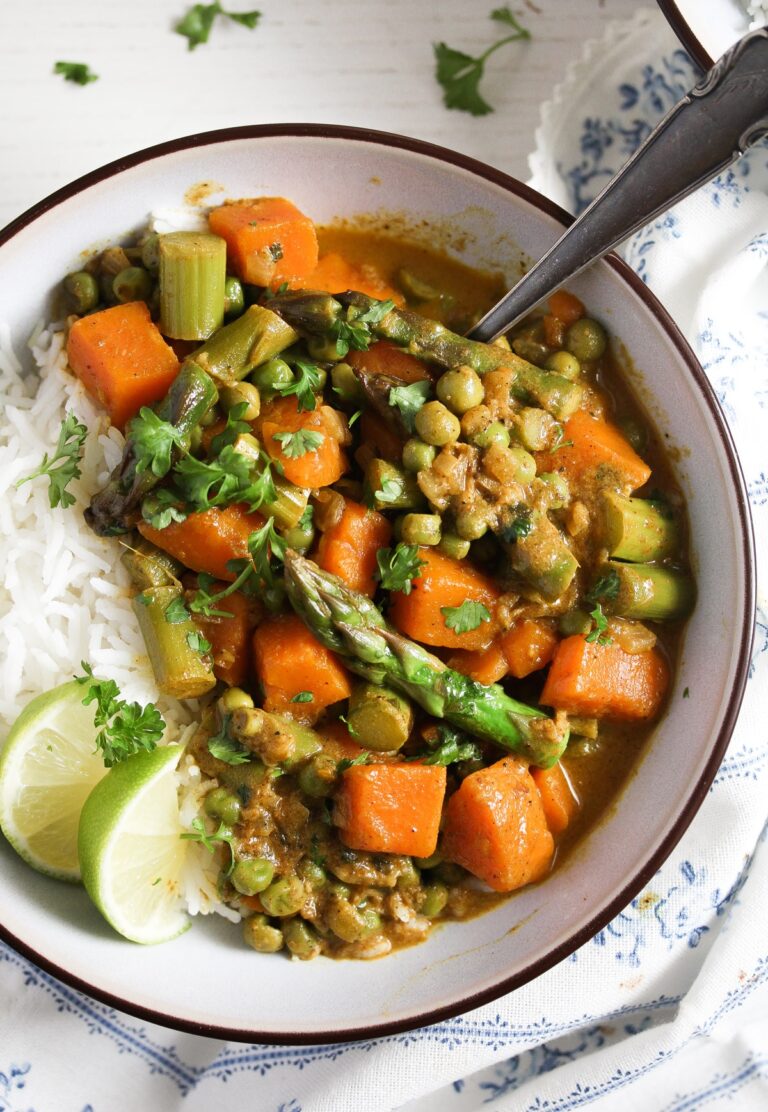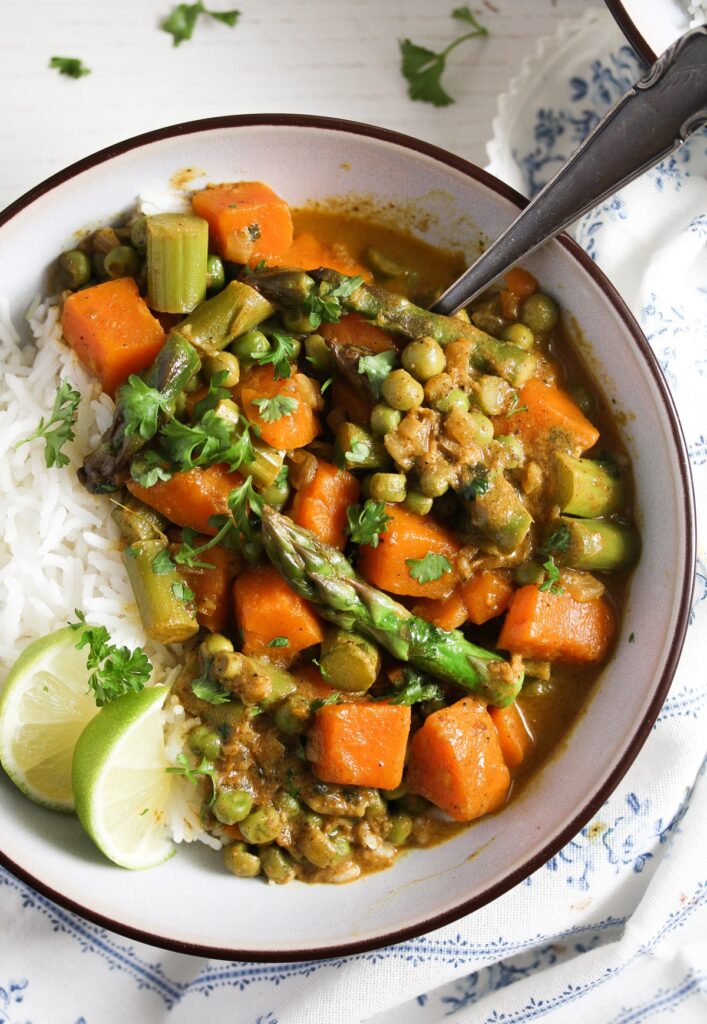 I absolutely love asparagus. I admit that a coconut curry is not exactly the typical recipe for this amazing vegetable, but it is so good, you will be happy that you dared to make a curry with asparagus.
The flavors are incredible, and the textures as well. A creamy sauce and soft sweet potatoes, crunchy asparagus and peas and lots of spices.
So let's start the season with an unconventional asparagus recipe. For more conventional ones, try this sauteed asparagus or this delicious creamy asparagus soup.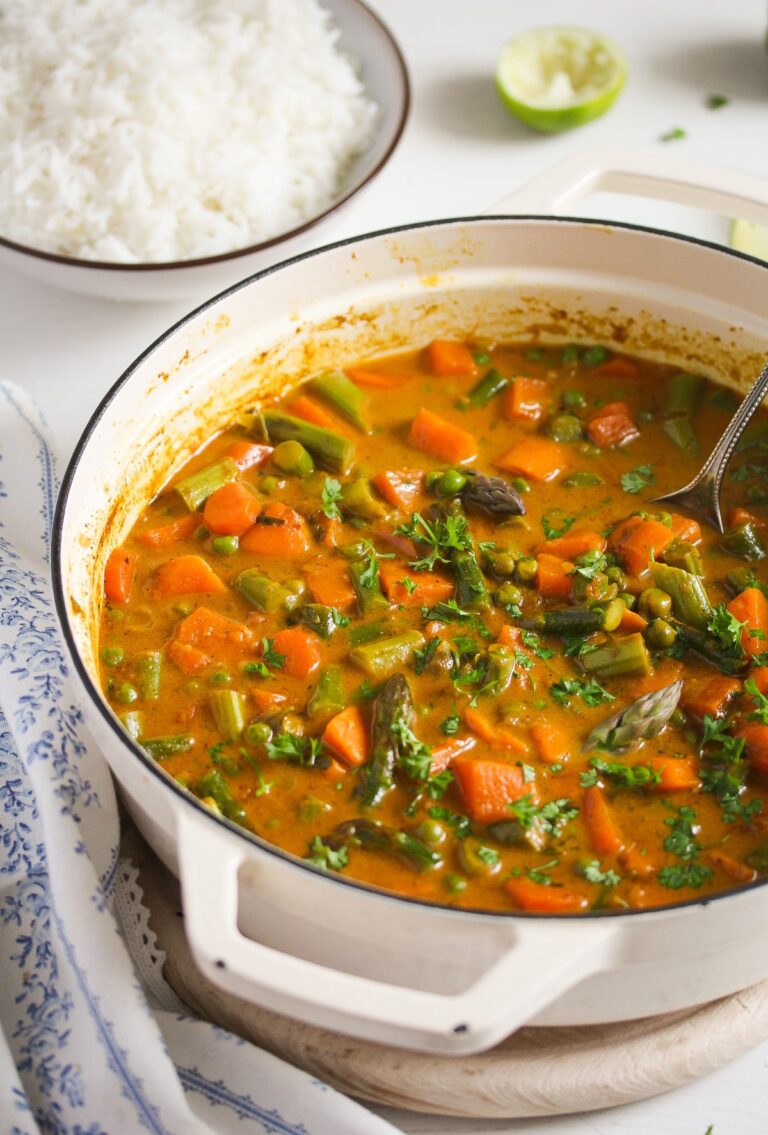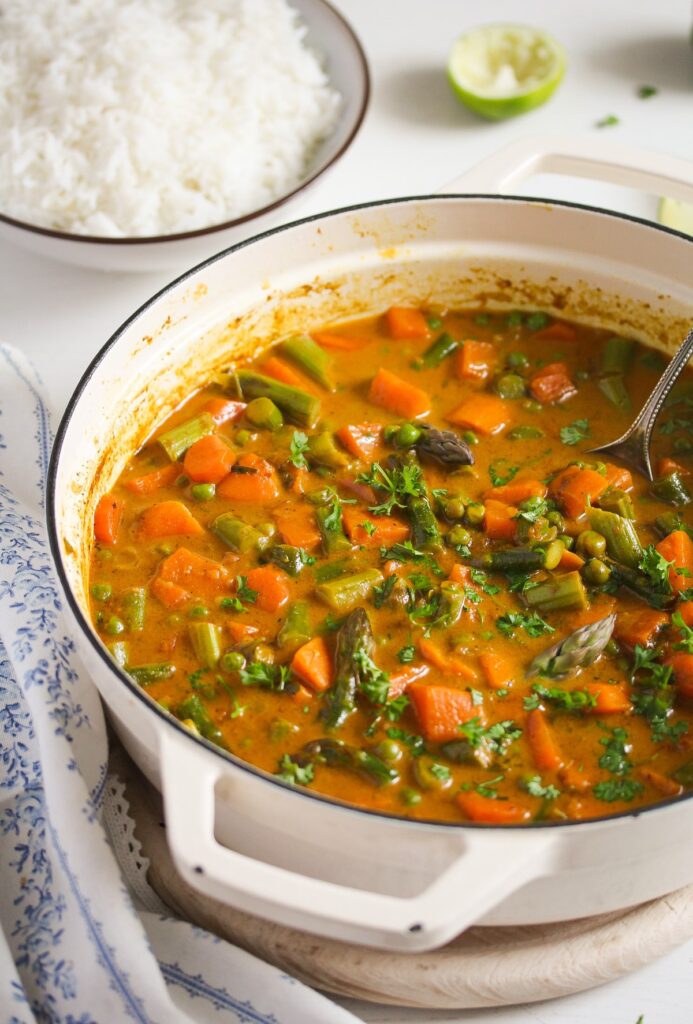 Buying and cleaning tips for asparagus
Buy:
When buying asparagus, look for plump, vivid colored spears.
Check the tips, they should look perfect, not squashed in any way.
Some parts of the heads might look either dry and wilted or a bit wet and soggy. Leave those be, they are not good and you don't want to have to throw away some of the tips because they are not good. The tips are the best part.
Check the thicker ends as well. They are drier than the rest, but they should not have splits.
Clean:
Wash the asparagus spears under cold running water.
Snap off their bottom parts, about 2 ½ cm/ 1 inch. You don't have to measure or anything, just snap the stalk, it will break naturally where it is supposed to be breaking.
When it comes to green asparagus, peeling it is not necessary. I only ever peel white asparagus.
However, if the stalks are unusually thick, you might want to peel the lower part of it.
Don't discard the tough stem parts. Use them to make vegetable stock, they have a lot of flavor.
Other ingredients for the curry:
Coconut oil (or olive oil), sweet potatoes, carrots, peas, lime, ginger, garlic and spices like garam masala, turmeric, and paprika powder.
The curry is not very hot, but you can make it so by adding pure chili powder or red chili flakes to taste.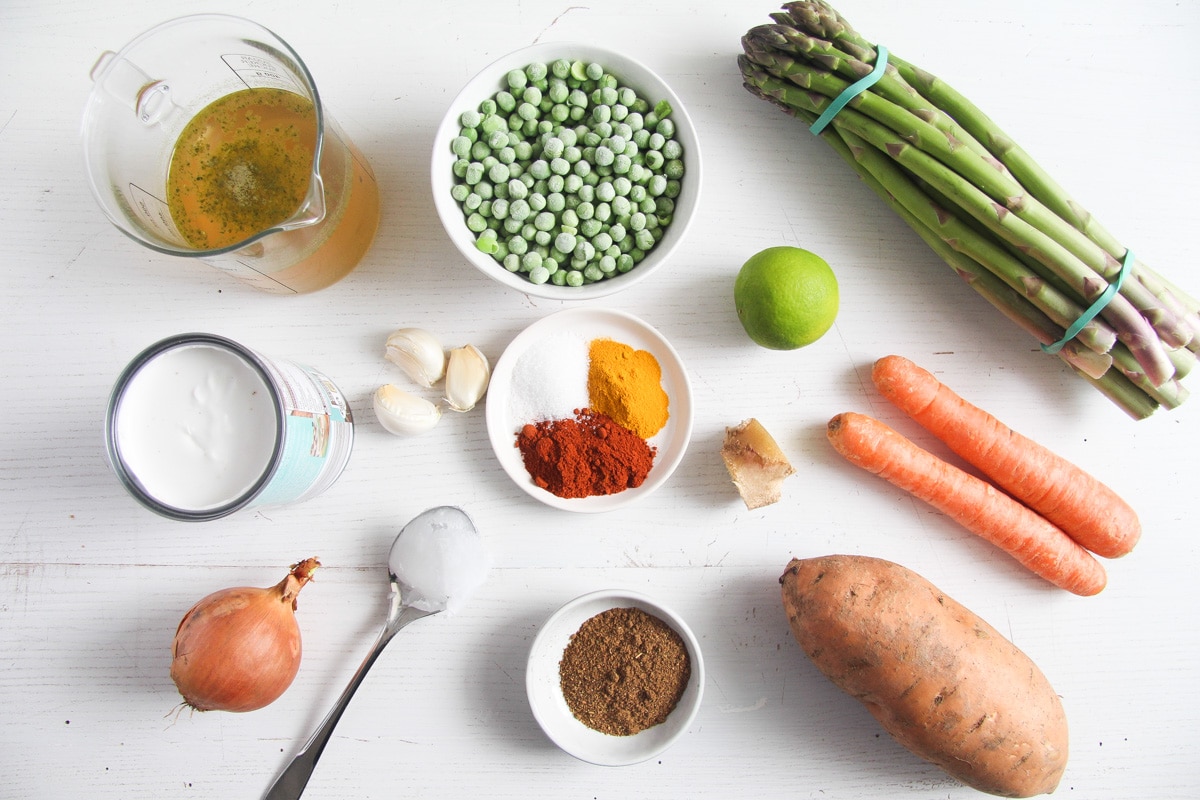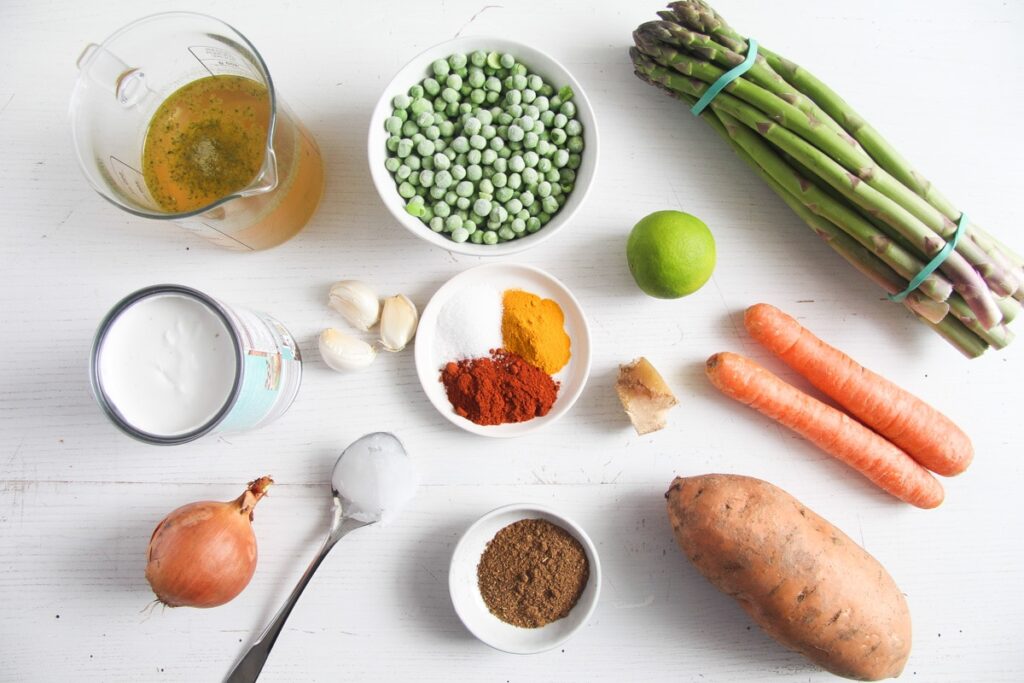 Garam masala mixture:
Bought garam masala is perfectly fine if you can get it.
However, I don't always get to buy a good garam masala mixture, so I often make it myself. I found this recipe a while ago, and I find it great, I've already made the double or triple batch several times as it keeps well for a few months.
Toast 1 tablespoon coriander seeds + 1 tablespoon cumin seeds + 1 teaspoon peppercorns + 3 cloves + the seeds from 3-4 cardamom pods + a pinch fennel seeds + ½ teaspoon caraway seeds + 2 dried bay leaves + 1-2 dried chilies + a small piece of cinnamon + ½ teaspoon chunk of whole nutmeg.
Let cool and grind with a spice grinder.
Keep in a jar in a dark place.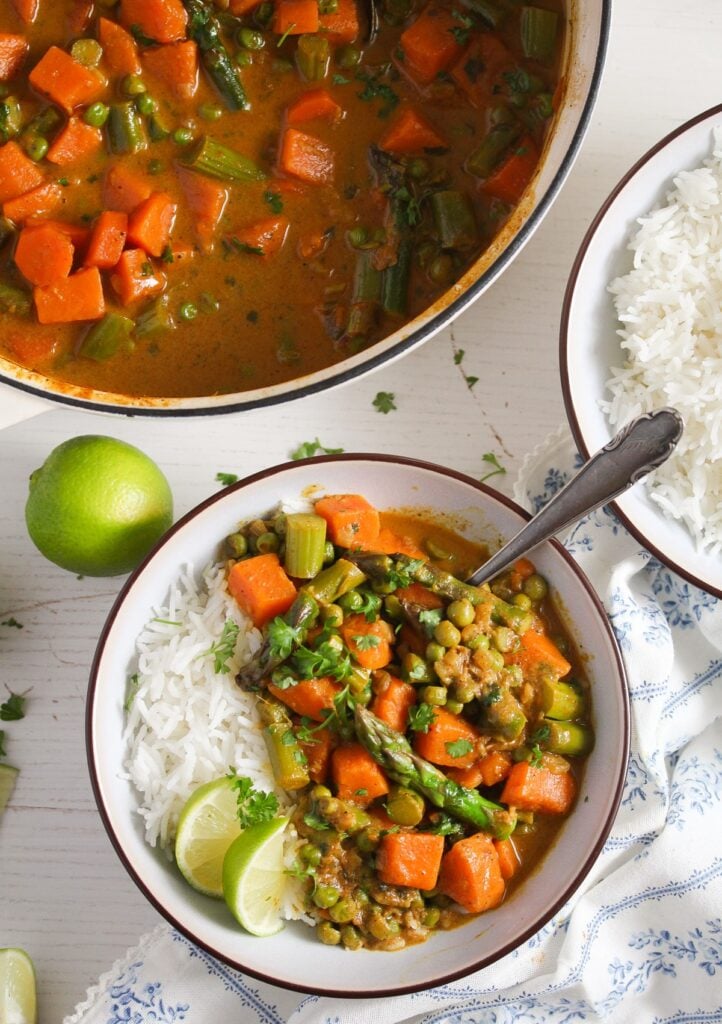 How to make asparagus curry?
Cook the onions until translucent, 3-4 minutes. Add grated garlic and ginger and all the spices. Stir shortly.
Add coconut milk and vegetable stock, bring to a boil and simmer for 5 minutes.
In the meantime, prepare the sweet potatoes and the carrots. Add to the curry and simmer for about 10 minutes or until the potatoes are almost done.
While they cook, clean and chop the asparagus. Keep the tips separated from the rest, they will only be added to the curry towards the end of the cooking time.
Add the asparagus stalk pieces and continue cooking until the potatoes and carrots are soft. The asparagus should not be completely soft, it is always better when it still has a bite to it.
Now add the asparagus tips and the defrosted peas, and simmer for 2-3 more minutes.
Adjust the taste with lime juice and salt. Add lime juice gradually and to taste.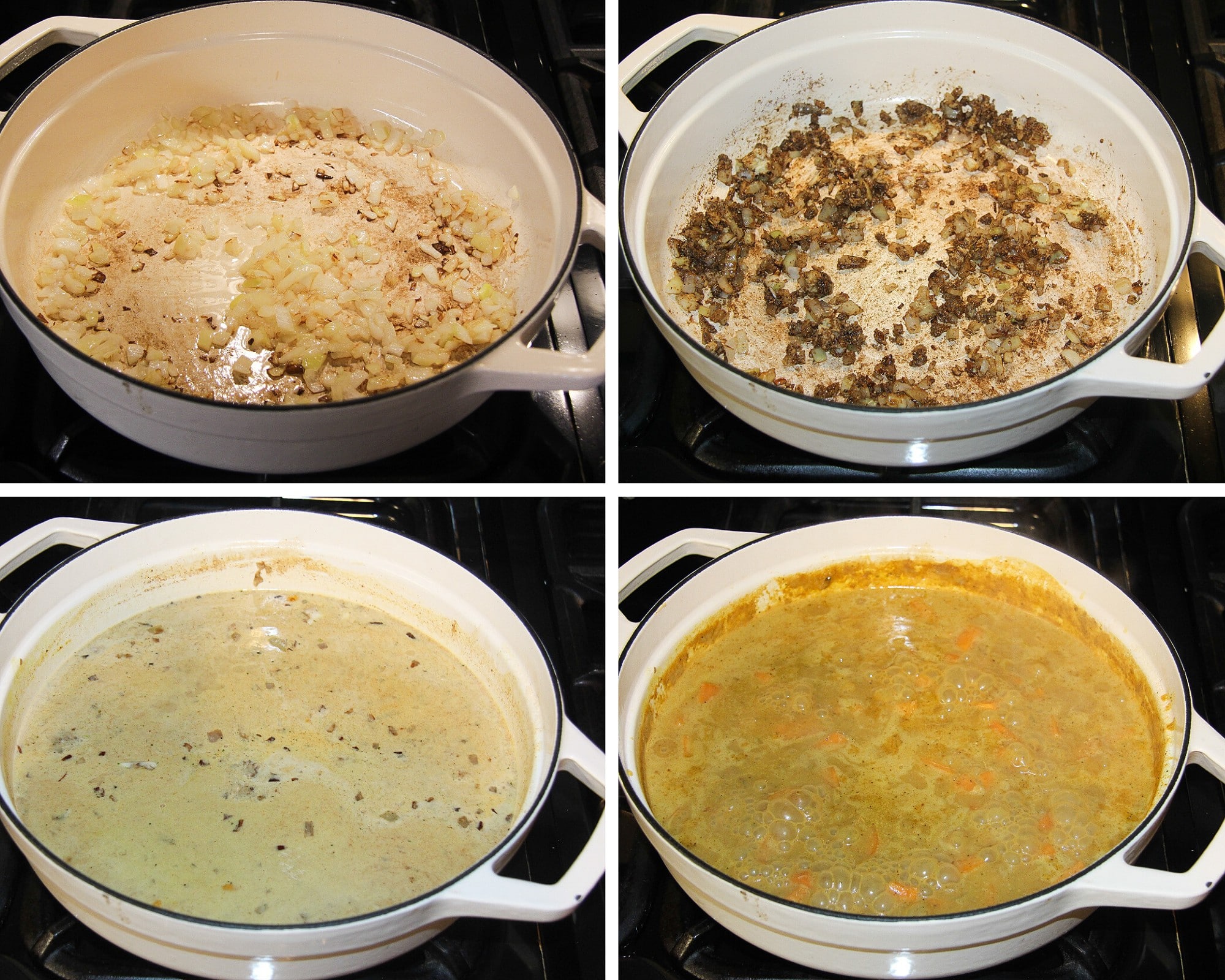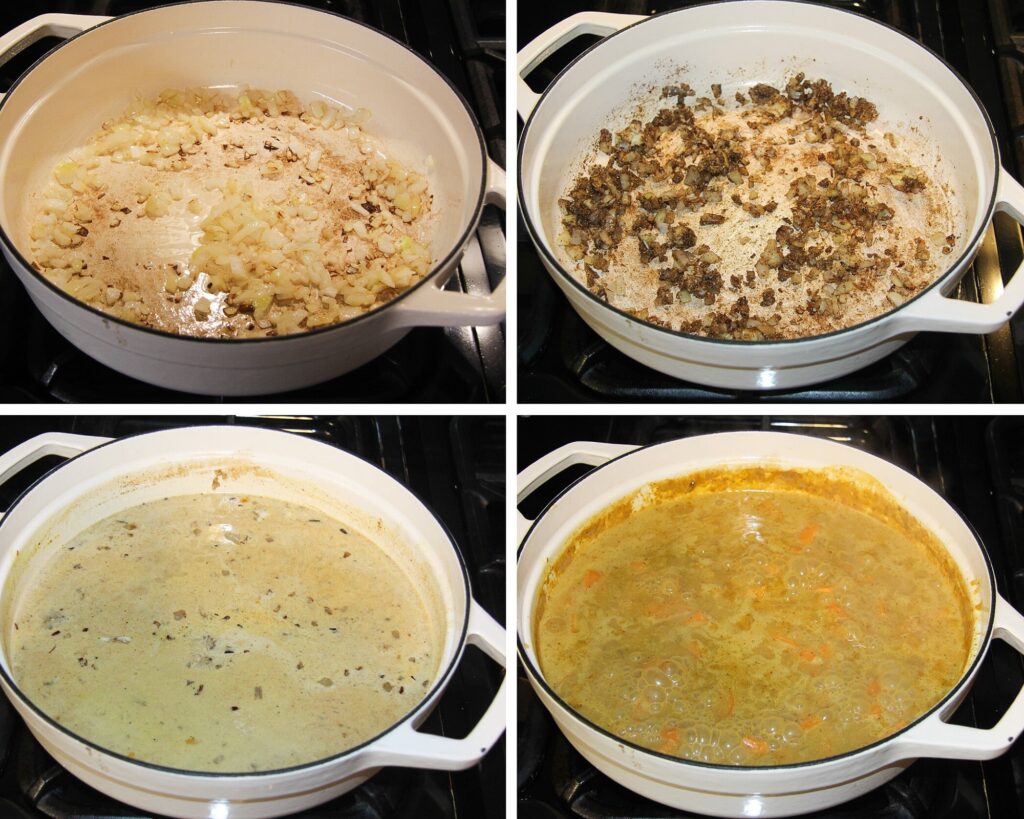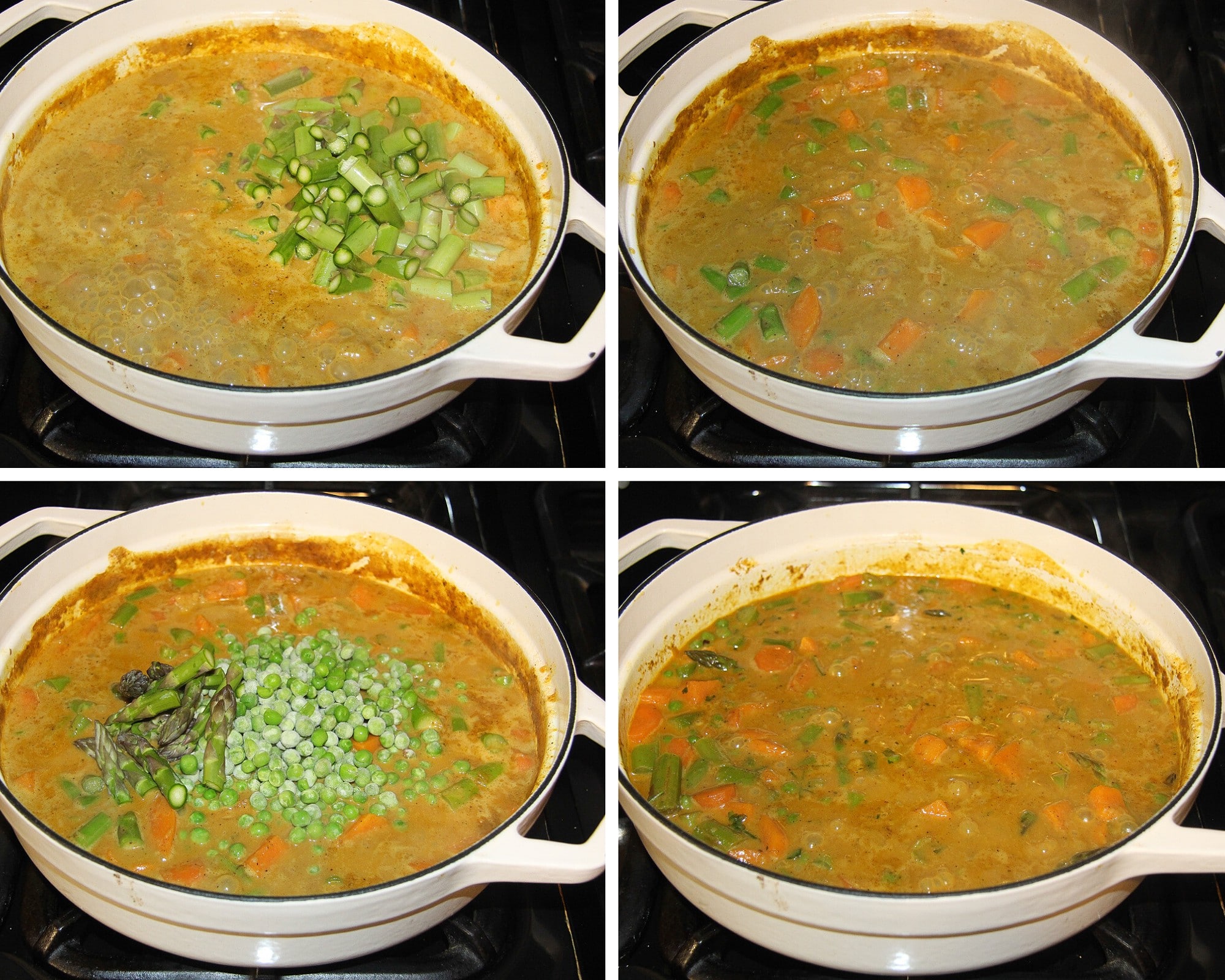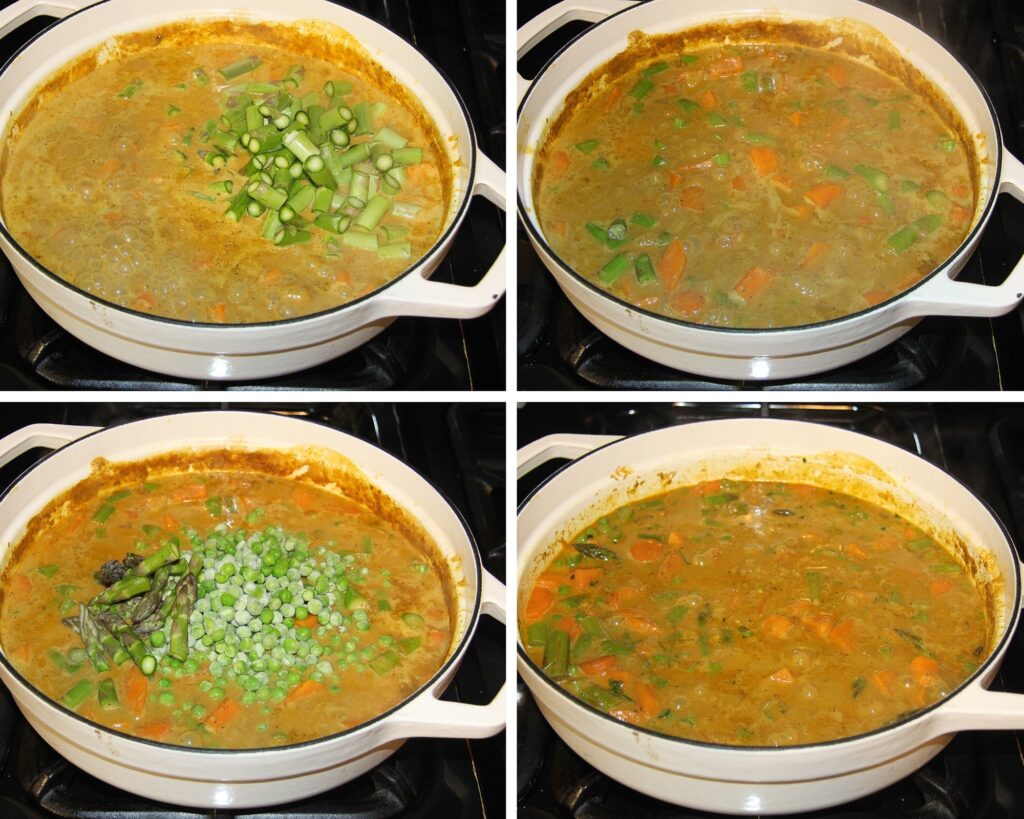 How to serve?
Serve immediately with rice or any kind of Indian bread. Naan bread, for instance.
The asparagus curry with coconut milk can be easily reheated, however, the asparagus might get softer in the process. It will still taste great though.
More asparagus recipes?
First published: June 24th, 2015.
Last updated: April 1st, 2020.
Pin it for later!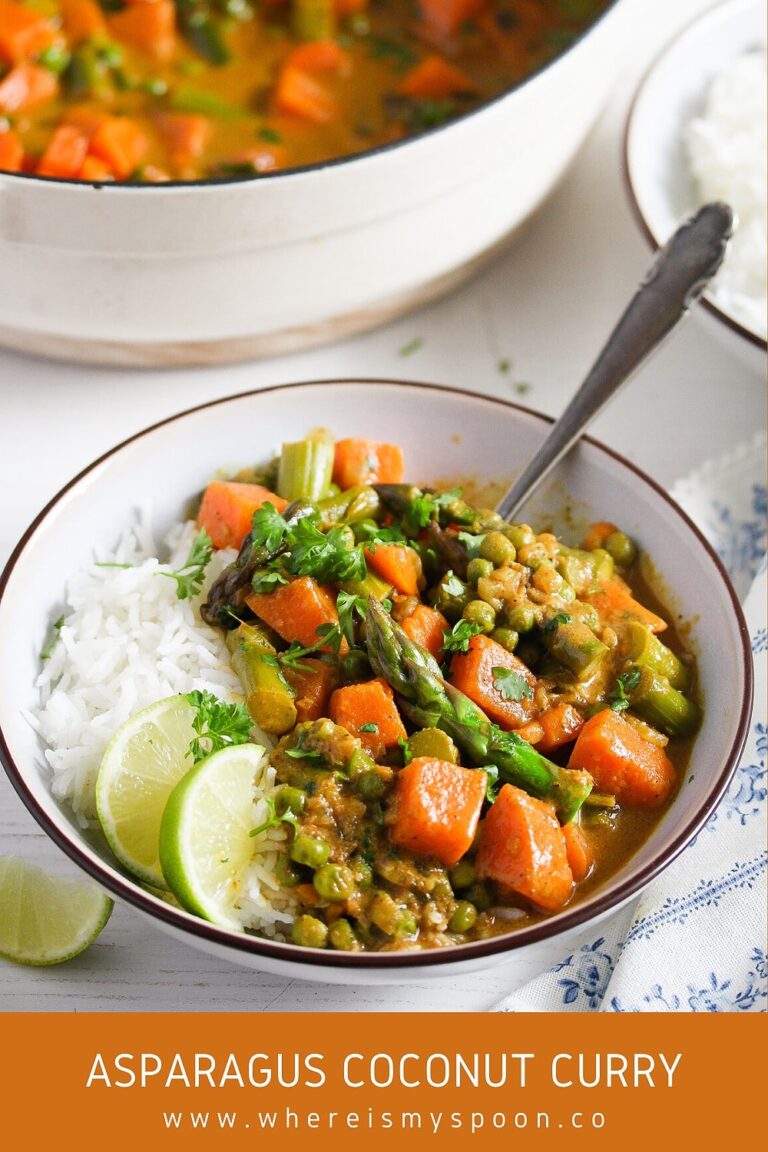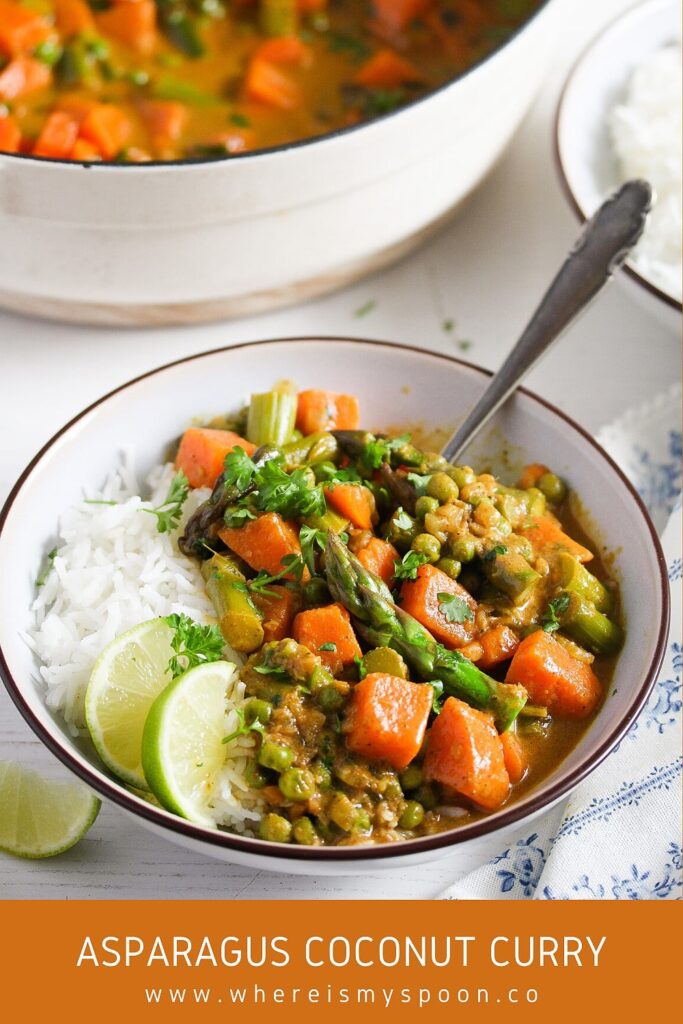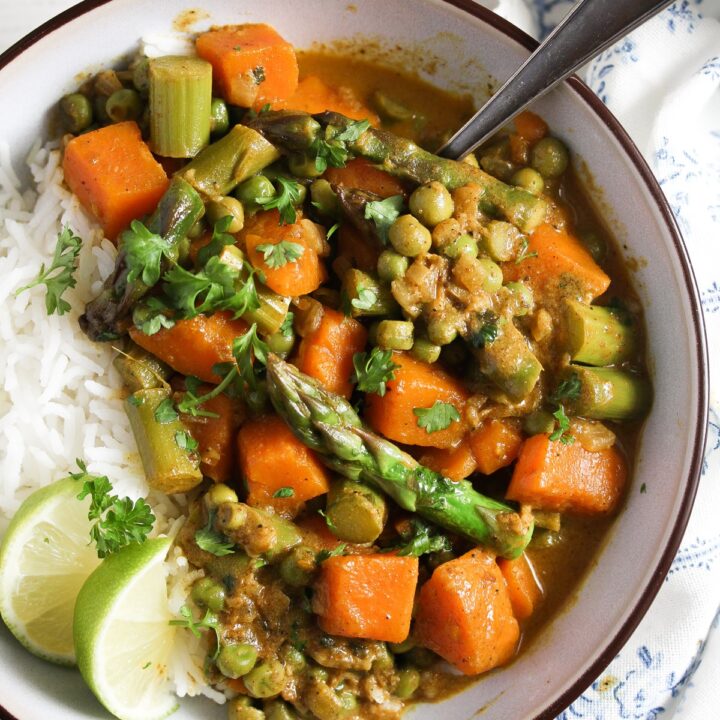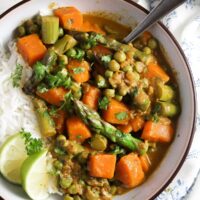 Asparagus Coconut Curry
Creamy asparagus curry with coconut milk and sweet potatoes is a "must-cook" dish every spring. Probably the most aromatic and comforting way of serving asparagus.
Print
Pin
Share
Grow
Saved!
Rate
Ingredients
2

tablespoons

coconut oil

1

onion

3

garlic cloves

a large piece of ginger

as big as a thumb

2

tablespoons

garam masala

2

teaspoons

paprika powder

1

teaspoon

ground turmeric

1

teaspoon

sugar

1

can

400 ml/ 13.5 oz coconut milk

2 ½

cups

vegetable stock

1

large sweet potato

2

medium carrots

1

lb

green asparagus

1

cup

frozen peas

defrosted

1

lime

¼

teaspoon

fine sea salt

or Kosher, more to taste
Instructions
Chop the onion and set it aside. Grate the garlic and ginger, and set them aside separately from the onions.

Saute: Heat the coconut oil in a large pot. Add the onions and cook until translucent, 3-4 minutes. Add the garlic, ginger, garam masala, paprika powder, turmeric, and sugar and stir for about half a minute.

Simmer: Pour in the coconut milk and the vegetable stock, bring everything to a simmer, and cook for about 5 minutes.

Chop: In the meantime, peel and chop the sweet potato and carrots into cubes. Set aside. Remove the woody ends of the asparagus (freeze to use for a vegetable broth on another occasion) and cut the asparagus into mouth-sized pieces. Keep the asparagus heads separated; they will need a shorter cooking time.

Cook: Add the sweet potato and carrots to the pot, bring to a boil again and cook for about 10-12 minutes or until the potatoes are almost done (check, it depends on their size).

Add the asparagus stalk pieces and cook for another 5 minutes or so until the potatoes are soft and the asparagus is cooked but still has a little bite.

Next, add the peas and the asparagus tips and simmer for 2-3 more minutes.

Adjust: Add the juice of about half a lime and salt to taste. Taste again and adjust the taste with either more lime juice or some sugar according to your liking. I liked this to be a bit tangy, so I added a bit more lime juice.

Serve with rice.
Nutrition
Serving:
1
/4 of the dish
|
Calories:
412
kcal
|
Carbohydrates:
36
g
|
Protein:
9
g
|
Fat:
29
g
|
Saturated Fat:
25
g
|
Polyunsaturated Fat:
2
g
|
Sodium:
1017
mg
|
Fiber:
9
g
|
Sugar:
11
g