This is a very simple recipe that appears to be more complicated than it actually is, so perfect when you want to impress somebody without spending hours in the kitchen :).
I saw the asparagus spirals while watching The Great British Bake Off on You Tube a few months ago and I immediately knew this was something I wanted to make as soon as asparagus was in season again. It just looked like such a great snack and I knew I would like it a lot. And I did, loved it actually, I could imagine making it again today. Just having to write about it makes me drool again :).
And about The Great British Bake Off, what a great show! And what a shame that I cannot see more of it. I was able to watch the first two seasons in very poor quality on You Tube, but nothing more. Seeing the other seasons is not allowed on the German You Tube…. 🙁 and I am so sorry about it, I just loved it. We have the German version of the show here as well, but it is no way near as good as the British version, unfortunately. Lucky you, those living in the UK, being able to watch the show every year. I can imagine what a big thing I would make out of it……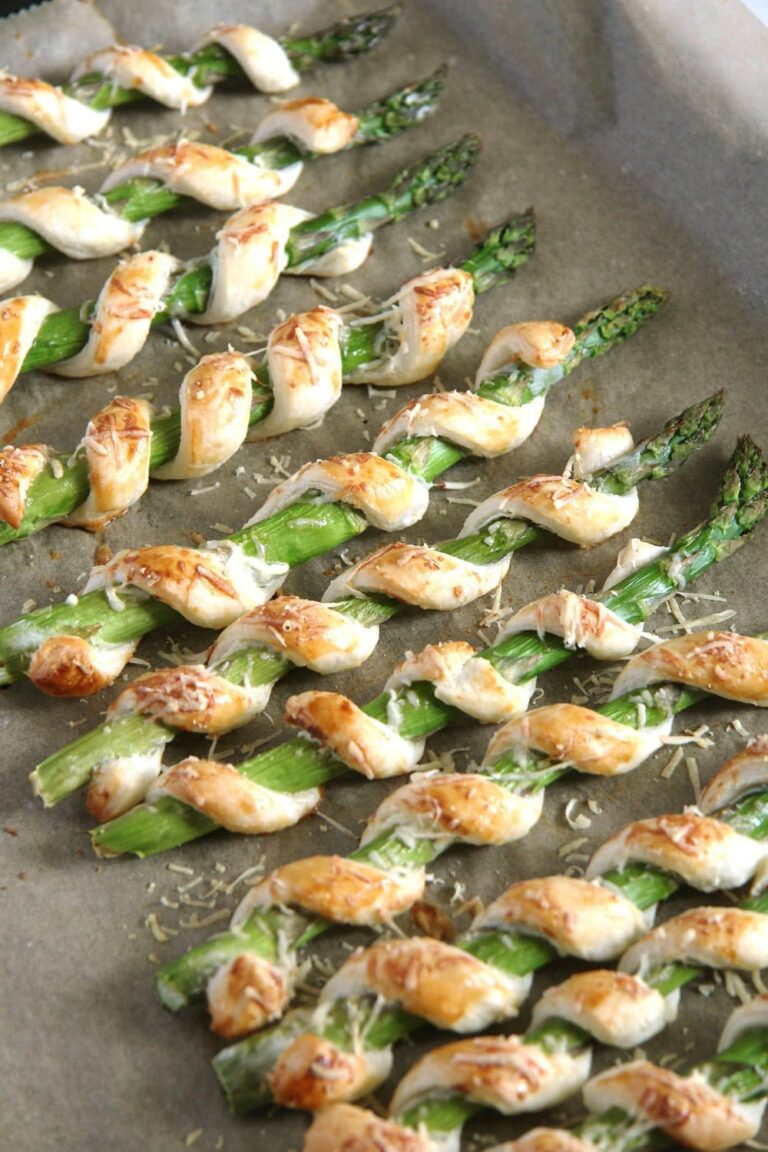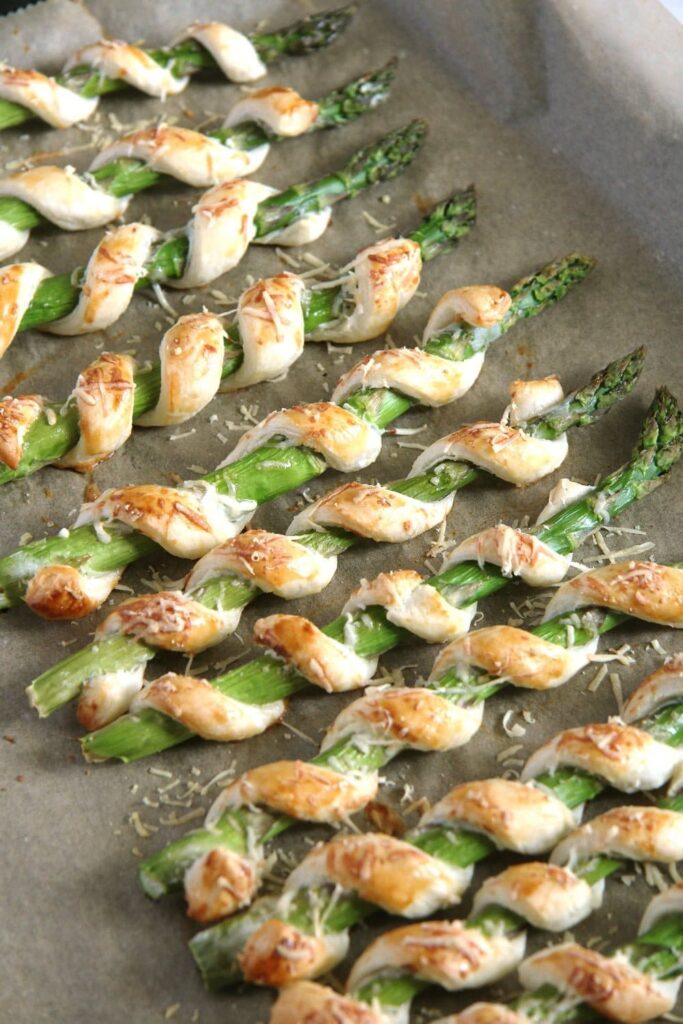 So take advantage of what's left of the asparagus season and make these "cigars", you will love them. The mayonnaise was not part of the show, but it fits perfectly. I made it with homemade mayonnaise, which is the tastiest kind in my opinion, but you can use your favorite brand, good quality bought mayonnaise. You can then refine it with two kinds of mustard, lemon zest and lemon juice.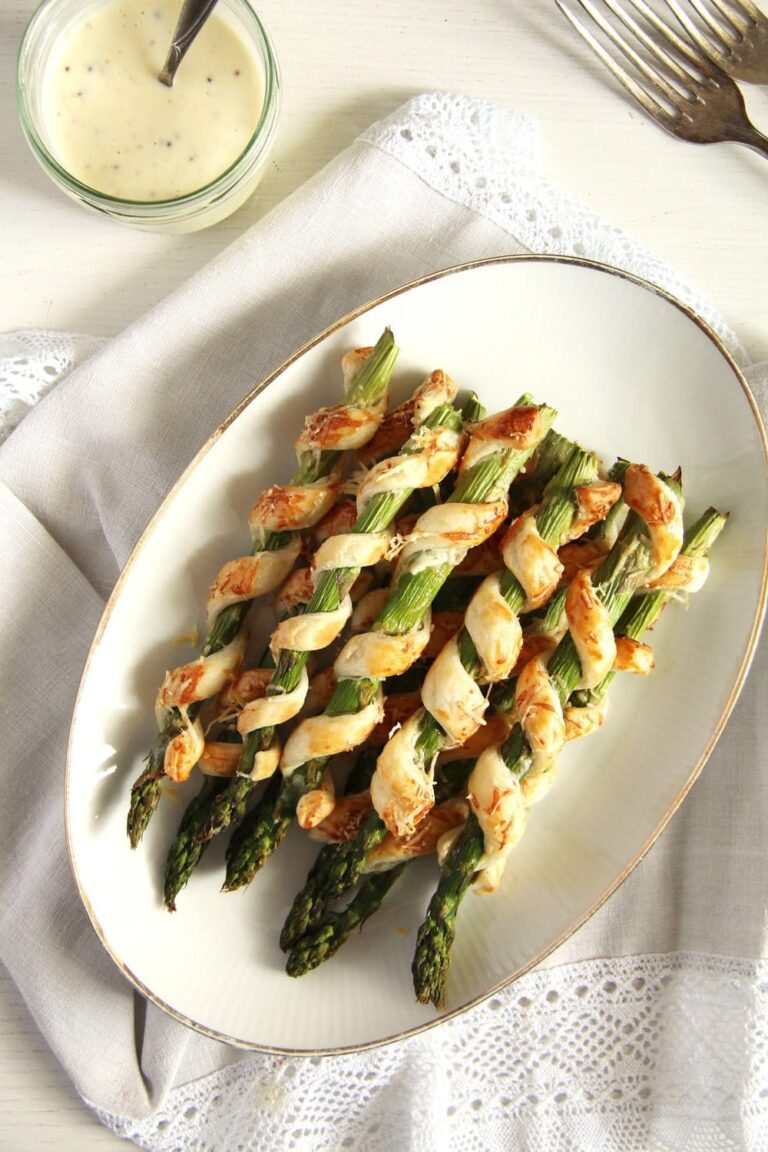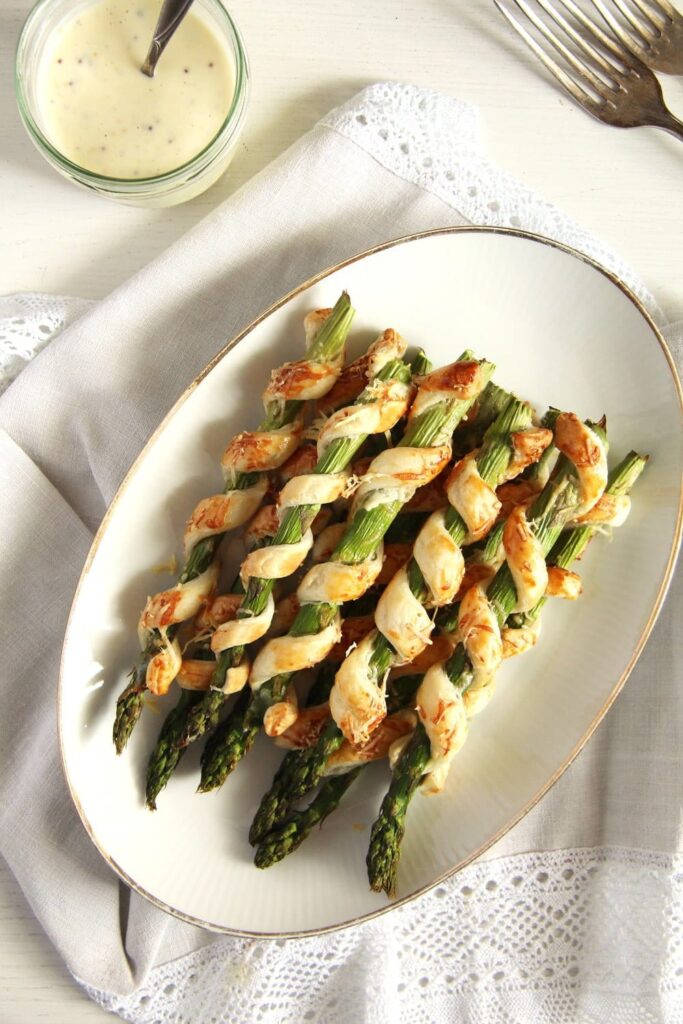 You can use the lemon mayonnaise not only as a dip for these asparagus spirals, but also smear it on the Asparagus Toast I posted on Wednesday or on any kind of other toast. It is also delicious with baked salmon or grilled chicken and I just used the rest last evening to dress a mache and radish salad – it was great!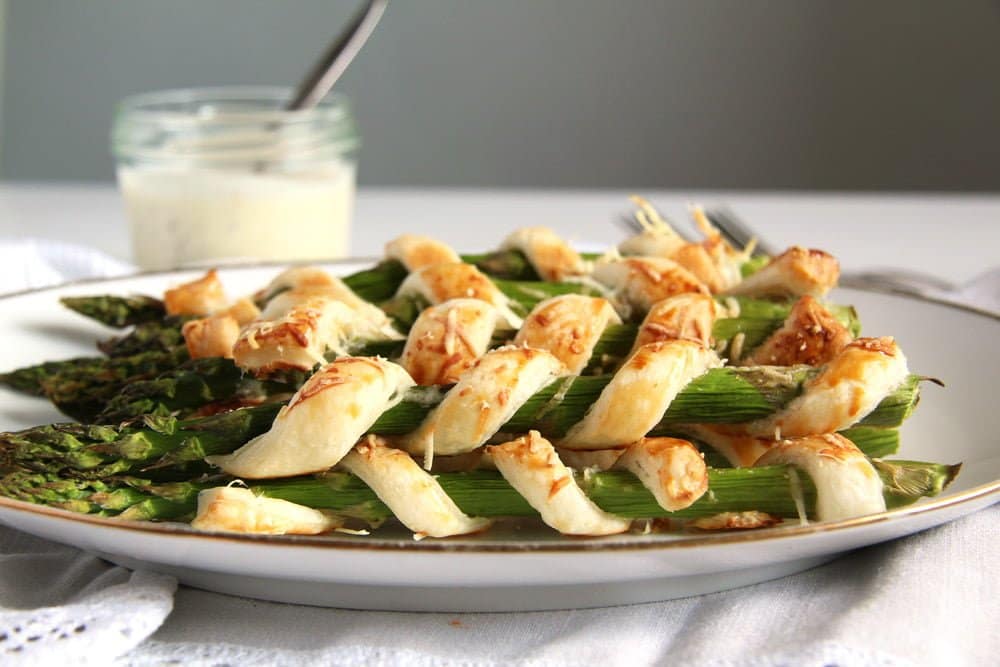 Prep time:
Cook time:
Total time:
Ingredients
For the asparagus spirals:
300 g/ 10.5 oz puff pastry
50 g/ 1.7 oz cream cheese
20 asparagus spears
1 egg
2-3 tablespoon freshly grated Parmesan
For the mayonnaise:
2 egg yolks
1 teaspoon medium mustard
1 tablespoon runny honey
250 ml/ about 1 cup vegetable oil
1 tablespoon grainy mustard
1 small organic lemon
3 tablespoons yogurt
1 teaspoon white wine vinegar
salt and pepper
Instructions
Preheat the oven to 200 degrees Celsius/ 400 degrees Fahrenheit.
Clean and dry the asparagus and remove the lower part.
Place the puff pastry on the working surface (the German one doesn't need to be rolled, it comes in already rolled sheets). Cut it into 15 x 25 cm/ 6 x 10 inch pieces. Use the remaining pastry to make something else.
Spread the cream cheese on top of the pastry evenly. Using a sharp knife, cut the pastry into 20 long, thin strips. Wrap one strip around each asparagus spear and place them on a baking tray lined with baking paper.
Beat the egg lightly and brush the pastry with it. Sprinkle with Parmesan and bake for 15-20 minutes until the pastry is golden brown.
In the meantime make the mayonnaise.
Place the egg yolks and medium mustard and honey in a small bowl. Mix well together. Start pouring the oil in a very thin stream while stirring continuously. I use a wooden spoon to make mayonnaise by hand. Very, very slowly keep adding all the oil, while stirring until the mayonnaise emulsifies.
You can make the mayonnaise in the food processor as well, I use my Thermomix for this purpose most of the times.
Add the lemon zest, lemon juice, grainy mustard, yogurt and vinegar to the mayonnaise. Stir to incorporate and adjust the taste with salt, pepper and a little bit more honey or vinegar, according to your taste.
Serve immediately with the warm asparagus spirals. The left over mayonnaise will keep in the fridge for about 2 days, make sure to find other ways to use it, it is so delicious.
Others you might like: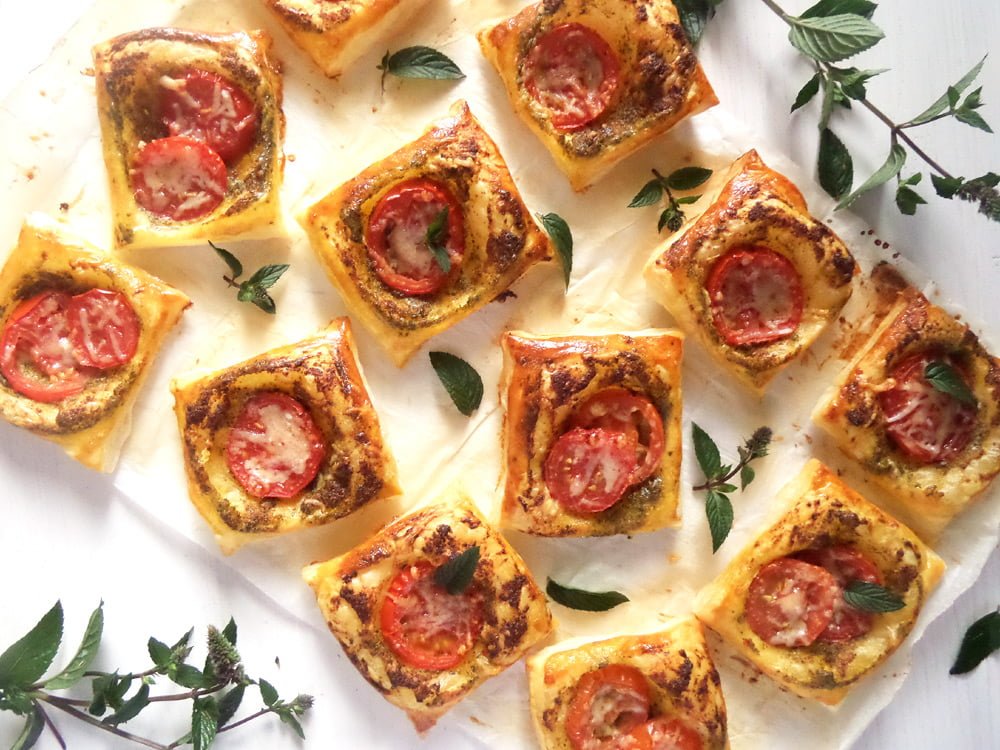 Puff Pastry and Mint Pesto Nibbles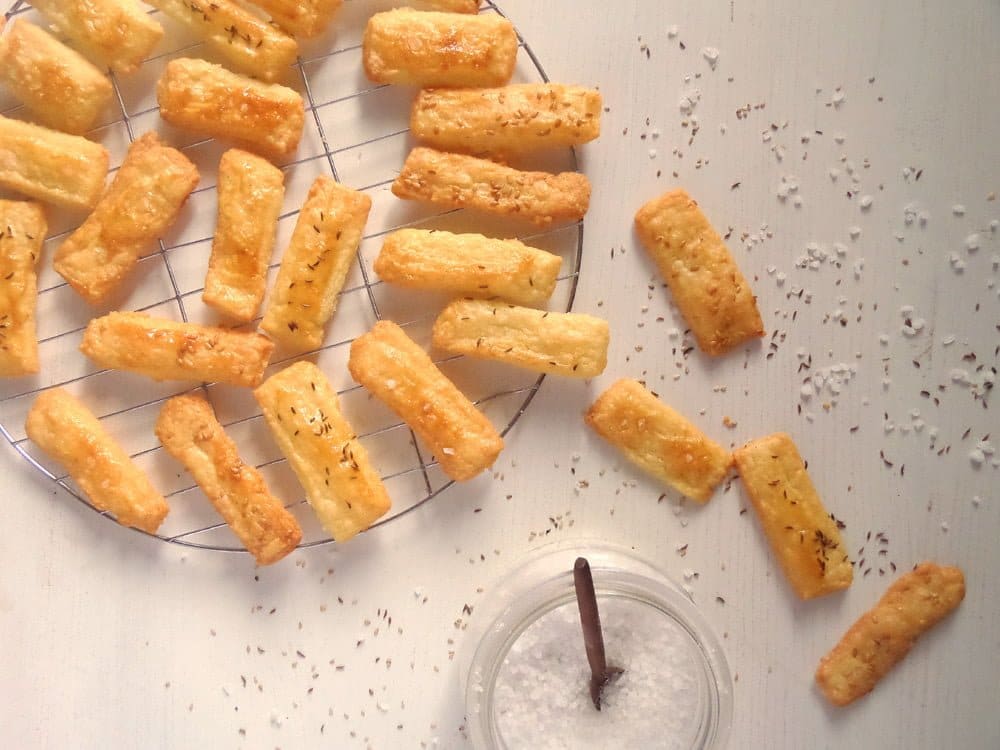 Cheese Caraway Crackers
Albanian Spinach Rolls