Bacon-wrapped asparagus bundles baked in the oven, a quick and delightful side or light main dish.
Only two main ingredients, good olive oil and freshly ground black pepper, 10 minutes preparations, and about 12 minutes cooking time. That's it! Yet the result is a most satisfying and delicious asparagus dish, suitable as an appetizer, light dinner or side dish.
I try to make the most of the asparagus season every year. I do have my classics, for instance, this light Asparagus Chicken Noodles Soup or the Sauteed Asparagus with Garlic, but every year I try new ways of cooking it as well.
New this spring was the Salad with Hard-Boiled Eggs and Ham and these amazing bacon-wrapped asparagus bundles.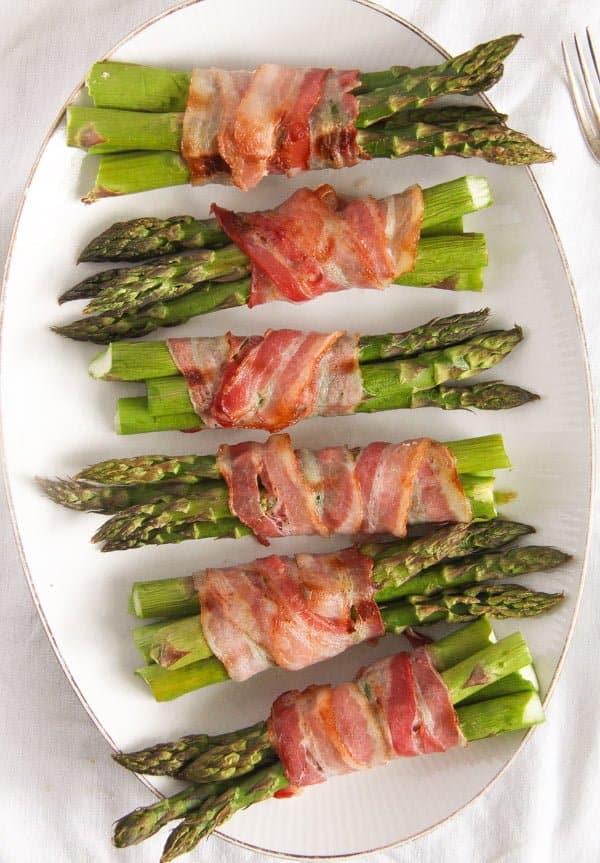 I've actually seen this recipe before, but I was never much attracted to it because I had in mind some pretty bah ham bundles that are served by party caterers here in Germany. No matter what wedding/ christening/ birthday party you attend (a larger event), you can be sure to find those ham and asparagus bundles on the buffet.
I've tried them once and trust me, I will never try them again... Soggy, canned vegetables, wrapped in pale, cheap, pressed ham, it is the very last thing you want to eat... So, when seeing these bundles I imagined them to be something similar. But how wrong I was!! They have absolutely nothing in common with those party appetizers.
The asparagus remains firm and crunchy and the bacon imparts it unbelievable flavor, a real delight!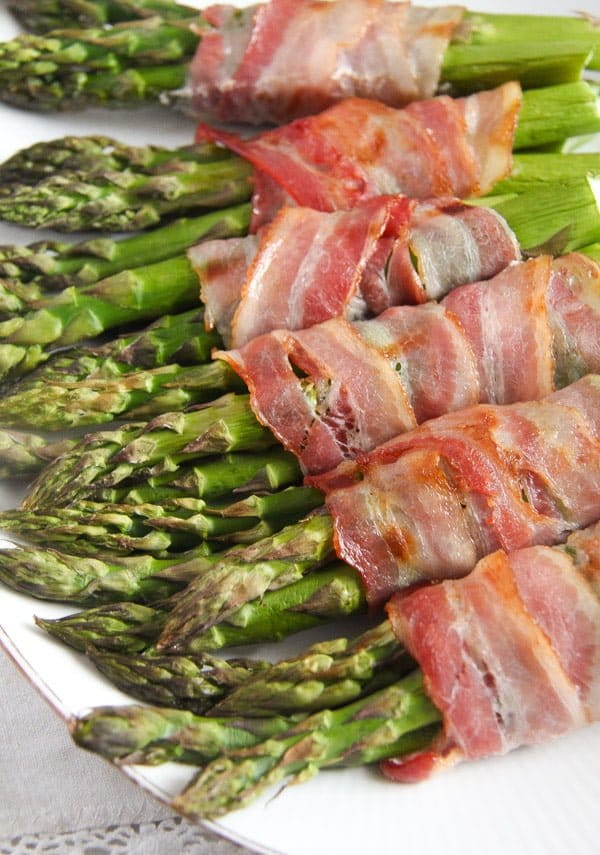 Ingredients
Green asparagus: I bought two bundles for this recipe, each weighing about 450 g/ 1 lb. The spears were a little thicker than usual, so I preferred to wrap only 4 spears into each bundle. However, if your spears are thin, as they often are, feel free to wrap some more of them into each bundle.
Bacon: the one we usually get in Germany is cut into extremely thin and rather narrow slices. I had two packets of it, each containing 8 slices. I needed two (sometimes three) thin slices for each bundle.
I remember the bacon I used to buy when living in the UK, it was definitely thicker and double as wide as the German bacon, in this case, one slice of bacon per bundle should be enough.
Otherwise, you will only need a little bit of olive oil, not too much, about 2-3 teaspoons, only enough to very lightly coat the spears with it.
And some black pepper.
I didn't find it necessary to add any salt, I think the bacon was salty enough and gave the vegetables exactly the right amount of saltiness they needed.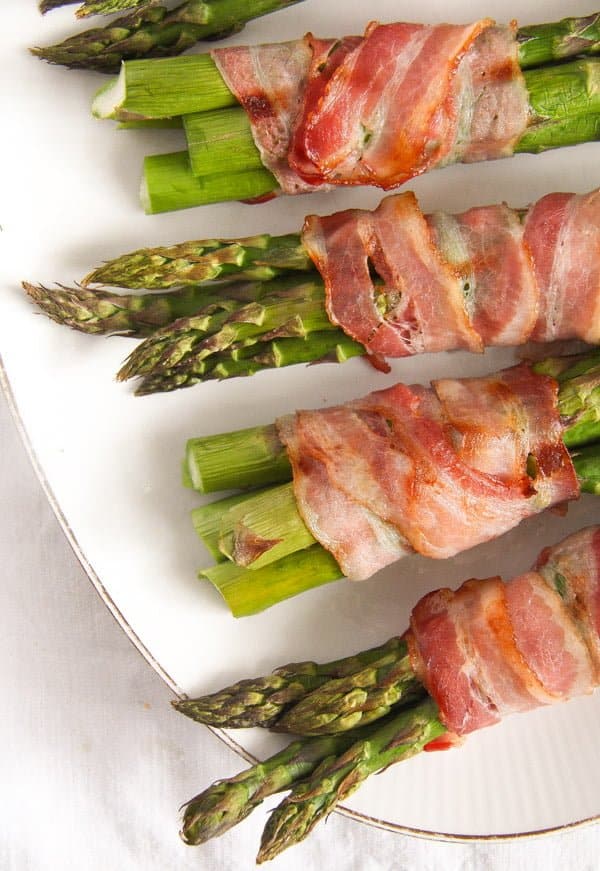 How to make the bundles?
Remove the tougher ends from the stalks. Don't throw those ends away though, you can use them to make a wonderful and delicate asparagus stock, which can be used for soups, vegetable stews, or risotto.
Coat the stalks lightly with olive oil, the best way to do this is with your hands. Pour the oil on your palm and rub the stalks all over.
Make sure you preheat the oven and only bake the bacon asparagus bundles for about 12-14 minutes.
My spears were on the thicker side and needed about 14 minutes, if yours are thinner, check after 10 or 11 minutes already, the stalks should definitely still have a bite.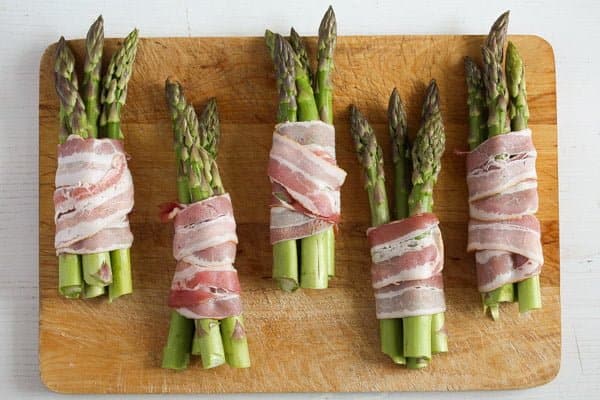 How to serve?
I love these bundles with polenta and cheese.  A rather unorthodox combination, but so good! You might not otherwise think of eating asparagus with polenta, but if you like polenta, then I can totally recommend this combination.
Otherwise, you can serve the bacon-wrapped asparagus with boiled or roasted potatoes or with crispy white bread and a salad. A perfectly simple and delicious meal!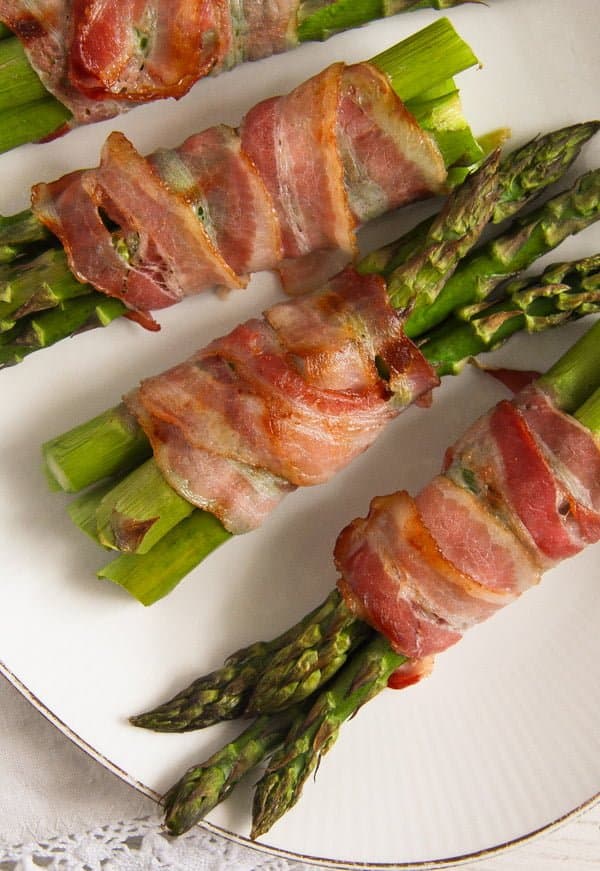 More asparagus recipes:
Puff Pastry Asparagus with Mayonnaise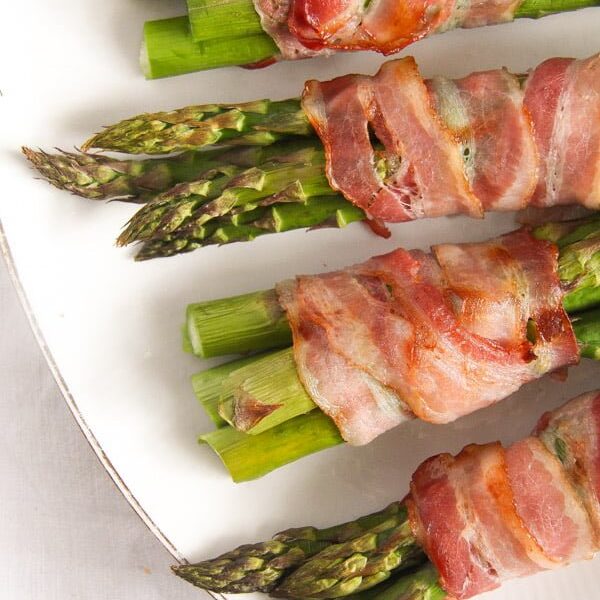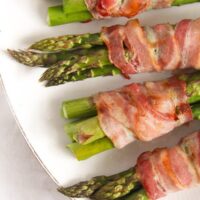 Bacon-Wrapped Asparagus
Bacon-wrapped asparagus bundles baked in the oven, a quick and delightful asparagus dish.
Print
Pin
Share
Grow
Saved!
Rate
Ingredients
1

kg/ 2.2 lbs green asparagus

2-3

teaspoons

olive oil

4-8

bacon slices depending on size

See note

freshly ground black pepper
Instructions
Preheat the oven to 200 degrees Celsius/ 400 degrees Fahrenheit. Line a baking tray with baking paper.

Clean the asparagus. Dry the spears and remove the tougher woody ends. Lightly coat the asparagus spears with olive oil. Form the bundles by wrapping about 4-6 asparagus spears (depending on their thickness) in one or two bacon slices (depending on their size as well). Place the asparagus bundles on the prepared baking tray and sprinkle with some freshly ground black pepper.

Roast in the oven for about 12 minutes. If the asparagus spears are very thin, start checking after 10 minutes or so, if the asparagus spears are thicker, they might need about one or two extra minutes. Check by piercing with a fork, they should be softer, but still have a bite. Serve immediately.
Notes
German bacon is very thin and narrow, so I used 2 slices for each bundle. If your bacon is wider, one slice should be enough.
Nutrition
Serving:
1
/4 of the dish
|
Calories:
167
kcal
|
Carbohydrates:
11
g
|
Protein:
12
g
|
Fat:
10
g
|
Saturated Fat:
3
g
|
Polyunsaturated Fat:
7
g
|
Cholesterol:
17
mg
|
Sodium:
326
mg
|
Fiber:
5
g
|
Sugar:
3
g