I made these little things for the first time two years ago for my birthday. Several friends and neighbors were here and got to taste them and since then I must have made them at least 10 times to bring to other gatherings, organized by people who had the puff pastry nibbles at my house for the first time.
Their size makes them perfect for snacking without needing a plate or having to sit down at the table, they are unusual enough for people to get an interest into but not exotic enough to be left aside by people unwilling to try anything they have never had before (there are so many of these people in the world, it never stops to amaze me, I would try just about anything :)) and their taste and texture are just wonderful. The flaky, buttery puff pastry is topped with an extremely aromatic mint pesto, a slice of a juicy, sweet tomato and extra Parmesan or pecorino. You will love these!!!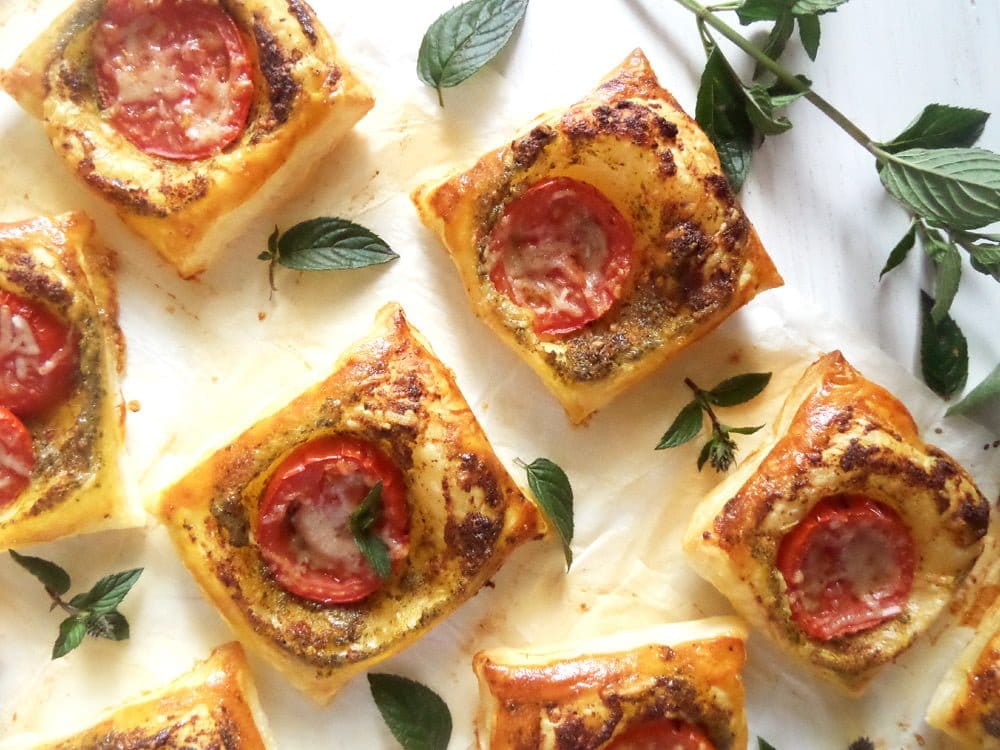 The first few times I made these thingies, I used a normal basil pesto and they were just wonderful. But then, last summer, I discovered this mint pesto. I was never a fan of mint (except in tea), I was not sure I really wanted a pesto which tasted of mint. But the mint in my herb garden has been growing like mad during the last years (even now at the end of October and after cutting it twice already this year, I still have a huge bush), so I thought, I might try to use it in some other way as well.
And I can definitely say that this pesto totally changed my attitude towards mint. It is so good, we eat it not only the traditional way with pasta, but I even smear it on bread and use it as a flavoring agent for several other dishes, like soups, salad dressings, vegetable stews, polenta, bread etc. I have several sorts of pesto in my freezer now, but this mint pesto is really my absolute favorite.
The quantities I gave you for the pesto will make more than you need for the nibbles. Place the pesto into small jars, about 3 or 4 depending on size. Freeze the jars and defrost as needed.
I don't give you any quantities for the puff pastry nibbles, just make as much as you wish. Instead of the mint pesto, you can use any kind of other pesto you want, in spring you could try making this pesto, it is delicious as well.