These Coca Cola glazed sausages or hot dogs make the perfect appetizer for a garden party or a football evening.
I have really managed to surprise everybody with these Coca Cola glazed sausages or salchichas en Coca Cola. Although I have said it from the beginning that these sausages are cooked in Coca Cola, nobody really wanted to believe it, it was just like :"What? Only Coca Cola? And what else?" Nothing else, I kept saying.
Just two ingredients: the sausages and the Coca Cola. Very little working time, all you have to do is cut the sausages into smaller pieces and do a bit of stirring from time to time.
And there you have it: deliciously glazed sausages, hearty yet sweet, totally unhealthy but such a joy to eat! 🙂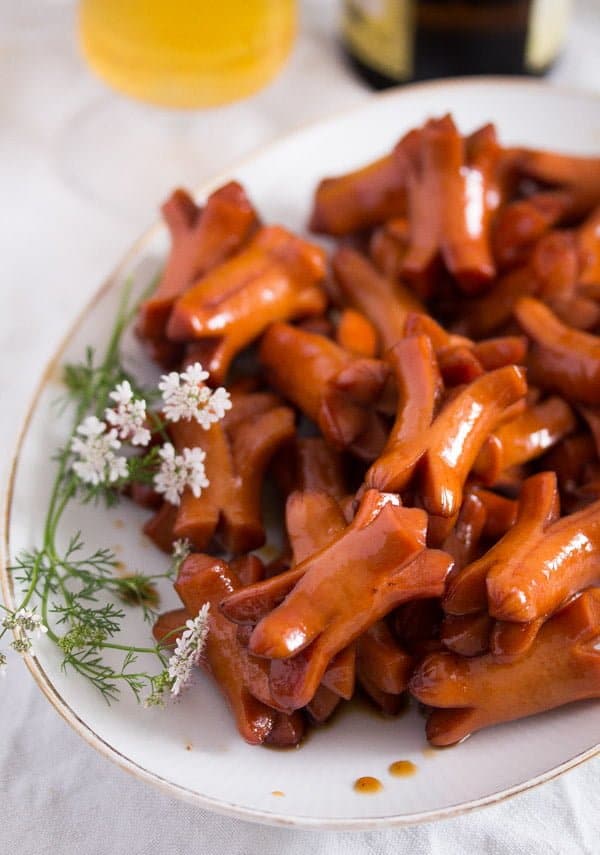 Coca Cola Glazed Sausages – Salchichas en Coca Cola – Colombian Food
This is my Colombian recipe for this FIFA World Cup Food Series on Where Is My Spoon. My first thought was to make something a bit more classic, but then I discovered a similar recipe for this Coca Cola sausages here and I just thought this to be a perfect recipe for a football evening.
I was kind of sorry to see Colombia lose the football game last night, I was happy for England too, they finally managed to break their 11-meter curse, but then, seeing that young football player (who actually was not able to play due to injury) from Colombia crying after the match was lost, really put me on Colombia's side again. No idea who that player was, I am not much into football, but the sight was moving, especially since I thought he has such pretty big brown eyes, just like my son…
And if you are interested in some more of my football evening food recipes, have a look at these Baked Albanian Spinach Rolls with Feta, these Baked Bread Rolls Topped with Ham and Cheese or these Puff Pastry Nibbles with Homemade Mint Pistachio Pesto.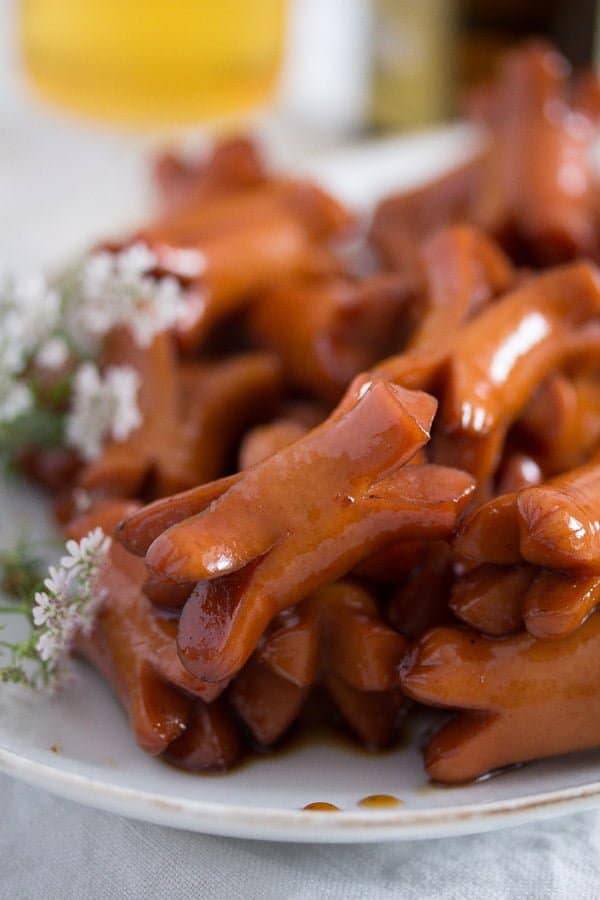 How to make the Coca Cola Glazed Sausages – Salchichas en Coca Cola
As mentioned above, you only need two ingredients to make these sausages in Coca Cola.
First of all, the Coca Cola or any other coca cola similar soft drink, I don't think that matters that much. (And by the way, this is not a sponsored post).
Then the sausages or hot dogs. I use Vienna or Frankfurter sausages, the ones found in the refrigerator section of the supermarket or freshly bought at the butcher's.
The butcher's kind are, of course, the best quality and they always taste better than already packed sausages, but for this recipe, you can go with the cheaper version of the sausages. The Coca Cola glaze is quite strong in taste, so you will not actually be able to notice any difference of taste between the expensive butcher's sausages and the supermarket version.
BUT, whatever you do, do not buy the canned or jarred sausages, they are terrible, if you ask me. Not only they don't taste anything like a good Vienna or Frankfurter should taste, but they also have a soft (and rather disgusting) consistency, that will ruin this simple dish.
The sausages I use are thin, the thicker sorts are not that appropriate for the recipe. Cut the sausages in 3 equal pieces, about 4 cm/ 1.5 inches long and cut a cross at both ends of each sausage piece.
Give the Coca Cola to a large saucepan and bring to a boil. Let cook for a while until reduced and quite thickened. Give the sausages to the pot and continue cooking, stirring often, until the liquid thickens well and the sausages are perfectly glazed.
Vienna or Wiener Sausages, Frankfurters or hot dogs
What should you use for this recipe? Well, more or less whatever you like. These varieties of sausages are pretty similar, so you cannot really go wrong here. Buy something you like, just don't buy the canned sausages.
They are all thin parboiled sausages made of pork and beef, either pure pork or a mixture of both and they are smoked at low temperature. They don't need to be cooked before eating, heating them is enough. Good Wiener or Frankfurters should snap when you bite or break them, that makes a good sausage!
I love this kind of sausages, either Wiener or Frankfurter, they have something so comforting, they are a taste of my childhood, I could never say no to one. We had and still have our own version of the Wiener while growing up in Romania – crenvusti, so I always relate them to my early childhood.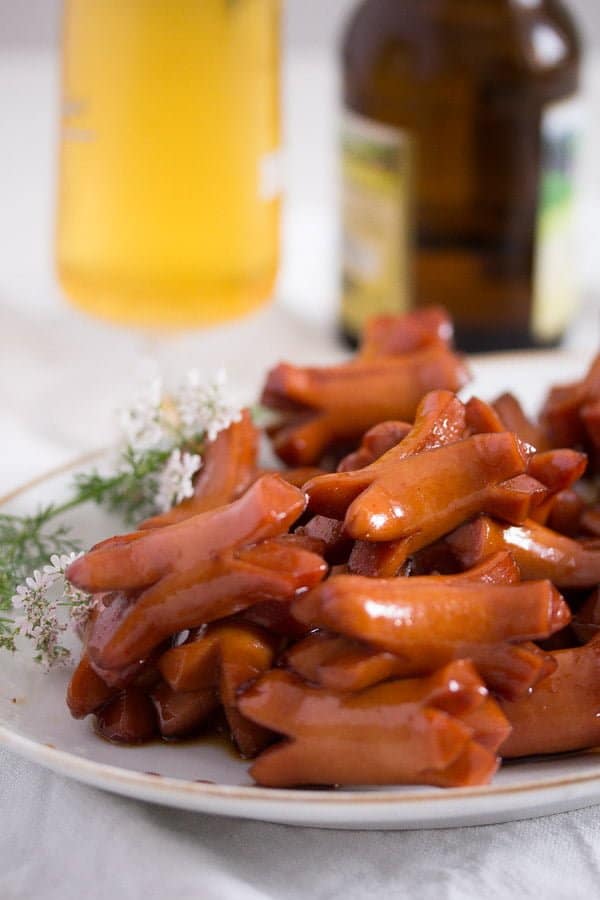 I remember my grandmother buying them for me (she wouldn't touch them – another one of her food related phobias), but she knew I liked them, so she did get them from time to time. Not too often, but that was also something that made them special. And she would force me to peel them, she said that it is unthinkable that somebody would eat that skin.
I did peel them at first, but after once being able to freely bite into a hot sausage and hearing that cracking sound it made and tasting the sausage in his wholeness, I just refused to ever peel them again. So, from that moment on, my grandmother bought the crenvusti even less often than she used to, and when she did, she kept looking at me with a disgusted look on her face until I was finished eating.
Sometimes I think I am so much into food and different food from all over the world and that I would try just about anything, just to spite my grandmother… 🙂 🙂
Ingredients
500 ml/ 17 fl.oz/ 2 cups Coca Cola or similar drink
10 Vienna/ Wiener/Frankfurters/hot dogs
Instructions
Give the Coca Cola to a wider saucepan. Bring to a boil and cook until the liquid reduce by half and thickens slightly. This will take about 15 minutes, depending on how wide your pot is.
In the meantime, cut the sausages into 3 equal parts about 4 cm/ 1.5 inches long and cut a cross at both ends of each sausage piece.
Give the sausage pieces to the saucepan, stir well and continue cooking, stirring often, until the liquid thickens well and the sausages are nicely coated with the glaze. This should take about 5 – 10 minutes, but leave them longer, if the cola is not thickened yet.
[nutrition-label id=10007]