Spicy peri peri dip with green onions and cream cheese, a delicious cold dip to serve with crackers. A must-be for every party!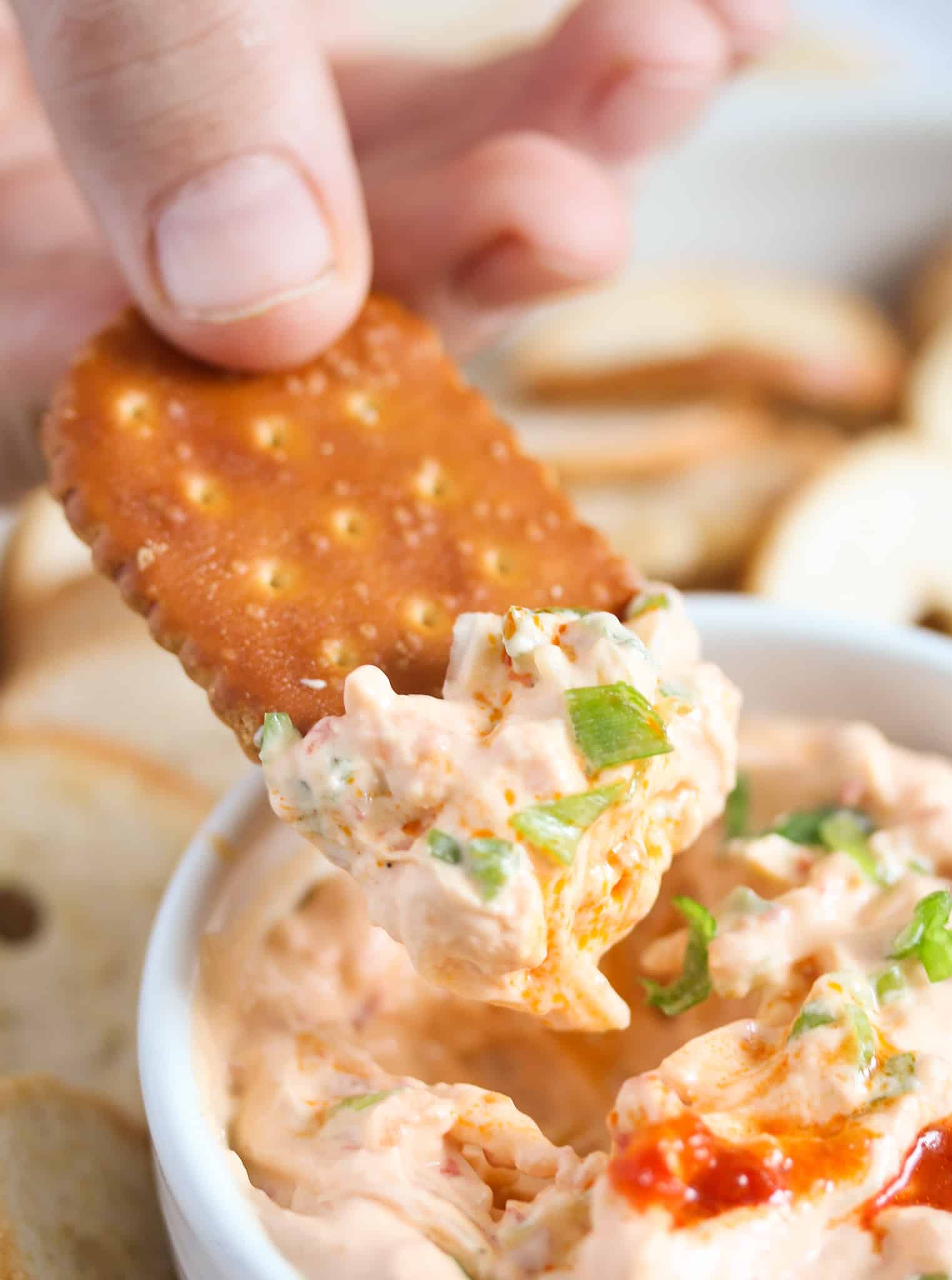 We have cold dip very often; there is always one cream cheese or sour cream dip or another in the fridge. Like our favorite Obatzda, a super simple recipe with Camembert and green onions. Today's peri peri dip is another version of a green onion and cheese dip using a hot sauce to spice things up. And check out this super-hot Peri Peri Seasoning.
Why make a peri peri dip or any other cold dip?
Super tasty!
Easy to make and good value. Just a few ingredients, a few minutes of working time, and you're done.
Make ahead: it keeps well for at least 5-6 days, so you can make it ahead, either for everyday snacking or for a party.
Perfect for parties. Fill into small bowls and serve to guests with crackers, potato chips, pretzels, or vegetable sticks. You will get rave reviews.
A good alternative to store-bought bread spreads, which can be delicious but scary, if you take the time to read what's in them. Lots of fat and sugar and many other things, you don't even know what they are.
Also, healthier than deli meats on bread or in sandwiches.
More interesting on bread than just a slice of cheese. Love cheese with a passion, but I don't want it every day.
Great for taking to work or to school. Either in a small bowl with veggies or crackers or in a sandwich. Add a lettuce leaf if you wish to make it look posh, but it's not necessary.
Versatile: if you don't have peri peri sauce, use another chili/pepper sauce. Whatever you happen to have or like.
And should you think this might be too hot for kids, well, apparently, it's not. It's my son's favorite spread; the hotter, the better!
What do you need?
Cream cheese. If using block cheese, it should be softened to room temperature before whipping. If using some from a container, there is no need to let it soften; it is already softer than the block type. Both sorts are perfectly ok for this recipe.
Sour cream: adds a bit of freshness and tang. It can be replaced with thick Greek yogurt.
Green onions (scallions, spring onions): two or three depending on size.
Grated cheese: Gouda or Cheddar, for instance.
Hot sauce
What is peri peri sauce?
Also known as piri piri, it's a traditional African sauce made from Bird's eye chilies. It was made famous by Nando's restaurants, where it is used to make the extremely popular Peri Peri Chicken, Peri Peri Chicken Livers, Nando's Spicy Rice, or Nando's Butterfly Chicken. And many other dishes as well.
You can make it yourself, I do it often, and it's perfect for dipping, for marinating meat, and for adding to dishes to impart flavor and a bit of a punch (recipe coming soon). Or for convenience, you can buy a bottle of peri peri sauce, if available where you live. I always buy a medium-hot one.
You can stir today's recipe with either bought or homemade sauce; both versions are delicious. The sauce is better used to taste; start with one tablespoon and add more according to taste. I normally add about 2-3 tablespoons.
Substitutes?
Use Sriracha, for instance, to taste or any other similar sauce you like. A sweet hot kind is amazing as well, the spread will be sweeter, but you will love it!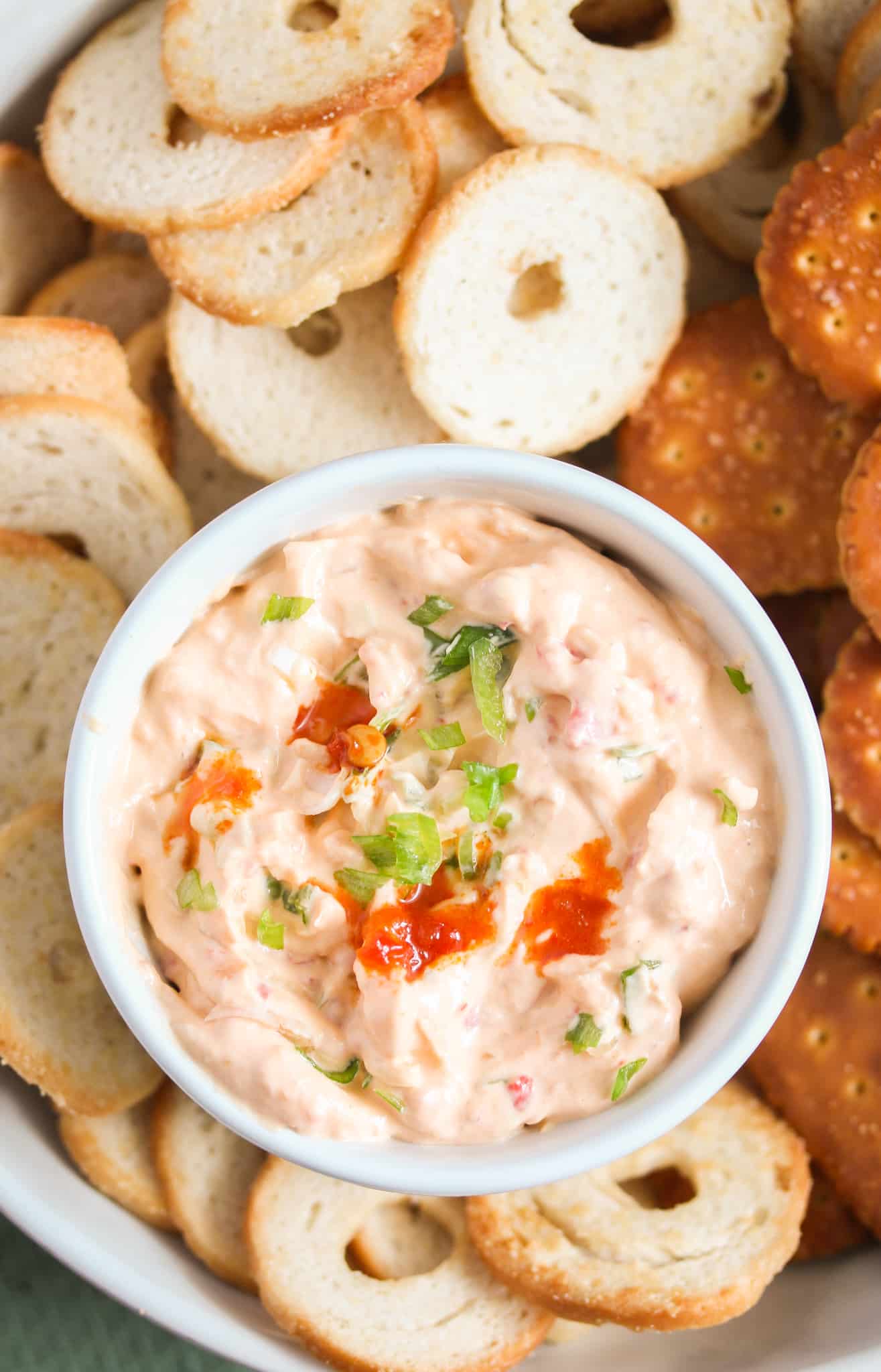 How to make a spicy cold dip?
Chop the green onions finely, and set them aside.
Grate the cheese, and set it aside.
Beat dairy and 1 tablespoon hot sauce with a handheld mixer until fluffy. Taste and add more hot sauce (and salt and pepper if necessary) to taste. (1)
Stir in chopped onions and grated Cheddar or Gouda. (2)
Adjust the taste.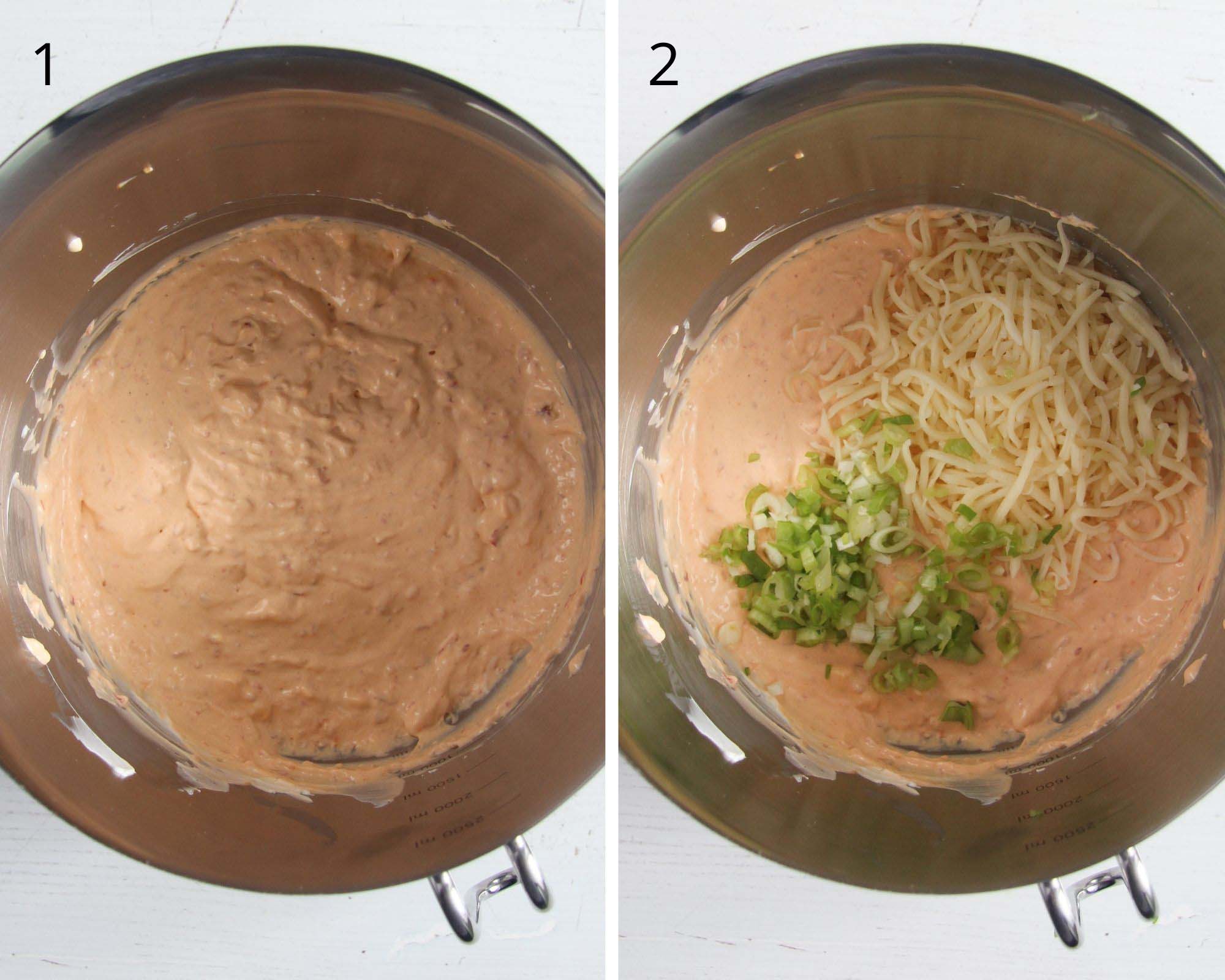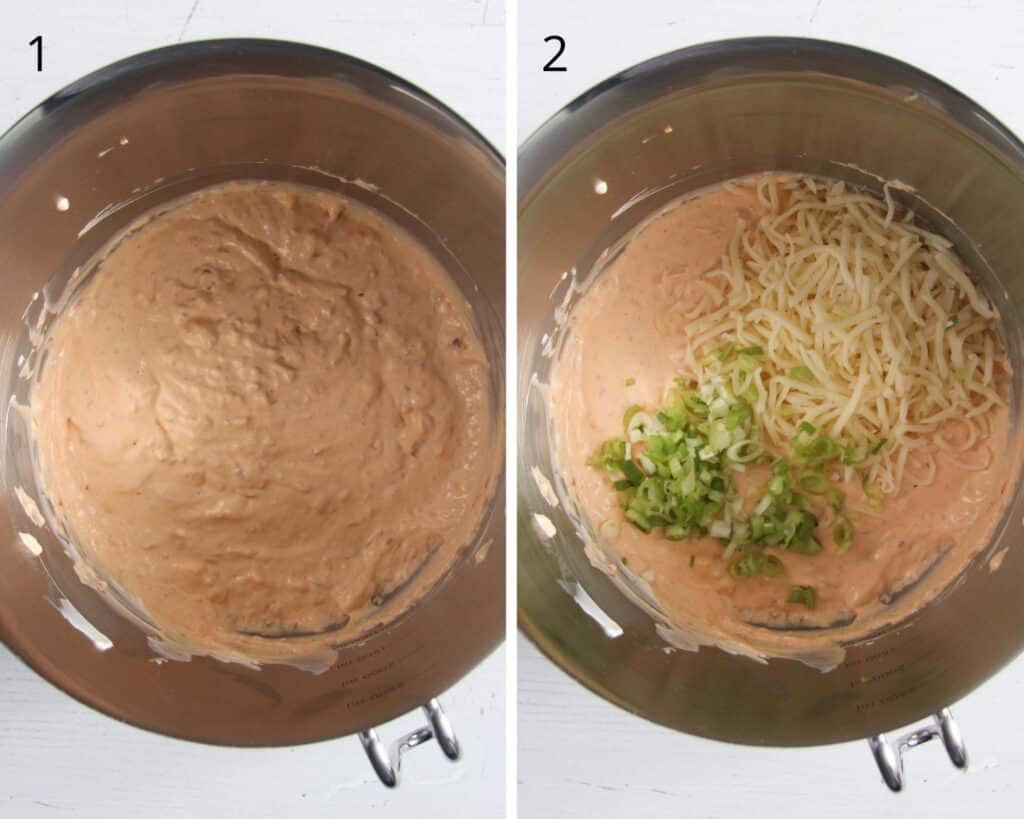 What to serve peri peri dip with?
Vegetable sticks
Crackers
Pretzels
Bagels
On crispbread
Make sandwiches or open-faced sandwiches. Add lettuce leaves, tomato, or cucumber slices.
Stir with cooked, hot pasta; it's delicious!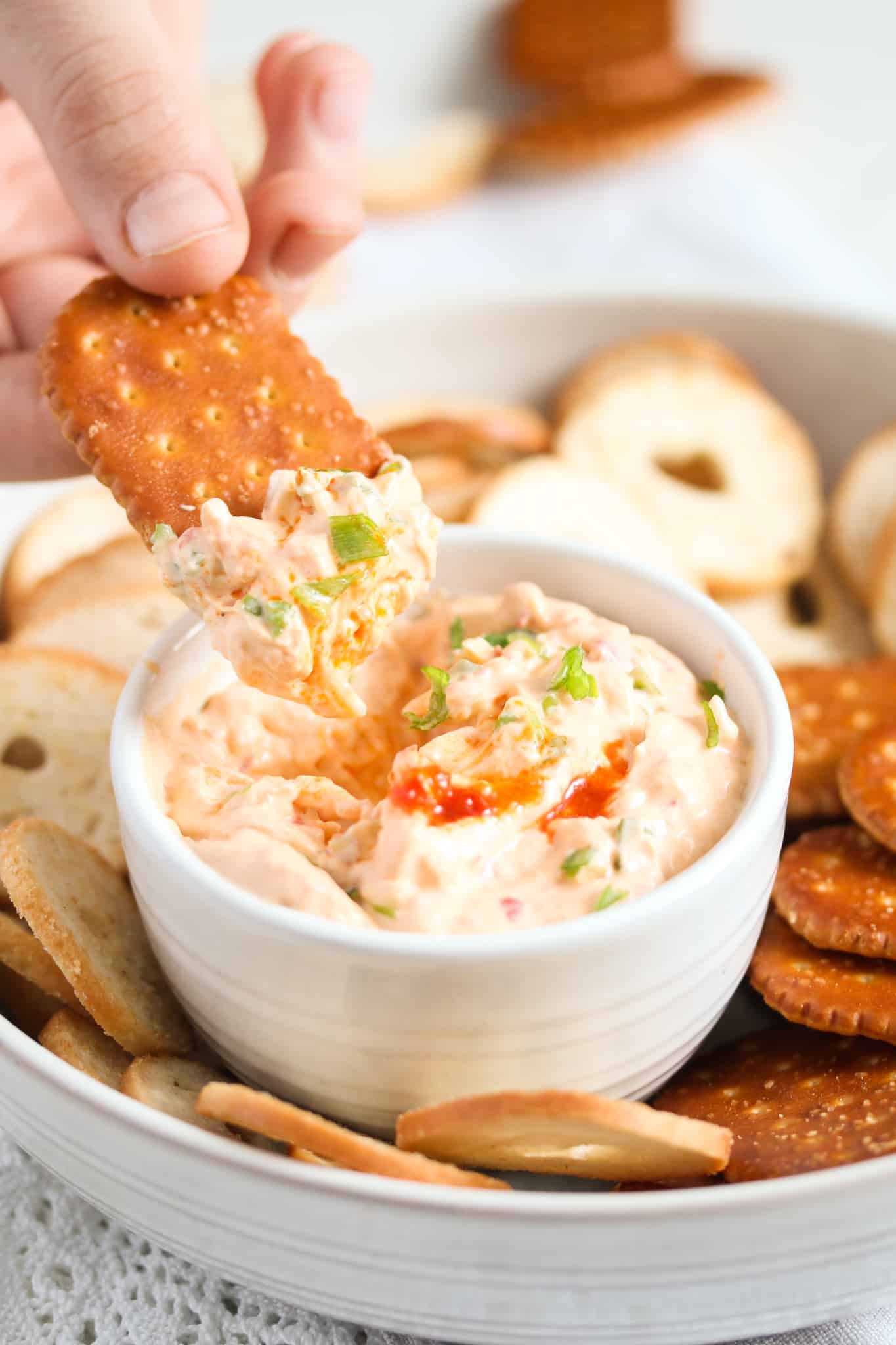 Make ahead and store?
The mixture can be made ahead, and it can be stored in the fridge for at least 5 days. Keep in an airtight container. It is not suitable for freezing.
Tips
Make it low-fat by using low-fat dairy products.
Add fresh herbs like parsley or dill.
Replace green onions with chives.
The recipe can be easily doubled.
Don't skip the whipping step. Stirring the ingredients with a spoon is ok, but whipping makes the cream cheese dip fluffier.
Refrigerate for a while before serving, it allows the flavors to blend and the mixture to set.
More cold cheese dips: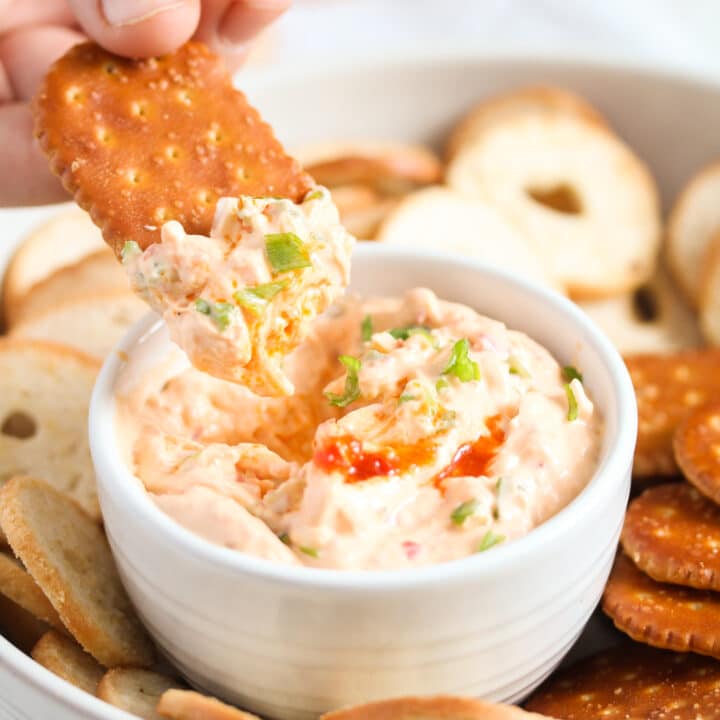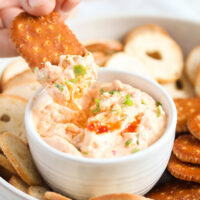 Spicy Peri Peri Dip
Spicy Peri Peri dip with cream cheese, green onions, and grated cheese. This cold chili dip makes a great appetizer and it's delicious served with crackers, pretzels, bagels or vegetable sticks. Make it for your next party!
Print
Pin
Share
Grow
Saved!
Rate
Ingredients
1

cup

cream cheese

250 g/ 9 oz

½

cup

sour cream

125 g/ 4.5 oz

1 to 3

tablespoons

peri peri sauce

Note 1

½

cup

grated cheese

75 g/ 2.5 oz, Note 2

2

green onions

¼

teaspoon

fine sea salt

more to taste

⅛

teaspoon

ground black pepper

to taste
Instructions
Prepare: If using block cream cheese let it come to room temperature and soften slightly. Cheese from a plastic container can be used immediately, it's softer. Finely chop the green onions, set aside. Grate the cheese, set aside.

Fluff: Place cream cheese, sour cream, 1 tablespoon peri peri sauce, salt and pepper in a mixing bowl. Beat with a handheld mixer until fluffy. Taste and add 1-2 extra tablespoons hot sauce to make it the dip as spicy as you like.

Mix: Fold in green onions and grated cheese. Adjust the taste with salt and pepper if necessary.

Refrigerate for 2-3 hours before serving.
Notes
Either from a bottle or homemade. Use to taste, it's quite hot. Start with 1 tablespoon and add more if desired. Other hot sauces can be used instead, amount to taste.
Cheddar, Gouda, or another sort of cheese you like. Not mozzarella though, it's too bland.
Nutrition
Serving:
1
serving
|
Calories:
150
kcal
|
Carbohydrates:
3
g
|
Protein:
4
g
|
Fat:
14
g
|
Saturated Fat:
8
g
|
Polyunsaturated Fat:
4
g
|
Cholesterol:
40
mg
|
Sodium:
242
mg
|
Sugar:
2
g