Nando's spicy rice – quick, one-pot peri peri rice with lots of spices. Easily made at home in about 30 minutes.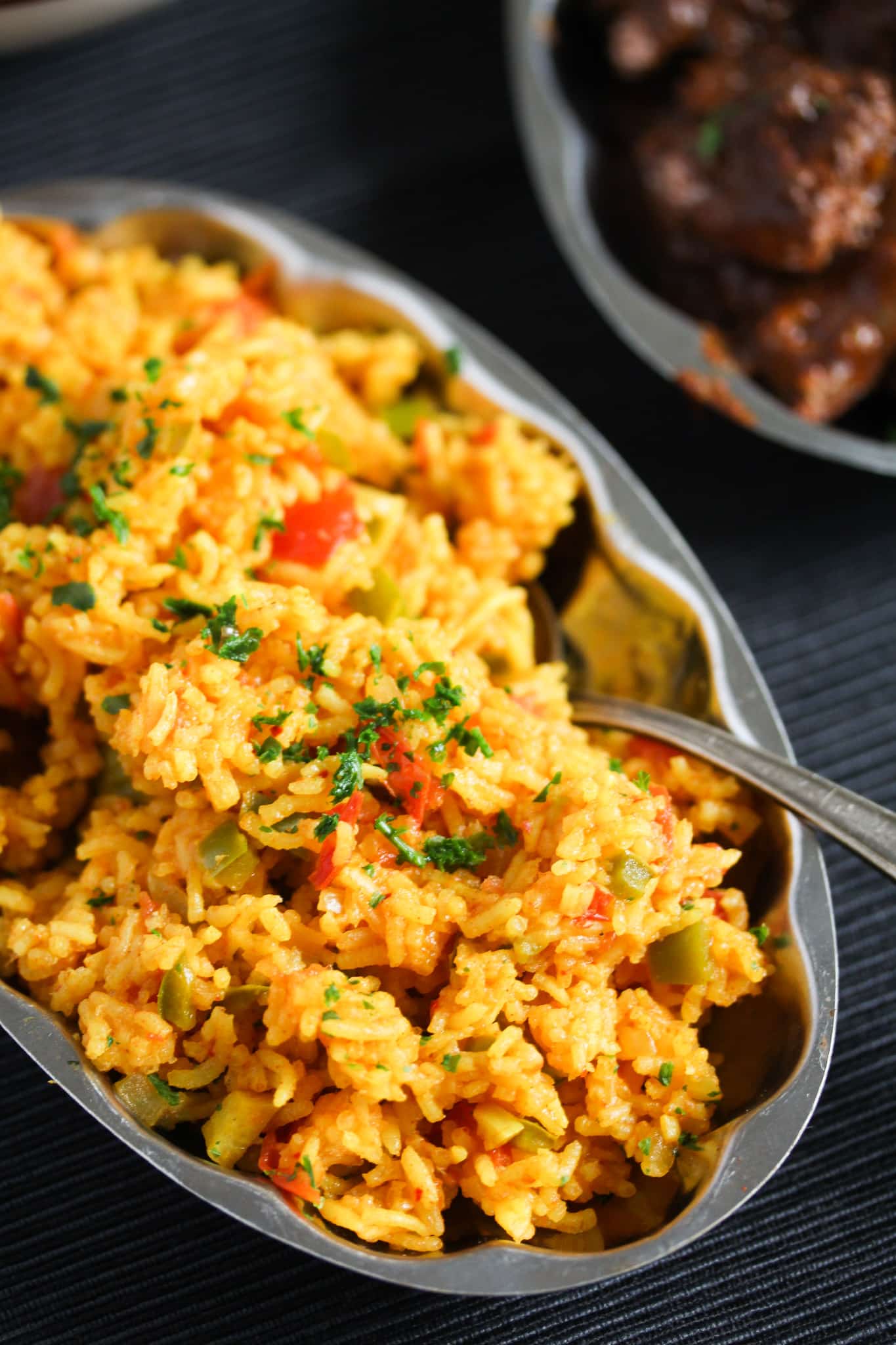 Portuguese-style rice was made famous by Nando's restaurants. Another recipe that tries to recreate some of the restaurant's delicious dishes. Try Nando's Chicken Thighs, Spicy Peri Peri Chicken Livers, or Nando's Butterfly Chicken; they both go perfectly with today's spicy rice. Or make some Spicy Peri Peri Seasoning or a Peri Peri Dip.
What do you need?
Rice:
I love Basmati, but regular long-grain is fine as well. However, Basmati has a very short cooking time – 12-15 minutes – while common sorts might need between 12 and 15 minutes. So make sure to check the packet instructions. Also, taste after 10 minutes of cooking time to see if it needs more time or not.
Vegetables:
Tomatoes: I use fresh most of the time, but canned are fine as well. If using canned, choose whole tomatoes, and only use the tomatoes, not the juice.
You will also need onions, garlic, and one large green pepper.
Spices:
Turmeric, smoked and sweet paprika, red chili flakes, and fine sea salt (or Kosher).
If using table salt, take a bit less initially; you can always add more at the end to suit your taste. Table salt tends to be more potent than sea or Kosher salt, and you don't want to have a too salty dish.
Stock:
I prefer chicken stock, but vegetable stock is fine if you wish to keep the dish vegetarian/vegan. A cube is fine; just make sure that the stock is not too salty. If so, reduce the amount of salt you add to the dish.
You will also need some lemon juice to adjust the taste and fresh chopped parsley or cilantro to sprinkle over Nando's spicy rice.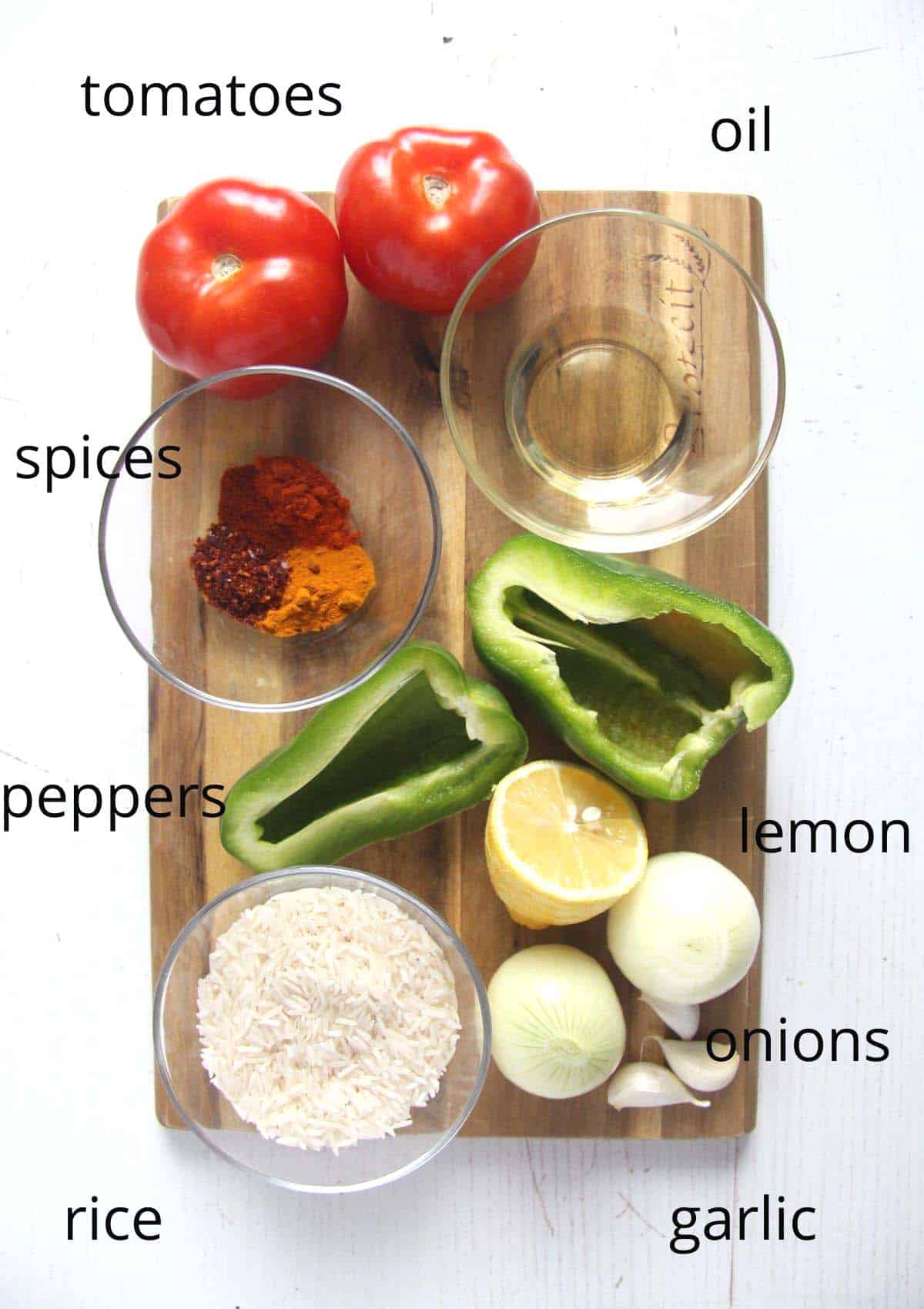 Make peri peri rice with sauce:
Substitute all the spices (except salt) with 2 tablespoons peri peri sauce from a bottle. I usually have medium, and that is quite hot. Add more or less sauce to taste. And if you still have some in the bottle, you could make the Peri Peri Dip as well; you will love it!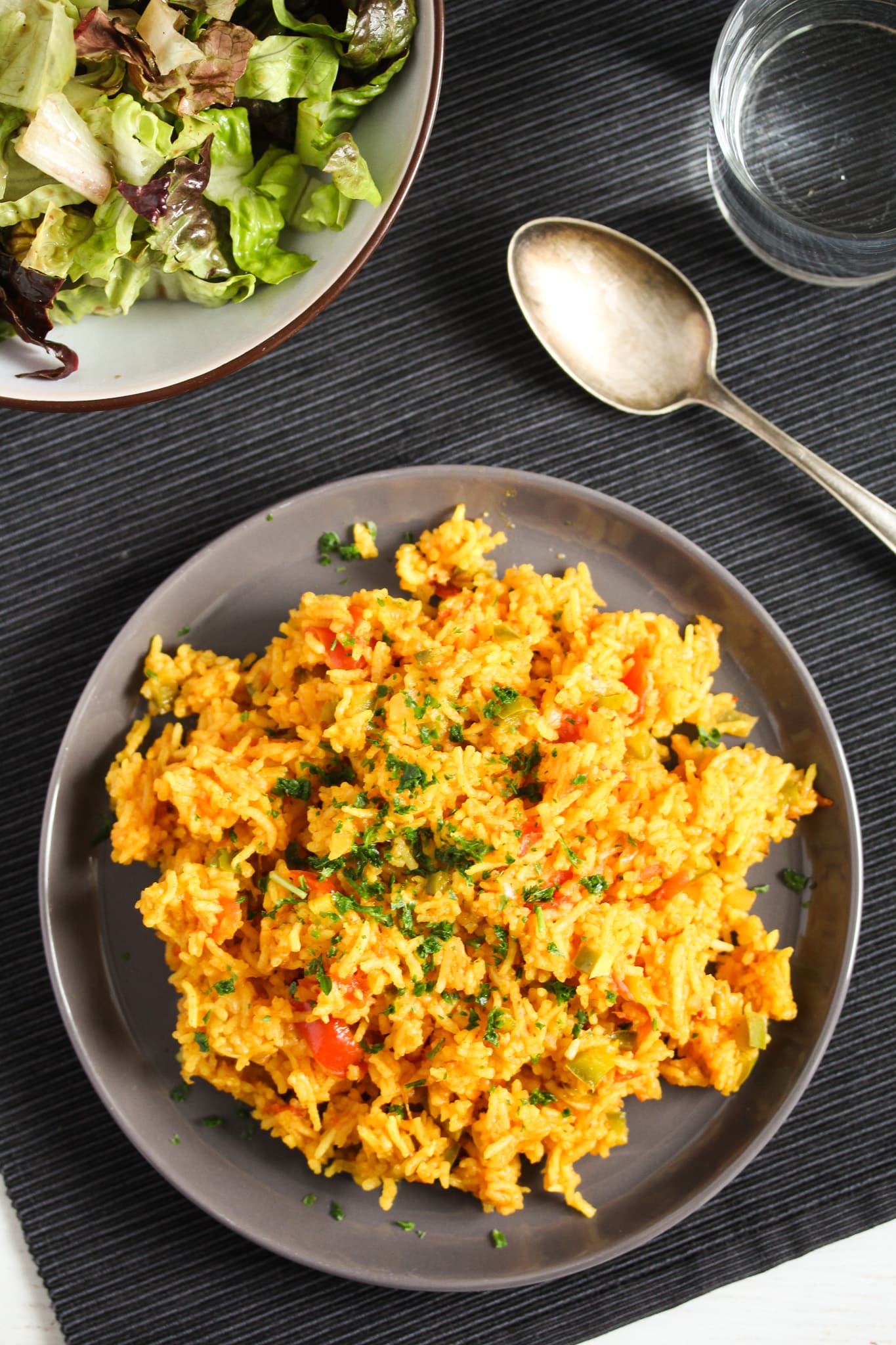 How to make spicy rice in less than 30 minutes?
Wash the grains under cold water until the water runs clear. Leave to drain in the sieve.
Chop onions, and set aside. Chop garlic and pepper; set them aside together.
Heat the oil in a large, heavy pot. I prefer to use a round-shaped, large, shallow Dutch oven.
Add onions and a pinch of salt and cook on medium-low heat for about five minutes until the onions are softer. Stir often, and don't let them take too much color. If they threaten to catch, add a splash of water. (1)
While the onion cooks, dice the tomatoes and set them aside.
Add garlic and peppers, stir well and cook for another three minutes or so, stirring regularly. (2)
Sprinkle spices (except salt) and grains into the pot and stir for 2 minutes. (3)
Add tomatoes, salt, and stock. Stir well, and bring to a boil. (4)
Lower the heat, cover, and simmer for 10 minutes or until the rice is done. It should not be mushy. (5)
Adjust the taste with lemon juice and add more salt if necessary.
Fluff the grains and stir in the chopped herbs.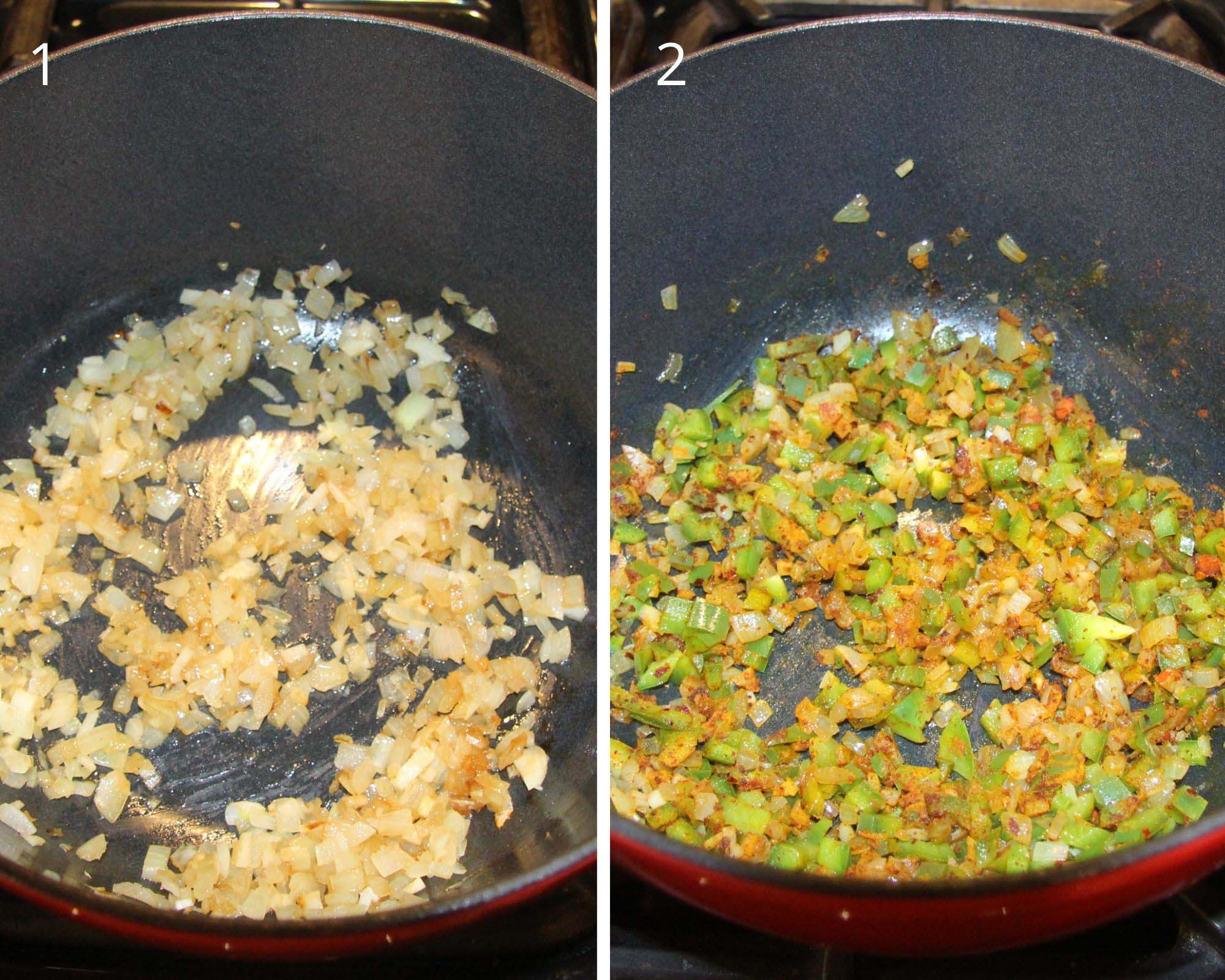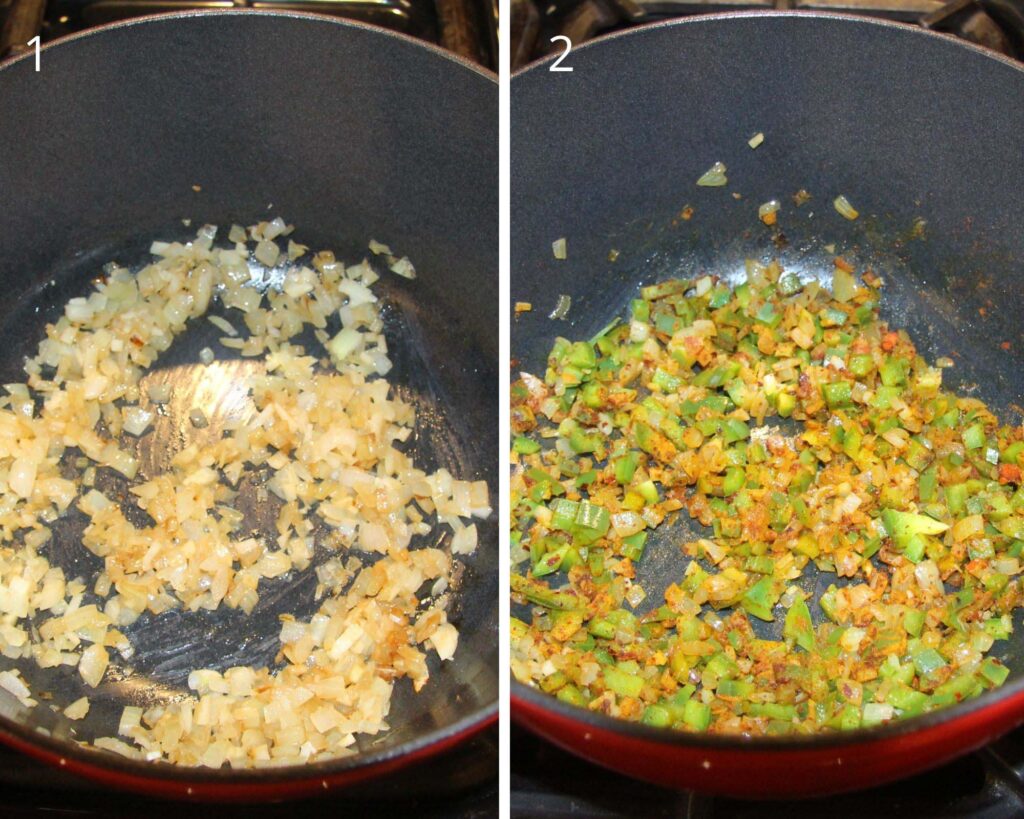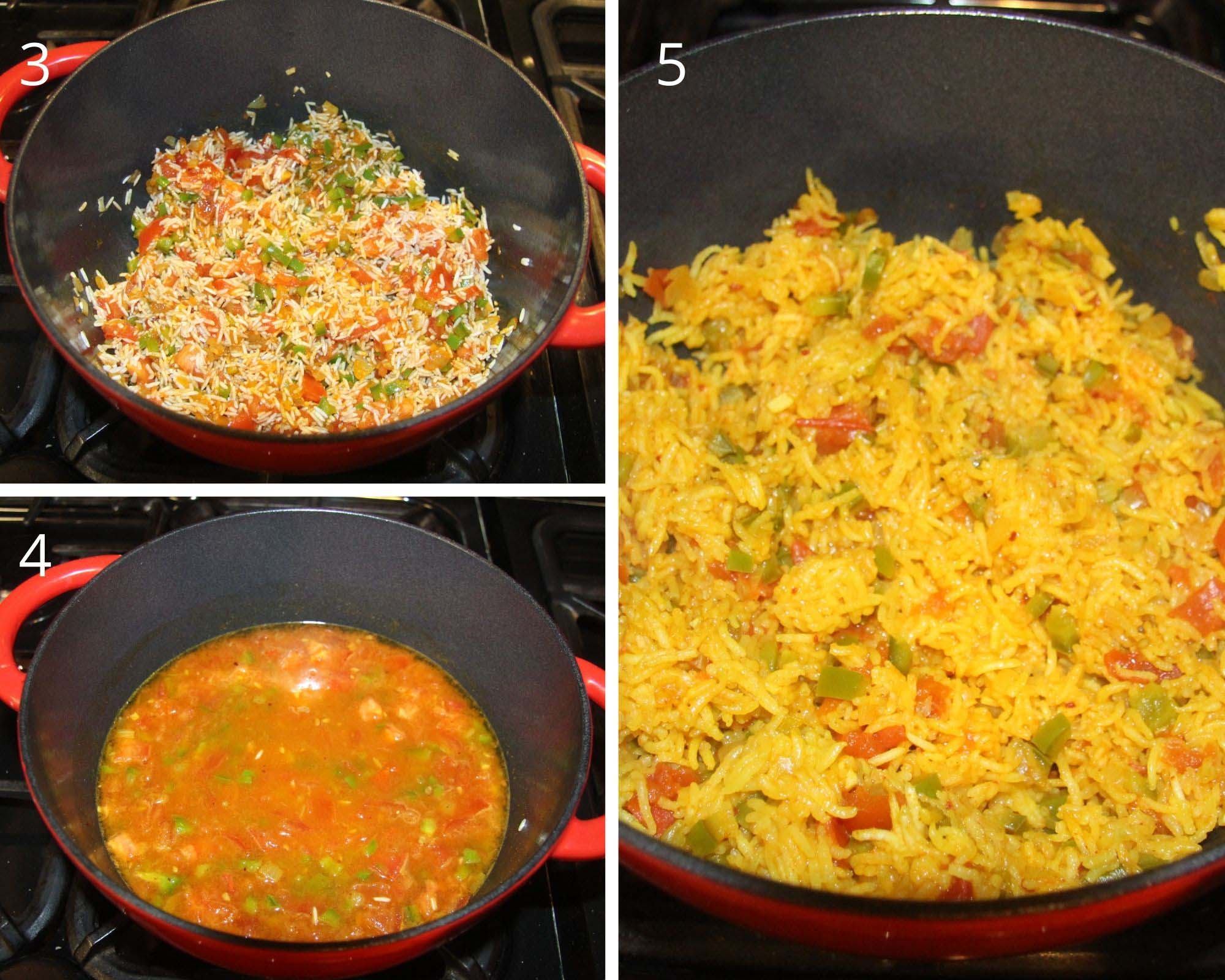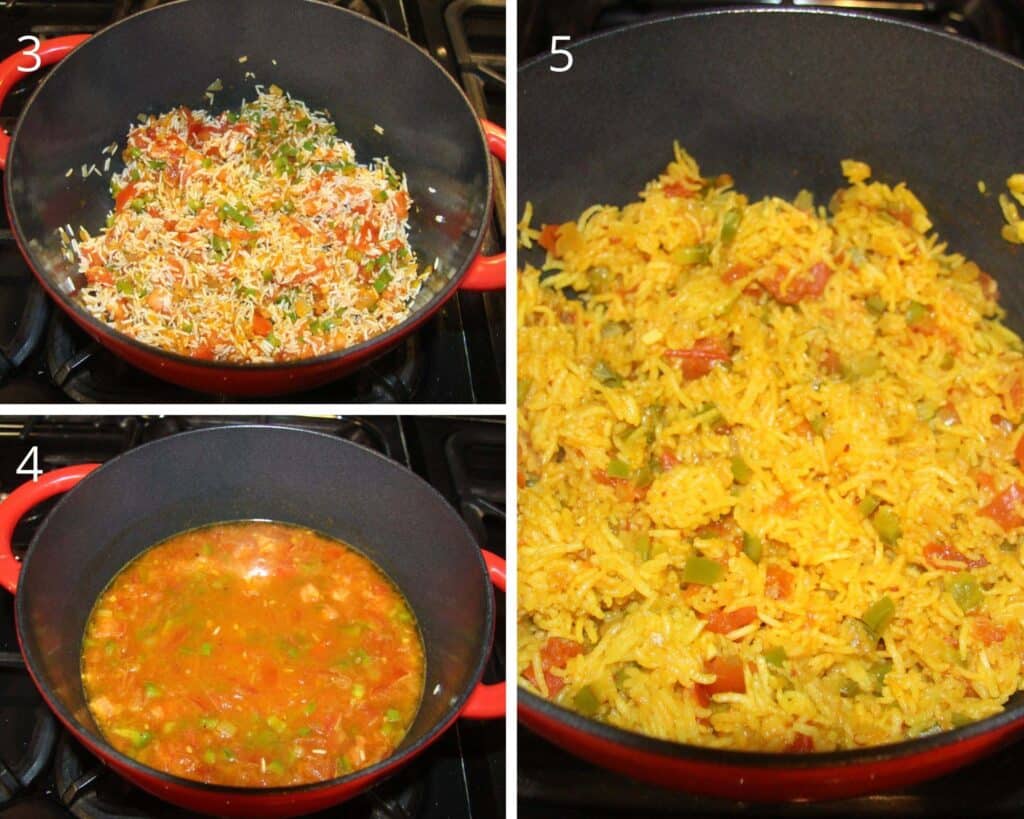 How to serve?
Serve with chicken (the Nando recipes mentioned above are a perfect match). But this side dish is suitable for any other chicken meal. Try it with Roasted Half Chicken, with Cast-Iron Chicken Breast, or with Roasted Chicken Leg Quarters.
For a vegetarian meal, serve with corn on the cob, salad or roasted vegetables, fried eggs, or fried halloumi, for instance; I love both combinations.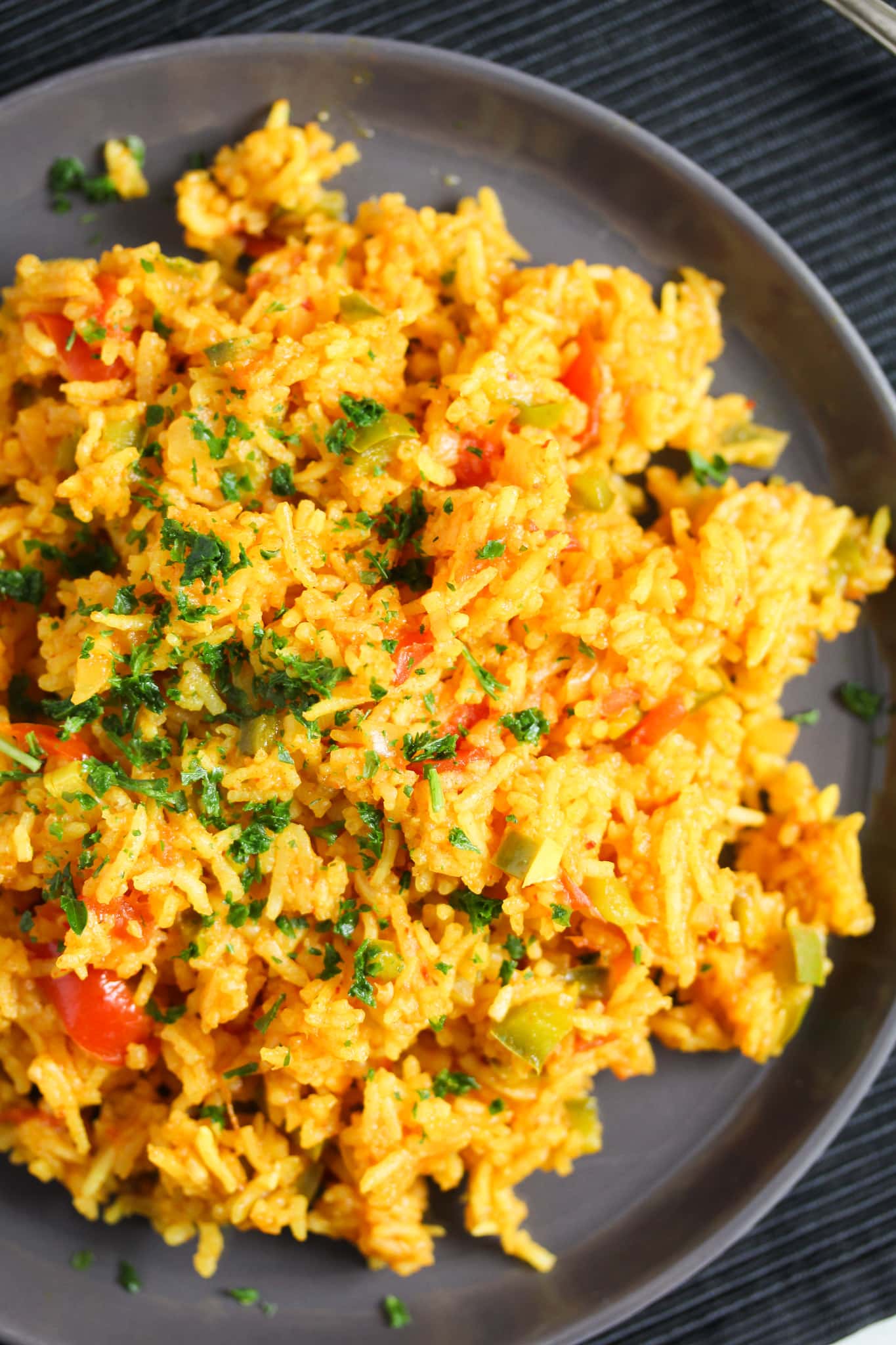 What to do with leftovers?
Nando's spicy rice is best served immediately, but it can be reheated as well. Cool and refrigerate any rice dish within one hour of cooking. It would be best if you did not reheat these grains more than once.
Reheat it in the microwave or on the stovetop. When reheating on the stovetop, it is preferable to do it in a nonstick pan and add a water splash. Reheat on medium-low heat, stirring often.
Leftovers keep well in an airtight container in the refrigerator for 1-2 days. You can also freeze them for up to 1 month. Then, defrost in the fridge and reheat well as instructed above.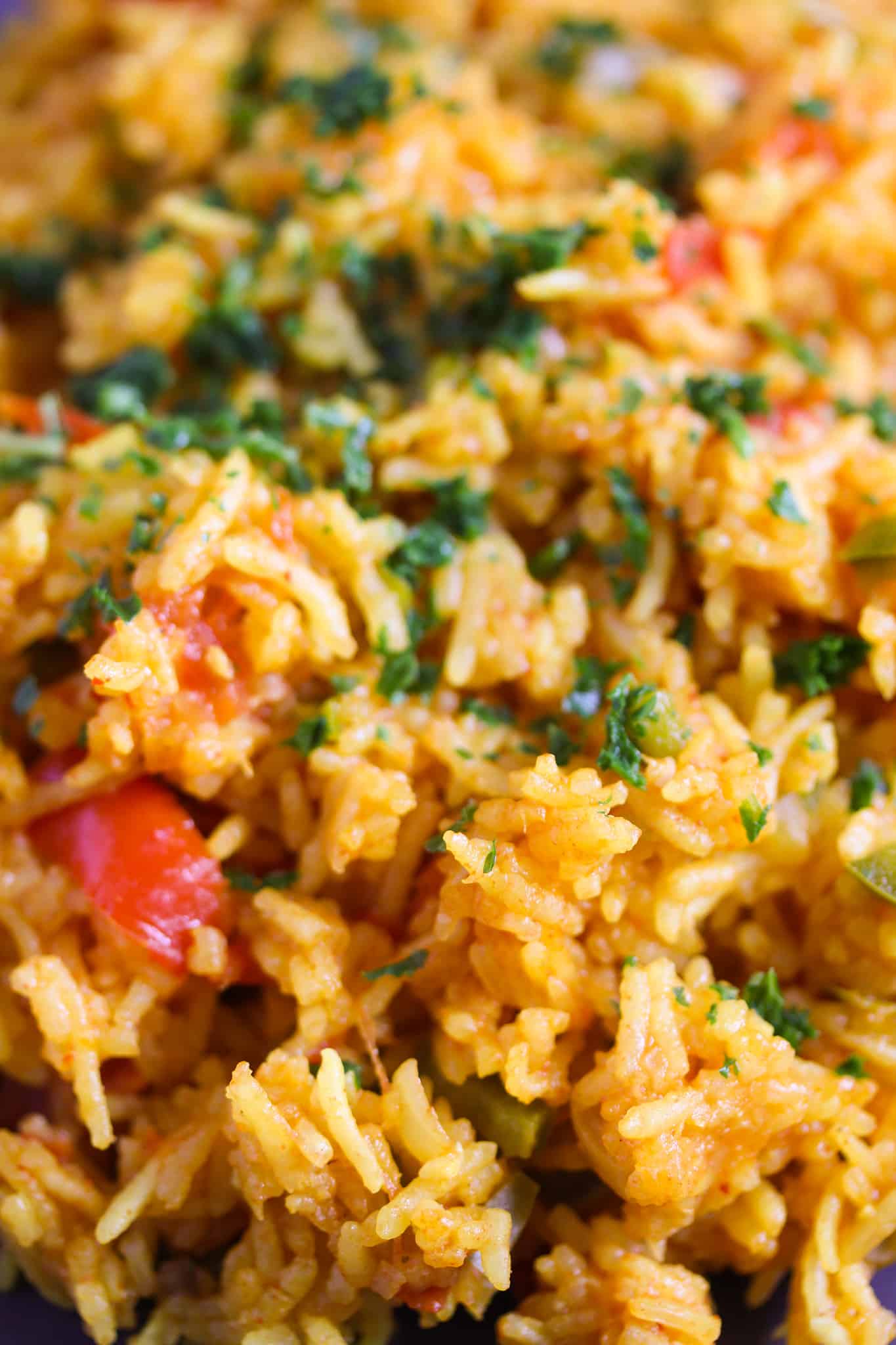 More spicy rice dishes: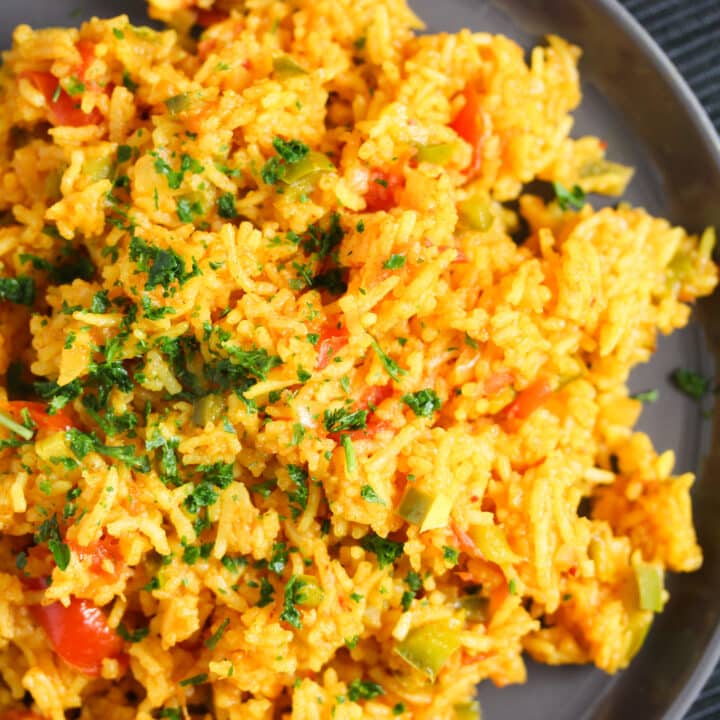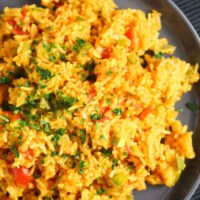 Nando's Spicy Rice
Nando's spicy rice or peri peri rice with green peppers, tomatoes, and onions, a flavorful side dish perfect with any chicken dish.
Print
Pin
Share
Grow
Saved!
Rate
Ingredients
1 ¾

cup

basmati rice

2

onions

about 150 g/ 5.3 oz total weight

2

tablespoons

vegetable oil

3

garlic cloves

1

large green pepper

2

tomatoes

about 250 g/ 8.8 oz total weight

1

teaspoon

turmeric

½

teaspoon

smoked paprika

½

teaspoon

sweet paprika

½

teaspoon

red chili flakes

more to taste

½

teaspoon

fine sea salt

more to taste (Note)

3

cups

vegetable or chicken stock

from a cube is fine

juice of ½ lemon

2

tablespoons

chopped parsley or cilantro
Instructions
Wash the rice under cold water until the water runs clear. Set aside.

Cook vegetables: Chop the onion finely, set it aside. Heat the oil in a large, heavy pan. Cook the onion and a pinch of salt for about 5 minutes until they soften.

In the meantime, finely chop the garlic and dice the green pepper. Add them to the pan and continue cooking for about 3 minutes, stirring regularly. In the meantime, chop the tomatoes.

Simmer: Add rice, turmeric, smoked and sweet paprika, red chili flakes to the pan. Stir well for about 2 minutes. Add tomatoes, salt, and chicken stock. Stir well to combine. Bring to a boil. Put the lid on, turn down the heat and simmer rice for about 10 minutes or until done.

Finish: Stir in lemon juice and adjust the taste with more salt if necessary. Fluff with a fork and sprinkle with chopped parsley or cilantro before serving.
Notes
If using table salt, take less. When salting, regard how salty the chicken stock is; some brands are saltier than others.
Nutrition
Serving:
1
/4 of the dish
|
Calories:
503
kcal
|
Carbohydrates:
91
g
|
Protein:
12
g
|
Fat:
10
g
|
Saturated Fat:
1
g
|
Polyunsaturated Fat:
8
g
|
Cholesterol:
6
mg
|
Sodium:
581
mg
|
Fiber:
3
g
|
Sugar:
15
g