An easy red beans and rice recipe, the well-know Jamaican rice and peas or rice and beans made with coconut milk.
JAMAICAN RICE AND BEANS
So, why is this dish called rice and peas when it is actually made with beans. I had no idea until recently.
The rice and beans dish is a traditional African dish, very well-known in countries like Ghana and the Ivory Coast. The recipe was brought to Jamaica by slaves and was passed on from generation to generation.
As the slaves were only allowed one day off work during the week, the best foods they had were served on this day. Thus the tradition of serving rice and peas on Sundays was born.
Nowadays, rice and peas is the most eaten Jamaican food. It is served in every household and every restaurant in the country.
And why is it called rice and peas instead of rice and beans? Well, simply because in Jamaica the word beans means peas as well. Their red peas are the kidney beans we all know.
EASY RICE AND PEAS RECIPE
Rice and beans are a popular combination all around the world. Not only are both ingredients cheap and filling, but together they form a complete protein. This makes them a very popular meal among vegetarians and vegans as well.
"Beans and grains have a symbiotic relationship in which the amino acids of each complement one another to form a complete protein, which is the foundation for the growth and development in humans."
I cooked this Jamaican rice and peas recipe for the first time about 10 years ago, during the time we were still living in England. It was a super simple recipe I found in a magazine, something I could cook very quickly in the evening after work, filling, cheap and delicious.
We usually had this easy rice and beans dish as it was or maybe I would slice some tomatoes and cucumbers to go with it. Sometimes I would make some quick skillet chicken and sometimes fried eggs.
That super easy recipe for Jamaican rice and beans evolved over the years. Originally, I would give the cooked rice to a pot with coconut milk, red kidney beans and some salt and pepper. It was really good!
But slowly, I started to add some veggies, more spices and converted the recipe to what it is today: a rich and flavorful pot of rice and beans that even my children love to eat. Despite all the beans, which they are usually not very friendly with.
HOW TO MAKE THE JAMAICAN RICE AND BEANS RECIPE
As mentioned above making this recipe for Jamaican rice and peas or Jamaican rice and beans is very easy.
Cook the rice in vegetable stock, but only about 5 minutes less than you would actually cook it. Have a look at the packet's instructions and calculate the cooking time accordingly.
Cook the onion, red bell pepper, chili, ginger and garlic in a little oil. Add the spices and stir for one minute.
I used a regular red chili because that is what I had. If you want to go really Jamaican, try finding a Scotch bonnet chili. Keep in mind though that Scotch bonnet is super hot and adjust the amount you use according to your heat tolerance.
Add the rice to the pan, add the drained red beans and the coconut milk. Heat through for about 5-6 minutes, the rice should have the right consistency by now. If you like it softer, give it a couple more minutes. Don't forget to stir from time to time.
Add a teaspoon of butter, some salt to taste and a little fresh lemon juice. Sprinkle with fresh herbs and serve.
The butter and the lemon juice are not traditional for a true Jamaican rice and peas recipe.
However, I started to add them to this dish a long time ago, the butter adds a bit of mellowness and enhances the taste of any rice dish and the lemon juice adds that hint of freshness I am looking for in almost any rice or grains dish I am cooking.
They are optional, you can decide if you want to use them or not, but I totally recommend using them.
HOW TO SERVE THE JAMAICAN RICE AND PEAS
You can serve this easy rice and beans recipe as it is with sliced vegetables like tomatoes and cucumbers or a salad on the side. I make this delicious salad with yogurt dressing many times when serving Jamaican rice and peas.
But it also makes a great side dish for roast chicken, pan fried chicken breast, spicy chicken strips, actually any kind of roasted or pan fried chicken dish you can think of.
We often have this Jamaican rice and beans with fried or poached eggs.
MORE INTERNATIONAL RICE RECIPES:
Brazilian Moqueqa de Peixe with Rice
Costa Rican Gallo Pinto - Black Beans and Rice
Romanian Chicken and Vegetable Rice
Italian Asparagus Risotto with Peas
PIN IT FOR LATER!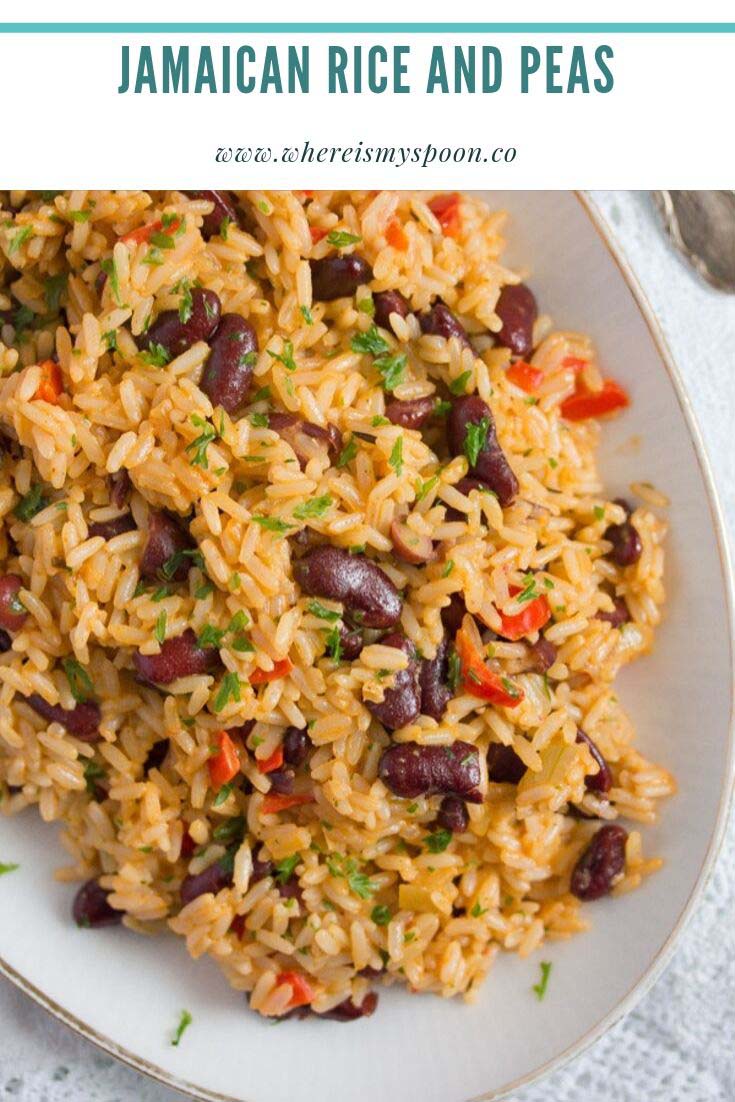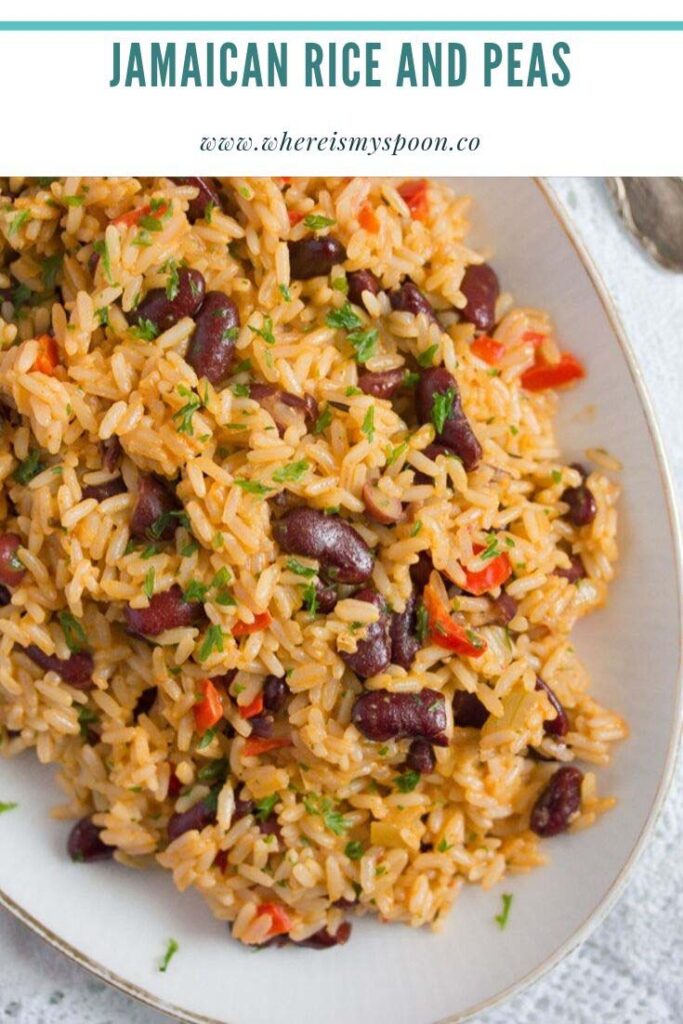 Jamaican Rice and Peas Recipe – Easy Red Beans and Rice
An easy red beans and rice recipe, the well-know Jamaican rice and peas or rice and beans made with coconut milk.
Print
Pin
Share
Grow
Saved!
Rate
Ingredients
225

g/ 8 oz/ 1 cup white rice

vegetable stock to cook the rice

from a cube is fine

1

tablespoon

coconut oil

or vegetable oil

1

medium onion

1

red bell pepper

1

small chili

See note 1

1

teaspoon

fresh ginger

grated

2

garlic cloves

1

teaspoon

sweet paprika powder

½

teaspoon

freshly ground black pepper

1

teaspoon

dried thyme

200

ml/ 6.7 fl.oz/ ¾ cup coconut milk

½ a can of 400 ml/ 14 oz

1

can kidney beans

400 ml/ 14 oz

2-3

teaspoons

fresh lemon juice

1

teaspoon

butter

some fresh parsley

fine sea salt
Instructions
Wash the rice in a sieve. Place in a pot, cover generously with vegetable stock, and bring to a boil. Add a little salt if the stock is not salty enough, turn the heat down and simmer the rice, covered, 5 minutes less than required by the packet's instructions. Drain well.

In the meantime, chop the onion, bell pepper, and chili. Grate the ginger and the garlic.

Heat the oil in a heavy-bottomed saucepan. Cook the onion, pepper, and chili for about 3-4 minutes or until they are softer. Add the ginger and garlic and stir for one minute.

Add the sweet paprika powder, ground black pepper, and dried thyme and stir for another minute.

Add the cooked rice to the pan. Add coconut milk and drained kidney beans. Heat for 5-6 minutes, stirring occasionally, until the rice is tender and the beans are heated through.

Add 2 teaspoons of fresh lemon juice and salt to taste. Stir in the butter. Taste again and add more lemon juice (not too much) and salt if necessary.

Sprinkle the chopped parsley on top and serve as suggested above.

Notes
Scotch bonnet would be very fitting, however, if you cannot find it use another kind of chili. Please add as much chili as you can handle and keep in mind that Scotch bonnet is very hot.
Nutrition
Serving:
1
/4 of the dish
|
Calories:
456
kcal
|
Carbohydrates:
45
g
|
Protein:
18
g
|
Fat:
24
g
|
Saturated Fat:
15
g
|
Polyunsaturated Fat:
5
g
|
Cholesterol:
28
mg
|
Sodium:
928
mg
|
Fiber:
6
g
|
Sugar:
6
g