Easy Spanish rice and beans recipe, a flavorful and healthy one-pot dish ready in no time. A great recipe for the whole family, something that you can serve as a main or side dish.
We have the Spanish rice and beans as the main dish most of the time... Rice as a side dish is mostly plain or an even simpler recipe like the Jollof rice or the BBQ rice.
This Spanish, or better said, Mexican rice dish also includes vegetables like peppers and olives, thus becoming more substantial. A nice salad on the side, and there you have it: a perfect, easy to make, tasty weeknight dinner. Not to mention a super healthy one.
Why will you love this recipe?
Quick and easy: Chopping is kept to a minimum and the cooking time is short, about half an hour.
Economical: All the ingredients are super cheap.
Pantry ingredients: I never have to go shopping to make Spanish rice and beans; I have everything I need in the pantry; you will not even require anything from the fridge.
Healthy: The dish is vegan, gluten-free, dairy-free, and a great source of complete proteins.
Rice and beans combination
This combo is a staple in the cuisines of many African, Central or South American countries, Caribbean, China, India, Middle East, and so on. Over the years, I've had many versions of it, for instance, Jamaican Rice and Peas or Puerto Rican rice Gallo Pinto.
Not to forget the delicious Rice and Beans Soup or my newest discovery, a Haitian soup with black beans and coconut milk.
Combining these two simple ingredients has a lot of health benefits compared to eating any of the two on their own. The combination of different plant proteins provides us with all essential amino acids.
Recipe ingredients
Rice:
Usually long-grain.
For an even quicker version of this Spanish rice recipe, use basmati or Jasmine; it cooks much faster and has a wonderful flavor.
You can also use brown rice. I do it often; I love its nutty flavor and the heartier structure. However, keep in mind that it takes about 30-40 minutes to cook. And you will need to increase the amount of broth as well.
Beans:
Either red kidney beans or pinto beans.
I had pinto beans this time, but usually, I would choose kidney beans because they are cheaper and more available here.
Vegetables:
Onions, garlic, green onions, red bell peppers, and green olives.
My green olives were pitted and filled with red peppers. Use whatever you like.
If you don't have a red, use a yellow or green pepper.
Tomatoes or salsa:
The best, tastiest, purest option is to use pureed tomatoes. The use of good broth and all the other spices adds more than enough flavor without relying on anything else.
Alternatively, use your favorite salsa from a jar or the same amount of your favorite tomato sauce brand.
Spices:
Oregano, sweet and smoked paprika, ground coriander and cumin, and fresh cilantro to sprinkle on top of the finished dish.
Other ingredients: a little bit of oil, tomato paste, vegetable broth (or chicken broth if you don't want to keep it vegetarian), fine sea salt or Kosher, and black pepper.
Step-by-step instructions
Chop vegetables (1). Keep all the vegetables separated.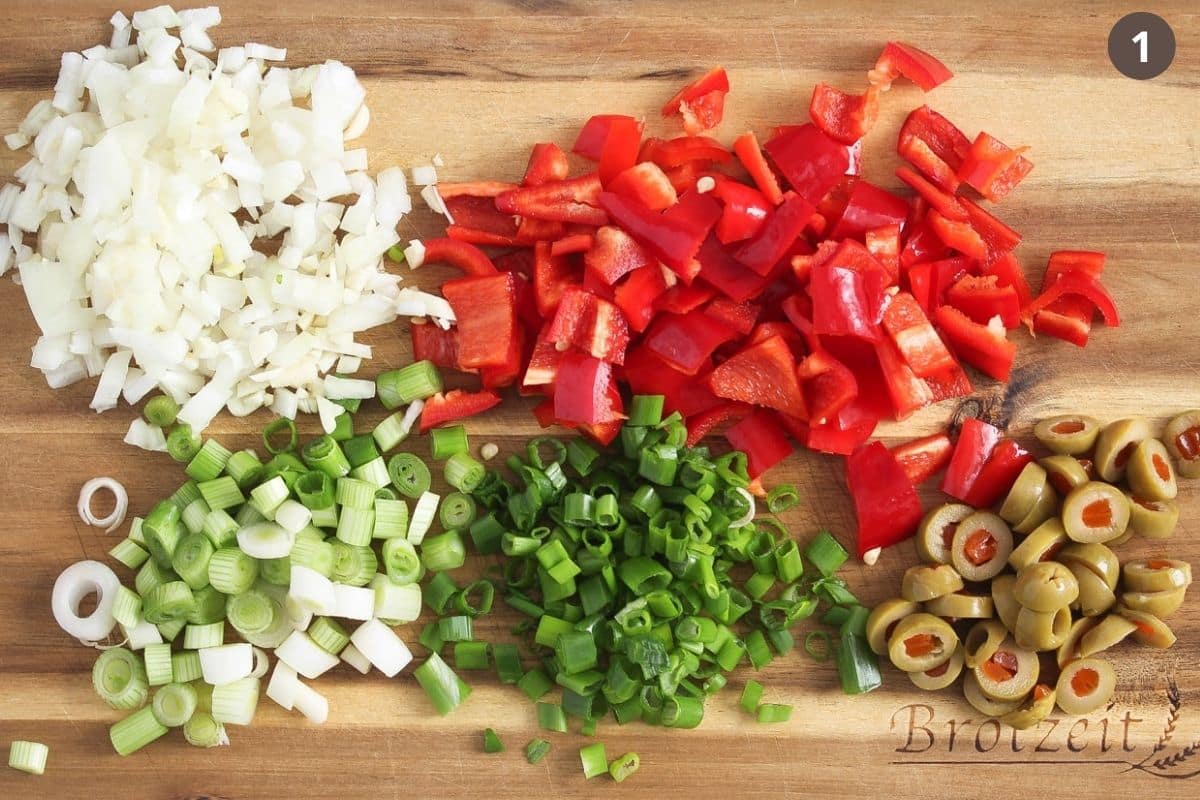 Saute: Heat a large, shallow Dutch oven or another heavy-bottomed pot. Sautee the chopped onion in olive oil on medium heat, often stirring, until slightly yellow. (2)
Toast the uncooked rice for about 2 minutes. (3)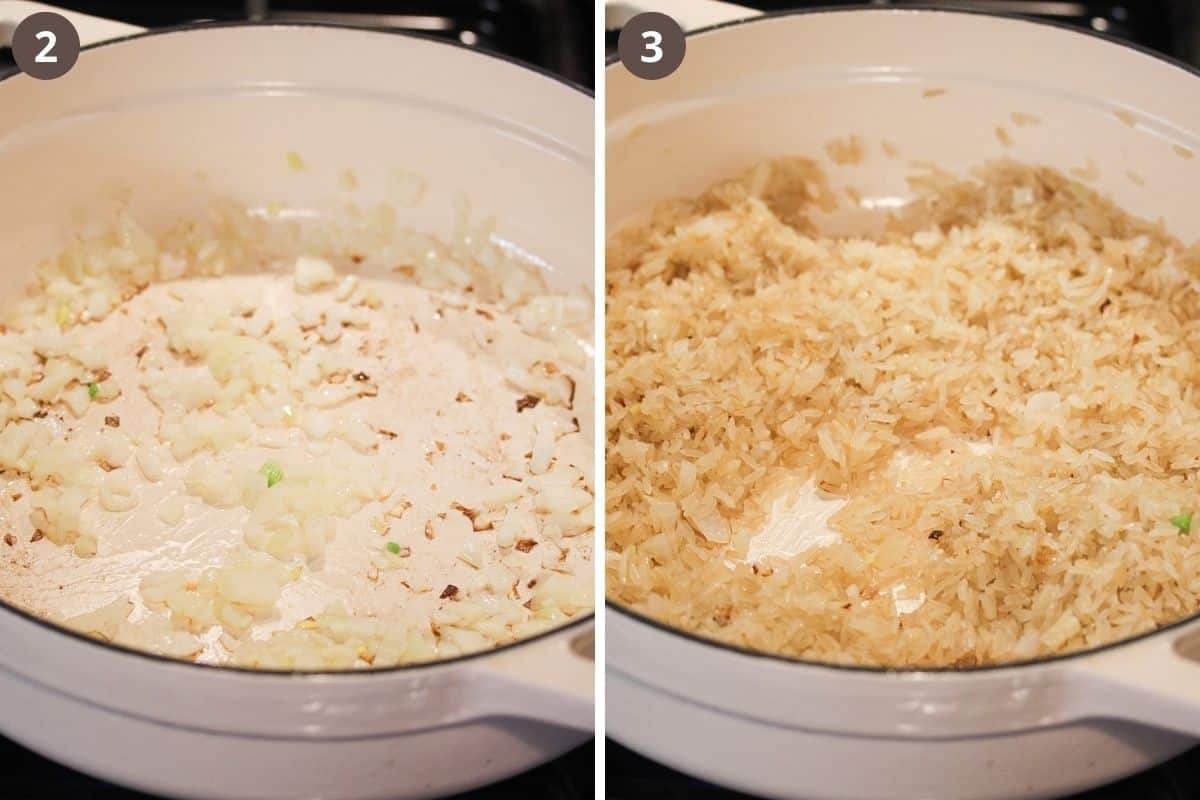 Add garlic, tomato paste, chopped vegetables (except the greens of the onions and the olives), and spices. (4)
Pour the broth and pureed tomatoes. Stir well.
Cook covered for about 15 minutes (5).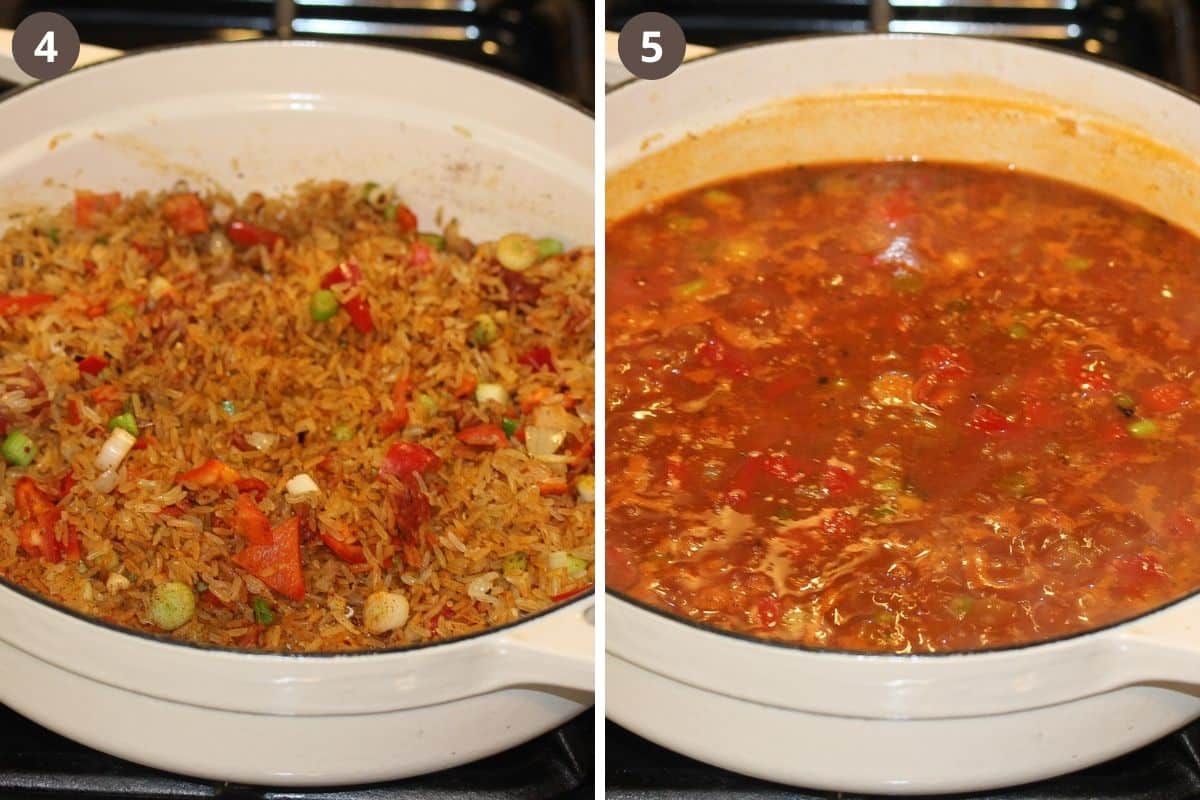 Add red beans, greens of onions, and olives. Stir well. (6)
Let the rice cook until tender, about 5 more minutes. (7)
Adjust the taste, sprinkle with herbs and serve.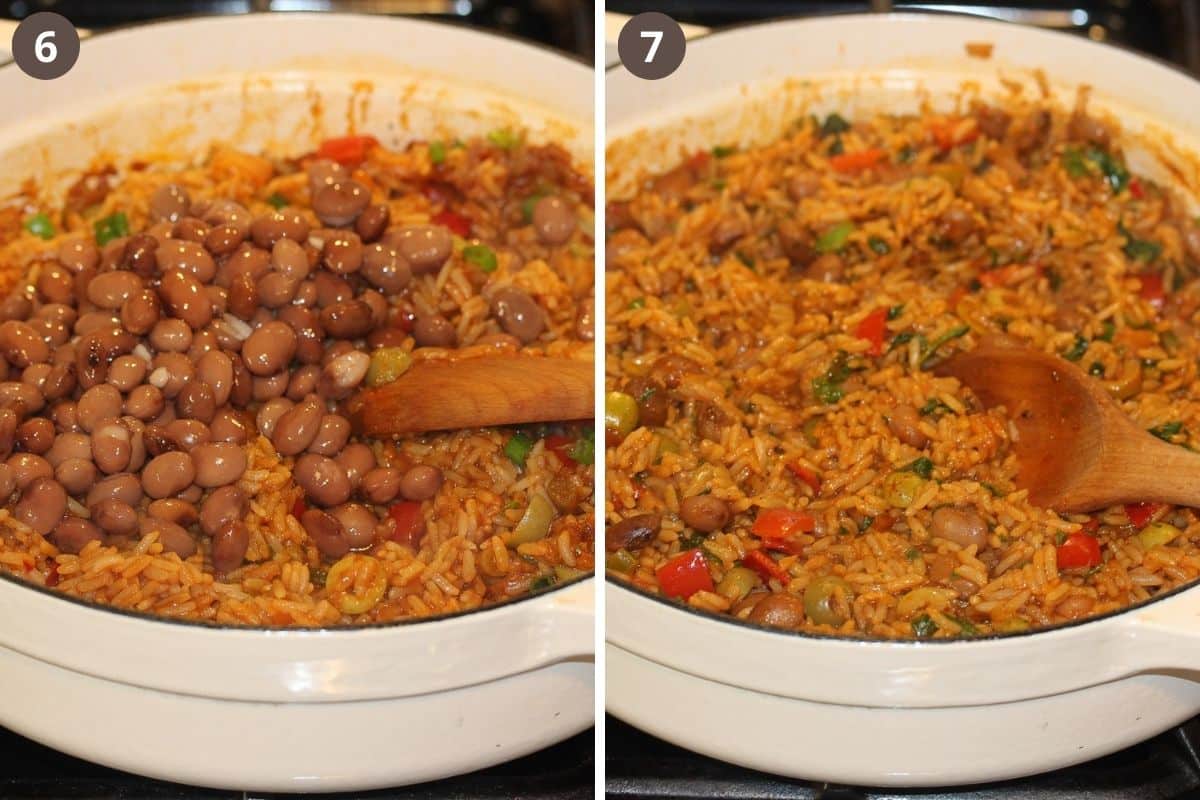 Expert tips
If you have access to good quality salsa, you can use that instead of pureed tomatoes.
However, if you live in Europe and only get the standard barbeque bottled salsa, better leave it. In my humble opinion, that has absolutely nothing to do with authentic salsa. It is just a sauce to serve with your grilled steak in summer, which covers the taste of everything else you have on your plate.
Recipe FAQ
Can I use brown rice?
Yes, it will taste great, nuttier, and chewier. However, it needs a bit more liquid, and it has a longer cooking time, about 40 minutes, make sure to check.
How to add some heat?
Add finely chopped jalapenos or some cayenne pepper. Use both to taste.
What to do with leftovers?
Leftovers keep well in an airtight container in the refrigerator for about 3 days.
The dish is suitable for meal prep; divide the Spanish rice into portions and refrigerate it in airtight containers.
How to reheat?
Stovetop: In a non-stick pan, add a splash of vegetable broth and reheat gently until the food is piping hot. Stir often.
Microwave, covered, for 2 minutes. Stir and check. If it's not hot, allow another minute.
How to serve?
More rice dishes
Spanish Rice and Beans
Easy Spanish rice and beans recipe, a flavorful and healthy one-pot dish ready in no time. A great recipe for the whole family, something that you can serve as a main or side dish.
Print
Pin
Share
Grow
Saved!
Rate
Equipment
1 Large, shallow Dutch oven or heavy-bottomed pot
Ingredients
1

onion

2

garlic cloves

1

large red bell pepper

3-4

green onions

1

tablespoon

olive oil

1 ¾

cup

long-grain rice

350 g/ 12.5 oz, Note 1

1

tablespoon

tomato paste

1

teaspoon

dried oregano

1

teaspoon

sweet paprika

½

teaspoon

smoked paprika

1

teaspoon

ground cumin

1

teaspoon

ground coriander

3 ¼

cups

vegetable broth

750 ml/ 25 fl.oz, Note 2

1

cup

pureed tomatoes

200 g/ 7 oz, Note 3

1

can pinto or kidney beans

400 g/ 14 oz

20

green olives,

pitted

3

tablespoons

chopped cilantro

a

pinch

fine sea salt or Kosher

2-3

grindings

ground black pepper
Instructions
Finely chop the onion and the garlic. Set aside separately. Chop the pepper and the whites of the green onions. Set aside separately. Chop the greens of the green onions and the olives and set them aside separately.

Saute: Heat the oil in a large Dutch oven, heavy-bottomed or non-stick pan. Cook the onion until slightly yellow.

Toast rice: Add the rice and toast for about 2 minutes, stirring often. Add garlic and tomato paste and stir well to coat the rice. Add the pepper, green onion whites, oregano, paprika, cumin, and ground coriander. Stir well to coat.

Simmer: Pour the broth and the pureed tomatoes (or sauce) into the pan. Stir well again, cover, and cook gently for about 15 minutes, stirring a few times.

Add the drained beans, sliced green olives, and green onions greens. Stir well and cook for 5 minutes more or until the rice is tender.

Adjust the taste with a bit of salt and pepper. Sprinkle with chopped cilantro and serve.
Notes
If using Basmati or Jasmine rice, check after 10 minutes already; they cook faster. If using brown rice, add more broth and allow a longer cooking time, brown rice needs about 35-40 minutes.
Chicken broth/stock tastes great if you don't care about keeping the meal vegetarian.
You can use the same amount of your favorite salsa tomato sauce brand.
Nutrition
Serving:
1
/4 of the dish
|
Calories:
320
kcal
|
Carbohydrates:
56
g
|
Protein:
10
g
|
Fat:
8
g
|
Saturated Fat:
1
g
|
Polyunsaturated Fat:
6
g
|
Sodium:
1048
mg
|
Fiber:
10
g
|
Sugar:
7
g