Last Updated on 23/03/2020 by Adina
Körözött – a very simple Hungarian bread spread or dip with feta, cottage cheese, caraway seeds and paprika.
The recipe for this Hungarian dip or bread spread is rather a new discovery for me. We never had many bread spreads in Romania during my childhood, of course, we ate lots of cheese, but mostly we would spread that on the bread as it was without adding anything to it. And of course, there was the Zacusca – Romanian Eggplant and Red Pepper Spread, which was always to be found in the pantry. Or the Romanian White Bean Dip with Caramelized Onions – Fasole batuta or the Romanian Roasted Aubergine/Eggplant Salad – Vinete.
Oh well, we did actually ate quite a few bread spreads, but never any cheesy ones.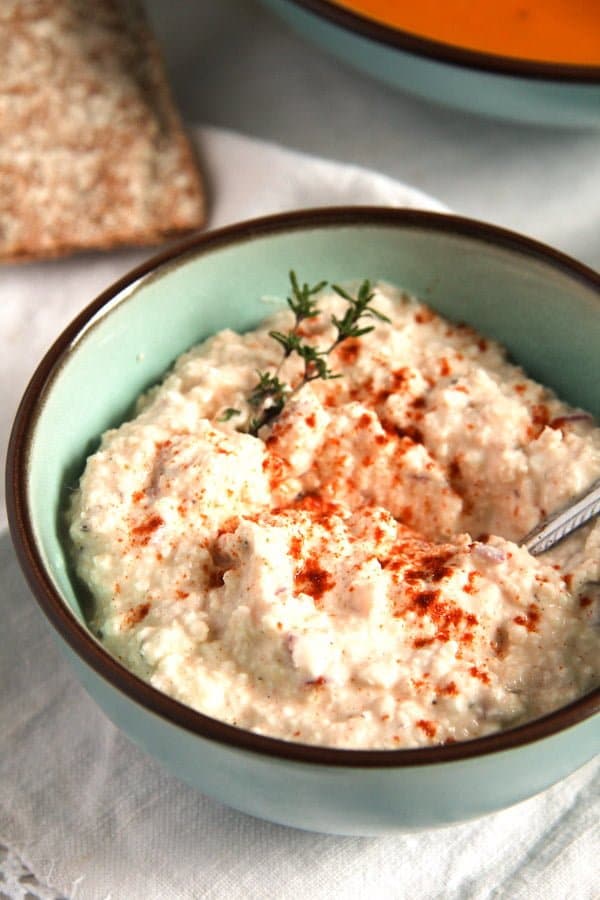 However, since living in Germany and having my own family, I have been making lots and lots of bread spreads. I get tired of only a slice of cheese or ham on my bread and bread spreads are so versatile, there are a million possibilities out there and I think I rarely managed to make a bread spread that I didn't like.
Have a look at some of these dips or bread spreads, they are only a small fraction of all the bread spreads or dips I have made in my life, but they are all so good: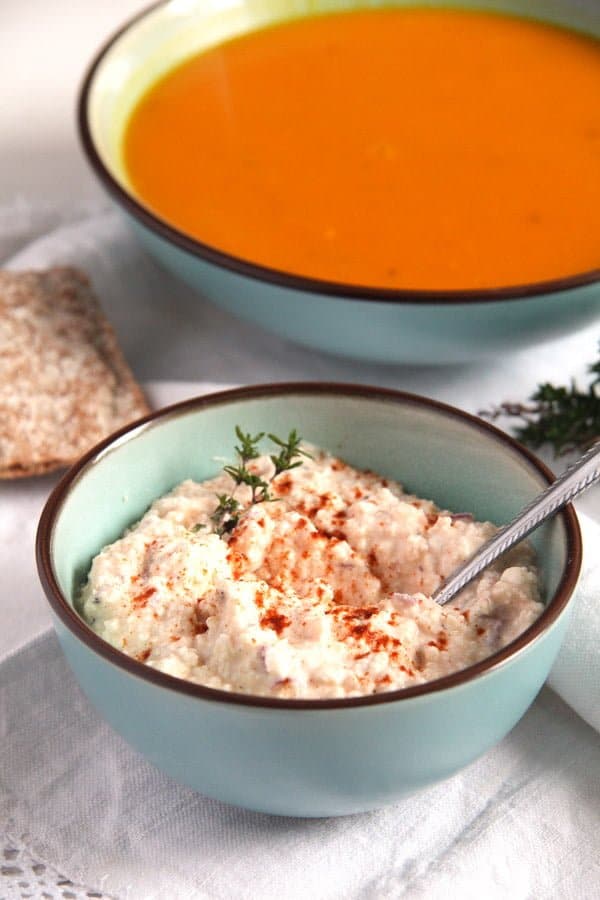 This Hungarian Dip or Spread with Feta, Paprika and Caraway Seeds is normally made with typical Hungarian sheep cheese. However, since I am not able to buy that here, I have seen many recipes using feta, quark or cottage cheese to replace those missing products.
I cannot say how the original tastes like, but I can assure you that this particular Körözött is perfectly delicious and provided you like caraway seeds, you will love this spread. Actually, you will probably like it even if you are not a fan of caraway seeds, my husband was never crazy about them, but still he loved this dip and had it on his bread for several days in a row.
Otherwise, I am keeping it short today. I wish you all a great weekend! I know we will have a good one, tomorrow is our 12th wedding anniversary and we are going out! There is new Indian restaurant not far away from us (Imagine that! Here in the middle of rural Germany!) and we are going to see how it is.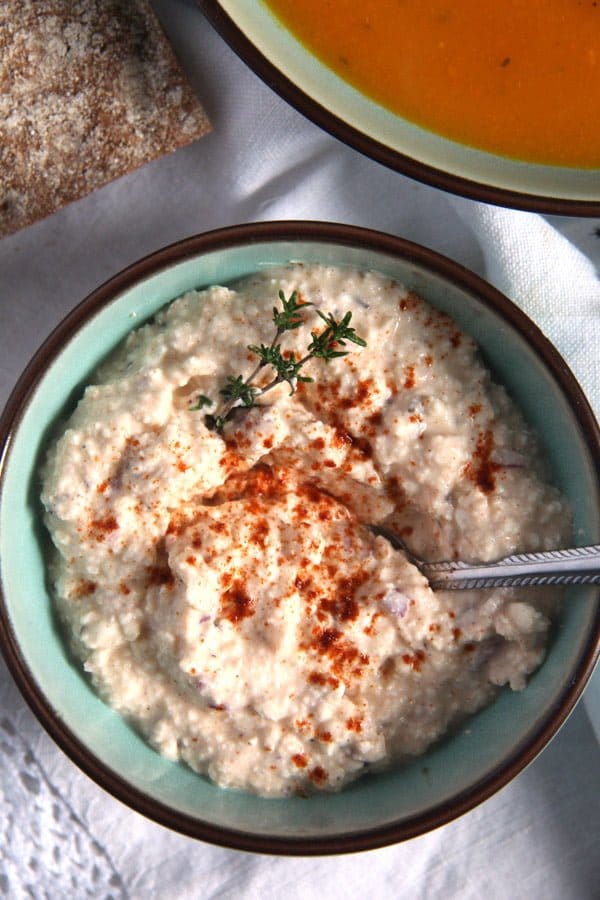 Ingredients
100 g/ 3.5 oz feta cheese

100 g/ 3.5 oz cottage cheese or quark

½ teaspoon caraway seeds, roughly ground

½ teaspoon sweet paprika powder or more to taste

1 tablespoon sour cream/ smetana/ Greek yogurt

1-2 tablespoons milk, optional

½ small red onion

salt and pepper
Instructions
Give the feta and the cottage cheese to a bowl and mash roughly with a fork.
Grind the caraway seeds roughly with a mortar and pestle or in a small grinding machine. Add it to the cheese together with the paprika. If using already ground caraway seeds, start with a lot less – only a pinch – and add more after tasting the mixture.
Add the sour cream/ smetana/yogurt (whatever you happen to have) and stir well. Add 1 or 2 tablespoons milk if you feel that the mixture should be a little more spreadable.
Chop the red onion very finely and add it to the cheese. Adjust the taste with salt and pepper.
Serve on bread or crackers or with raw vegetable sticks.
This post contains affiliate links. The price you pay as a consumer does not change, but if you make a purchase we will receive a commission which helps support the blog.