Our favorite egg salad cream cheese, and leeks, a wonderful dip or spread, perfect for using some leftover hard-boiled eggs.
Leftover hard-boiled eggs that can be turned into a delicious cream cheese egg salad to be enjoyed on sandwiches or crispbread.
Every Easter I have the same problem: tons of leftover hard-boiled eggs! I like hard-boiled eggs a lot and during normal times I even happen to cook about 4 or 5 of them on a Sunday just to have some to eat on bread for breakfast during the following week, but after Easter, we just have too many.
Every Easter I have at least 30 eggs that the kids have dyed themselves. In addition to that, there are the already dyed eggs that I buy to hide in the garden (10 eggs). And in addition to those, grandma hides at least 20 eggs in her huge garden for the children to look for. So we already have about 50 eggs…
So, that would make about 50 hard-boiled eggs to go through in a couple of weeks or so. But trust me, I've never had to throw away one egg.
What to do with leftover hard-boiled eggs?
I have quite a lot of recipes with hard-boiled eggs on my blog, here are a few nice ideas for your leftover Easter eggs:
Cauliflower, Peas, and Eggs in Mustard White Sauce
Deviled Eggs with Tuna and Mayonnaise
Salad à la Russe with Potatoes, Beetroot, and Mayonnaise
Salad "Torte" with Vegetables, Ham and Cheese
Romanian Boeuf Salad with Potatoes, Gherkins, and Mayonnaise
What is egg salad?
A classic egg salad is a very simple and delicious affair: some hard-boiled eggs, chopped and mixed with good quality mayonnaise (best homemade) and some salt and pepper.
However, the variations are endless, today's recipe is just another twist on an egg salad.
For me, at the time being, this is the best egg salad I know, I have been making it repeatedly for years now. And when I say repeatedly, I am not exaggerating, I've made it at least 10 times only during the past months. A delight, every time!
What do you put in it?
There are many ways to enrich or modify a classic egg salad in order to make it healthier, lower in fat or calories, spicier, richer, more interesting or whatever.
You can add different sorts of mustard (hot, medium, sweet, grainy, smooth, with horseradish, with apples or herbs, etc), chili sauces of any kind (plain, sweet, sweet-sour, Sriracha, sambal oelek, harissa etc).
Mayonnaise can be mixed with yogurt or cream cheese, you can leave the mayonnaise completely out of the equation and only use cream cheese instead.
A mixture of quark, yogurt, crème fraiche, smetana, sour cream is also a good idea.
You can add pickles, chopped ham, grated cheese, cooked or raw diced vegetables, avocado, fruit like canned mandarins or pineapple, fresh apples or pears, olives, pesto and so on.
How to spice it?
Change the spices according to your mood, taste, and the rest of the ingredients as well. I spice this version with only salt and pepper and a lot of cayenne pepper.
Otherwise, when it comes to egg salad, you can spice it with pretty much anything you like.
I love to add fresh herbs, I find chives particularly good in most combinations, but fresh parsley or dill are wonderful choices as well.
You can replace the cayenne pepper with all sorts of paprika powder, ground cumin or coriander, turmeric, chili and herb mixtures, za'atar, sumac, flaked dried tomatoes, dried herbs like oregano, Italian or French dried herb mixtures.
Really the sky is the limit, a good egg salad can be different and delicious every time you make it.
How long does it keep?
A question that arises quite often when it comes to egg salads or to bread/sandwich spreads generally, is how long will they keep in the fridge.
When it comes to salads or spreads made with homemade mayonnaise my answer is: the sooner you eat it, the better! I usually try not to keep anything made with raw eggs for more than 2 days in the fridge.
However, if you make the salad with bought mayonnaise, cream cheese, or any other of the above-mentioned additions, the egg salad will keep for 3 to 5 days in the fridge. Make sure to keep it in an airtight container and refrigerate it shortly after preparing it.
Any kind of egg salad should not be kept at room temperature for more than 2 hours, even less in summer or warmer regions.
It doesn't freeze well, it is preferable to make smaller portions that can be eaten within a few days.
This cream cheese egg salad should also be consumed within 3-5 days. It can be served on bread/sandwiches, crispbread, or as a dip for raw vegetable sticks or breadsticks.
Pin it for later!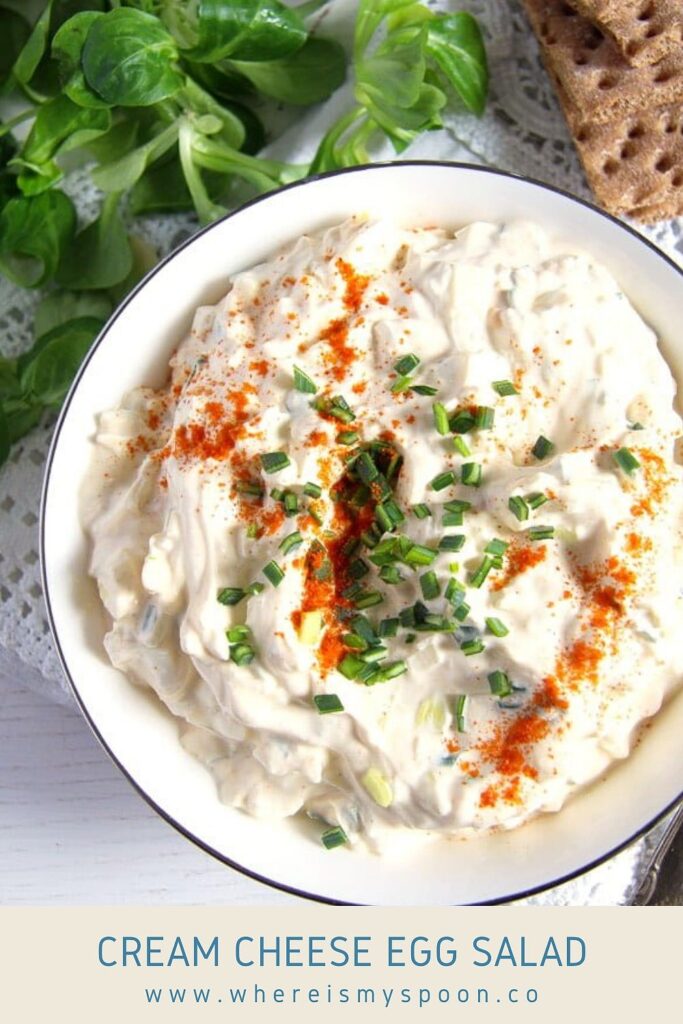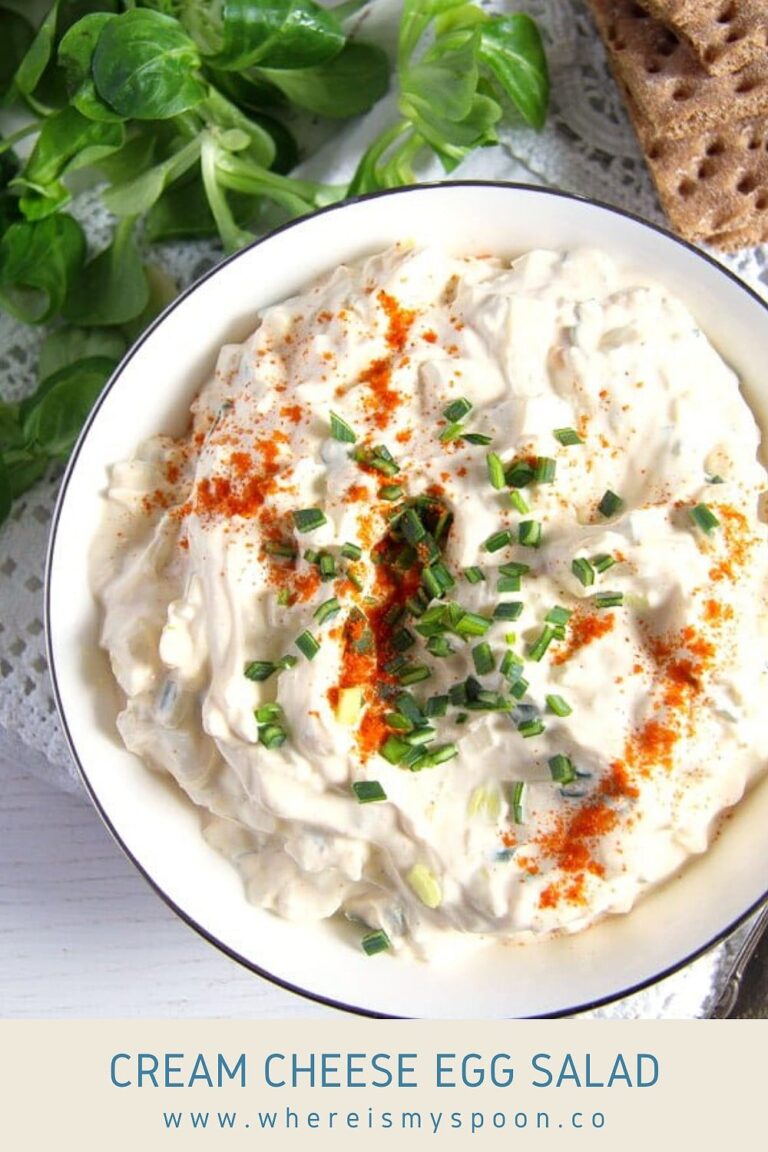 Cream Cheese Egg Salad
Our favorite cream cheese egg salad with leeks, a wonderful dip or spread, perfect for using some leftover hard-boiled eggs.
Print
Pin
Share
Grow
Saved!
Rate
Ingredients
3

hard-boiled eggs

300

g/ 10.6 oz/ 1 1/3 cups cream cheese

regular fat or low-fat (See note 1)

1

thin leek

See note 2

2-3

tablespoons

milk

as needed

cayenne pepper to taste

fine sea salt and pepper

some chives

optional
Instructions
Use leftover hard-boiled eggs or boil some eggs, rinse them in cold water and let them cool down completely.

Stir the cream cheese well to make it smooth.

Chop the leek (white and green parts) very finely and add them to the cream cheese. Mix well and add some salt, pepper and cayenne pepper before you add the eggs.

Add some milk to make the mixture smoother and a bit less stiff.

I prefer to mix very well before adding the eggs so that I will not crush the chopped eggs too much when stirring. But that is just a matter of preference, the egg salad will taste the same, no matter at what point you stir it.

Chop the eggs finely and carefully fold them into the salad. Using an

egg slicer

makes things faster.

Taste again and add more seasoning to taste. Sprinkle with chopped chives or some leftover, finely chopped greens from the leek.
Notes
The nutrition was calculated with regular fat cream cheese.
I usually buy a large leek and use a piece about as long as my hand, making sure that about half of it is white, while the other half of it is green.
Nutrition
Serving:
1
/6 of the dish
|
Calories:
225
kcal
|
Carbohydrates:
5
g
|
Protein:
7
g
|
Fat:
20
g
|
Saturated Fat:
11
g
|
Polyunsaturated Fat:
7
g
|
Cholesterol:
144
mg
|
Sodium:
293
mg
|
Sugar:
3
g