Last Updated on 18/03/2020 by Adina
Tender cauliflower florets and peas in a velvety white mustard sauce and topped with hard boiled eggs.
This is a variation of one of my husband's favorite meals Eggs in Mustard Sauce. I came up with this recipe shortly after Easter this year as a way of using up some of the millions hard boiled eggs we still had left over. I actually wanted to make the usual eggs in mustard sauce and serve them with cauliflower on the side, but then I felt like eating something a bit different so I gave the cauliflower to the sauce and threw in some peas for good measure.
The result was a delicious easy to make dish, which I spontaneously decided to take pictures of, so that I could post it sometime in the future. I just thought it was too good to be left unnoticed.
This is not strictly a Romanian recipe, it is a more general recipe I would say, something you could definitely find not only on a Romanian table, but on a German one as well. Just a very simple, straightforward way of dealing with leftover hard boiled eggs and cauliflower. And should you need some more recipes with hard boiled eggs have a look at these Devilled Eggs with Tuna, this Salad a la Russe or this Easy Meatloaf with Eggs.
Otherwise, I hope you are all keeping well. I am a bit shocked about our weather the last couple of days. We went from zero degrees Celsius/ 32 degrees Fahrenheit last week and still a winter jacket on Monday to about 30 degrees Celsius/ 86 degrees Fahrenheit yesterday and today… My kids wanted to put on shorts and wear sandals when they came back home yesterday and my first impulse was to say no, it just seemed weird to me to have them wear a thick jacket one day and shorts and T-shirt the next one. But I reconsidered and went to the attic to finally bring down all the summer clothes. Hopefully this weather will last a few days more, it is glorious!
And I almost forgot to mention, this recipe for Cauliflower, Peas and Eggs in Mustard White Sauce opens a new two-week series on Where Is My Spoon, a series dedicated to cauliflower recipes.
Ingredients
1 cauliflower, about 500 g/ 1.1 lbs

700 ml/ 23.6 fl.oz/ 3 cups vegetable broth

4-6 hard boiled eggs

2 tablespoons butter

4 tablespoons all-purpose flour

150 ml/ 5 fl.oz/ 2/3 cup milk

2-3 tablespoons Dijon mustard

200 g/ 7 oz frozen peas, defrosted

a bunch of parsley

some nutmeg

salt and pepper

potatoes to serve
Instructions
Divide the cauliflower into medium-large florets and cut the stalk into cubes. Place in a pot with the vegetable broth, bring to a boil and cook for about 5 minutes or until on the soft side but not mushy. Drain and reserve the broth.
Place the eggs in a small pot, cover with water, bring to a boil, turn the heat off and let the eggs in the hot water, covered for 12 minutes. Drain and run under cold water. Peel the eggs when cool enough to handle.
Melt the butter in a deeper pan. Sprinkle the flour on top and let it get some color for about 2 minutes, it should be pale yellow. Add the milk while whisking continuously, then slowly add the reserved vegetable broth while whisking all the time. Make sure you have no clumps in the sauce, it is very easy as long as you add the liquid slowly and keep whisking. Bring to a boil and continue cooking for about 3-4 minutes while stirring very often.
Add the Dijon mustard. Start with two heaped tablespoons and add more according to your taste, I always add the third tablespoon, sometimes even a fourth one, but I do like a stronger mustard taste. Adjust the taste generously with nutmeg, salt and pepper.
Add the peas and let cook for about 5 minutes stirring often.
Halve or quarter the eggs and add them to the sauce together with the cauliflower florets. Add the parsley as well. Stir very gently to coat all the ingredients with the sauce but take care not to break the eggs quarters too much.
Serve with salt potatoes.

This post contains affiliate links. The price you pay as a consumer does not change, but if you make a purchase we will receive a commission which helps support the blog.
You might also like: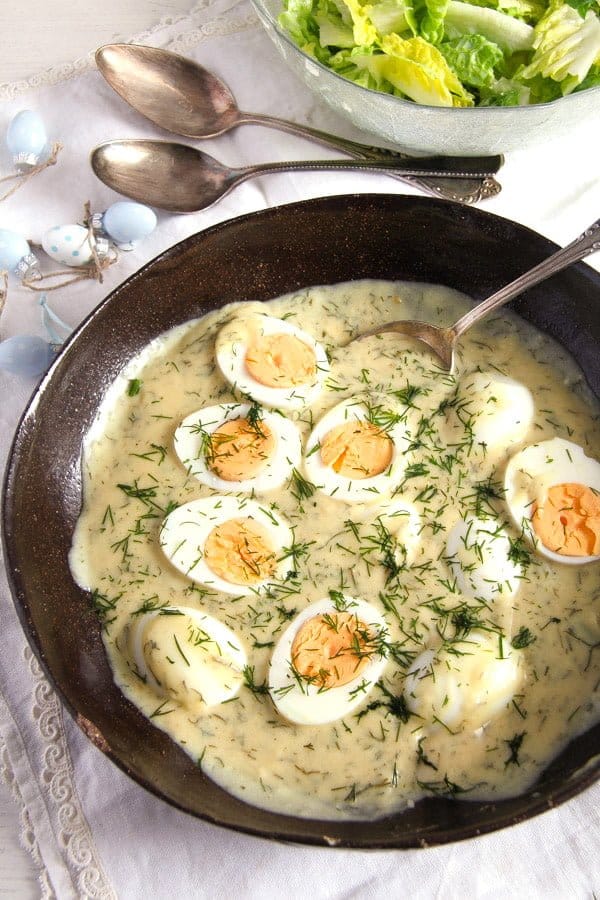 Eggs in Mustard Sauce