Last Updated on 24/03/2020 by Adina
A hearty yet healthy casserole recipe combining tender cauliflower florets and spicy turkey meatballs in a creamy white sauce with cheese.
Spring is finally here, I know many of you have summer already, but I am happy to have the spring now. 🙂 My favorite season anyway. Warm but not too warm, the green of the trees is fresh and bright, it smells of freshly cut grass and the birds are chirping all day long. And my herbs are growing and growing, I am throwing generous amounts of herbs in just about everything I make these days, but I really have to start for other ways of using some of those herbs.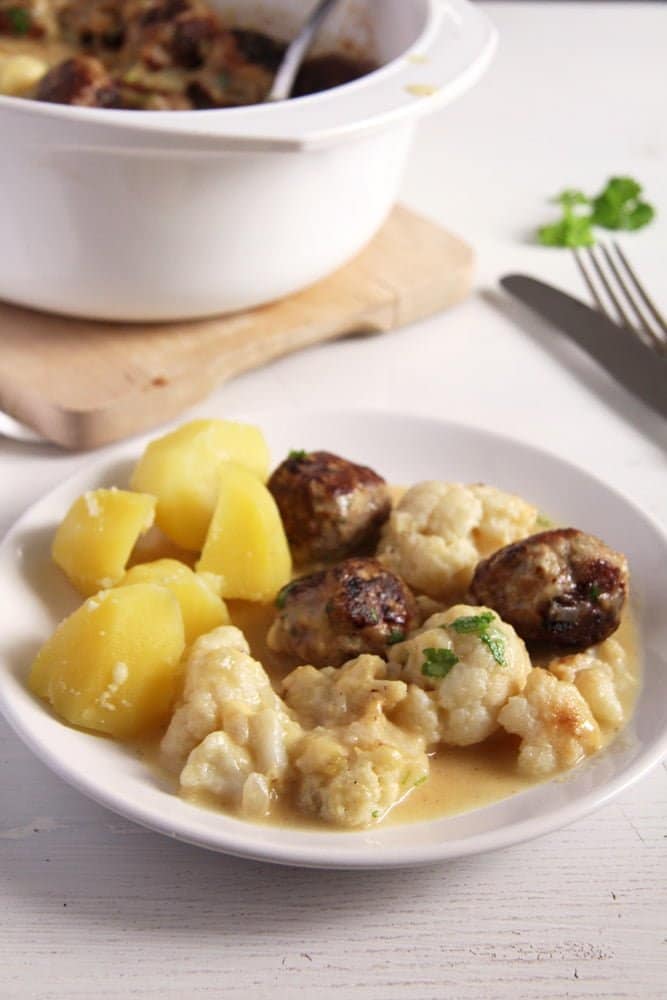 I used some herbs in today's casserole as well. They are not the main ingredient in this dish, but still lots of parsley, some thyme and even a couple of sage leaves in there. The result was a very comforting delicious casserole, something I would probably crave more on a colder day, yet made seasonal by the use of fresh herbs. And in case you would like more recipe ideas for the herbs that are so abundant now, you could have a look at some of these recipes: Herb Garlic Paste, Herb Garlic Baguette, Orange Salmon with Dill and Orange Rice or Herb Garlic Butter.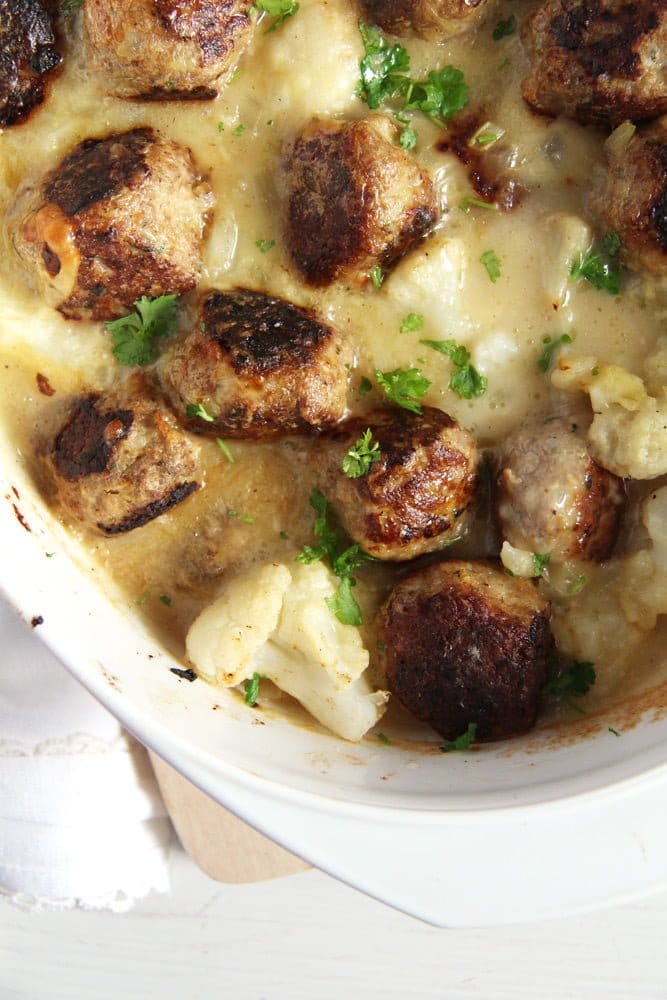 This recipe is an interpretation of a Romanian way of enjoying meatballs and cauliflower. Vegetables in white sauce are a frequent affair, white sauce makes most vegetable dishes so comforting and particularly delicious and when it comes to meatballs, they are a staple in the Romanian kitchen. We do like our meatballs, I would say: mostly pork meatballs, but also beef, chicken meatballs or turkey. And not to forget the numerous kinds of vegetarian meatballs like the Cauliflower Potato Patties from last week.
So for this Turkey Meatballs and Cauliflower Casserole instead of serving everything separately I decided on mixing the turkey meatballs, cauliflower and sauce together and bake everything. My children like this sort of casserole and I thought this might be a good way of getting them to eat at least a bit of the cauliflower. It worked, I won't pretend that they loved the cauliflower and ate lots of it, but they did love the meatballs, the white sauce and the cheese and ate those happily together with smaller pieces of cauliflower that happened to be in the way and were too difficult to remove… 🙂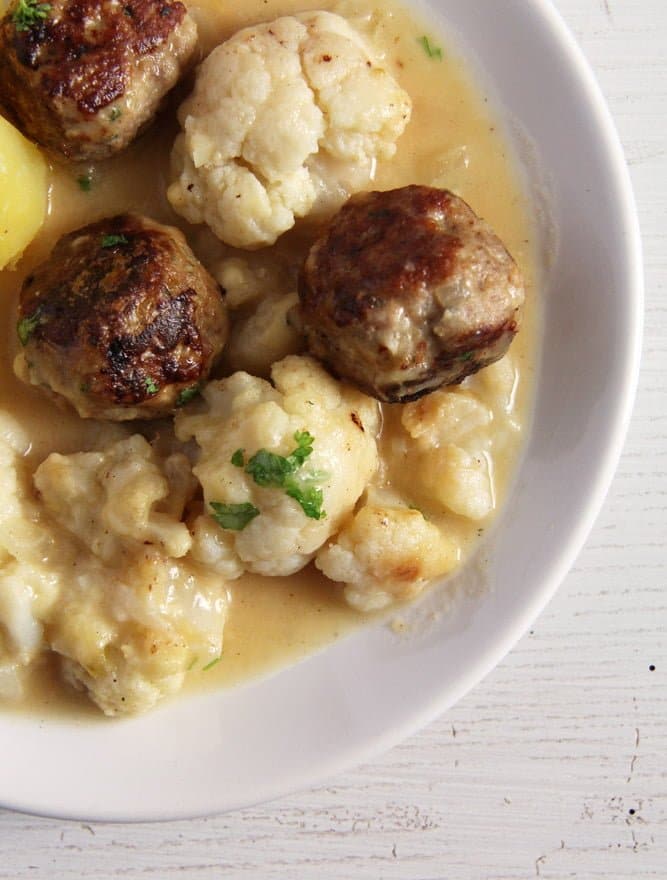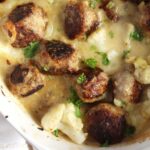 Ingredients
Cauliflower and meatballs:

750 g/ 26.5 oz cauliflower

500 g/ 17.6 oz turkey ground meat

1 potato, about 80-100 g/ 2.8-3.5 oz

3 tablespoons dry bread crumbs

1 heaped teaspoon Dijon mustard

1 small onion

2 garlic cloves

1 tablespoon chopped parsley

2 sprigs thyme

2 small sage leaves

1 egg

salt

freshly ground black pepper

2 tablespoons oil

Sauce:

1 small onion

2 tablespoons butter

3 level tablespoons all-purpose flour

2 teaspoons organic vegetable stock powder or 1 organic stock cube, optional

100 g/ 3.5 oz freshly grated cheese, Gouda or cheddar

more parsley to sprinkle on top
Instructions
Clean the cauliflower and divide into florets, cut the stem into small cubes. Bring a pot of water to a boil, add some salt and the cauliflower. Bring to a boil again and cook the cauliflower for 5 minutes or until al dente. Drain but reserve the cooking liquid. Measure 500 ml/ 2 ¼ cups of it in a jug. Stir in the organic vegetable stock powder, if you are using it.
In a large bowl mix together the turkey ground meat, finely grated potato, breadcrumbs, mustard, finely chopped onion, grated garlic cloves, finely chopped parsley, thyme and sage, lightly beaten egg, 1 teaspoon salt and some pepper. For about 20 meatballs, about the size of a golf ball.
Heat the oil in a non-stick or cast iron pan and brown the meatballs on all sides, working in batches. It should take about 10 minutes per batch. They should be nicely browned and almost cooked through. They will finish cooking in the oven.
In the meantime preheat the oven to 180 degrees Celsius/ 360 degrees Fahrenheit and make the white sauce.
Chop the onion very finely. Melt the butter in a saucepan and cook the onion until golden. Sprinkle the flour on top and stir for a couple of minutes until the flour starts getting a bit golden as well. Slowly start pouring the reserved vegetable stock while whisking continuously. Bring to a simmer and let cook for about 3-4 minutes while stirring very often. Add the cheese and let melt in the sauce. Taste and adjust with salt and pepper.
Lightly butter a casserole form. Mix the cauliflower, turkey meatballs and sauce together and give them to the prepared dish. You can top the casserole with more cheese if you wish, I didn't. Bake for about 20-30 minutes or until golden brown.
Sprinkle with parsley and serve with salad.
This post contains affiliate links. The price you pay as a consumer does not change, but if you make a purchase we will receive a commission which helps support the blog.
Others you might like: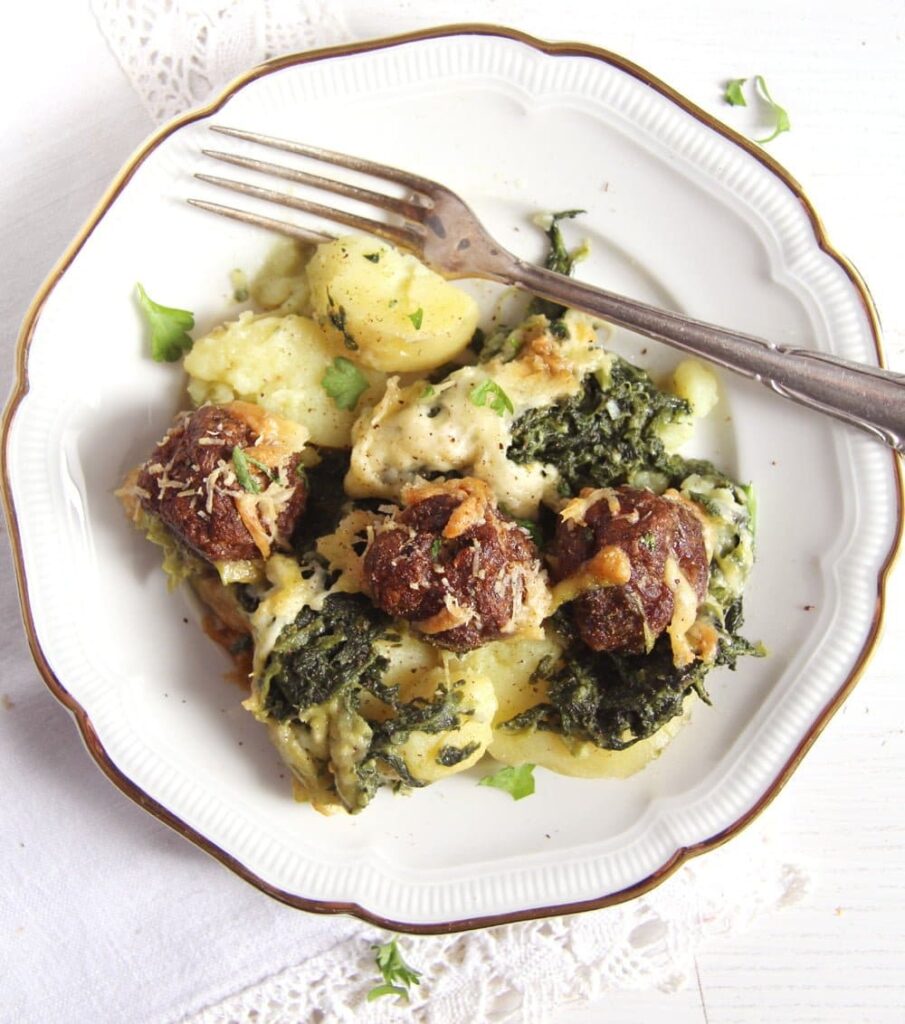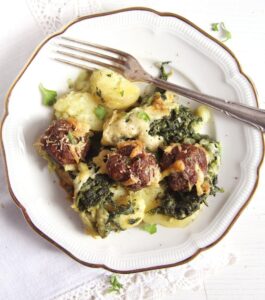 Spinach Meatball Potato Casserole
<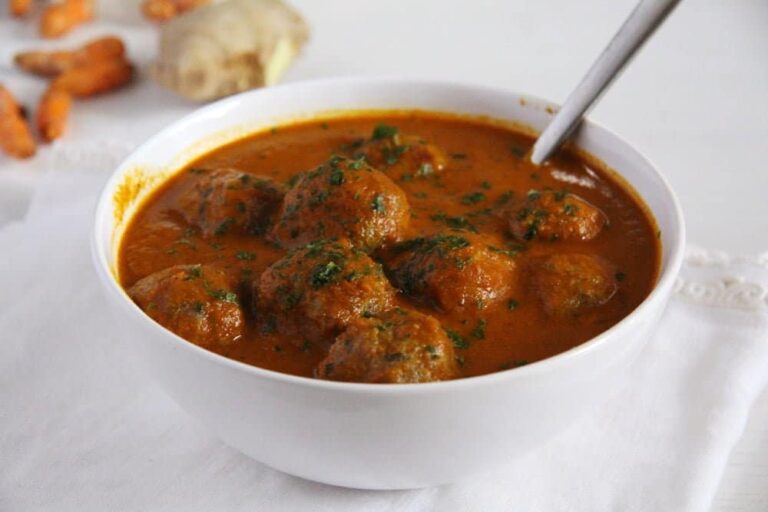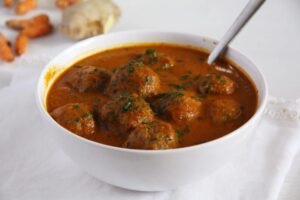 Turkey Meatballs in Turmeric Sauce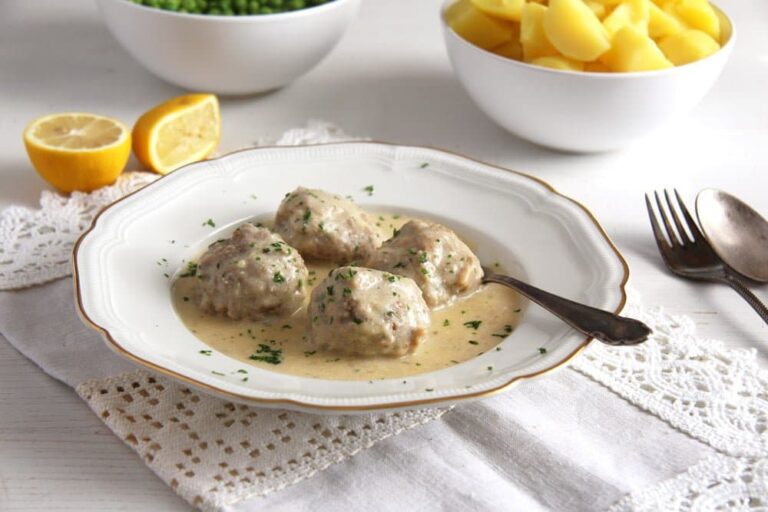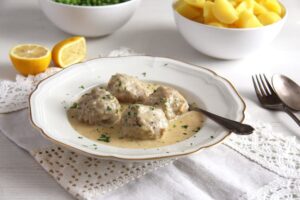 German Meatballs in Caper Sauce