Try the best garlic herb butter ever! Made with garlic and aromatic herbs, this herbed butter adds fantastic flavor to any dish. Spread it on bread, melt it over your favorite steak, or toss it with hot vegetables.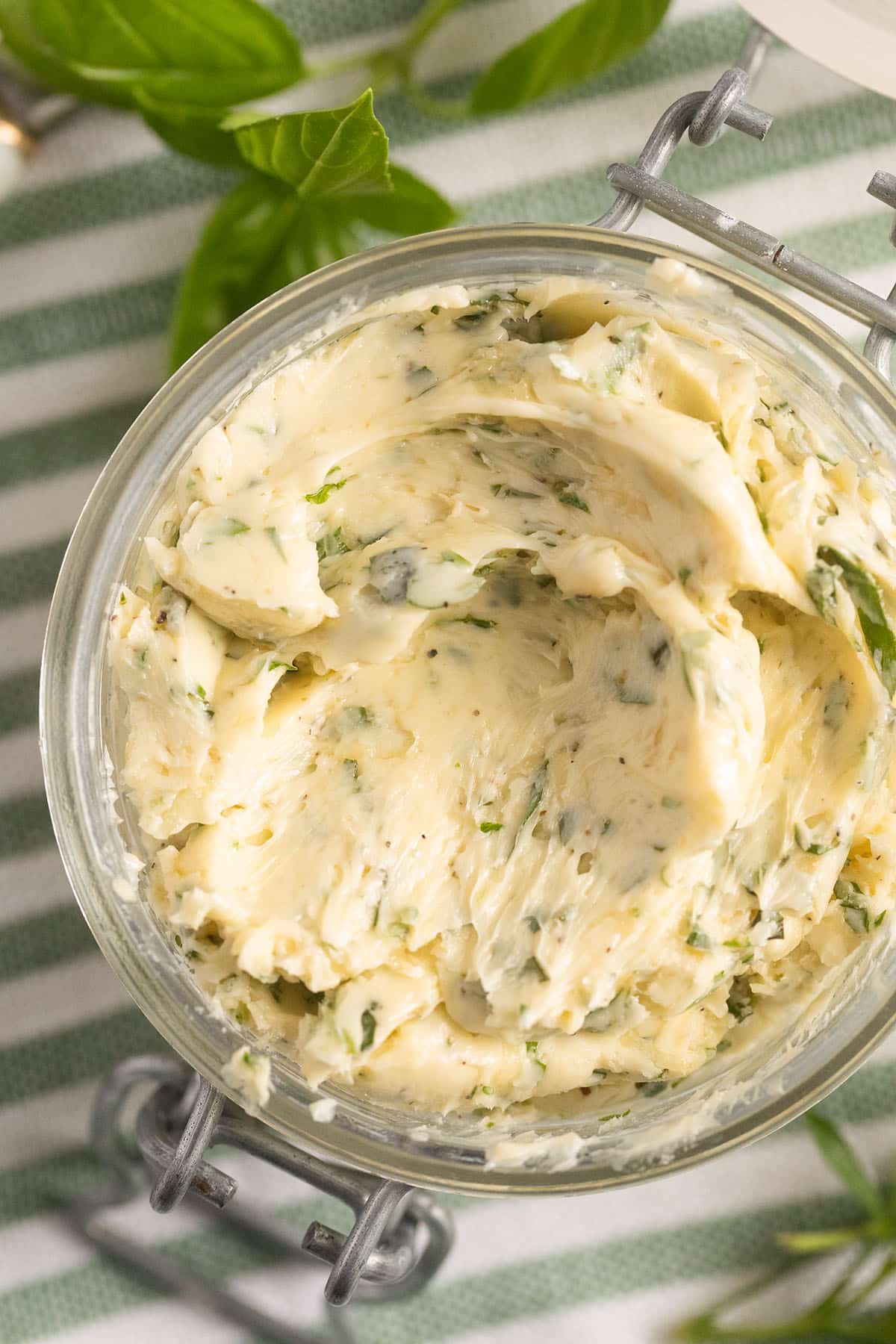 This homemade garlic herb butter is creamy, aromatic, and addictively delicious. It's a versatile condiment with amazing flavor that enhances your favorite recipes.
I could just eat it on crusty bread or toast and be happy with it; I am hardly interested in any other food at a grill party if this garlic and herb butter is part of the menu.
This easy recipe uses simple ingredients; it's ready in minutes and makes the most delicious condiment. Really - the best garlic spread or garlic herb butter recipe! It's an absolute crowd-pleaser, perfect for your family gatherings or to bring along to a potluck party.
Jump to recipe
What is garlic butter?
A type of compound butter, which is a flavorful mixture of softened butter and various ingredients such as herbs, spices, garlic, citrus zest, or other flavorings. 
It is a versatile ingredient that can be used to enhance the taste of various dishes. Compound butter can be used as a spread, melted over grilled meats, tossed with vegetables, or incorporated into sauces and gravies. It adds a burst of flavor and richness to any recipe.
Use our herb and garlic butter to make this incredible homemade Garlic Bread Baguette. Or check out another herby and garlicky spread, our Wild Garlic Butter. 
Recipe ingredients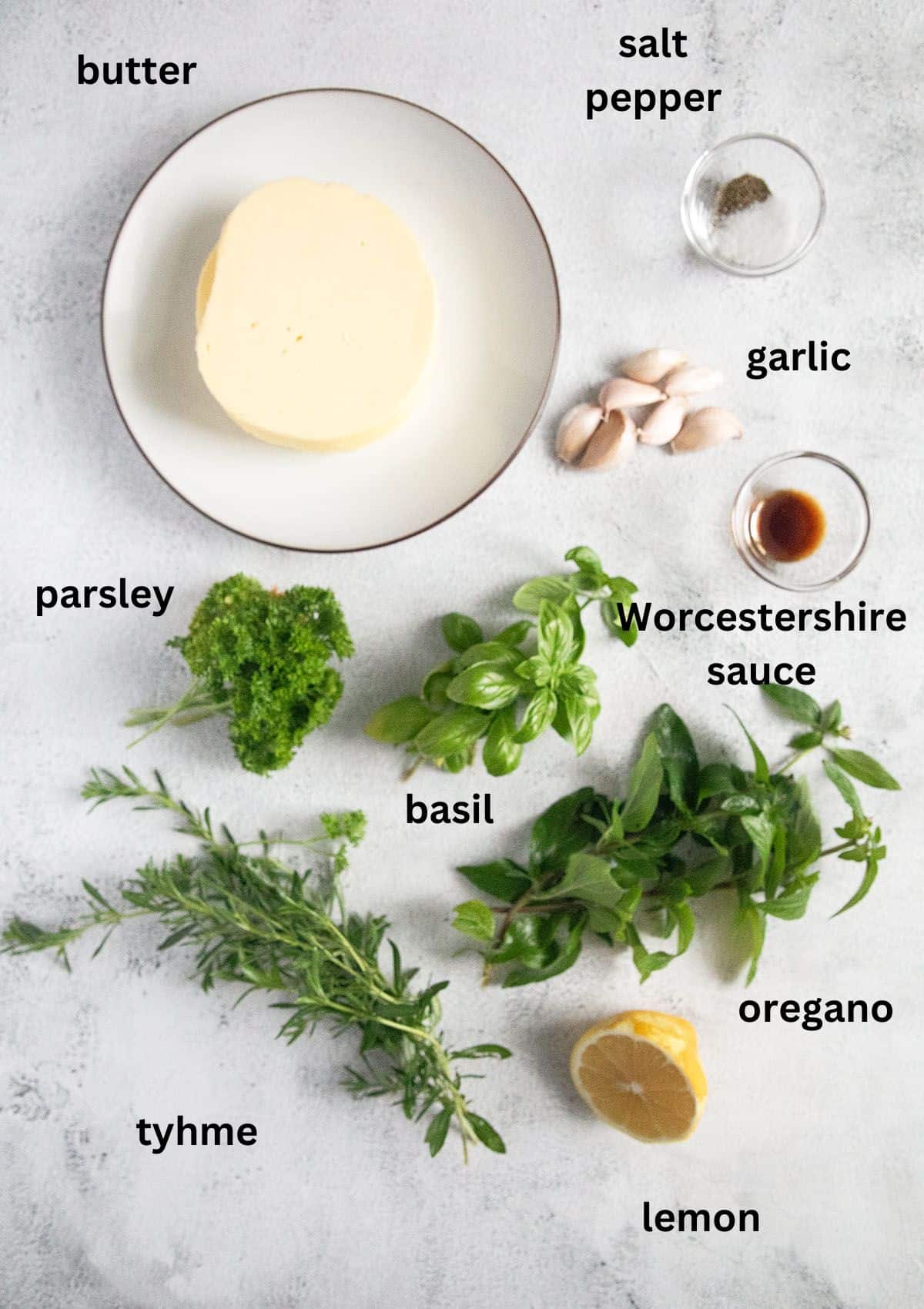 Butter: Unsalted or salted butter. I definitely prefer unsalted because it allows me to control the salt amount I use better.

The recipe is developed using unsalted butter and ¾ teaspoon of fine sea salt. If using salted butter, start with a pinch of salt, mix everything, taste, and add more salt as required. 
Fresh herbs: Parsley, basil, oregano, and thyme. I weighed the leaves after removing the steps, and I had about 25 g/ 0.7 oz. A little more or less than that is fine.
Garlic: Lots of fresh garlic, between 5 and 7 cloves, depending on their size and your personal taste. If you prefer a milder garlic flavor, you can always start with less and add as much as you like. 
Worcestershire sauce: Worcestershire sauce is a savory, tangy condiment made from a blend of vinegar, molasses, anchovies, tamarind, garlic, and various spices. It enhances the of this delicious herbed butter.
Fresh lemon juice adds brightness and freshness. If your lemon is organic and unwaxed, you can also add a bit of its grated zest to the compound butter.
Salt: Fine sea salt or kosher salt; the amount you need depends on the butter's saltiness. If using table salt (which is more potent), start to less and add more gradually and to taste. 
Pepper: Either ground black pepper or white pepper. 
How to make garlic and herb butter?
Let the butter come to room temperature, but make sure it doesn't get too soft and lose structure. It should be spreadable and easy to stir but not melty-soft.
Wash and dry the herbs thoroughly. Remove the stems and chop the leaves very finely using a large chef's knife (1,2). 
Grate the garlic cloves finely.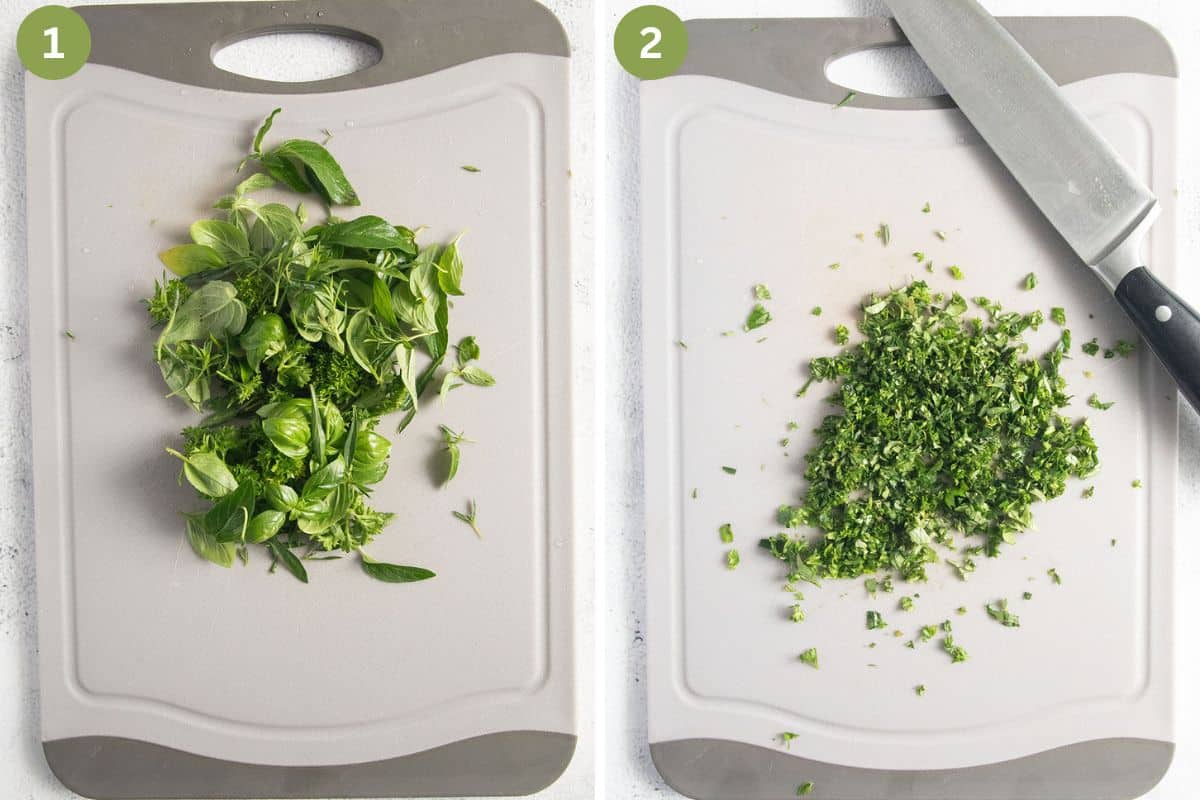 Combine all the ingredients in a medium bowl, stirring them with a spoon (3,4).
Adjust the taste with salt and maybe another drop of lemon juice.
Transfer the herb garlic butter to a small jar with a lid or another airtight container.
Keep it in the fridge, but allow it to come to room temperature before serving; otherwise, you will not be able to spread it.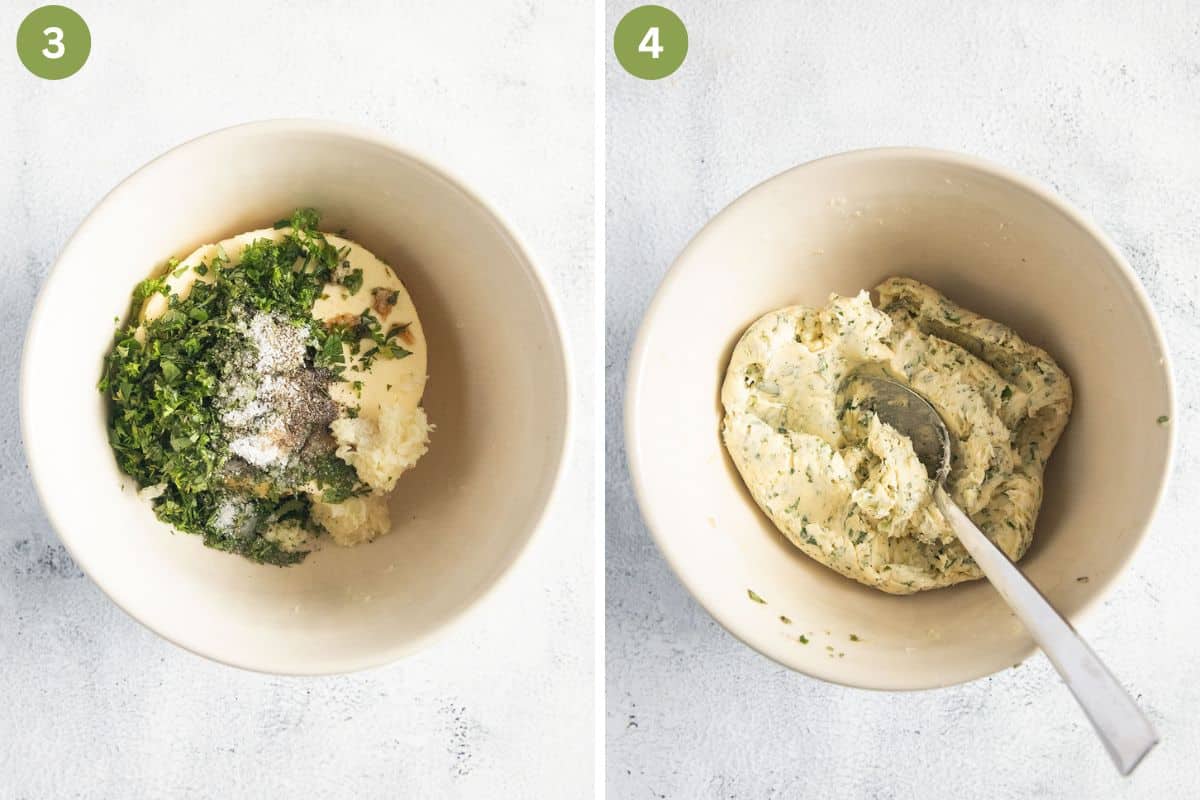 Variations on the recipe
Use other chopped herbs, whatever you like, or it's available. When using very potent herbs (like fresh rosemary leaves or dill), start with less and add more as required. 
Lemon and herbs: Use only 2-3 minced garlic cloves, about half the amount of herbs, and add lemon zest to the mixture (to taste). Or use lime zest instead of lemon.
Chili butter: Use a bit less garlic and herbs, and add red chili flakes or cayenne pepper to taste.
Lemon pepper: Replace the pepper with lemon pepper to taste.
Add 1-2 tablespoons of freshly grated Parmesan.
Expert Tips
Butter and salt: I recommend using unsalted butter for compound butter recipes, as it allows better control over the overall saltiness of the dish.

The amount of salt you need depends on the type of butter you use - salted or unsalted, and also on the type of salt you use – sea salt, kosher salt, or table salt. Please use it to taste.
Garlic: The same goes for garlic, we love a strong-flavored butter, but you can add as much or as little as you like. 
Incorporating the ingredients: Mix the ingredients thoroughly to ensure even distribution. Soften the butter at room temperature to make it easier to blend. Consider using a fork, spatula, or mixer to combine the ingredients uniformly.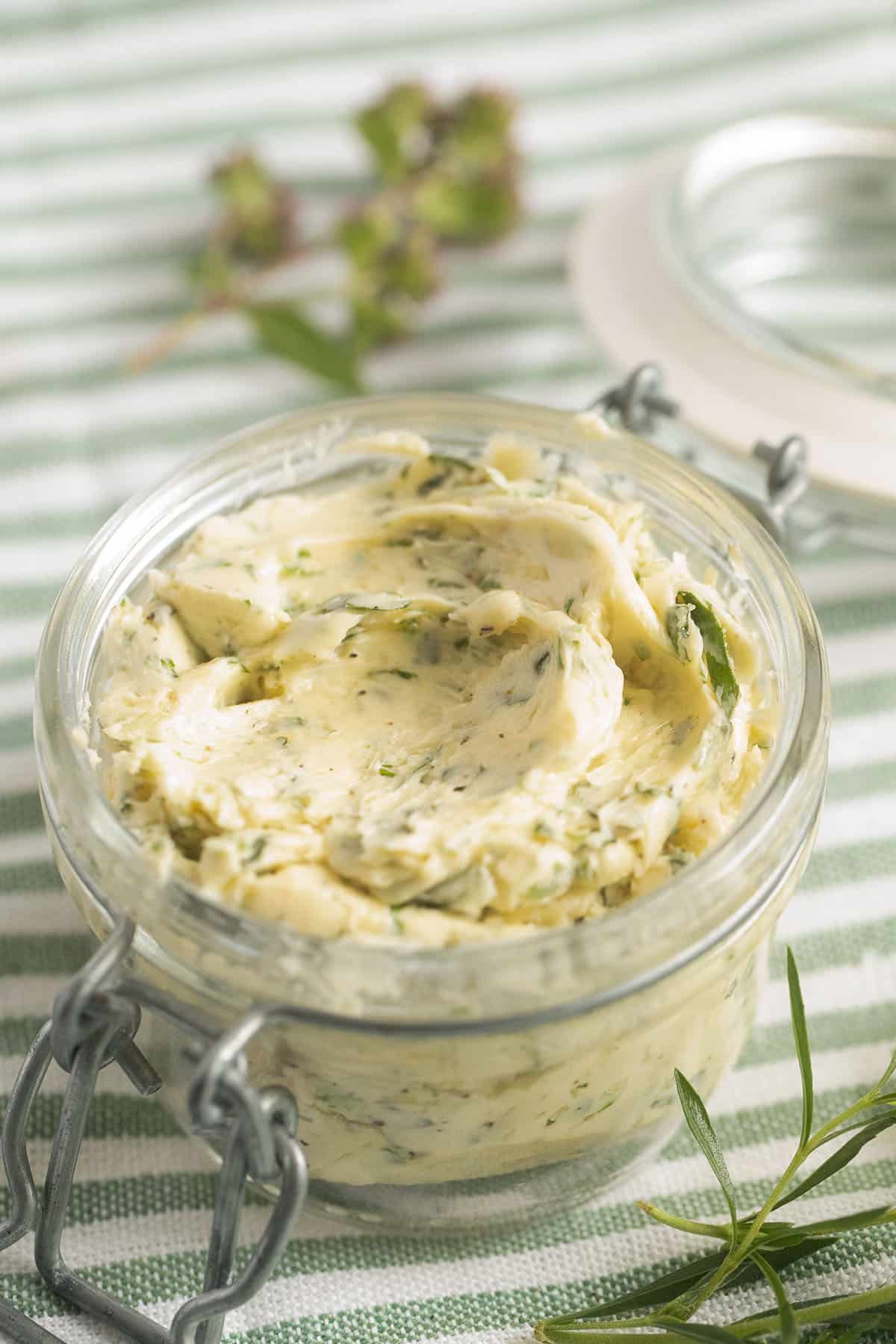 Recipe FAQ
What is the best tool for mincing garlic?
You can use a garlic press if you have and like it, but for me, a microplane (the Amazon affiliate link opens in a new tab) or the fine side of a box grater is the way to go.
I've tried various presses before, but they always disappoint.
A microplane is quick, efficient, and budget-friendly. It gets the job done effectively without any fuss.
Can I use compound butter for baking? 
Yes, it can be used in baking recipes to infuse a delightful flavor into pastries, bread, and other savory baked goods. Adjust the amount according to the recipe's requirements.
Can I use dried herbs for this recipe?
Theoretically, you can, but the spread will not taste nearly as good as when made with fresh herbs.
How to store compound butter?
Refrigeration
I prefer a small jar with a tight lid; I think it looks pretty, and it doesn't take up too much space in the fridge.
But you can also shape it into a log using plastic wrap or roll it into individual portions using parchment paper.
Refrigerate the log until firm, then slice off portions as needed. 
When refrigerated, the garlic and herb butter will last for 1 to 2 weeks.
Freezing
For extended storage, freezing is a great option; this way, it will last for up to 6 months. Over time, it may still be safe to consume, but the flavor and texture may degrade slightly.
Freezing methods:
Freeze the entire log of garlic herb butter, making sure it is tightly wrapped or sealed in an airtight container to prevent any exposure to air, which can cause freezer burn or flavor deterioration. 
Slice the log into individual portions, freeze them on a plate until solid, and then transfer them to a freezer bag.
Transfer the soft spread into ice cube trays and freeze it that way. This allows you to conveniently grab the desired amount whenever you need it while keeping it fresh for longer periods in the freezer.
How to use garlic and herb butter?
Spread on warm fresh yogurt soda bread, crusty bread, bread rolls, or yeast dinner rolls.
Add to mashed potatoes, serve it with boiled or baked potatoes, and stir it into hot rice.
Melt over grilled meats: Place a slice or two of compound garlic herb butter on top of a steak, chicken, or fish. Let the butter melt and infuse the meat with extra flavor, adding richness and moisture. Or let a few pieces melt on top of your Thanksgiving turkey.
Toss with vegetables: Add a dollop to steamed or roasted vegetables while they are still hot. Toss gently to coat.
Finish pasta dishes: Stir a spoonful into freshly cooked pasta just before serving. It will create a luscious sauce that coats the pasta strands.
Melt into sauces and gravies: It will melt and emulsify, enhancing the richness and flavor of the sauce.
Topping for seafood: Melt a pat over grilled or steamed seafood, such as lobster, shrimp, or scallops.
Baking: Use garlic herb butter to flavor savory baked goods like biscuits, scones, or cornbread. Incorporate small pieces into the dough or brush the tops with melted compound butter for an extra layer of taste.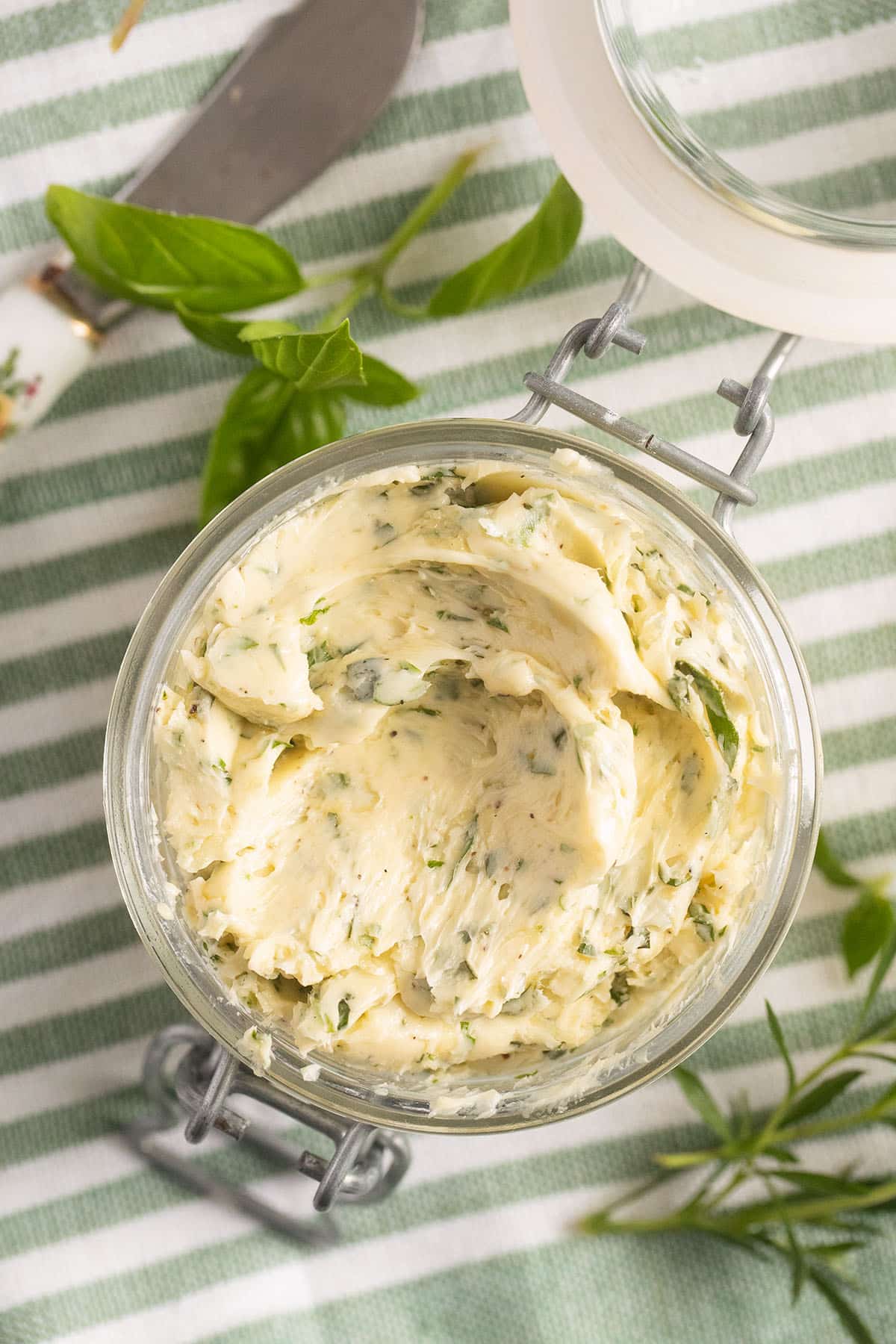 More recipes with lots of garlic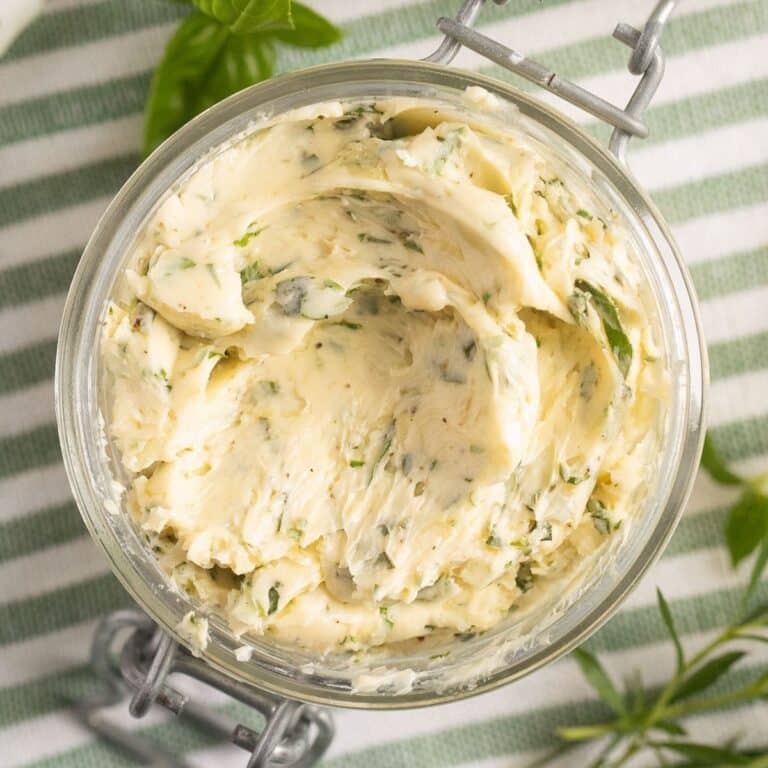 The Best Garlic Herb Butter Recipe
Try the best garlic herb butter! Made with garlic and fragrant herbs, it adds amazing flavor to any dish. Spread on bread, melt on steak, or toss with hot veggies.
Print
Pin
Share
Grow
Saved!
Rate
Equipment
Bowl

Jar with lid or another airtight container
Ingredients
2

sticks

butter

salted or unsalted, 250 g/ 9 oz, at room temperature, Note 1

1

small bunch

parsley

Note 2

1

small bunch

basil

1-2

sprigs

oregano

3-4

sprigs

thyme

5-7

cloves

garlic

according to size and taste

1

teaspoon

Worcestershire sauce

2

teaspoons

lemon juice

freshly squeezed

¼

teaspoon

ground black pepper

or white pepper

¾

teaspoon

fine sea salt

if using unsalted butter
Instructions
Allow the butter to come to room temperature; it should be soft and spreadable but not melty. 2 sticks/ 250 g butter

Garlic and herbs: Wash and dry them thoroughly. Remove their stems and chop the leaves very finely. Grate the garlic cloves on the microplane or use a garlic press. 1 small bunch of parsley + 1 small bunch of basil + 1-2 sprigs oregano + 3-4 sprigs thyme + 5-7 garlic cloves

Combine all the ingredients in a bowl, stirring them with a spoon, fork, or spatula, and ensure even distribution. butter + herbs + garlic + 1 teaspoon Worcestershire sauce + 2 teaspoon lemon juice + ¼ teaspoon pepper + salt (See Note 1)

Transfer the butter to a small jar with a lid or another airtight container and refrigerate it.

Serve: Allow it to come to room temperature before serving.
Notes
Butter: You can use salted or unsalted butter, but adjust the salt you add accordingly. I always use unsalted butter and ¾ teaspoon fine sea salt. If using salted butter, start with a pinch of salt and add more according to taste.
Herbs: A total of 20 g/ 0.7 oz herbs weighed after removing the stalks. You can variate the herbs according to taste and what's available.
Nutrition
Serving:
1
tablespoon
|
Calories:
192
kcal
|
Carbohydrates:
13
g
|
Fat:
16
g
|
Saturated Fat:
10
g
|
Polyunsaturated Fat:
5
g
|
Trans Fat:
1
g
|
Cholesterol:
43
mg
|
Sodium:
315
mg
|
Sugar:
12
g