Last Updated on
Baguette with herbs and lots of garlic is one of my son's favorite things to eat. We used to buy the ready- made ones from time to time and he would always manage to eat on his own more than the rest of us put together. But because he already knows that homemade things are always better than the ready made ones, he kept asking me when would I make such a bread myself: "It will surely taste even better, isn't it, mama? Everything homemade tastes better!" (Such a clever, well-trained in food matters sweetheart, I am telling you! 🙂 )
I kept putting it away for a while, because, well, the ready-made baguettes are good and fast and pretty cheap, but with all the herbs growing in my garden at the moment and with this herb series coming, I had to give it a try. And what a revelation it was! I still enjoy a ready-made herb baguette when being served one somewhere, but I think it would be a long time before I buy one again. Because no herb baguette in the world can be better than this one.
You can taste the flavor of the herbs, their freshness and greenness in a way you could never taste them in the bought version, the garlic is pungent and delicious, the melted butter is out of this world and the bread is crisp, buttery, warm and soooo comforting.
I made the bread several times now and we all love it. It is very easy and quick to make, it bakes in no time and I imagine it being quite versatile. I plan to try it with sun-dried tomato – butter and olive – butter in the near future. I used fresh herbs for the baguette that you can see in the pictures, but I have already made it with this amazing Herb Garlic Paste from Wednesday as well. If you, by any chance, make the paste and decide to use it for this recipe as well, just mix a few teaspoons of it with the butter and leave out the salt and garlic.
I didn't push it too far with the homemade thing, so I didn't make my own bread this time. But I bought a really good fresh baguette at the bakery, don't use frozen baguettes, they're just not the same, I've already tried that and there is a big difference. I used parsley, chives and oregano, but you could try it with other herbs as well. Basil would be great, wild garlic for sure (use less garlic in this case) or a combination of several herbs of your choice.
I hope you give this recipe a try, it is really worth it. You can have this on its own with some salad or in summer with grilled stuff in the garden. I haven't tried it, but I am pretty sure you could place this baguette on the grill as well, to make it warm. If you try that, let me know how it works!
Rating 5.0 from 2 reviews
Prep time:
Cook time:
Total time:
Ingredients
250 g/ 8.8 oz butter, soft
small bunch chives
small bunch parsley
small bunch oregano
10 garlic cloves
3 fresh baguettes à 250 g/ 4.4 oz
salt and pepper
Instructions
Take the butter out of the fridge and let it get soft. Chop the herbs very finely. Peel and finely grate the garlic. Mix everything together and add some salt and pepper to taste. You can chop and mix in the food processor as well.
If you are using the Herb Garlic Paste from Wednesday, mix 2-3 teaspoons of it (or to taste) with the butter and leave out the garlic and the salt. Add some pepper.
Preheat the oven to 200 degrees Celsius/ 400 degrees Fahrenheit.
Slice the baguette at regular intervals but don't cut all the way through, the bottom should remain whole and hold the baguette together. Cut only about ⅔ through.
Smear the herb butter in between the slices. At this point you could wrap the baguettes and freeze them for future use.
Wrap each baguette in aluminum foil and bake in the preheated oven for about 10-15 minutes. Serve hot.
Others you might like:
3-Minute Bread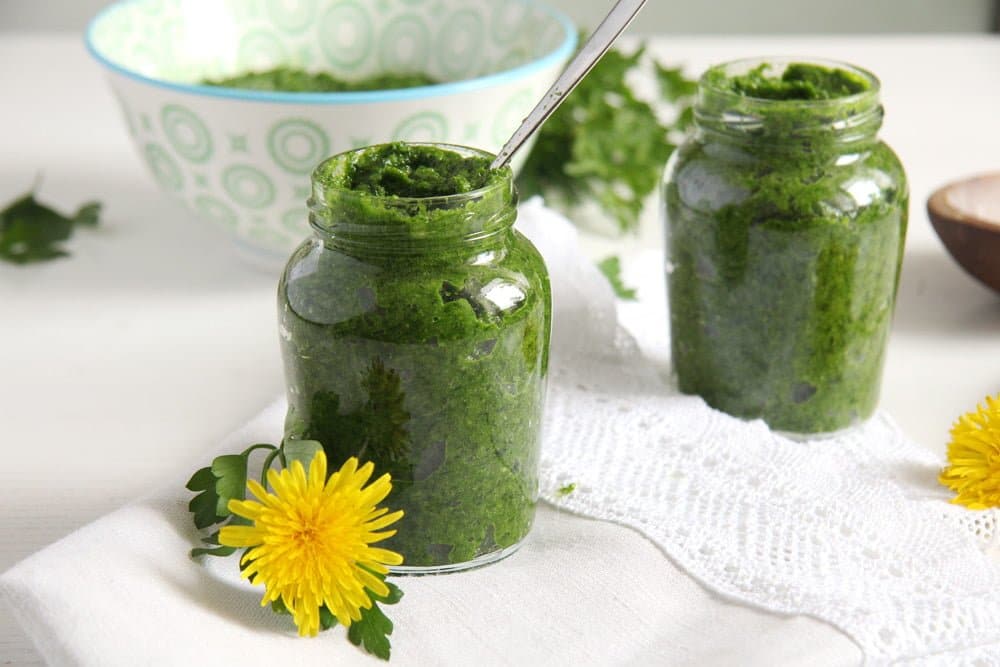 Herb Garlic Paste