The easiest way of preserving wild garlic. Blend the leaves with salt and oil to get an amazing condiment perfect for lots of different dishes.
Learn how to preserve wild garlic so that you can enjoy it all through the year until the next season. This method is the simplest way of preserving wild garlic, it makes a versatile paste that conserves the genuine taste of the plant and allows you to continue cooking with ramsons long after the season is over.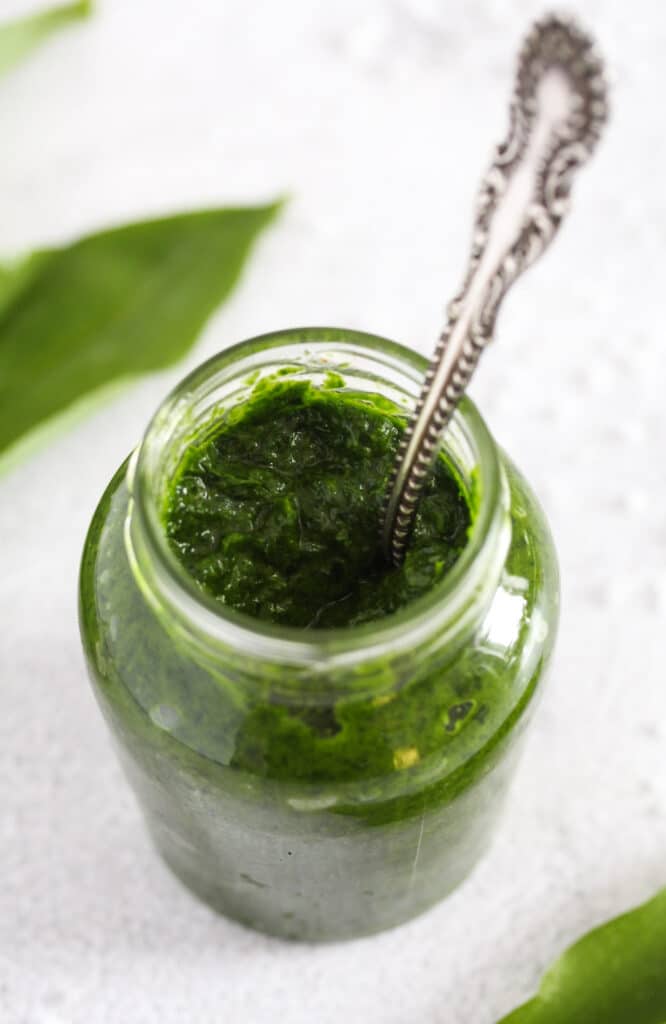 This is THE METHOD when it comes to preserving wild garlic. You can make an incredible pesto, you can make ramsons salt, you can pickle it, or you can freeze it. All great ways of conserving the plant, all simple and all delicious.
But making the paste is the most straightforward one, the one that will allow you to use the plant in any recipe you'd like. You can use the paste to make herb butter or other bread spreads, pesto or other sauces, add it to different kinds of dishes, and so on.
And if you would like to try another amazing herb paste, have a look at this Parsley Paste, it's addictive and just as fun to use as the bear's garlic paste.
What do you need?
Wild garlic:
Freshly picked, very clean leaves. Read What to Do with Wild Garlic for more information on safely picking and cleaning ramsons.
The plant has a short season from April to June, depending on where you are. Try to forage it earlier in the season when it has no flowers or only a few flowers. Once the flowers appear, the leaves become tougher and less flavorful.
As always when foraging, be 100% sure that you are picking the right plant and what you pick is safe to eat.
The amount of ramsons you use is up to you, it depends on how much you picked or bought. Do a bit of math and adjust the needed salt and oil accordingly.
Salt: I use fine sea salt. It is important to use as much salt as indicated because it is the salt that preserves the plant.
Oil: I use a neutral-tasting oil like canola or mild sunflower oil. I would not use olive oil for this recipe, but if you do that, choose a very mild sort as well.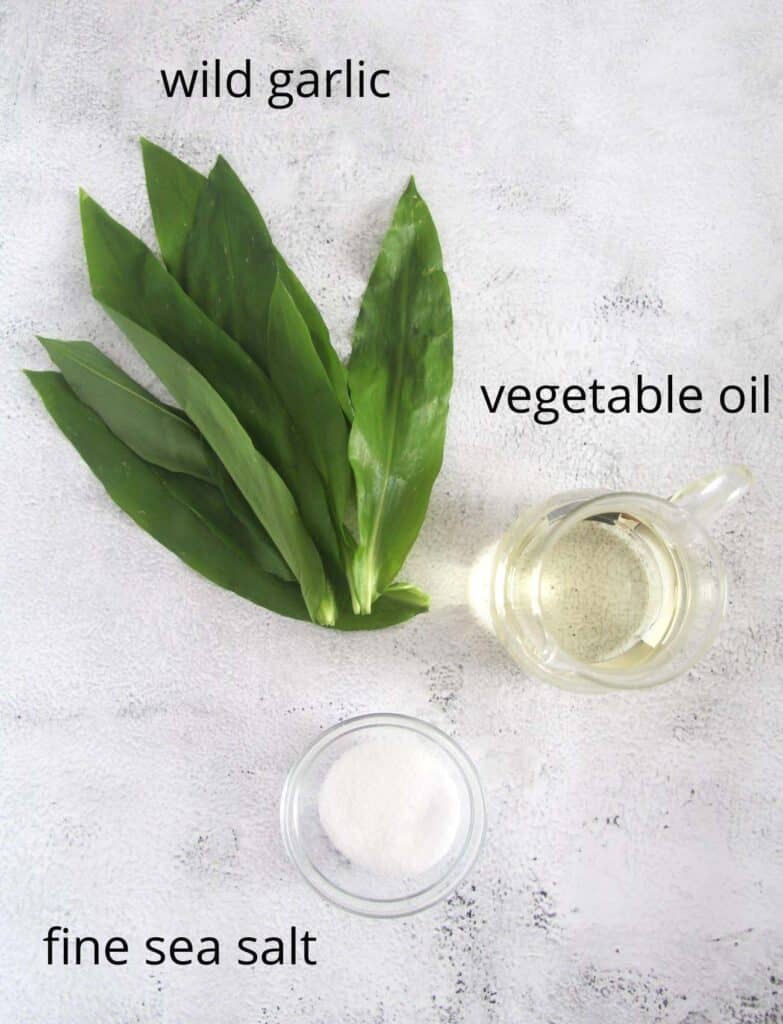 How to preserve wild garlic?
Clean the leaves thoroughly, I clean one at a time, under rather hot running water. Dry them well.
Chop them roughly, the food processor will deal with them better if they are pre-chopped.
Place them in the food processor and pulse until mashed.
Add salt and oil and process until rather smooth.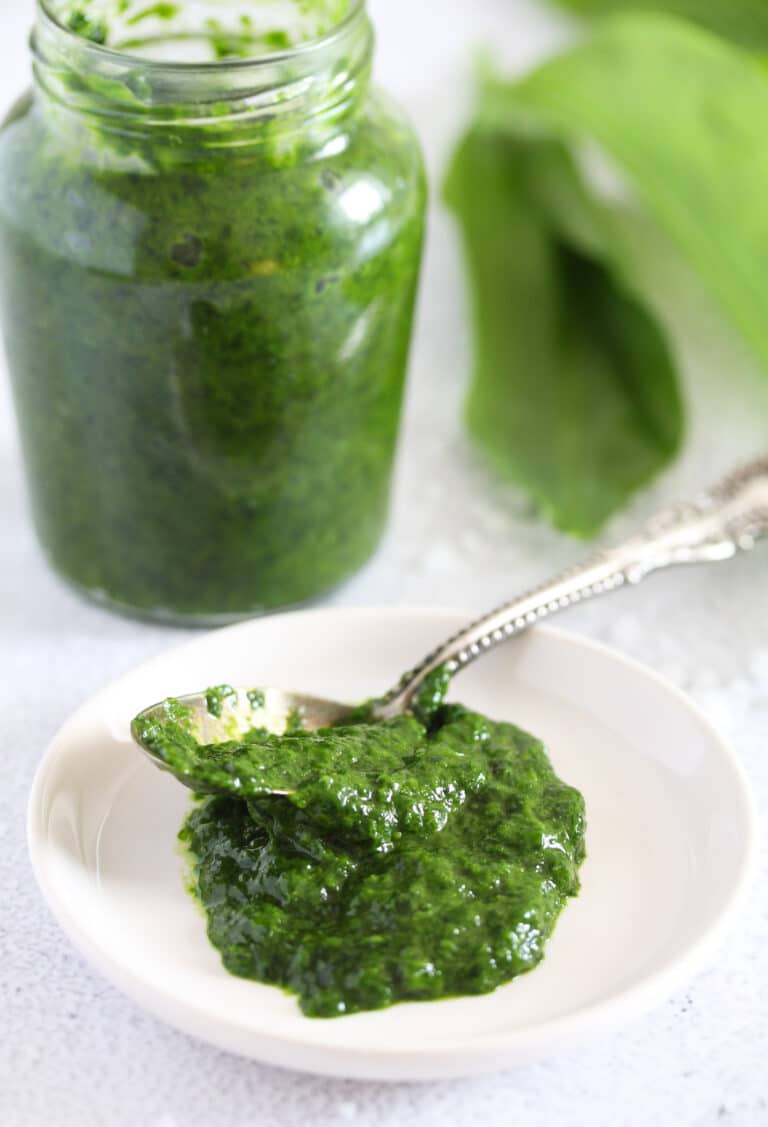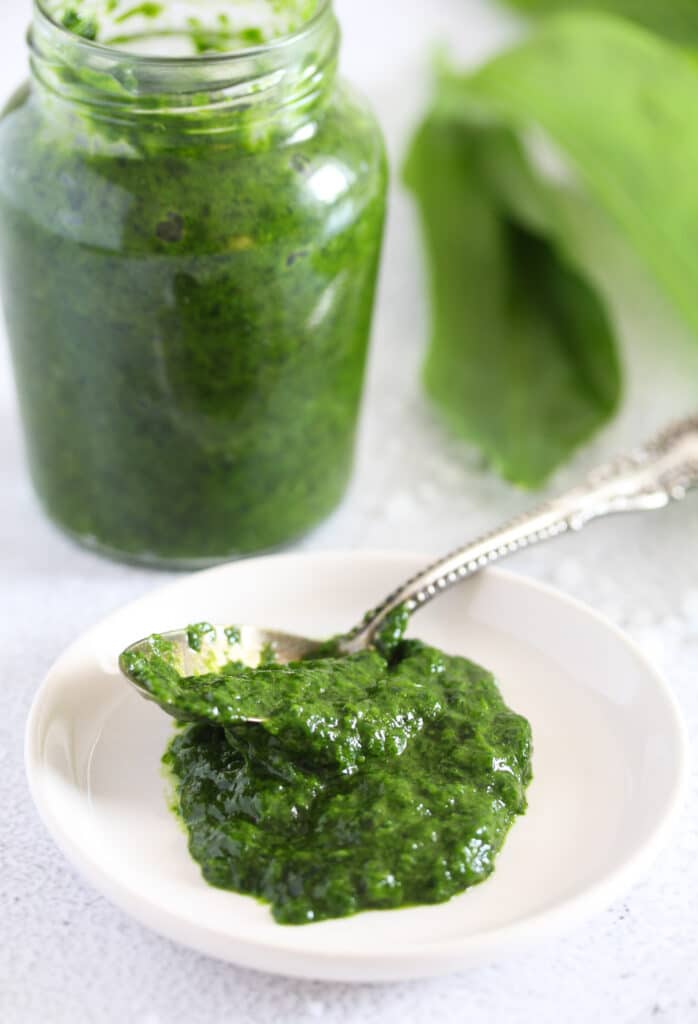 Tip:
If you make a small amount of paste, it is probably better to use an immersion mixer to make the puree. Or a smaller food processor.
My large food processor (a Thermomix) deals better with larger amounts, if I use it for small quantities, all I do is scrape its walls every 20 seconds or so. I use it because I usually make the double amount of paste.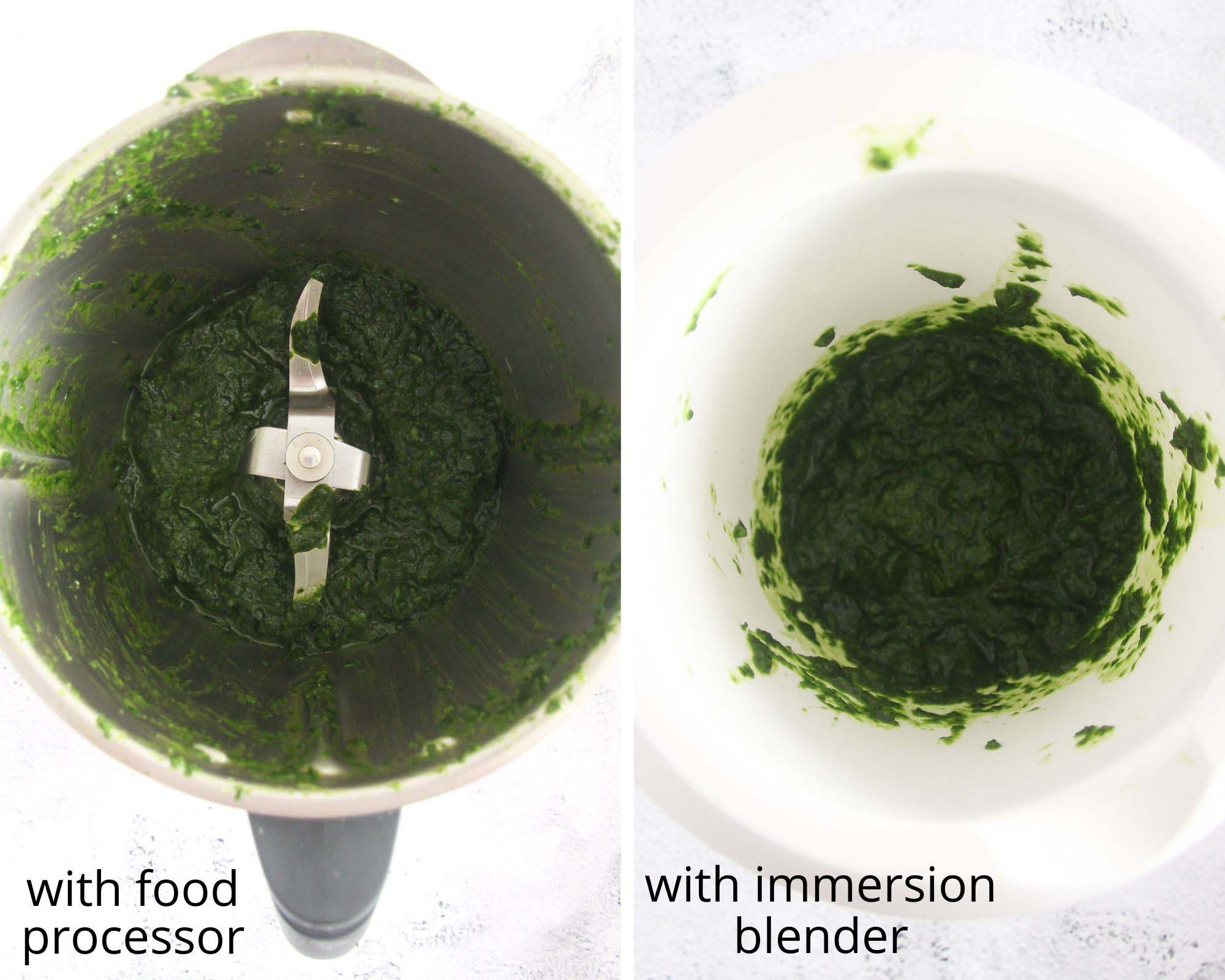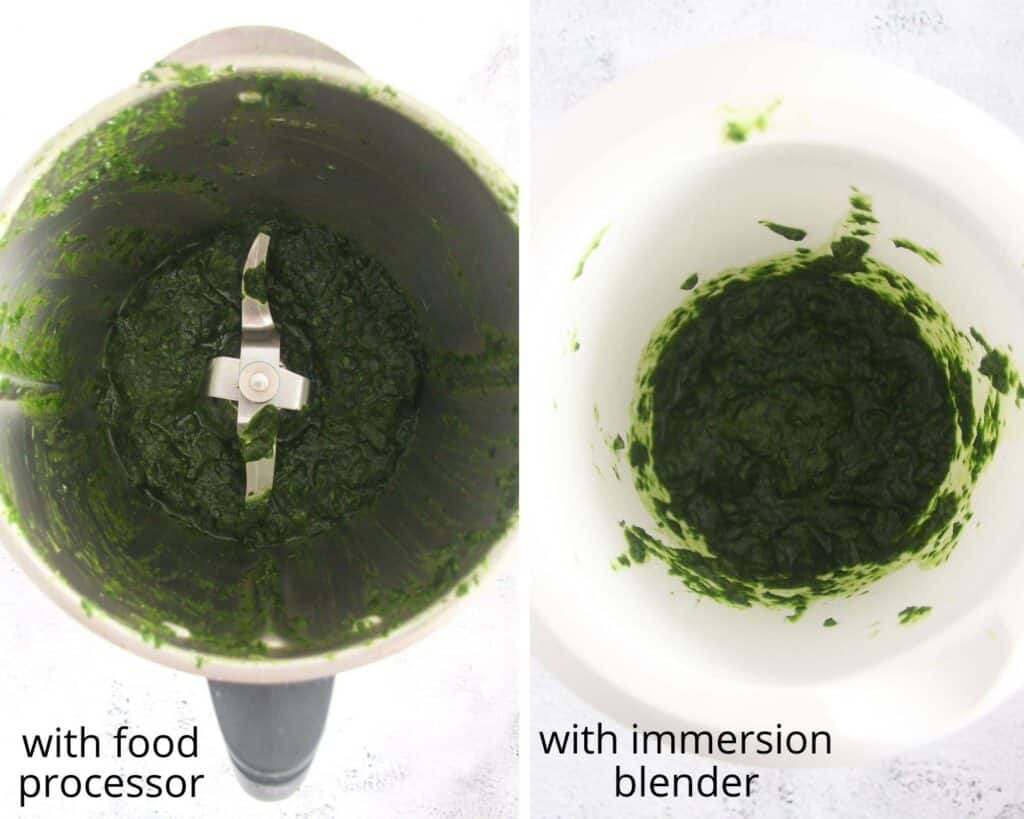 How to use the paste?
When using it, be careful with adding more salt to the dish, the paste is very salty. The same goes for the garlic that the recipe might require. If using the paste, reduce or leave out the garlic in the recipe.
Add to soups, stews, sauces, goulash. Actually, you can add it to most dishes you like.
Use for making salad dressings, either with oil and vinegar or with yogurt.
Make a quick pesto for pasta. Mix some paste with freshly grated parmesan, pine nuts (or sunflower seeds, almonds), and blend well. Add olive oil to reach the desired consistency.
For another quick pasta sauce, mix the paste with some heavy cream.
Mix with cream cheese and serve with pasta or over baked potatoes.
Make bread spreads or dips. Mix with cream cheese, sour cream, or other milk products.
Mix with soft butter to get the most delicious compound butter. Use to taste. As the paste is garlicky, salty, and herby, you will not need any other ingredients.
Add to mashed potatoes or cooked rice for a quick, flavorful side dish.
Use to marinate meat. Mix it with a little more oil to make it runnier and rub the meat with the mixture.
Mix with eggs to make scrambled eggs or omelet.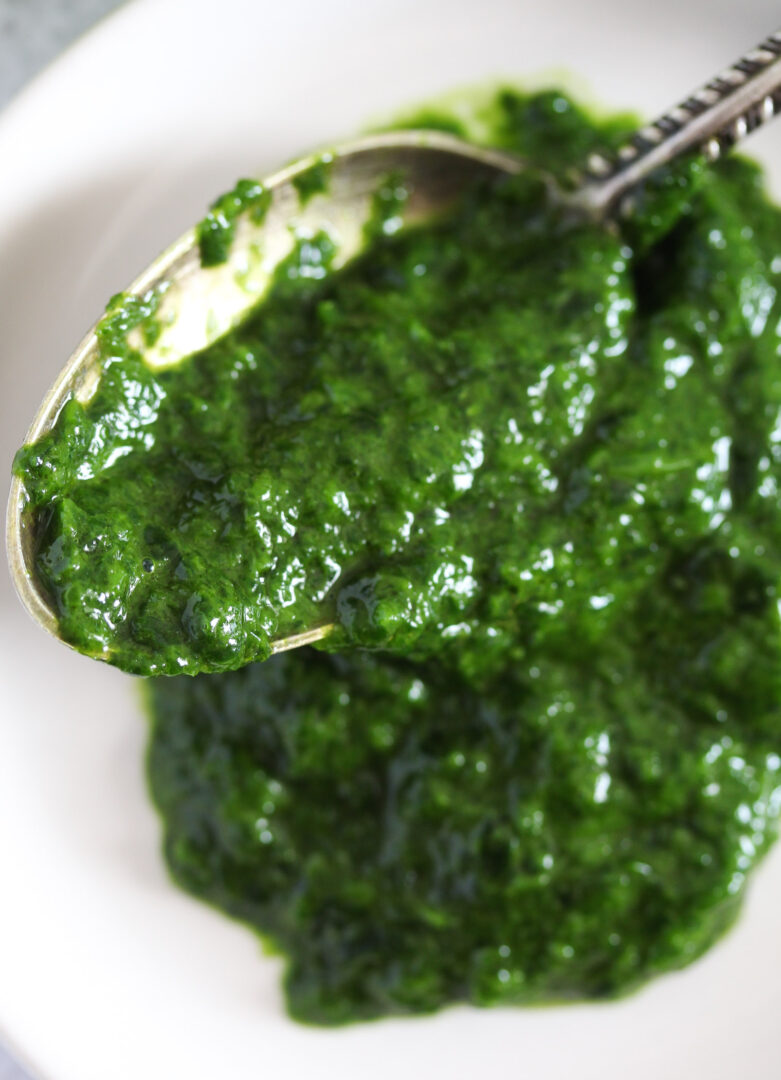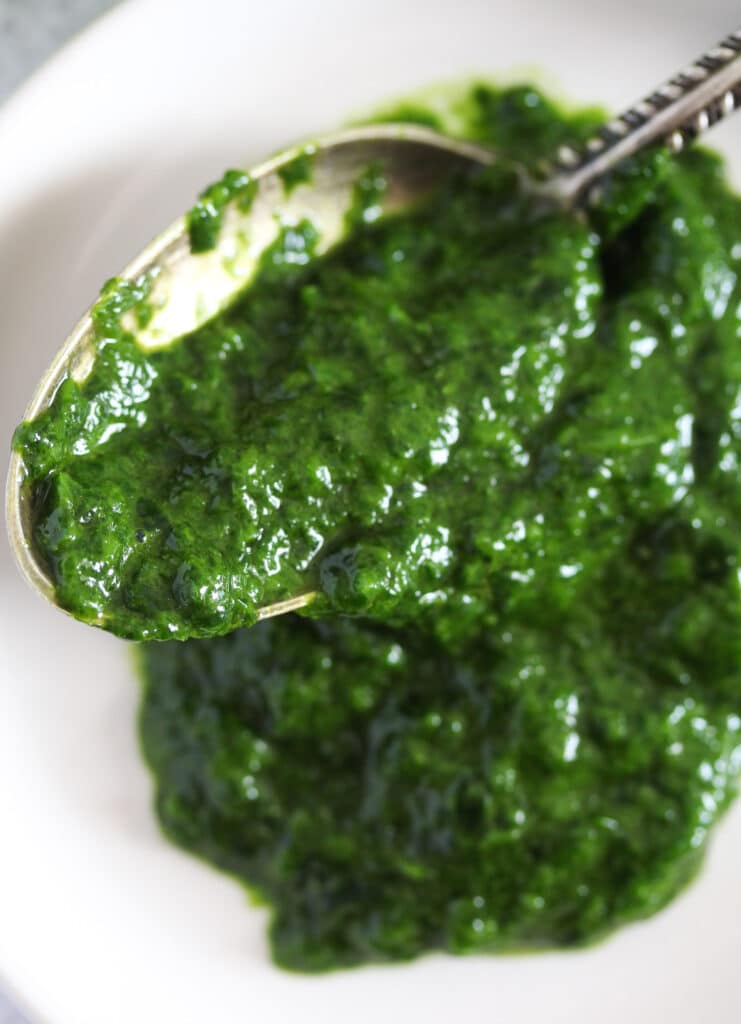 How to store?
The paste keeps very well in the fridge for at least 6 months. Once you've opened a jar, keep the rim clean and try to use it within 4 weeks. You can keep it in the freezer for even longer, at least 1 year. I found a jar that's been frozen for 3 years, the paste was still good.
More wild garlic recipes: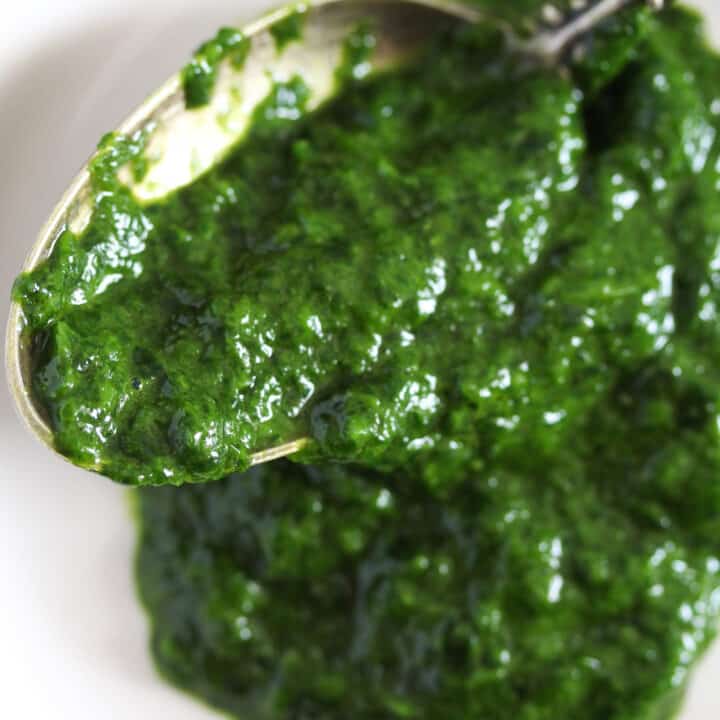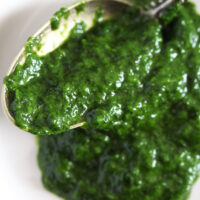 Preserved Wild Garlic (as Paste)
The easiest way of preserving wild garlic. Blend the leaves with salt and oil to get an amazing condiment perfect for many dishes.
Print
Pin
Share
Grow
Saved!
Rate
Servings:
10
about 2 cups
Ingredients
250

g

wild garlic

9 oz, Note 1

30

g

fine sea salt

0.6 oz/ 5 teaspoons

200

ml

vegetable oil

7 fl. oz/ scant 1 cup, Note 2
Instructions
Clean the leaves thoroughly, one at a time, under rather hot running water. Dry them well. Chop them roughly.

Blend with the salt and oil until rather smooth, scraping the walls of the food processor if necessary.

Transfer to small jars.
Notes
If you only make a small amount, it is preferable to blend the mixture with an immersion blender. For larger quantities, use the food processor. Experience has taught me that large food processors don't manage small amounts of ingredients very well.
I used mild sunflower oil or canola oil.
Nutrition
Serving:
1
cup
|
Calories:
840
kcal
|
Carbohydrates:
5
g
|
Protein:
4
g
|
Fat:
92
g
|
Saturated Fat:
7
g
|
Polyunsaturated Fat:
81
g
|
Trans Fat:
2
g
|
Sodium:
5901
mg
|
Fiber:
3
g
|
Sugar:
1
g