What to do with wild garlic? Learn about this wonderful plant, how to pick and clean it and how to use it in cooking. Either consumed fresh or preserved wild garlic is always a delight.
Spring is the time to go picking wild garlic, the most wonderful edible wild plant there is. But what to do with it? Here is everything you need to know about it.
Disclaimer: This article is meant only as a guide. The safest way to learn about picking edible wild plants is for someone who already has the knowledge to show you in person. Any foraging you do is at your own risk.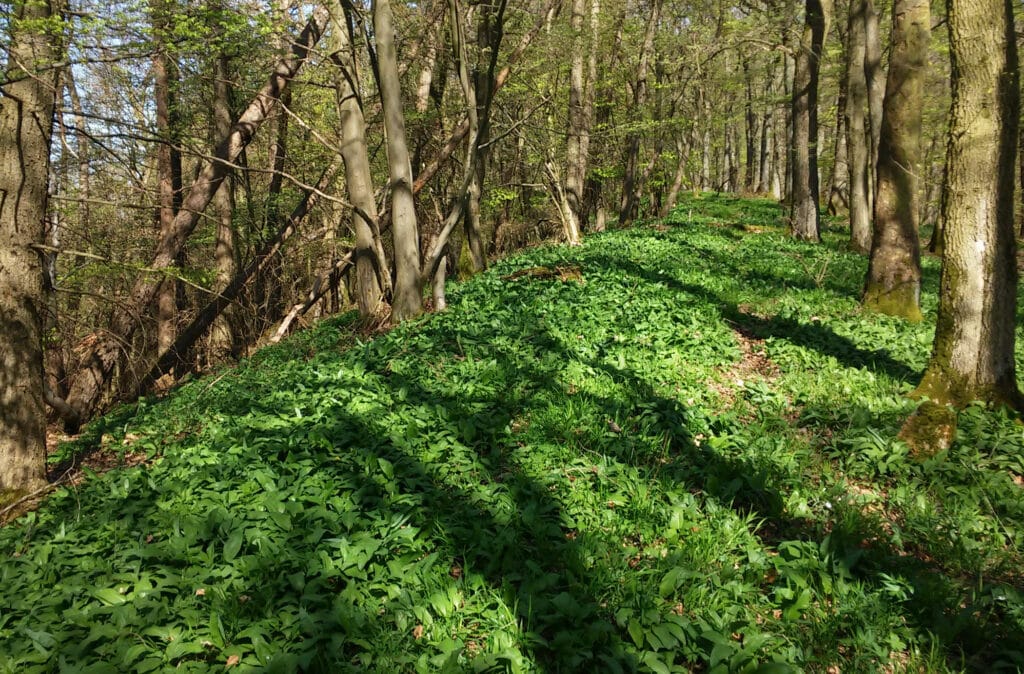 What is wild garlic?
Allium ursinum is a bulbous perennial plant also known as ramsons, buckrams, bear's garlic, bear leek, or wood garlic. It is made up of a bulb with rather long stems, long leaves, and white flowers, has an incredibly pungent smell, and tastes like garlic, but more delicate.
It's related to chives and it's native to Europe and Asia. It is widespread across most of Europe and grows throughout North America, in the Eastern half of the United States and on the West coast.
It grows in shady, damp woodlands, marshlands, fields and hedgerows. In Germany, I've only seen it the woods, never on an open field. It tends to create a carpet of plants in the woods, you must walk carefully, if you don't want to step on them and ruin the leaves.
Benefits of consuming it
Early Greek, Roman, Celtic and Teutonic healers were familiar with the plant, praising its healing qualities. In modern days (1992), the Association for the Protection and Research of European Medicinal Plants named it "Plant of the Year".
The essential oils in it have a positive influence on digestion, respiratory tract, liver, gall bladder, intestines, and stomach. They stimulate the metabolism and lower bad cholesterol levels. It is believed that it can improve heart health, having a good effect on high blood pressure.
It is also assumed that it can improve stomach issues, as its consumption has good effects on the bacterial flora in your gut, which can soothe inflammation, bloating, cramping, and constipation. Other components of wild garlic can also neutralize free radical activity, thus helping to lower the risk of cancer and other chronic diseases, for instance, heart disease or arthritis.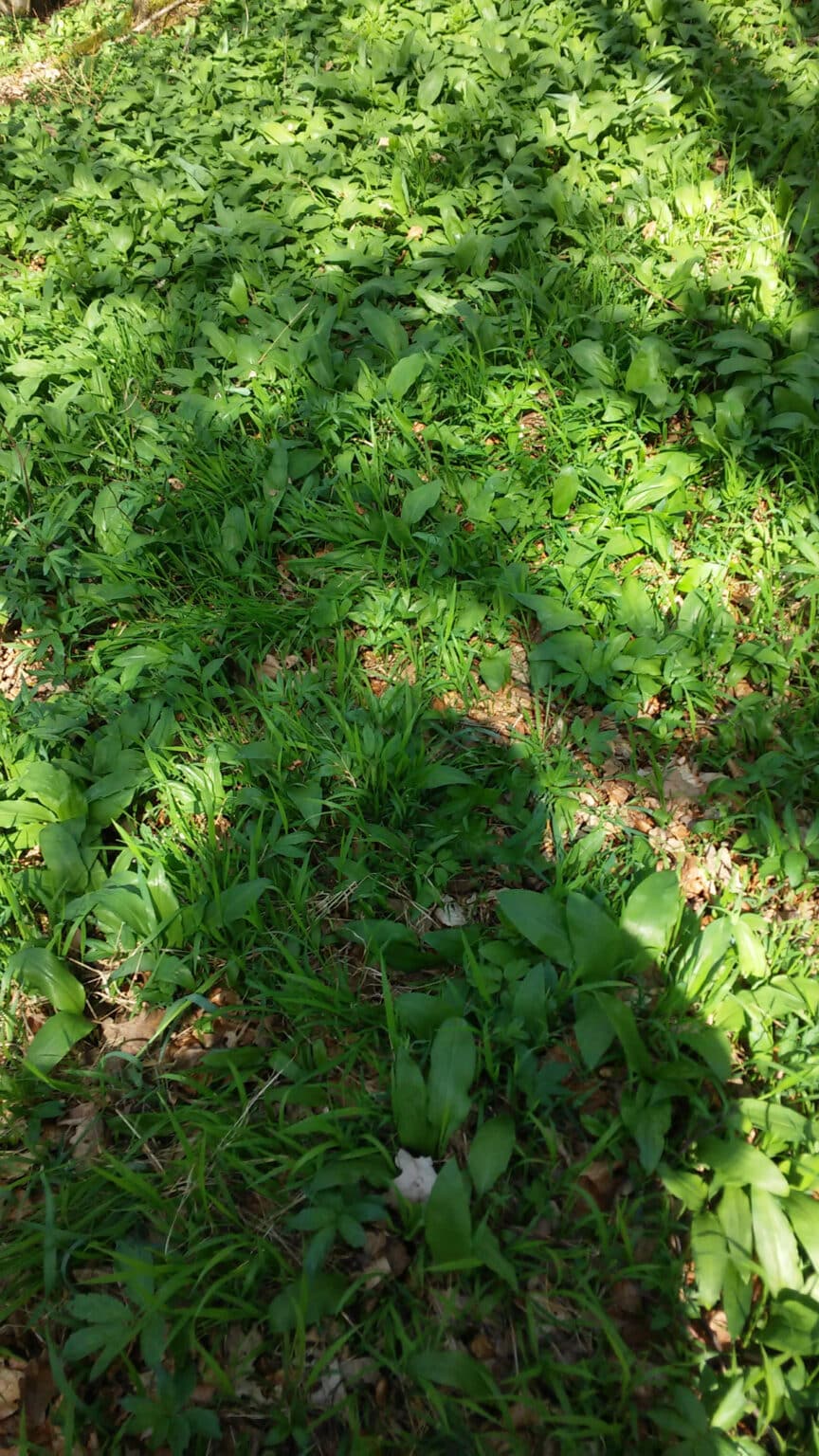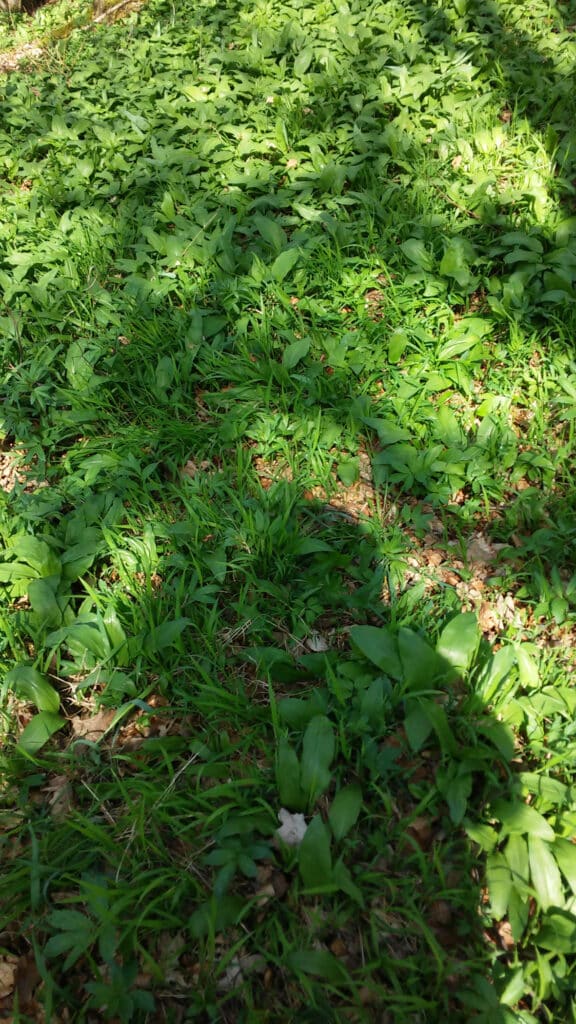 Picking wild garlic
Season:
They are one of the first greens to appear every spring. The bear's garlic has a short season from April to June, depending on where in Europe you are. In Germany, now is the time to go out and look for it. Try to forage it earlier in the season when it has no flowers or only a few flowers. Once the flowers appear, the leaves become tougher and less flavorful.
How to identify wild garlic?
As mentioned above, bear's garlic has stems and long green leaves. The flowers appear later in the season, so you will not be able to always use those as a guide.
The best way to recognize the plant is by its smell, if there is enough of it in the area where you go picking, the whole woods will smell of garlic. To make sure, pick a leaf, rub it lightly between your fingers and smell it. The garlic fragrance will be there. If it isn't, then you have the wrong plant.
Lily of the Valley and other similar plants
As always when foraging, be 100% sure that you are picking the right plant and what you pick is safe to eat.
The danger when foraging for wild garlic is to mistake it with the Lily of the Valley, which is super poisonous. Their leaves look quite alike, especially in the early season when they both don't have flowers yet, but if you have seen the two plants you will always know the difference.
First, there is the smell, the Lily of the Valley doesn't smell of garlic at all.
The wild garlic grows in a bunch and has a stem for each leaf. The Lilly has a stem from each at least 2 leaves or more are growing.
The flowers of the wild garlic are star-shaped, and they grow in clusters. They smell like garlic as well.
The Lily's flowers look like tiny bells and they grow on a long stem, hanging on its sides. They have an incredibly strong smell I absolutely adore it. But they smell of perfume, not of garlic.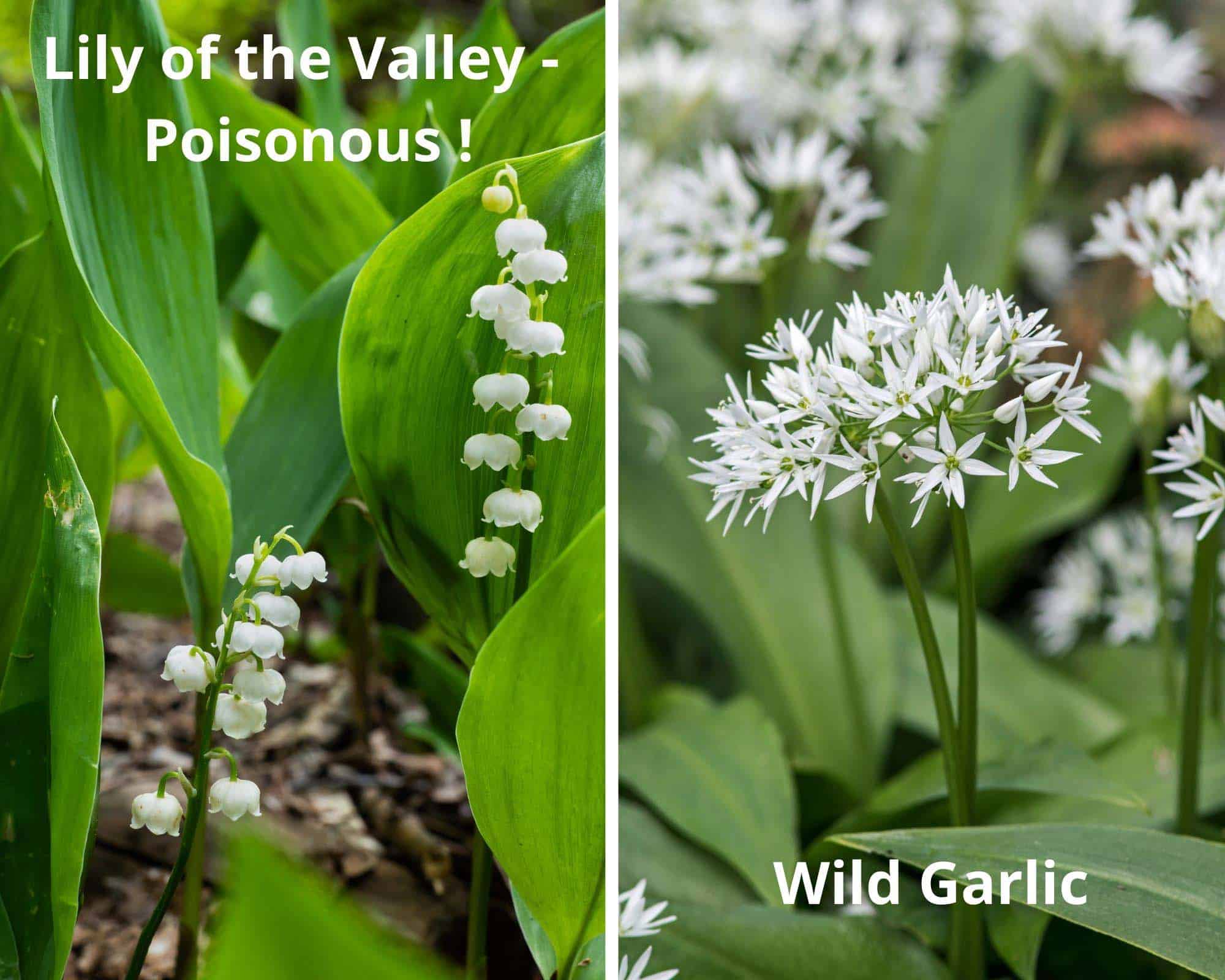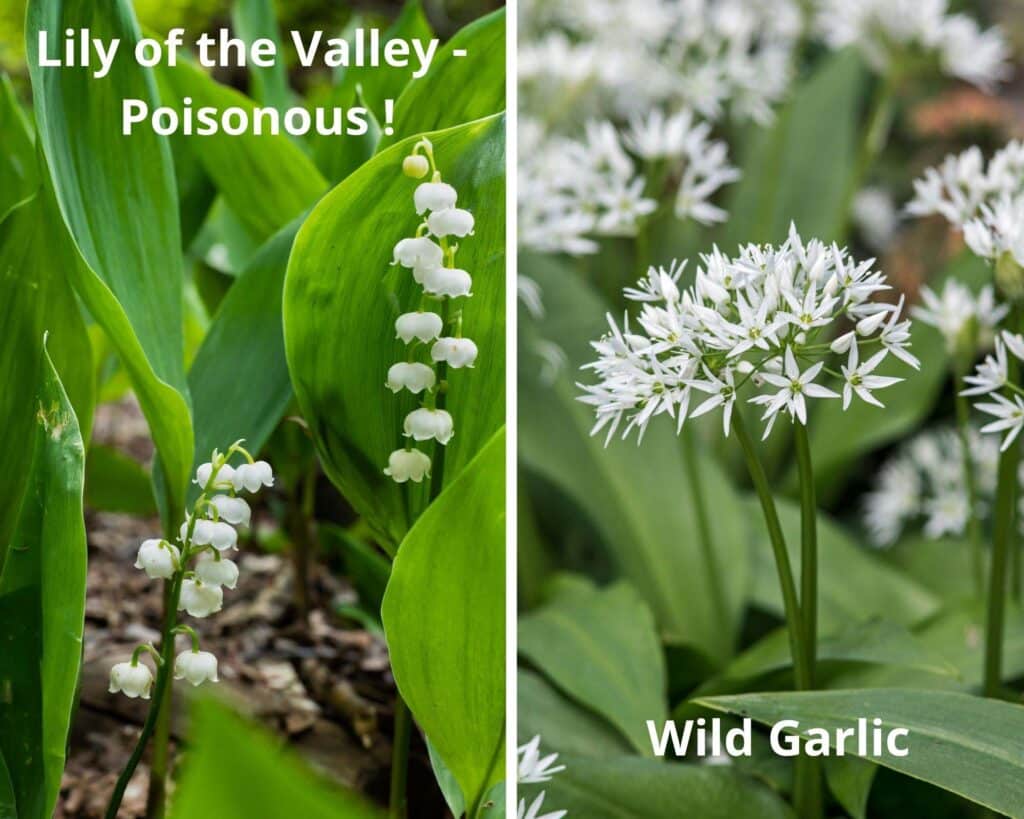 Autumn crocus, Arum maculatum (for instance, cuckoo pint, lords-and-ladies, and so on), Solomon's seal, and wild tulips can also be mistakenly picked instead of the garlic.
Food safety institutes are confronted by bear's garlic contaminated with these toxic plants every year, so please, make sure you know the difference when you go foraging.
Also avoid the mixed forest, inform yourself and go picking in known places, where only the wild garlic grows.
To avoid any mistakes, it is better to go picking it with somebody who really knows the difference between the two, at least the first time you do it.
Where to buy it?
When in season, you can buy it at the farmer's market or in the supermarket. In Germany, it is quite easy to find in any regular store right now, but it is rather pricey. It's sold in bunches (often packed in plastic) and the bunches are ridiculously small considering their price.
They are fine if you want to make a quick pasta dish or risotto but making pesto or other condiments with bought ramsons will cost a lot.
How to grow?
You can grow it yourself in the garden if you have enough space. This way you will not have to worry about confusing it with other plants and you don't have to go foraging either.
But keep in mind, that the plant spreads a lot, and if the conditions are right for it, it might take over your garden.
Many people I know remove one or two bunches with roots from the woods and plant them in their garden. All you must do then is to wait for it to spread in the following years. However, removing bunches with roots from the woods might not be legal in your area, so you'd better check that first.
You can also buy seeds in a garden center and plant them in the garden.
How to clean wild garlic?
Another particularly important aspect when dealing with this plant. As it grows in the woods, there is always a danger of it being contaminated with the cysts of the fox tapeworm, which can cause life-threatening diseases, which often appear many years after consuming the contaminated plant.
If you go foraging, you must be willing to spend some time very thoroughly washing the leaves. I pick a huge quantity every year and I spend about an hour washing each leaf individually, I am particular about that, despite people telling me that the danger of tapeworm contamination is low. However, the risk is not worth it! I would rather take the time with cleaning.
I clean each leaf with rather hot water (about 60 degrees Celsius/ 140 degrees Fahrenheit).
Once washed I place the leaves in a single layer on a clean kitchen cloth and cover them with another kitchen cloth. I wash a second batch and build another layer on the previous cloth and cover it again. I build about 4 layers of leaves/cloth and then I start another "tower".
It might seem tedious, I am aware of that, but these are the things you must take into consideration when you want to safely use this wonderful plant.
Most important tips:
Only forage wild garlic, if you are absolutely sure you know the plant and there is no chance of mistaking it with any of the poisonous plants mentioned above.
Always check the characteristics of the plant to make sure you have the right one.
Pick the leaves individually, which reduces the risk of picking the wrong ones by mistake.
If you are not sure, just leave it, and buy the plant at the market.
Wash the ramsons super thoroughly before using.
If you think you might have eaten the wrong plant, go to the hospital/doctor immediately. Report how much you have eaten, when you have eaten it, and so on. Home remedies will not do!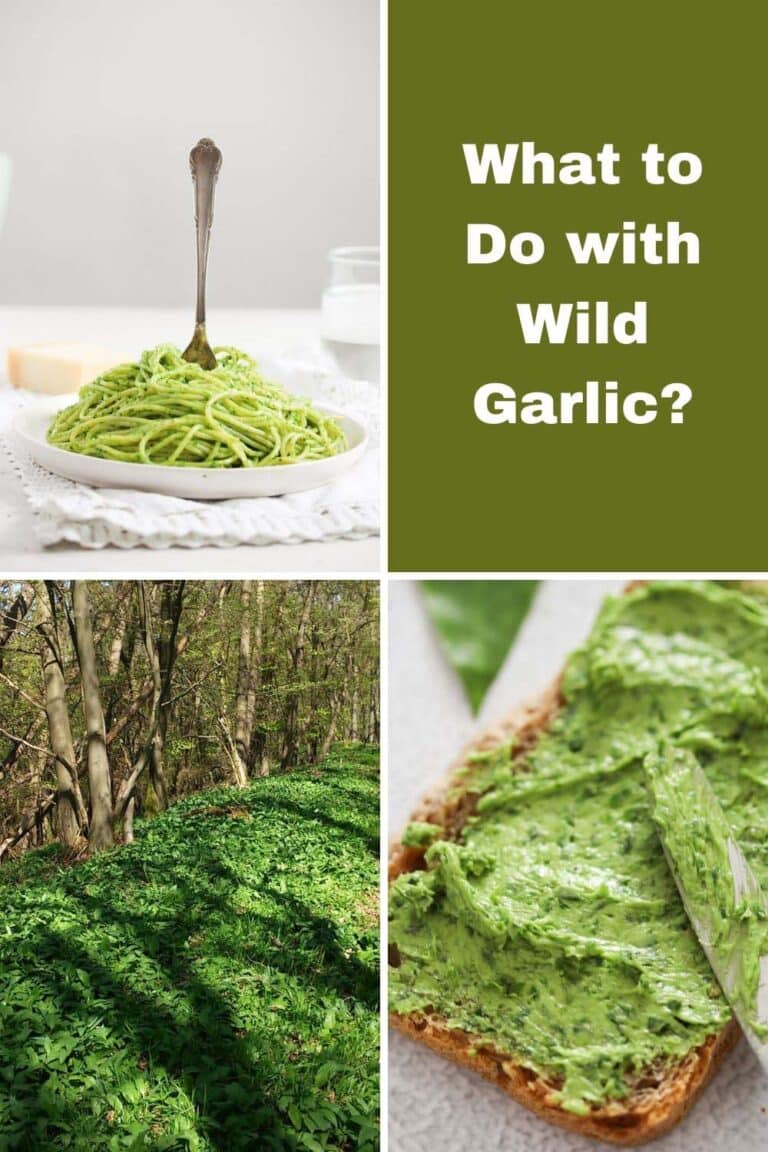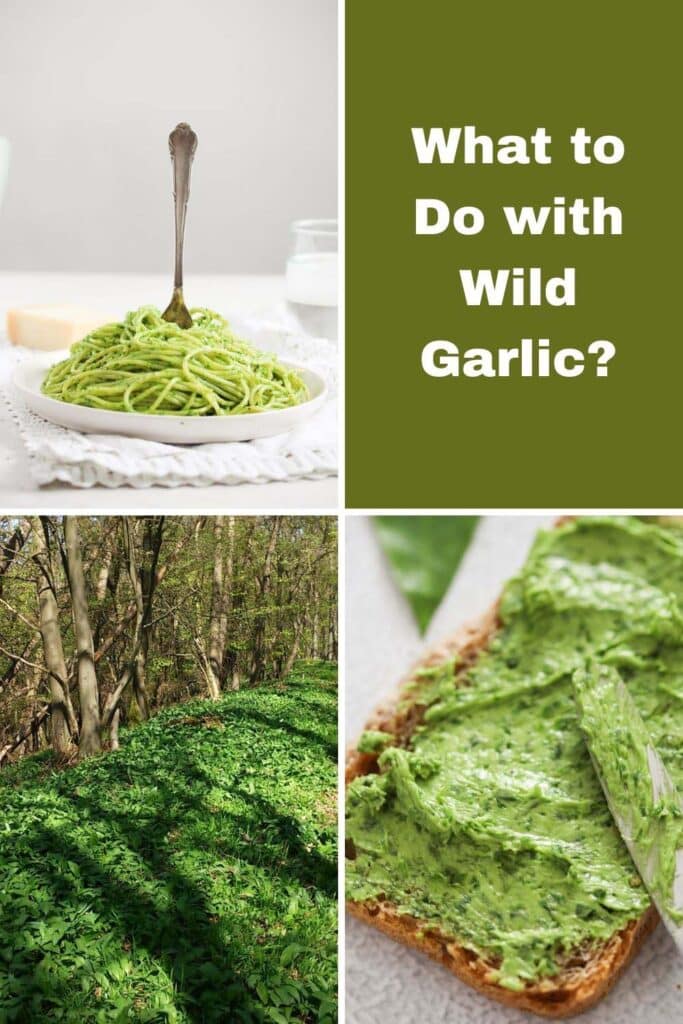 How to store?
If you plan to cook it within a day or two, you can store in the refrigerator. If the bear's garlic has the long stems still on, place the bunches in large glasses filled with water and keep in the fridge. This will help them stay fresh for longer. However, to keep it for longer, you will have to preserve it in one way or another.
Preserving wild garlic
Freezing wild garlic is the quickest way of preserving it. However, the plant will lose aroma when frozen. To freeze it, wash and dry the leaves. Place them in freezer bags and freeze for up to 3-4 months, the sooner you consume them, the better. There are better ways of preserving wild garlic than freezing, I rarely bother with freezing.
Pesto:
My number one way of preserving wild garlic, it makes the absolute best pesto on Earth, better than basil, better than anything.
I make two kinds of wild garlic pesto every year – with sunflower seeds and with almonds - about 8-10 small jars, which I freeze and consume until the next season. They keep very well; I sometimes find a jar frozen 2 or 3 years previously and it is still perfectly delicious.
It can be used for making pesto with pasta, of course, but not only. I mix it with potatoes or rice, I use it as a spread under cheese or for making wraps, I put it into salad dressings, and so on. It's amazing stirred into eggs for making omelets or scrambled eggs.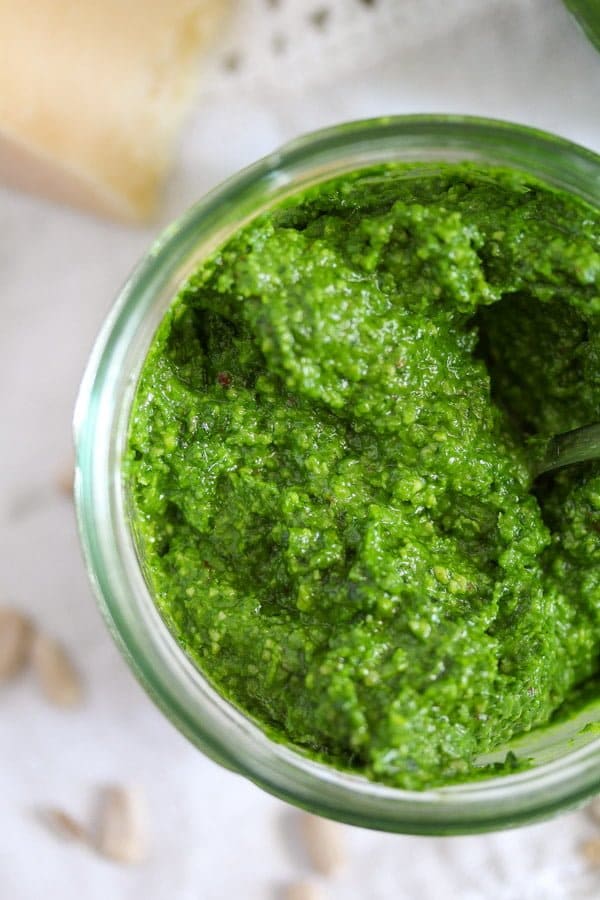 Paste:
This amazing wild garlic paste is another staple in my freezer and fridge. When picking wild garlic, the first thing I do is the pesto. Then I decide what I want to cook with the fresh leaves during the next few days, weigh the amounts I need for each recipe and store those separately in the fridge. I use all the remaining leaves to make the paste.
If I only have a couple of jars of them, I store them in the refrigerator, they will keep well for at least 2-4 months provided you always keep the rim of the jar clean after you remove something from it. If you make a lot of paste, freeze it, it keeps kind of "forever". ?
It is incredibly versatile, once you've had it, you will not want to miss it anymore. Add it to soups, stews, dressings, marinades, eggs, pretty much anything you can think of.
The only thing to keep in mind when using the paste is that it is very salty, so you will have to adjust the amount of salt you use in the recipe.
The recipe below in the recipe card.
Salt:
I mix the wild garlic salt every two years or so because it keeps well, and I always make a lot. Make sure it is completely dry before transferring to jars.
Oil:
Flavorful wild garlic oil using just a few leaves. It needs about 20 days to steep. Perfect for salads and for drizzling on a finished dish.
Butter:
The most incredible herb wild garlic butter you will ever taste, it is completely addictive. It keeps well in the fridge for about 1 week or you can freeze. I make it with about 500 g/ 1 lb. butter each year. I leave a small jar in the fridge and freeze the rest in smaller portions.
Perfect as it is on a good slice of bread. Or with any kind of cheese or veggie on top. Amazing on top of a tagliata or another steak.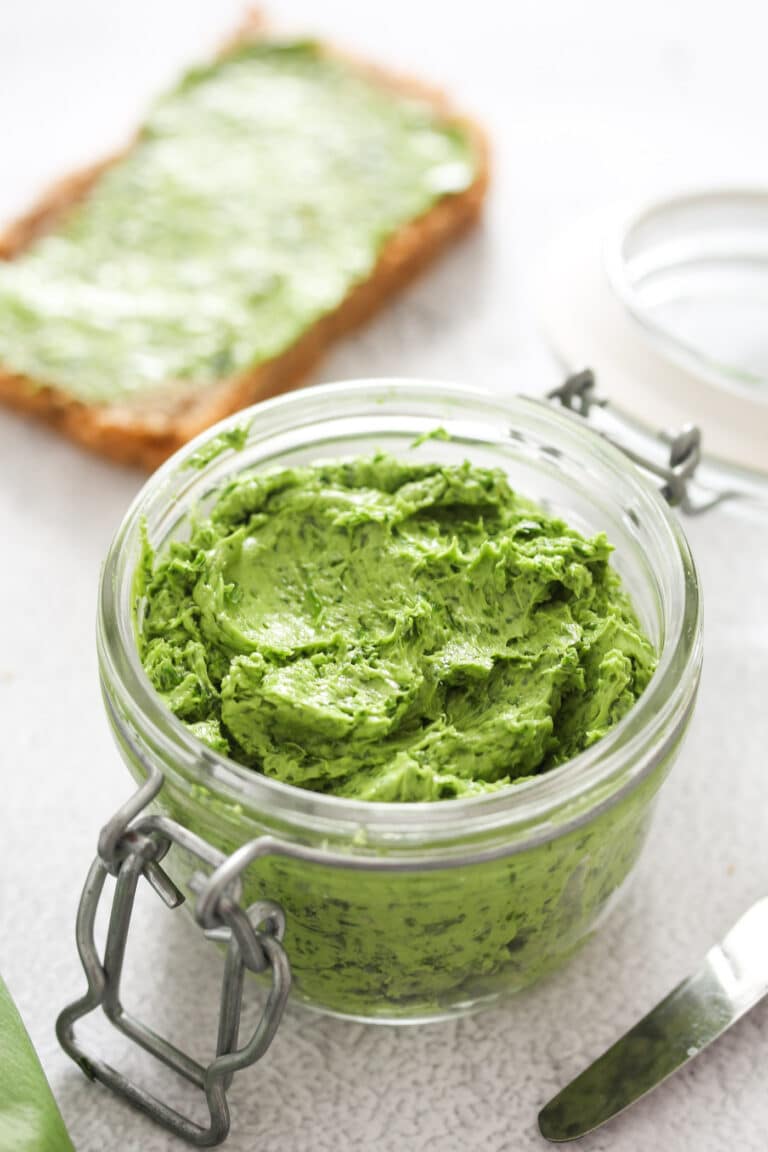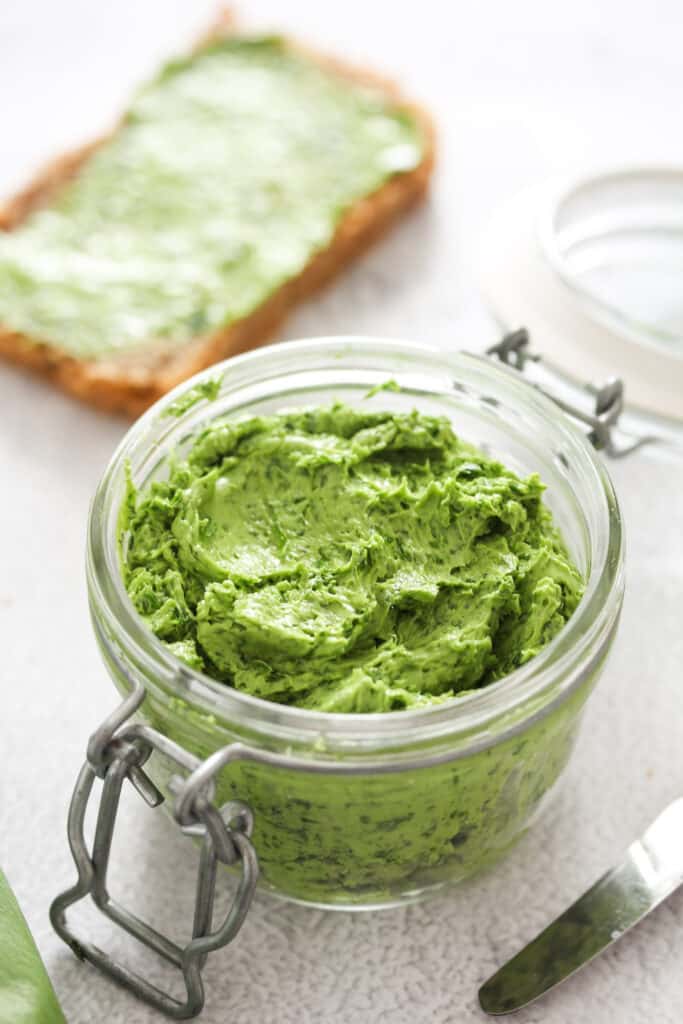 Pickles:
The only way of preserving ramson I haven't tried yet, but I intend to do it.
Wild garlic in cooking
There are so many things you can use it for. I have a few recipes I make each year, but I do make a point in trying at least 2 new ones every season. Honestly, the week I go foraging all I cook are wild garlic recipes. Every day for as long as the leaves keep in the fridge. And I often go foraging again if I think I don't have enough pesto or paste…
Our wild garlic recipes:
Wild Garlic Pasta – the most obvious choice, considering the amount of pesto I make every year. We have this dish regularly. A quick and incredibly delicious meal, my daughter is the biggest fan, she likes pasta with pesto more than macaroni and cheese.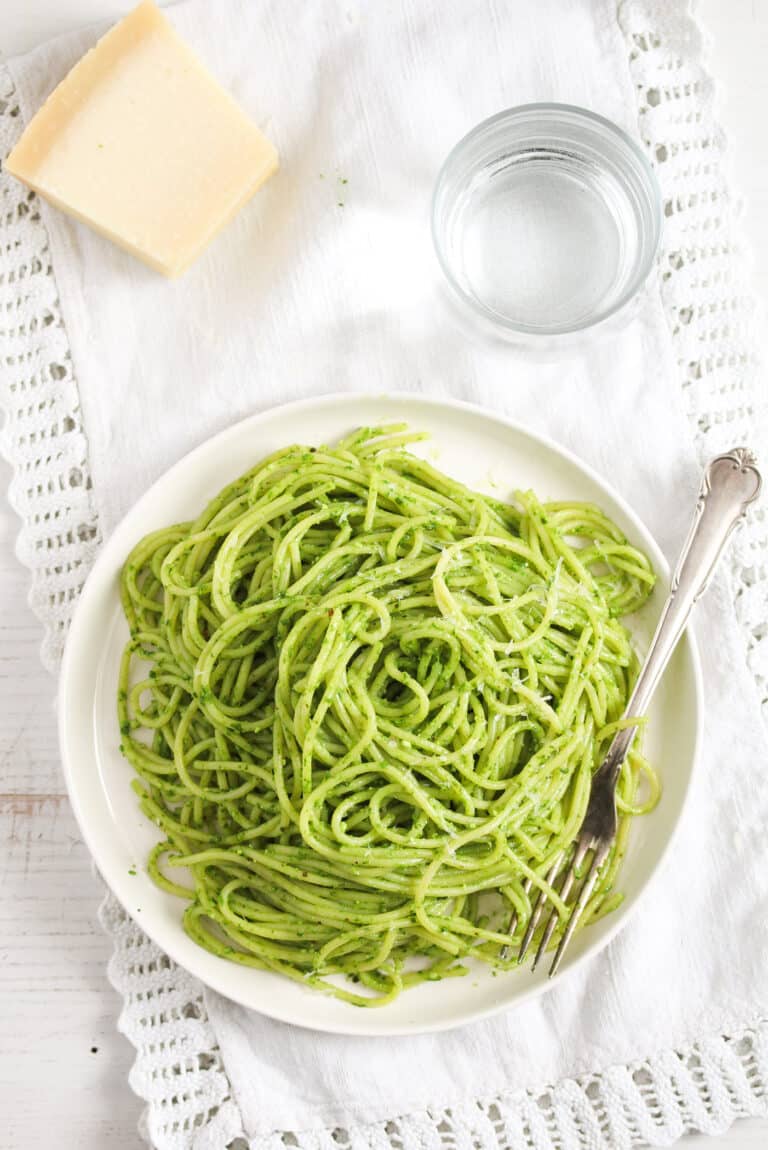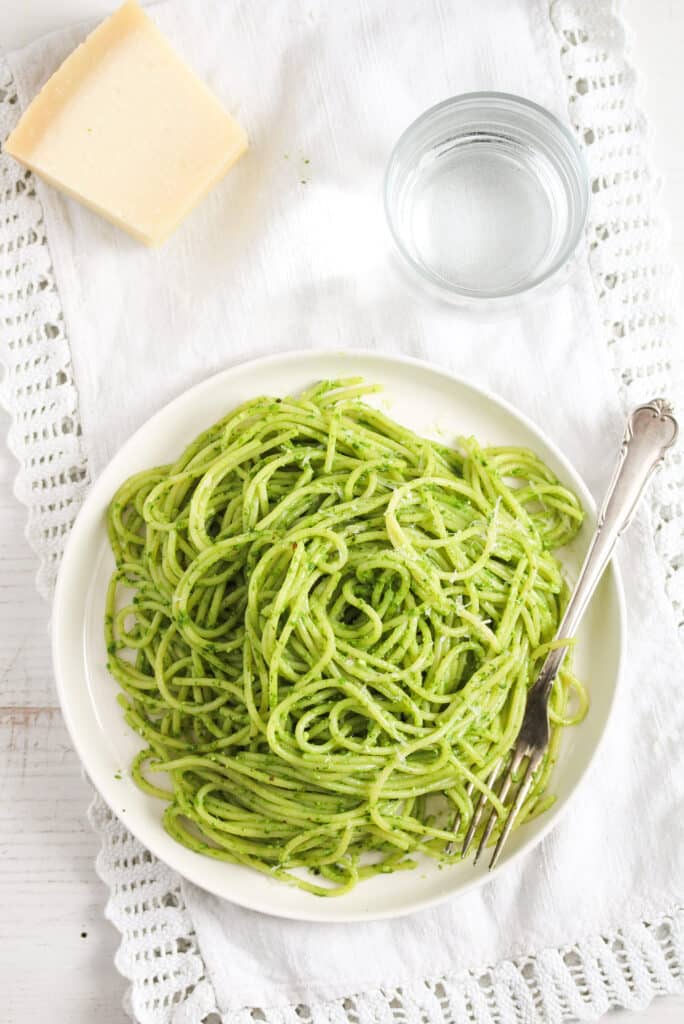 Wild Garlic and Potato Soup – my son adores it, he mentions it all through the year, longingly thinking about the time when he will get to eat it again. Just the leaves, potatoes, and a good broth make a soup fit for kings!
You can also make other soups: for instance, only the ramson leaves cooked in good stock and enriched with heavy cream. We love this soup served with croutons.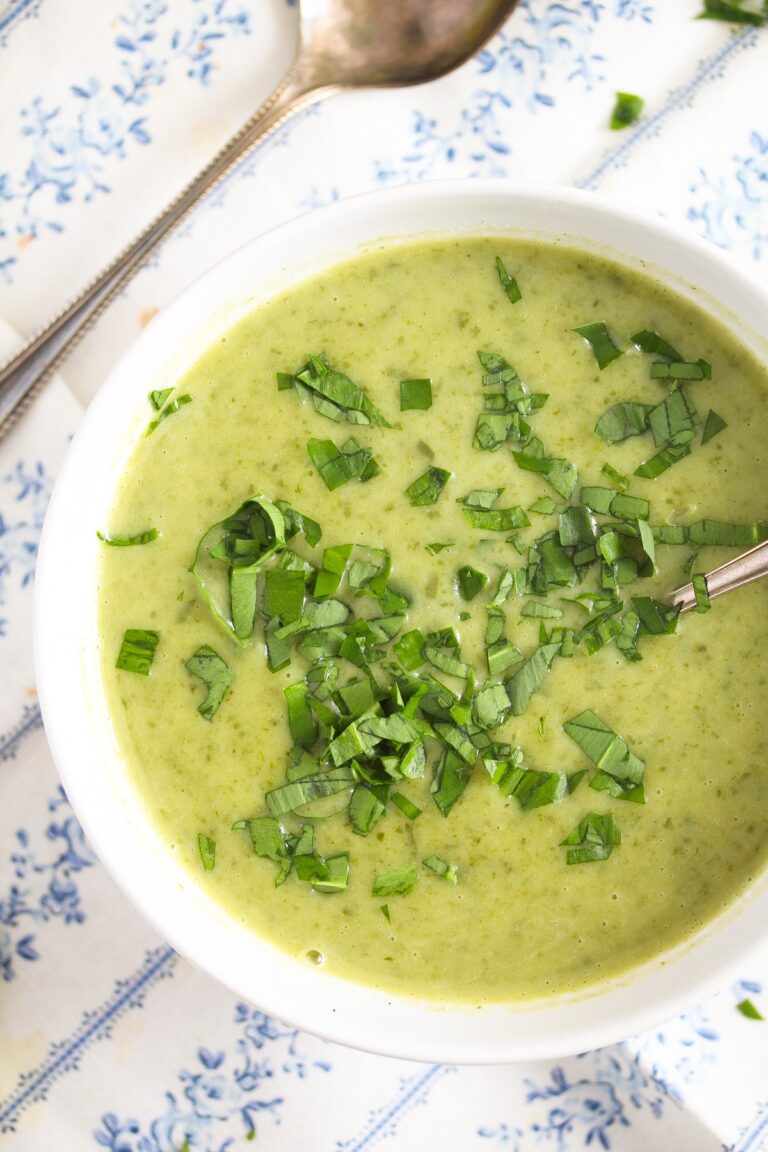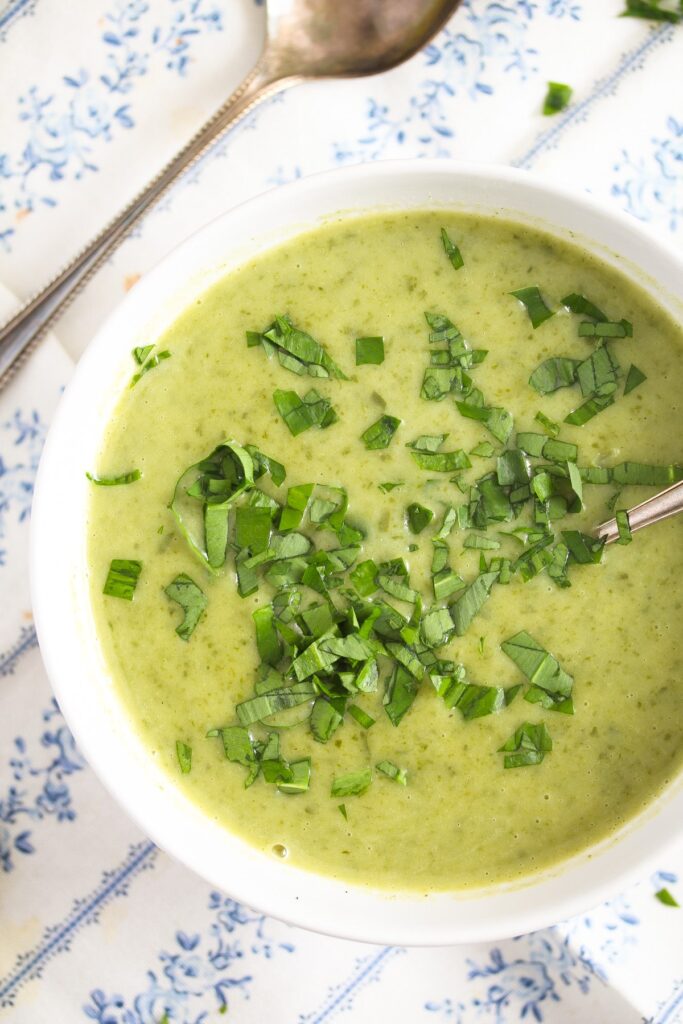 Try these incredibly-looking shock-green Wild Garlic Crepes or pancakes. I love to serve them with smoked salmon and sour cream.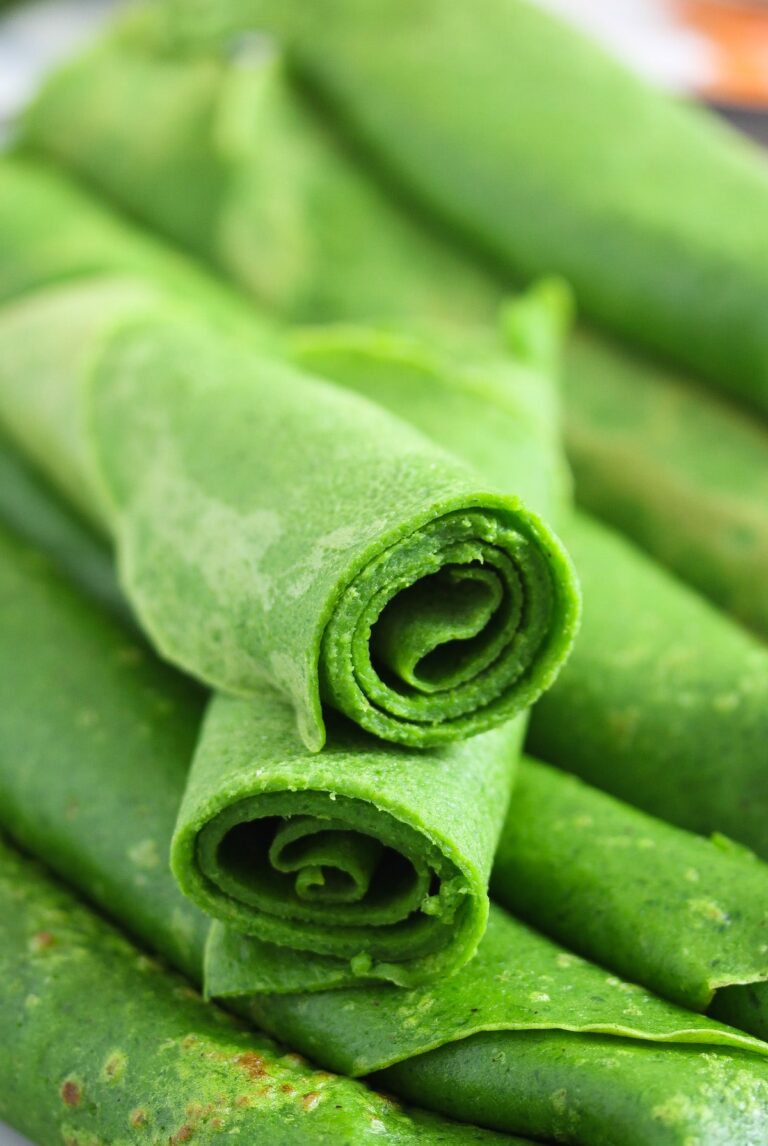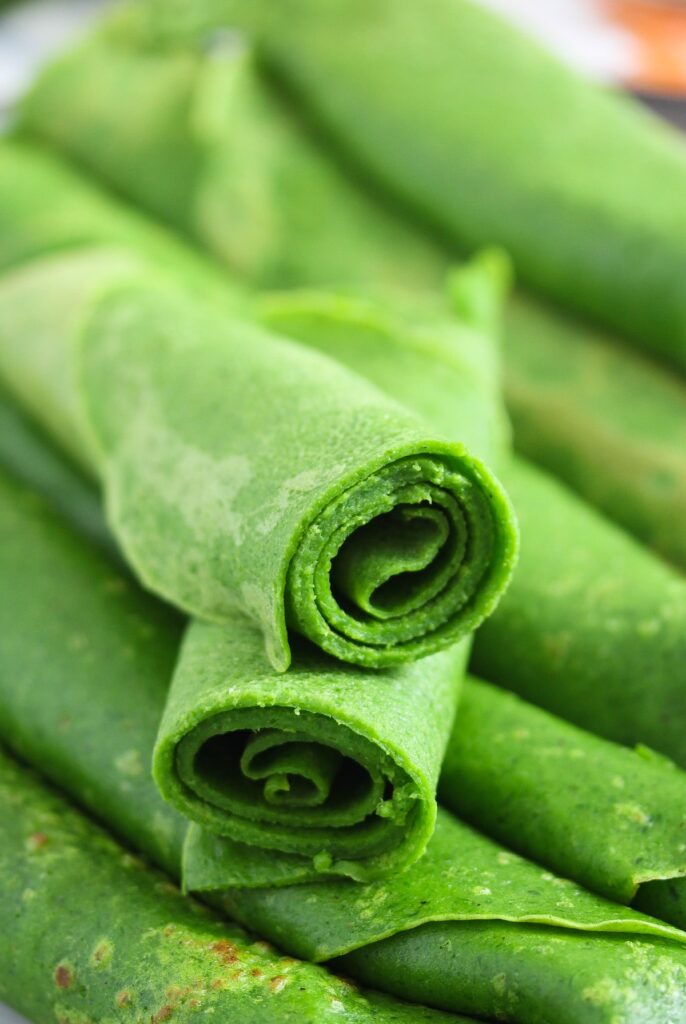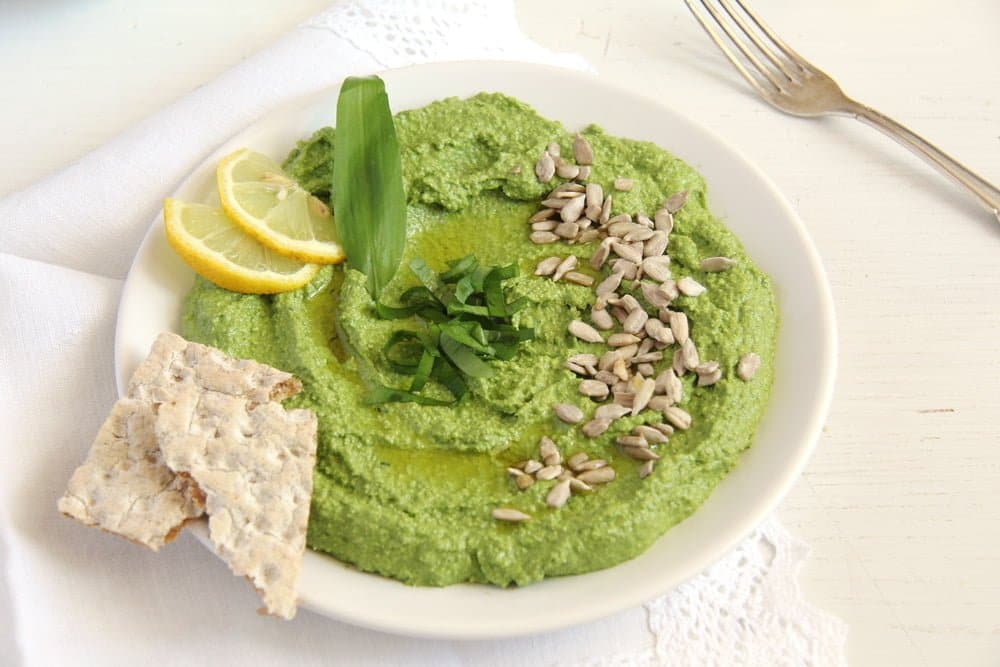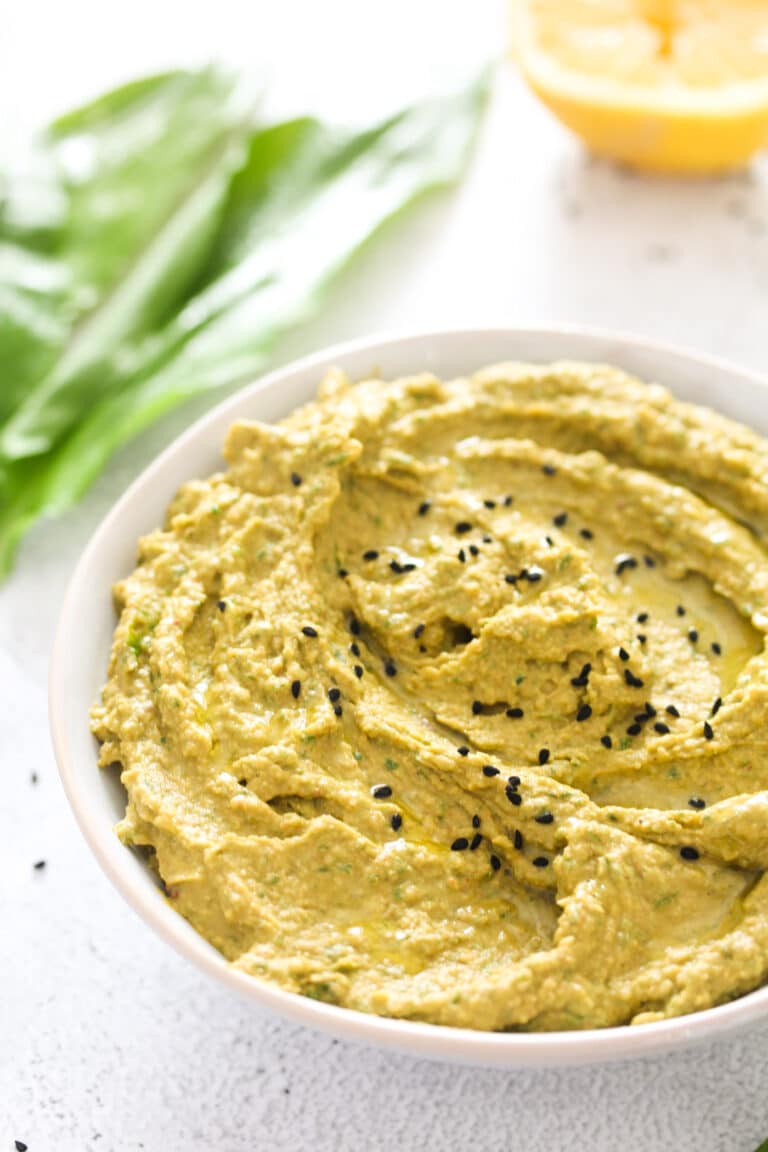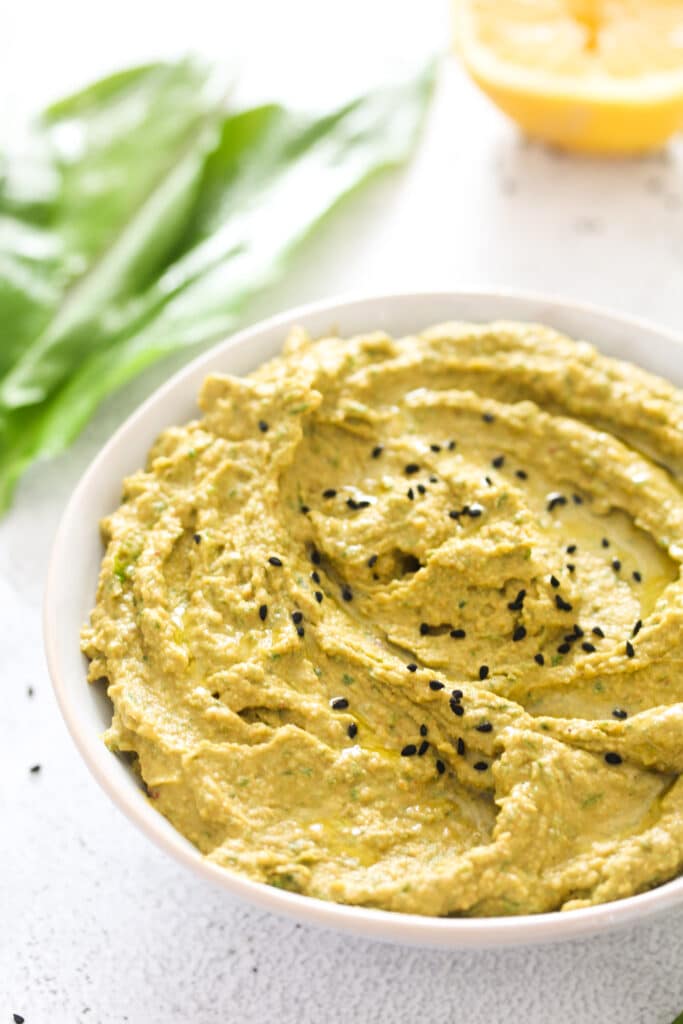 This chicken curry is another favorite, I make quite often as well, and I sometimes use the frozen leaves to make it. Actually, the only time I freeze a bunch of leaves is when I think that I won't be able to make the curry in time using fresh leaves.
Make a wild garlic sauce, a pungent, flavorful one, chimichurri-style. Perfect to serve with steak, sausages, or cast-iron chicken breast. Amazing on top of scrambled eggs, omelet, poached or hard-boiled eggs. Actually, amazing on top of pretty much anything.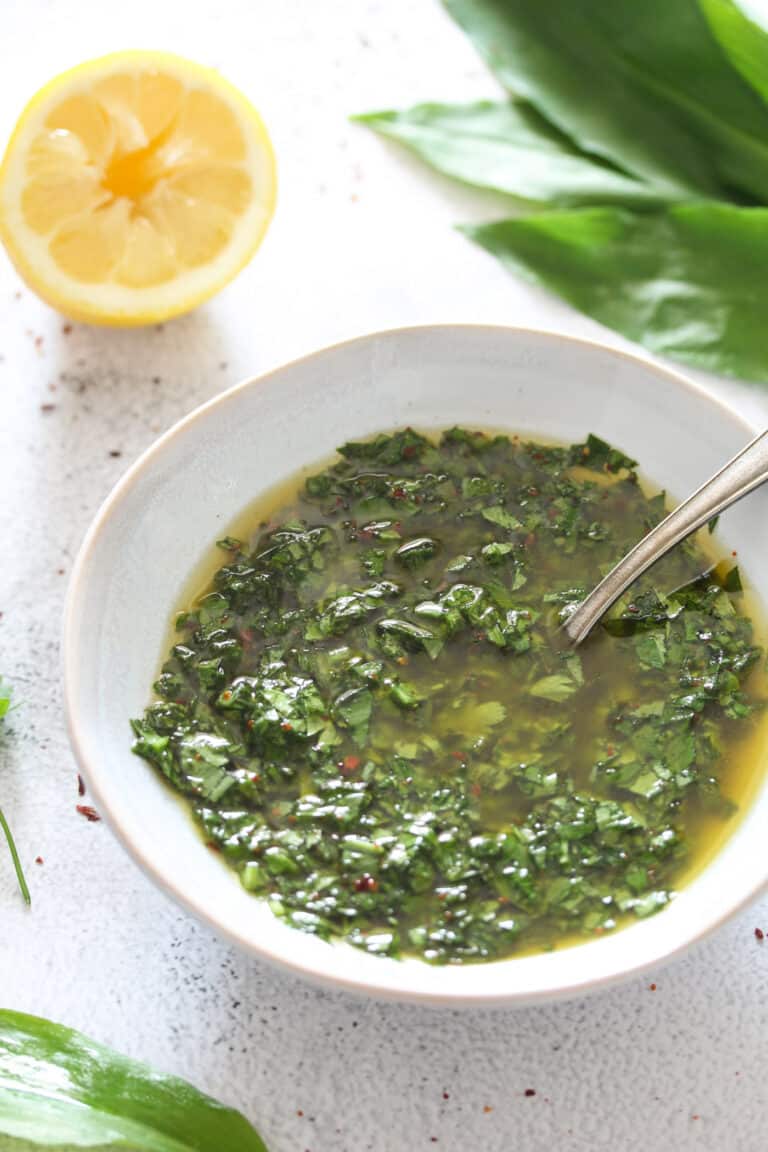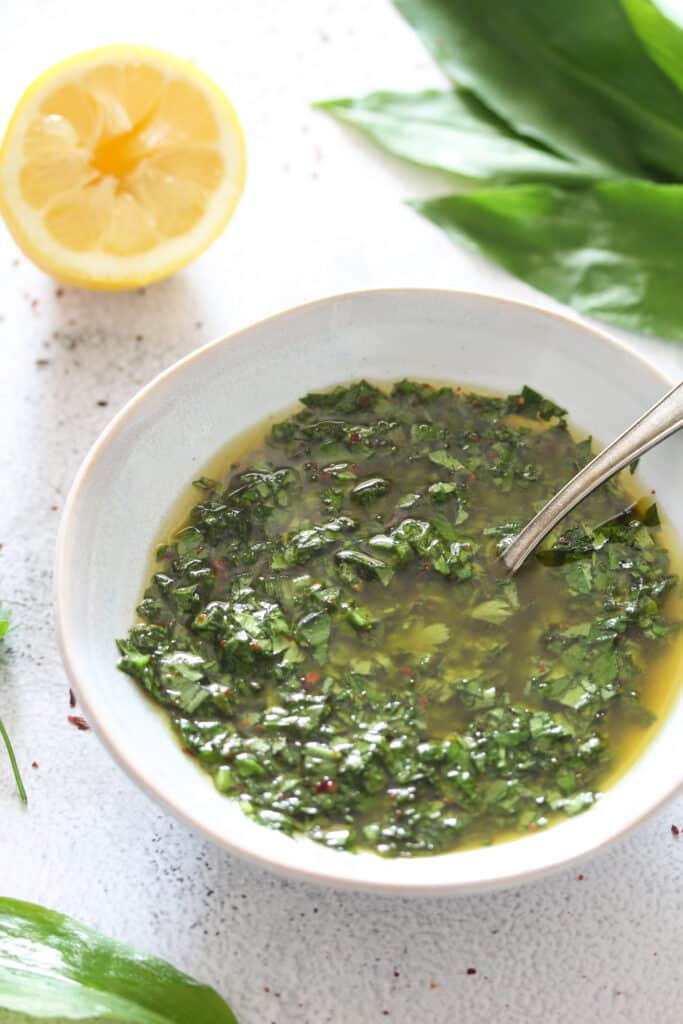 Or make wild garlic risotto, either a simple one using only the herbs or add some peas or asparagus. Serve with chicken, salmon, or other fish.
I often use it for making flavorful loaves of wild garlic bread as well, either simple bread or pull-apart bread.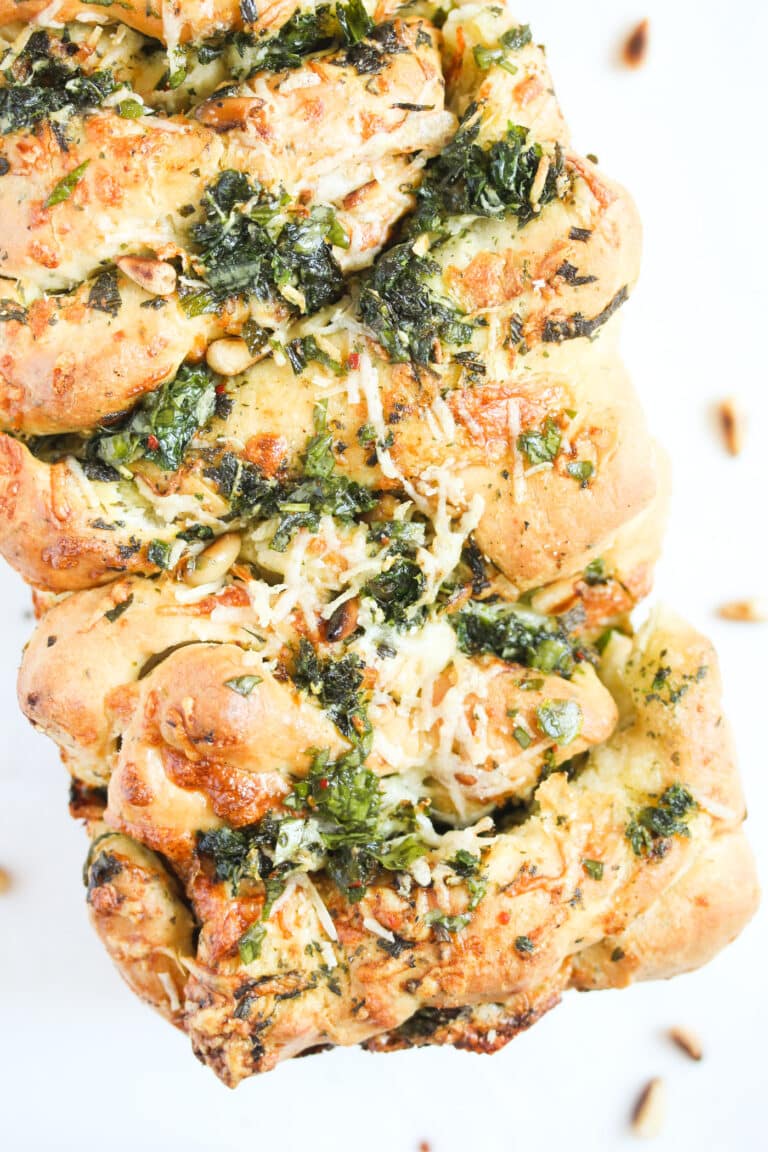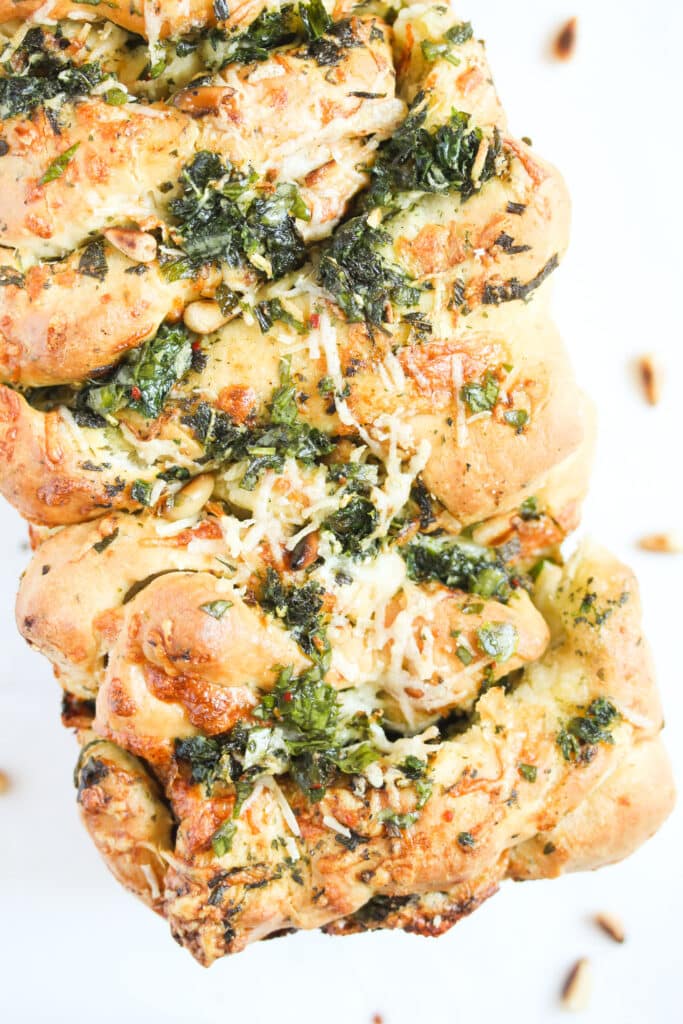 Wild Garlic Paste
One of the easiest ways of preserving wild garlic. You can make the paste in just a few minutes and use it extensively in cooking.
Print
Pin
Share
Grow
Saved!
Rate
Ingredients
125

g

wild garlic

4.5 oz, Note 1

15

g

fine sea salt

0.3 oz/ 2 ½ teaspoons

100

ml

vegetable oil

3.5 fl. oz/ scant ½ cup Note 2
Instructions
Clean and chop wild garlic.

Blend with salt and oil. Transfer to a small jar.
Notes
If you only make this small amount, it is preferable to blend the mixture with an immersion blender. For larger quantities use the food processor. Experience has thought me that large food processors don't manage small quantities of ingredients very well.
I used mild sunflower oil.
Nutrition
Calories:
840
kcal
|
Carbohydrates:
5
g
|
Protein:
4
g
|
Fat:
92
g
|
Saturated Fat:
7
g
|
Polyunsaturated Fat:
81
g
|
Trans Fat:
2
g
|
Sodium:
5901
mg
|
Fiber:
3
g
|
Sugar:
1
g