Shock green crepes, soft and delicious, with a mild garlic taste, a perfect side dish for an aromatic mushroom ragout or a light main dish when filled with cheese or asparagus for instance.
My children normally have their issues with green food. They do like pesto, salad and a few other things, but usually they avoid the green stuff on their plates. They made long faces when they saw the crepes for the first time, but I was able to convince them to give them a try.
They love wild garlic pesto and crepes/pancakes of any kind, we picked the wild garlic together in the woods, so they were willing to at least give them a try. The end of the story was that they each devoured 2 or 3 crepes, loved them and asked when I would make them again. Well, the sad part about it, I will only be able to make them again next spring, the wild garlic season is drawing to an end and it has been raining so much during the past few days, I have no huge desire of going into the woods right now.
These crepes are lovely and satisfying eaten on their own, filled with some cheese for instance. It was the way Bruno and Perla ate them, they both hate mushrooms…… I initially wanted to use them as wraps for white asparagus and serve them with some sauce hollandaise on the side. It would have been great, but I couldn't find any good looking asparagus in the store that day, so I picked the nice looking mushrooms instead. And I was glad I did, I love mushrooms and they were delicious in this combination.
So use the last chance you got of cooking with wild garlic this season and try these pancakes, they are totally delicious and so easy to make.
Others you may like:
Wild Garlic Pesto
Chicken Schnitzel in Pancake Batter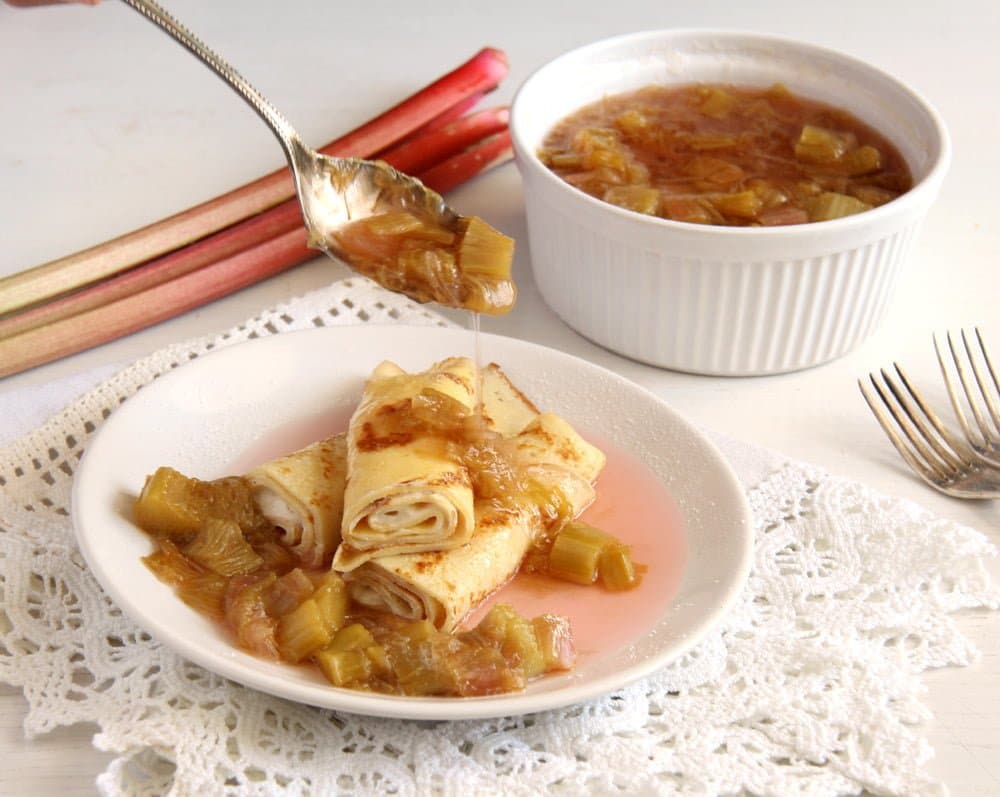 Crepes with Rhubarb Compote