Shock green wild garlic crepes, which can be served as a side dish or as an appetizer when filled with crème fraiche and smoked salmon.
These wild garlic crepes are so amazing!!! Not they only look great, but they taste at least just as good as they look. Fill them with some crème fraiche, wasabi and smoked salmon and you will have the perfect springtime appetizer. Or a light main dish if you serve them with a soup or with salad.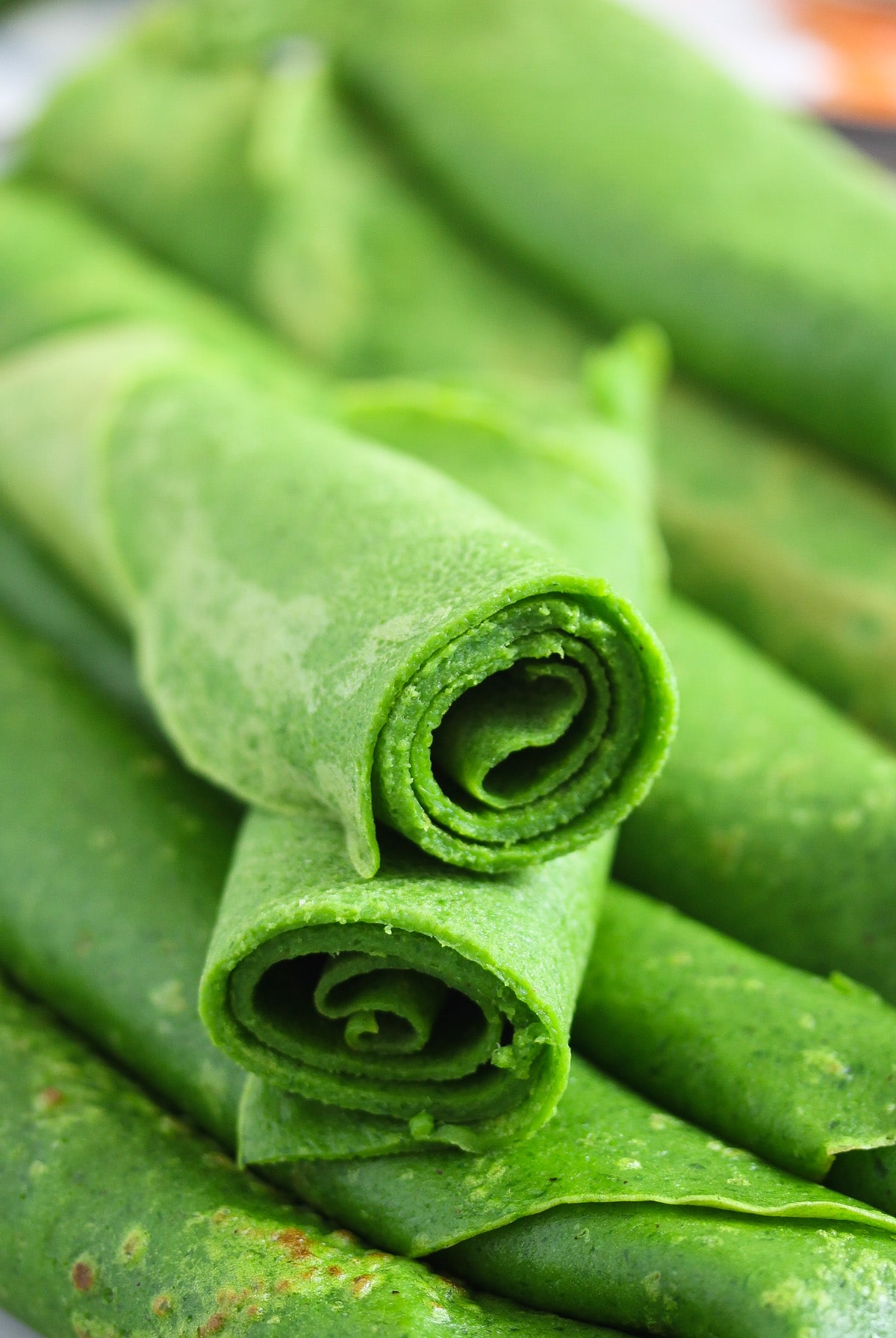 What is wild garlic?
Allium ursinum (Latin for bear's garlic) is native to Europe and Asia. It is widespread across Europe, and also known throughout North America, in the Eastern half of the United States and on the West coast.
It has a very short season in spring, which is now, in April and until June, depending on where in Europe you are. Right now, the German woods are full of it, I could pick tons of it. You can usually buy it at the farmer's market and many supermarkets sell it as well.
To learn more about it, especially how to pick and clean it safely, read What to Do with Wild Garlic?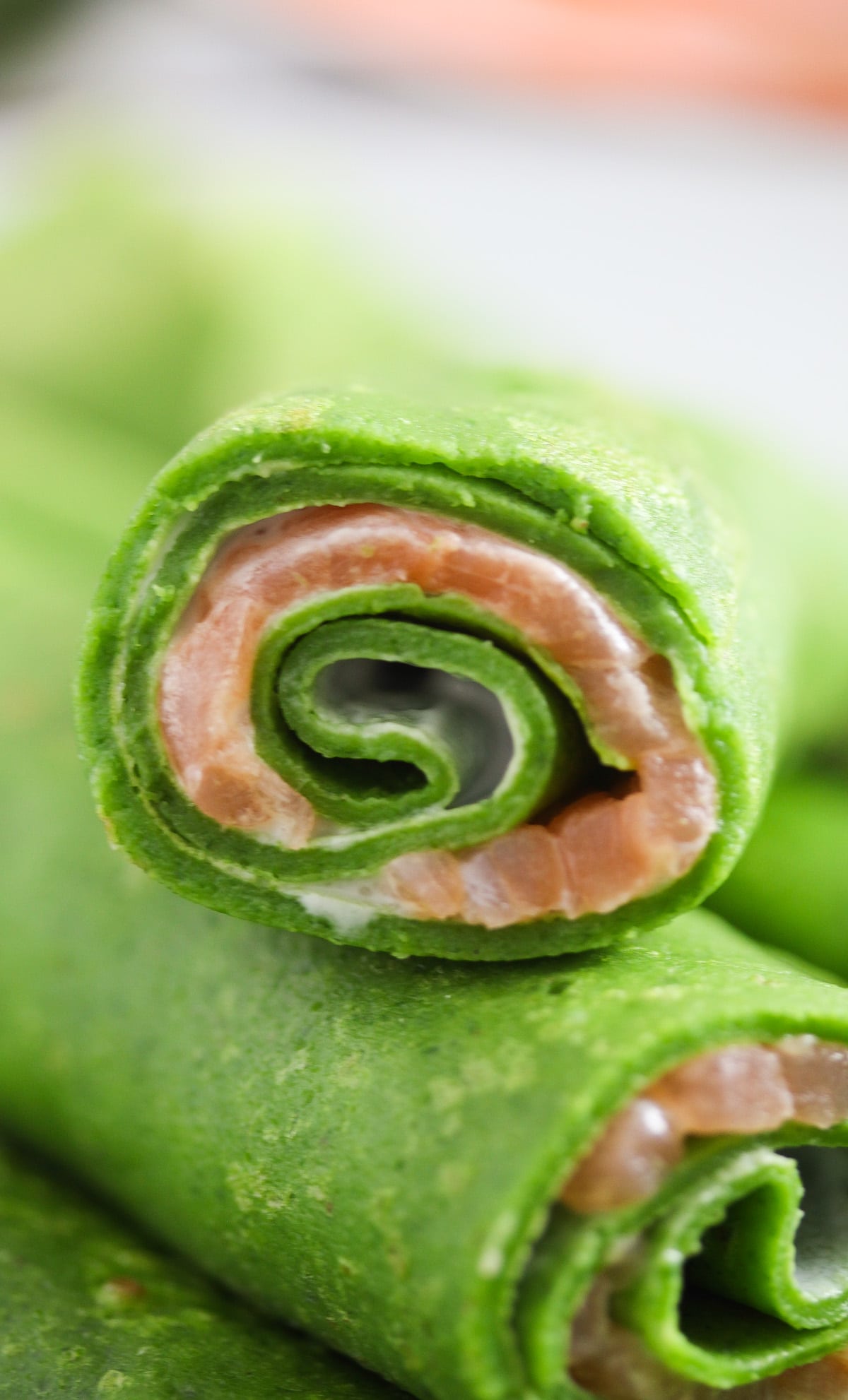 What to do with wild garlic?
You can have it fresh, in salads, mixed with some other salad leaves, because otherwise, the garlic taste would be too much.
You can make soup, you can stir-fry it with potatoes, other greens, and vegetables.
Or spreads and dips, either vegan with seeds or cheesy ones with feta or cream cheese.
And don't forget some wild garlic butter, make a batch and freeze it in smaller portions.
Make salt, best made during sunnier springs when you can leave the mixture dry in the sun for a couple of days.
Infused oil and vinegar are also great, and they also make good homemade gifts.
And actually, the most important use for it is the wild garlic pesto. I make at least 10 little jars of sunflower and almond pesto every spring. I freeze them and we can enjoy them all year long until the next spring.
How to make?
The pancakes or crepes are easy to make, they are incredibly delicious and they look stunning. They would make a really impressive appetizer or side dish for a dinner party, you will get lots of compliments.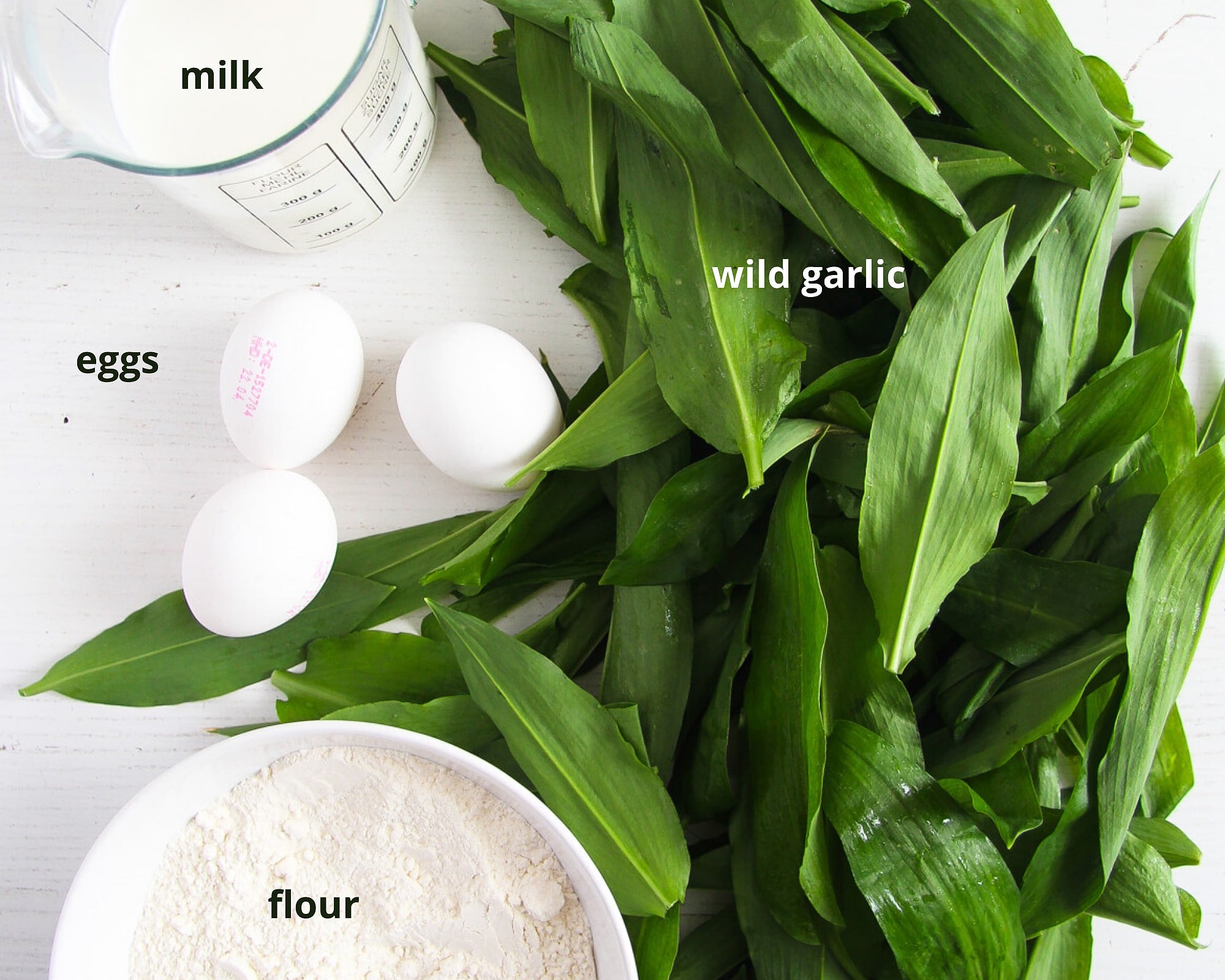 All you need to do is to blend the chopped leaves with the milk.
Add the remaining ingredients and that's it, the batter is already made.
Let it rest for 15-20 minutes and fry the pancakes.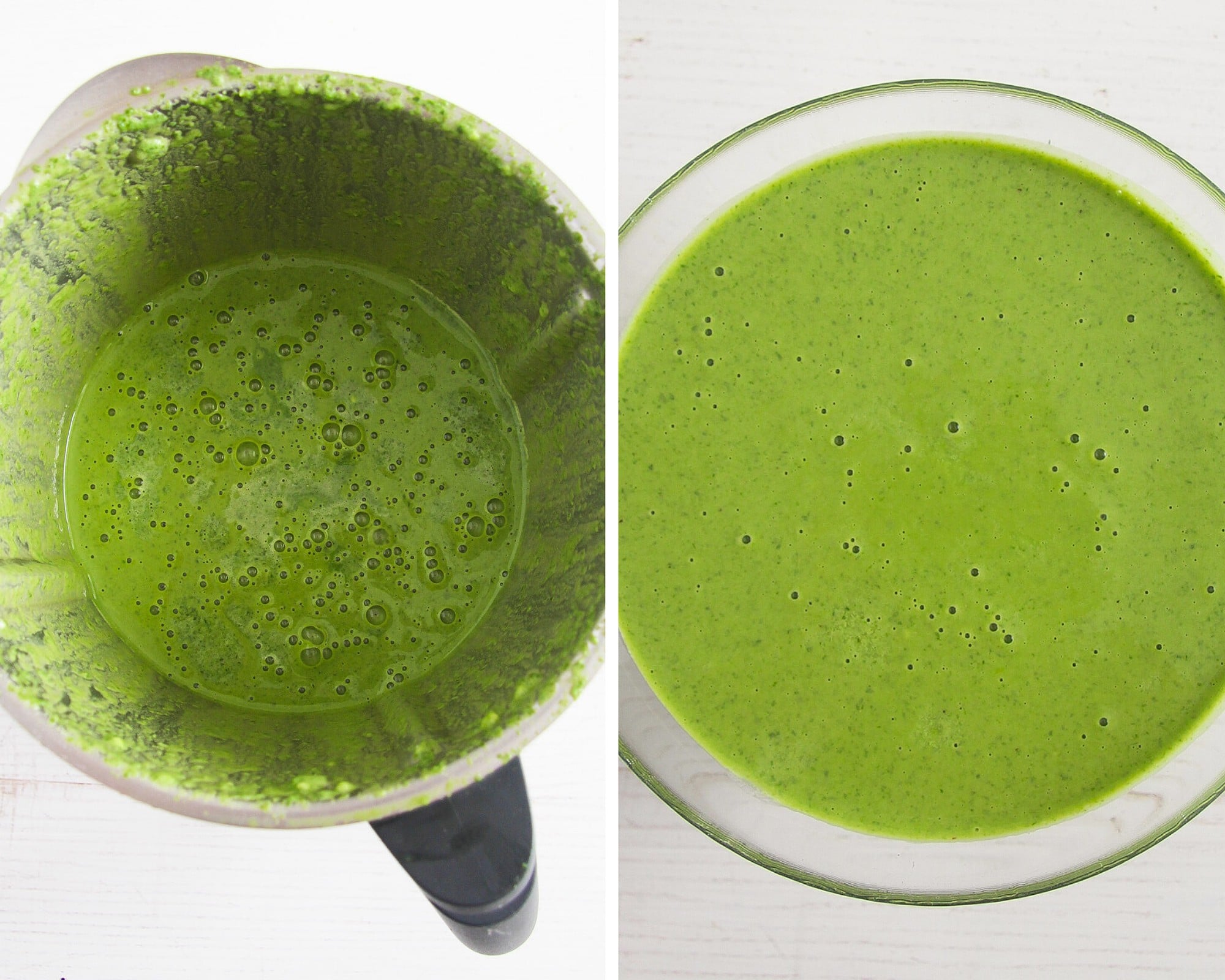 Use a non-stick pan of about 26-28 cm/ 10-11 inches.
Brush it very lightly with vegetable oil, add about one small soup ladle full of batter and tilt the pan so that the batter covers the bottom of the pan.
If you feel that the batter has difficulties in stretching, add a splash of extra milk to make it slightly thinner.
If you use a pan of the indicated size, you will get about 8 pieces.
If your pan is smaller you will get more. The size of the pan is really not important, small or large, the taste is the same and they all look pretty.
Fry for about 1 to 1 ½ minutes on the first side and for another ½ to 1 minute on the second side.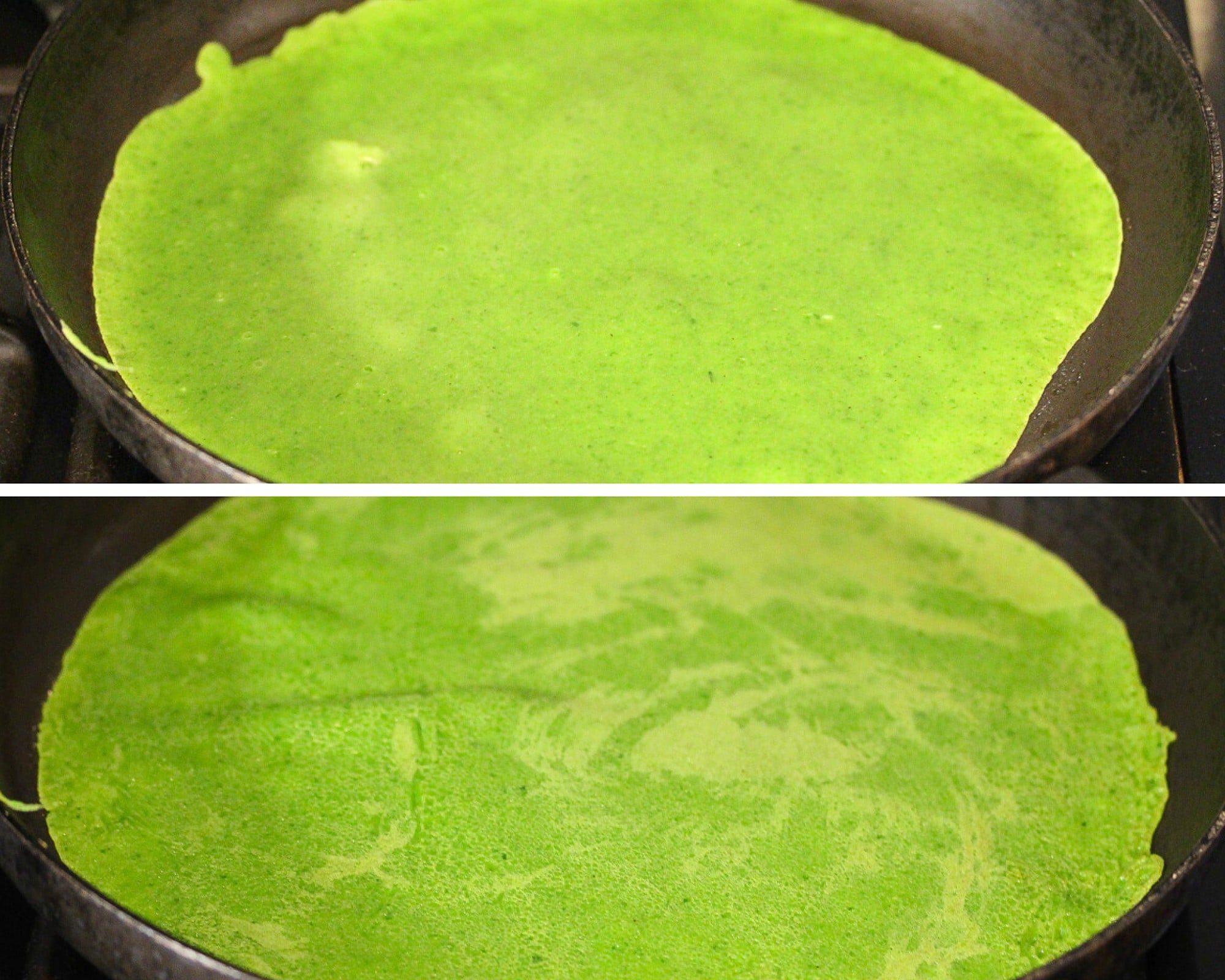 How to serve?
Smoked salmon filling
This smoked salmon and crème Fraiche filling is just a serving idea, completely optional, but really good!
Spread 1-2 teaspoons crème fraiche on each crepe.
Add some wasabi paste, if you like, but remember that wasabi is very very hot, so use sparingly.
Top with thin smoked salmon slices and roll.
Halve and enjoy.
You can also slice the filled crepes into thick rolls, stick a toothpick in each roll and serve them as finger food.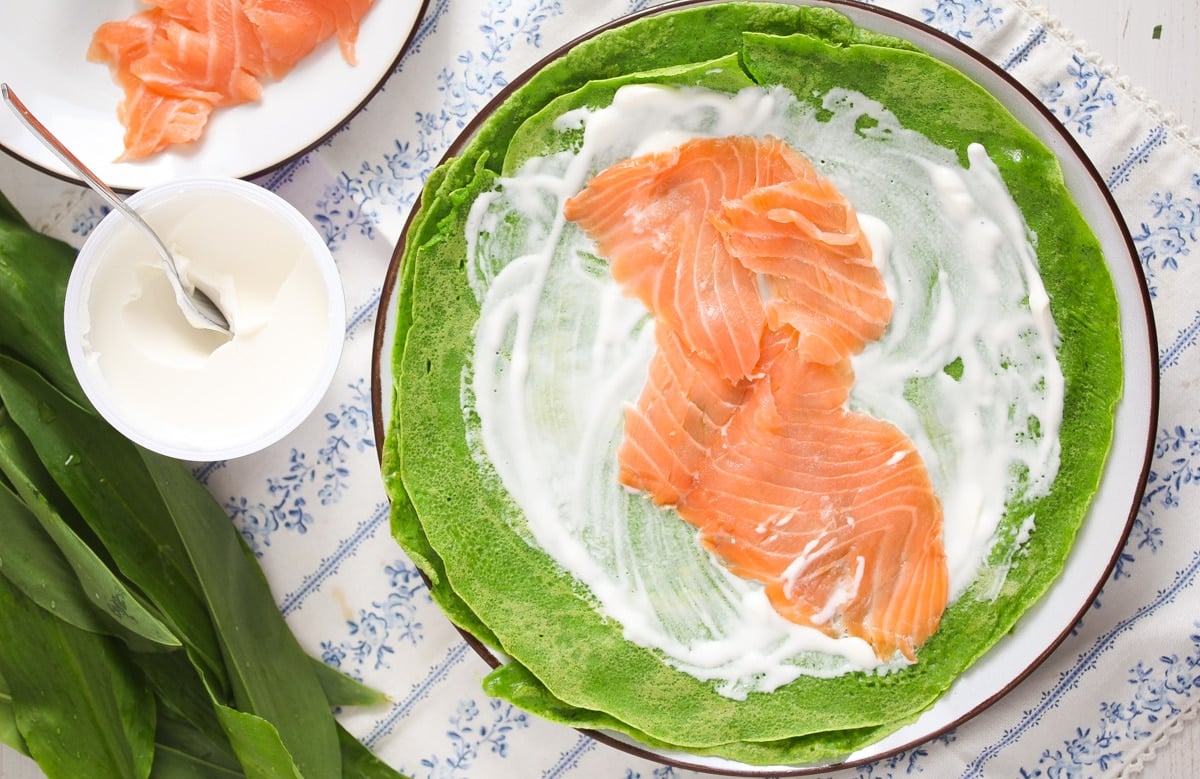 Other fillings
Steamed thin asparagus spears and cream cheese or, even better, sauce Hollandaise.
Mushroom ragout.
Thin prosciutto slices and some cheese.
Cream cheese, thin cucumber slices, or chopped tomatoes (deseeded), topped with cress, rocket, mung bean, or radish sprouts.
Side dish
I often serve the wild garlic crepes as a side dish for mushroom stew.
You can also serve them with chicken stew, for instance.
They are also great served with a clear vegetable soup, tomato soup, or many other creamy soups.
More crepes or pancakes?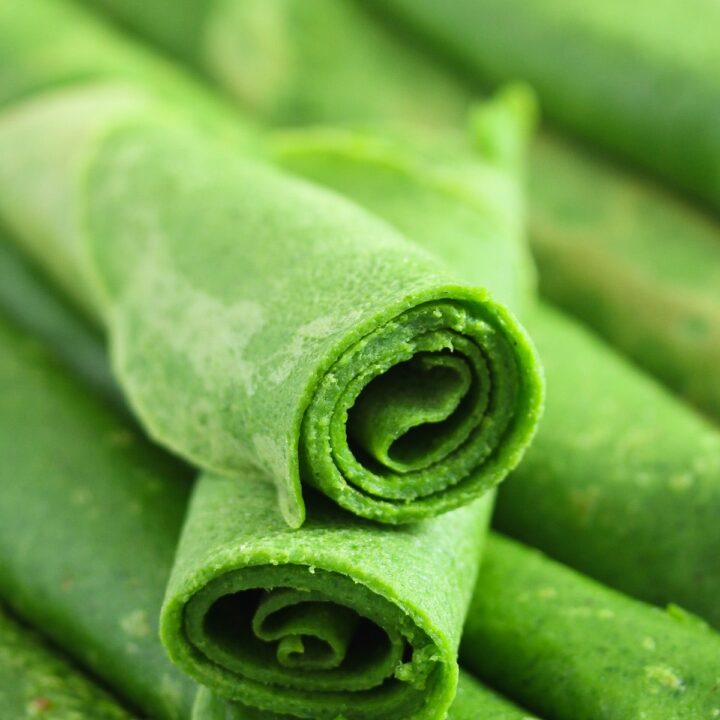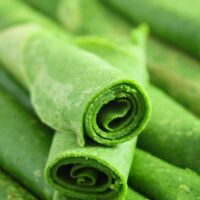 Green Wild Garlic Crepes
Shock green wild garlic crepes, which can be served as a side dish or as an appetizer when filled with crème fraiche and smoked salmon.
Print
Pin
Share
Grow
Saved!
Rate
Ingredients
Wild garlic crepes:

125

g/ 4.4 oz wild garlic

350

g/ 12 oz/ 1 ½ cups milk

3

eggs

225

g/ 8 oz/ 1 ¾ cup all-purpose flour

a pinch of salt

some vegetable oil

Filling

optional:

200

g/ 7 oz smoked salmon

175

g/ 6.2 oz/ ¾ cup crème fraiche

more or less as needed

some wasabi

optional and as much (little) as desired
Instructions
Wild garlic crepes:
Remove the stalks from the wild garlic. Wash and dry the leaves very well. Chop the leaves roughly, place them in the food processor, add the milk and puree until smooth.

Add the eggs, flour, and salt, mix well and let the mixture rest for about 30 minutes. The batter should be slightly runny, add a bit more milk if too thick.

Heat a non-stick pan and brush it very lightly with oil. Add some batter, tilt the pan to help the batter spread all over and cook the crepes on medium heat for 1 to 1 ½ minute on the first side.

Flip with a plastic spatula and cook on the other side for another ½ minute or so. You should not cook them too long in order to keep a nice green color.
Filling:
Spread 1-2 teaspoons crème fraiche on each crepe.

Add a little wasabi, if you like it (it is very hot, use sparingly).

Top with thin smoked salmon slices and roll. Halve the rolled crepes or cut into thick rolls to serve as finger food (stick a toothpick in each roll, in this case).


Nutrition
Serving:
1
g
|
Calories:
326
kcal
|
Carbohydrates:
30
g
|
Protein:
13
g
|
Fat:
17
g
|
Saturated Fat:
8
g
|
Polyunsaturated Fat:
8
g
|
Cholesterol:
107
mg
|
Sodium:
685
mg
|
Fiber:
1
g
|
Sugar:
1
g