Creamy wild garlic and potato soup made with just a few ingredients and ready in no time. The perfect way of using foraged wild garlic.
Easy Wild Garlic Soup
Wild garlic and potato soup with cream, easy to make, super cheap if you pick the herbs yourself, healthy and so delicious!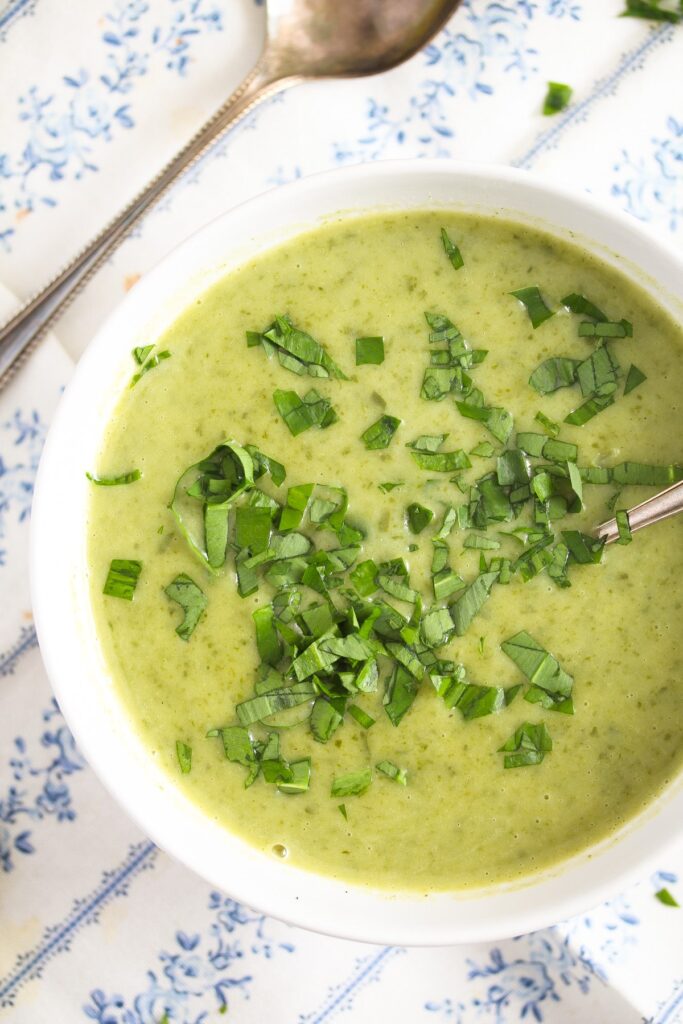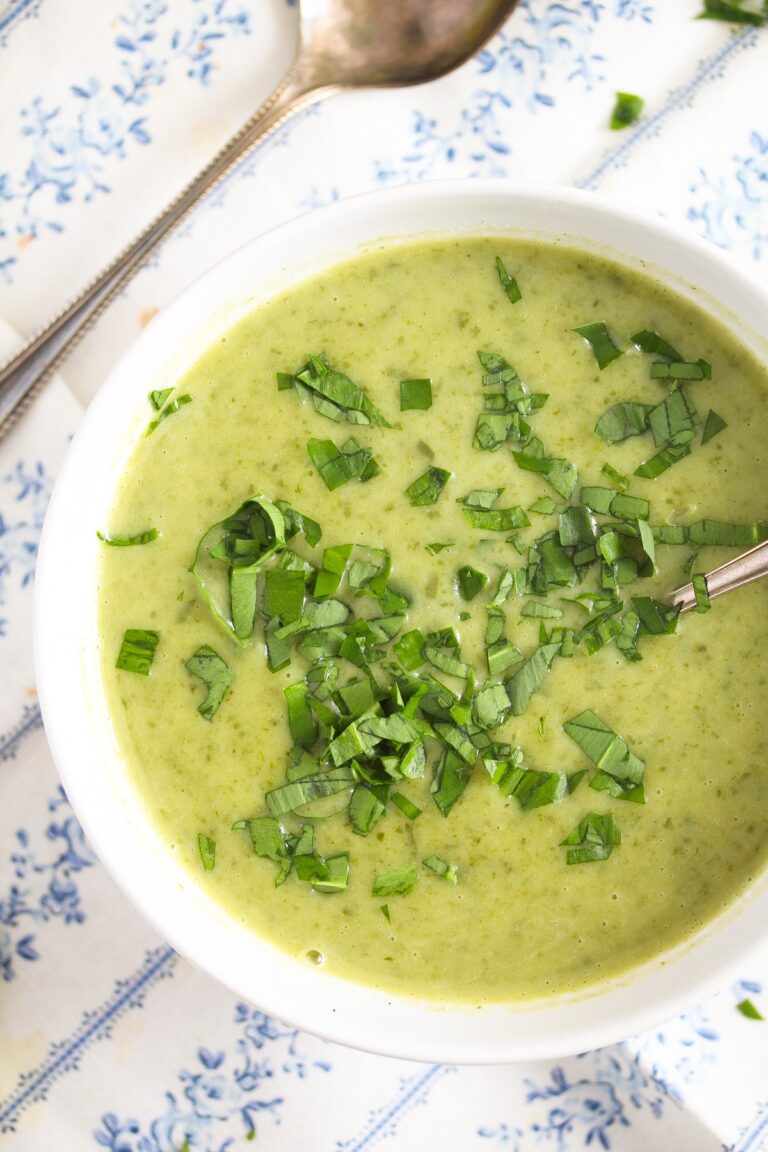 We are in the middle of the wild garlic season in Germany, so I try to make the most of it as long as I can, 1-2 more weeks and it will all be gone.
I've been making this simple wild garlic and potato soup lots and lots of times during the past years. My son loves any kind of potato soup, so combining this plant with potatoes came naturally.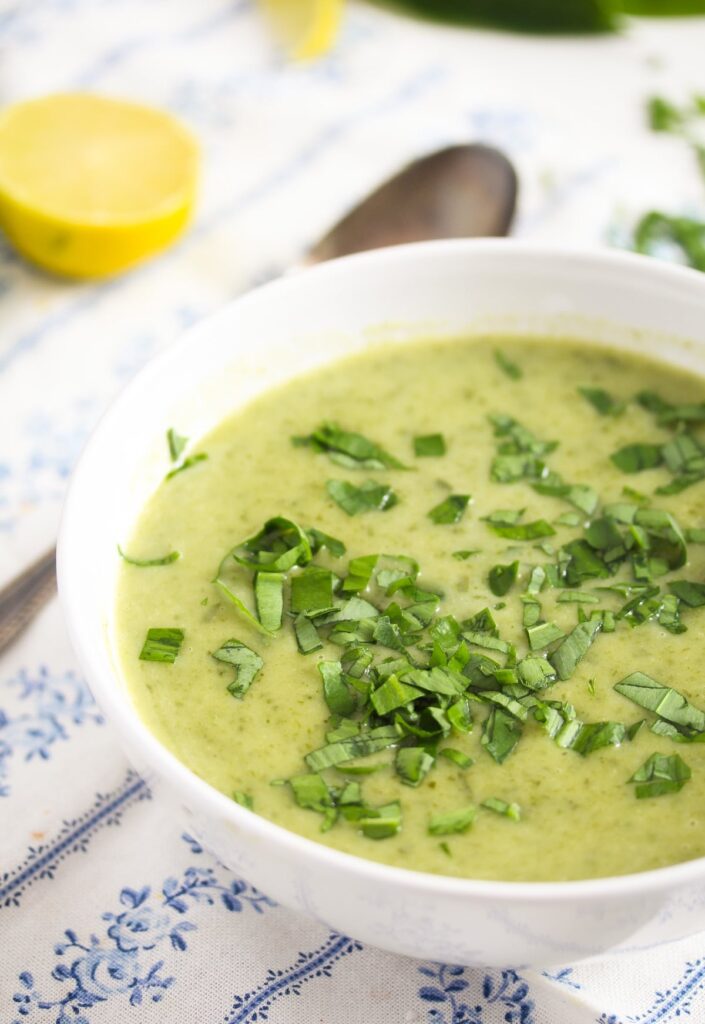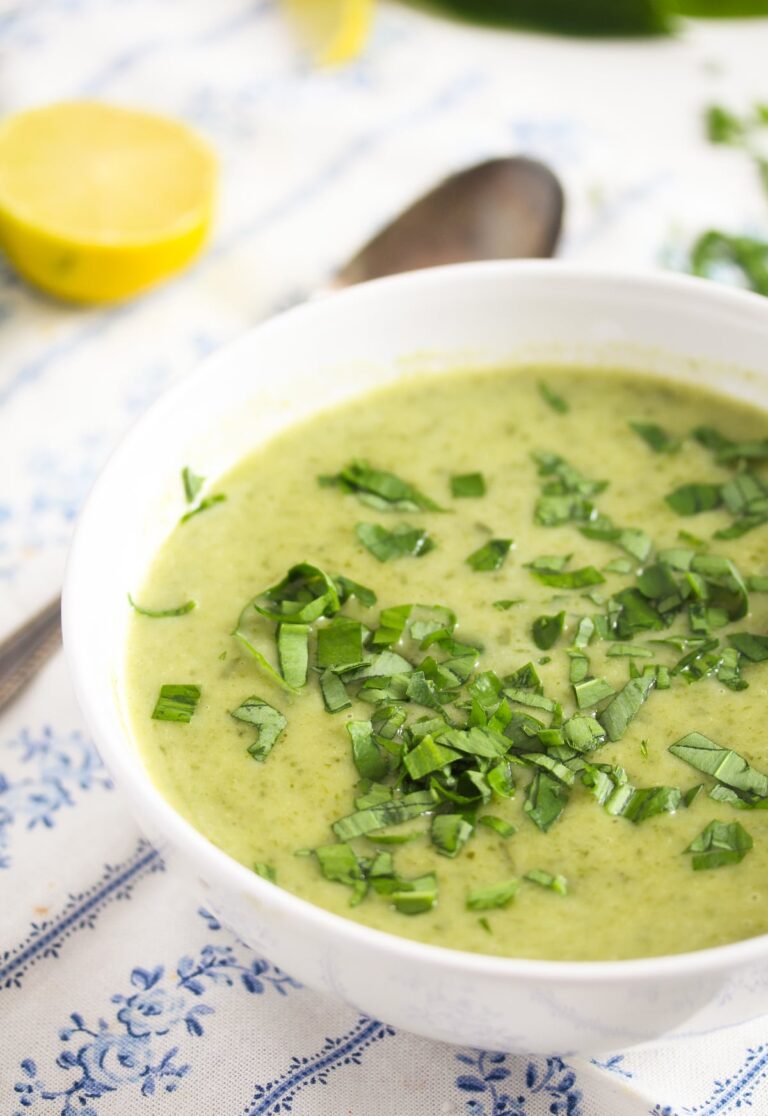 What is wild garlic?
Known under many names, from the Latin Allium ursinum (bear's garlic) to wild garlic, ramsons, buckrams, bear leek, or wood garlic, the plant is related to chives and it is native to Europe and Asia.
It also grows throughout North America, in the Eastern half of the United States and on the West coast.
It has a short season in spring, from April to June, depending on where in Europe you are.
Can you eat wild garlic?
Wild garlic is one of the most delicious plants that you can forage yourself.
But you really have to know how it looks like because mistaking it for the Lily of the valley can lead to severe poisoning.
Make sure you know what you are doing before you go picking wild garlic. The first time you do it, do it with an expert, somebody who knows the difference.
It is actually very easy to see the differences between the two plants, once you know it, you know it.
Cooking with wild garlic
There are so many ways to use this wonderful plant!
Wild garlic pesto:
It is amazing! This pesto recipe got me into wild garlic actually and it is the main reason I go foraging each spring.
I make two versions of it: the sunflower seed one and the almond version, a total of 8 to 10 small jars.
Usually, I keep two in the fridge (to be eaten within 2 weeks or so) and freeze the rest. They will keep perfectly until the next season.
They also make a wonderful homemade gift, everybody loves it!
Wild garlic paste:
Pureed wild garlic with salt and oil. It is rather salty and keeps very well in the fridge for a long time. It also freezes well.
I use it as a spice for soups, stews, salad dressings, or even thinly smeared on bread and topped with other ingredients.
Try mix some with cream cheese for an easy and delicious bread spread.
Wild garlic spread:
A mixture of wild garlic with sunflower seeds, for instance.
Be creative and use other seeds or nuts instead to make this spread.
It keeps well in the fridge for about 1 week and it freezes very well.
Butter:
Mix very finely chopped leaves with soft butter. Form a roll, wrap in plastic foil and let get firm in the fridge.
Perfect for grilled meat or on crusty bread.
You can also freeze it in smaller portions.
Pasta:
Mix pasta with the pesto and a little cooking water from the pasta.
Mix pasta with heavy cream or cream cheese + a little milk and some wild garlic paste.
Add finely chopped leaves to pasta dishes including other ingredients like chopped veggies, chicken breast or shrimps.
Potatoes:
Cook new potatoes, slice and mix them (while hot) with pesto. Serve immediately.
Make gnocchi or spätzle, adding some pureed wild garlic to the potato or flour mixture.
Rice:
Make risotto, adding finely chopped leaves or pesto during the last minutes of the cooking time.
Chicken:
Try this amazing curry, I make it every spring, it is so incredibly aromatic.
Salads:
Add fresh leaves to any kind of salad you like.
Bread:
Chop some leaves finely and knead them into the bread dough.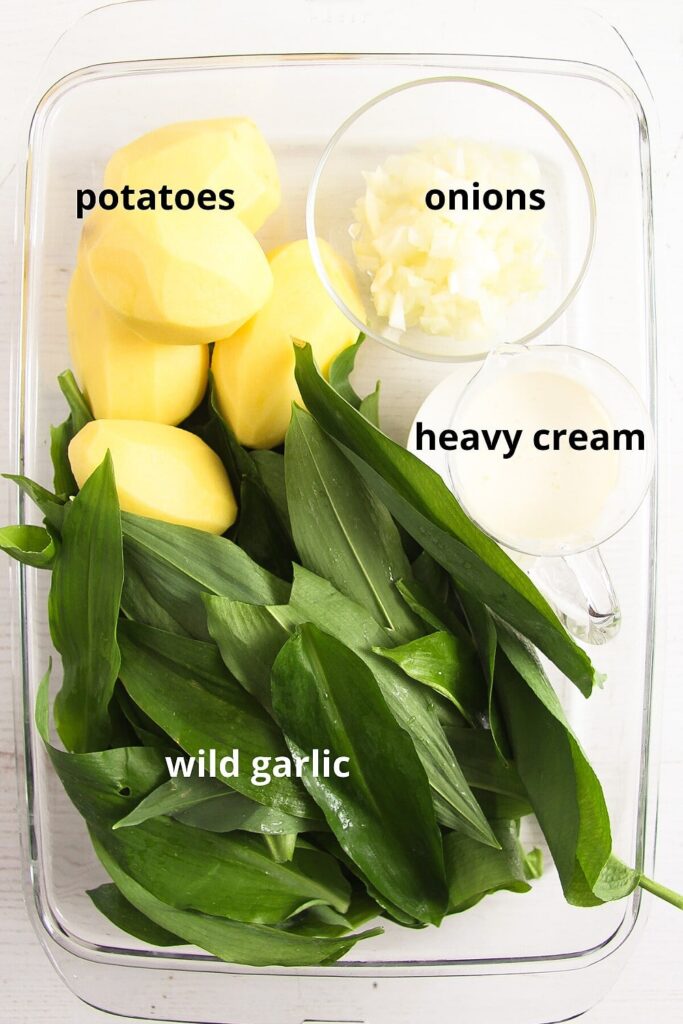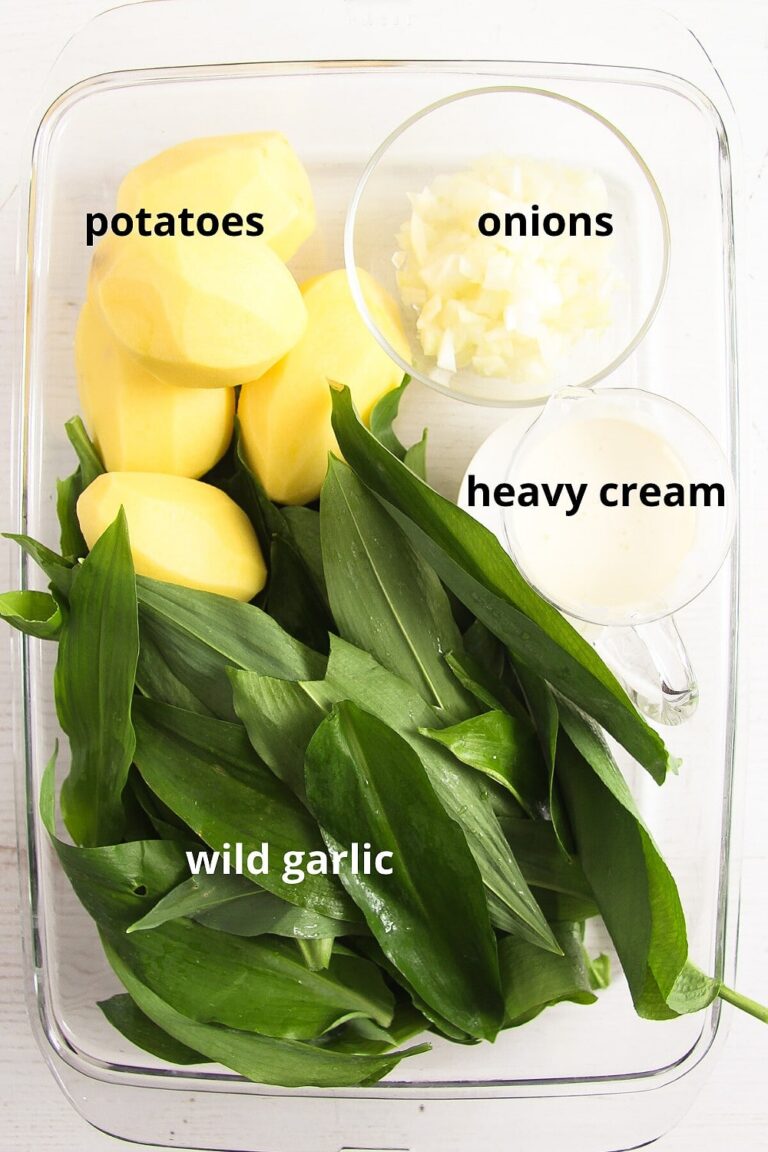 How to make wild garlic soup?
This wild garlic and potato soup recipe is super quick and super easy!
Cook the onion in some oil or butter until translucent.
Add the potatoes and the roughly chopped leaves. Leave 4-5 large leaves for the garnish.
Add the stock, some salt and pepper and cook on medium-low heat until the potatoes are soft, about 15-20 minutes, but check.
Blend the soup.
Stir in the heavy cream, reheat gently and adjust the taste.
Vegan version:
Use vegetable stock.
Replace the heavy cream with a vegan alternative, like soy cream, for instance.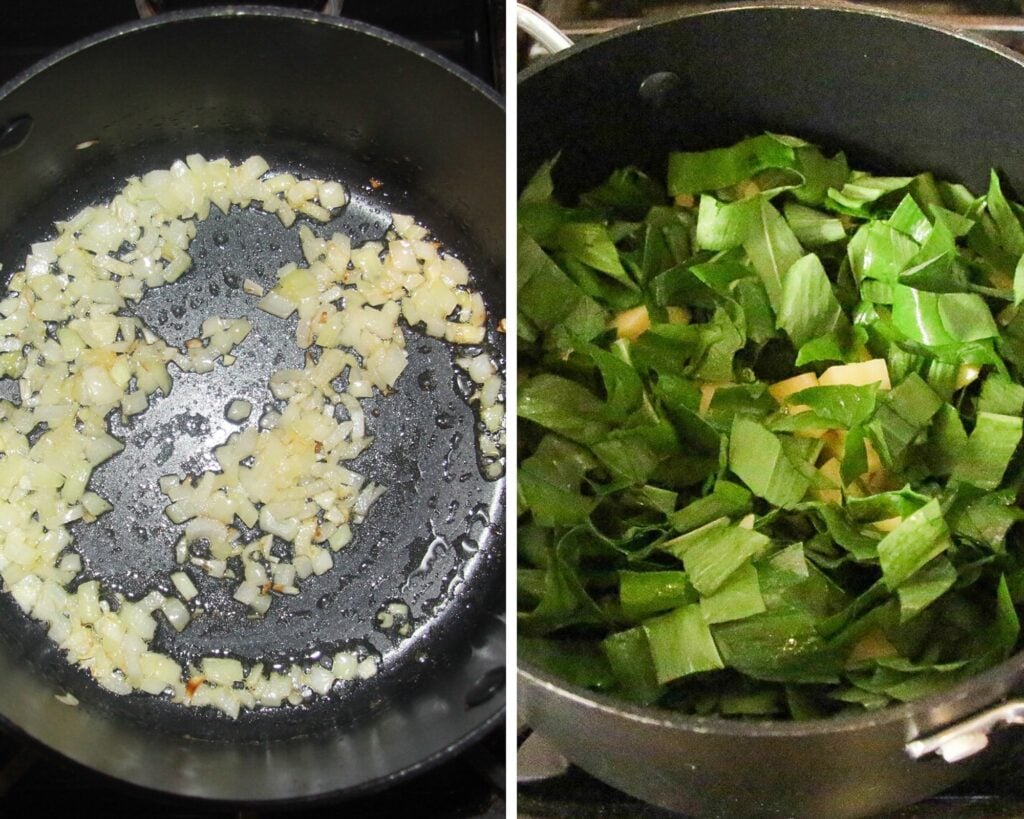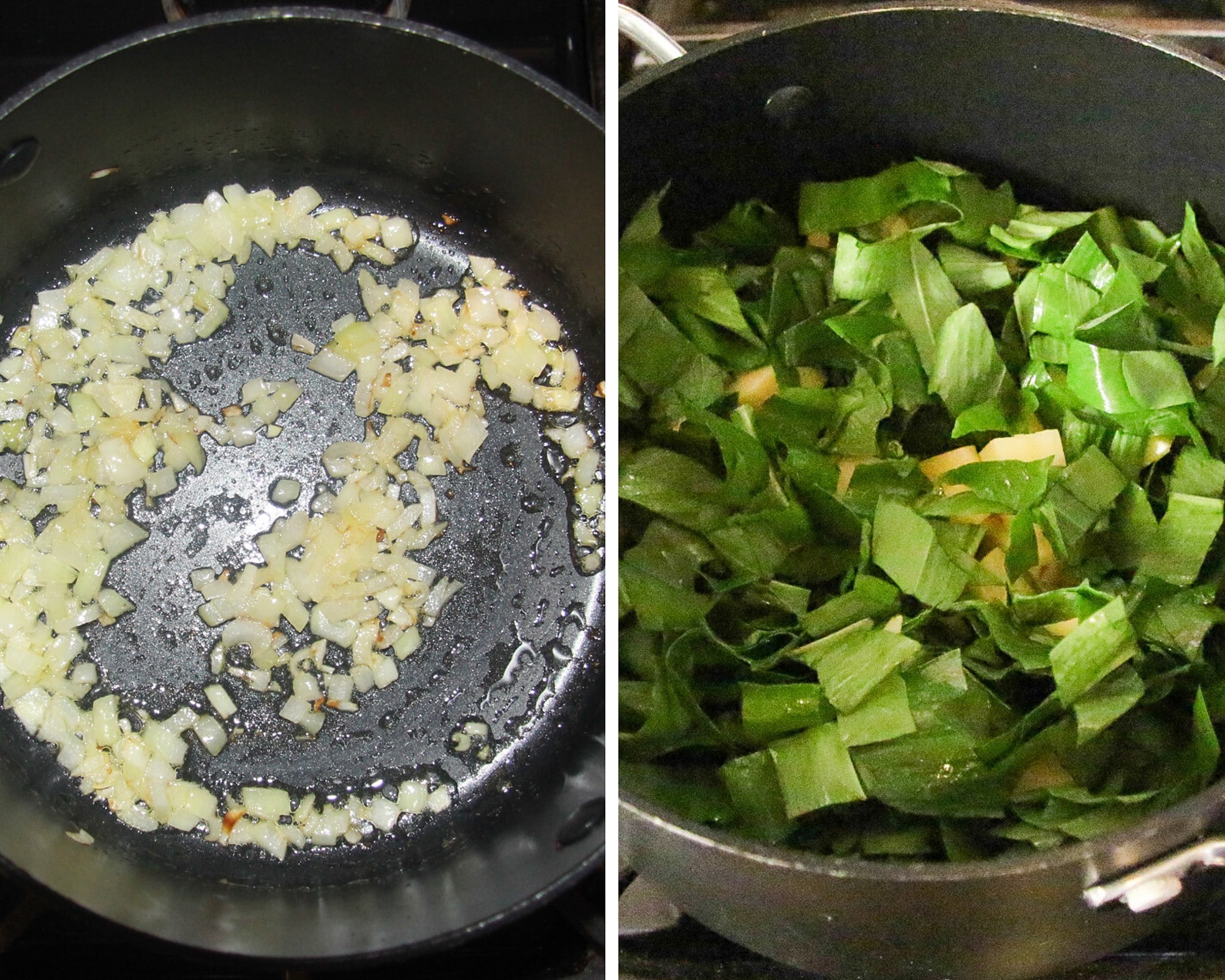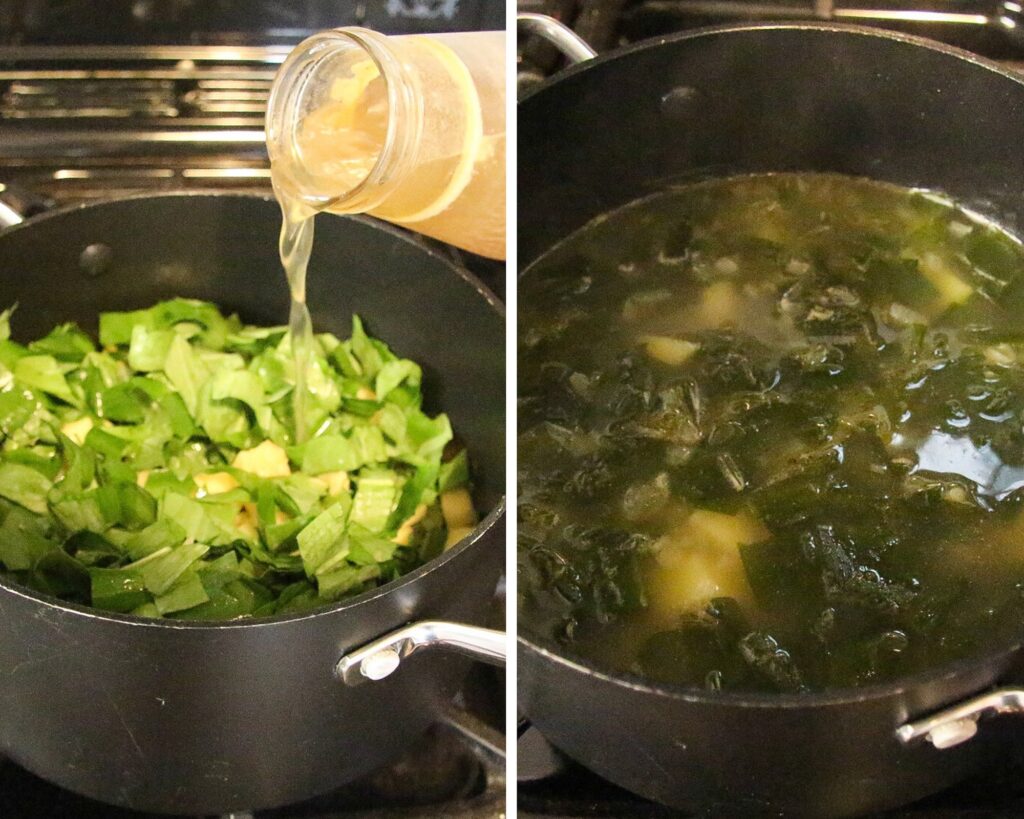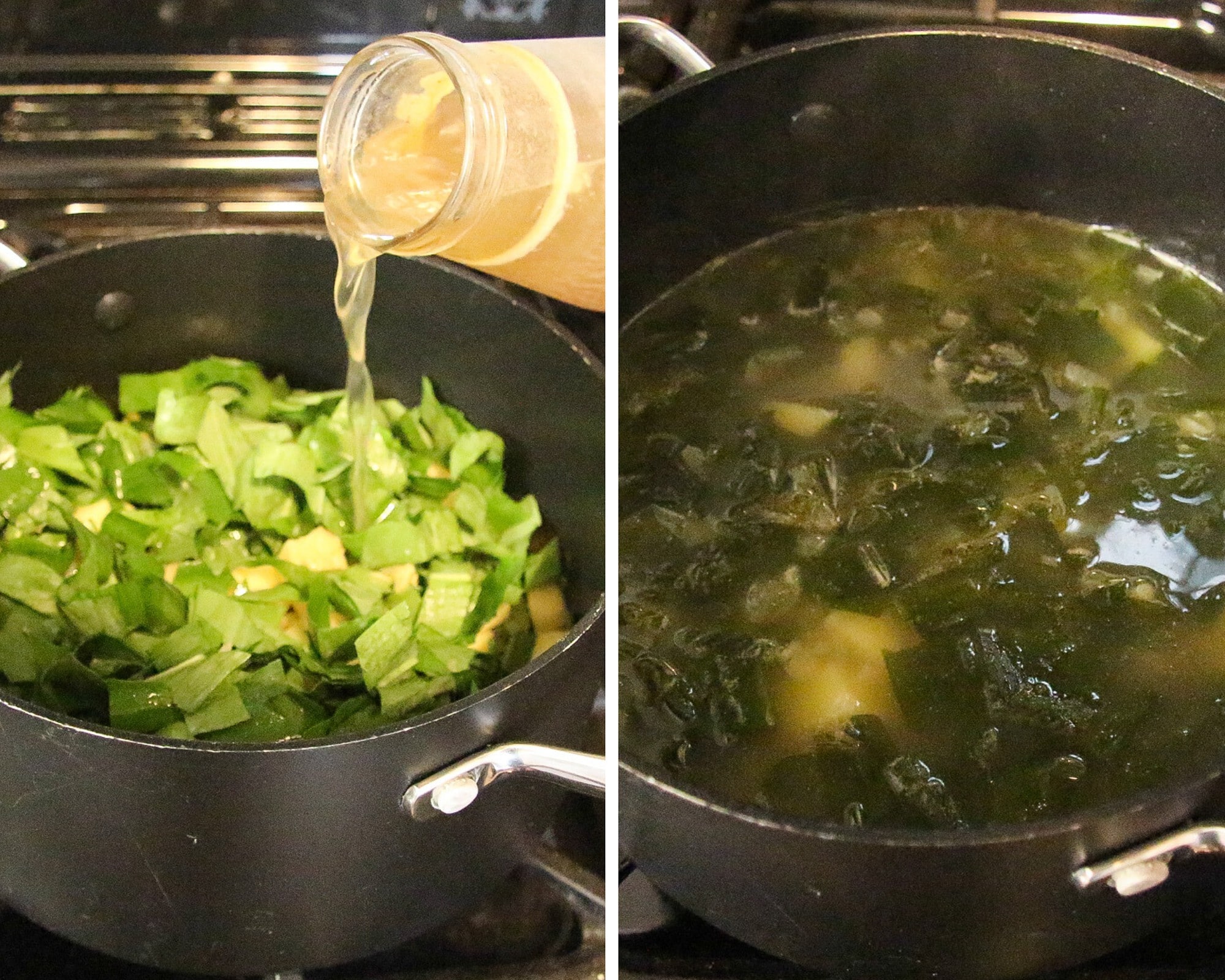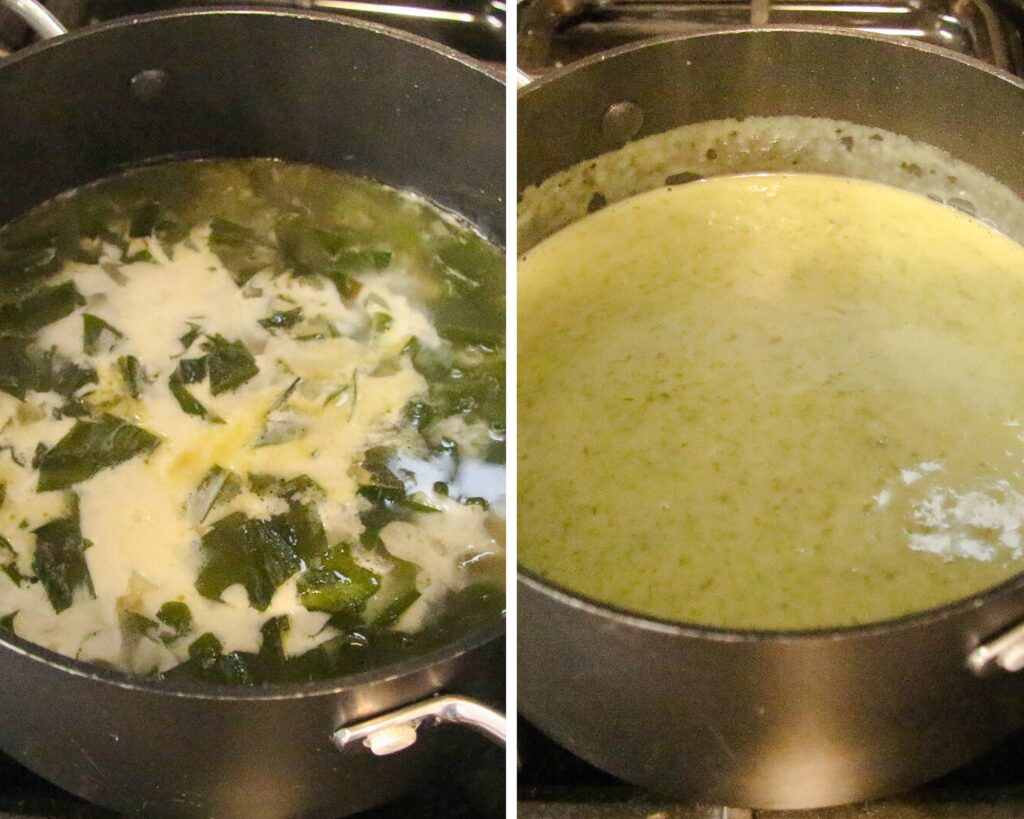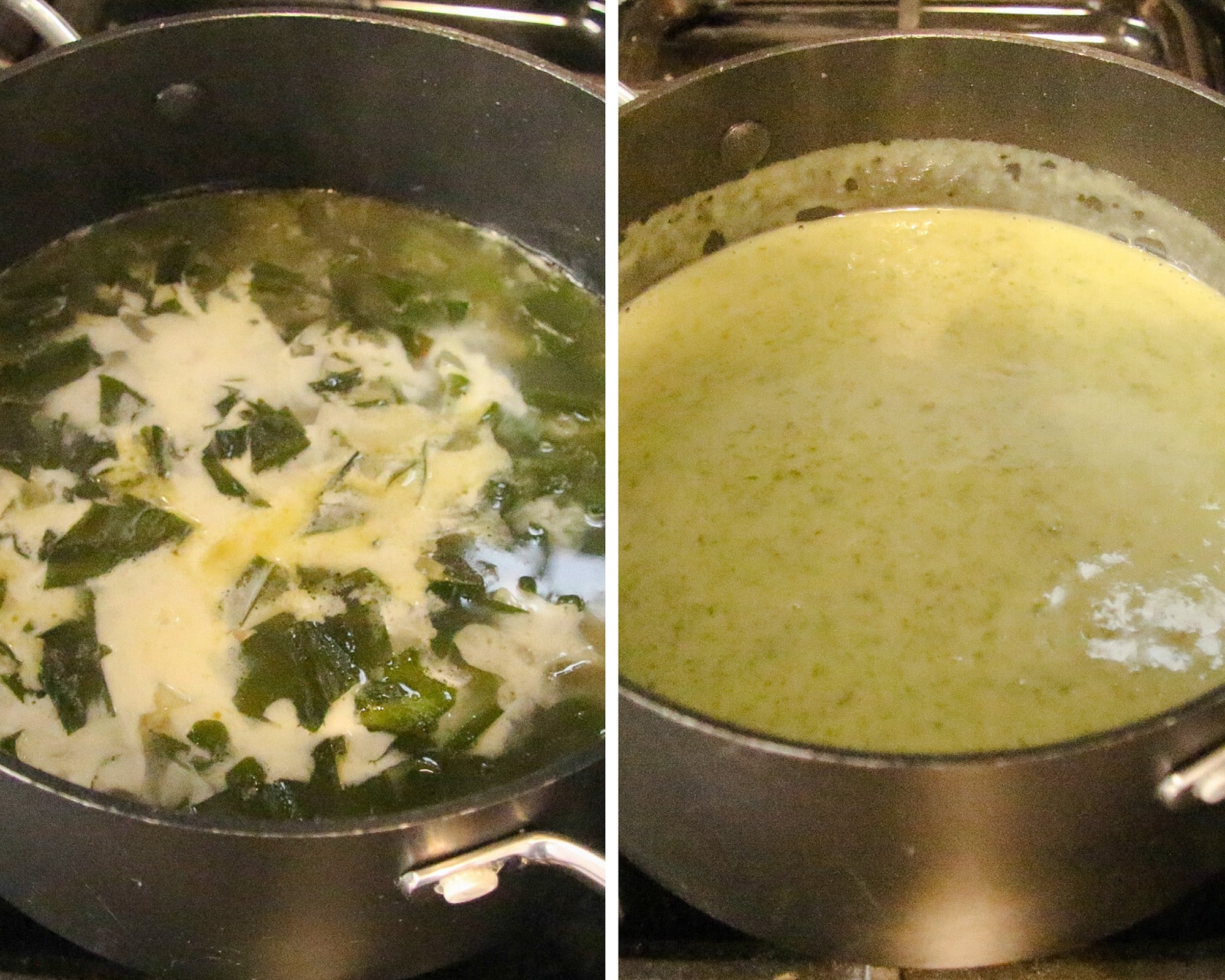 More creamy soups?
Asparagus Soup – The best cream of asparagus soup you could make this spring.
Kohlrabi Soup with Potatoes – German kohlrabi soup recipe with potatoes and cream cheese.
Carrot Soup with Milk – Only a few ingredients, but so much flavor.
Irish Potato Soup – This traditional recipe uses just a few ingredients like potatoes, leeks and milk.
Red Cabbage Soup – Packed with nutritious ingredients, perfect for a weeknight dinner or for serving to guests.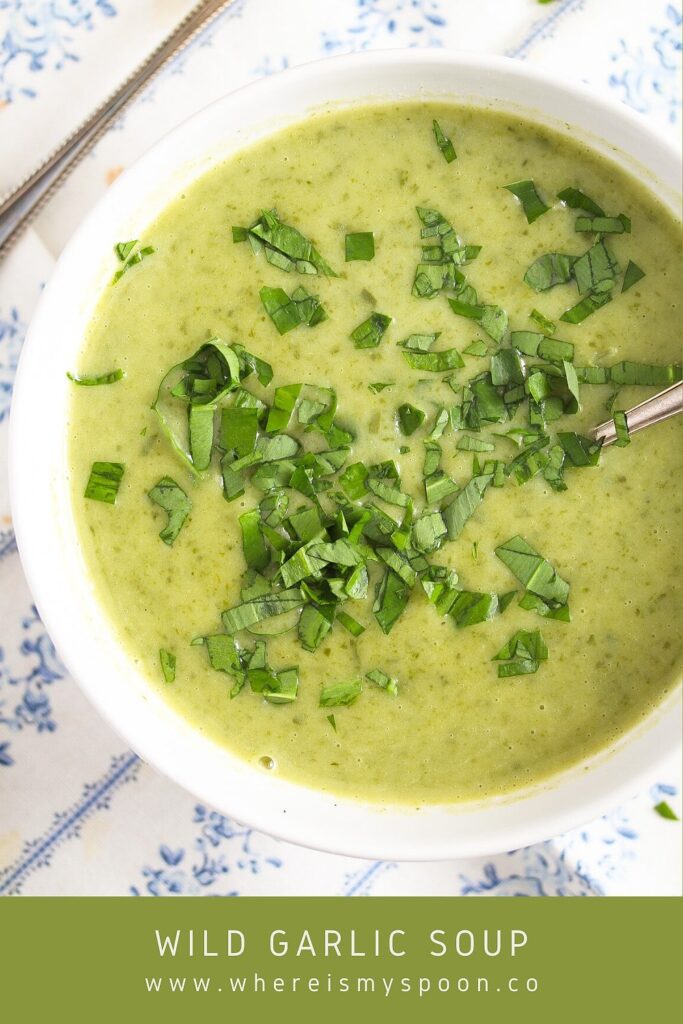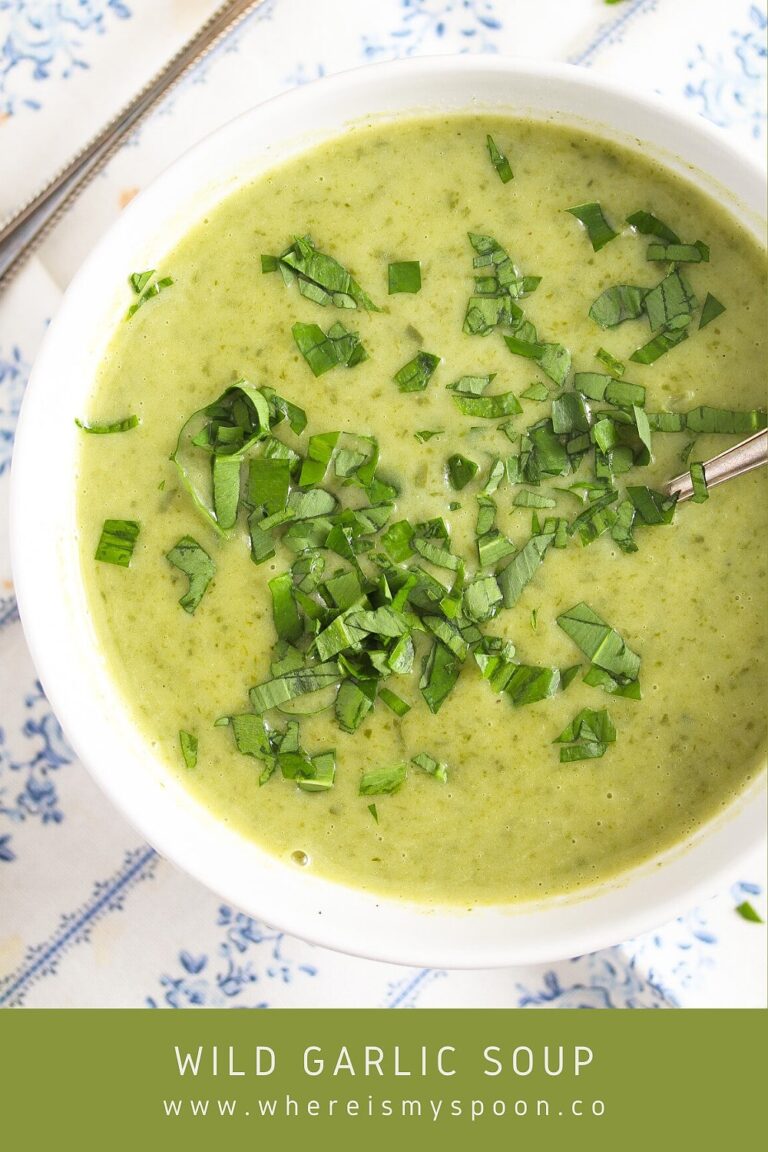 Wild Garlic and Potato Soup
Creamy wild garlic and potato soup made with just a few ingredients and ready in no time. The perfect way of using foraged wild garlic.
Ingredients
100 g/ 3.5 oz/ 1 very large bunch wild garlic
450 g/ 1 lb potatoes
1 medium onion
1 tablespoon olive oil (or butter)
1 liter/ 34 fl.oz/ 4 ¼ cups chicken stock or vegetable broth (See note)
75 ml/ 2.5 fl.oz/ 1/3 cup heavy cream
fine sea salt and black pepper
Instructions
Clean the wild garlic leaves thoroughly. Keep 4-5 large ones for garnishing. Roughly chop the rest of them. Set aside.
Peel and cube the potatoes, set aside. Finely chop the onion, set aside.
Heat the oil/butter in a pot. Cook the onions until translucent, 2-3 minutes, while stirring often.
Add the chopped potatoes and wild garlic.
Pour in the stock. Cover, bring to a boil and cook on medium-low heat until the potatoes are soft, about 15-20 minutes, but check.
Blend the soup.
Add the cream, stir well and reheat gently. Adjust the taste with salt and pepper. Garnish with the remaining and finely chopped wild garlic leaves.
Notes
For a vegan version, make the soup with oil, vegetable broth and vegan cream (like soy cream).
Nutrition Information:
Yield:

4
Serving Size:

1/4 of the dish
Amount Per Serving:
Calories:

338
Total Fat:

14g
Saturated Fat:

6g
Trans Fat:

0g
Unsaturated Fat:

7g
Cholesterol:

29mg
Sodium:

679mg
Carbohydrates:

44g
Fiber:

3g
Sugar:

7g
Protein:

12g
Nutrition information isn't always accurate.