Homemade wild garlic pesto with Parmesan, sunflower oil, and sunflower seeds - the perfect way of preserving the spring flavors in a jar.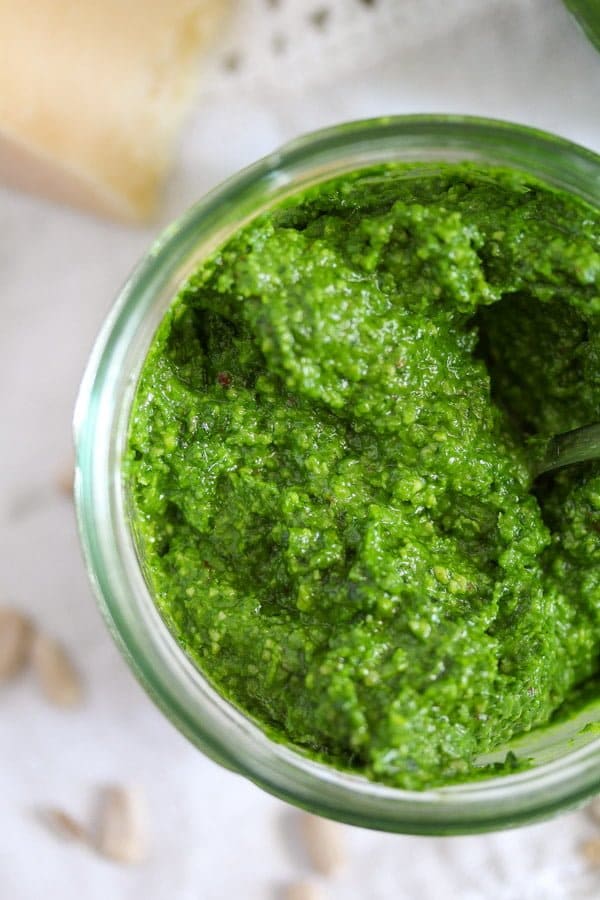 The woods are full of wild garlic. Every spring, I gather a huge amount of it just to make this wild garlic pesto. Countless little jars, suitable for freezing and better tasting than any other pesto I have ever had! Check out What to Do with Wild Garlic for more ideas on using this aromatic plant.
It was a good friend who introduced me to this amazing plant. I was a bit nervous about it at first because I remember seeing a report on TV a couple of years ago about people mistaking Lilies of the Valley for it and poisoning themselves this way.
But my friend is an expert in this, and she is been foraging plants in the woods for such a long time now that I decided to trust her. And she explained the differences between the two plants to me, and once you know them, there is actually no way you could mistake them. Plus the smell of the woods when you get to the place where the wild garlic grows... A wood smelling of garlic is definitely an experience worth having.
Try some Green Wild Garlic Crepes and this amazing Vegan Spread, which I also freeze. Or this simple and delicious Wild Garlic and Potato Soup.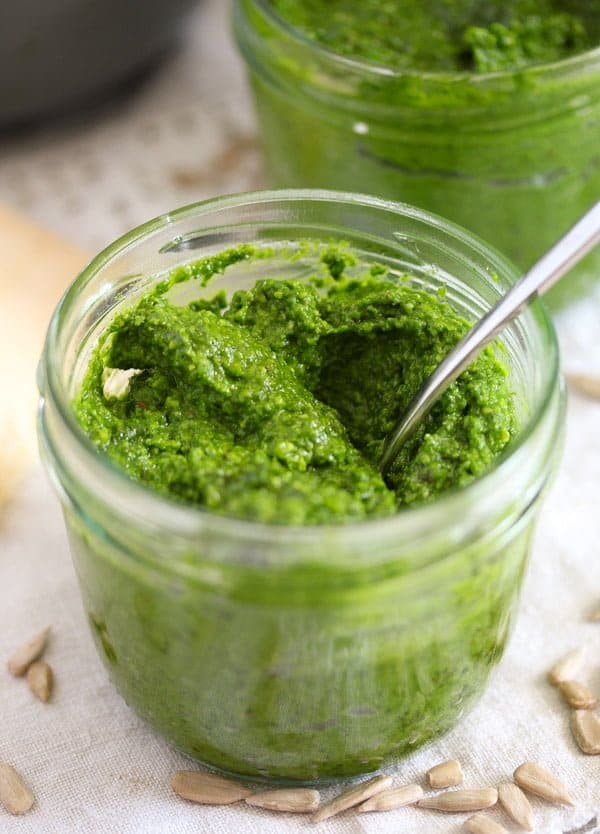 What is wild garlic?
Allium ursinum, also known as ramsons, buckrams, bear's garlic, bear leek, or wood garlic is a relative to chives, native to Europe and Asia. It is widespread across most of Europe and has a short season in spring, from April to June, depending on where in Europe you are. In Germany, now is the time to go out and look for it. It also grows throughout North America, in the Eastern half of the United States, and on the West coast.
Health benefits
The essential oils in this herb have a positive influence on digestion, respiratory tract, liver, gall bladder, intestines, and stomach. It also stimulates the metabolism and lowers bad cholesterol levels. All the more reasons to gather and eat ramsons when you have the possibility.
According to several sources, the plant can improve heart health as it has a good effect on high blood pressure and is able to lower cholesterol levels.
It can also improve stomach issues, it can soothe inflammation, bloating, cramping, constipation, and other stomach issues.
Another one of its components can also neutralize free radical activity, thus helping to lower the risk of cancer and other chronic diseases, for instance, heart disease or arthritis.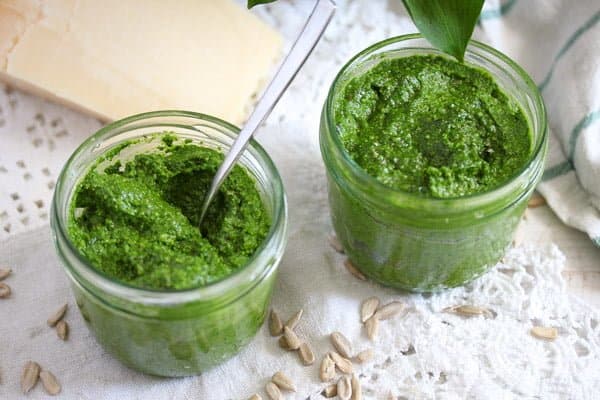 What do you need?
The quantities given in the recipe below are enough for a small batch, about 4 small jars.
These amounts are not mandatory. Add more or fewer sunflower seeds, Parmesan or salt according to your taste.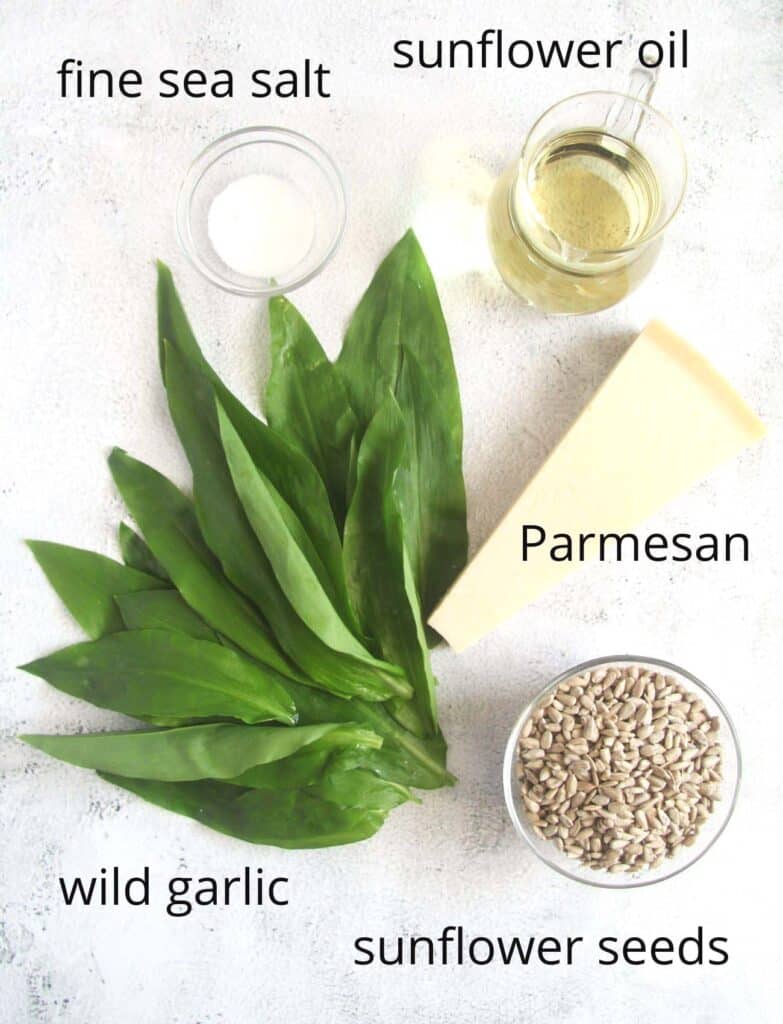 Alternative
Replace the sunflower seeds with almonds, the sunflower oil with canola oil, or mild olive oil.
You could also replace the Parmesan with Pecorino.
How to clean the leaves?
Making this recipe is a very quick and easy affair; the only part that is a bit annoying is washing and drying the leaves.
But cleaning them thoroughly is important in order to avoid tapeworm infection, which under circumstances, can be very dangerous.
I mentioned 30 minutes as preparation time only because of the time needed to thoroughly wash the leaves; I wash every single one with hot water, rubbing it gently with my fingers on both sides.
I spread some large clean towels on the table and place the washed leaves on top, patting them dry with other towels once I've washed them all.
The actual time needed for the recipe is much shorter; if you have a good food processor, you will be done in 5 minutes.
How to make it?
Roughly chop the leaves. Process in the food processor shortly. (1)
Add cubed Parmesan, sunflower seeds, and salt. (2)
Process until smooth, scraping the walls of the food processor a few times in between. (3)
Transfer to small jars. (4)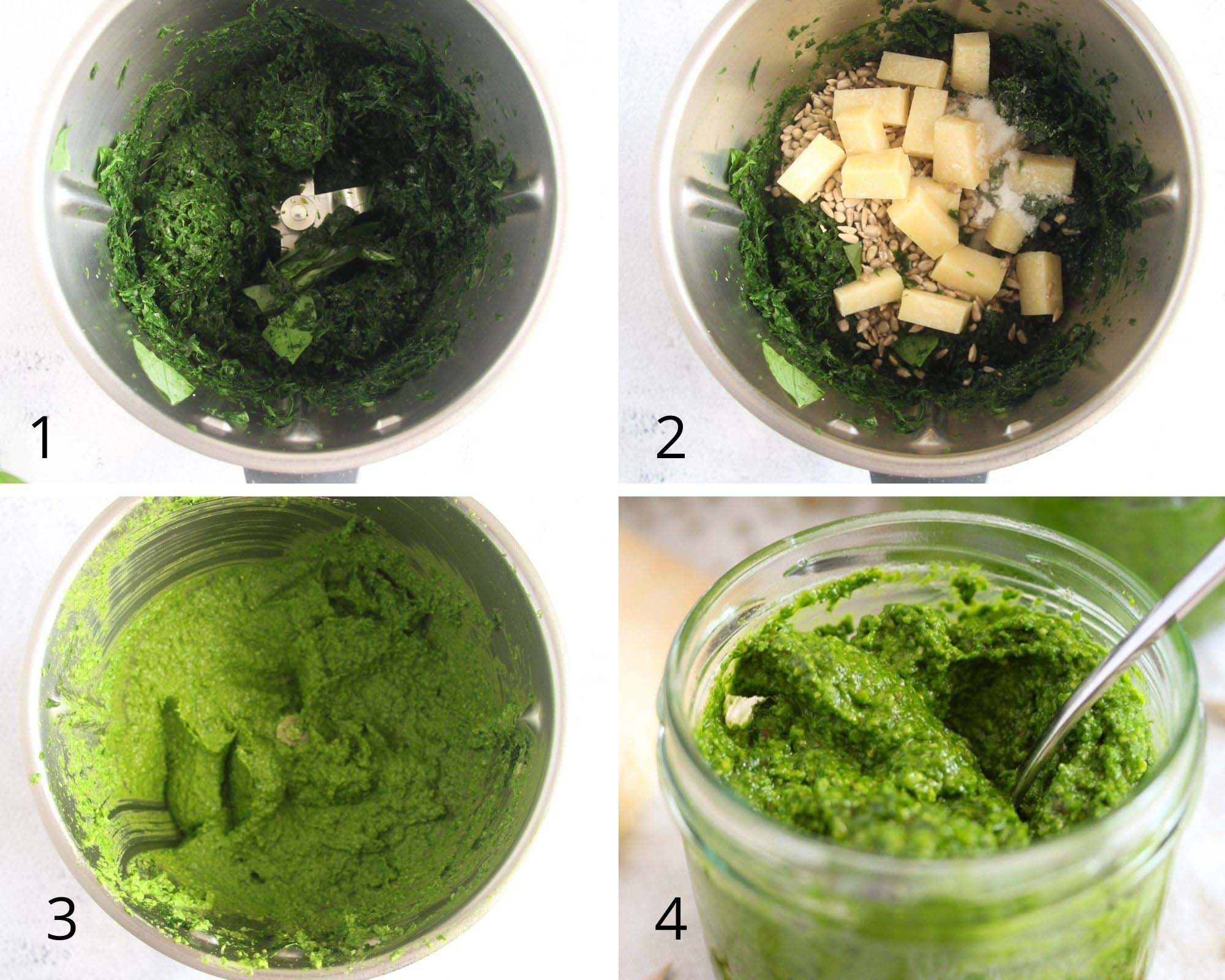 How to use up a jar of pesto?
We eat a lot of pesto, always homemade. Every year I make a batch of this wild garlic pesto, then another batch with almonds, a batch of Mint Pistachio Pesto, one of Lemon Balm Pesto, one of Mint Basil Pesto, and one of Lovage Pesto.
I usually defrost a jar when my daughter wishes me to make her beloved Zucchini Feta Pancakes with Herbs or pasta. But when I cook those dishes, I really don't need a whole jar, a little goes a long way, so I often have an open jar of the mixture in the fridge.
Use as a spread on dark rye bread (or regular bread) and top it with Camembert or a slice of cheddar and some sliced tomatoes.
Mix with pasta. Keep about ½ cup of the noodles' cooking water and use as much of it as necessary to make the sauce coat the pasta nicely.
Another way of enjoying it with pasta is to mix it with a little cream cheese; both my children love that.
Cook potatoes as you would for a salad, slice them while still hot, and mix them with pesto. So good, a perfect side for some chicken or fish or a main meal with a salad on the side.
Make Zucchini with Pesto.
Stir into eggs and make an omelet.
Add it to salad dressings.
You can mix it with feta or cream cheese and make a delicious bread spread.
Spice up soups or stews.
Make tortilla wraps, top with some veggies or cooked chicken, and some cheese.
Make pancakes, bread, or rolls.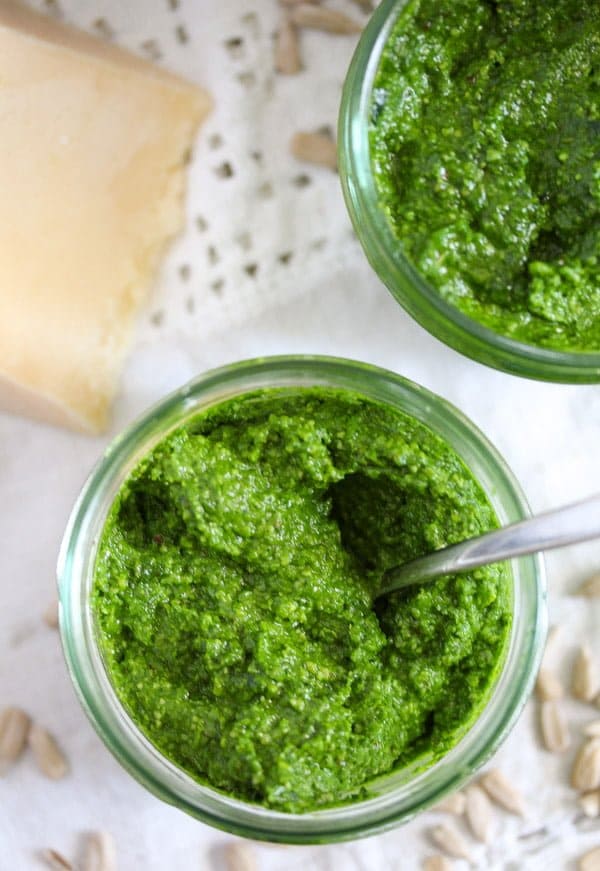 Recipe FAQ
How to store?
Refrigerate the jars.
It is best (but not mandatory) to keep it covered with a thin layer of oil.
Fresh or defrosted pesto will keep in the fridge for at least two weeks.
Can you freeze it?
Definitely. I freeze about 8-10 small jars every spring, sometimes more.
The wild garlic pesto will keep in the freezer for at least 1 year.
Defrost in the fridge or on the counter.

More wild garlic recipes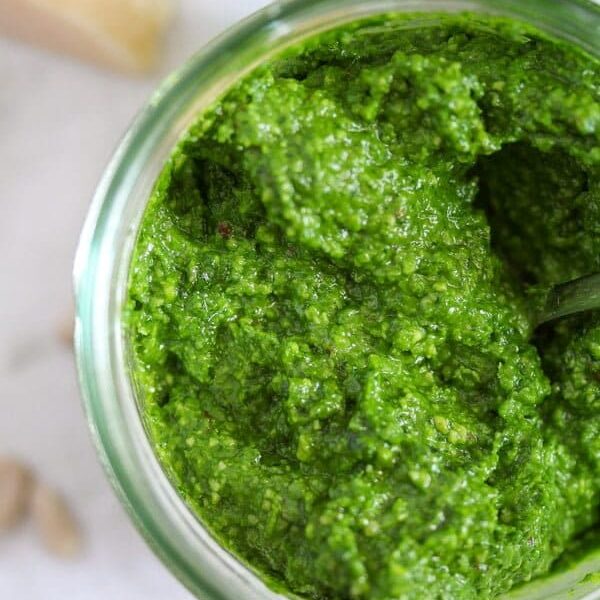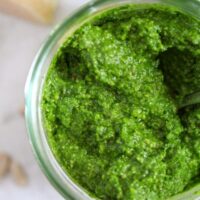 Wild Garlic Pesto
Homemade wild garlic pesto with Parmesan, sunflower oil, and sunflower seeds, the perfect way of preserving the spring flavors in a jar.
Print
Pin
Share
Grow
Saved!
Rate
Ingredients
300

g

wild garlic

stalks removed, 10.5 oz

100

g

sunflower seeds

3.5 oz/ about ¾ cup

100

g

Parmesan

3.5 oz/ 1 cup

200

ml

sunflower oil + more for pouring into the filled glasses

6.7 fl.oz/ scant 1 cup

1

teaspoon

fine sea salt

add more if necessary
Instructions
Wash and dry the wild garlic very thoroughly. Chop the leaves and place them in the food processor (Note 1).

Blend pesto: Process to a rough paste, add the rest of the ingredients and process everything to obtain a smooth paste. You will need to scrape the walls of the food processor a few times in between.

Transfer to jars: Place the wild garlic pesto into small jars, pressing well with a teaspoon to avoid air holes. Pour some extra sunflower oil on top to cover the pesto with a thin layer.

Place the lids on the jars, but don't screw them tightly if you intend to freeze the pesto.
Notes
Cleaning the leaves thoroughly is important in order to avoid tapeworm infection, which under circumstances, can be very dangerous. Wash the leaves with hot water, rubbing them gently with my fingers on both sides. Dry them well with kitchen towels.
Store

: You can keep the pesto in the fridge, covered with the thin layer of oil, for at least 2 weeks. To keep it longer, place it in the freezer.
Nutrition
Serving:
1
g
|
Calories:
763
kcal
|
Carbohydrates:
32
g
|
Protein:
17
g
|
Fat:
66
g
|
Saturated Fat:
10
g
|
Polyunsaturated Fat:
53
g
|
Cholesterol:
22
mg
|
Sodium:
2494
mg
|
Fiber:
4
g
|
Sugar:
1
g