An amazing vegan wild garlic spread, sunflower seeds, and lemon juice, this is so good you will end up putting it on top of everything.
Take advantage of nature's gifts and make a bowl of wild garlic spread with sunflower seeds. It is incredibly delicious, healthy, perfect for dipping or for spreading on bread or crackers.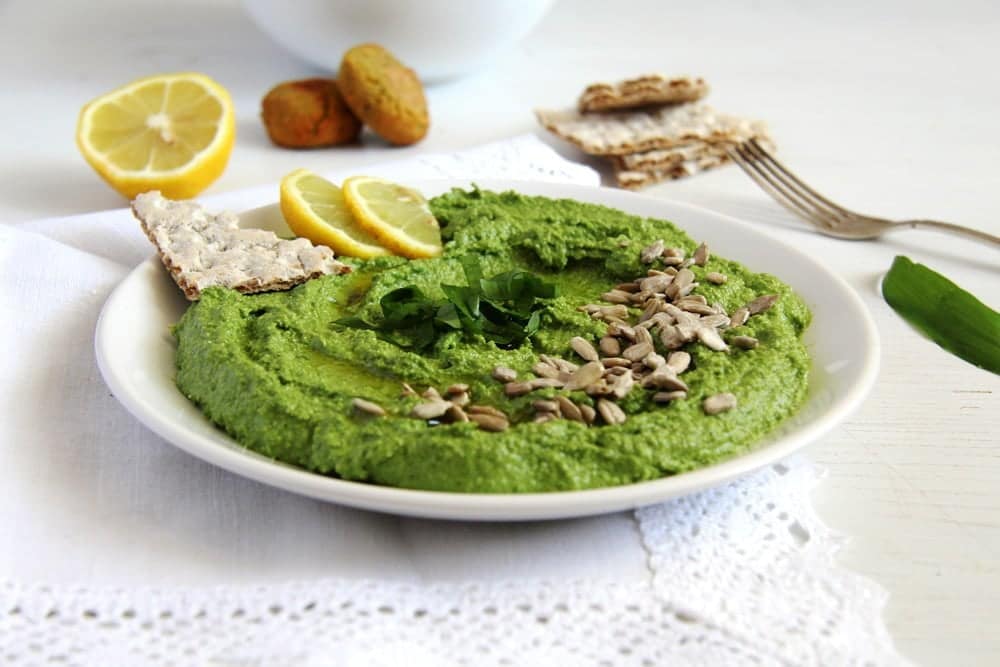 I went foraging recently and came home with a huge basket full of wild garlic. I didn't weigh it, so I really don't know how much it was, but after washing and drying it, I was busy with it for two whole days.
There are so many things I made with it: about 15 small jars of this wild garlic pesto, which my children love, a paste similar to the garlic-herb paste from Wednesday to mix in soups and stews and so on.
Then I made soup, spaghetti with sauce, bread rolls, crepes, infused oil, feta spread, and this delicious and simple recipe as well. One of the best spreads I have ever made. I made quite a lot of it, doubled the portion, and froze what we didn't eat immediately. Bear's garlic is only available for a short period of time, so I won't be able to make this spread until next year.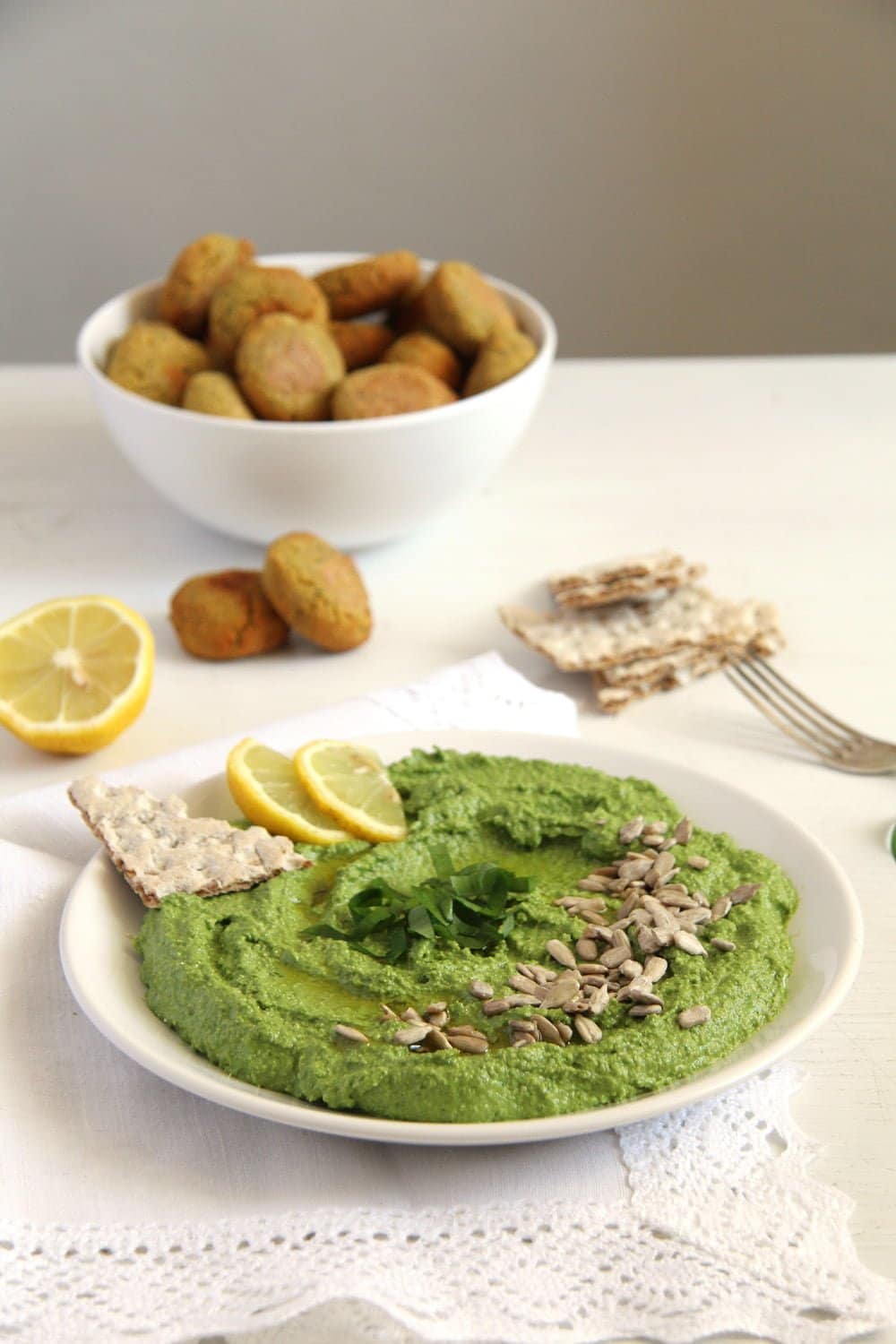 How to pick wild garlic?
Wild garlic is also known as ramsons or bear's garlic and it is widespread across Europe. In our region, in Germany, we can pick it sometimes starting the middle of April until the middle of May. There is a huge wood full of it just 2 or 3 km away from us.
Not so easy to reach, one has to do a bit of climbing, but when you're there, it is heaven on earth. A wonderful wood, even more beautiful on a sunny day, and this wonderful plant all around you. The smell is unbelievable, a wood smelling of garlic is really special :). You can pick and pick as much as you want, everything is clean and untouched, fresh and perfect.
The only danger when picking it is to mistake it with the Lilly of the valley. That is not a problem where I pick it, there is no Lilly of the valley growing there at all, but I have heard of people being poisoned due to picking and eating the wrong plant.
When going picking, make sure you know the area and that you know the difference between the two plants. They look similar at first sight, but the differences are easily spotted if you know where to look. So beware and inform yourself very very thoroughly before going to pick ramsons.
You could buy it of course, but it is expensive and the whole picking thing is actually so nice. You could plant it in your garden as well, if you have a large enough garden, it spreads quite a lot.
To learn more about safely picking and cleaning this wonderful plant, read What to Do with Wild Garlic?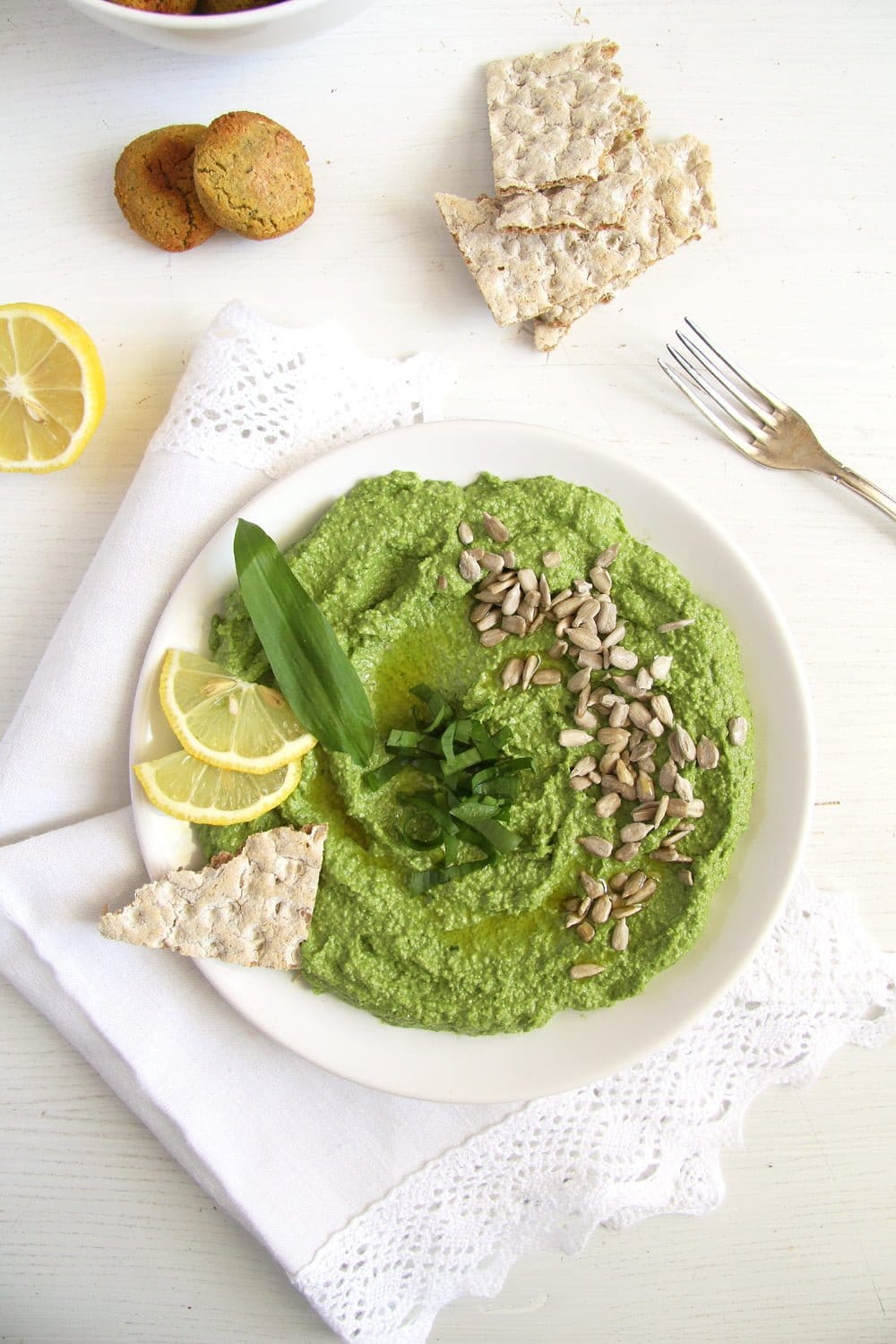 What does it taste like?
Despite its very strong garlic aroma, wild garlic is milder than regular garlic.
It definitely tastes like it but in a much softer, delicate way, so this might even be something for those who are not as keen as I am on eating garlic.
If you've never had it before but you have access to it, make sure to get some this season, it will be a revelation. You will be hooked and you will be picking it or buying it again year after year, that for sure! 🙂
How to serve the spread?
You can eat the wild garlic spread on bread or crackers.
Top with cheese or sliced hard-boiled eggs (if you are not vegan) or with sliced tomatoes, for instance.
Smear some in pita bread (or tortillas) and top with baked falafel and vegetables (raw or roasted).
You can have it as a dip for veggies as well.
Mix with cooked hot pasta and a little pasta sauce to make the sauce thinner.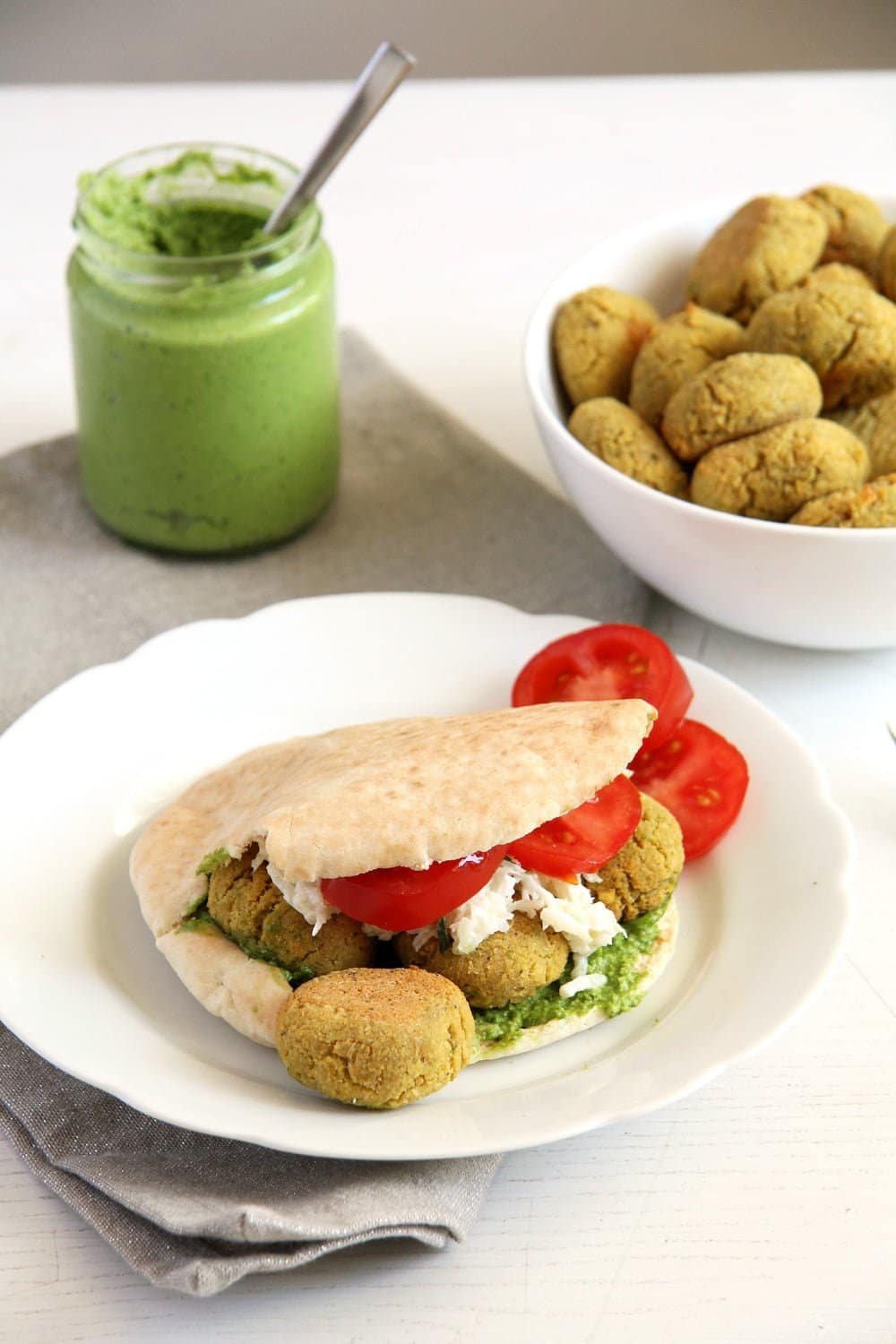 More vegan spreads?
Silken Tofu Tahini Spread - I love it on crispbread or with spelt crackers or as a dip for vegetables like carrots, kohlrabi, peppers and so on.
Vegan Spinach Artichoke Dip - Super-healthy vegan spinach artichoke dip with chickpeas and sunflower seeds, this is one of our favourite vegan dips.
Ajvar Recipe - A simple ajvar recipe, one of the most popular Balkan foods. A smoky roasted red pepper dip with eggplants.
Romanian White Bean Dip - Fasole batuta - A creamy white bean dip, topped with caramelized onions.
Fava Bean Dip - A smooth vegan bean dip or spread made with dried fava beans, cumin, and garlic, a healthy and delicious Egyptian recipe.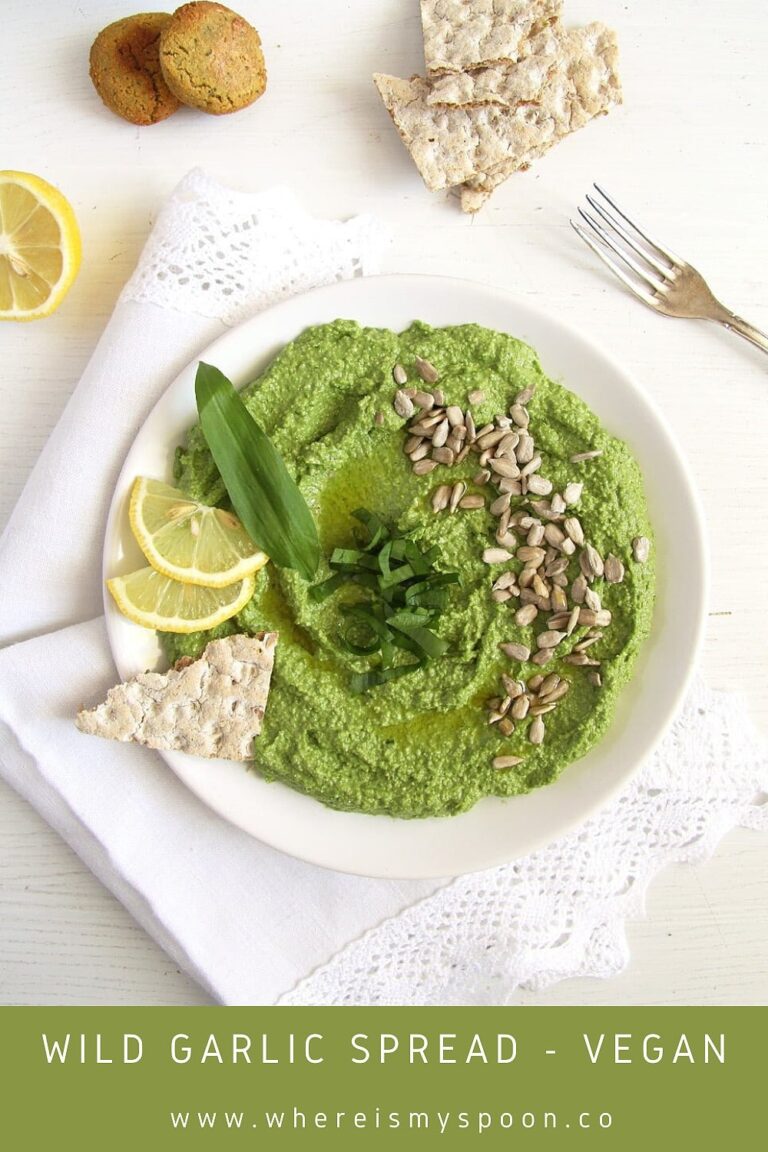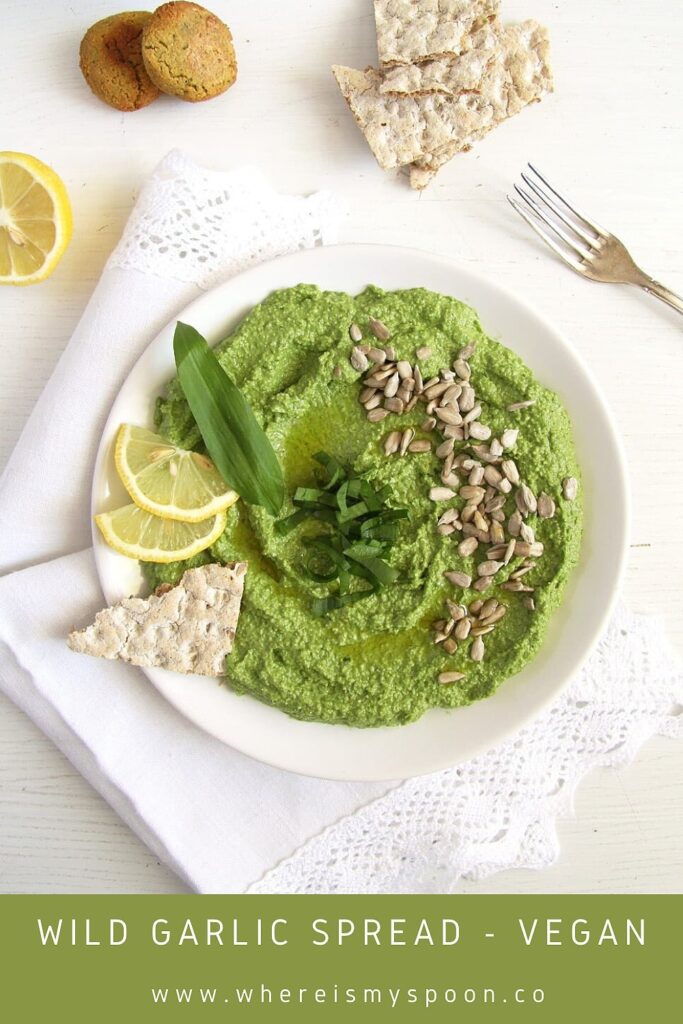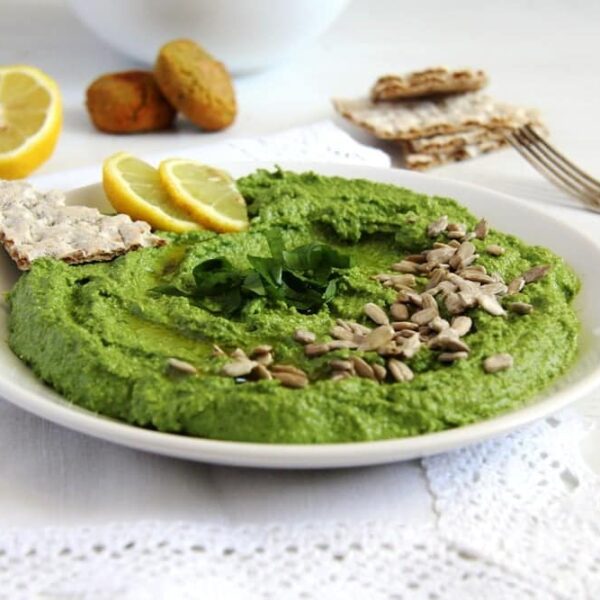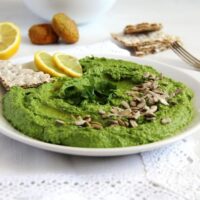 Vegan Wild Garlic Spread
A fantastic vegan wild garlic spread, sunflower seeds, and lemon juice, this is so good you will end up putting it on top of everything.
Print
Pin
Share
Grow
Saved!
Rate
Ingredients
1

bunch

wild garlic

1.7 oz/ 50 g

¾

cup

sunflower seeds

⅓

cup

nut milk

3

tablespoons

sunflower oil

1

tablespoon

lemon juice or more to taste

1

teaspoon

fine sea salt
Instructions
Prepare wild garlic: Wash and dry the wild garlic leaves very thoroughly, they should be really dry. Remove the stems.

Grind: Place the sunflower seeds in the food processor and process them very finely to obtain a powder. Please don't exaggerate, though; you do not want the seeds to release their oils and turn to butter.

Blend: Add the nut milk, oil, lemon juice, salt, and the finely chopped wild garlic and process until you obtain a paste. Scrape the walls of the food processor a few times in between.

Adjust the taste with more lemon juice and salt if necessary.

Store, covered, in a jar or bowl. It will keep for at least 1 week in the refrigerator, or it can be frozen.
Nutrition
Calories:
1369
kcal
|
Carbohydrates:
54
g
|
Protein:
40
g
|
Fat:
119
g
|
Saturated Fat:
16
g
|
Polyunsaturated Fat:
98
g
|
Cholesterol:
20
mg
|
Sodium:
8378
mg
|
Fiber:
13
g
|
Sugar:
5
g