Velvety, soft silken tofu spread with tahini, a vegan delight that even meat eaters will love. I make lots and lots of spreads, but this one really made it to the top of my list lately. If it just wasn't so difficult to get hold of some silken tofu around here, I would probably make it once a week. But every time I do get silken tofu, at least half of it is used for this heavenly spread.
I love it on crispbread or with the newly discovered vegan, spelt crackers or use it as a dip for vegetables like carrots, kohlrabi, peppers and so on. I just love its creaminess and that hint of garlic and balsamic vinegar.
The crackers I discovered recently here and liked them so much that I have already baked them twice. I changed the recipe a little, mostly because I wanted to use spelt flour instead of wheat. You can, of course, bake and eat the crackers in another constellation as well, they are just as delicious with other spreads or dips, like hummus or guacamole or whatever else you like. My son loves them dearly, he would not touch the tofu spread but loves the crackers just as they are. Or sometimes with a bit of cream cheese on top.
And before anyone panics and thinks that rolling the dough or making crackers generally, would mean a lot of work, I can assure you there isn't much to do. The dough is easily made, it rolls without any difficulty and cutting the crackers takes about 1 minute, so no excuses there. 🙂
Prep time:
Cook time:
Total time: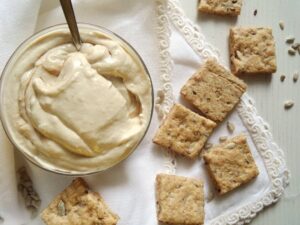 Ingredients
For the spelt crackers:
200 g/ 1⅔ cup wholegrain spelt flour (or whole wheat)
2 tablespoons sunflower seeds
1 tablespoon flax seeds
1 tablespoon sesame seeds
1 ½ teaspoons baking powder
¾ teaspoon salt
1 tablespoon olive oil
120 ml/ ½ cup water
For the tofu spread:
150 g/ 5.3 oz silken tofu
1 heaped tablespoon tahini
1 tablespoon soy sauce
1-2 teaspoons balsamic vinegar, to taste
1 garlic clove, grated
salt to taste
Instructions
To make the crackers:
Preheat the oven to 200 degrees Celsius/ 400 degrees Fahrenheit.
Place the flour, all the seeds, baking powder and salt in a bowl and mix well. Add the olive oil and the water. Mix with a spoon and when everything comes together, tip the content of the bowl on the working surface and knead with your hands until everything is smooth. It will not take long.
Place a piece of baking paper as large as the baking tray on the working surface. Place the dough on top, press it down with your hand to obtain a rough rectangle and roll out using a wooden rolling pin until thin and even. I found that rolling was even easier when holding the lower left end of the baking paper with my hand, using a small rolling pin and rolling the dough with the right hand. I turned the baking paper a few times around to be sure I get all the ends evenly rolled.
Place the baking tray directly near the baking paper. Lift the baking paper carefully, holding it at two opposite ends and place it on the baking tray.
Use a pizza cutter or a sharp knife to cut the cracker dough lengthwise and widthwise.
Bake for 20 minutes until lightly colored and crispy.
To make the silken tofu spread:
Place all the ingredients in the food processor and blend until completely smooth. Enjoy with the crackers, on crispbread and/or with veggies.