Homemade chocolate peanut butter spread, this is a decadent yet healthy chocolate nut butter.
CHOCOLATE PEANUT BUTTER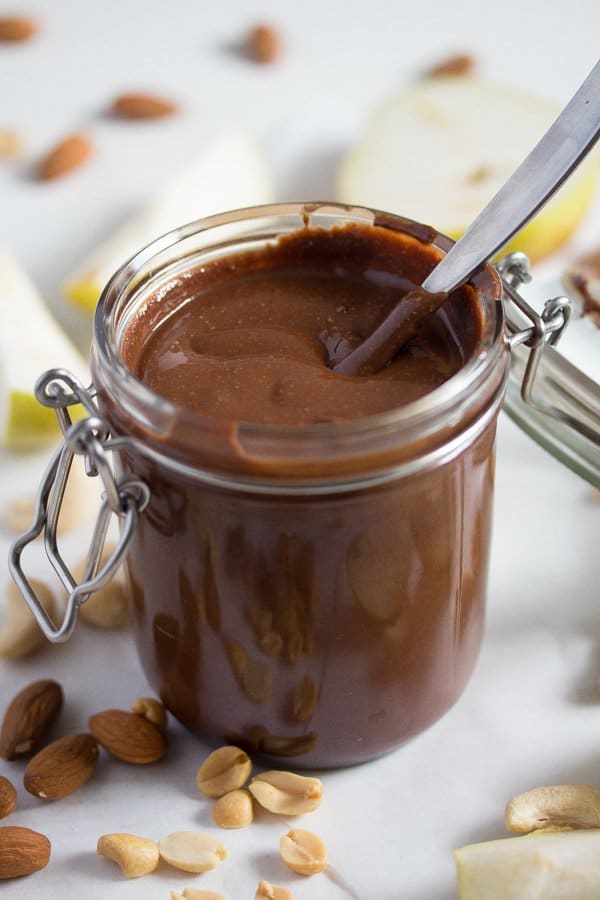 Forget any other chocolate spreads you have been having for breakfast over the years. This chocolate peanut butter spread is better than all of them! I really feel strongly about that!
The main reason for my belief is that I don't like any chocolate nut spreads myself, never did, never will. From the most famous one that everybody knows to the gourmet and super expensive alternatives, none!
But this homemade chocolate peanut butter spread is AMAZING!!!!
Pure chocolate and nut taste, only very slightly sweetened, creamy and unctuous, just 1-2 teaspoons of this chocolate nut butter and you are in heaven. I really never tasted anything better when it comes to chocolate spreads or dips.
And another bonus: unlike all the other similar spreads that you can buy, this peanut butter and chocolate spread is actually quite healthy!
Only pure ingredients like dark chocolate with very little or no sugar at all, pure nut butter, a little coconut oil and a touch of a healthier sweetener like stevia or xylitol, for instance.
I am not saying that this homemade version is low in calories, no nut butter ever is, but I suppose everybody knows that. And it is for sure lower in calorie than any bought chocolate nut spread and you will not eat more than 1-2 tablespoons at a time anyway…
Well, you could – it is that good and it is pretty addictive – but I don't recommend it. 🙂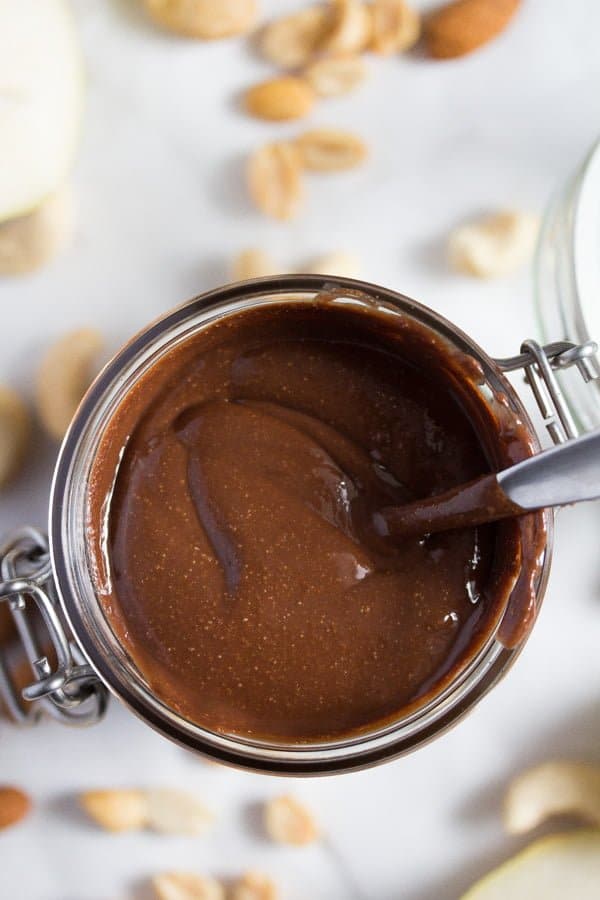 And for more chocolate and nuts combinations, have a look at this no-bake peanut butter pie, this chocolate hazelnut cake, this moist chocolate cake with hazelnuts and breadcrumbs or this chocolate cherry cake with hazelnuts.
INGREDIENTS FOR CHOCOLATE PEANUT BUTTER
Peanuts or mixed nuts:
You can make the spread either with pure peanut butter or with a nut mix butter of choice.
I can buy a super delicious nut butter around here containing peanuts, almonds, and hazelnuts. No sugar added whatsoever.
Hazelnuts: for a pure homemade Nutella only use hazelnuts.
I buy the peanuts usually slightly salted and roasted, the cashews are already roasted but unsalted, the hazelnuts and almonds are mostly raw and I roast them myself.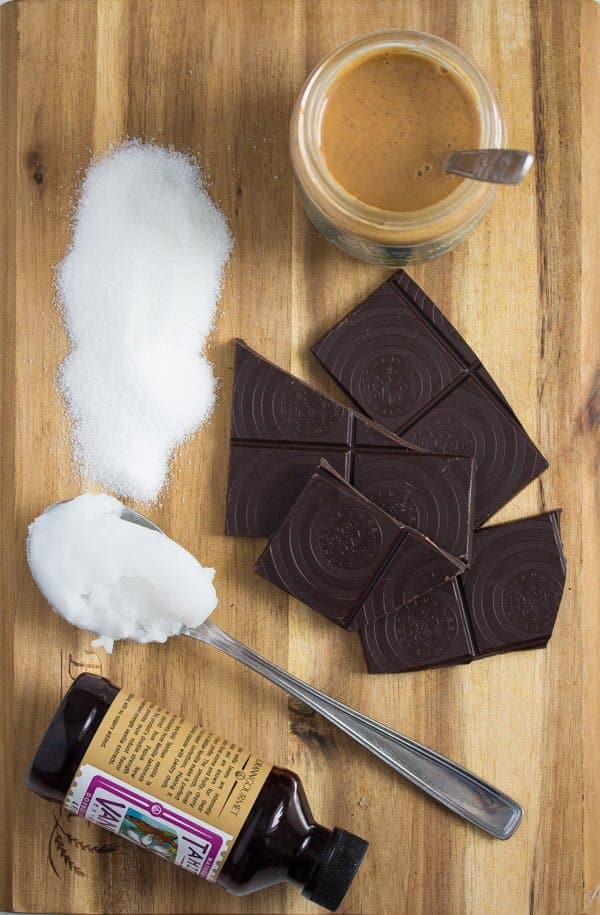 Bought or homemade nut butter?
I use homemade nut butter most of the time. It is just better! And healthier! It contains only the nuts and a little bit of salt, nothing else. Most importantly no sugar and no additives, palm oil and whatever it is they also dump into nut butter.
However, to make really good nut butter at home, you will need a little bit of time and a very good and strong food processor. If you don't have those, just buy a jar of peanut or nut butter.
When buying peanut or nut butter, make sure you buy a pure nut butter with nothing else but nuts inside. NO SUGAR!
I could buy that as well here, but it is sooooo expensive. Buying a tiny jar of pure peanut/mixed nut butter without palm oil and sugar costs about 5 Euro. Shop-bought pure almond or cashew butters are even more expensive.
I can make at least 5 jars of peanut/nut butter myself in less than 10 minutes for that amount of money…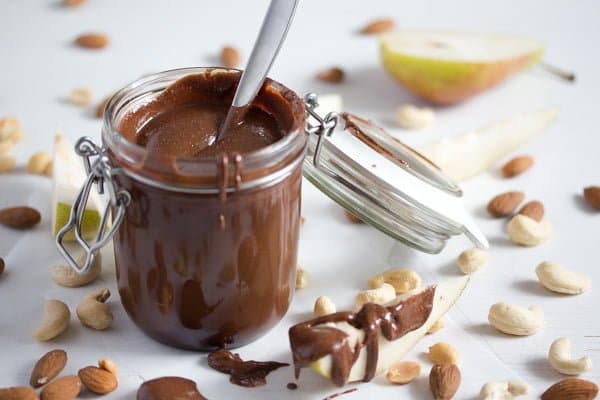 Chocolate:
Use the best quality chocolate you can afford.
This chocolate peanut butter recipe requires only a few ingredients and those really shine through. You have to use the best or the chocolate spread will not taste as good as it should. Buy a chocolate sort you really enjoy eating as it is, no baking chocolate or cheap chocolate chips.
I use dark chocolate between 72% and 90 % cocoa, which contains significantly less sugar than milk chocolate. The darker the chocolate, the better.
Coconut oil:
You will need a small amount of coconut oil as well, it will make the chocolate nut spread creamier and dip-able.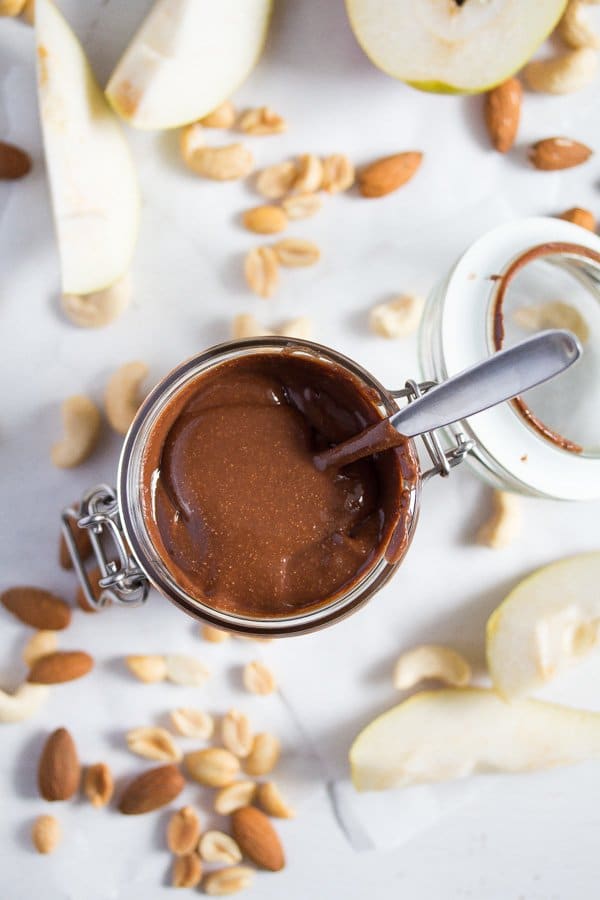 Sweetener:
I have successfully made the homemade chocolate nut butter with stevia and xylitol. You can use powdered sugar if you like, but then the chocolate spread will be less healthy.
Stevia: a zero-calorie sweetener derived from a plant called Stevia rebaudiana. This plant grows in Brazil and Paraguay and its leaves have been used there to sweeten foods for hundreds of years.
Stevia is 200 times sweeter than sugar, so pay attention to what you buy and how much of it you are using.
I buy a kind of stevia that looks like sugar and can be used just as sugar, so I take about 2-3 teaspoons of it for this chocolate nut butter.
Xylitol: a sugar alcohol (not the kind of alcohol that makes you drunk, it is safe for people with alcohol addiction), derived from trees like birch or from a plant fiber called xylan. It looks and tastes like sugar, but has less calories than sugar and, like stevia, doesn't raise blood sugar levels either.
Powdered sugar can be used instead. Don't use granulated sugar, as it will remain grainy and your homemade chocolate spread will not be nice and smooth.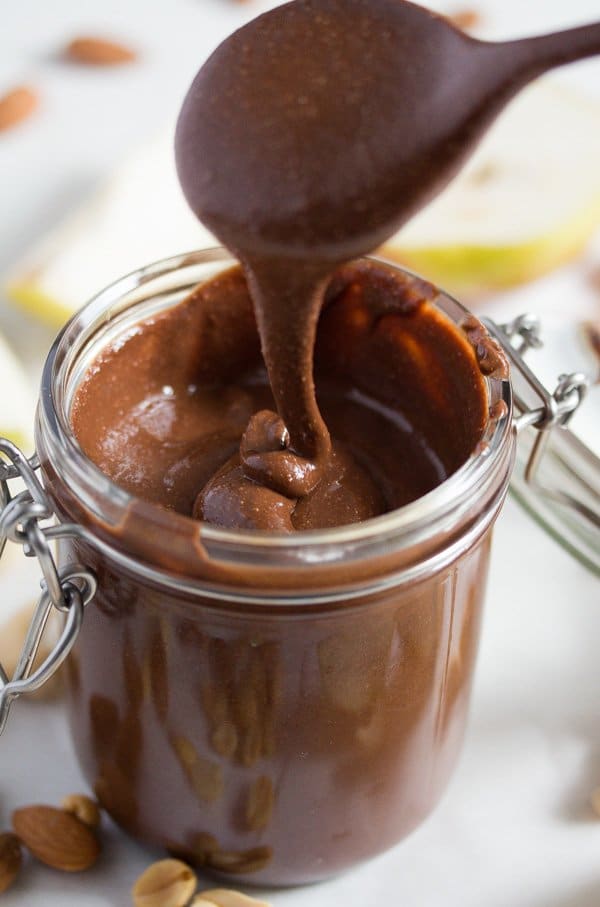 HOW TO MAKE PEANUT BUTTER?
Making homemade nut butter is super easy, all you need is the nuts and a good food processor.
How to roast nuts:
If using raw nuts, roasting them first is a good idea, that will increase their flavor.
Roast in the oven at 180 degrees Celsius/ 350 degrees Fahrenheit for about 10-15 minutes, mixing twice in between and keeping a close eye on them, you don't want them to get too dark.
They should be slightly underdone as they will continue to cook when removed from the oven.
It is probably best to roast different kinds of nuts separately, as their size can differ a lot, for instance, cashews are normally larger than peanuts.
Leave the roasted nuts to cool.
If roasting smaller batches of nuts, you can also do it in a pan without adding any fat.
Roast the nuts, shaking the pan regularly, until golden and fragrant. Don't leave the pan unattended as the nuts can burn very easily. Immediately transfer the roasted nuts to a plate and leave to cool.
Tips for making nut butter:
Use a good strong food processor. I use the Thermomix for this purpose.
I always make a larger quantity of nut butter, not only because it tastes good and it is worth it to make more when using the energy, but also because the Thermomix can handle larger quantities of nuts better than smaller batches.
If I make a small batch of nut butter I have to scrape the walls and lid of the Thermomix several times in between. When I make a large batch, scraping is almost not necessary, maybe once, if needed.
If making a big batch of nut butter, use as much as needed for the homemade chocolate spread and refrigerate or freeze the remaining jars.
Making nut butter in the Thermomix will take less than 5 minutes, but probably longer in other food processors. Be patient, it will happen, the nuts will turn to nut butter eventually.
The mixture will get hot during the process, if it gets too hot, stop the food processor and wait for a couple of minutes for it to cool down.
The nut butter might seem too runny at this point, don't worry about it, that is the way it is supposed to be, it will set as it cools down.
HOW TO MAKE CHOCOLATE PEANUT BUTTER?
Melt the chocolate in a double boiler or bain-marie.
Add the coconut oil and stir until incorporated.
Add the nut butter, vanilla extract, salt and sweetener to taste.
Mix thoroughly and transfer to jars.
The chocolate nut butter is runnier than shop-bought spreads. That is the way it is supposed to be, don't assume that the recipe went wrong. It is still set enough for you to spread it but also runny enough to use as a dip.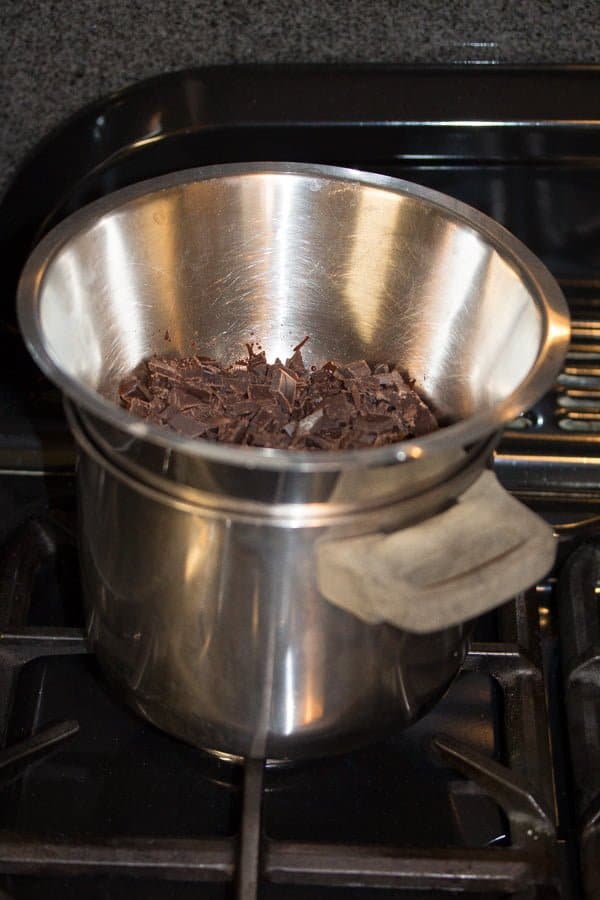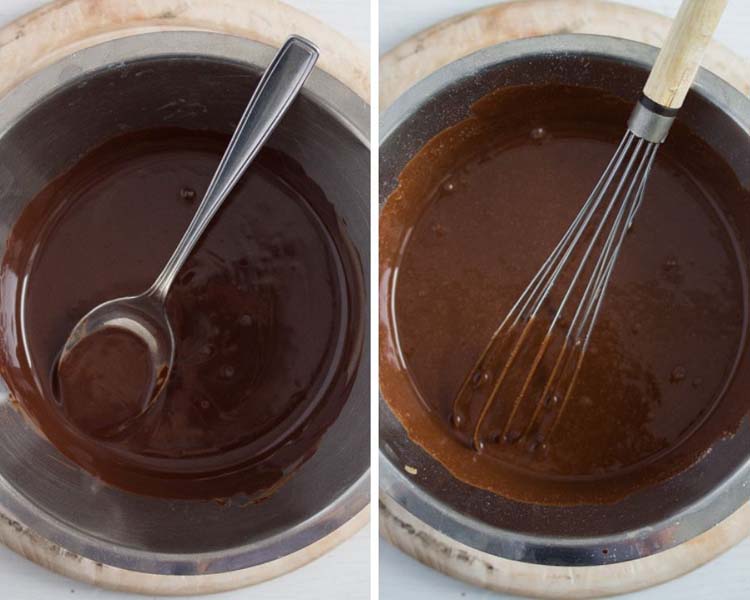 HOW TO KEEP?
Keep at room temperature. If kept in the fridge the spread will harden and you will have to let it come to room temperature before serving.
The homemade chocolate spread will keep for about 2 weeks at room temperature, but it never ever lasted so long in our house.
If making several jars, keep the ones that are still unopened in the fridge and let them come to room temperature before serving. The jars of chocolate spread will keep for 3-4 weeks in the fridge.
You can also freeze the jars for a couple of months.
HOW TO SERVE?
The homemade chocolate spread is delicious on bread, bread rolls, muffins, toast or crackers for breakfast or brunch.
You can also serve it as a dip for sliced fruit. Apples and strawberries are great and crispy pears are even better, my favorite combination at the moment.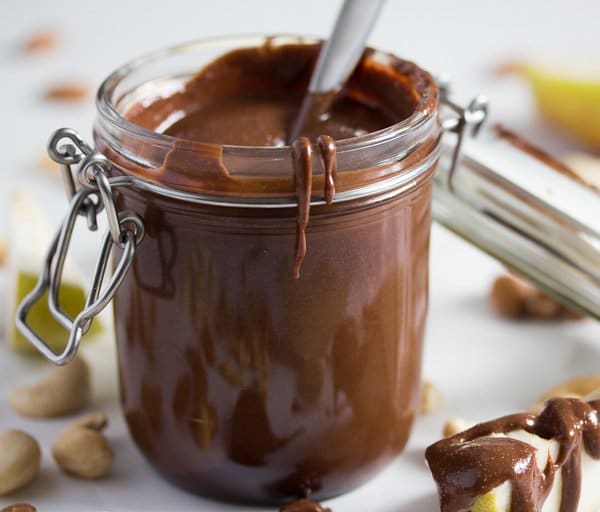 OTHER BREAKFAST SPREADS YOU MIGHT LIKE:
PIN IT FOR LATER!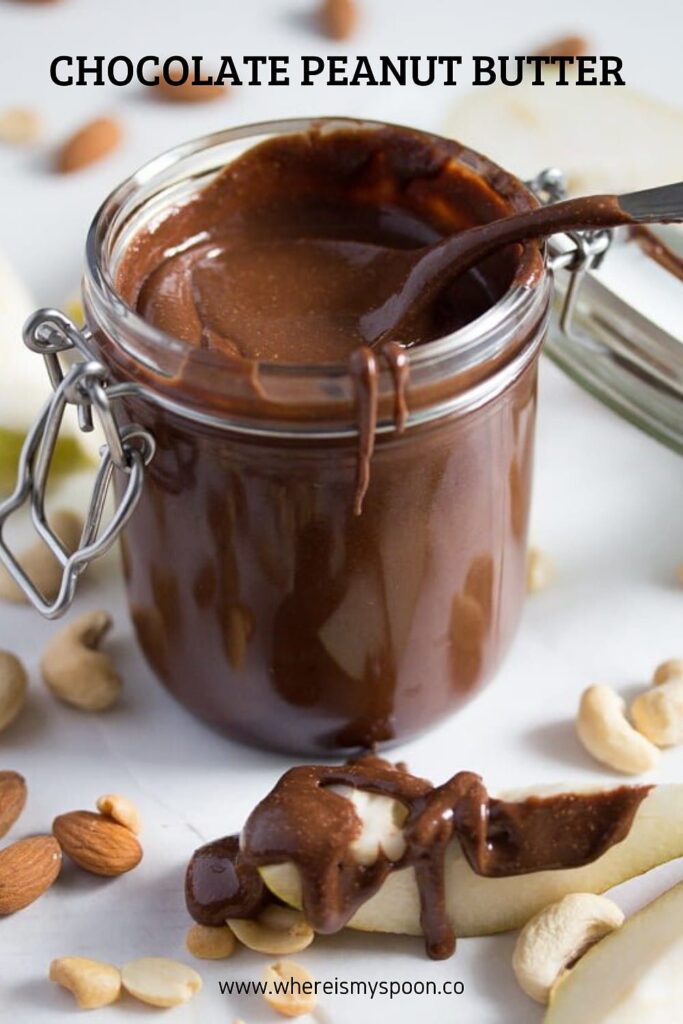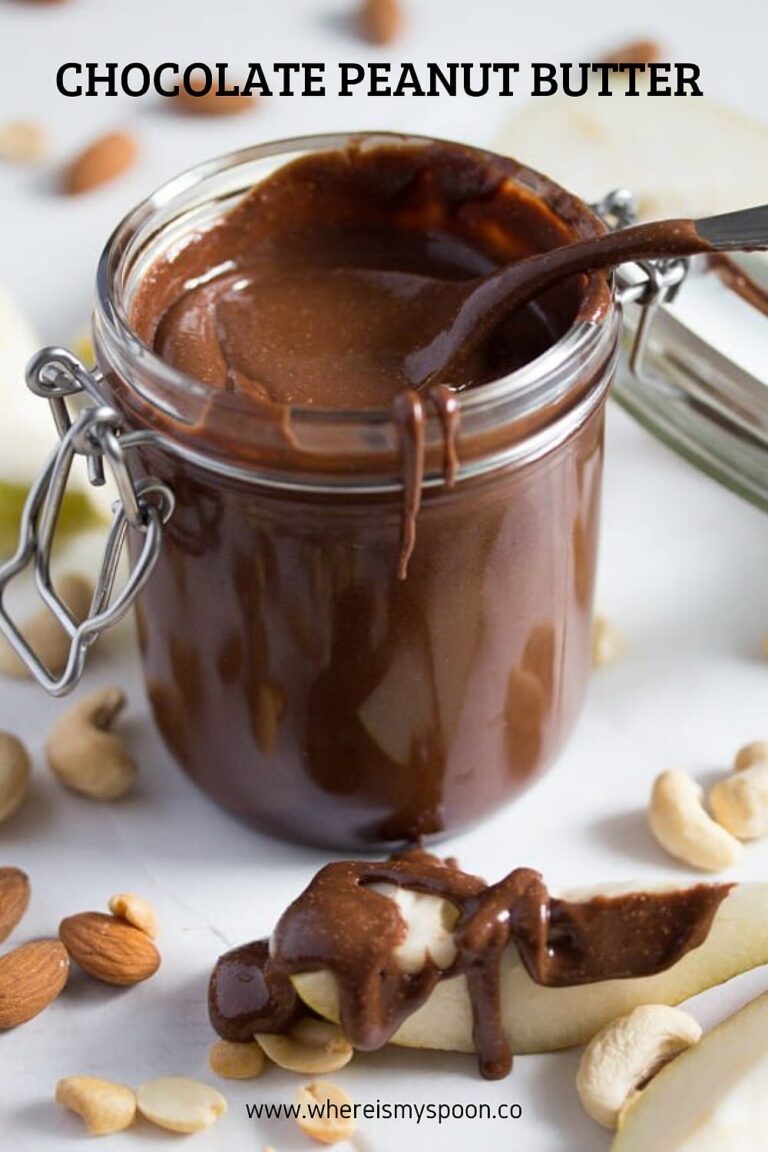 Last updated: 4th of March 2020.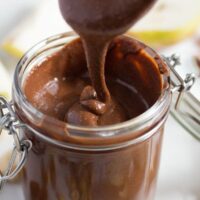 Homemade Chocolate Peanut Butter Spread
Homemade chocolate peanut butter spread, this is a decadent yet healthy chocolate nut butter.
Print
Pin
Share
Grow
Saved!
Rate
Ingredients
250

g/ 8.8 oz/ 1 cup peanut or mixed nut butter

See notes 1 and 2

80

g/ 2.8 oz/ scant ½ cup chopped dark chocolate

at least 70 % cocoa

1

tablespoon

coconut oil

1

teaspoon

vanilla extract

sweetener of choice and to taste

See note 3

a pinch of salt

if the nut butter is unsalted
Instructions
Chop the chocolate and melt it in a double boiler or bain-marie.

In order to do that, place the chopped chocolate in a heat-proof bowl.

Find a pan that fits this bowl, fill it with some water taking care that the water doesn't touch the bottom of the bowl.

Fit the bowl on top of the pan, heat the water on medium-low heat, and let the chocolate melt while stirring from time to time.

Don't let the water start to boil, if it does, turn off the heat and stir the chocolate until completely melted.

Add the coconut oil and stir until incorporated.

Add the peanut butter, vanilla extract, salt, and sweetener to taste. Mix very thoroughly.

Pour the chocolate peanut spread into a jar and let cool and set for several hours before serving.

Store at room temperature. Keeping the spread in the fridge will cause it to harden, so let come to room temperature before serving.

Serve as suggested above.

The chocolate peanut butter has a runnier consistency than bought chocolate nut butter. That is the way it is supposed to be, don't assume that the recipe went wrong. It is still set enough for you to spread it but also runny enough to use as a dip.

The nutrition is calculated for the whole jar.
Notes
You can make the spread with pure peanut butter or mixed nut butter.
The best is homemade peanut or nut butter, see blog post for instructions on how to make homemade nut butter. Alternatively use bought pure nut butter, with no sugar in it.
I have used both stevia and xylitol over the years, both are perfect. Use to taste, not too much, the chocolate nut spread should not be too sweet. Icing sugar can be used instead. Don't use granulated sugar as it will not dissolve and the spread will be grainy.
Nutrition
Serving:
1
jar
|
Calories:
2190
kcal
|
Carbohydrates:
102
g
|
Protein:
54
g
|
Fat:
185
g
|
Saturated Fat:
55
g
|
Polyunsaturated Fat:
121
g
|
Trans Fat:
1
g
|
Cholesterol:
37
mg
|
Sodium:
926
mg
|
Fiber:
23
g
|
Sugar:
49
g