The best bread spread I have ever tasted, a wonderful recipe with Camembert, cream cheese, scallions and paprika. Ready in 5 minutes.
I am not kidding you, although I make lots and lots of bread spreads, at least one spread a week (we have The Best Hummus Ever – Chickpea, Tahini and Garlic Spread or Dip and a new one with rocket and yogurt in the fridge right now), this Camembert Cream Cheese and Scallion Bread Spread is really the best of them all. Absolutely perfect!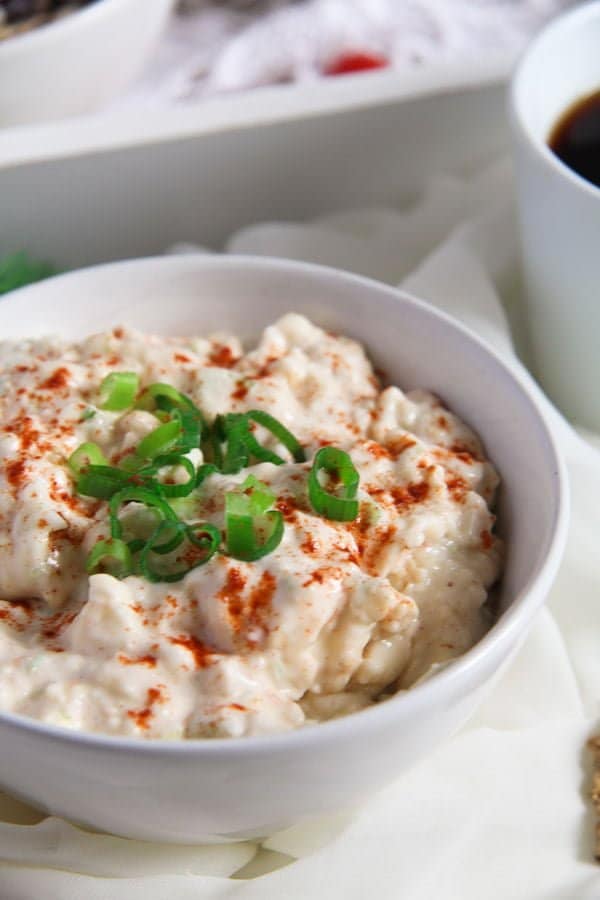 I have been making it regularly for about nine years now (I remember it, because I've made it for the first time while my son was still a baby), I have brought it to different parties or gatherings, we have had it on regular bread, rye bread, pumpernickel, crispbread or as a dip for vegetable sticks, it is amazing every time and in any combination. And I cannot even remember how many times I had to give somebody the recipe…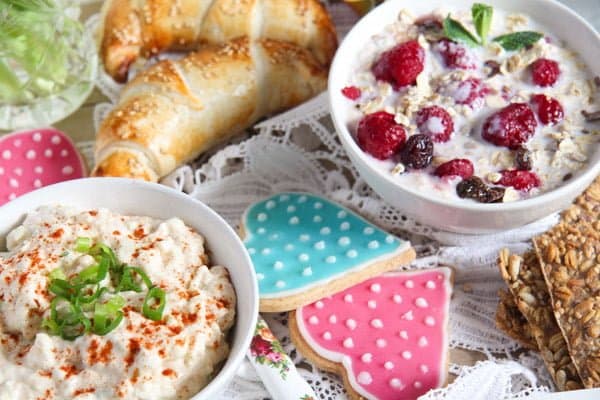 It is my daughter's favorite bread spread as well, she loves Camembert with a passion, even the really ripe kinds we had in France. I have always found it funny that a small child would rather eat Camembert than Gouda or jam or ham. 🙂 She calls it "Lieblingsaufstrich" – "favorite bread spread" and when I make it, she won't it anything else on bread until the spread is all gone.
You can make the Camembert Cream Cheese and Scallion Bread Spread with regular full fat Camembert and full fat cream cheese or you can make it with low-fat Camembert and cream cheese, it really doesn't matter in this case, the spread/dip is just as good either way.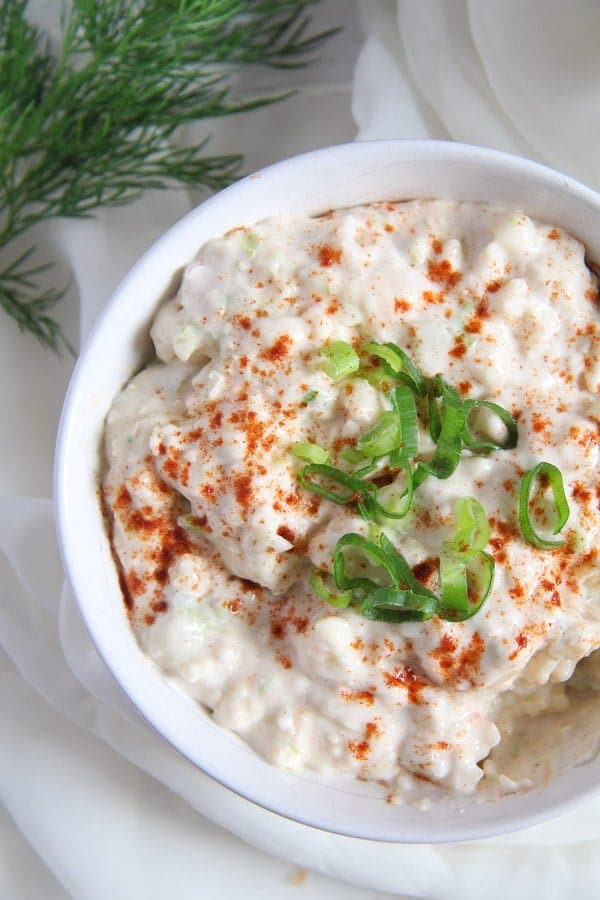 Another bonus, you will probably not need more than 5 minutes or so to make it, especially if you use a kitchen machine. I always make it in my Thermomix, I throw in the scallion pieces first, process them for 1 or 2 seconds. Then I add the Camembert cut into chunks and the cream cheese. Some salt and pepper, plenty of sweet ground paprika, process for 5 seconds or so and you're done!
The Camembert Cream Cheese and Scallion Bread Spread is a delicious spread to serve for breakfast or dinner on bread or with vegetable sticks. You will love it!
Other super bread spread recipes:
Ingredients
2 scallions

150 g/ 5.3 oz Camembert (full-fat or low-fat, both versions work well)

200 g/ 7 oz cream cheese (full-fat or low-fat)

sweet ground paprika

salt and pepper
Instructions
Cut the scallions into smaller pieces. Process them for 1 or 2 seconds in the kitchen machine. Add the Camembert cut into chunks, the cream cheese, plenty of sweet ground paprika, a little salt and pepper. Don't add too much salt at first, taste the finished bread spread and add more if necessary.
Process for a few seconds until the Camembert is finely chopped, the spread should remain a bit chunky, it really should not become a paste.
If you don't have a suitable kitchen machine, chop the scallions finely and give them to a bowl. Chop the Camembert very finely as well and give them to the bowl together with the cream cheese, paprika, salt and pepper. Mix well.
Serve on any kind of bread or as a dip for raw vegetables.
This post contains affiliate links. The price you pay as a consumer does not change, but if you make a purchase we will receive a commission which helps support the blog.