This is a hardcore garlic sour cream sauce made with a whole garlic bulb, tomatoes, and sour cream.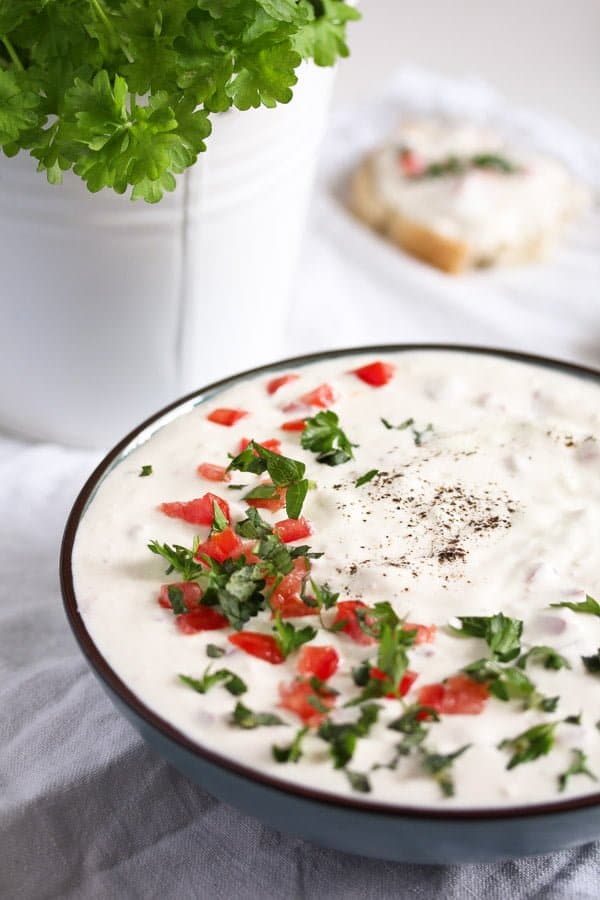 The best sour cream garlic sauce, Romanian-style. That means: more garlic than in any other garlic sauce you've ever tried!
I am Romanian and if there is one thing that cannot be thought out of the Romanian kitchen, that must be garlic. It is, at least for me, a crucial ingredient in cooking.
Just as an example: my German mother-in-low and a German friend of mine both said they never buy garlic, because one only needs one or two cloves in a recipe for once in a while, so they invariaously end up throwing away the rest of the bulb because they could never think of using it up in any other way than maybe an extremely mild tzatziki. And as you can only buy garlic by bulb they prefer to leave it out of their kitchen entirely.
I buy garlic not by the bulb but by the sachet. A sachet contain 3 or 4 bulbs, sometimes more. I use up this sachet in a matter of weeks.
My family learned to love garlic as well. Both my children adore this sauce. When I make it as a side for grilled meat, they just forget about the meat completely and prefer to eat just garlic sauce on toasted bread.
They moan a little while eating the garlic sauce because it is really hot on the tongue, but they keep eating and after one or two slices of bread they don't complain anymore. Probably because their tongues get numb after a few minutes.
My son, when he was smaller, got worried about vampires and asked me if they really exist. I told him that even if vampires existed, they would never consider biting him. As he is half Romanian his blood smells like garlic, so a vampire would never dare touch him. He was really reassured by that and proudly told his grandma and friends about it.
Ingredients
Garlic:
I use between one or two whole garlic bulbs, depending on the size of the bulbs. You can definitely adjust its hotness or "garlicness" according to your taste. You can even make it with only 2 or 3 garlic cloves and increase the quantity as you like it.
But I can assure you that if you like garlic at all, you will not complain about this being too much. Even people who are not so used to eating garlic the way I do, still find this extremely delicious and end up eating too much of it.
Dairy:
For a genuine Romanian garlic sauce, I use smetana, which is the Eastern European version of sour cream. It has a fat content of over 20% and it is thoroughly delicious.
For a lower-fat version of the dip, you can definitely replace the smetana with Greek yogurt or plain creamy yogurt, which has about 3,5% fat around here.  That will change the taste slightly, but it will still be amazing.
Tomatoes:
Make sure you deseed the tomatoes, too many seeds will make the sauce watery. #
The finer you chop the tomatoes, the finer the sauce. However, do not be tempted to puree the tomatoes, which will make the sauce too runny as well.
Warning!
One thing that I have to warn you about, probably unnecessarily, is that you will stink for at least 24 hours after eating this. So I recommend eating this on a Friday or Saturday or during your holidays. Otherwise, people at work might complain. Or bring your work colleagues the leftovers of the sauce (if you have any, I never do), so that you will all happily stink together. 🙂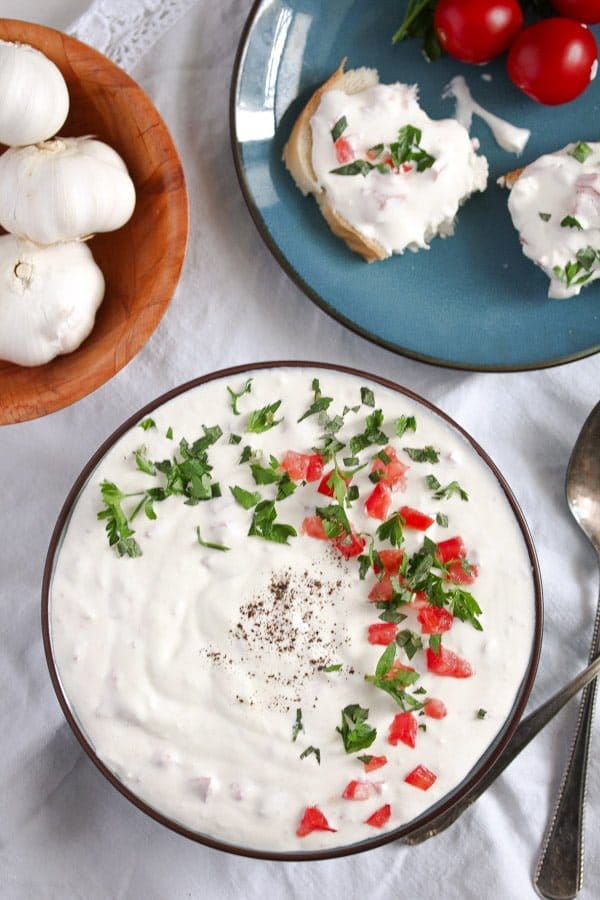 What to serve with it?
The original Romanian garlic sauce "mujdei" like my grandma used to make only contains garlic, salt, and water. That tastes great as well, but I like this version more.
The original version can only be eaten as a runny sauce over meat, chicken, potatoes, or polenta.
This version can be enjoyed not only as a sauce for meat but also as a dip for vegetables, as a bread spread, on top of basic polenta, on top of polenta souffle, or on top of this delicious Mushroom Polenta Casserole with Cheese and Sage. As you can see garlic sauce and polenta go hand in hand.
But don't forget to try the sour cream garlic sauce with roasted potatoes as well, you will definitely love it.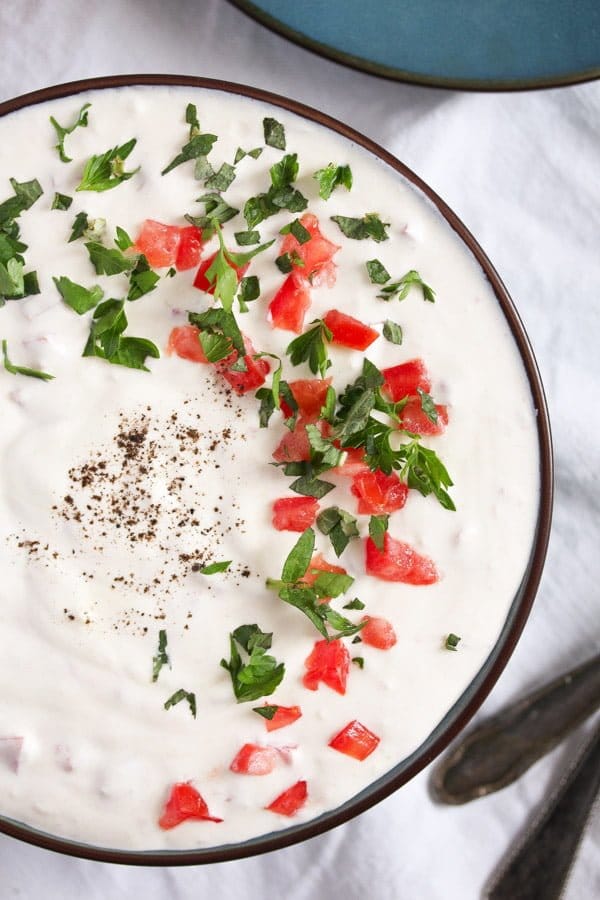 More garlic in excess:
Garlic Butter Noodles with Parmesan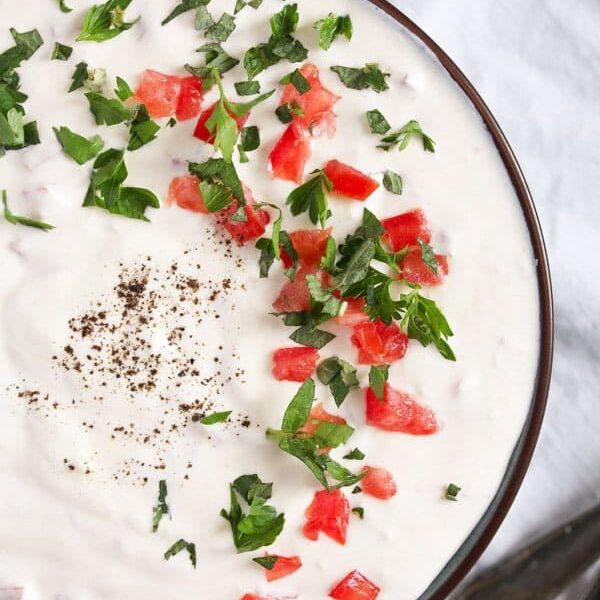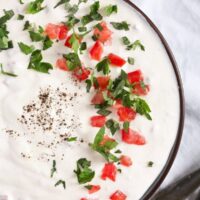 Garlic Sour Cream Sauce
This is a hardcore garlic sour cream sauce, Romanian-style, made with a whole garlic bulb, tomatoes, and sour cream.
Print
Pin
Share
Grow
Saved!
Rate
Ingredients
about 1 bulb garlic

Note 1

2

level teaspoons mustard

3

tablespoons

sunflower oil

500

g/ about 2 cups/ 17 oz sour cream

Note 2

2

medium tomatoes

fine sea salt and pepper
Instructions
Peel the garlic cloves and grate them finely into a bowl. Add the mustard and some salt and mix well.

Add the oil gradually while stirring all the time, until the mixture emulsifies slightly, like a mayonnaise. Add the sour cream and mix well.

Remove the seeds from the tomatoes, chop them very finely. Add to the bowl and stir gently. Adjust the taste with salt and pepper to taste.
Notes
Less according to taste, but be generous.
Or smetana, creme fraiche. For a lower fat version use Greek yogurt with at least 3% fat.
Nutrition
Serving:
1
/8 of the sauce
|
Calories:
176
kcal
|
Carbohydrates:
4
g
|
Protein:
2
g
|
Fat:
17
g
|
Saturated Fat:
7
g
|
Polyunsaturated Fat:
8
g
|
Trans Fat:
1
g
|
Cholesterol:
37
mg
|
Sodium:
109
mg
|
Sugar:
3
g